13 Harry Potter Destinations for Wizard-Obsessed Muggles
Apr 01, 2017
Sorry to break it to you, but that letter from Hogwarts isn't coming. Although acceptance into the top school of witchcraft and wizardry is indeed impossible (otherwise we definitely would've received an owl), Harry Potter devotees have plenty of opportunities to enjoy the next best thing: 12 destinations and experiences for Potterheads that honor the magic of JK Rowling's series. If only you could apparate there.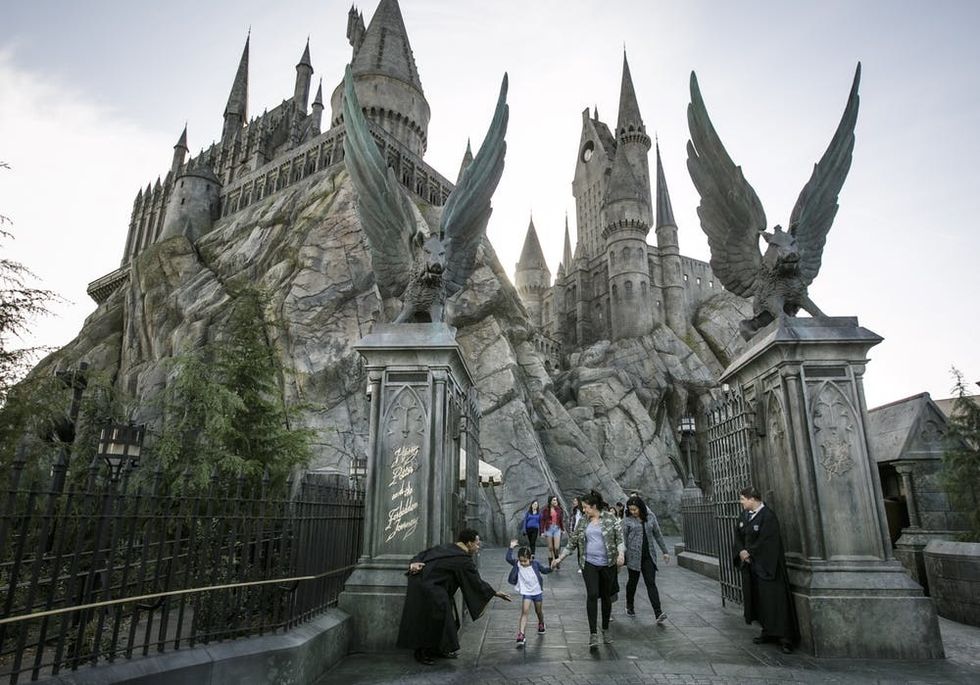 ---
1. The Wizarding World of Harry Potter at Universal Studios, Los Angeles, CA and Orlando, FL: You have two choices to get your Potter on via Universal: the Wizarding World of Harry Potter at Universal Studios Orlando or at Universal Studios Hollywood. While both have mini-replicas of Hogwarts and Hogsmeade, rides, Butterbeer, and all sorts of interactive "magic" that'll transport you into Harry's world, the Orlando location also has an incredibly designed Diagon Alley section (along with a Hogwarts Express ride that connects different lands).
One of the most delightful things to do at either location is selecting a wand from Ollivander's Wand Shop and practicing your spells on various interactive windows sprinkled around the Wizarding World. Give yourself some time to pick out the most suitable wand. There are walls stocked with potential fits, from Luna Lovegood and Bellatrix Lestrange wands to ones made of faux alder or oak. (via Universal Studios Hollywood)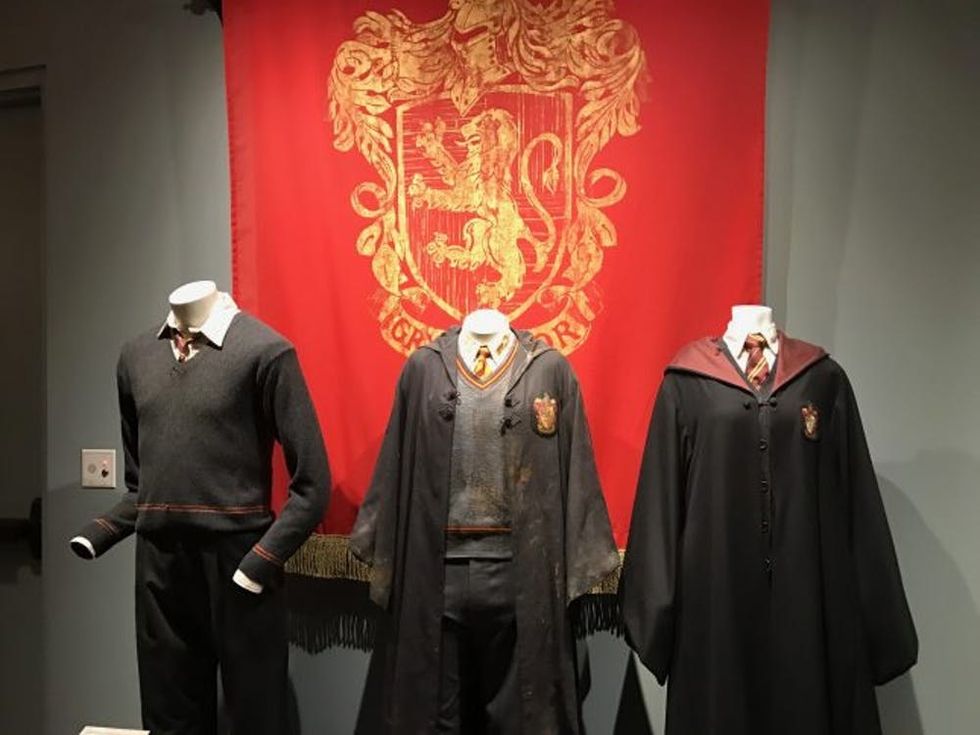 2.Warner Bros. Studio Tour, Los Angeles, CA: Currently, one of the stops on the entertaining Warner Bros. Studio Tour is their sprawling Harry Potter exhibit. Along with various props and costumes used in the movies — like a full-size Dobby the elf, Harry's wand, and Sirius Black's worn and tattered outfit — there's an opportunity to sit under the sorting hat (not Slytherin… not Slytherin…). In addition to all the Harry Potter goodness, they also have a selection of items from the newest part of the wizarding empire, Fantastic Beasts and Where to Find Them. (via Warner Bros. Studio Tour)
3.Warner Bros. Studio Tour: The Making of Harry Potter, London, UK: This is the place where all the filmmaking magic happened. Located outside of London in Leavesden, the tour includes two sound stages and a backlot filled with original sets, animatronic magical creatures, and various special effects. The Forbidden Forest just opened up for Potter fans to explore. At the end of the tour, you can even indulge in a pint of Butterbeer or a scoop of Butterbeer ice cream.
4.Grauman's Chinese Theater, Los Angeles, CA: If you find yourself on Hollywood Blvd, then you have to visit Grauman's Chinese Theater to see a tribute to the stars of Harry Potter. The theater's iconic hand and footprint collection is legendary, and for Potterheads, the HP star is a must. And it isn't just Daniel Radcliffe, Emma Watson, and Rupert Grint's signatures, foot, and hand prints. They also have their wand prints, 'natch.
5.Harry Potter: The Exhibition, The Netherlands: If you missed the traveling show Harry Potter: The Exhibition when it was in cities like Seattle, New York, or Boston, you still have a chance to see it. From now until June 30, the exhibit in The Netherlands includes mock-ups of the Gryffindor common room, Hagrid's hut, and the Great Hall at Hogwarts, and features all sorts of costumes and props from the films. The tour has been hitting cities since 2009 and will continue bringing the magic to fans all over the globe.
6.Balmoral Hotel's Room 552, Edinburgh, Scotland: The sprawling suite at the century-old Edinburgh hotel was where Rowling lived for six months as she finished Harry Potter and the Deathly Hallows. The suite she called home in the luxury five-star hotel is now dubbed The JK Rowling Suite and has various Potter touches, such as an owl on the door, a complete set of the Potter series, and a marble bust signed by Rowling herself. If you have deep pockets, you can stay there yourself — one night costs more than a thousand bucks.
7.The Lockhart Bar, Toronto, Canada: This Toronto bar is the perfect place for Potterheads to get their drink on. Along with special alcoholic concoctions with names like Bella's Tricks, Owl Post, The Marauder, and Obliviate, they have Harry Potter trivia nights and Potter references all over the place, from the walls to the potty.
 
8.College of Wizardry, Czocha Castle, Poland: This is SUCH a good reason to jet off to Poland. At the College of Wizardry (kinda like a summer camp in a castle), you'll make magic with 100 other muggles that share your dreams of Harry Potter greatness. Basically, you'll make a ton of new BFFs that truly understand your love for HP.
 
9. Quidditch Cup, Kissimmee, Florida: Yes, quidditch IRL is a thing. On April 8 and 9, the top 60 quidditch teams in the US will gather in Kissimmee, Florida for two days of competition to crown the league champion. If you've dreamed of cheering on a real quidditch game, this is your chance.
 
10. Alnwick Castle, Northumberland, England: This centuries-old castle in Northumberland stood in for Hogwarts in the first two Harry Potter films. They also do plenty of weddings on the stately grounds, so if you've been dreaming of a Potter-themed wedding, this is your perfect destination.
11. Tour for Muggles, London, England: If you're in London and want to get the inside scoop on the series (both the books and the movies), this tour is for you. The Tour for Muggles visits locations used in the films and places that inspired Rowling, while guides share "weird and wonderful behind-the-scenes" stories.
 
12. King's Cross Station, London, England: Make a stop at King's Cross Station in London and try your hand at accessing platform 9¾. There's a popular photo op for would-be wizards located on the wall in the station concourse. King's Cross even has a Harry Potter Shop — clearly capitalizing on their Potter fame.
 
13. Harry Potter FanFest, Chestnut Hill, PA: Witches, wizards, and muggles will descend upon Chestnut Hill College on the weekend of October 19-21, 2017 for a bona fide Potter celebration. There'll be a conference (with academic talks), a quidditch match, a festival, and even a pub crawl. It's a great excuse to go back to school!
Which Harry Potter experience would you want to do most? Tweet us @BritandCo and let us know!
Sunny Chanel
Sunny Chanel is a freelance writer as well as the founder of the whimsical site Wonder and Company. When this proud San Franciscan isn't writing, working on her fixer-upper or doing crafts, she is playing dress up with daughter and planning her next trip to Disneyland.
Travel