This Is the Best Girl Power Magazine Cover of the Year
May 28, 2015
What's the best way to spice up your Thursday? A fancy lunch? A hot date with that hottie from Tinder? Or the release of a new magazine cover that features all our favorite ladies on the same page? Okay, so the answer is probably all of the above, but we're currently obsessing over the latter.
---
The Hollywood Reporter has just released the cover of their June issue and it features not one, but six of the funniest, most powerful ladies in the entertainment industry. In what's bound to become a legendary shot, Lena Dunham, Tracee Ellis Ross, Amy Schumer, Ellie Kemper, Kate McKinnon and Gina Rodriguez are all hanging out together in what looks like the coolest garden party ever.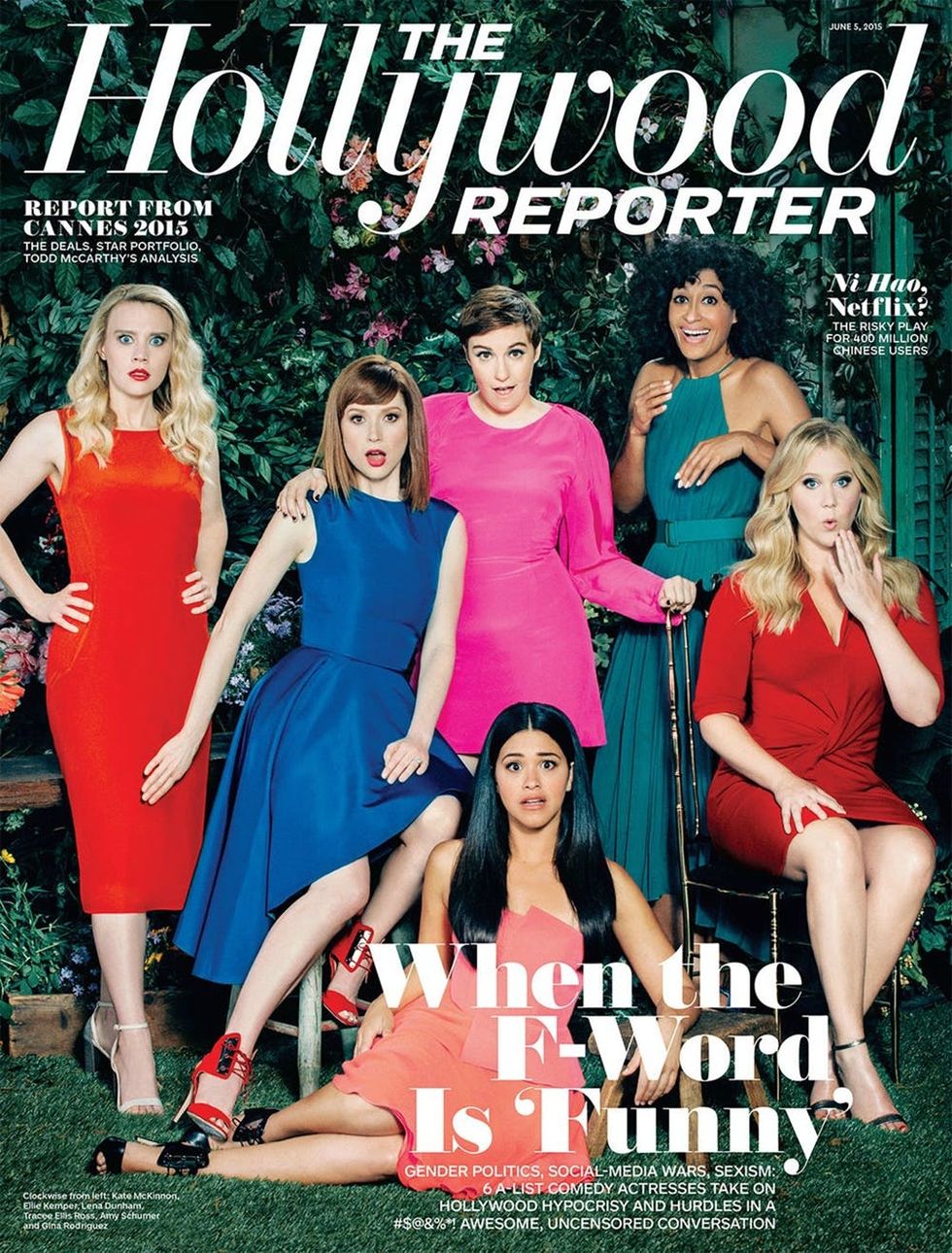 With a cover shot this good, you can bet the feature story is just as impressive. After their photo shoot in a Manhattan studio, the six ladies participated in a round table discussion where they chatted openly about what it's like to be a woman in comedy today. We definitely recommend reading the feature story in full (and watching all the accompanying videos) but if you're currently pressed for time, here are some of our favorite takeaways from these powerful and hilarious ladies.
1. Fight for what you're worth. When discussing the gender wage gap, most of the ladies speak up about how they're aware of the issue but also feel fortunate to be making what they're making. Ellie Kemper then chimed in to say, "I once heard an exec say, 'If you don't ask for it, we can't give it to you.' We can't go through our lives just being grateful for everything."
2. Don't apologize. When chatting about her film Trainwreck, Amy Schumer says, "I noticed when I had a suggestion for Judd Apatow on set, I would say, 'Um, sorry but …' I started all my sentences with 'sorry.' I've made an effort to not do that now."
3. They struggle with sexism all the time. When chatting about the most overtly sexist thing that's happened to them working in Hollywood, Lena Dunham says, "I heard a guy on my show say into his microphone: "I hate this job. I can't wait to be back on a show where there's a man at the helm." She then goes on to say he was only on the show for a few episodes and "I hope he reads this, which he won't because he's drunk."
4. They want their imperfections to be known. When auditioning for a role, Gina Rodriguez was once told, "We love her. But can she come back in with a tight black dress?" The reason they wanted to outfit swap? To see if she was pretty enough to be on the cover of a magazine. When recounting the incident she tells the ladies, "This is how you get a lady on the cover of a magazine: you get a backdrop, you get a photographer, you take a picture and your print that s*** out."
Who is your favorite funny lady in Hollywood? Tell us all about them in the comments below.