Here's the Boho Holiday Decor Trend You'll Be Seeing Everywhere This Year
Dec 01, 2017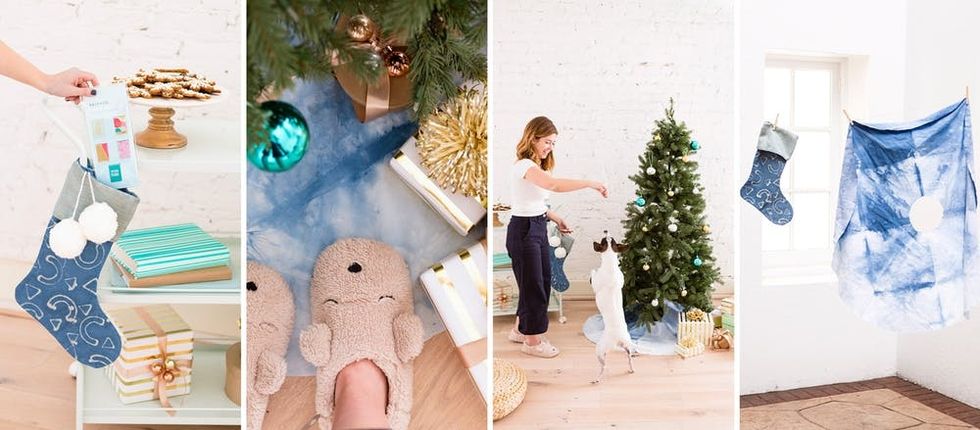 So you've pulled your holiday decor out from storage. You've got the pom-poms, broken candy canes, and a few wrinkled paper snowflakes. You are a master scavenger and have managed to skate by each year with the bare minimum. But this year is different, and mom's hand-me-down patchwork tree skirt and dollar store stockings just aren't going to cut it. Enter: indigo holiday decor.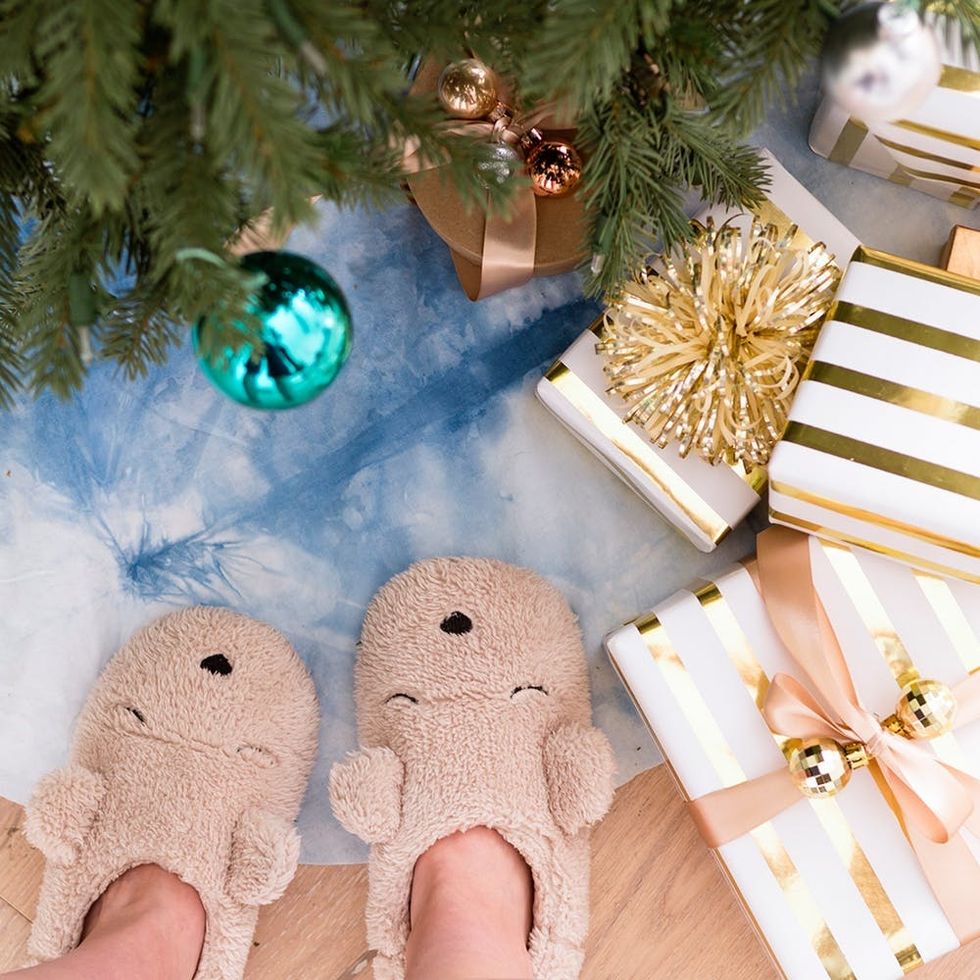 The best part about indigo crafts is that they leave plenty of room for beginner's mistakes. But if you really want to set yourself up for success, use natural fabrics. We went with cotton for the tree skirt and some canvas stockings.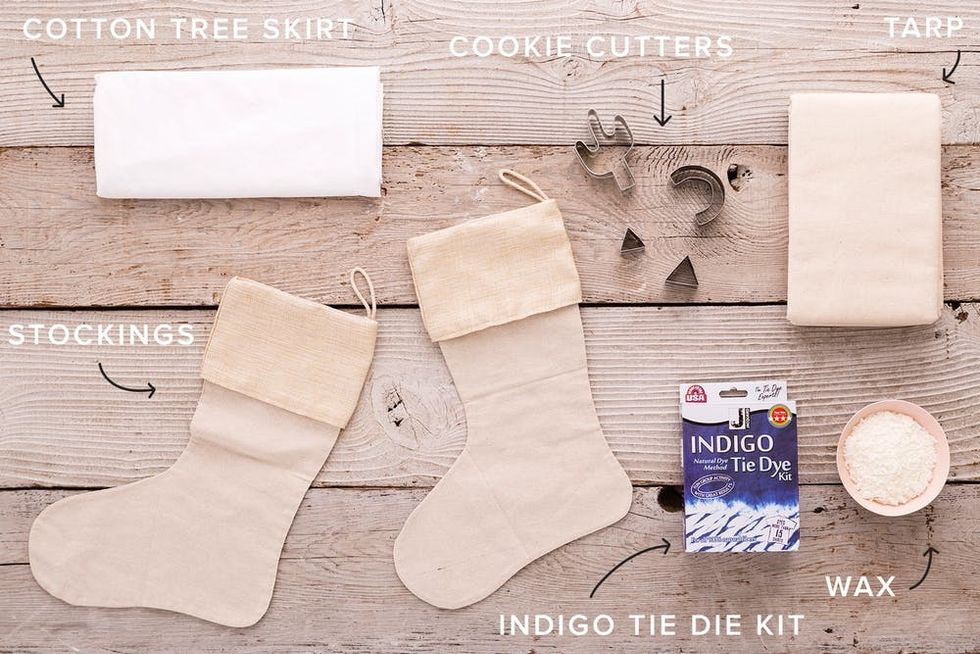 Materials + Tools: 4 canvas stockings Shibori kit (2) rubber bands 2 natural pieces of 44-inch white cotton fabric plastic tub cookie cutter of your choice (how cute is this cactus?) melted candle wax gloves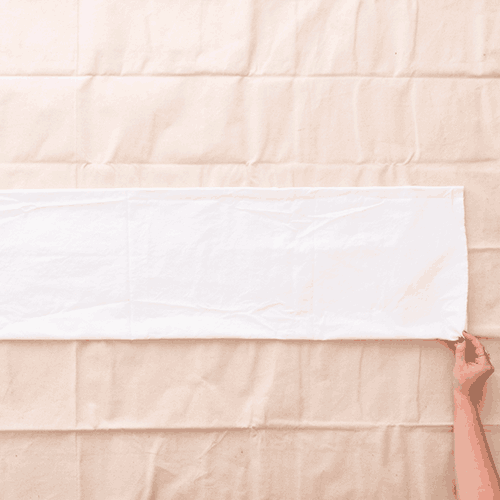 We stuck to a traditional Shibori method when dyeing our tree skirt. Shibori is allll about folding, bunching, and binding fabric. Since we love geometric shapes, we folded our fabric into a triangle shape. Begin by folding your material into a long strip and fold it into triangles in an accordion style. When you're done, bind each corner with a rubber band. Pull tight to try to minimize the wrinkling!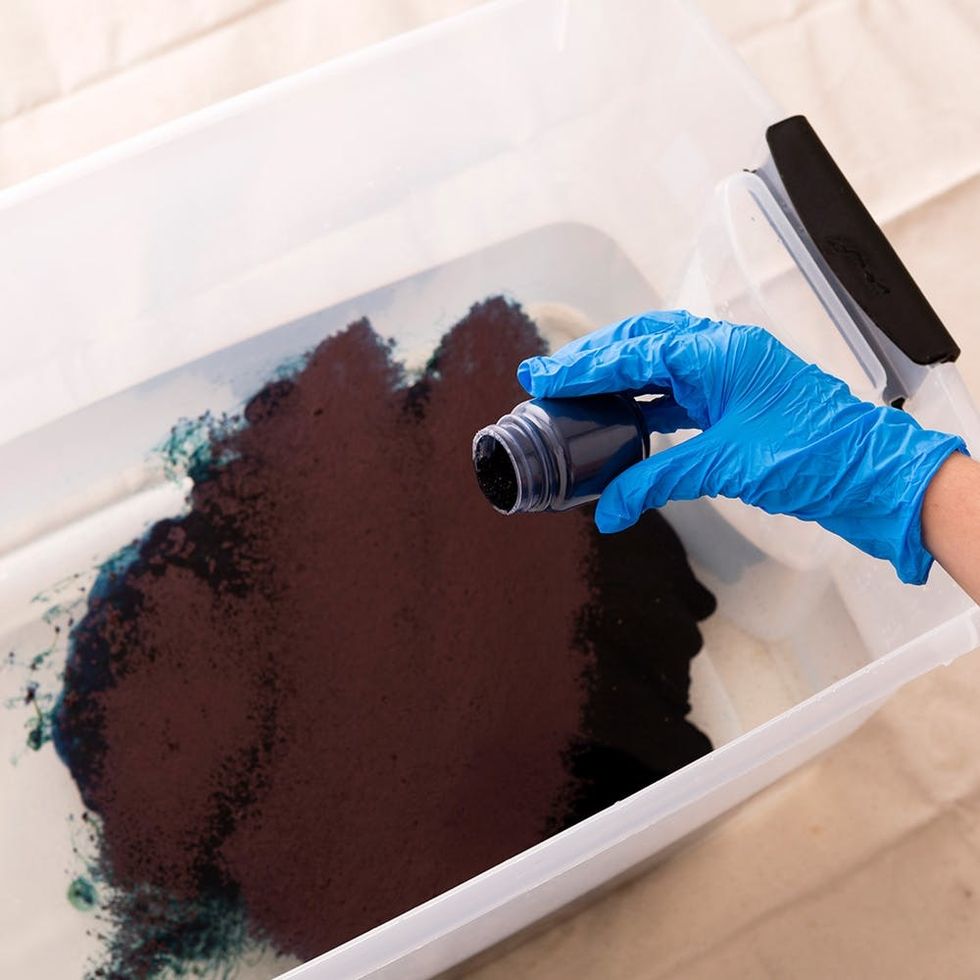 Fill a large tub with four gallons of water and add your dye (we love this kit). Stir the dye in a circular motion before mixing in the thiox and soda ash. Once you can see that the liquid has settled, stir your liquid in the opposite direction. This part feels a bit like making witch's brew... and we like it. Wait about an hour before dipping any fabric into your mixture. You'll know when the mixture is ready because a filmy layer will appear at the top. In the meantime, keep the container covered to prevent the liquid from oxidizing.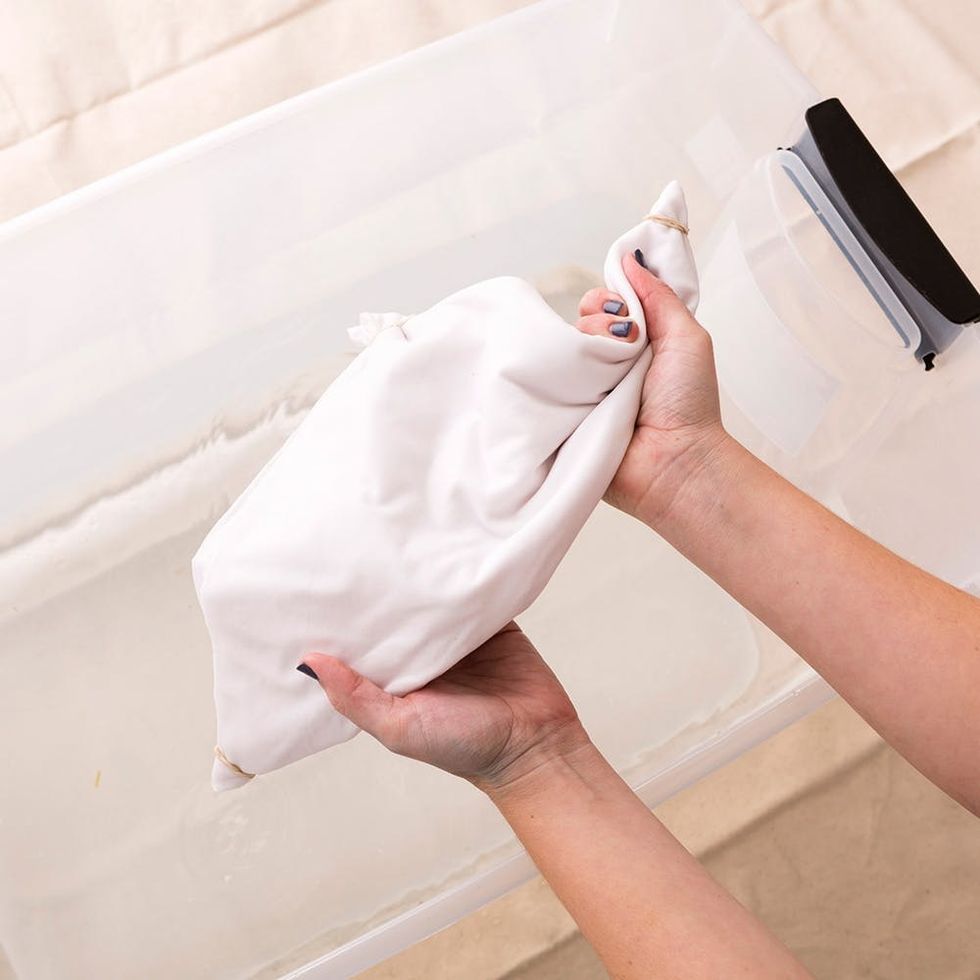 While you wait, rinse your bound fabric in clean water. Make sure you squeeze out any excess water.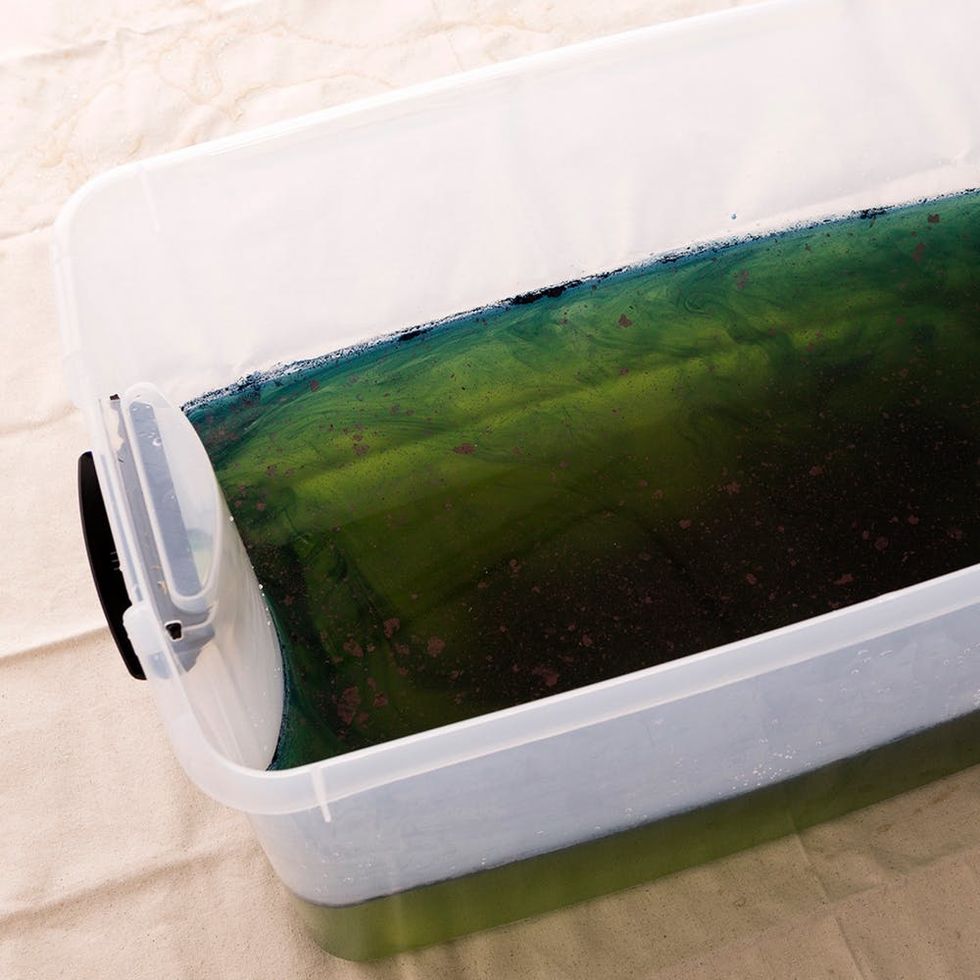 Once your mixture is ready, push the filmy layer to the side or simply remove it. Pro tip: If you hope to use your dye over the span of a few days, make sure you save this layer! You will want to add this back in and cover the mixture until you return to dyeing.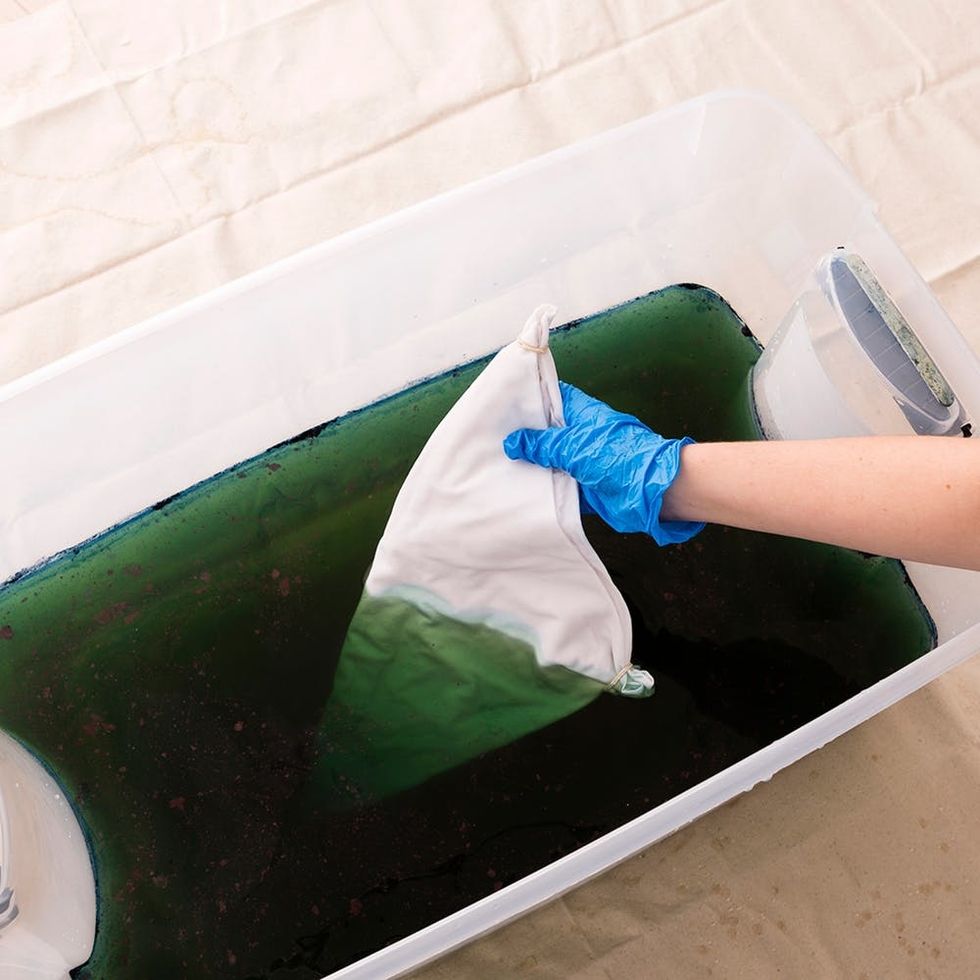 One at a time, submerge each item in the dye for about 10 minutes. During this time you can massage the fabric. At this point, it will look bright green.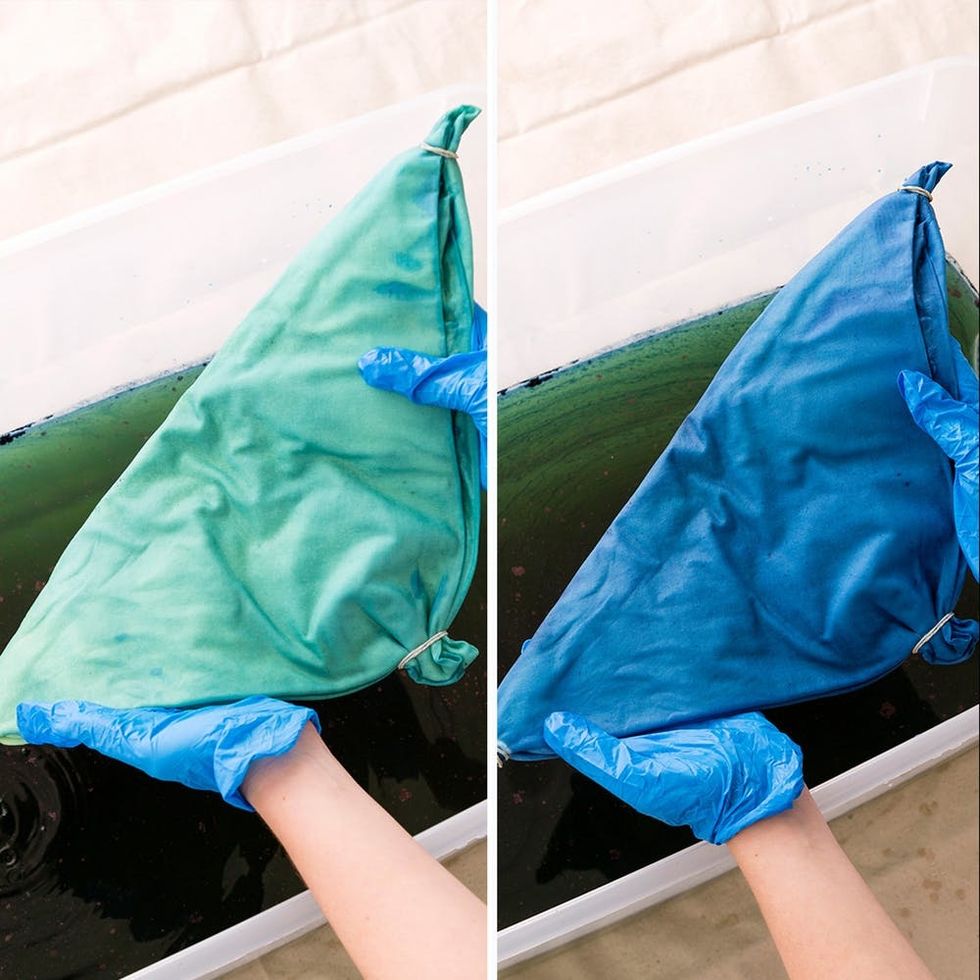 Once you've removed your fabric from the dye, allow it to sit for 20 minutes. The color should slowly shift to a blue color. Feel free to submerge your fabric a couple more times until you've reached your desired hue.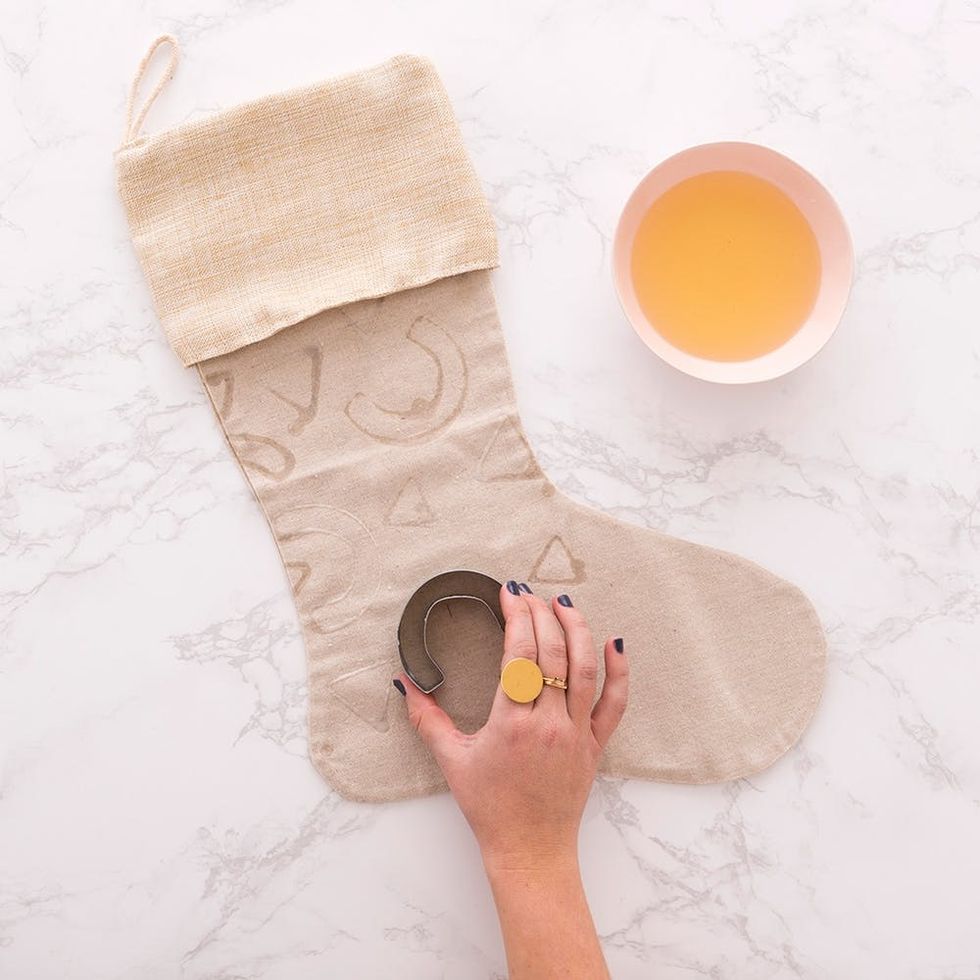 For our stockings, we followed this Batik stocking tutorial to make crazy patterns using candle wax and cookie cutters. Just melt your wax, dip your favorite cookie cutter in the wax, and stamp directly onto the stocking. Let the wax dry before washing the stocking in a clean water and starting the dyeing process outlined in the tutorial.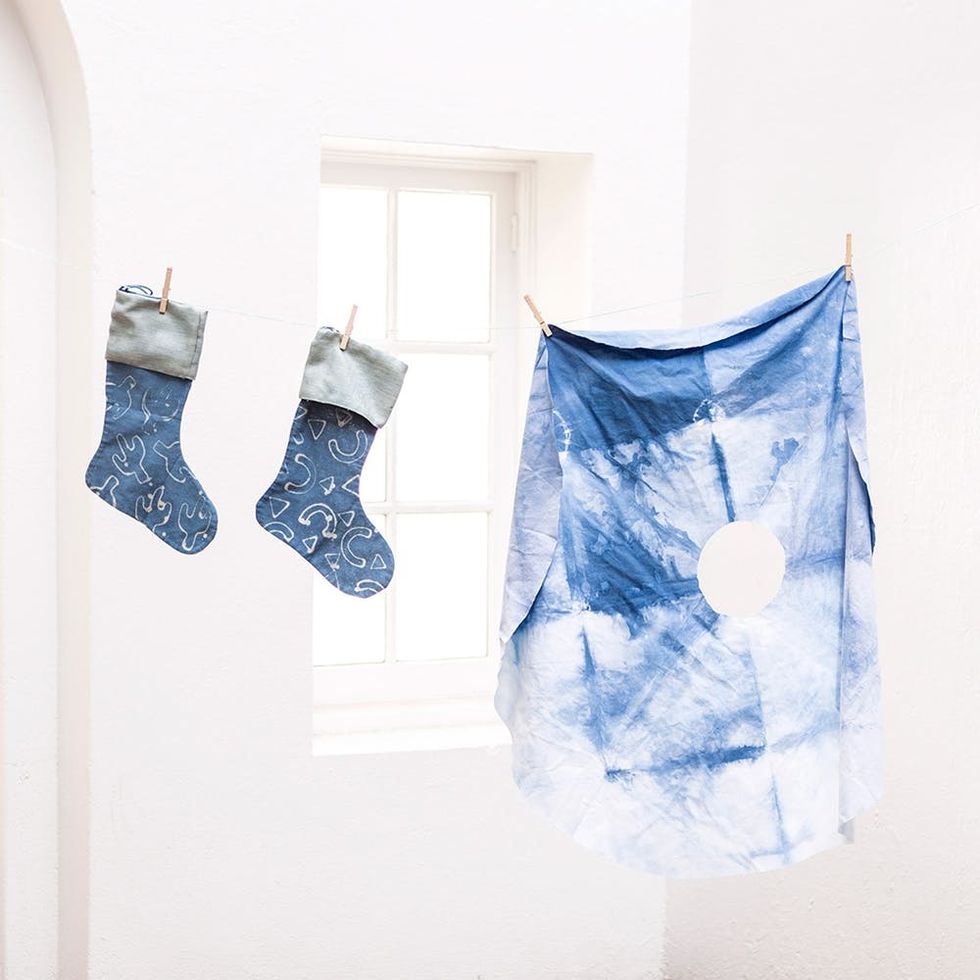 We like to let these babies sit overnight before washing them with a gentle detergent. Next, hang them outside to air dry.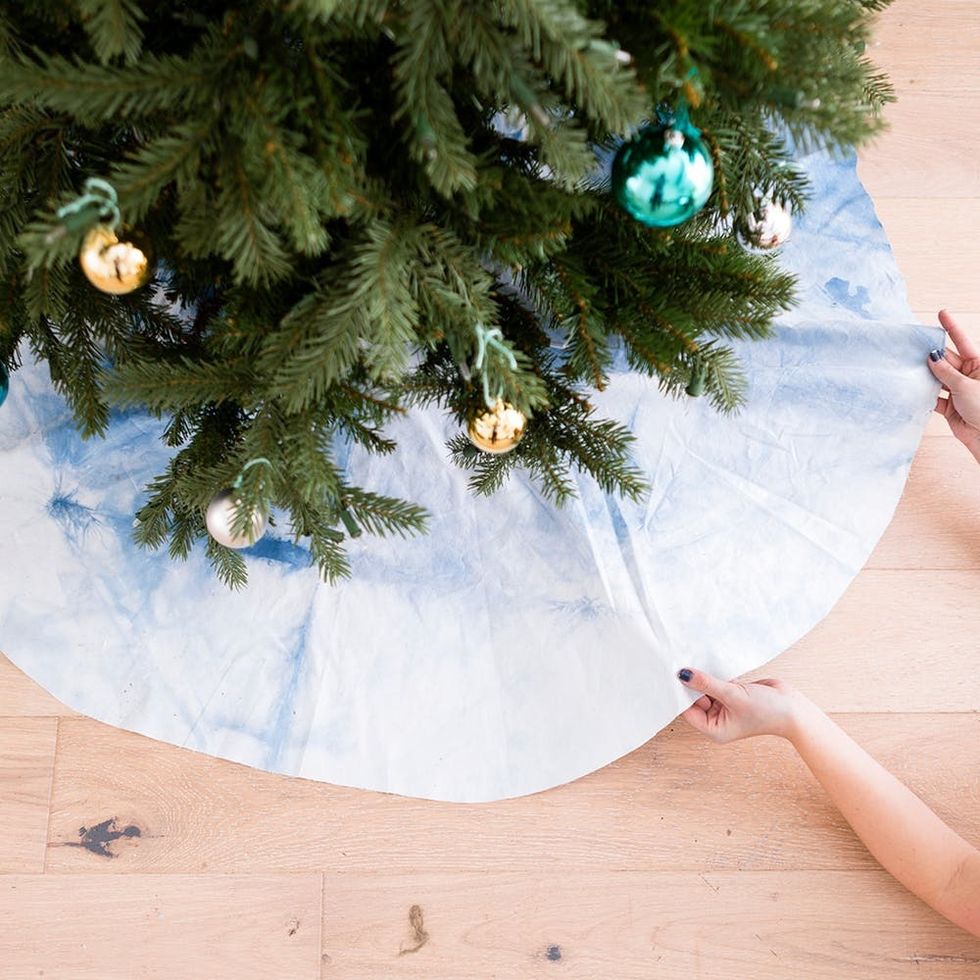 Our favorite part? There's no such thing as imperfect when it comes to Shibori! Every piece will look completely different and unique. We may be a little biased, but it's probably safe to say you'll have the cutest stockings and tree skirt on the block, no matter what.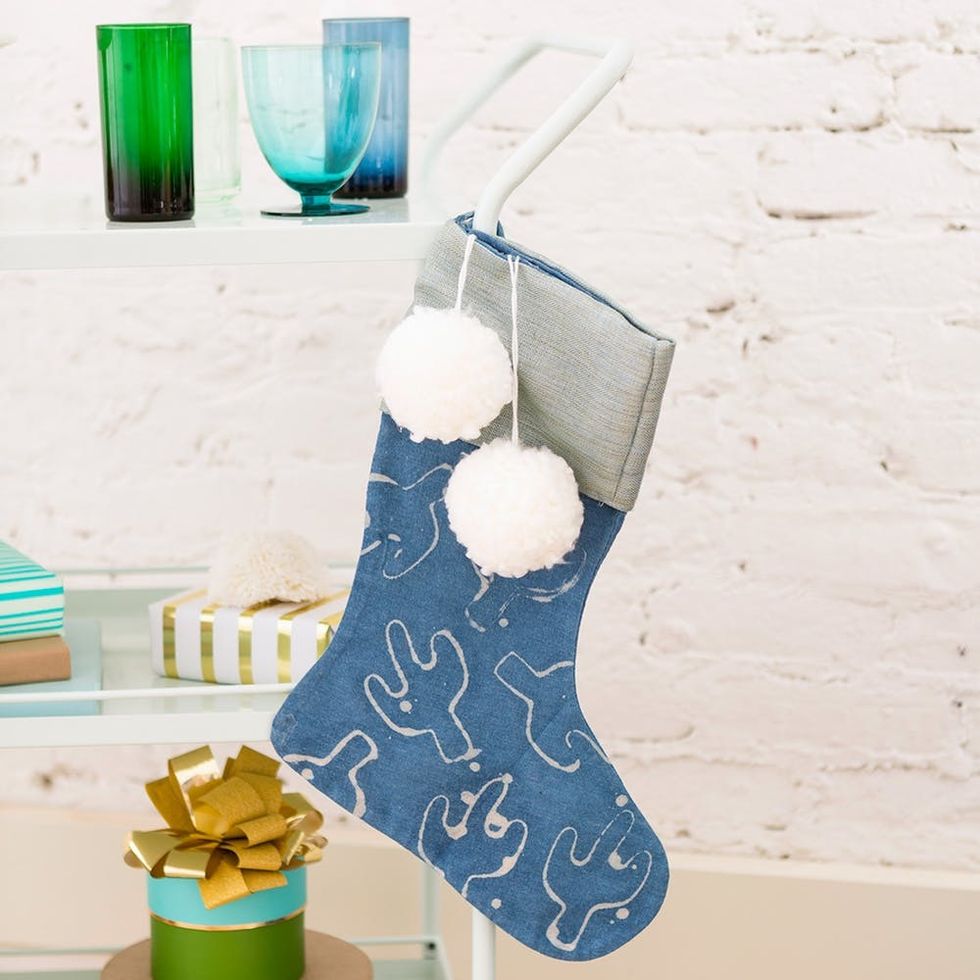 If you don't have a traditional mantel there are lots of other creative ways you can hang your stockings. We attached ours to a bar cart since we all know that's where the real action happens.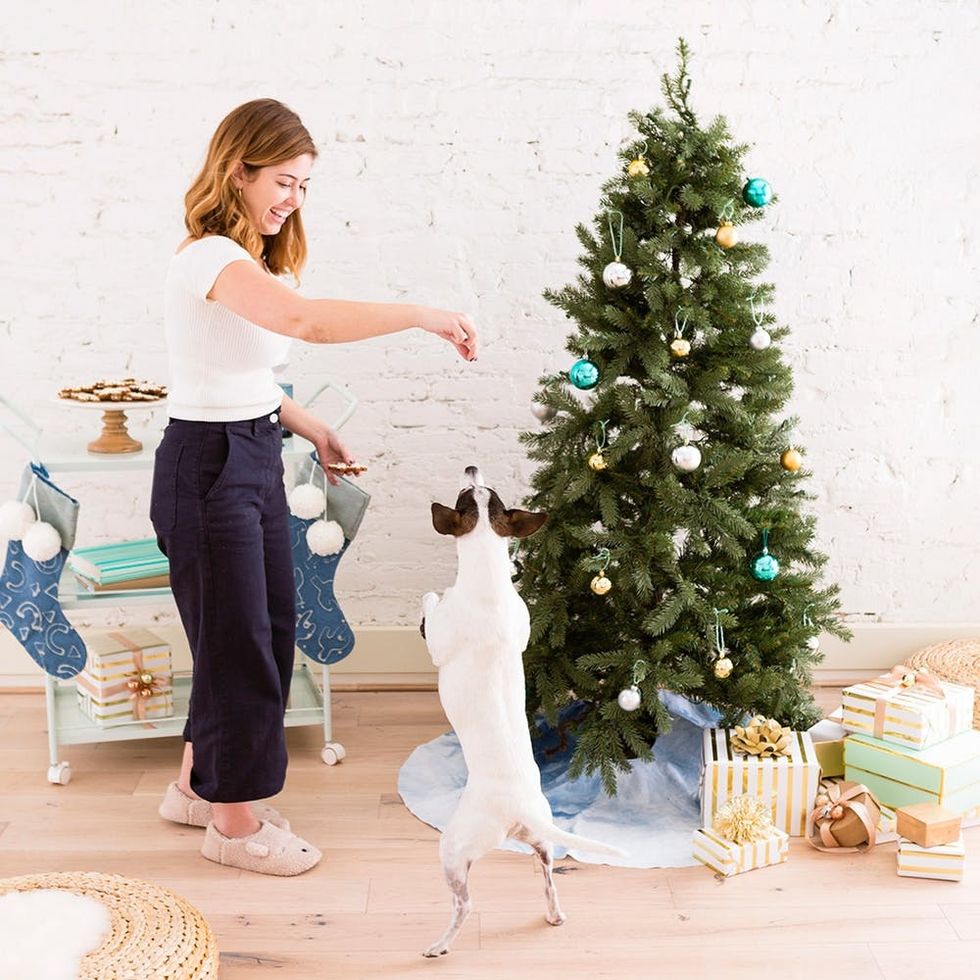 Now it's time to get to the important tasks like eating cookies and cuddling your dog while you watch Love Actually!

Would you ever dip your toe into the indigo pool? Share your DIY win with us over on Instagram using hashtag #britstagram!
Styling + Production: Kayla Haykin
Photography: Kurt Andre
Brit + Co may at times use affiliate links to promote products sold by others, but always offers genuine editorial recommendations.
Kayla Haykin
Kayla is a San Francisco creative with an appreciation of all things shiny. Except for pasta, which she prefers with Parmesan.