While We Weren't Watching, an Unprecedented Number of Immigrant Children Have Been Detained
Sep 13, 2018
As immigrant communities continue reeling from the Trump administration's "zero tolerance" policy and immigrant family separations at the US-Mexico border, new figures reveal a dramatic increase in the number of immigrant children being held in detention. The New York Times reported Wednesday evening that the number of immigrant children being held in government-contracted detention centers has reached 12,800, the highest number of immigrant minors the US has ever detained at once.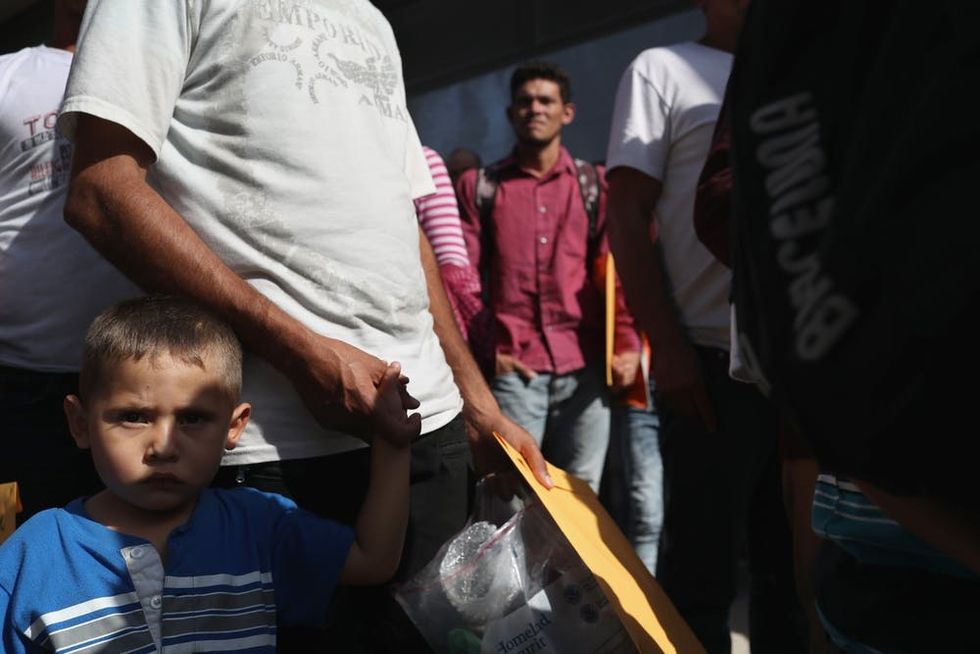 ---
The number of immigrant minors in detention centers is now more than 400 percent greater than it was in the spring of last year. According to the Times, there were 2,400 immigrant minors in detention centers last May. The figures published in the Times were provided by members of Congress.
An ACLU report from May pointed to widespread sexual and physical violence against children held in detention centers. The report specifically cited that some detained children were being given inadequate and unsafe food and drinking water, among a litany of other gut-wrenching infractions. As the family separation crisis made headlines shortly thereafter, the UN said that the separation of migrant children from their parents, alone, "may amount to torture."
The sharp increase in child detentions is gravely concerning, and all the more so in light of the fact that the administration is making moves toward policies that would permit the indefinite detention of immigrant children and their families.
News broke last Thursday that the Trump administration is seeking to replace the Flores settlement, which stipulates how long and under what conditions the government can detain immigrant minors. The proposal comes weeks after the Trump administration missed a court-ordered deadline to reunite families who had been forcibly separated at the US-Mexico border under the "zero tolerance" policy.
The Flores settlement refers to the result of a 1997 case against the US government that now dictates how long immigrant children can be detained. It further stipulates the minimum living conditions required for detention centers. Though the settlement is meant to provide some level of protection for immigrant kids, Department of Homeland Security Secretary Kirstjen Nielsen recently dismissed Flores as a "legal loophole" and "one of the primary pull factors for illegal immigration" according to New York Magazine.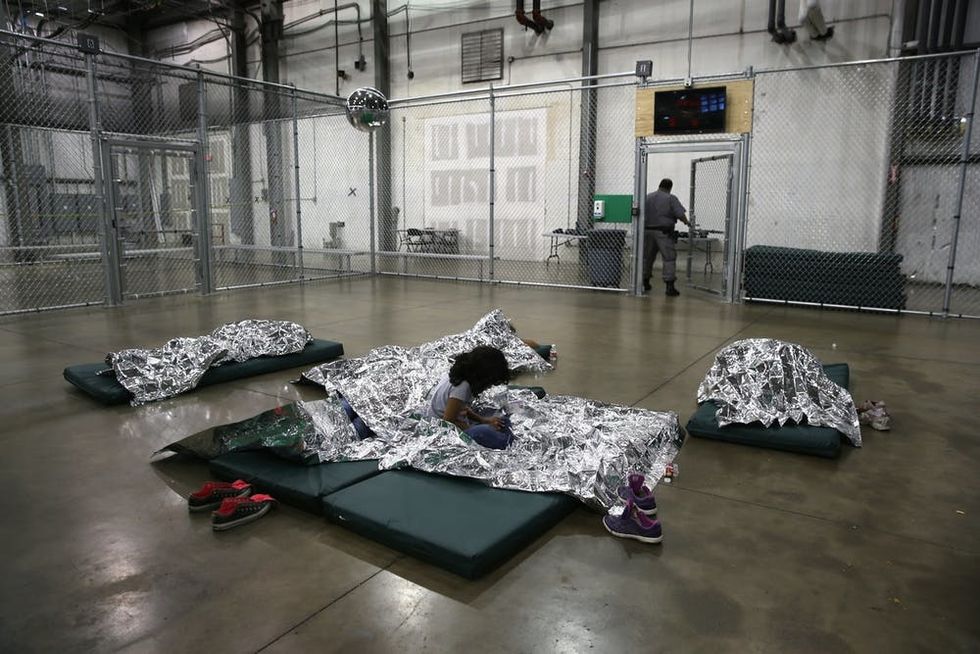 Existing detention facilities are near full capacity (90 percent) already at this point, the New York Times reports. But running out of space to keep immigrants, including children, has not stopped the government from increasing rates of detention before: In 2014, when the numbers of children attempting to cross the US-Mexico border outgrew the capacity of facilities that could hold them, the Obama administration simply built more.
In fact, the Obama administration was found in violation of Flores in 2015 over conditions in some of these detention centers. If the Trump administration succeeds in passing its proposal to replace the standards outlined in Flores, it will be that much more difficult to legally challenge abuses against immigrant children.
Trump, too, is working on growing facilities where immigrant children are detained. The administration is expanding a so-called "tent city" in Tornillo, Texas to triple its current capacity. Once the expansion is complete, the "tent city" will have a new maximum capacity of 3,600, according to Business Insider.
However, it's a certainty that the administration's plan to do away with Flores will land them (yet again) in court, where it's unlikely a court will side with the government. New York Magazine notes that, when the Trump administration tried to detain children for longer periods of time, the matter went to court. In July, US District Court judge Dolly Gee called it a "cynical attempt" to undermine Flores, and said the Justice Department failed to provide sufficient evidence.
What do you think? Tell us on Twitter @BritandCo.
(Images via John Moore + Joe Raedle/Getty Images)
Elizabeth King
Elizabeth King is a politics, history, and culture writer based in the Twin Cities. She is generally pretty cranky but still enjoys traveling, music from the early 2000's, and plotting the resistance. Feel free to say hi on Twitter at @ekingc or check out some of her work at www.elizabethcking.com.
Current Events
Still haven't taken up that new creative skills you swore you'd learn this year? Or ready to take your design skills to the next level? Let's say so long to the weirdest year ever by checking those big learn-something-new goals off our perpetual to-do lists.
We've teamed up with Clorox to give you the gift of unlimited creativity now through the end of the year. Once you sign up, you can take as many of our 120+ classes as you want for FREE for one whole month!
Here's how it works:

Head to brit.co/learn and sign up for the "All Access Pass."
Use the code "CLOROXCARES" at checkout to redeem your free month of classes.
You will be automagically signed up for Clorox's email list once you redeem your free all access pass. (It's the #1 Choice for Disinfection!)
Your pass lasts one month from when you checkout. This means you have unlimited access to all the classes during that month.
This offer is valid now through December 27, 2020.
Browse our catalog to find the right class for you, tell a friend and take the class together over Zoom, or organize a 'cocktails + crafts' night with a friend in your bubble so you can learn something new together.
What are you waiting for? Time to start learning all the things!

Thanks to Clorox for making this happen! When it counts, trust Clorox.
Lifestyle