17 Gorgeous Spring Wallpapers That Aren't Floral
Apr 14, 2016
We can almost hear Miranda Priestly's sarcastic tone as she quips, "Florals? For spring? Revolutionary." For reals though, if you're looking for a more creative way to refresh your space for spring, there's no need to head straight for the flower patterns. There are a ton of other trendy wallpaper designs that perfectly capture the spirit of spring and all its vibrance. We've scrounged around and found some pretty awesome examples of the way nature-inspired wallpapers can bring the outdoors in, without a petal in sight.
---
1. Yellow Stripes: Imagine your favorite painting blown up big enough to use as wallpaper. Go all out and cover an entire room with this checkered design, or use it on a smaller scale on an accent wall. The monochromatic design makes accessorizing the space versatile and effortless. (via Domino)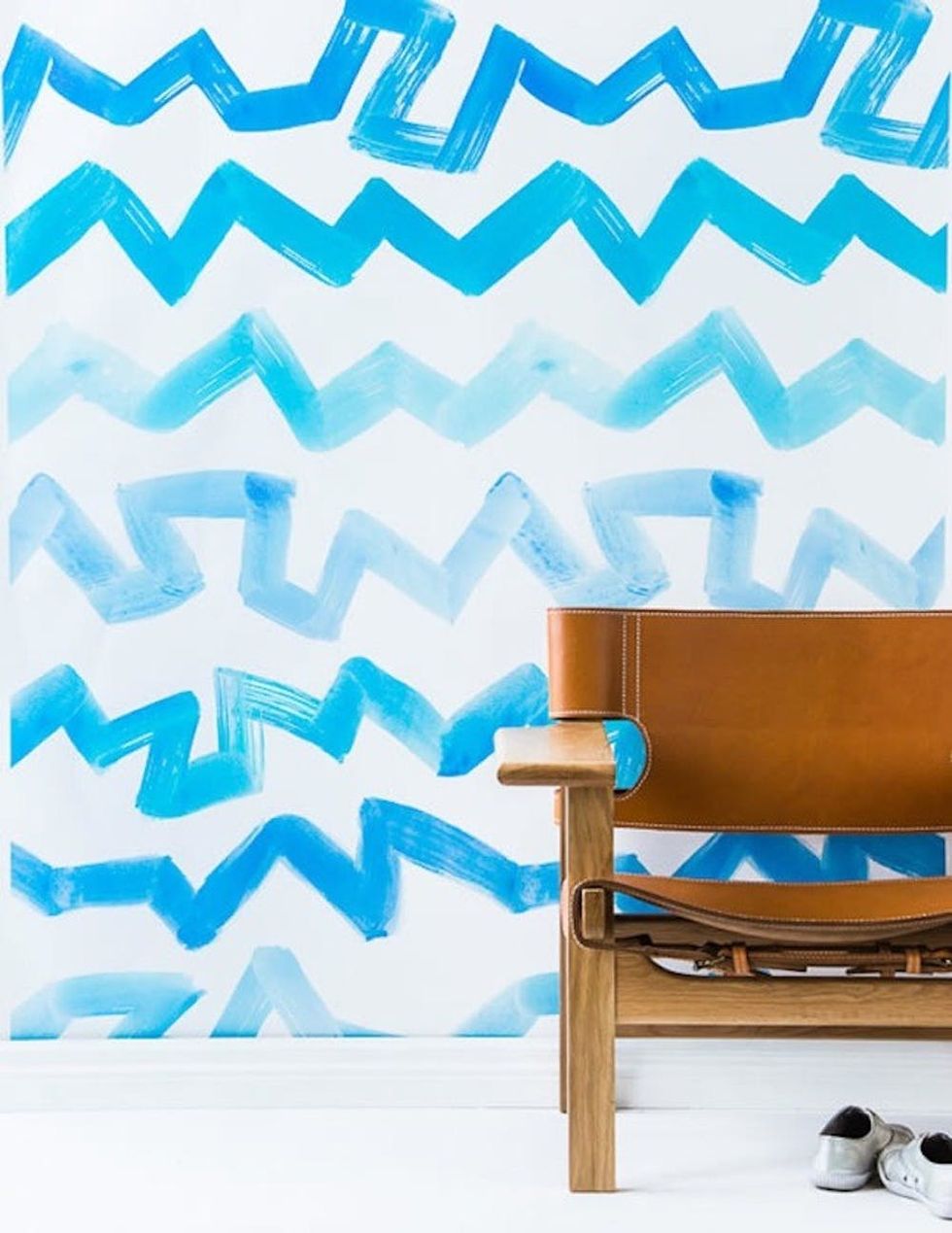 2. Painterly Zig Zag: We're slightly tempted to take a paintbrush to our walls and get this awesome look, but a sheet of this artsy wallpaper designed by Sarah Ellison might a better option. Bring those blue skies indoors, whether it's actually looking like spring or not. (via Emily Ziz)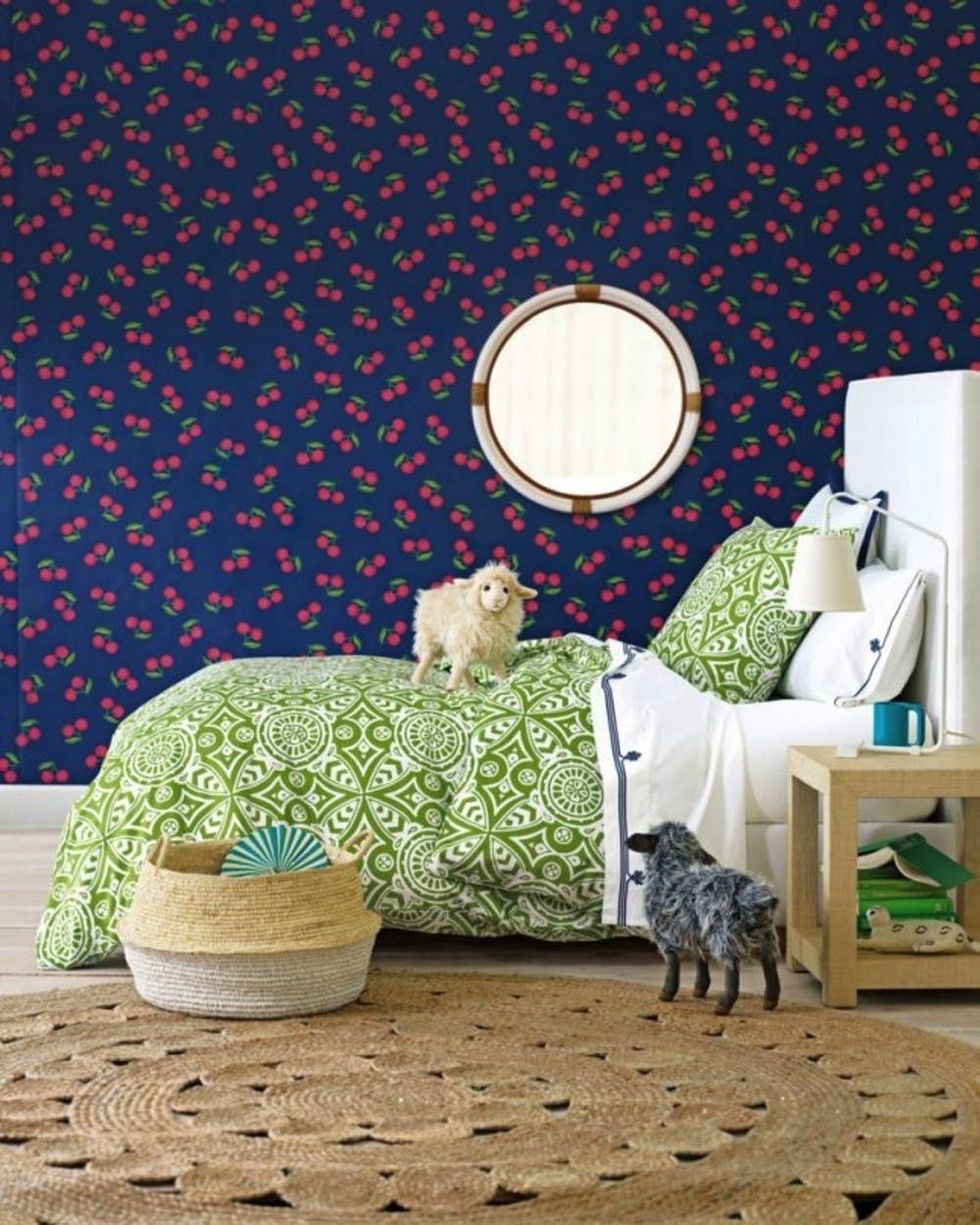 3. Serena & Lily Cherries Wallpaper ($88): A dark navy background is ideal for this small pattern of cherries. It's not as crazy bold as some of these other patterns, but its definitely a lot of fun. Use it in a kid's room or your kitchen, with pops of bold colors to bring a little extra spring cheer to the space.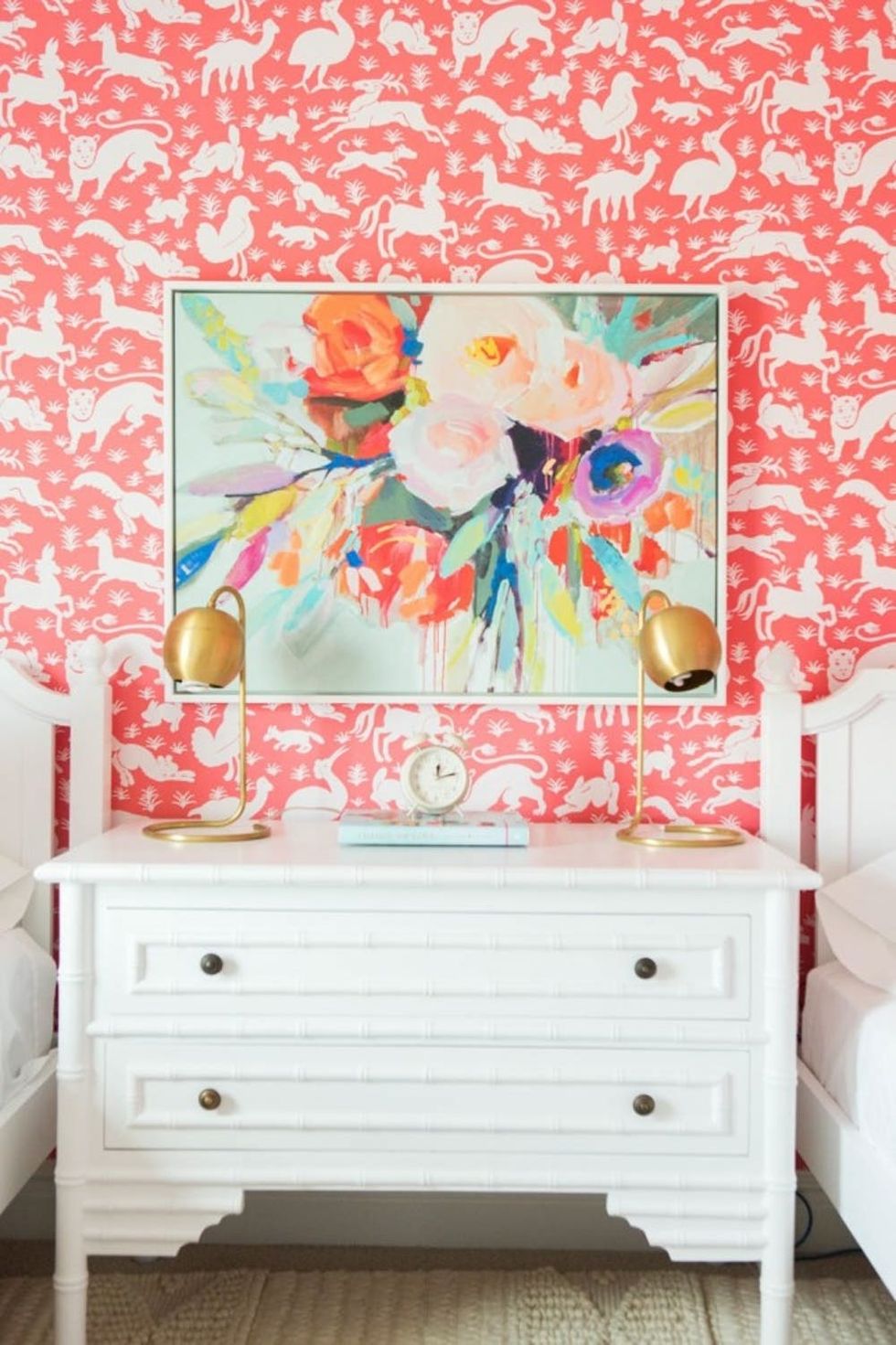 4. Hot Pink Animal Print: Perfect for a nursery or kids' room, this playful animal design is super on-trend and lively. White furniture makes the pink and white pattern pop and a big piece of colorful art (in this case, something floral) totally makes a statement. (via House of Jade)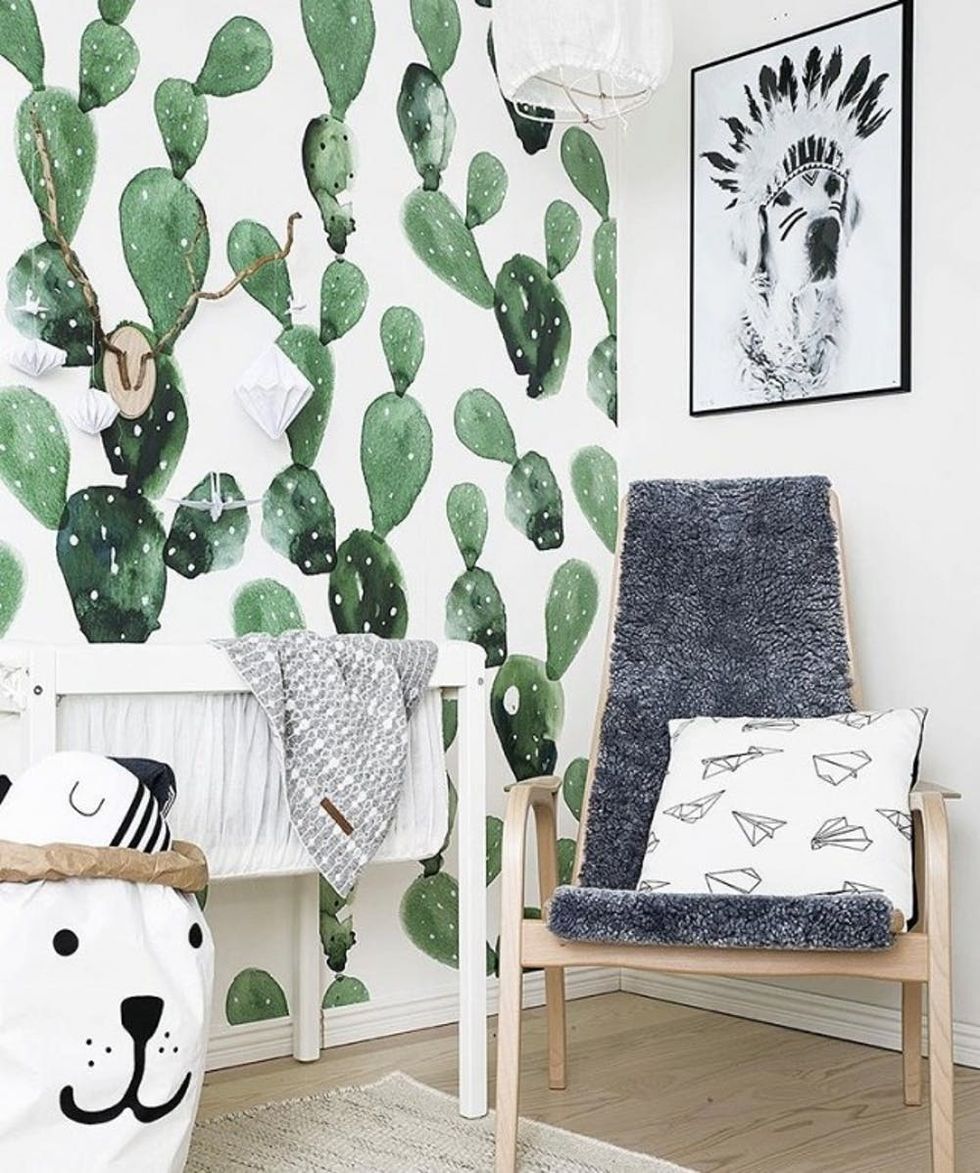 5. Cactus Print: If you want to add some color to a room but don't want to go into sensory overload, this watercolor cactus print is a perfect in-between. Bonus points for already having a killer Instagram backdrop for all those baby selfies you know you're gonna take. (via @tellkiddo)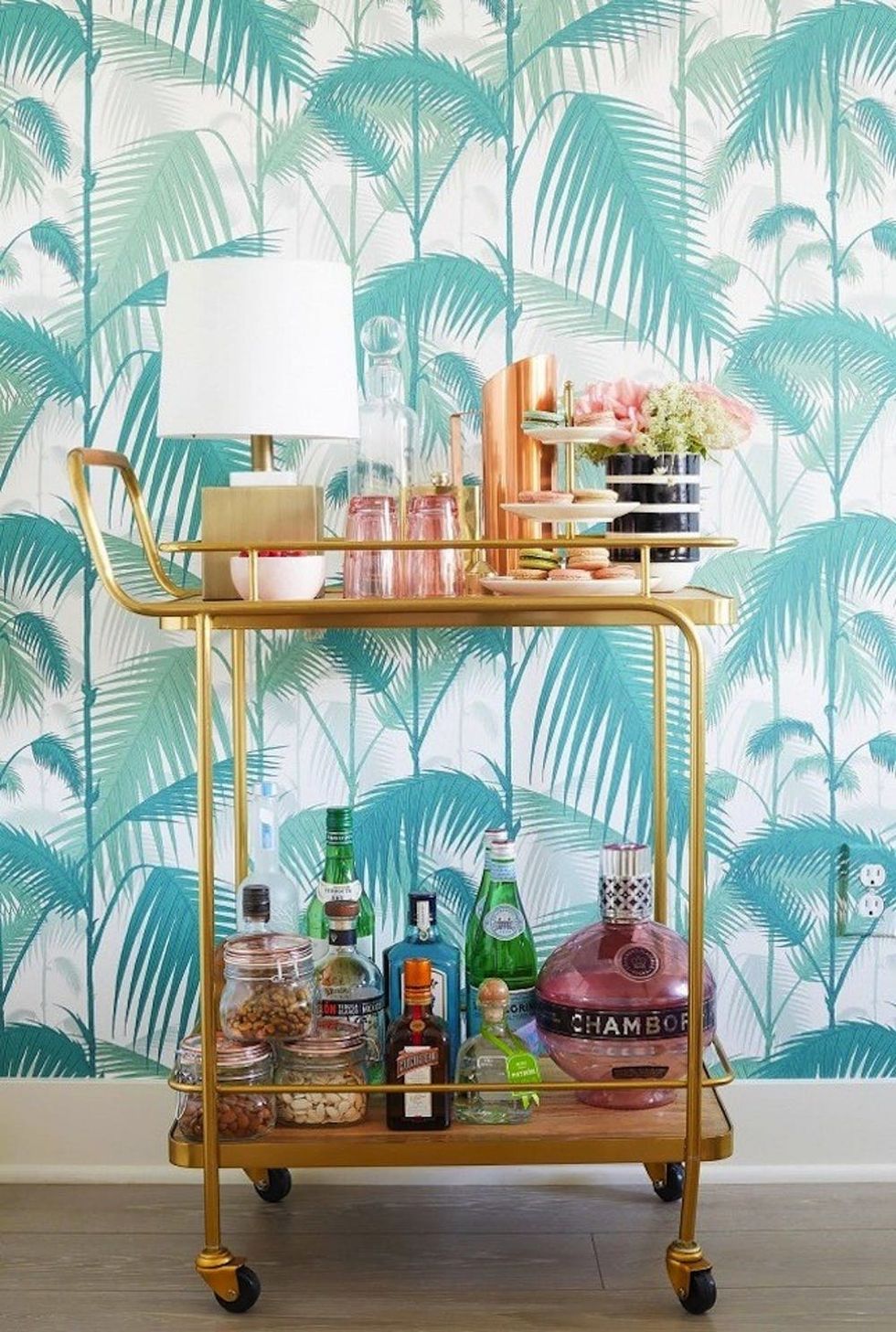 6. Teal Palm Trees: Bring on the California feelings in a big way with this teal blue palm tree print. A gold bar cart and copper accessories really bring out the sunshine even if you're not feeling very summery. (via My Domaine)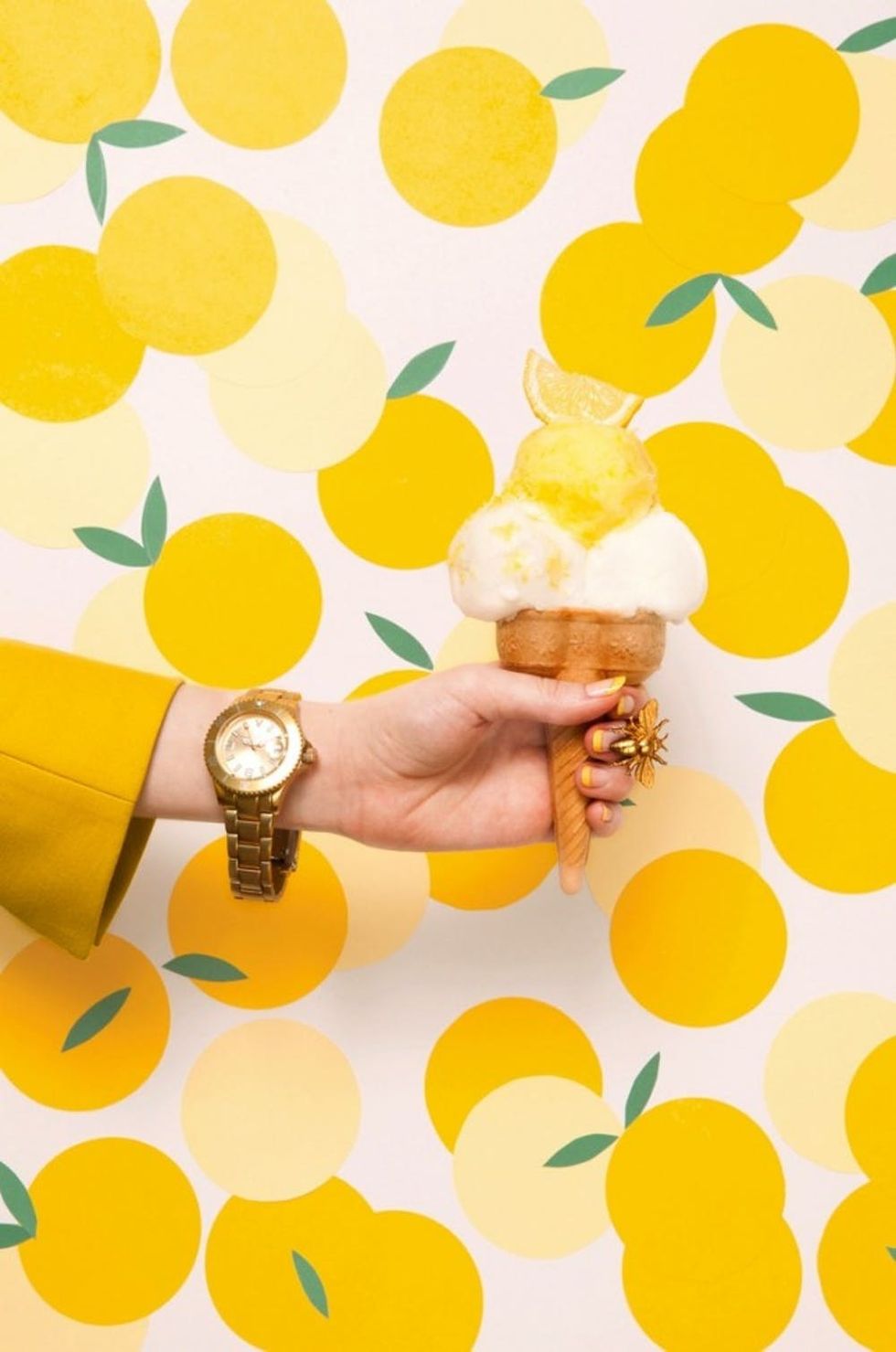 7. Make Lemonade: When life gives you lemons, make lemon wallpaper. Once this wallpaper is up, it'll always be springtime at your house, even if there's a blizzard outside. (via Make My Lemonade)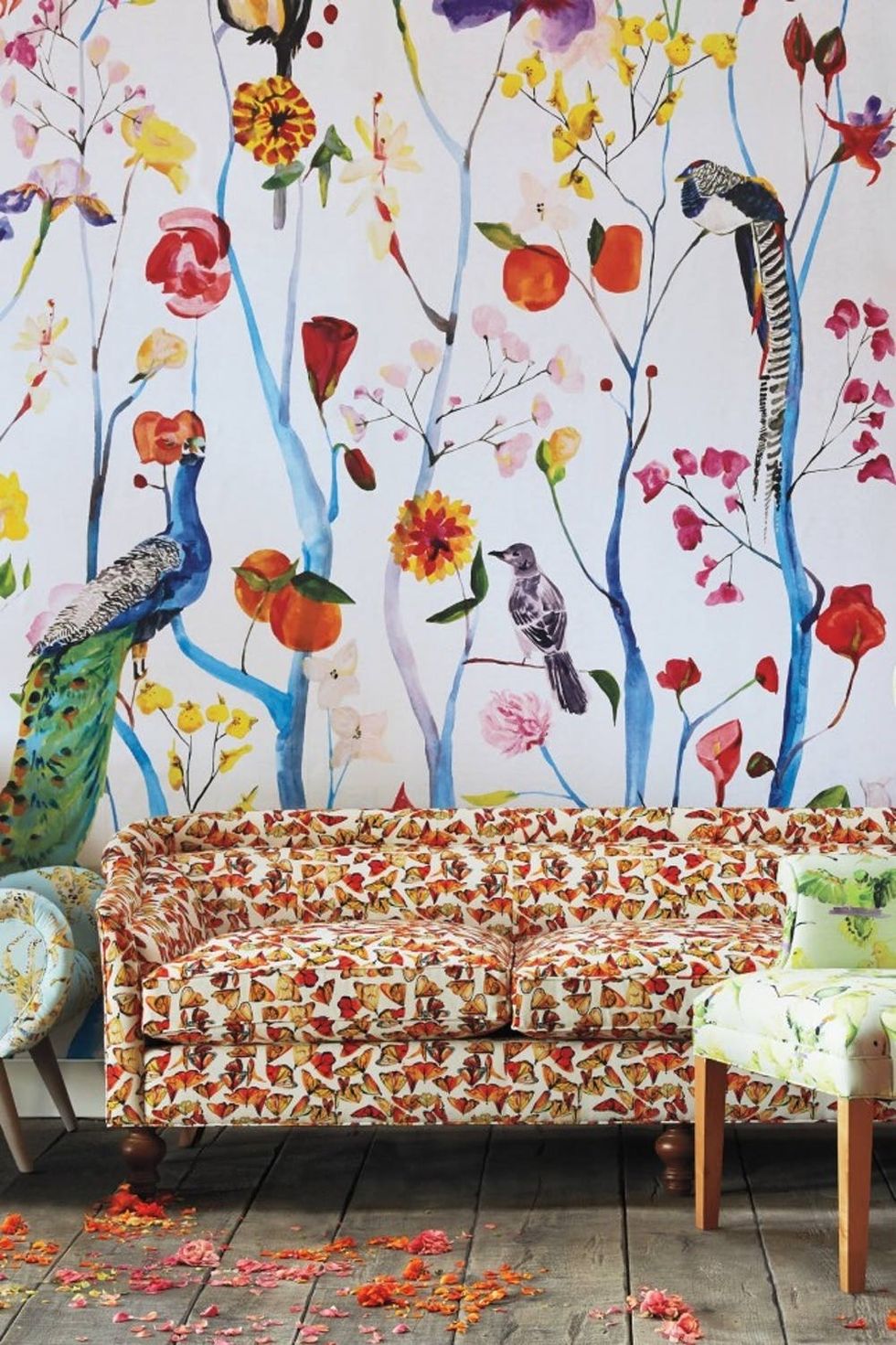 8. Voutsa Garden Chinoiserie Mural ($228): Don't let your patterned furniture or other pieces of art stop you from going all out with a bold wallpaper pattern. Here's a great example of how multiple patterns can work together in one space.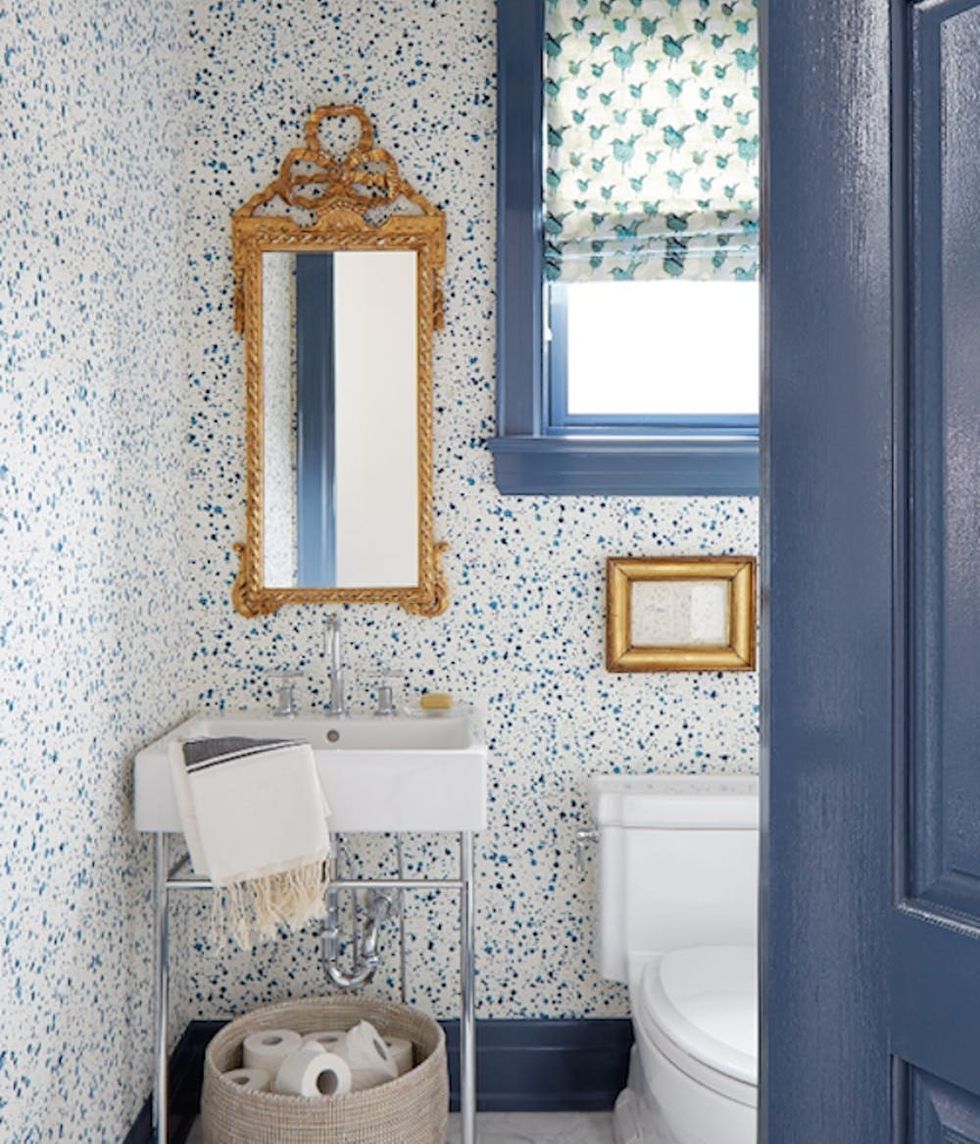 9. Splatter Pattern: Why hang art when you can paint it right on the wall. This abstract, Pollock-inspired wallpaper looks edgy and playful at the same time. Rock the blue and white trend this spring and accent with a few metallics for an extra stylish look. (via Decorpad)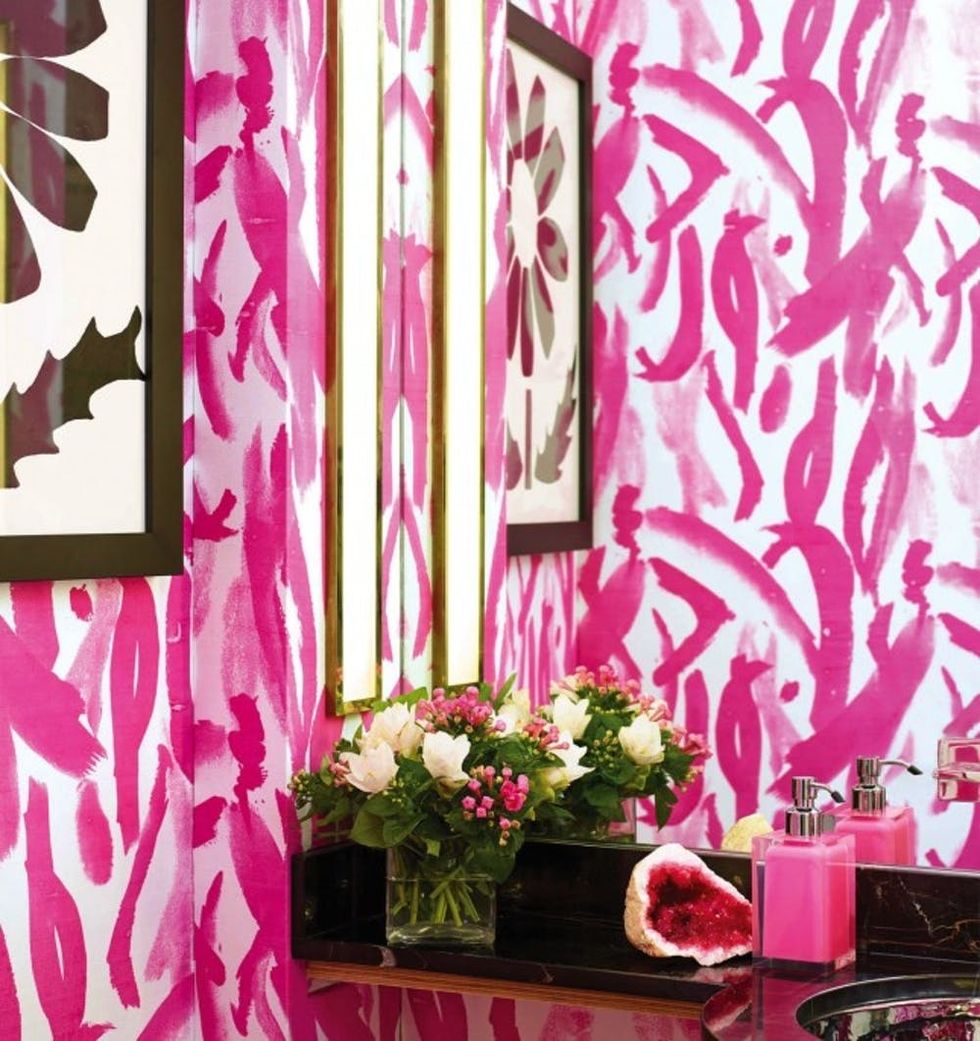 10. Messy Pink Paint: Indulge in a bit of festive, feathery fun with hot pink brushstrokes. This bold design might be too much for a bedroom, but in a tiny space like a powder room it is just the right amount of drama. For a more toned-down version, use the wallpaper on an accent wall and bring in solid, bold accessories that'll pop. (via House Beautiful)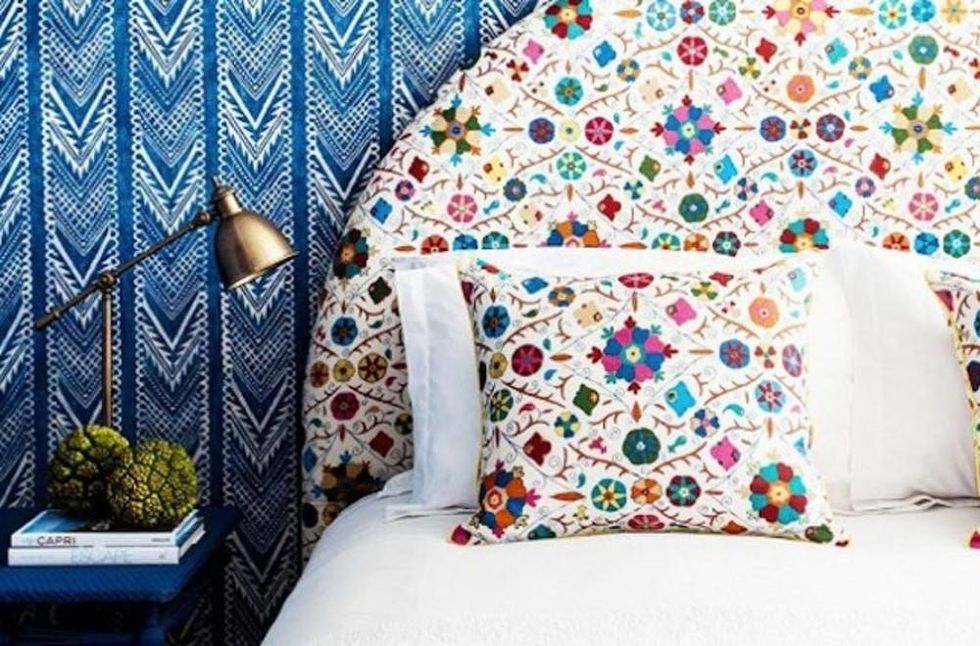 11. Call of the Blue: When all else fails, say yes to chevron. Its design works really well as an accent for other patterns like that floral-esque headboard. (via My Domaine)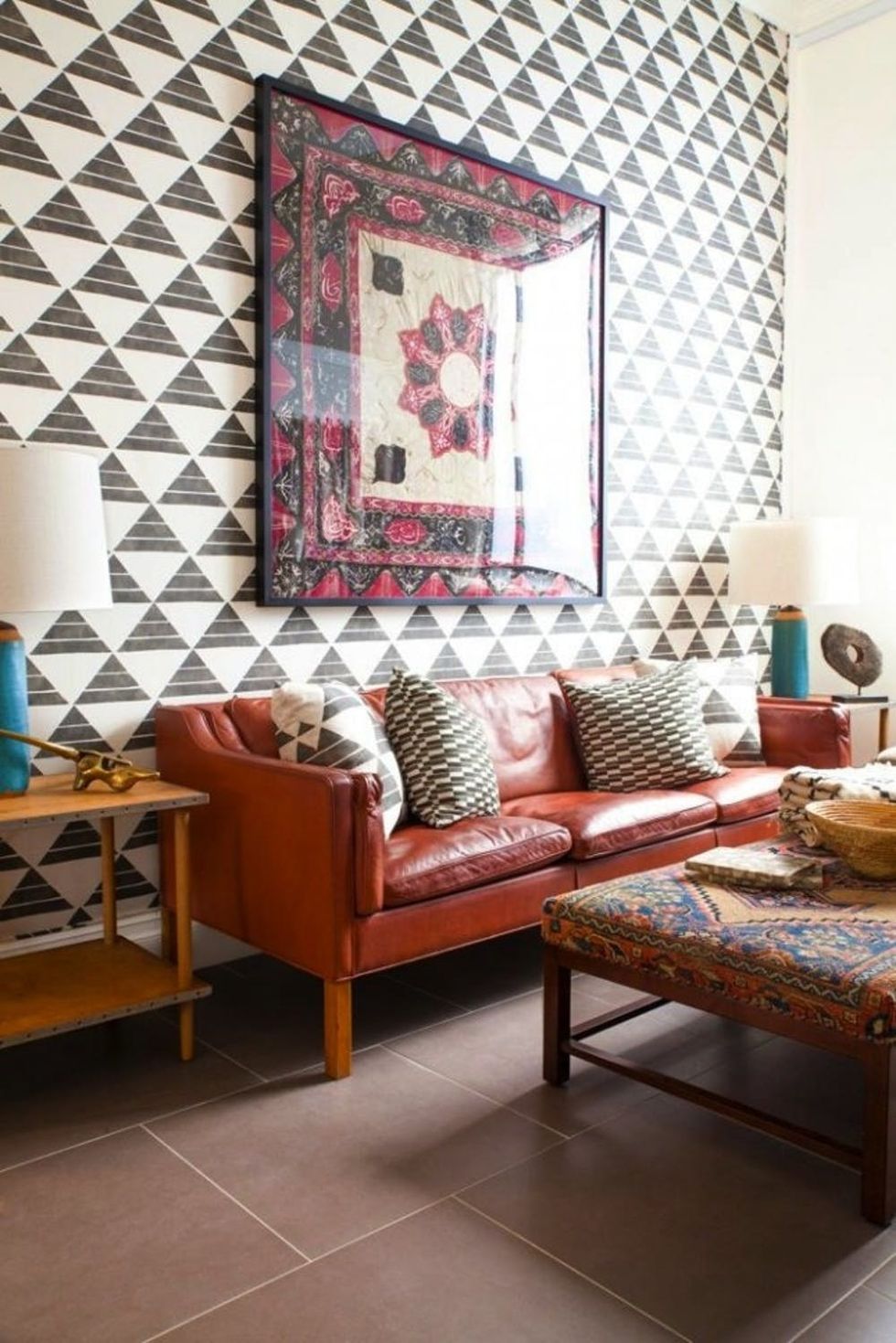 12. Tribal Chic: Spring or winter, triangles will never be out of season. Get in touch with your geo side with this subtle, gray wallpaper. We're having visions of this as the backdrop for a gallery wall. (via Domino)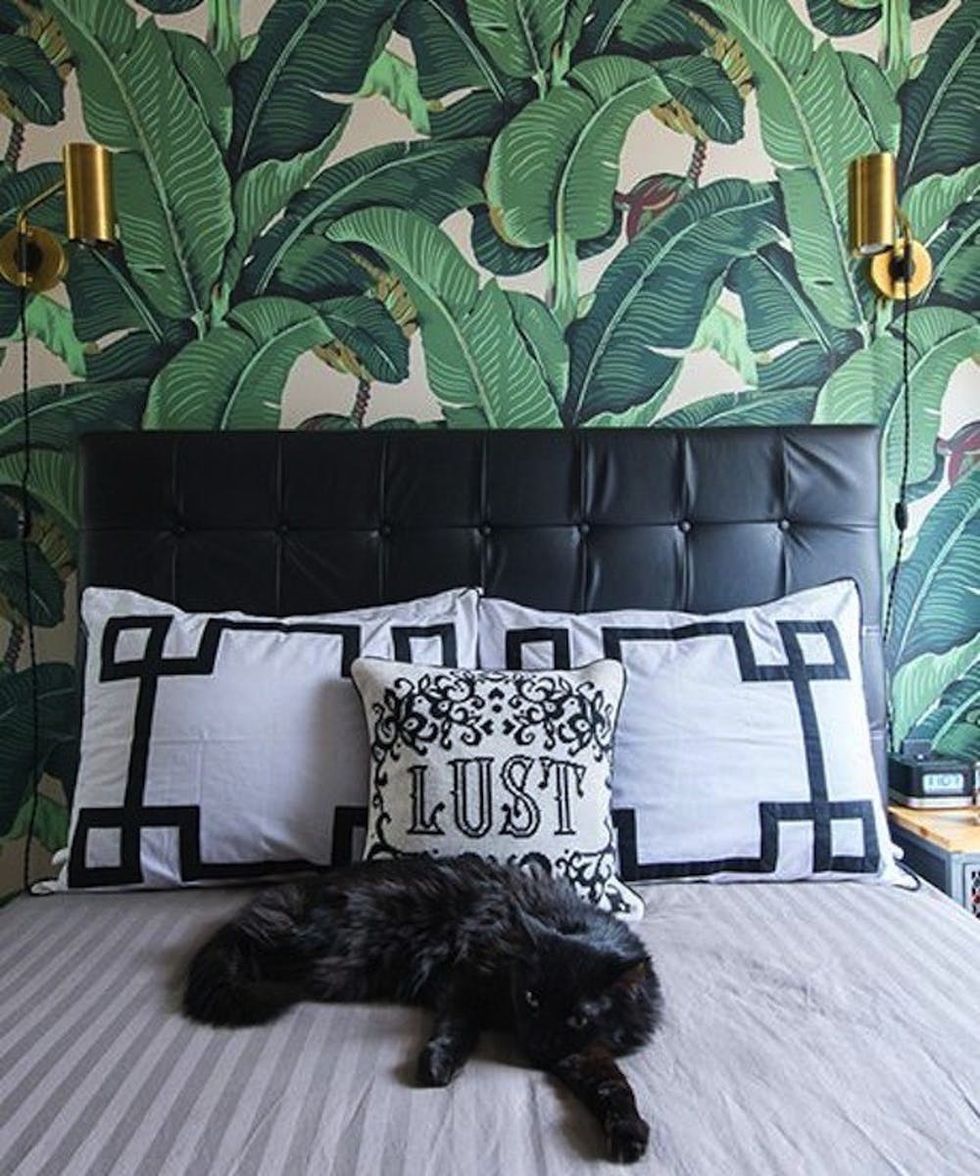 13. Banana Leaf Bold: Forget spring break, you can get those tropical vibes in your very own bedroom with this fantastic banana leaf print. Black accents give the look a certain sophistication, but adding a pop of pink with accessories would help refresh the look for spring. (via Refinery 29)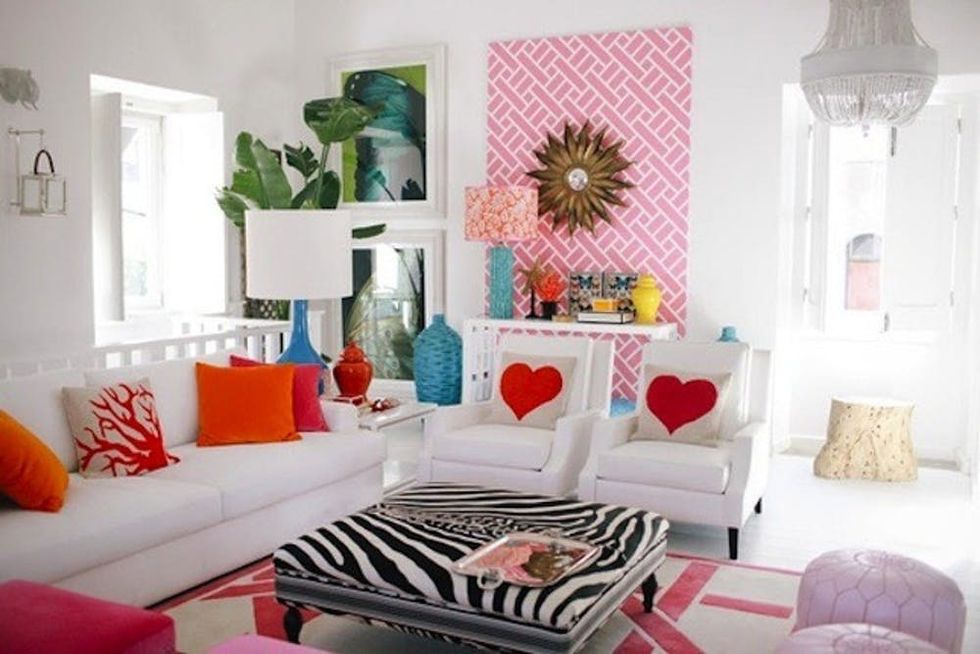 14. Pink Bricks: If you're yearning for something geometric, here's an option that has the essence of exposed brick but with an added pop of color. Use it on an entire wall, or to visually define a space for your bar or art, and add colorful accents and metallics throughout the rest of the room for a cheerful, feminine look. (via La Dolce Vita)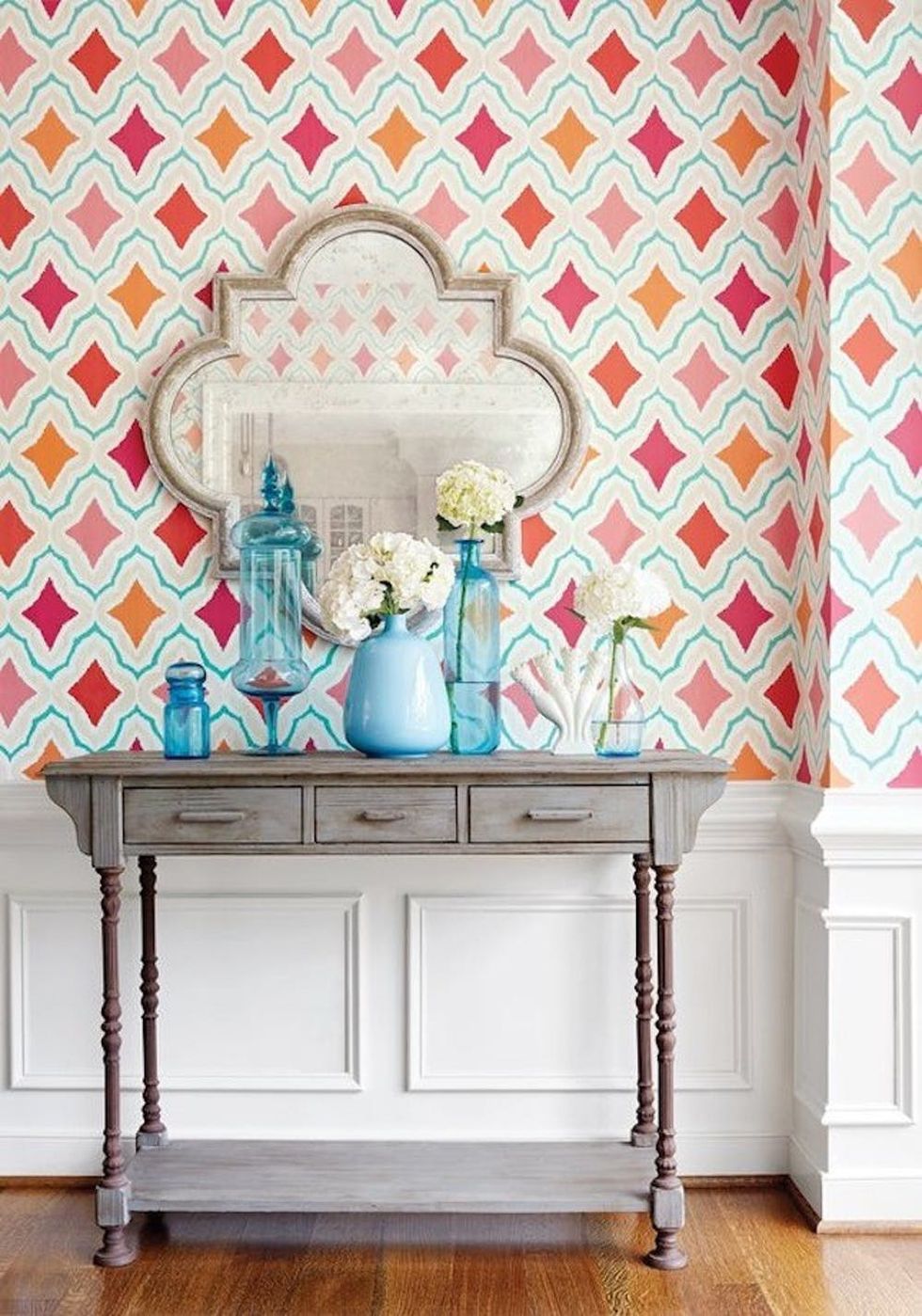 15. Pink + Orange Diamonds: For a sophisticated, preppy look, consider this refined trellis wallpaper in hot pink and orange. Accent with neutral pieces of furniture and a solid collection of bright blue vases to help pull details from the design. (via Thibaut)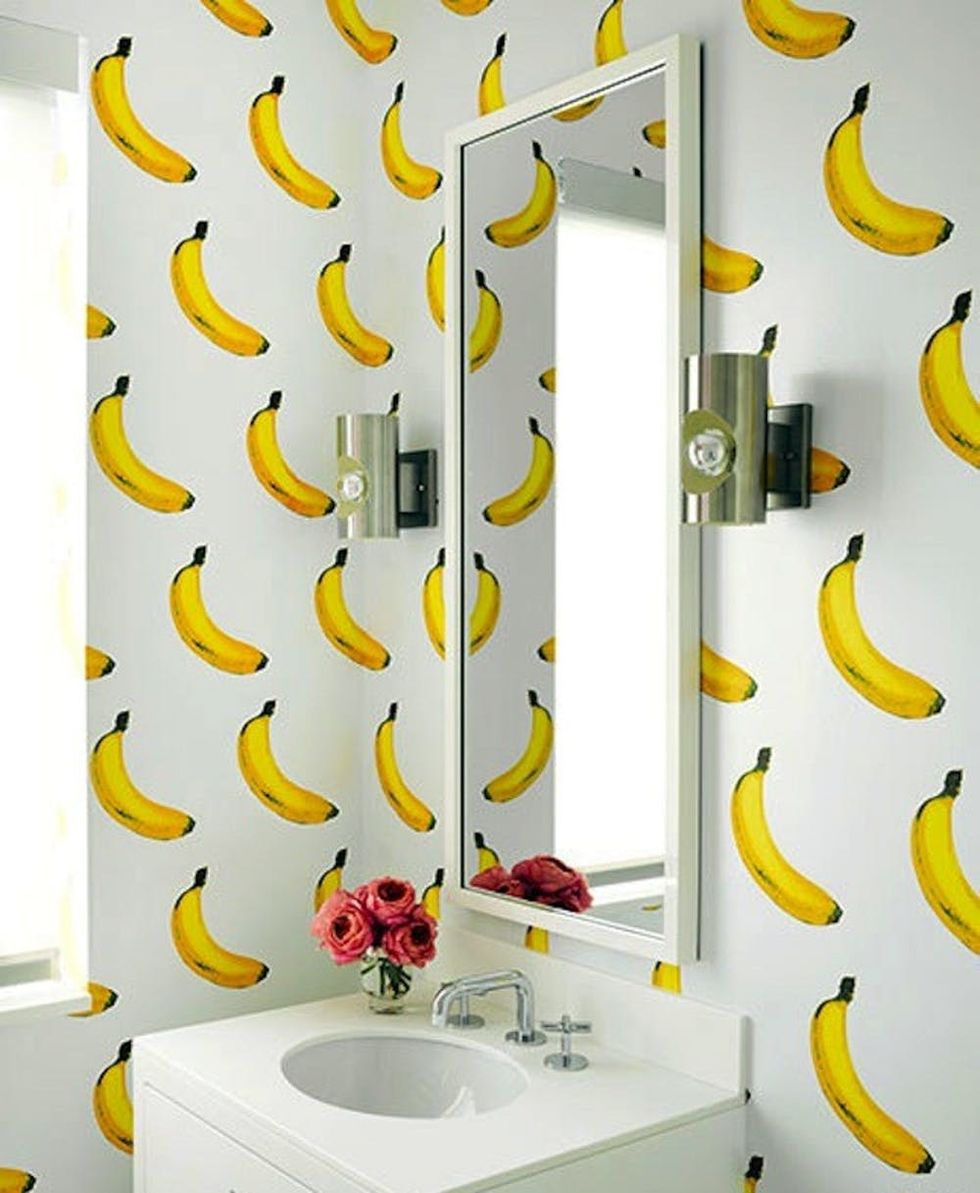 16. Groovy Bananas: According to Architectural Digest, Tommy Hilfiger's banana bathroom wallpaper is scented. Um, what?? Scented or not, we're digging the pop vibes this fun fruity wallpaper brings to the space. Go minimal with the accessories, to keep all the focus on this Warhol-esque design. (via Architectural Digest)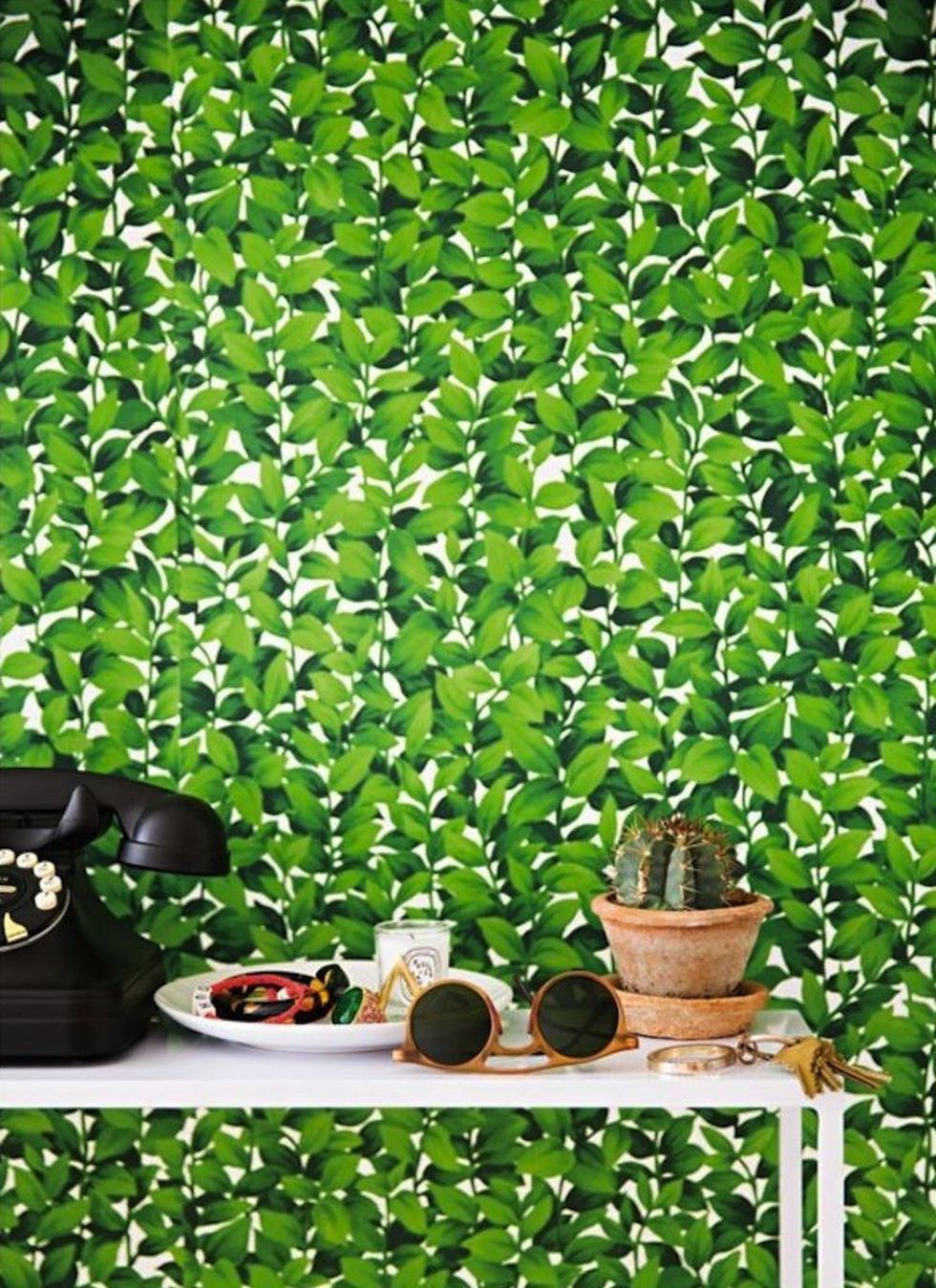 17. Domino Prints Pattern Play ($36): Embrace color and texture with this nature-inspired wallpaper. Throw it up in an entryway or laundry room and let this print be the room's main attraction. (via Domino)
Need more springtime decorating ideas? Follow Brit + Co on Pinterest to find even more creative (and temporary) wall art!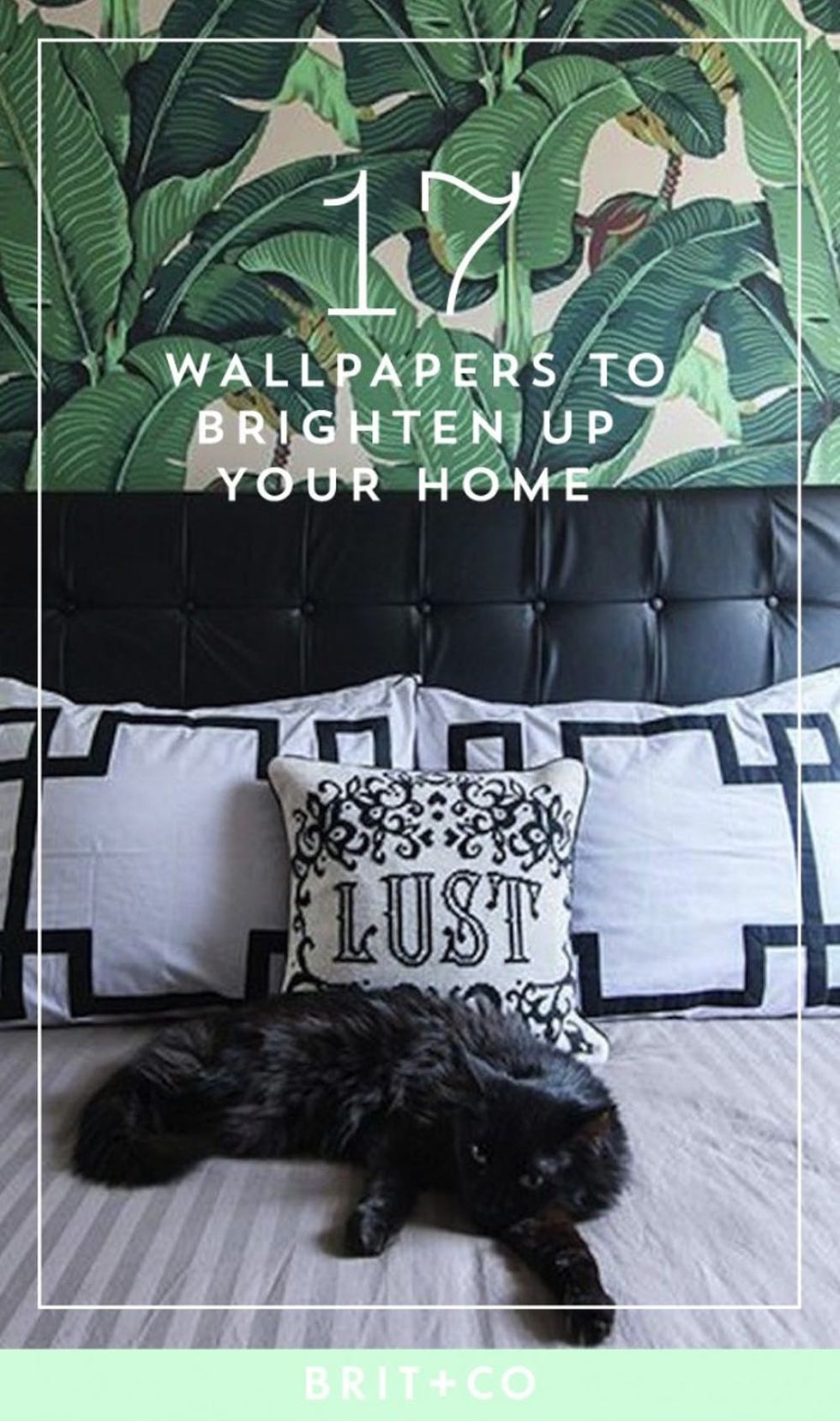 Brit + Co may at times use affiliate links to promote products sold by others, but always offers genuine editorial recommendations.