Party Planning 101 for Proactive Preppers + Procrastinators
Dec 16, 2016
Jumping aboard the holiday party hosting train? If you ask us, there's no time like the present to start planning your big bash — spanning from we've-been-planning-this-since-Halloween to I-decided-to-have-friends-over-in-two-hours. Regardless of whatever camp you fall into, you've come to the right place. With the help of Barilla, we're bringing you the only party planning guide you'll need this December (and January!).
---
Here's your first tip: Once you've got your menu planned, the rest is pretty much a breeze. Pasta is the jack of all trades — it's well-received at both formal and casual affairs, affordable and easy to prep, and people generally go nuts over it. Along with our go-to party prepping tips, we're bringing you 10 tasty pasta recipes to debut at your shindig. Check it out!
SO YOU'VE GOT 2 HOURS TO PLAN
It happens. NBD. We've got tips and tricks galore to help you keep your hat on for the next 120 minutes. Let's go!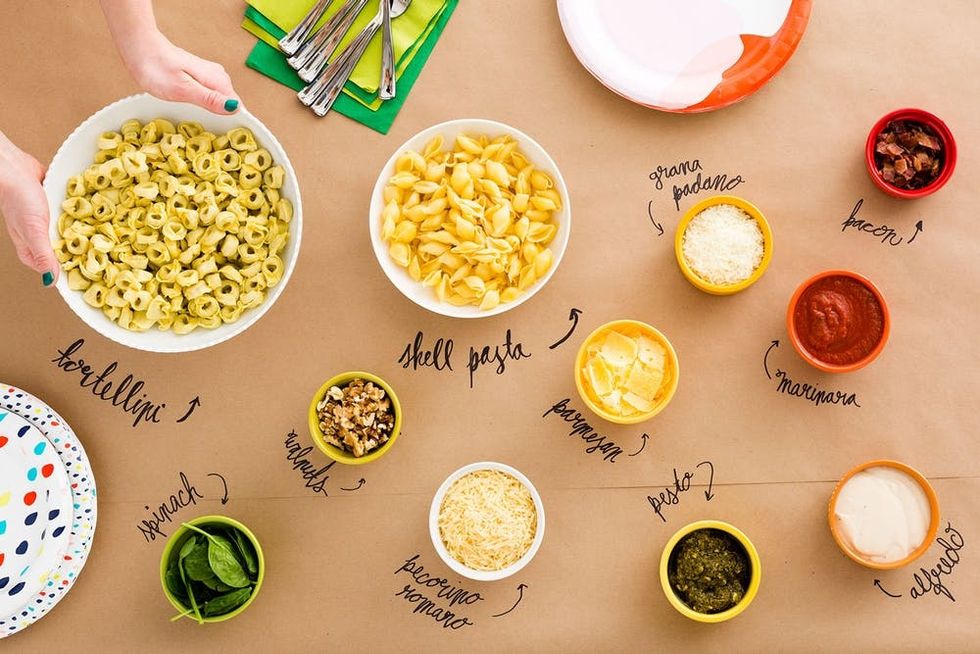 Bust out a pasta bar. Meet the pasta bar, AKA the answer to procrastinators' prayers. Set out all of the ingredients for your guests to make their *own* dinner. (They'll be happy they can customize it, anyway!) Cover your table in brown kraft paper (or wrapping paper?!) and use a black marker to label each dish. It will look way fancy, but will only take you five minutes. Want inspiration for how to build the bar? Check out Barilla's nifty pasta recipe builder.
Opt for the group text invite. The jury is still out, but many say the group text is the most efficient way to invite friends to festivities, no matter how much energy you put into planning. Skip the fancy evite this time and go straight for a detailed text — maybe sent with a GIF — to invite all your pals to the last-minute bash.
Make it BYOB. Or BYO-Bar-Cart-Accoutrements! Have the cocktails of the evening be determined by what everyone brings and save yourself a time-consuming trip to the liquor store. How else would you and your friends have discovered that whiskey, cherry juice and root beer is actually pretty tasty? ;)
Grab paper plates and napkins. No fancy china on hand? No problem. There are some pretty adorable paper plates and napkins out there these days that will do the trick.
Let a guest be the DJ. There's always that one friend who's stoked to be handed the AUX cord. Let them fuss over the party's soundtrack so you can put your attention on other things.
Those extra string lights? They're your party decor. There are tons of ways to decorate with string lights, and they somehow magically look good no matter how you display them.
Not feelin' the pasta bar? Try these other quick, crowd-pleasing pasta recipes: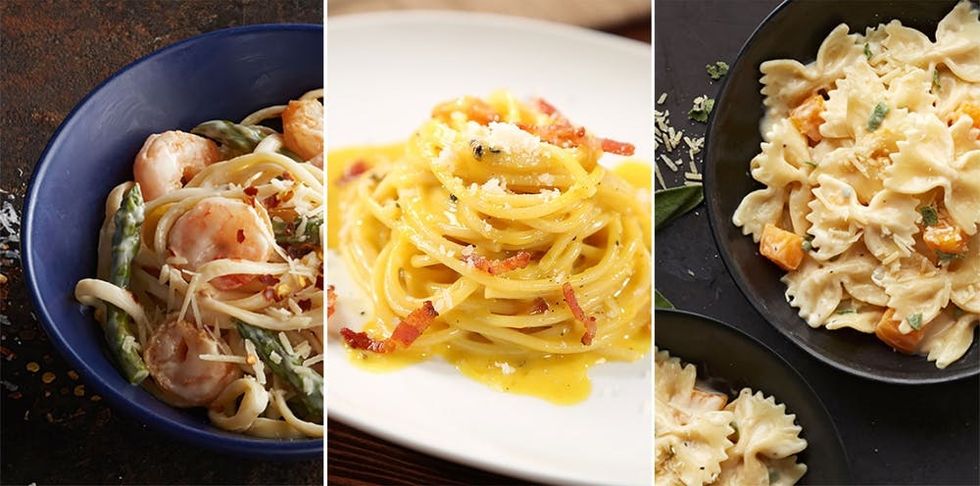 SO YOU'VE GOT 2 WEEKS TO PLAN
Congratulations! Two weeks is *plenty* of time to whip together a memorable, fun and 'gram-worthy celebration. Scroll on for our favorite prep hacks to get this party started.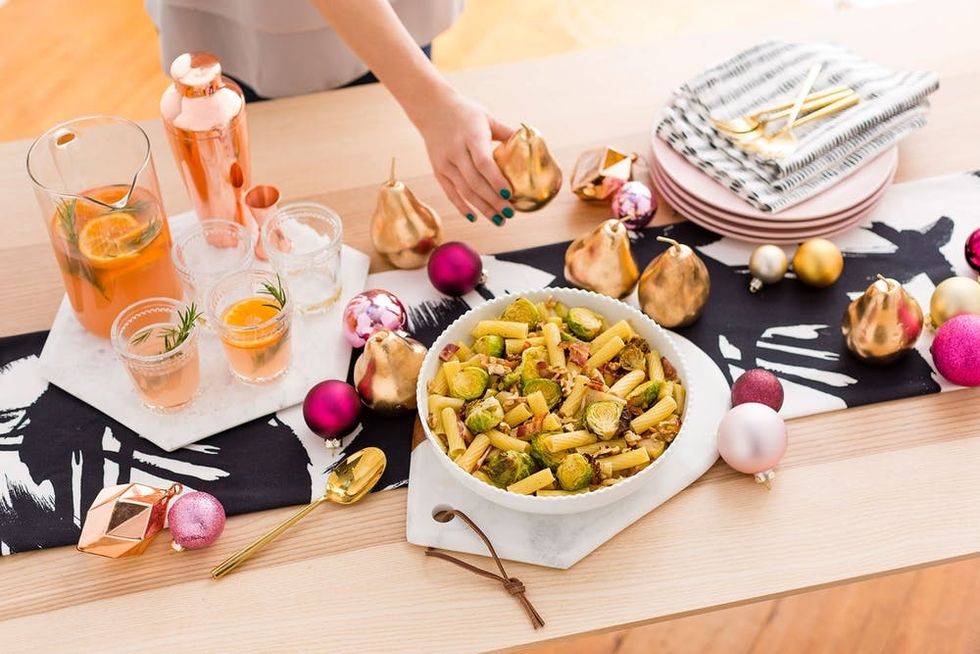 Make rigatoni with Brussels sprouts. And sautéed apples and onions and walnuts and bacon. NOM. This recipe takes around 45 minutes to make and it's somehow the perfect blend of healthy and hearty.
Plan a game to play at the partay: When done right, a party game can really make the evening. Suss out your invite list (are they mostly introverts or extroverts?) and choose your entertainment accordingly — we're partial to the ever-classic charades, but why not bust out a good round of freeze dance?
Try these other bomb.com pasta recipes: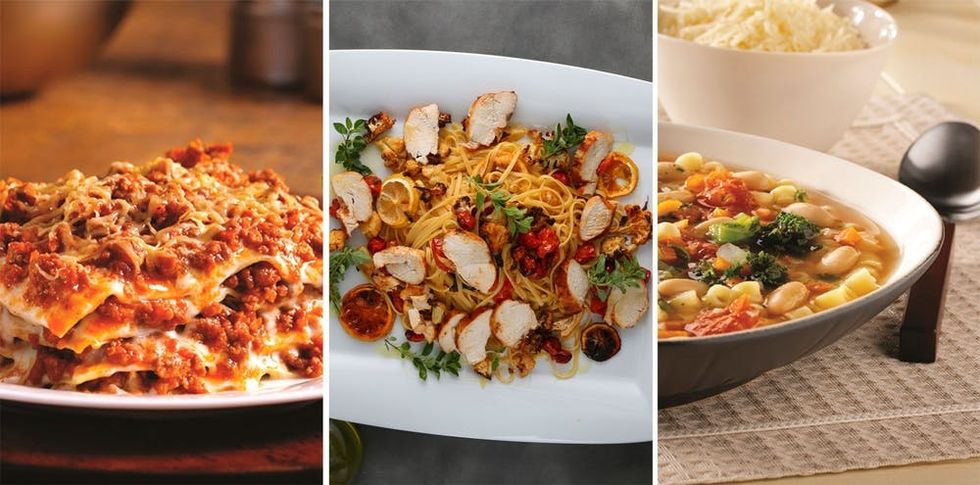 SO YOU'VE BEEN PLANNING SINCE HALLOWEEN
First off, you deserve a standing ovation. We're impressed! Even though you've probably been dreaming about this party's details forever, maybe we can give you a helping hand.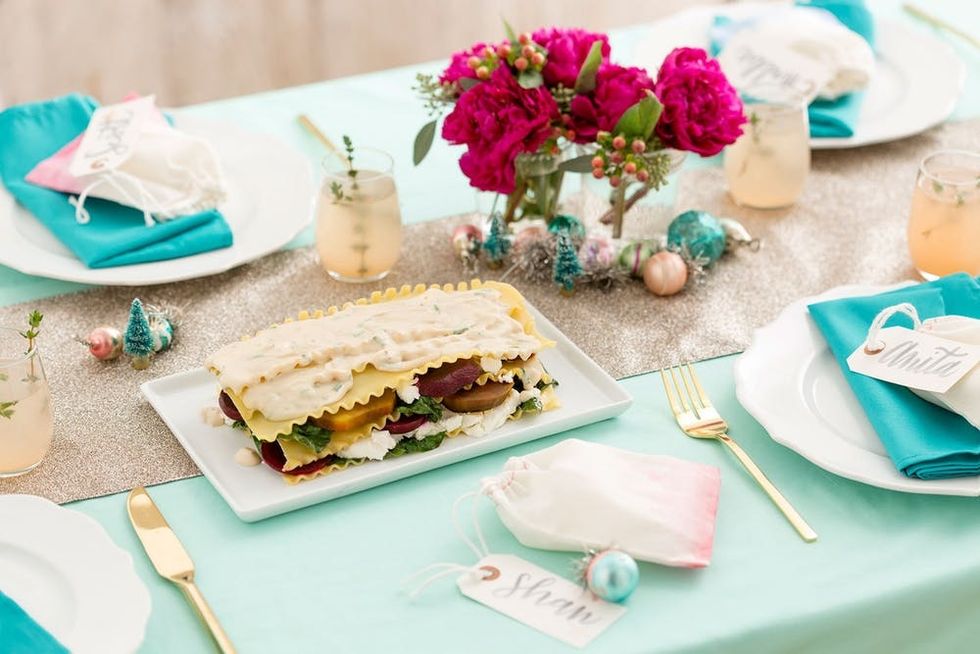 Try an unexpected entree. Enter the Roasted Beet & Goat Cheese Lasagna Terrine, a course of an entirely different color. This may look like a lasagna, but it tastes way more gourmet. The lasagna pasta sheets and creamy Alfredo sauce bring in quintessential Italian flavor profiles, while the sautéed beet greens and goat cheese give it a contemporary and delightful bite. This is one full-flavored dish your guests will definitely remember.
Get fancy with the tablescape. It's time to go all out! Pick up real flowers, borrow some fancy dishware and go with a festive, glittering table runner. Holiday baubles and miniature trees look just as good on your dinner table as they do on your mantle, and they'll add to the Winter Wonderland effect you're looking for.
Hand-make the invites. Time to break out those burgeoning graphic design skills! After mastering one of our illustration or lettering online classes, wow your friends with a homemade holiday invite (or evite!). Who can say no to a personalized invitation?
While you're at it, make homemade goodie bags. Because every party-goer deserves a fiesta memento too. We're big fans of dip-dyed canvas bags — you can buy these cloth bags in bulk for cheap, then paint them with watered-down fabric paint or acrylic. Fill each with a sweet treat, a trinket and a thank you.
Make a custom party playlist. TBH, there's no better way to get you into the festive spirit than a DIY playlist. Go the extra mile and make it on a music-streaming app, then share the playlist URL with your guests. This counts as a party favor too! :)
Whip up these other pasta recipes for the big night: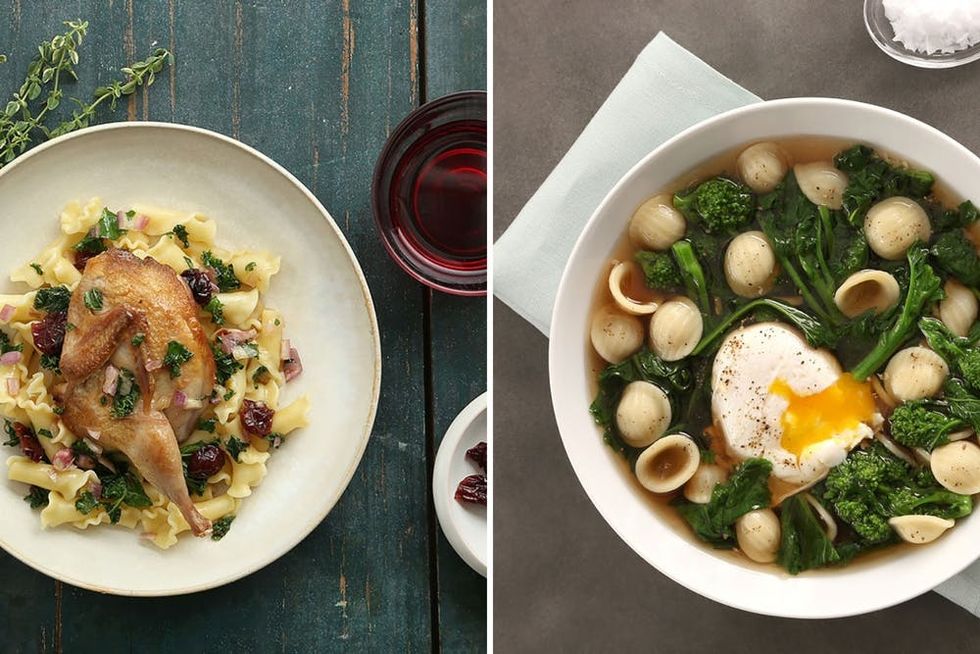 And just like that, you've planned your party! That wasn't so hard, was it? :)
What are your go-to winter party tricks and recipes? We want to hear! Share with us on Twitter @BritandCo.
Production + Styling: Maddie Bachelder + Shannon Righetti
Photography: Chris Andre