These Tributes to Christina Grimmie from The Voice Judges Will Break Your Heart
Jun 11, 2016
Christina Grimmie was a rising star taken far too soon. A YouTube sensation early on (she has 3.2 million plus followers), and later, a contestant on the sixth season of The Voice, Christina ultimately didn't win the show, but she did come pretty darn close, placing third in the competition.
---
Since then, she's been making her mark on the music biz, touring with the likes of Selena Gomez and Rachel Platten, performing as the chosen Macy's rising star at the iHeartRadio music fest in 2015 and finally, hitting the road with band Before You Exit when she was gunned down by an audience member at just 22 years old.
Her former judges, co-stars and friends have since taken to social media to share their deepest condolences. Read their truly devastating tributes below.
1. Adam Levine: As her The Voice coach (Christina came in third), arguably none were closer to Christina than Adam Levine, who posted this adorable photo of the two together prior to the official announcement of her death, saying, "I'm sad, shocked and confused. We love you so much Grimmie. We are all praying that you can pull through this…this just isn't fair."
He later reposted the photo via Twitter, writing, "Behati and I are absolutely devastated and heartbroken by Christina Grimmie's death. Our hearts go out to her family."
So sad passing of @TheRealGrimmie. Beautiful member of #TheVoice family & true #Fighter. My heart goes out to her family, friends & fans. xo

— Christina Aguilera (@xtina) June 11, 2016
2. Christina Aguilera: Xtina also took to Twitter to share her thoughts, posting the above sentiments.
I'm stunned and disgusted and heartbroken that we lost that sweet little girl… Keeping @TheRealGrimmie family in my heart and mind.

— Blake Shelton (@blakeshelton) June 11, 2016
3. Blake Shelton: The co-host followed Christina Grimmie's condition in real time via social media, asking fans for updates in a thread that ended with the above note.
To an amazing soul and voice…may your legacy live on forever. Rest in peace beautiful, Christina

— Usher Raymond IV (@Usher) June 11, 2016
4. Usher Raymond: Usher, who was also a judge on Christina's season, offered his respects as well.
So sad about @TheRealGrimmie. I'm still in shock. She was special. Had IT. Talented. Kind. Funny. Loving. Courageous. We hurt w her family.

— Carson Daly (@CarsonDaly) June 11, 2016
5. Carson Daly: As the host of The Voice, Carson remembers Christina fondly: He actually had her pegged to win, as he revealed to E!.
This is a tragic loss. My heart goes out to @therealgrimmie's family, friends and all the people that she touched.

— Pharrell Williams (@Pharrell) June 11, 2016
6. Pharrell Williams: Though Pharrell didn't join the cast until season 7, the news hit close to home for the hitmaker.
Christina's mourners reached far beyond her former co-stars, however. Also paying their respects? A slew of other stars, like Selena Gomez and Nick Jonas, who knew Selena personally, and others who were just as shocked as the rest of us to see such a bright light taken so young.
My heart is absolutely broken. I miss you Christina pic.twitter.com/KWGwZZlj4t

— Selena Gomez (@selenagomez) June 11, 2016
7. Selena Gomez: Christina actually opened up for Selena on her Stars Dance tour in 2013, so the loss was an especially personal one for the Disney star.
8. Nick Jonas: Nick posted this sweet photo, writing, "#ripchristina."
Wow….sending all my love to her family and friends, rest up angel #ChristinaGrimmie

— Zendaya (@Zendaya) June 11, 2016
9: Zendaya: Zendaya, like the rest of us, tried to make sense of the shocking occurrence.
#RIPChristina 😰😢 my thoughts and prayers are with her loved ones..

— Demi Lovato (@ddlovato) June 11, 2016
10. Demi Lovato: Outspoken as ever, Demi expressed her anger over the incident, writing "What the f*ck is wrong with people," before posting this sad message.
I can't understand this. I can't. You were an absolute shining light Christina and you made your mark. #RIPChristina pic.twitter.com/ixVJJz78iZ

— Rachel Platten (@RachelPlatten) June 11, 2016
11. Rachel Platten: Christina has also opened up for the "Fight Song" singer, who posted several fan vids of the two together, along with this touching message.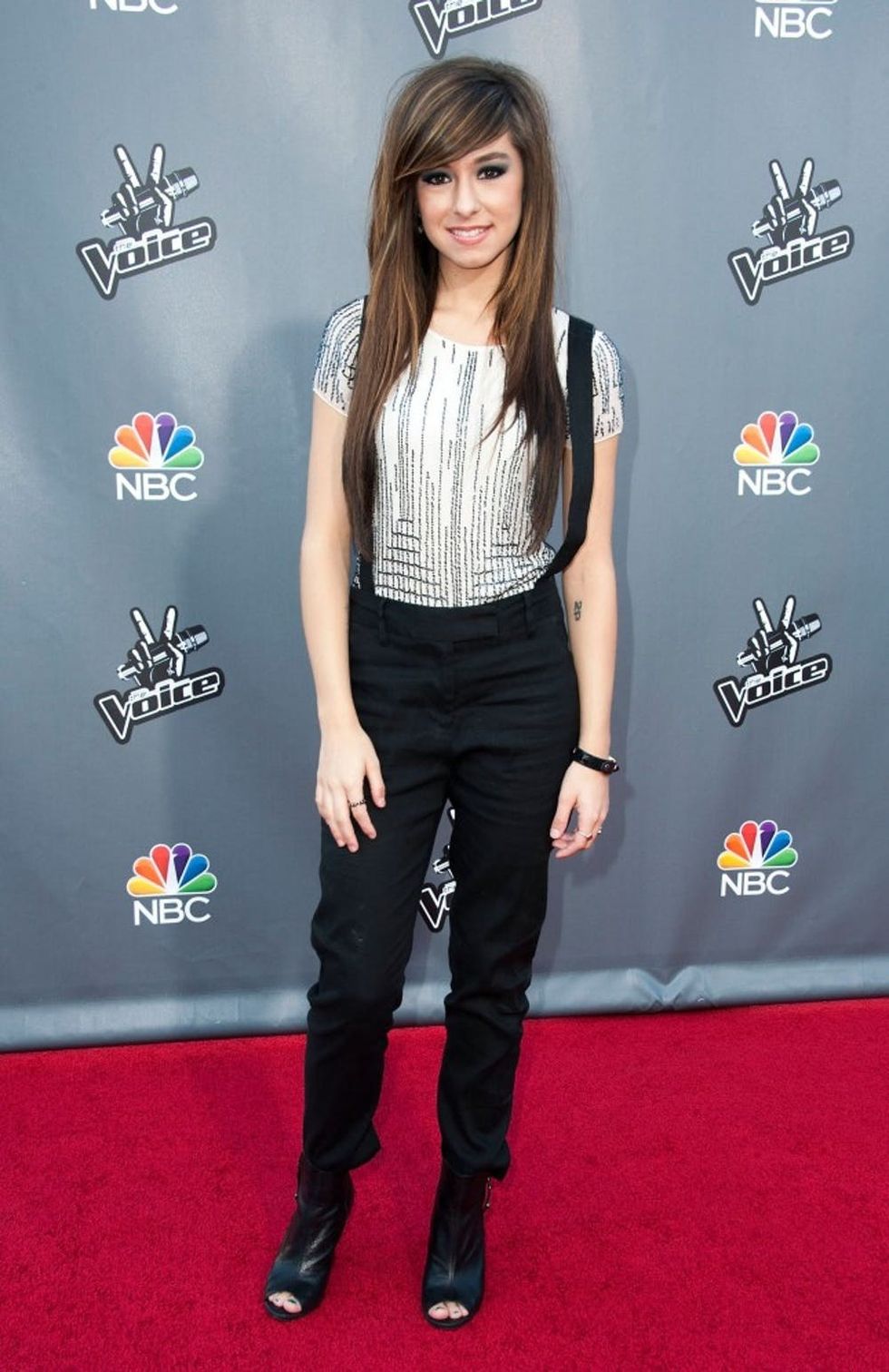 RIP, Christina. You'll forever be missed.
Are you reeling over this tragic news? Share with us over @BritandCo.
(Photos via Kevin Winter, Angela Weiss and Valerie Macon/Getty)