Quiz: Who's YOUR Denim Muse? Find Inspo + Jeans to Match Here!
Aug 15, 2014
Finding the right denim to fit your bod is hard enough. So don't waste that time trying on boring basics when you *could* be scoring standout jeans, skirts, jackets and more classic blue pieces that actually express your style. While you'll have to eventually do the tug-and-wiggle into these bad boys, the good news is standout denim designs are easier than ever to score this season. From artsy patchwork masterpieces to sleek and modern silhouettes; to pairs distressed to vintage-looking perfection to stilloveralls, it seems like any cut is fair game for fall '14. This is how you should take advantage — scroll down to find the denim of your dreams + the muse to match.
For The Style Blogger-In-Training
---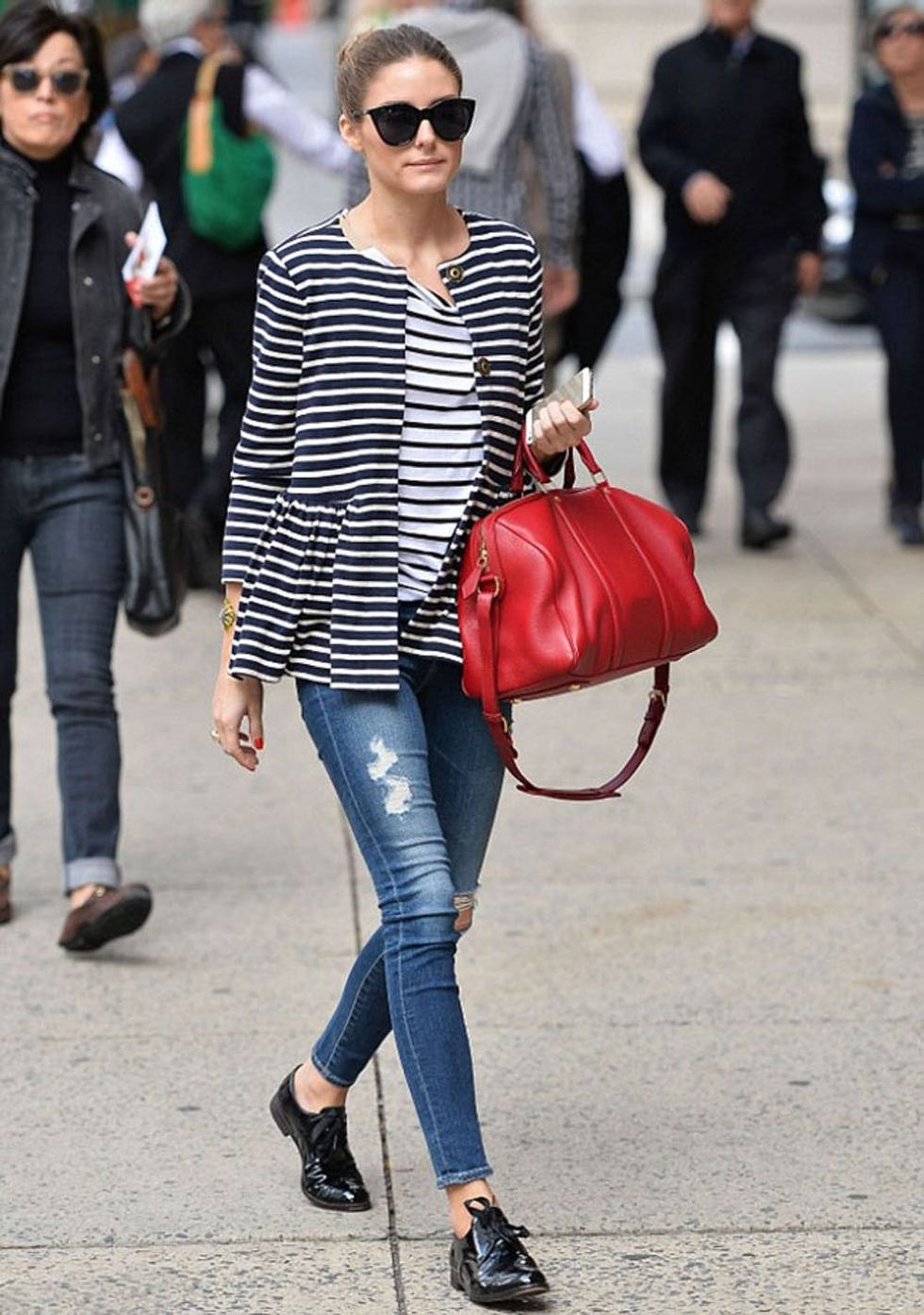 Like style maven Olivia Palermo, you have an on-the-pulse take on denim, seeking out pieces that have a refined twist to match your polished sense of style. Distressed jeans? You can pull off the look, no doubt dressed up by a preppy coat and a pair of shiny oxfords from your beyond enviable shoe collection. Carry that bowling bag like you mean it — there's a BIG chance you'll be snapped for your impeccable street style.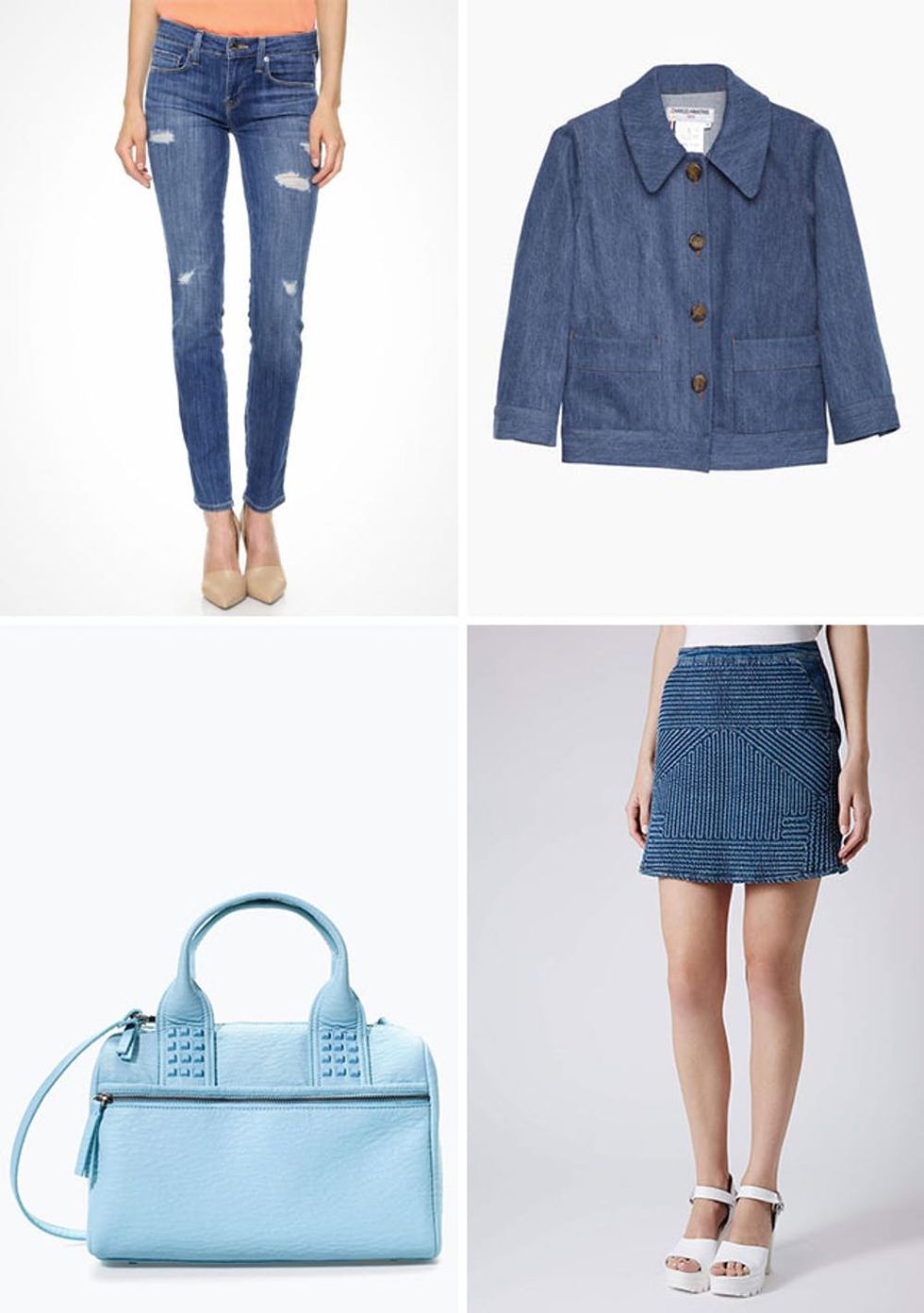 Genetic Los Angeles Shya Skinny Jeans ($244), Charles Anastase Mini Travailleur Denim Jacket ($387), Topshop Moto Quilted Denim Skirt ($96), Zara Studded Bowling Bag ($70)
For The 24/7 Girlboss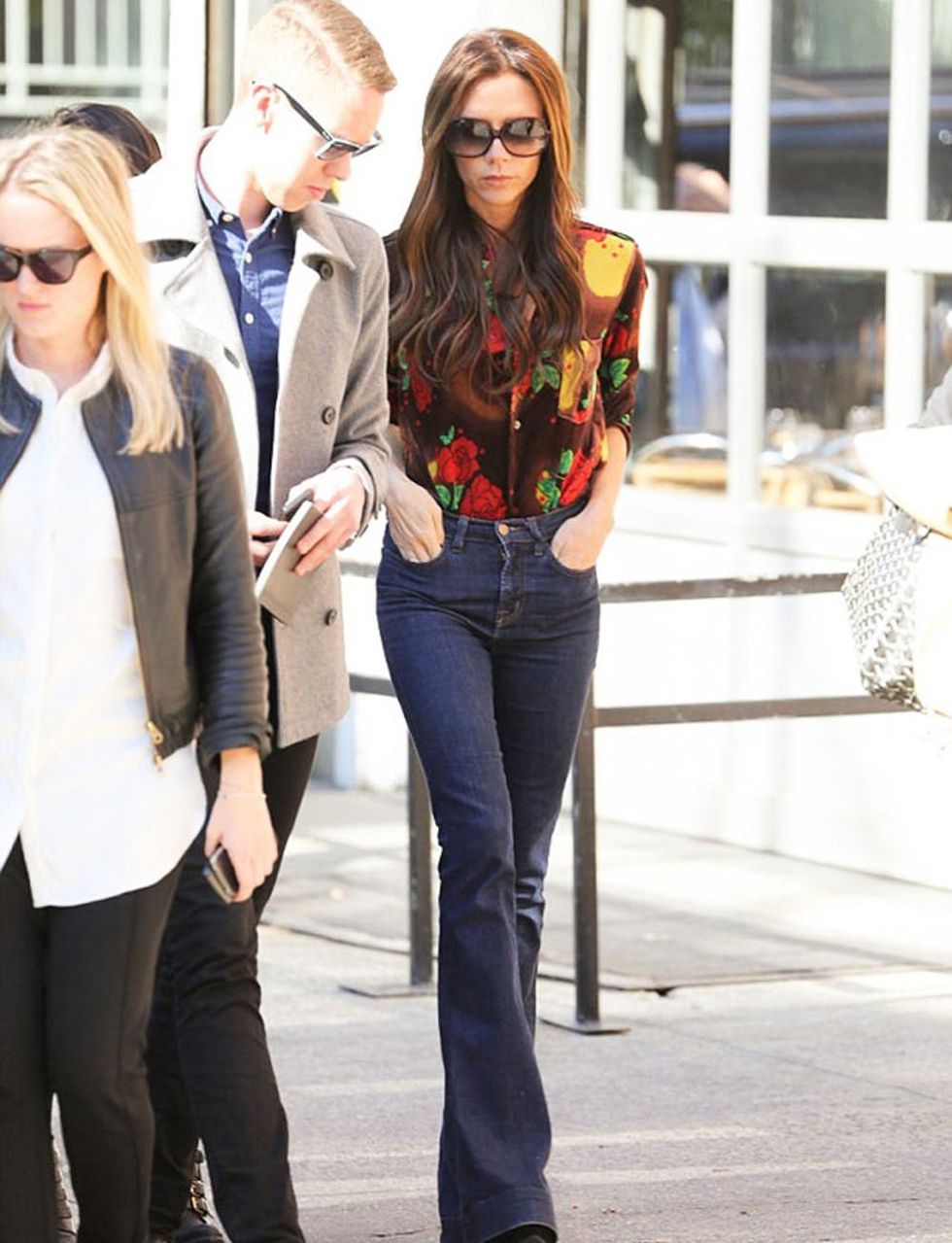 Yo, I'll tell you what I want: An easy, modern take on all-things blue to match the fashion-forward feel of the rest of your highly-coveted closet. Your affinity for minimalist design shines in your separates and everyone at the office notices, especially when they're punctuated by a tastefully chunky bauble. But when it comes to jeans, a feminine silhouette is a must. Flares look anything but retro when you wear 'em like Victoria Beckham.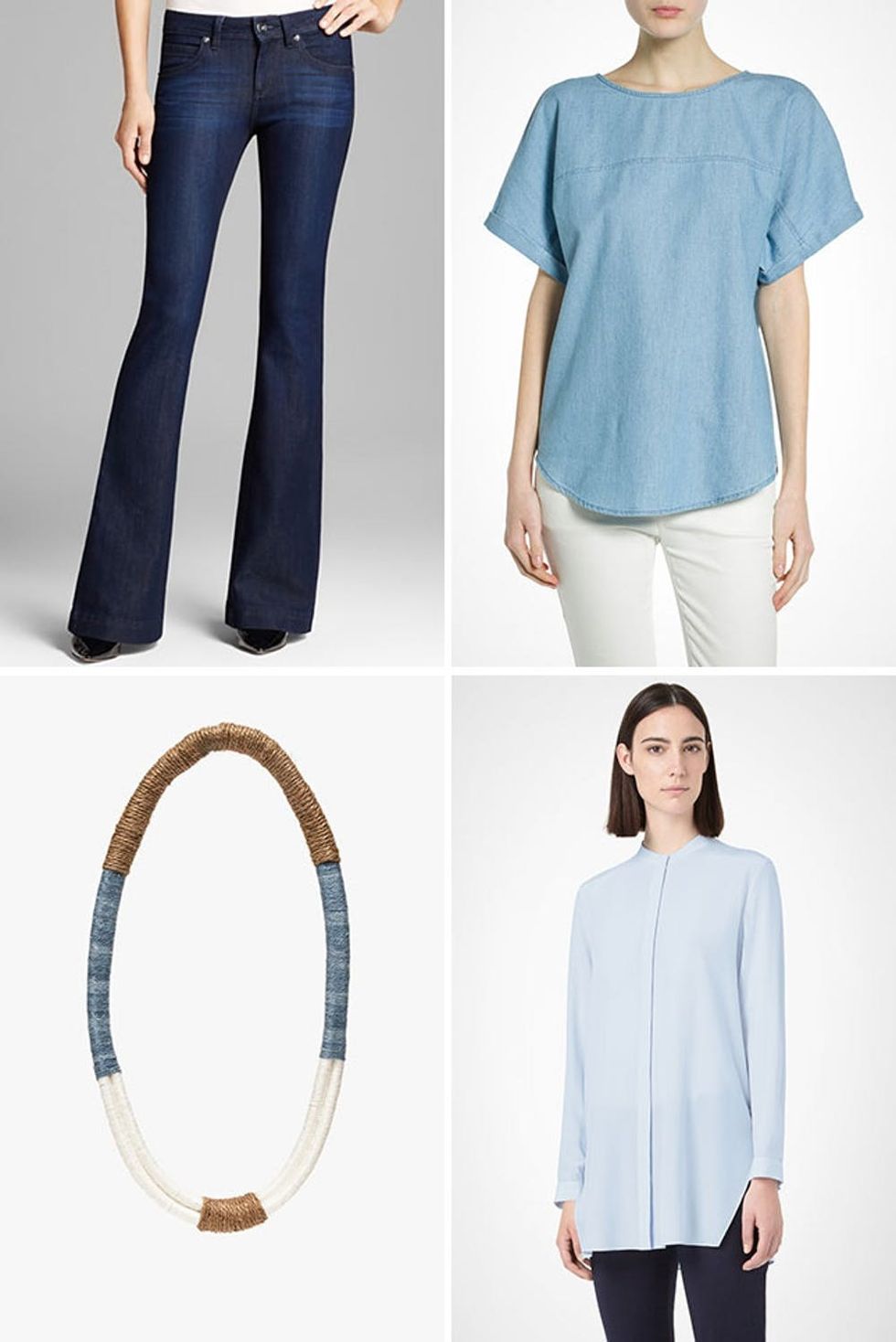 DL1961 Joy Flare Jeans in Milan ($125), Mango Jacquard Denim Shirt ($30), Cave Collective Fertility Knot ($145), COS Collarless Silk Skirt ($135)
For The Eternally Off-Duty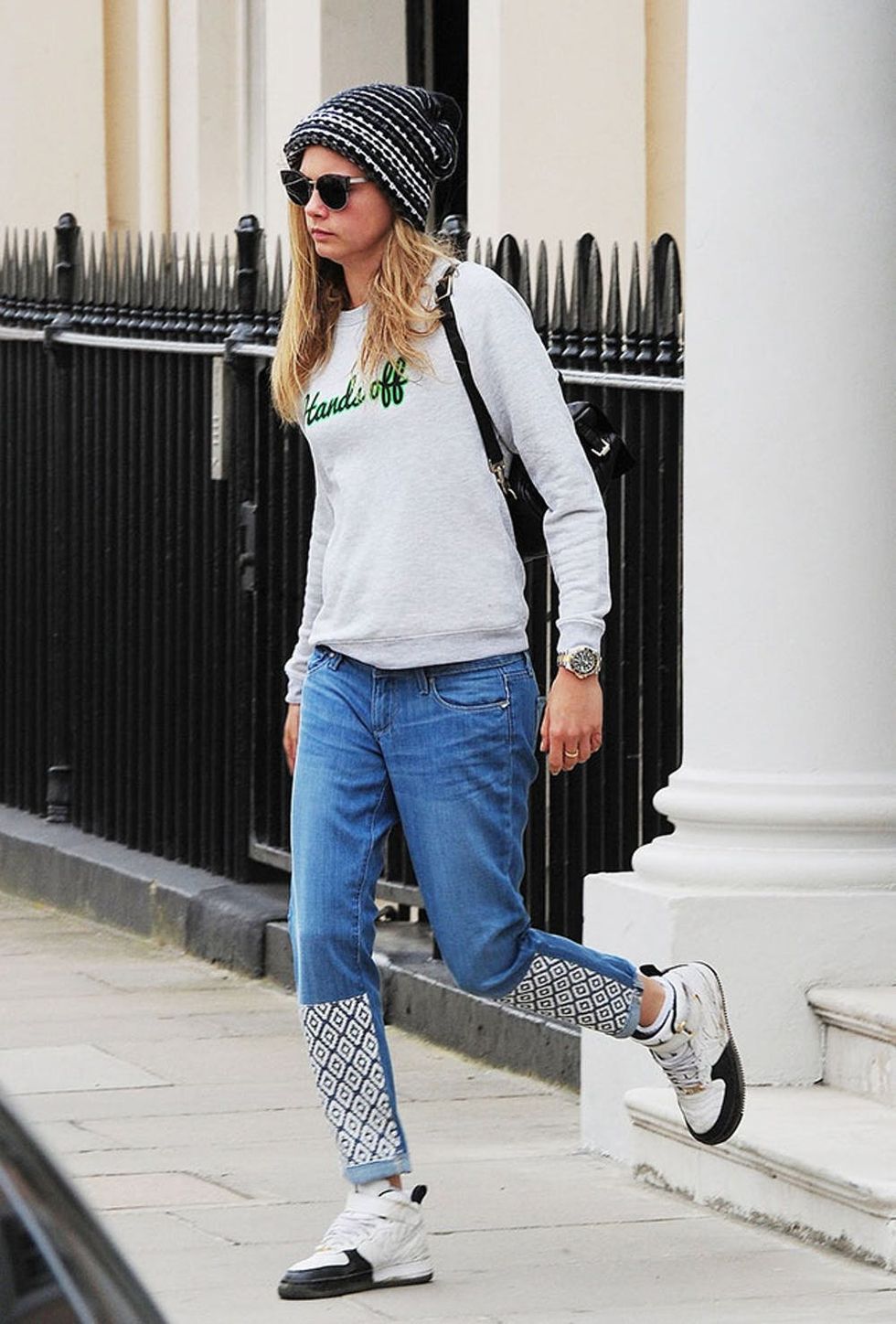 You work hard and play hard, but when you're not, you're kickin' it like Cara Delevingne — and it shows in your denim. You're chill with slouchy styles to match your rotation of sporty sweats, and you swear by menswear-inspired shirts, worn untucked off-duty and tied above a black leather mini when you have to put on your game face. Though no outfit is complete without a beanie — you feel naked in your selfies without them.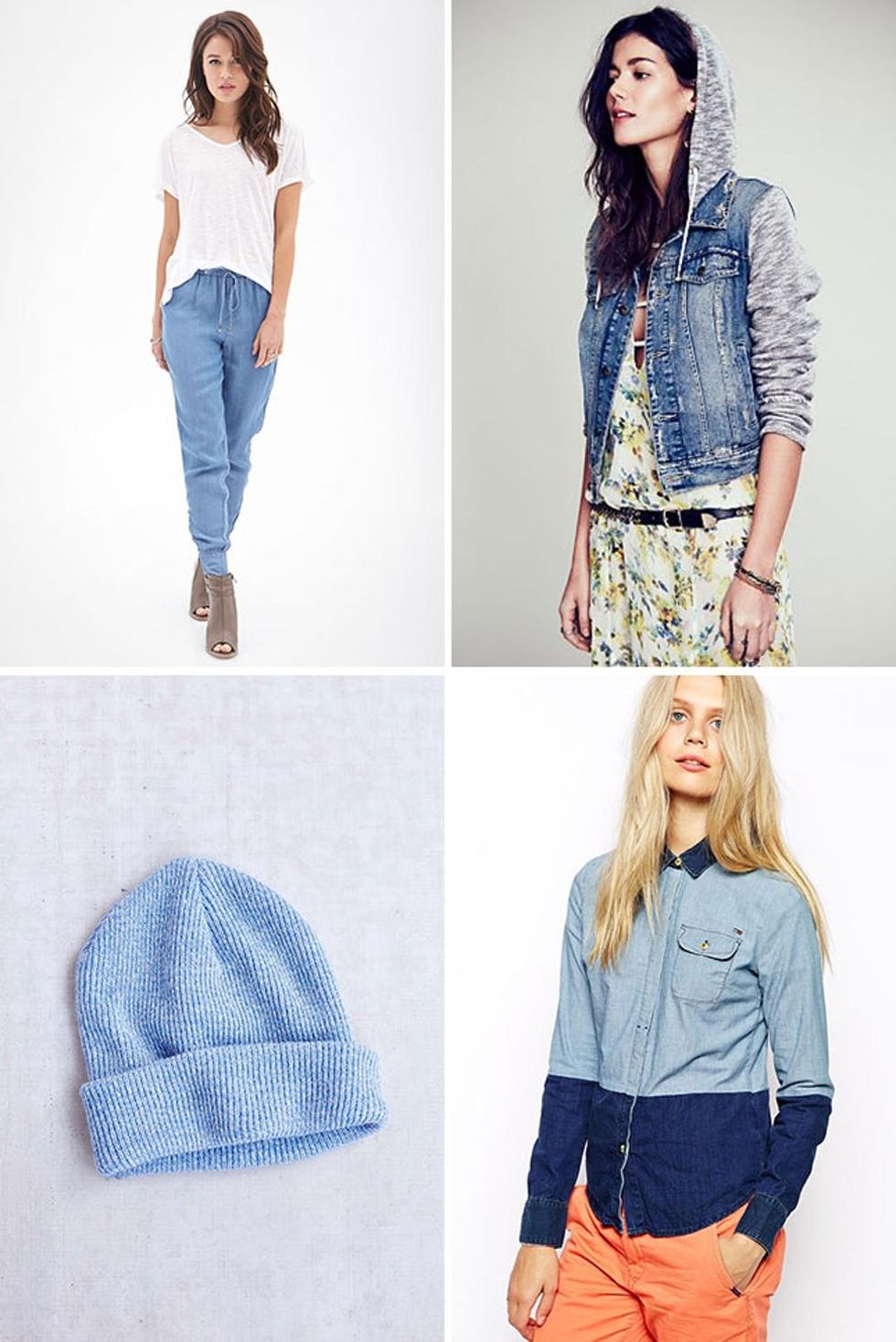 Forever 21 Woven Chambray Joggers ($25), BDG Cuffed Rib-Knit Beanie ($19), Free People Knit Hooded Denim Jacket ($148), Hilfiger Denim Contrast Denim Shirt ($175)
For The Shameless Shape-Shifter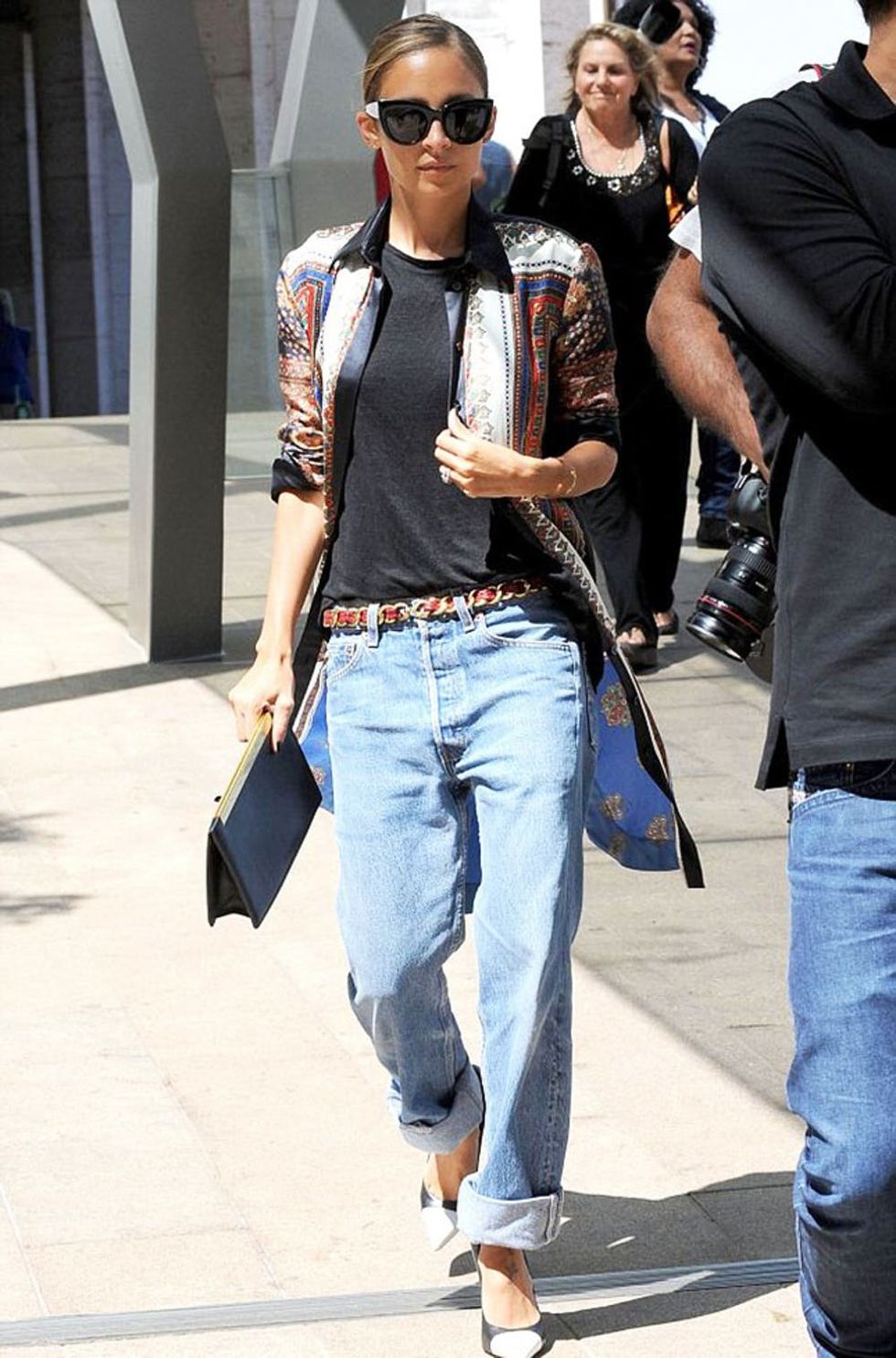 The only thing you can count on is your willingness to take style risks and not turn back. So for you, there's no such thing as a go-to in your wardrobe: Like Nicole Richie, your daily denim look is as creative as your hair color, and those offbeat and seemingly effortless head-to-toe choices often spark the next big trend. Please, you'd never wear sneakers with your jeans — quirky kicks and a casual tee round out your cool girl uniform, that is, when you're not wearing a slick matching set.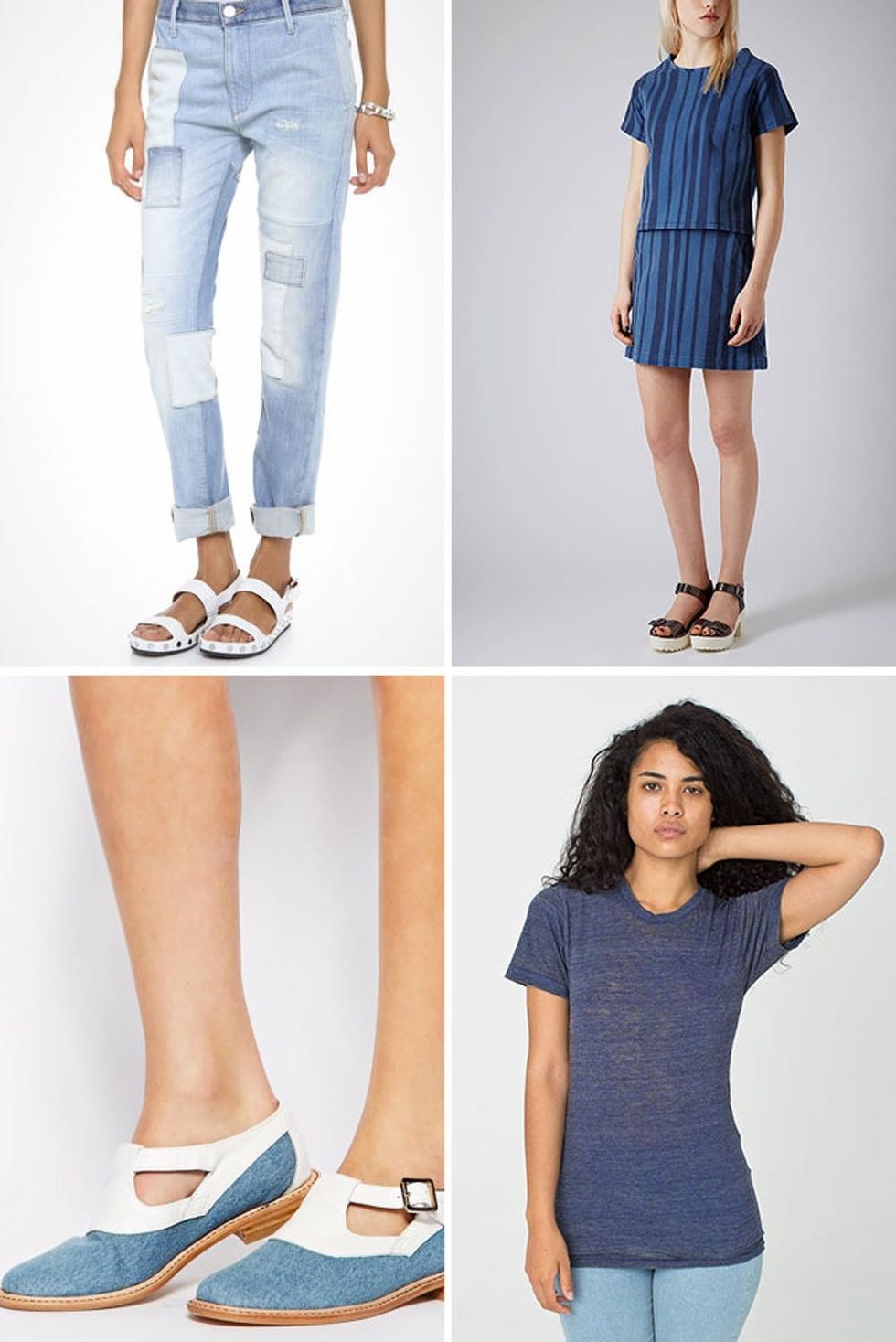 THVM Cehati Colorblock Boyfriend Jeans ($113), Moto Stripe Denim Tee + Skirt ($20 for skirt), F-Troupe Canvas and Leather Buckle Flat Shoes ($157), American Apparel Unisex See Thru Tri-Blend Track Shirt ($25)
For The Darker-Than-Denim Addict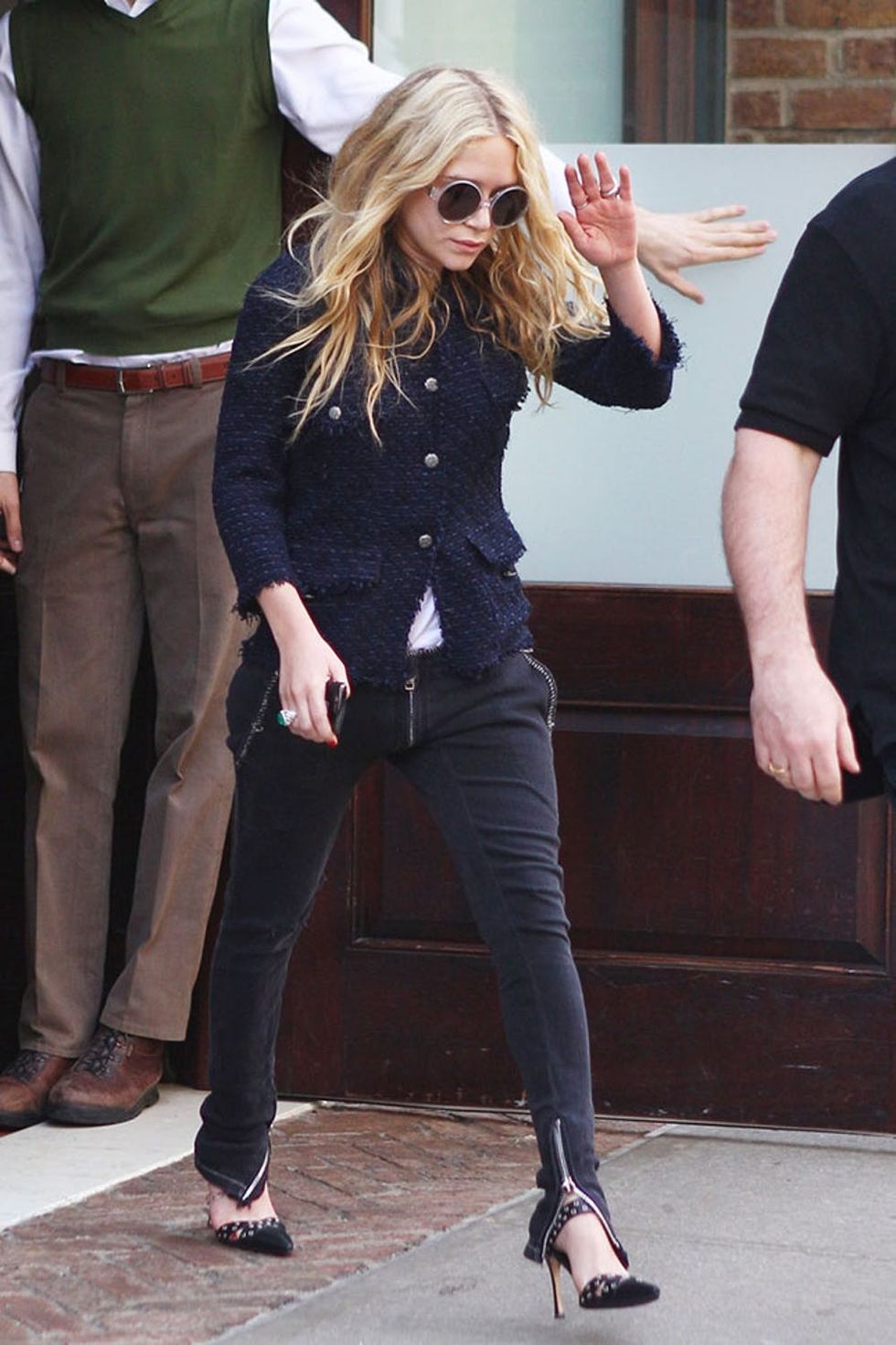 You know what you like, and that's all-things black. Even your denim has to join the dark (wash) side, and those pairs are preferably embellished with edgy studs or zip hems. Your fit of choice is skinny, but that's only for your jeans. Like Mary Kate Olsen, everything else you wear — from tops to skirts to dresses to sunnies — is unapologetically oversized.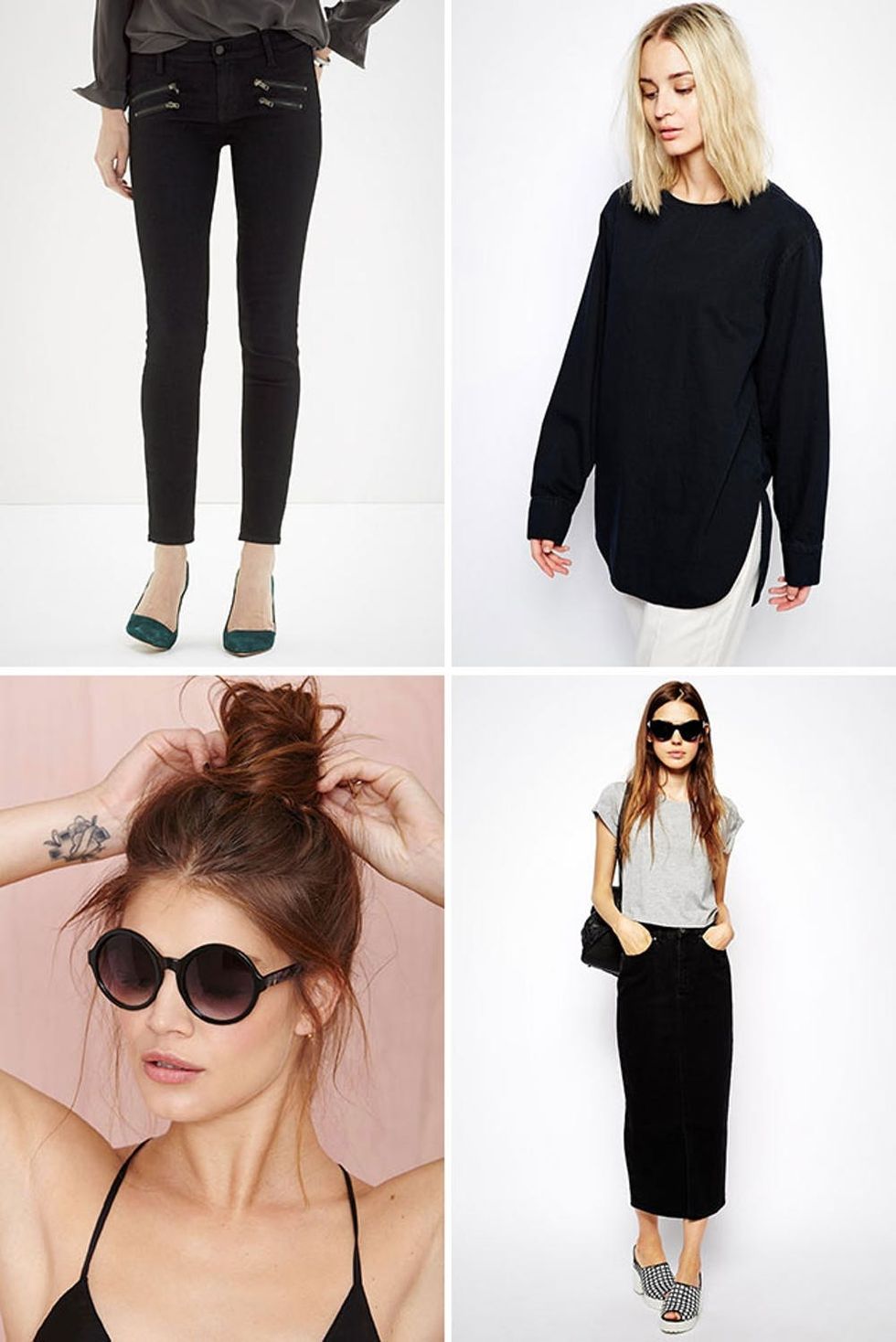 Madewell Skinny Skinny Jeans Biker-Zip Edition ($128), Weekday Denim Top ($68), Nasty Gal Round and Round Shades ($20), ASOS Denim Mom Skirt in Washed Black ($59)
So spill, which denim style suits YOUR personality? Which pieces are you coveting most? How does your denim muse inspire you to wear the blue this fall? Tell us in the comments below.