7 Things to Know About CBS' Big Bang Theory Spinoff, Young Sheldon
Aug 01, 2017
Young Sheldon is one of CBS's new fall TV shows, and let us tell you — fans of The Big Bang Theory might really dig it. It's a lot of fun and has a lot of heart.
If you're not sure about Young Sheldon, here are a few tidbits to whet your appetite, from the cast and creators at the 2017 TCA summer press tour on Tuesday.
---
1. The Wonder Years was a big influence. Lorre admits that he's "a nervous wreck" to make a single-camera comedy with narrative voice-over, which is something he's never done before, but he's also excited to try something new and has definitely drawn inspiration from shows like The Wonder Years.
"We absolutely discussed Wonder Years when we were writing. I've never worked with narration before. Narration changes the way you write. We looked at shows that used narration and Wonder Years did it beautifully. Nobody did it better than The Wonder Years," Lorre says.
2. This idea has been brewing for years. "We've been interested in writing about the origins of Sheldon for a few hundred episodes now," Lorre says. Co-creator Steve Molaro adds, "There's a bit of a joy of discovery about Sheldon at nine that we've been having a lot of fun with."
3. There's a wealth of TBBT things that could pop up on Young Sheldon. The creators say that the show could touch on things that Big Bang Theory fans have heard about. "We know he tried to get uranium to build his own nuclear reactor to give the town free electricity," says Molaro. "We know he had his sister push him around in an office chair with a Speak 'n' Spell around his neck so he could be Stephen Hawking, but everybody just thought he was R2D2. Those are a couple I find amusing."
4. But the show could affect TBBT's future, as well. On the flip side of fans getting to see things they've only heard about on The Big Bang Theory is the idea that things that happen on Young Sheldon could impact present-day Sheldon. "We discussed the possibility [that] the stories we're telling on Young Sheldon can echo into The Big Bang Theory. People can come into his life in 1989 and impact him and they might be on The Big Bang Theory 20, sorry, 30 years later. So we're definitely discussing the ripple effect the show can have going forward in time," says Lorre.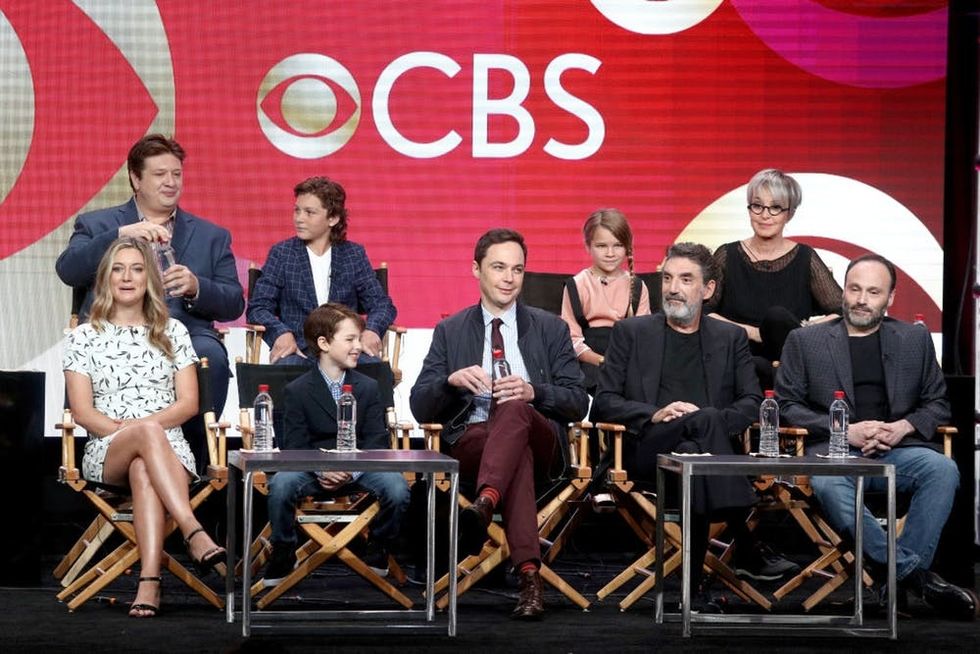 5. Sheldon won't be the only focus. The show is about Sheldon as a kid, but's also about how hard it is on his family to be coping with a nine-year-old who is in high school with his older brother. "A big part of the fun of the series is to not just watch Sheldon develop, but how his family adapts. … Their lives have to change in order to accommodate him," says Molaro. "Any time that you have a kid that isn't exactly typical, it can be difficult for the child and it can be difficult for their siblings and for the parents. … I think this is an opportunity for this show to explore the highs and lows of that and how it impacts everybody."
6. There's more to Sheldon's dad than TBBT let on. Sheldon has never spoken very highly of his father on The Big Bang Theory, but Young Sheldon's creators say there's "more to his dad than we were led to know." They also add that the show doesn't have to follow "an exact timeline" where a year on the show is a year in Sheldon's life, so Sheldon's father's death when he is 14 years old isn't necessarily a tent pole moment coming up in season five, should they be on the air that long.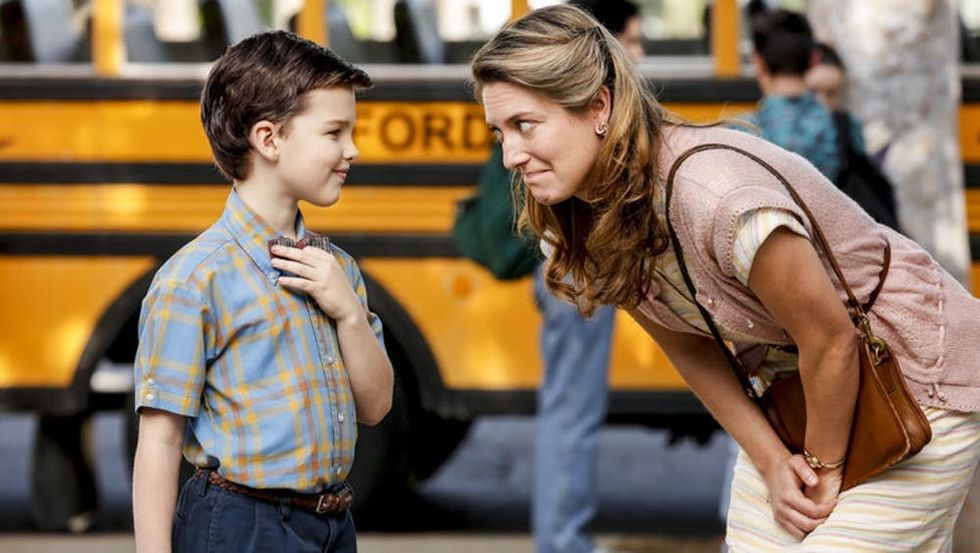 7. Get ready for young Mary Cooper. If you haven't heard, the show cast Laurie Metcalf's real-life daughter, Zoe Perry, as young Mary Cooper, Sheldon's mom — and her performance is uncanny, which Perry tells Brit + Co she can't really take credit for. It's thanks to genetics that she sounds and looks so much like her mother. But Perry did go back to study her mom on The Big Bang Theory before her audition.
"When I first got the audition, I rewatched all the episodes that she was in. I just wanted to be sure I was in the same ballpark as her," Perry explains. "I think what's so wonderful and a privilege to play Mary Cooper at this age is we don't know her at that stage of her life yet, so I think it provides me a little bit of flexibility."
Lorre says being able to cast Perry was an incredible piece of good fortune for the show. "I worked on Roseanne 20 years ago and Zoe used to run around the stage with the other kids, so it was pretty clear there was a spectacular actress waiting there," he says. "But when she came in to read for the part of Mary, we were flabbergasted. It was beyond good luck to have an actress who is of this caliber and who has clearly mastered her craft, but also has the sensibilities we've come to see Laurie do over the years on Big Bang. It was a tremendous piece of good luck for the show."
Young Sheldon premieres Monday, September 25, at 8:30pm ET/PT on CBS.
Will you watch Young Sheldon? Let us know on Twitter.
(Photos via CBS + Frederick M. Brown/Getty)
Andrea Reiher
TV critic by way of law school, Andrea Reiher enjoys everything from highbrow drama to clever comedy to the best reality TV has to offer. Her TV heroes include CJ Cregg, Spencer Hastings, Diane Lockhart, Juliet O'Hara, and Buffy Summers. TV words to live by: "I'm a slayer, ask me how."
TV