17 Perfect Plaid-Inspired Details for Winter Weddings
Nov 26, 2016
If you're looking to blend a mixture of rustic and modern wedding details, plaid is the way to go — especially during these brisk fall and winter months! While its origins hail from the traditional Scottish fabric, tartan, plaid now translates across all different realms of fashion, interior design and accessories. Now this pattern is making its way into the wedding space. These 17 plaid wedding ideas are the trendiest ways to add some cozy, warm vibes to your wintertime festivities!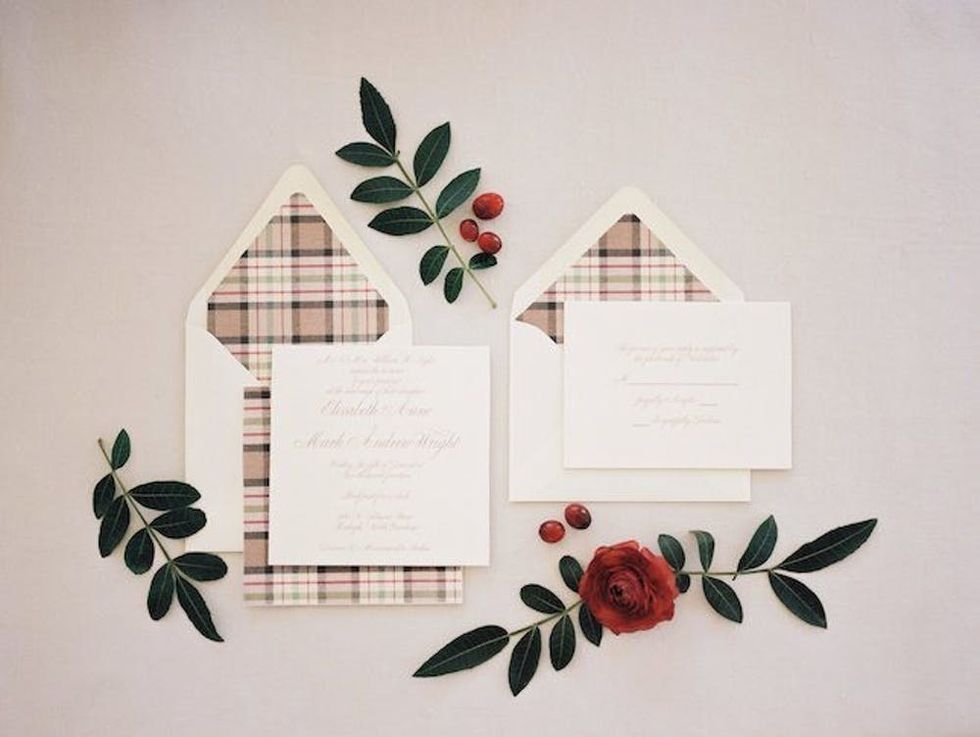 ---
1. Invitation Liner: Give your guests a taste of what's to come, right off the bat, with a simple plaid invitation. The envelope liner's Burberry look-a-like pattern takes this suite to uber chic levels. (Rebecca Rose Events / Live View Studios)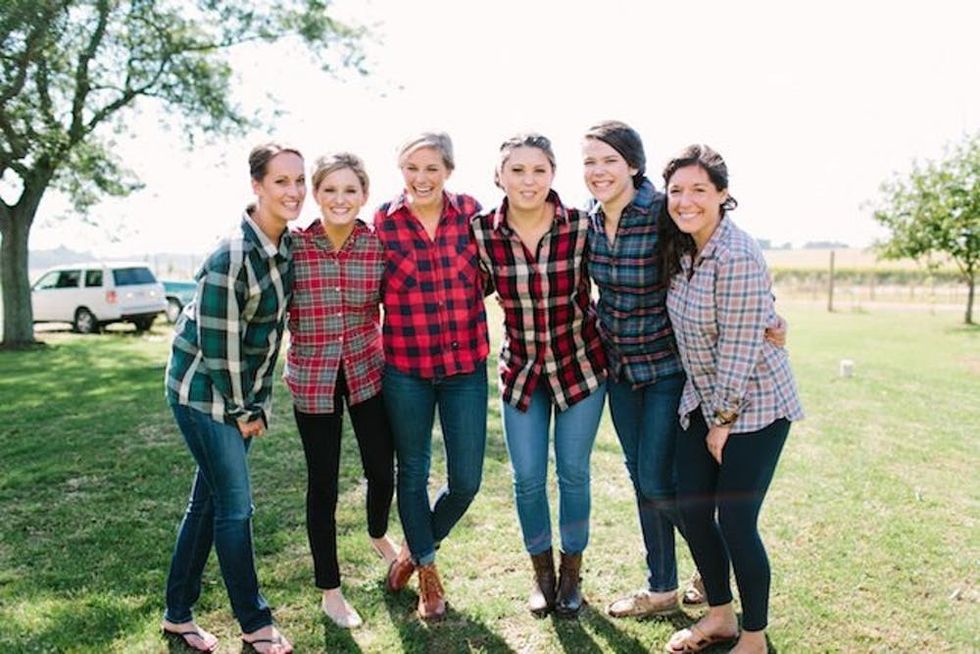 2. Bridal Party: Flannels make for a super cute and easy getting-ready outfit for your maids! They even could double as a cheap, yet trendy thank you gift for standing by your side. (via M Three Studio)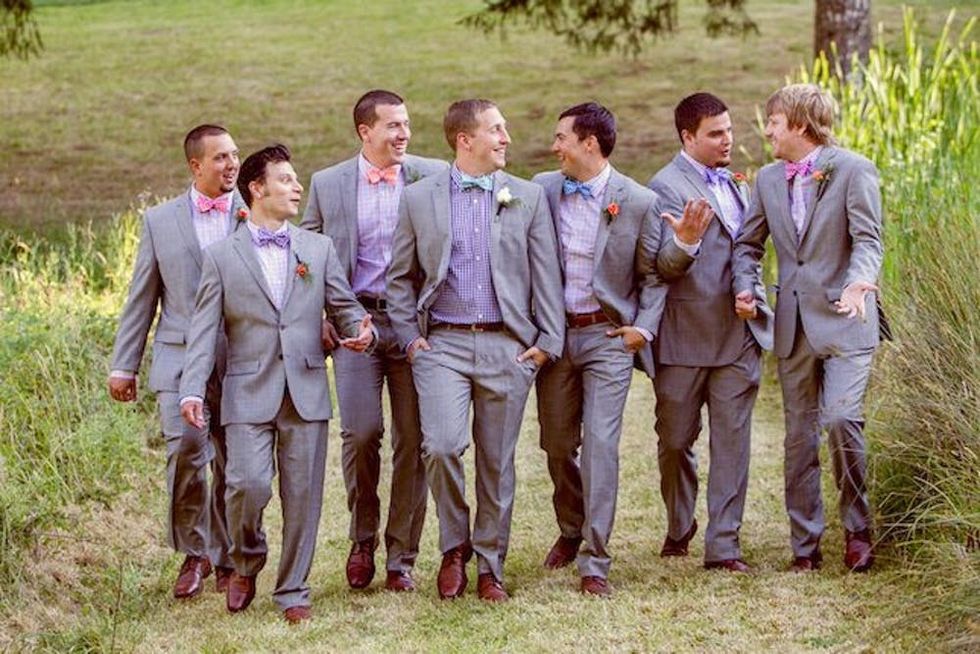 3. Button-Ups: To set the tone of a unique, rustic affair, a gingham button-up will do the job! Even a bright, polka-dotted bow tie makes a checkered shirt a tad bit fancier. (via Luxe Event Productions / JOS Studios)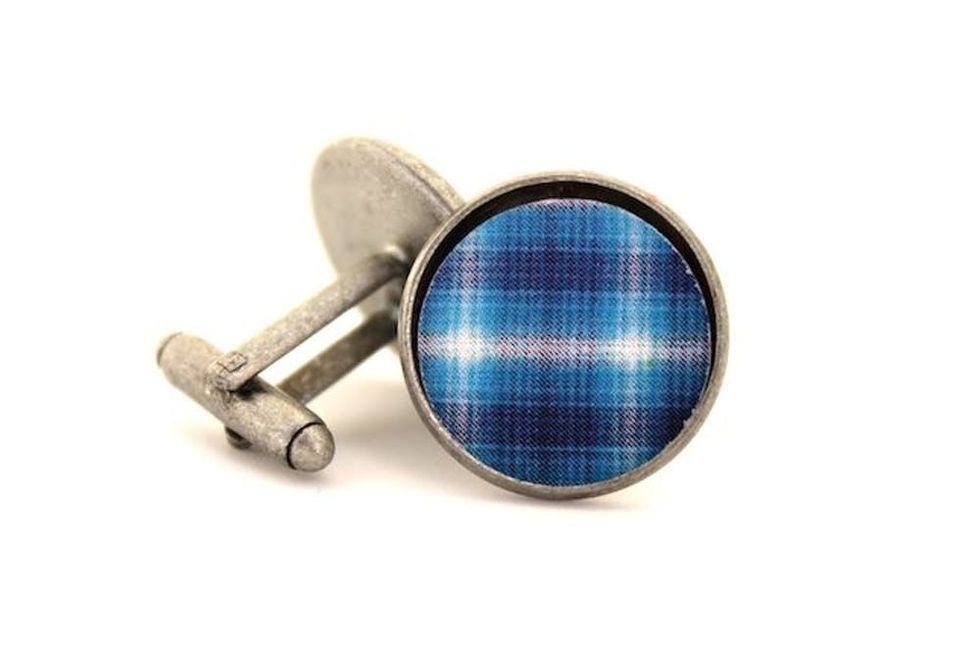 4. Plaid Cuff Links: Even the smallest of details can incorporate this trendy pattern. Plaid cuff links for the groom or the entire groom's party is a preppy touch to tie in the overall theme. (via Over the Moon Bridal)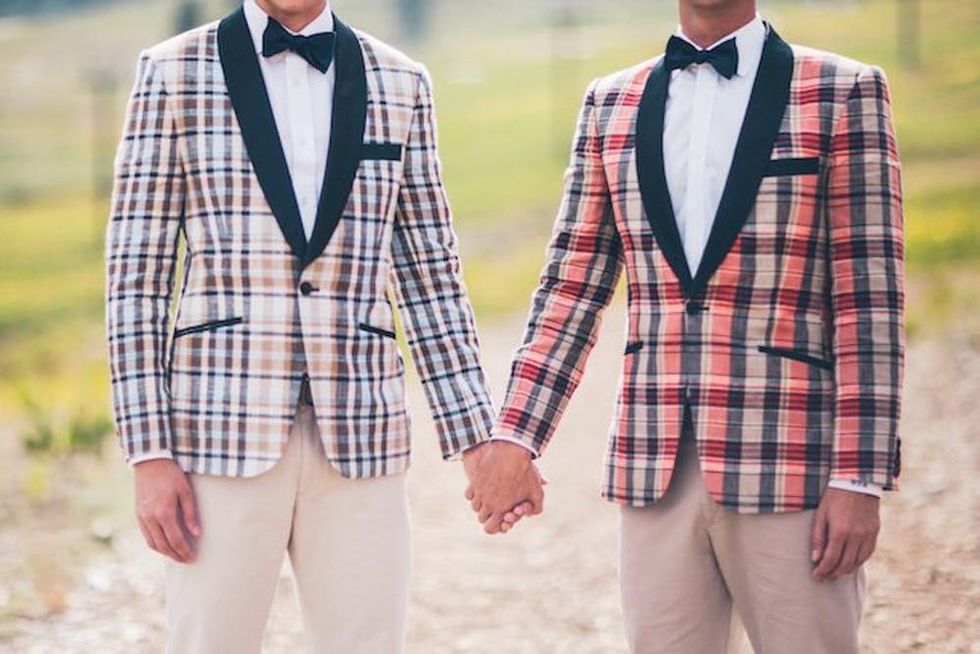 5. Patterned Jackets: For a preppy take on plaid, patterned suit jackets make for a unique and fashionable touch! Even with mix and matched colors, the warm hues of the bold patterns go together perfectly. (via Vitae Weddings / Artful Gentlemen)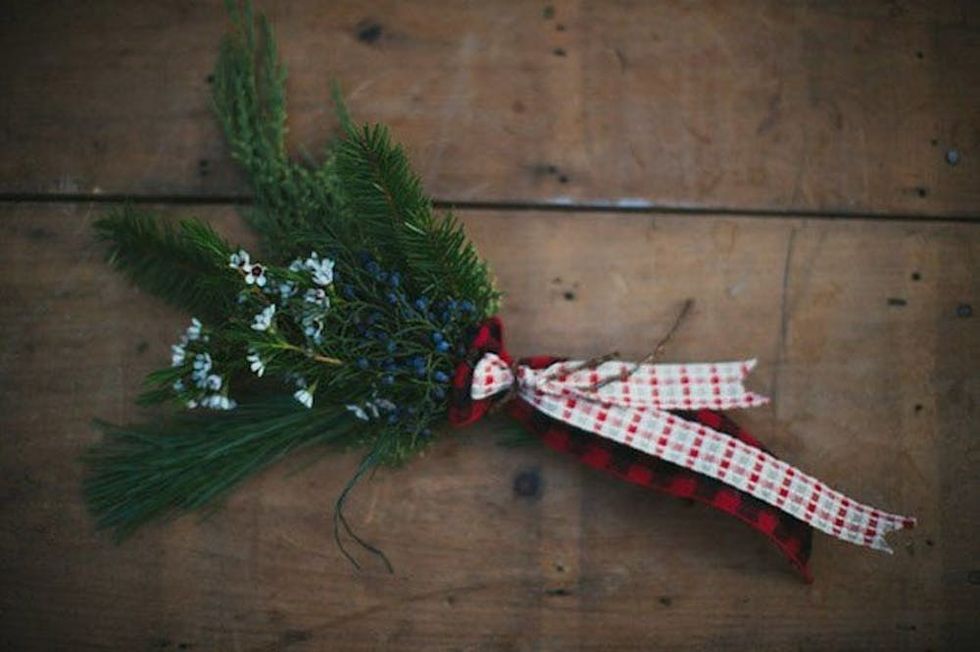 6. Boutonniere Details: If you don't want to go overboard with plaid, attach some patterned ribbon to your boutonniere. The rich, warm colors of the plaid tie in perfectly with the bold evergreen. (via GATHER Events / Rad + In Love)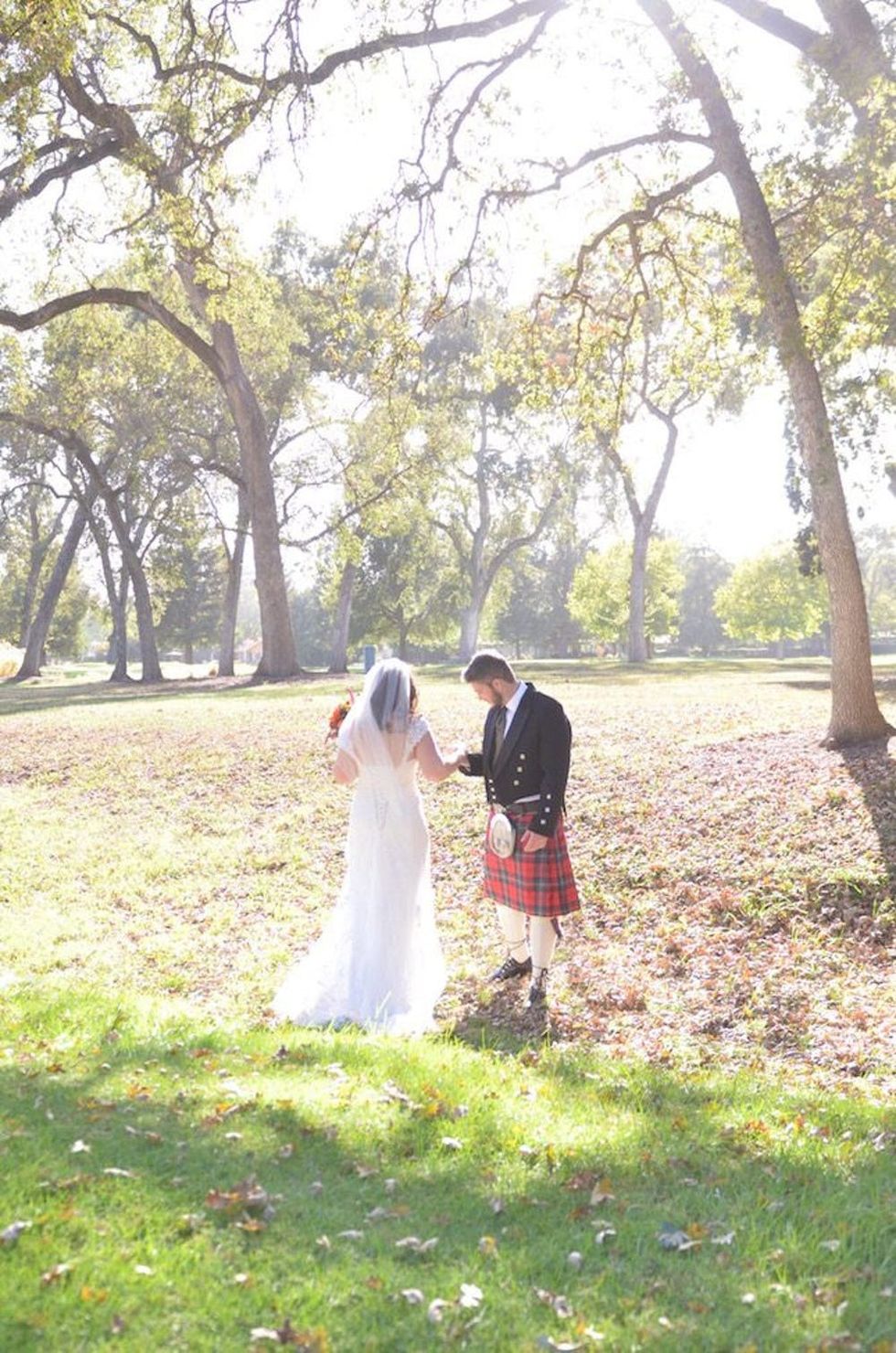 7. Traditional Scottish Wedding: Of course, if one of you is Scottish, the most straightforward way to add plaid into a wedding is the traditional kilt. Family and cultural traditions always make your wedding more personal! (via Kimberlee Brooke Photography)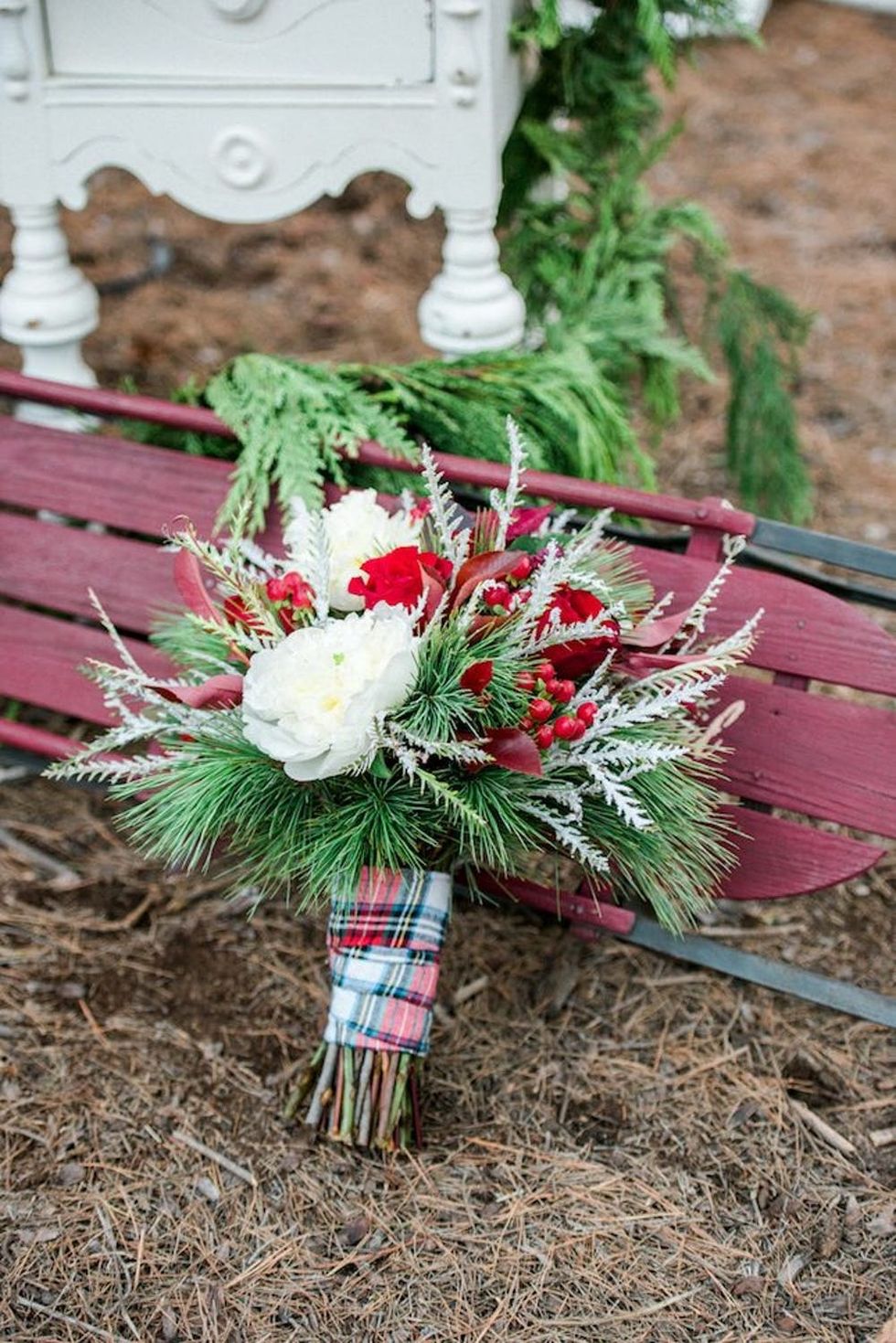 8. Bouquet Details: Take your bouquet next level by wrapping a tartan ribbon around the base. The ribbon's colors and pattern effortlessly go with the bold floral. (via Christine Skari Photography / Kat Castagnoli)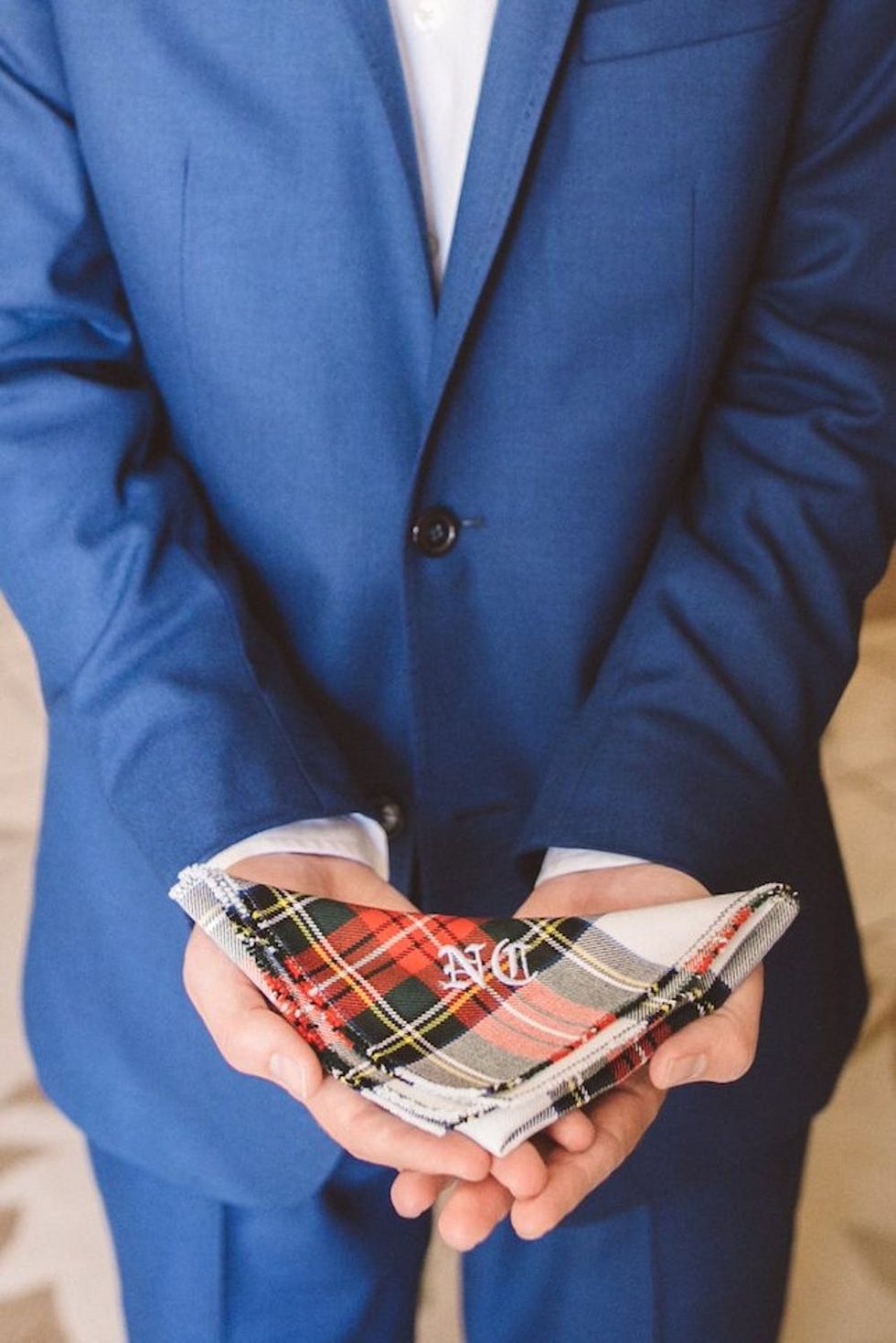 9. Hanky Gift: A tartan handkerchief not only ties in your theme but makes for the perfect present for the father of the groom or father of the bride. Make it even more personal with your wedding date or father's monogram. (via Anna Delores Photography)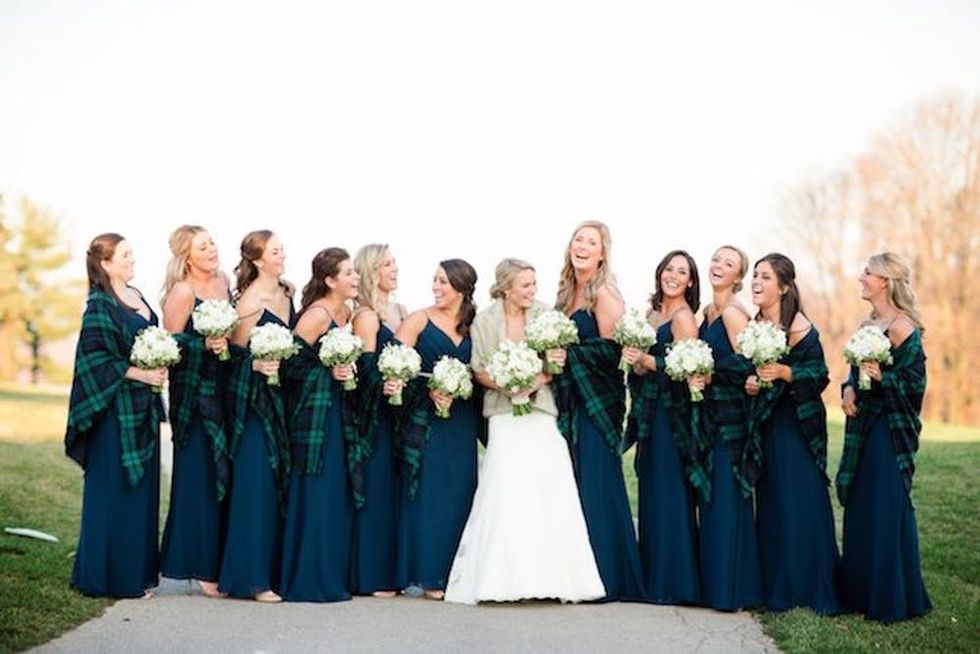 10. Plaid Pashmina: Keep your bridal party warm (and stylish) with plaid pashmina during your cold-weather wedding. This doubles as a gorgeous bridesmaid gift — one that your girls can use even after your wedding day! (via Asya Photography)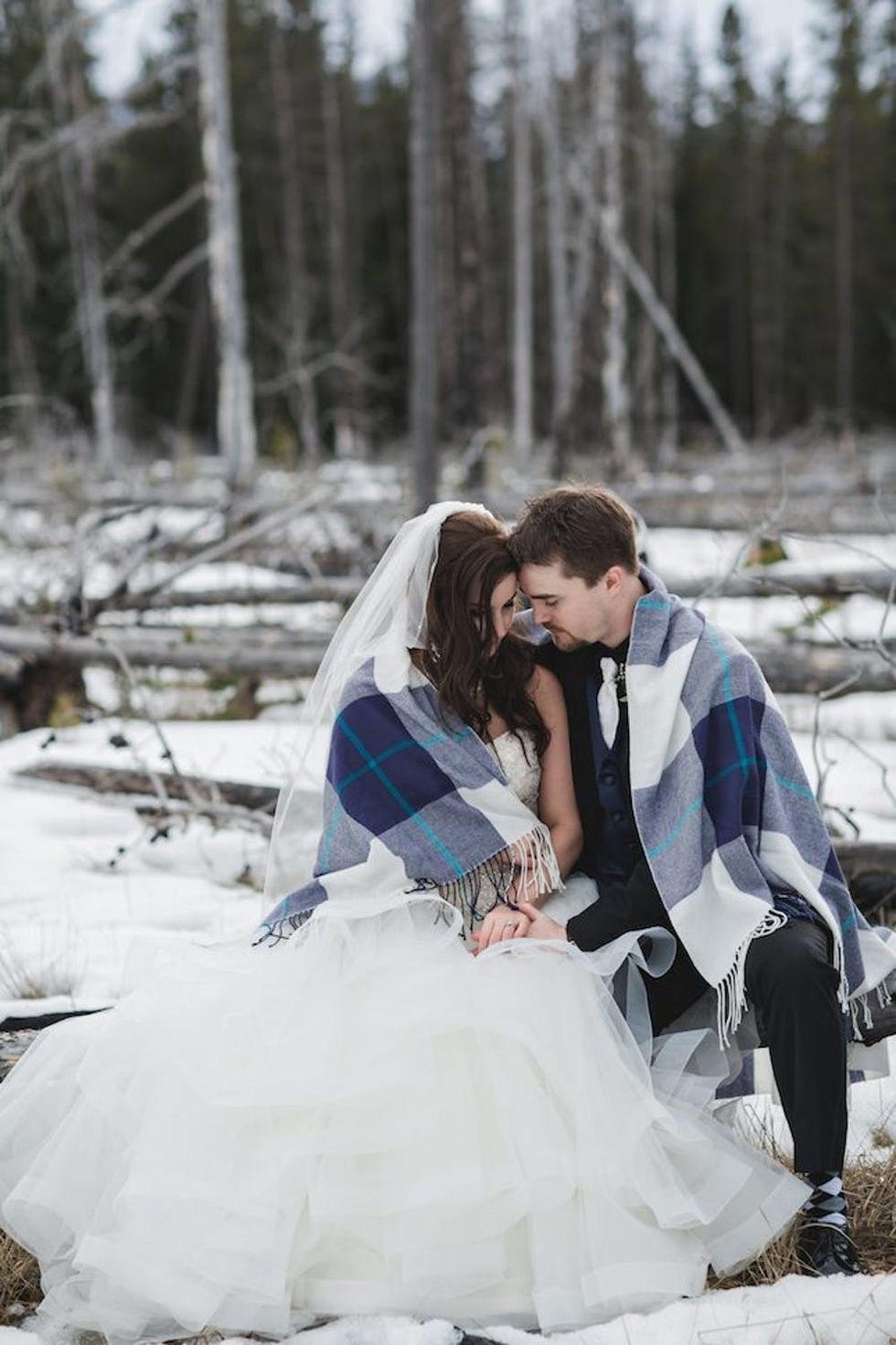 11. Romantic Portraits: Nothing is more romantic than cuddling up to your new spouse under a warm plaid blanket. Not to mention, it makes for picture-perfect wedding portraits! (via ENV Photography)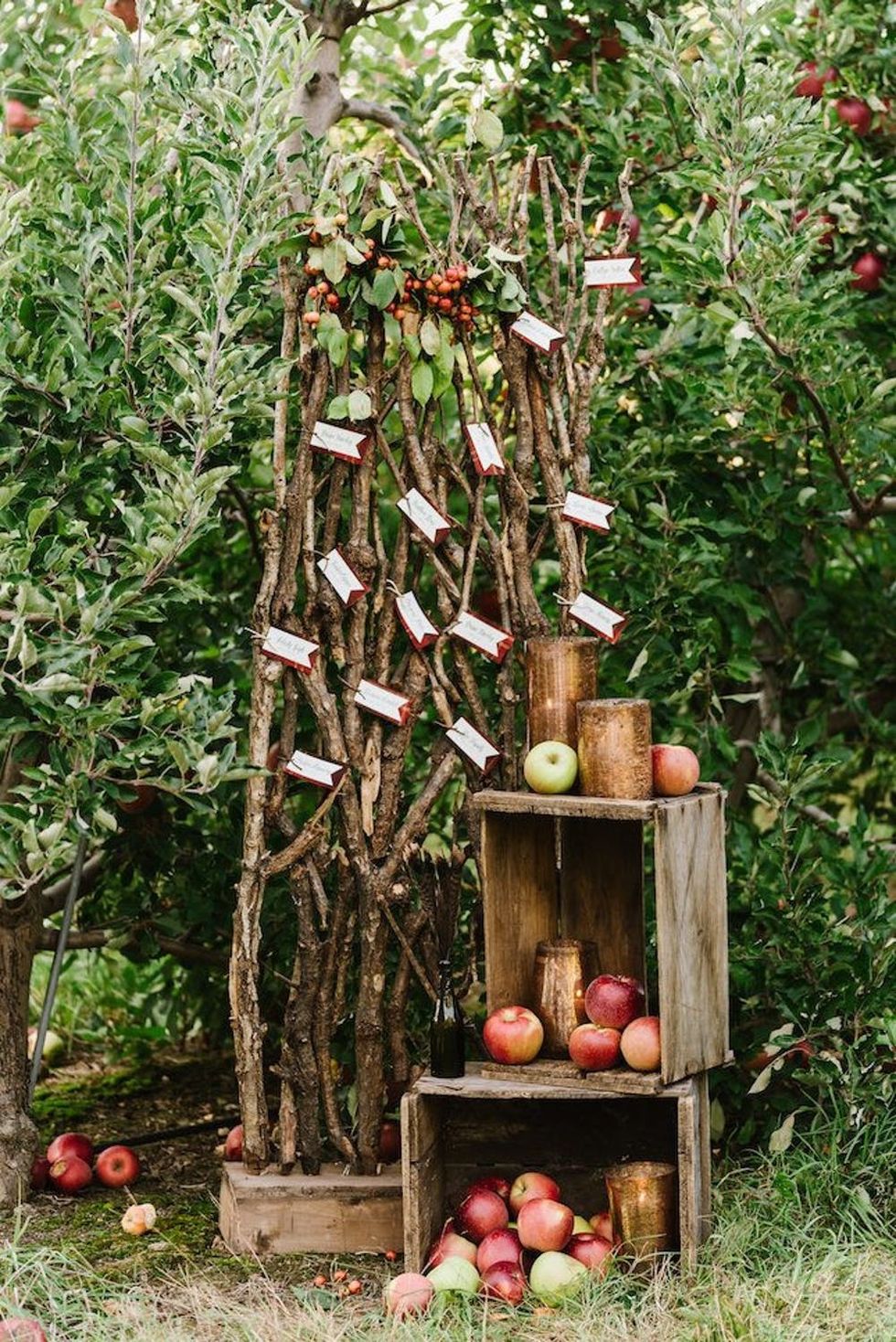 12. Escort Card Display: To spice up your escort card game, glue plaid fabric to the back of your cards. Talk about an easy and subtle way to combine rustic with modern. (via Cristen & Co. / Annmarie Swift Photography)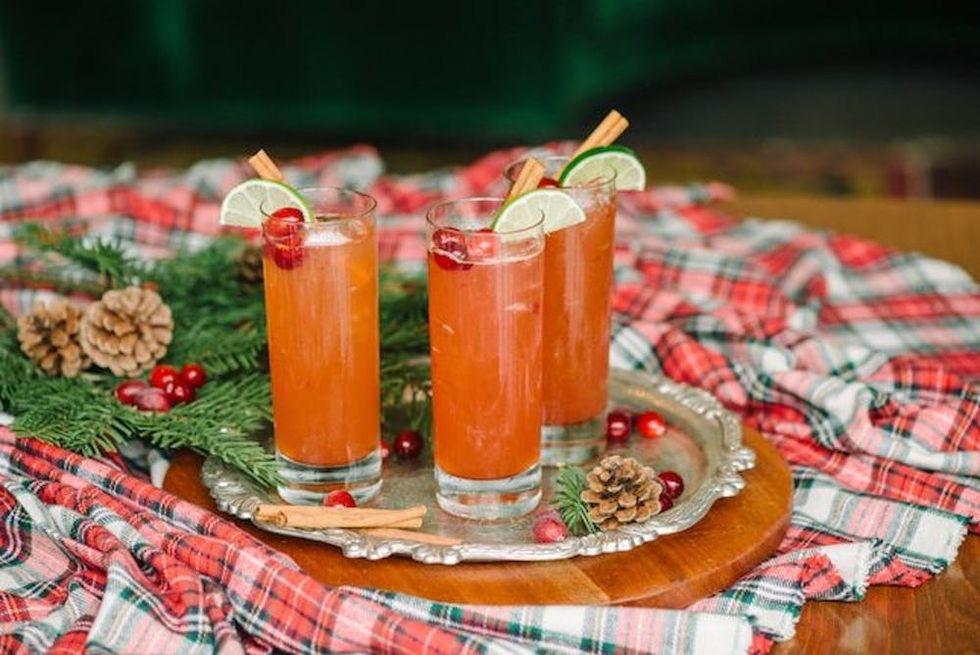 13. Cocktail Hour Coziness: Create a cocktail menu that ties in the cozy winter vibes of your plaid-inspired wedding. Hot toddies and spiked hot apple cider are not only delish, but match the warm hues of plaid! (via Chic Celebrations / Krista Mason Photography)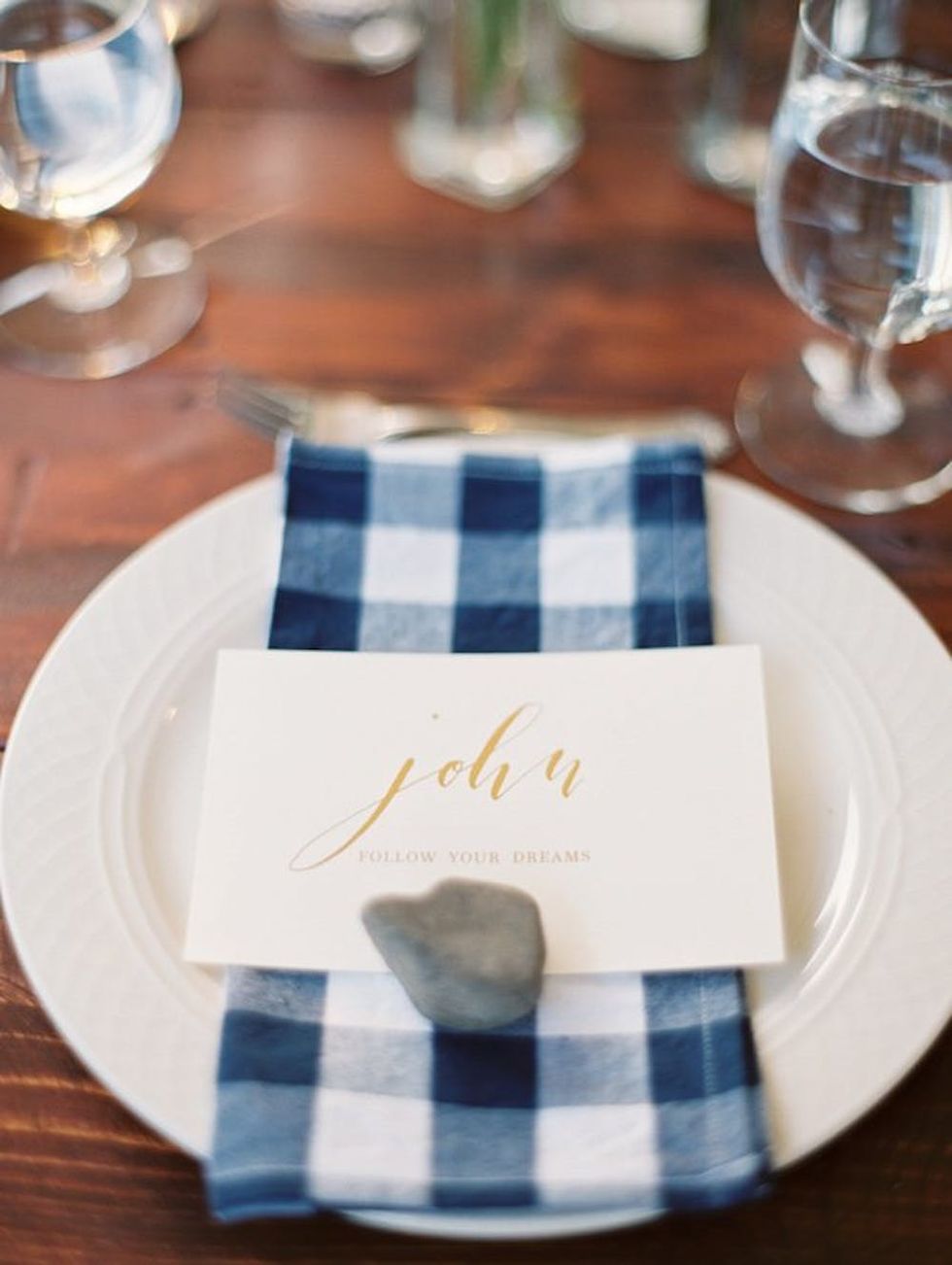 14. Rustic Table Setting: Take your table setting from simple to rustic with a plaid napkin! This one detail will make such a difference in the whole look of your table. (via Cherry Blossom Events / Lexia Frank Photography)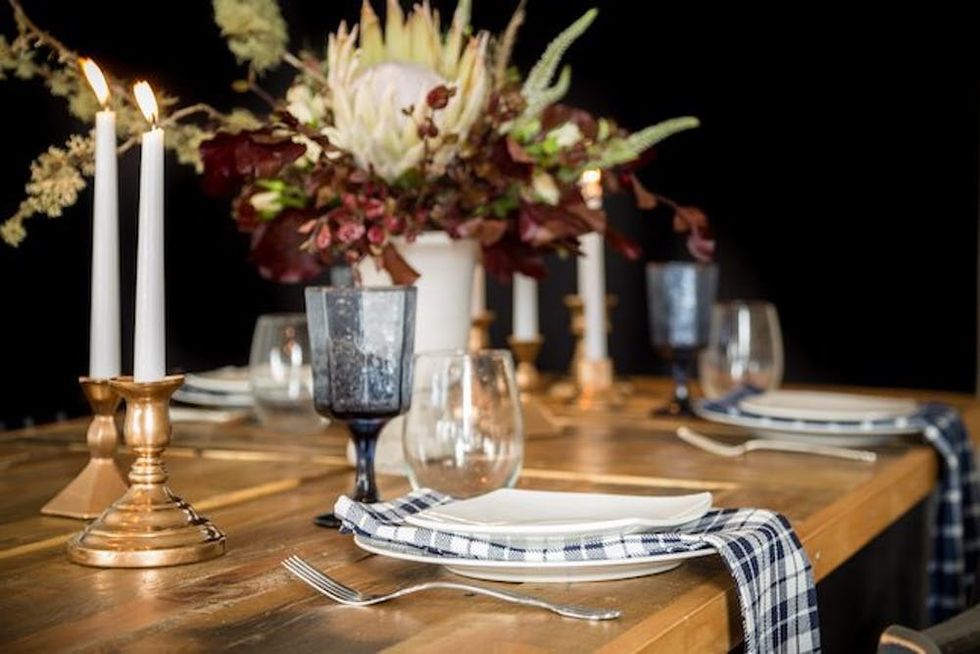 15. Elegant Tablescape: For the couple afraid of plaid looking too casual, not to worry — there are ways to elevate the look! Combine plaid details with lush floral centerpieces and richer hues like burgundy and gold! (via Vince Estep / Fancy Lou Designs / Noir Floral & Styling)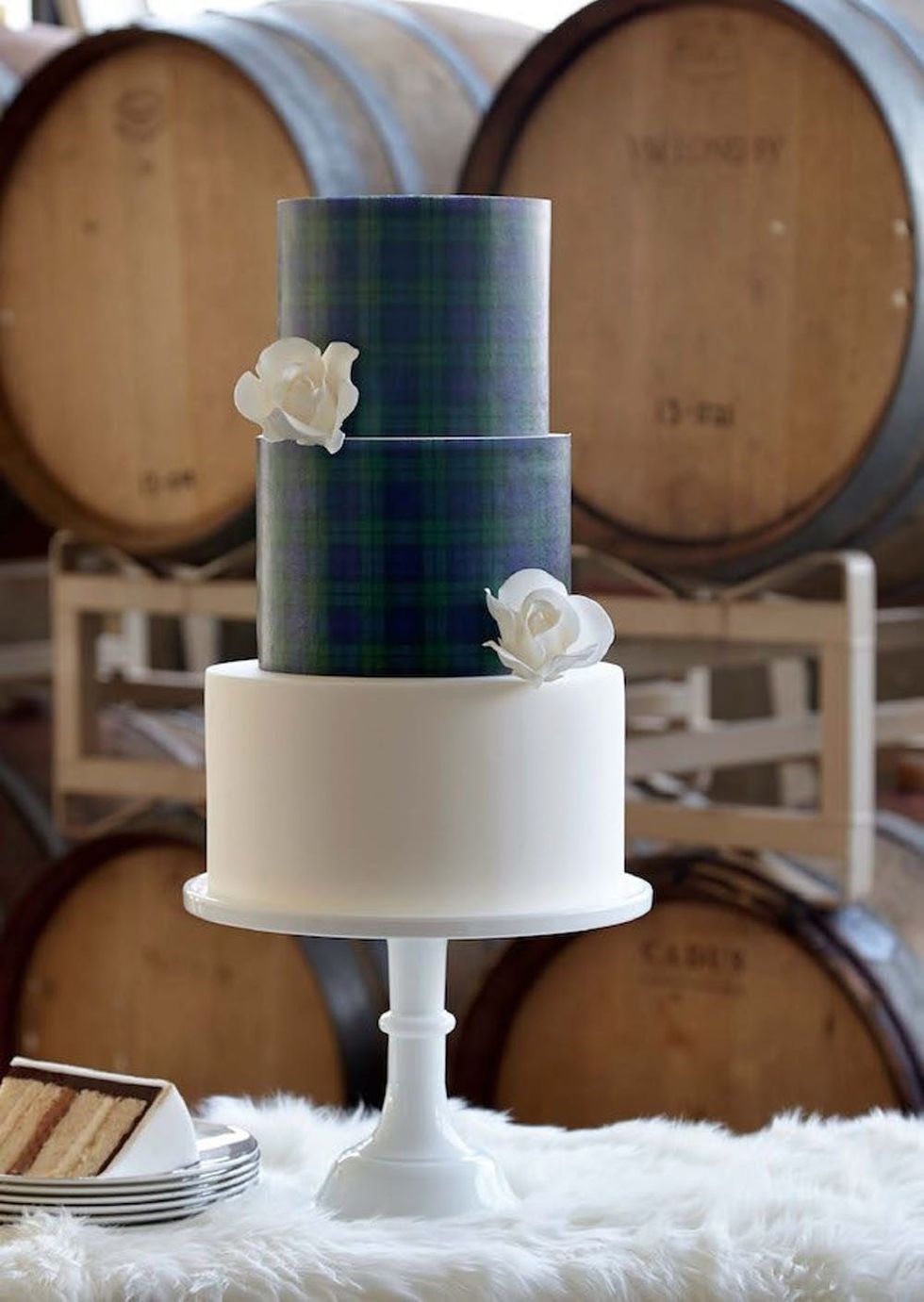 16. Patterned Cake: A tartan-patterned cake definitely evokes the coziness of fall and winter weddings. But if this dramatic dose of plaid is too much, it can easily be balanced out by some soft floral details! (via Bridal Bliss / Wendi Nordeck / AK Cake Design)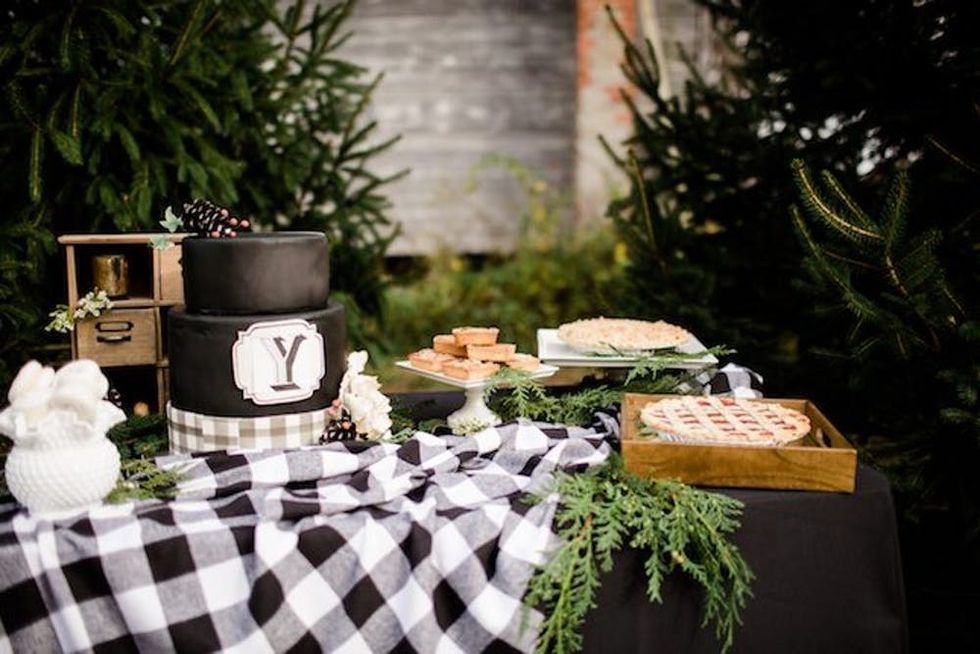 17. Rustic Dessert Table: Pies and plaid are a match made in winter heaven. A rustic dessert tablescape doesn't need much more than delicious pie choices and a simple checkered linen! (via Oak & Honey Events / Mann & Wife Visual Storytellers)
What's your favorite plaid-inspired wedding detail? Follow us on Pinterest for more wedding inspo.
Leila Lewis
As a business school graduate from Santa Clara University, Leila (Khalil) Lewis' career began in publishing, where she worked in marketing and editorial roles for business and lifestyle publications. Since transitioning into the wedding business in 2004, Leila has over 10 years of wedding marketing experience under her belt. Leila created Be Inspired® PR in 2007, the first full-service public relations agency dedicated to the wedding and special event industry.
Wedding Planning and Decor