Here Are All the Tips and Tricks You Need to Know for SXSW
Mar 13, 2015
SXSW is just an excuse for us Texas-loving folks to have lengthy conversations on everything we <3 about one of our favorite cities in the Lone Star State. While the fest in general is all about tech + music + film, it's so much more than that. We've given you some peeks at Austin in the past (hey, Re:Make Austin!), but now it's time to give you our in-depth, pro tip-filled guide to one of the coolest cities. Whether you head to the Texas town for the fest or just for a vacay, pack up the essentials and get your party on with these tips and tricks for SXSW sanity.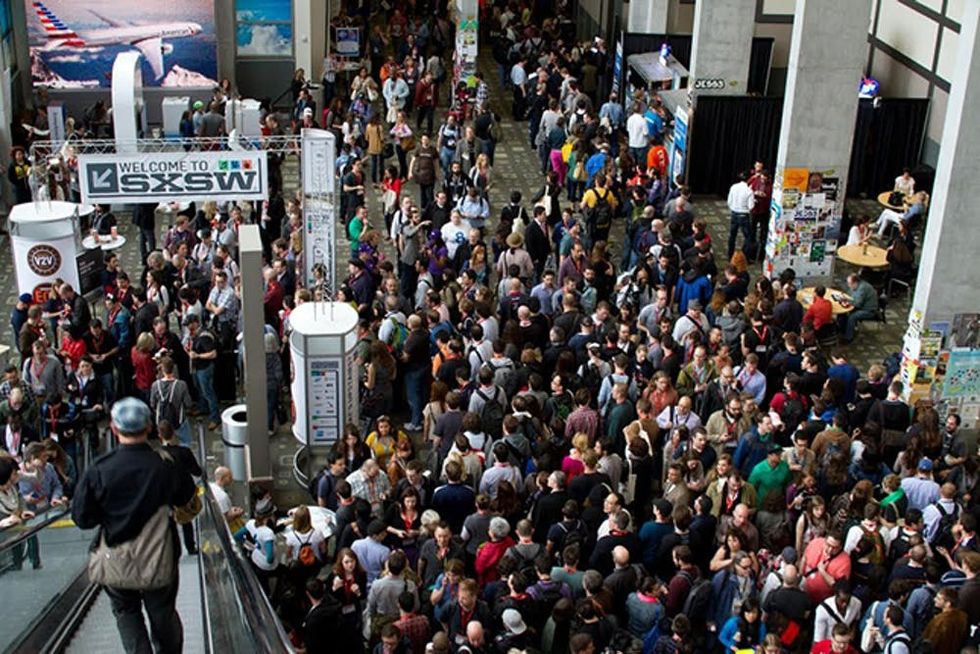 ---
Eat Here
Tex-Mex: Tacos are acceptable for breakfast, lunch and dinner (+ fourth meal if the hangry feels arise) in Austin. Not only is Tex-Mex the best hangover cure, but with plenty of options to choose from you could literally indulge in only south-of-the-border meals your entire SXSW visit. Some of our team's fave spots for getting their Mexican grub on are Tacodeli, Maudie's, Matt's Famous El Rancho + Guero's Taco Bar. Need more options? We've got 'em; hit up Zocolo Cafe for low key, affordable (and delicious) Tex-Mex. For amazing queso and margaritas, the spot to be is Chuy's Restaurant. If you're into a different spin on Mexican food with a lakeside view go to the Hula Hut and order a pipeline enchilada; you'll thank us later. B+C Tip: Order the trailer park tacos from Torchy's Tacos. You're welcome.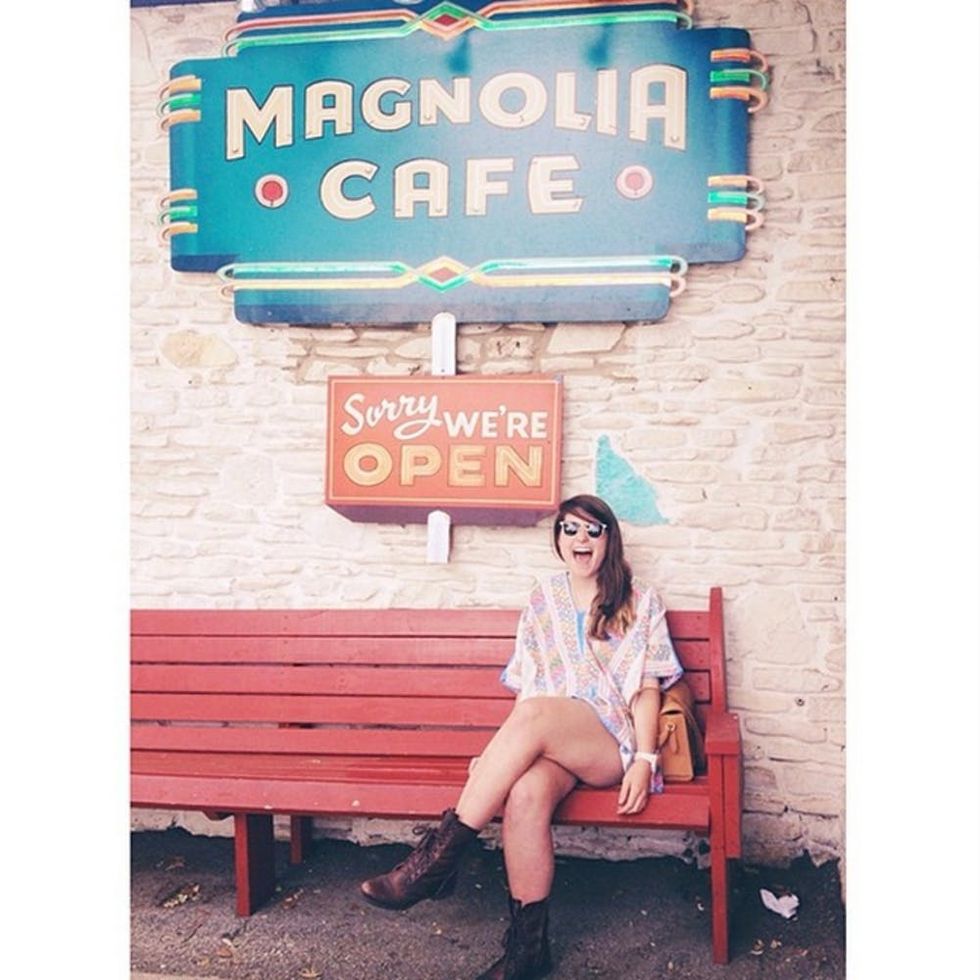 Late Night Eats: Both Brit and our channel marketing manager Victoria stepped in for these recommendations. They both suggest hitting up Kerbey Lane Cafe for pancakes and Kerbey queso. Get 'em both or you aren't really doing Austin right. Another spot they both agree on is Magnolia Cafe (fondly called Mags by locals), where pancakes are as big as your face according to Brit. And the queso, aka Mag Mud, (that's queso with black beans + avo for the uninitiated) is to die for. If pancakes aren't your thing, swing by 24 Diner for chicken + waffles because that combo is perfect no matter what the clock says. B+C Tip: If you're into any of these three spots mentioned, you can hit 'em up around the clock as they're all open 24 hours a day.
Burgers: Hopdoddy is THE place to go for "OMG-SO-GOOD burgers," according to Victoria. Though totally worth it, prepare yourself for the line. Especially if you spike your Nutella pretzel milkshake and order some truffle fries ;) If lines aren't your thing, you can always hit up the cool atmosphere and delicious burger options at The Tavern. B+C Tip: Skip the South Congress location of Hopdoddy (too much of a SXSW crowd) and hop in a car to the West Anderson Lane spot for a shorter wait time.
BBQ: As if your "To Eat" list isn't already long enough, you also should probably (AKA DEFINITELY) get some BBQ while in the heart of Texas. Might we recommend Franklin Barbecue (there will be a line), Salt Lick (grab a car for the best Austin has to offer in BBQ), County Line (mm mm good) or Stubb's BBQ (music + BBQ = success!). B+C Tip: Try Rudy's Country Store + Bar-B-Q because you haven't lived til you've tried their cream corn and peach cobbler. We never said Austin was the place to be for your diet ;)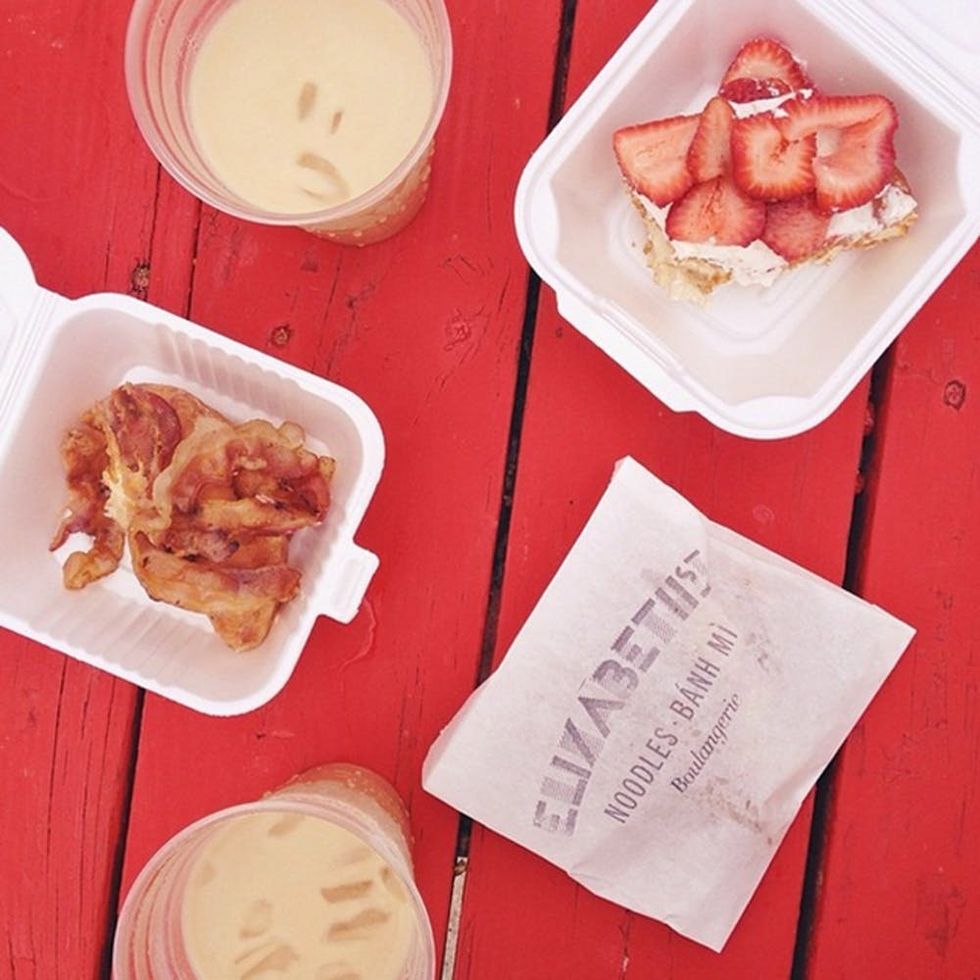 Sweets: Austin is filled with sweet treats — take it from our design girl + TX-native, Rosee. Donuts, you say? Pick up a half dozen (or a baker's) at Gourdough's Donuts. Or get a dozen of cupcakes from Sugar Mama's Bakeshop instead. While it's fine to wait in line for some cookies, why not get 'em delivered from Tiff's Treats? If ice cream is your thing, check out the Mexican vanilla or the sweet cream with dark chocolate chunks and strawberries crushed in at Amy's Ice Creams (P.S. they also have alcohol-inspired flavors!). B+C Tip: Guess the movie quote of the day at Amy's and you'll get a free crush-in your ice cream. Sorry, no phone cheating allowed.
Extra Eats: Looking for the best Pho of your life? Of course you are, who are we kidding! Look no further than Elizabeth Street Cafe, which, according to Rosee, is super Instagram-worthy (the food and the restaurant). If you're trying to feel like Sandra Bullock's BFF, stop by her restaurant Bess Bistro for great food and drinks. Running late to a panel? Pick up some fast food Japanese from Zen. Or if you're planning on having a slow day and actually getting some work done, hang out at Mozart's Coffee Roasters. B+C Tip: Rosee recommends all of the McGuire Moorman Hospitality restaurants as they are all "on point." Brit suggests Moonshine Patio Bar + Grill for the "A-MA-ZING FOOD."
Brunch: Sometimes you can't make the early panels so you hit up brunch instead, duh. Get the crab cakes and a bloody Mary at South Congress Cafe. If their special carrot cake french toast is on the menu you better believe you're ordering that too.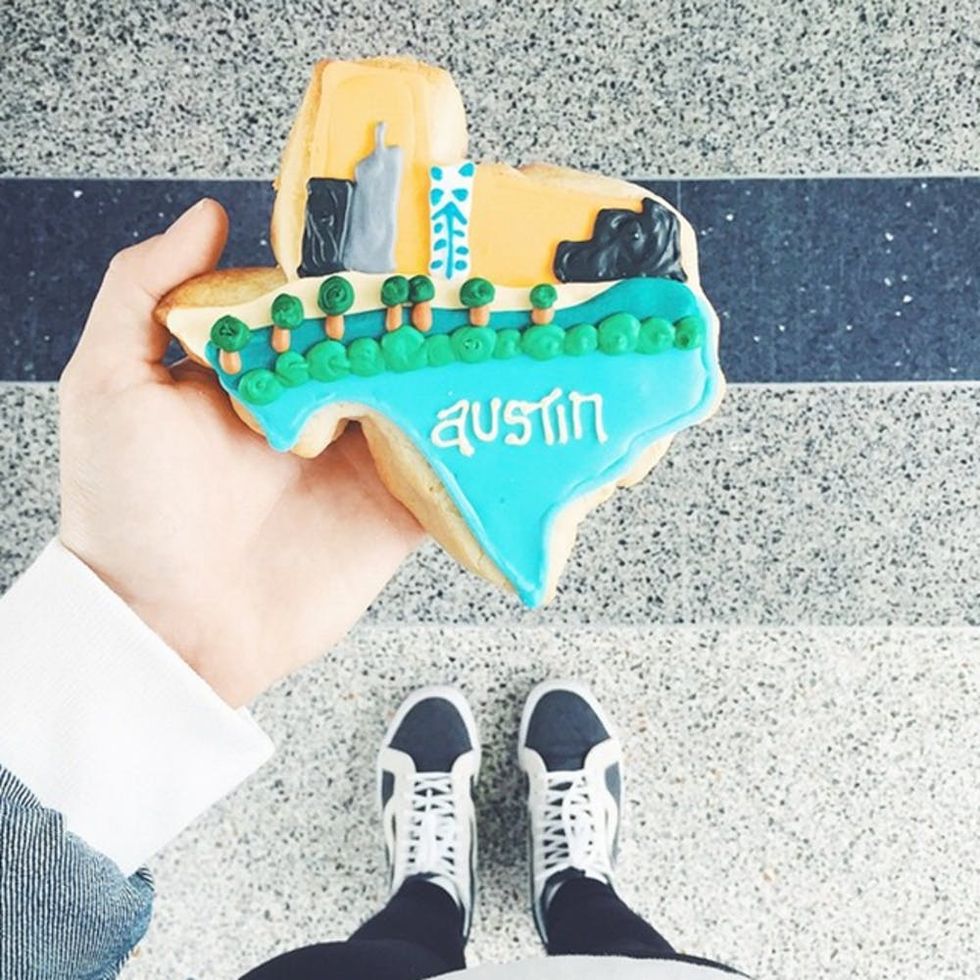 Sandwiches: Sandra Bullock's bistro may be a little too much for you, so try out her sandwich shop — Walton's Fancy and Staple — instead. B+C Tip: Pick up small bites around the clock during SXSW at the Whole Foods HQ off 6th Street, where there's free food, events, hydration and the chance for some chill time.
Ditch Downtown: Considering the Downtown/Congress area is going to be packed for SXSW, do yourself a favor and try spots outside of that neighborhood. Some B+C pizza recs include Pinthouse Pizza for a slice and a beer, Homeslice Pizza or Mangia Pizza (it's stuffed!) because you can never really have enough pizza. Another great find outside the immediate SXSW crowd is Josephine House, an MMH goldmine. As if we could forget about fried chicken (never), swing by Lucy's Fried Chicken for some locally sourced southern greatness.
Drink Here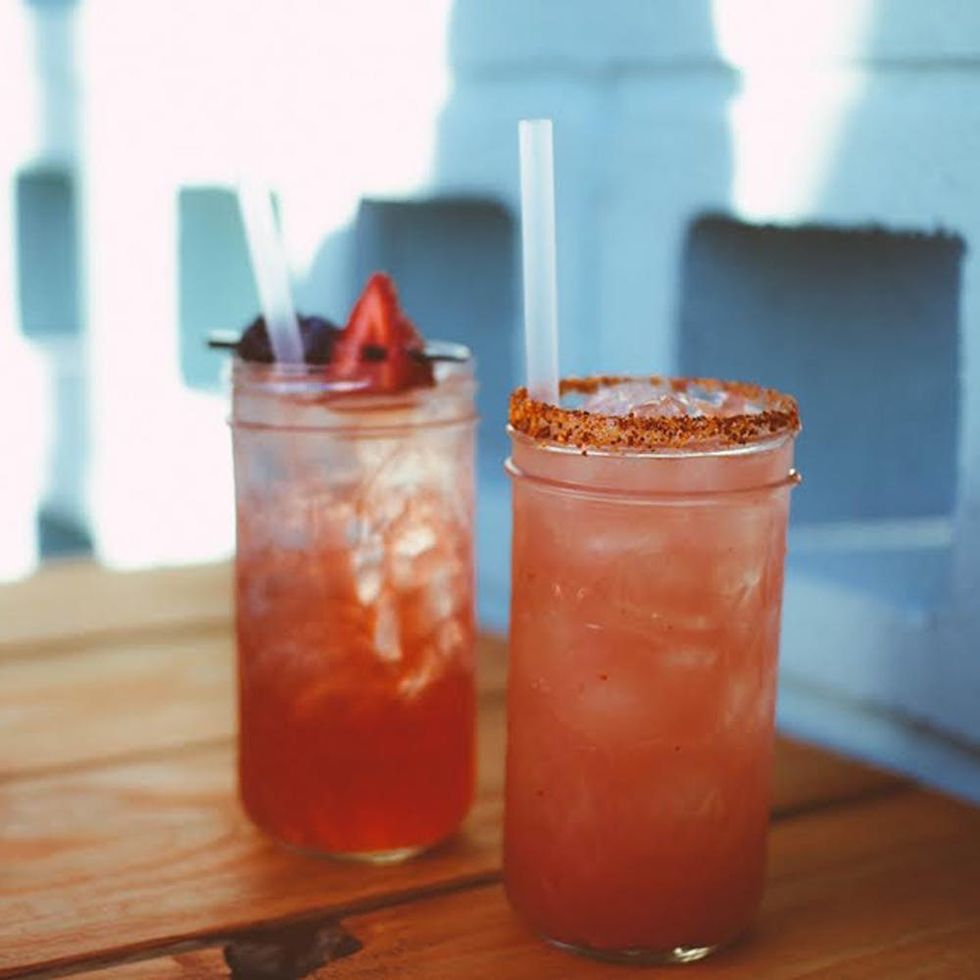 Sixth Street (or as some locals call it "Dirty Sixth") is home to the best nightlife scene in all of Texas during and after SXSW. While it's super cool that the entire street is shut down for late nights to allow people to scatter from bar to bar — or pick up some drunk food — sometimes that can get a little… old. Instead hop over to Rainey Street for a more laid-back hipster vibe. Here you'll find spots like Container Bar, Clive (our editorial director, Lisa's, fave), Banger's Sausage House and Beer Garden (which has more than 100 beers on tap plus the largest sausage selection in Austin) and Bar 96.
If you are gung-ho about hanging on 6th, we've got some options for you: Easy Tiger (beer garden), Buckshots (shots shots shots shots shots shots!), Barbarella (MoTown, get down!), Maggie Mae's (two floors with live music) and Pete's Dueling Piano Bar (for obvious reasons). Basically Rainey Street is where to go for casual networking opportunities and 6th Street is where you go to party hard if you don't care you'll be waking up late for panels. B+C Tip: Live on Twitter to keep up to date with where the best parties, happy hours + free drinks are. Then GO THERE.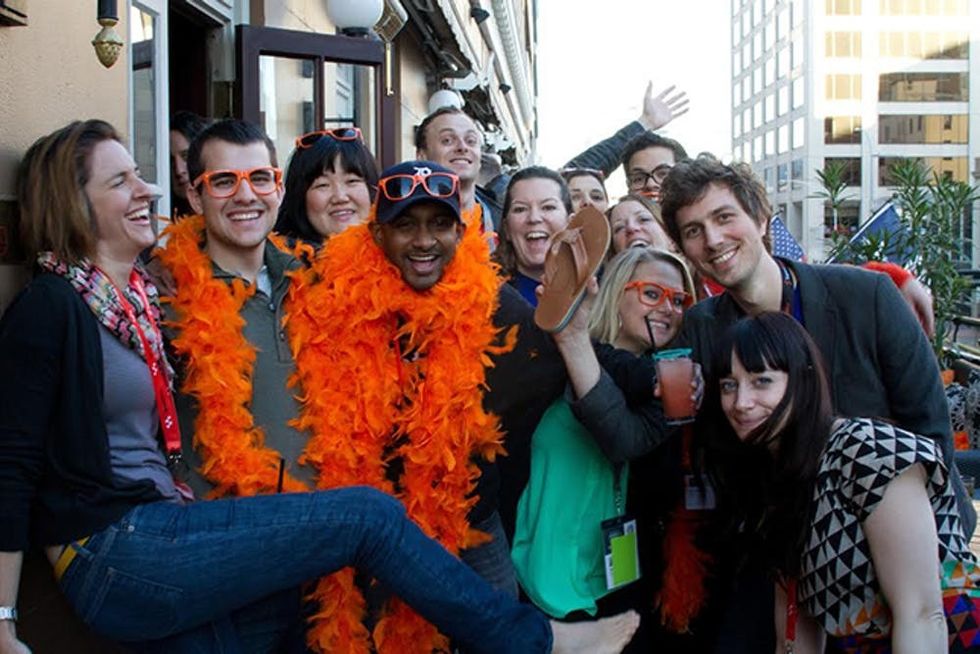 It's fun to indulge in beer and shots while in Austin, but there's another drink you need to consume while in the city: margaritas. Don't leave Austin without one. Switch it up even more and go get a Mexican martini from Trudy's. They're so good and strong that you're limited to two.
Not everyone is into bars and clubs for their drinks, so swing by the Paramount Theatre for a drink and performances, concerts and movies premieres during the festival. Or go get some laughs and a beverage at Esther's Follies.
Shop Here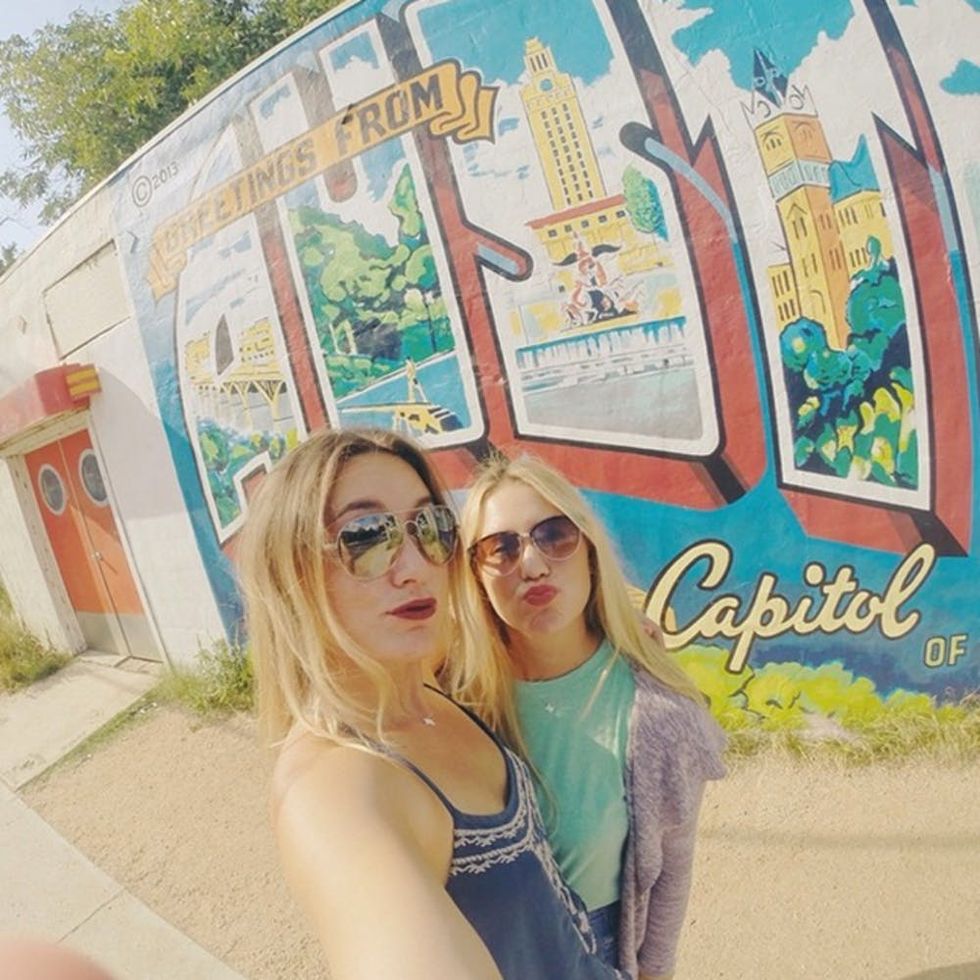 We know you're there for all the music, film and tech you can indulge in (plus food and drinks) but there's always time for some shopping. Some of the best can be found on South Congress Street, which is filled with vintage shops, boutiques and awesome places to pick up a pair of cowboy boots. We recommend Feather's Vintage Boutique, a beautifully curated vintage shop with prices that won't take fun away from the rest of the weekend. Rosee recommends you swing by and say hi to her friend Lauren who will help you find everything from one-of-a-kind screen printed tees to killer accessories.
You can't leave Austin without scoring some flawless boots, so stop by Allens Boots to pick up a pair that will make any outfit look bomb.
B+C Tip: Hit up Tyler's to get your hands on your very own "Keep Austin Weird" shirt.
Go Here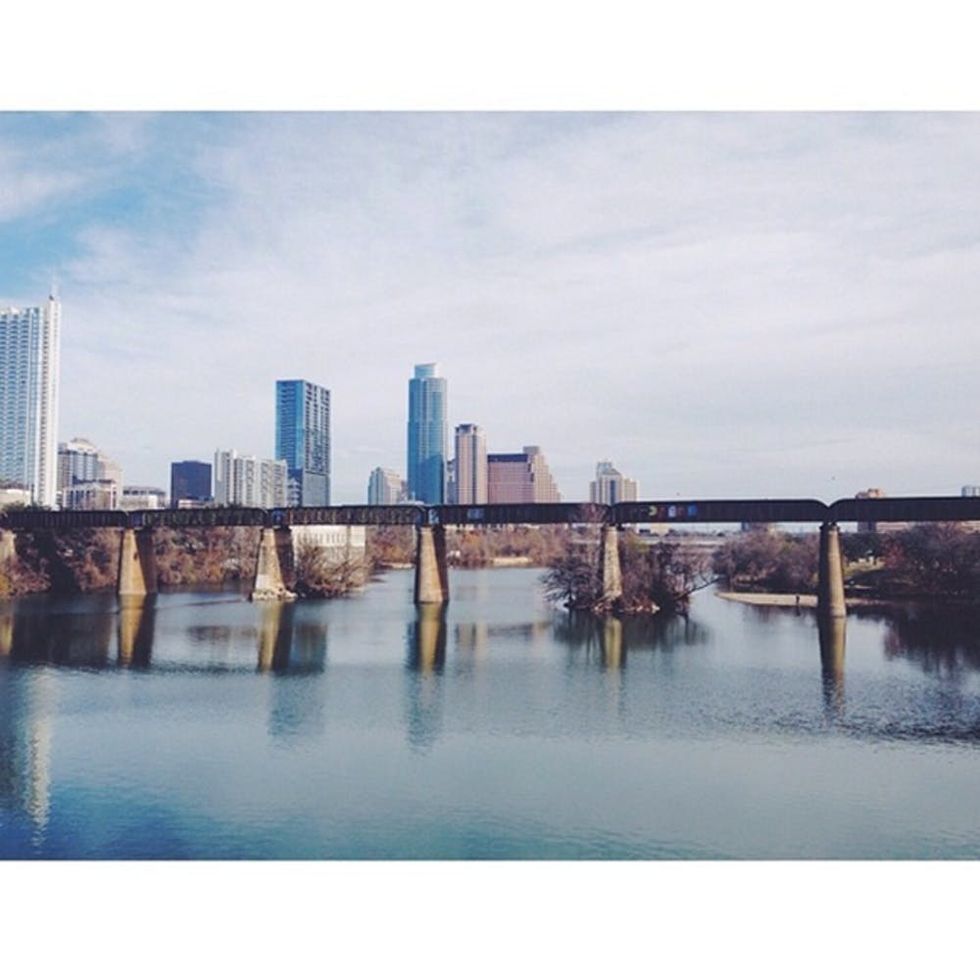 Sometimes you just need to escape from the SXSW crowd. One of the best places to get a little quiet time is Town Lake for jogging, walking, running, biking, kayaking, etc. If you've got a car, drive to Mount Bonnel or the 360 Bridge Overlook for gorgeous views of the city.
You know what else is beautiful? The State Capital and the tower at UT. Swing by at night for a sight for your eyes.
B+C Tip: Skip a panel and hang out under the South Congress bridge around sunset to get an eyeful of flying bats. Then head to Guadalupe Street (aka the drag or guad), the hot spot for the UT Austin crowd that's filled with shops and restaurants.
SXSW Tips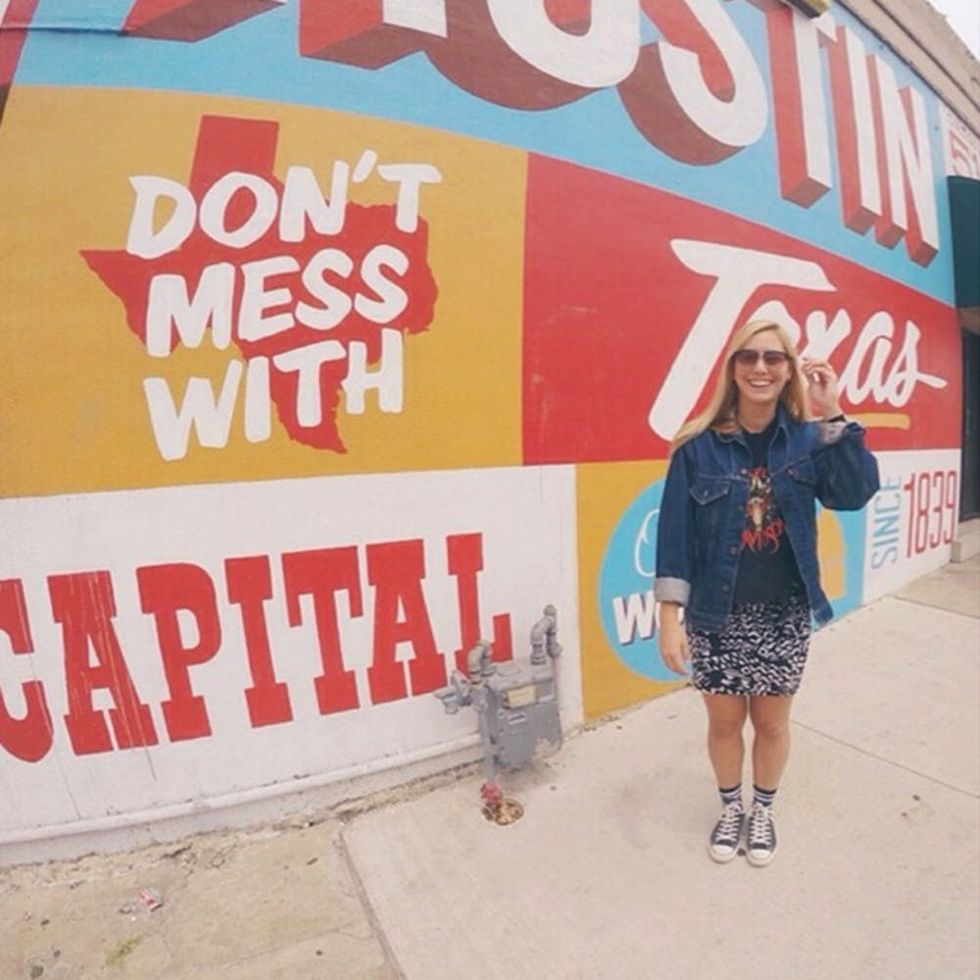 We've got some SXSW pros at Brit + Co and here is what they suggest to successfully survive the fest.
Arrive early if you have a car since parking will be full (B+C Tip: Though super walkable, if you want to get around faster take a petty cab + leave a nice, big tip!)
Have your charger with you at all times
Keep an eye out for free shows and comb through Eventbrite and Twitter (handles to keep an eye on: @southbyfreenoms, @sxswp + @d0512)
Skip happy hour and go to yoga to network instead; check out Black Swan (B+C Tip: It's donation based, so slip the instructors a $5)
Our final B+C Tip comes courtesy of Lisa. She recommends heading to Austin when SXSW isn't going on because there is so much to do and see that should be experienced without huge crowds.
Are you heading to Austin for SXSW? Where will you be heading while there? Let us know in the comments.
Party