12 Creative Baby Names Inspired by Snow
Feb 07, 2016
The east coast's most recent Snowmageddon shuttered schools and businesses, buried cars and was the culprit in creating massive disruptions (and fun snow day activities!) for 80 million people. But among all that chaos, Instas of Winter Storm Jonas depicted people having the best snow day ever. Snow still has a magical quality for the child in all of us, whether you're celebrating the fluffy white stuff with winter DIYs or getting inspired for a creative baby name. Scroll on for the best of winter's baby names.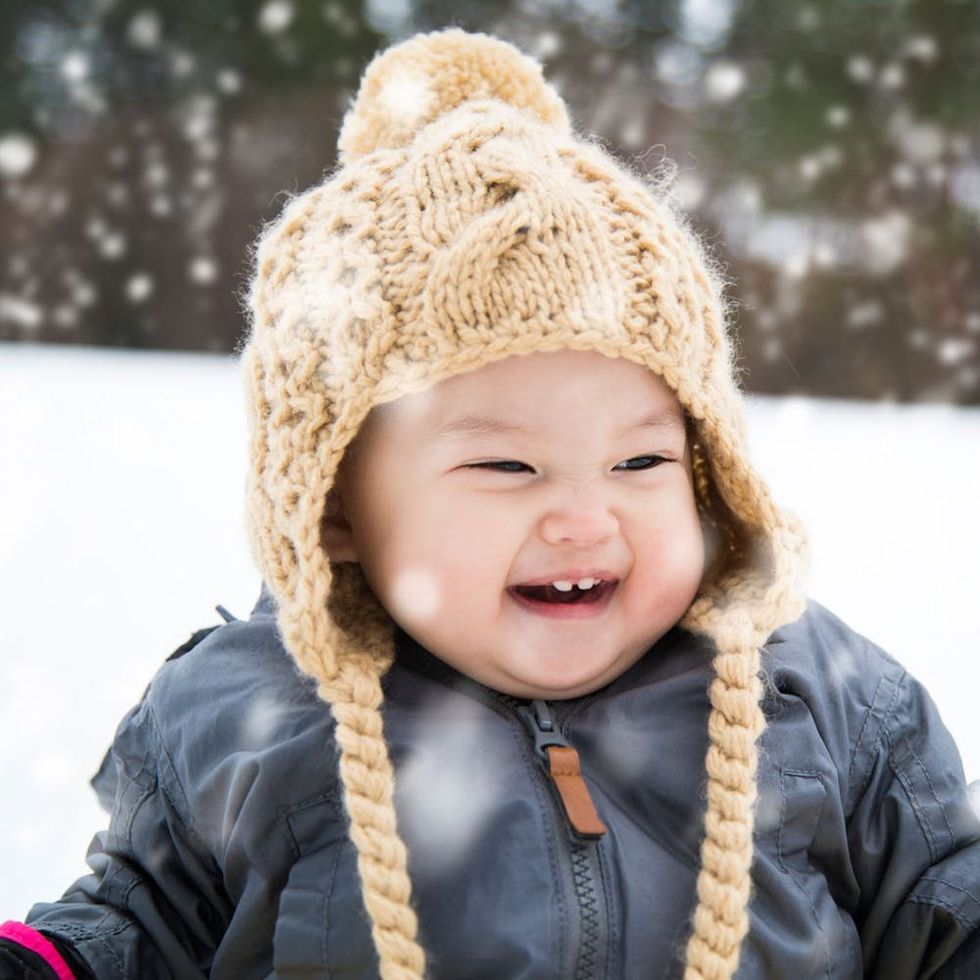 ---
Baby Names Inspired by Snow
1. Snow: Fresh, pure and simple, Snow can make an evocative middle name choice, carrying the enduringly cheerful image of Disney's Snow White. Snow is currently Number 387 on Nameberry — it would probably rank higher if there were middle name votes.
2. Jonas: The Weather Channel only started naming winter storms in 2012, and Jonas seems like an odd choice for this year's snowmageddon. It's a Greek variation of Jonah, meaning "dove," and more emblematic of the peace and calm after a storm. Jonas, at number 500, ranks far below Jonah (138), but is a Top 10 name in Austria and Norway.
3. Neve: Neve is the Italian and Portuguese word for snow (and is also the Anglicized form of the Irish Niamh). It's best known via actress Neve Campbell, who inherited her Dutch mother's maiden name. Now number 368 on Nameberry, 97 in Scotland and 194 in England, it's also the name Conan O'Brien chose for his daughter.
4. Lumi: Lumi is a luminous Finnish name meaning snow. Popular in its native land, it is now in the Finnish Top 40. Another version is Lumikki.
5. Eira: Pronounced AY-rah, this is one of several snow-related Welsh names: Eira, Eiry and Aneira mean snow, Eirwen means white as snow and Eirlys means snowdrop. Gwyneira (gwen-ay-ra) also means white snow.
6. Yuki: This is a very common Japanese unisex name often seen in Manga/anime series, and one of its meanings is snow. Among its elaborations, Yukiko means snow child born in December, while Miyuki has the lovely meaning of deep beautiful snow, or silence of deep snow.
7. Lixue: This name means pretty snow in Chinese. But though we're all crushing on names with the the X-factor, the less than obvious pronunciation of this one, lee-SHWEH-EE would limit its use outside of Chinese culture.
8. Nevada: The Spanish language contains several snowy words. This one means covered in snow; the American state was named for its snow-capped mountains. There were 23 babies named Nevada in 1900, 26 in 2013. Other possibilities are the simpler Neva and Nevara, which refers to the wholesomeness and purity of snow.
9. Kari: Karli is a Turkish name meaning covered with snow. It's pretty enough on its own, and also an obvious homophone for Carly.
10. Nieves: Pronounced "nee-ay bays," this is a Spanish name given in honor of the Virgin Maria Nuestra Senora de las Nieves, Our Lady of the Snows, which refers to a miracle she performed when snow didn't melt on a day of August heat in Rome.
11. Edur: Pronounced ED-oor, this Basque boy name is an unusual Ed name. The female version, Edurne (ed-oor-neh), is quite well used in Spain, where it has often been in the Top 100.
12. Crystal: You could go in a completely different direction and reference the ice granules that comprise snowflakes. Crystal was a Top 20 name from 1978 to 1984 and still ranks at 477 (though dropping precipitously). Still, it's a far better choice than Flurry or Flake.
Are you inspired to give your baby a snow-capped inspired name? Tweet us @BritandCo and let us know!
This post was originally published on Nameberry by Linda Rosenkrantz.
(Photo via Getty)
- -
Nameberry is the expert baby names resource, with thousands of names and unique lists, a vibrant community, and fresh content daily, all designed to help you find the baby name you'll love for a lifetime.
Baby Names