Treat Yourself This A.M. With This Fancy AF Egg Clouds Recipe
Mar 14, 2018

Welcome to Single Serving, our new video series showcasing colorful, easily re-createable, and highly Instagrammable recipes for one. In our premiere episode, we made a blue vegan "nice" cream. Now we're showing you how to make this fancy AF egg cloud, so you can feast like royalty (on the fly) even if you're dining alone.
---
Egg clouds look as stunning as a soufflé, but they only require a few steps and are baked on a sheet tray in the oven. If you crave something a bit more substantial, upgrade it to a croque madame or simply serve them atop a piece of toasted and buttered bread to sop up all that yolk running down.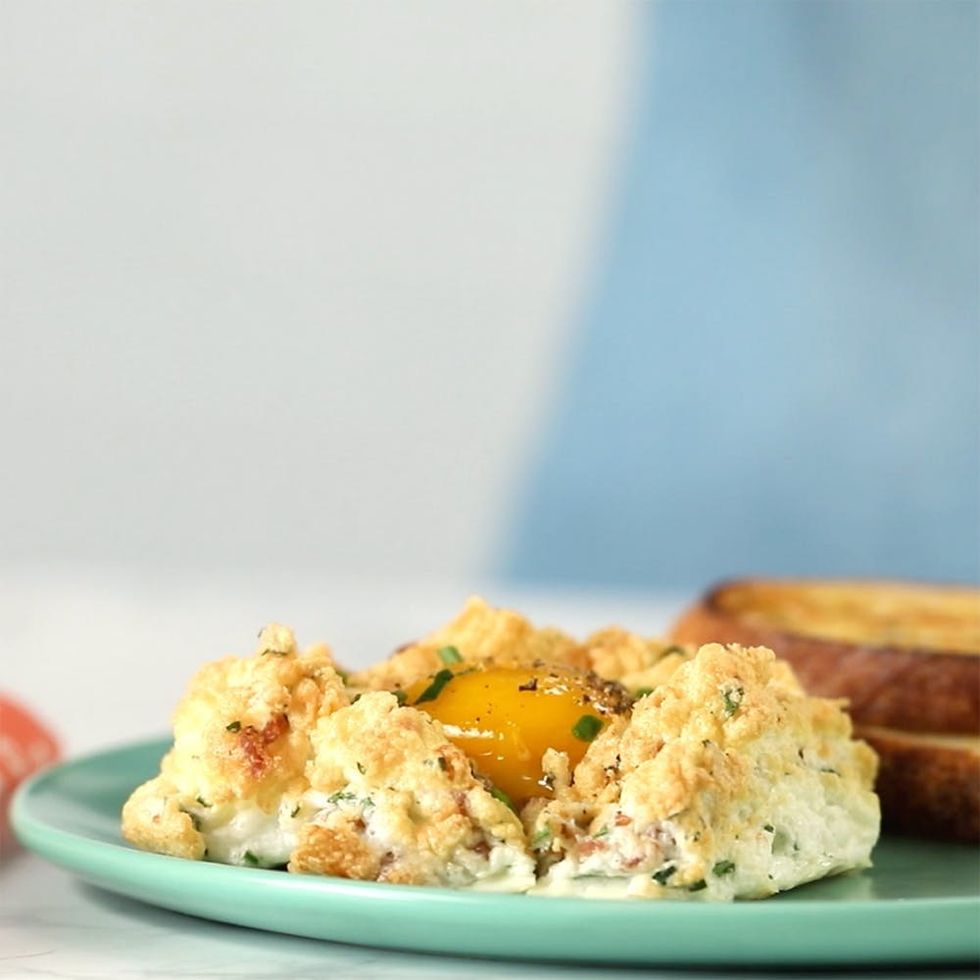 Fancy AF Egg Clouds REcipe
(Serves 1)
Ingredients:
3 eggs
3 Tablespoons crumbled bacon
3 Tablespoons grated Parmesan cheese
1⁄8 teaspoon salt
2 Tablespoons chopped parsley, divided
freshly ground black pepper, to garnish
toasted and buttered bread, for serving (optional)
Instructions:
Line a baking sheet with parchment paper, and preheat the oven to 375ºF.
Using your hands, carefully separate the whites from the egg yolks, allowing the whites to drop in a large bowl. Carefully transfer the yolks (keeping them whole) in a small bowl.
Beat egg whites with a stand mixer or handheld mixer on medium-high until medium-stiff peaks form. Using a rubber spatula, gently fold in bacon crumbles, Parmesan, salt, and 1 Tablespoon parsley in 1-2 movements so egg white does not deflate.
Divide the egg white mixture onto the parchment-paper-lined baking sheet, forming 3 even "clouds," spacing them at least 1-inch apart. With the spatula, create a well in the center of each cloud, then carefully drop in egg yolks to the center of the wells.
Bake for 8-10 minutes for runny yolks, or 14-16 minutes for well-done yolks, or until yolks have set and whites become caramelized.
Garnish with black pepper and chopped parsley. Serve on toasted and butter bread (optional).
Get lost in a sea of food videos on Brit + Co's Facebook page.
(Recipe from Anna Monette Roberts / Brit + Co)
Anna Monette Roberts
As Brit + Co's Food Editor, Anna Monette Roberts has an insatiable appetite for developing tasty dishes. When she's not dreaming about her next meal, she's . . . well, probably cooking up her creations. Her favorite foods include chewy chocolate chip cookies, Rosé Champagne, and gooey French cheeses — in no particular order.
DIY Recipes