All of Spring's Best Lipsticks from the Oscars + How to Wear Them
Feb 28, 2015
The Oscars hit at the exact time when we start switching up our beauty game from winter to spring. So we're always thrilled when celebs tune into the upcoming breezy season with makeup to match, giving us the inspo we need for our quarter-year kit overhaul. And at this year's Academy Awards, boy did they. Still heard around the Brit + Co office are remarks about Margot Robbie's perfect-for-date-night red lip and Chrissy Teigen's unexpectedly gorg jump to the dark side that has us wanting a cherry cola-colored pout. Shop those spring-ready shades and more below, including Anna Kendrick's ballerina pink lip color and Emma Stone's peachy pucker. For each look, we've picked one that's-the-one boutique option and one drugstore lookalike for less than $10 so you can get a red carpet-worthy pout this spring on any budget.
Emma Stone's Coral Peach
---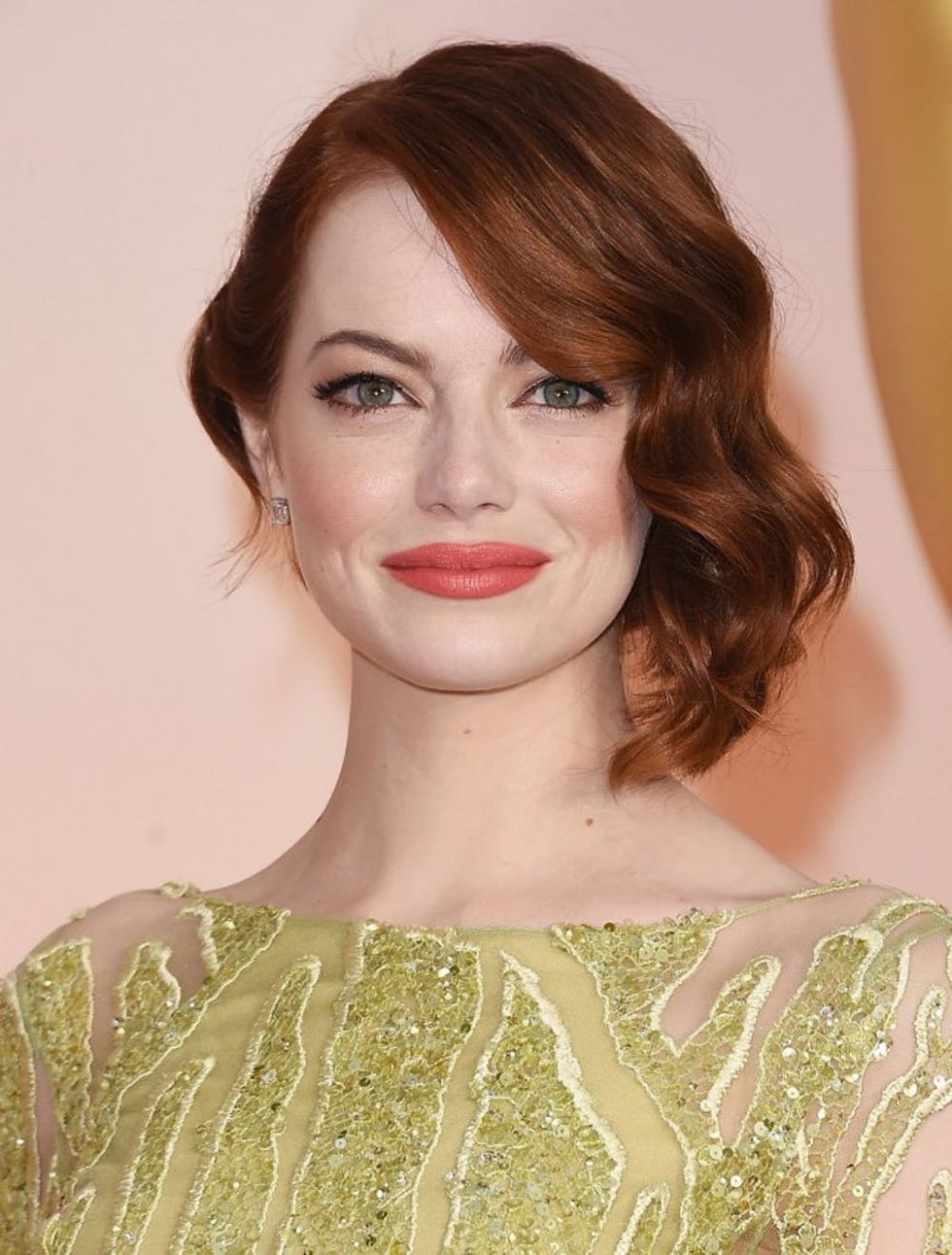 Nothing says "spring's fiiiiinally here!" more than Emma's creamy coral pout. Well, maybe except dewy-beyond-belief skin and flushed cheeks to complete the look [adds notes to spring beauty checklist]. (Photo via Jason Merritt/Getty)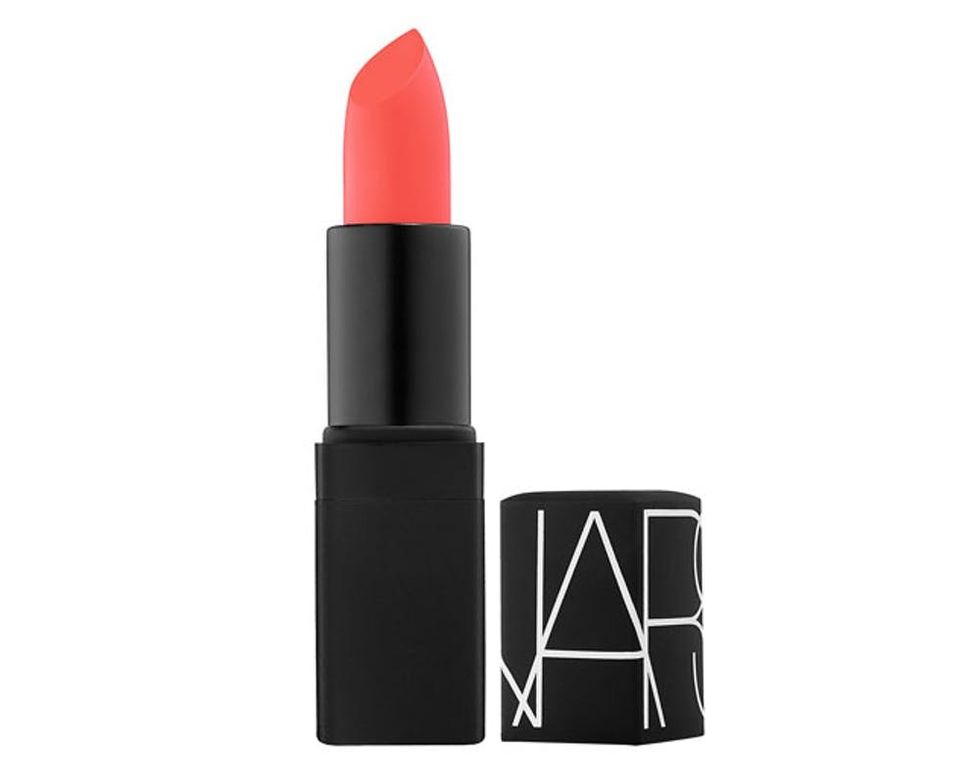 1. NARS Lipstick in Niagara ($27): A covetable, creamy finish is yours with this pink-coral lipstick that's enriched with vitamin E to help keep that color intact from desk to date.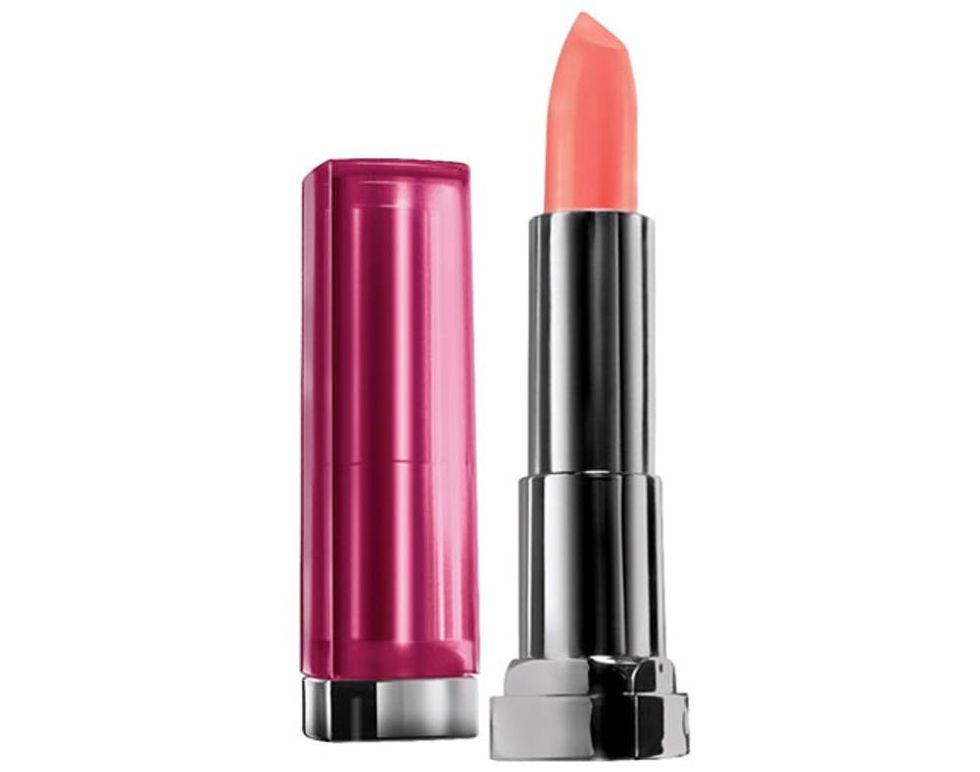 2. Maybelline ColorSensational Rebel Bloom Lipstick in Peach Poppy ($8): You're guaranteed bright color with this high-pigmented lipstick. A velvety feel too — this 'stick is formulated with nourishing honey oil.
Anna Kendrick's Ballerina Pink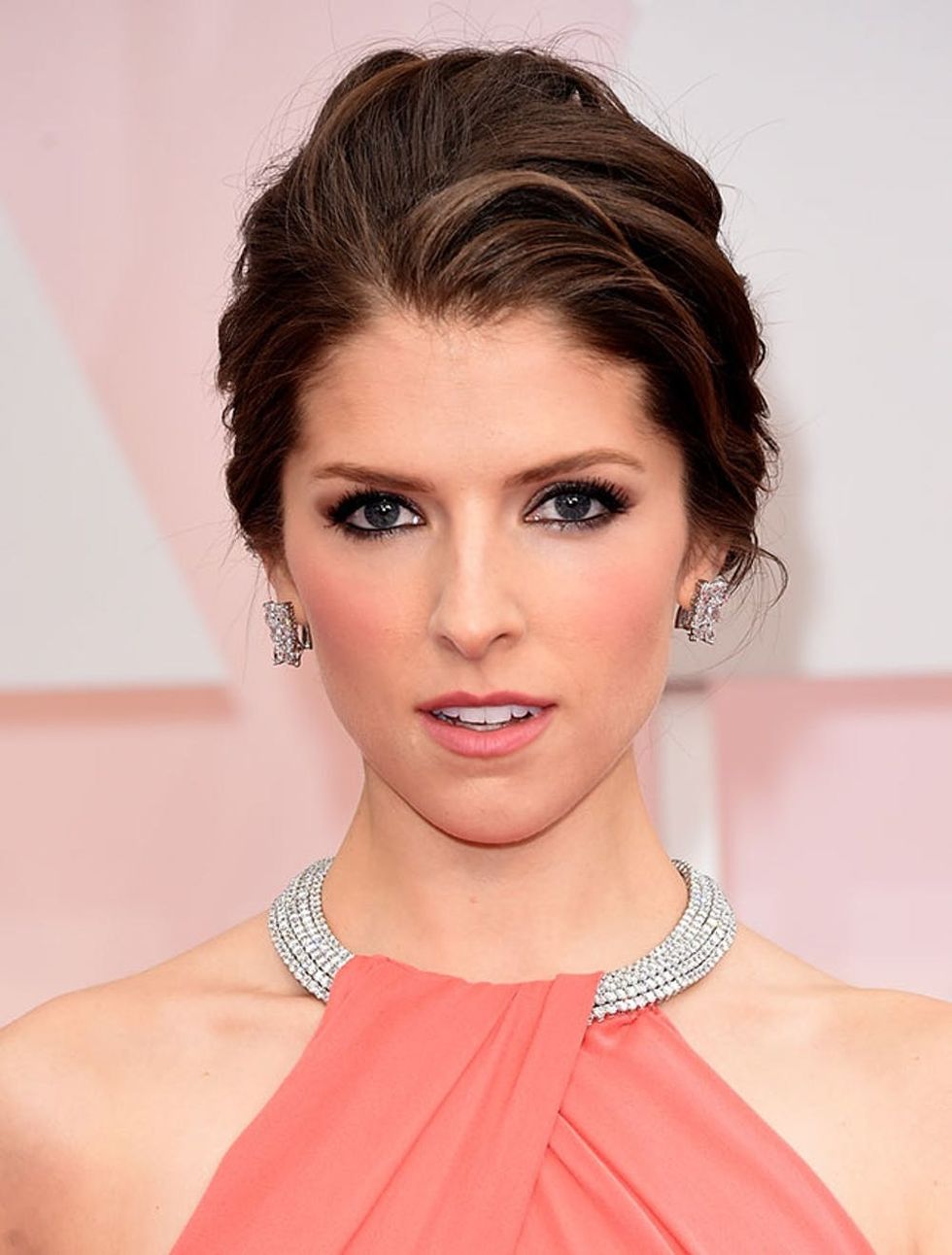 Princess lips are possible this season — just take a cue from Anna Kendrick, whose choice of petal pink lipstick is soft and feminine without looking too girly girl. (Photo via Jason Merritt/Getty)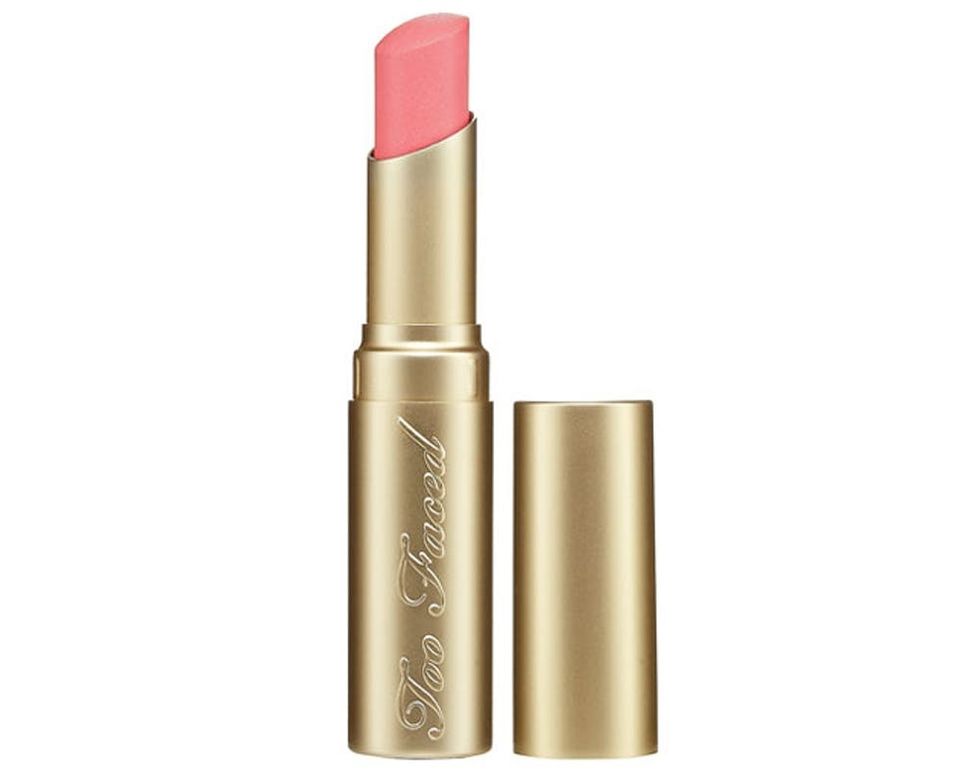 3. Too Faced La Crème Lipstick in Marshmellow Bunny ($22): This satin pink lipstick (with the cutest name ever) is made with a super moisturizing formula for a smooth-on application. But the rich pigment will make this a makeup kit fave.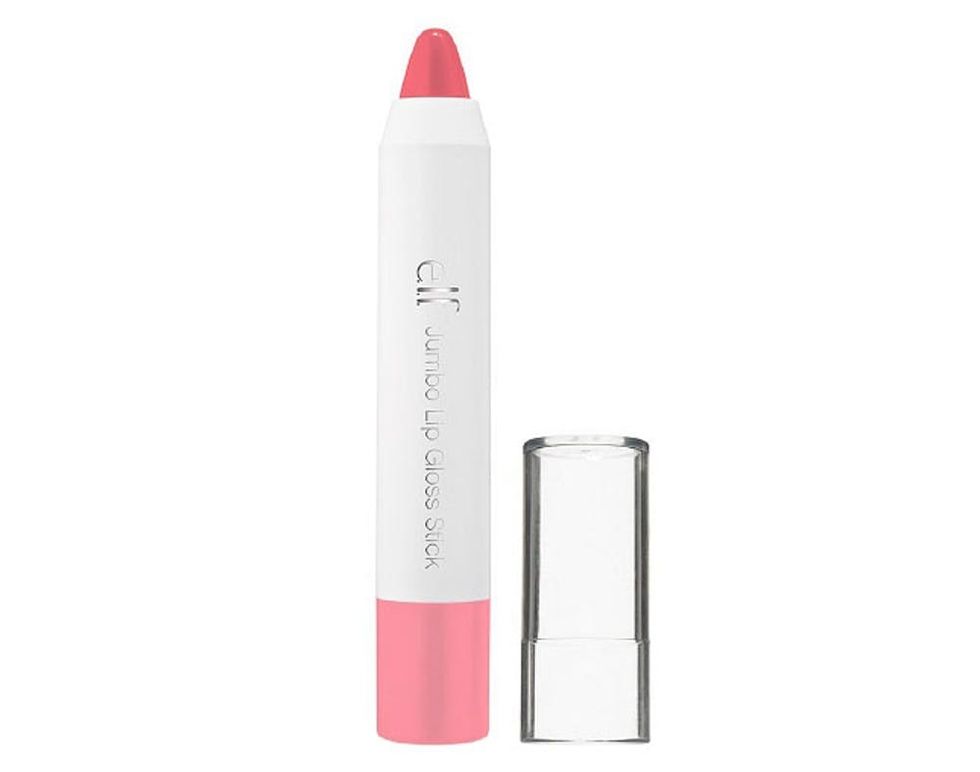 4. e.l.f. Jumbo Lip Gloss Stick in Pink Umbrellas ($2): The color of this jojoba-rich lip gloss stick is totally buildable, making this $2 gloss one of the most versatile ways to paint your lips pink.
Naomi Watt's Shimmering Merlot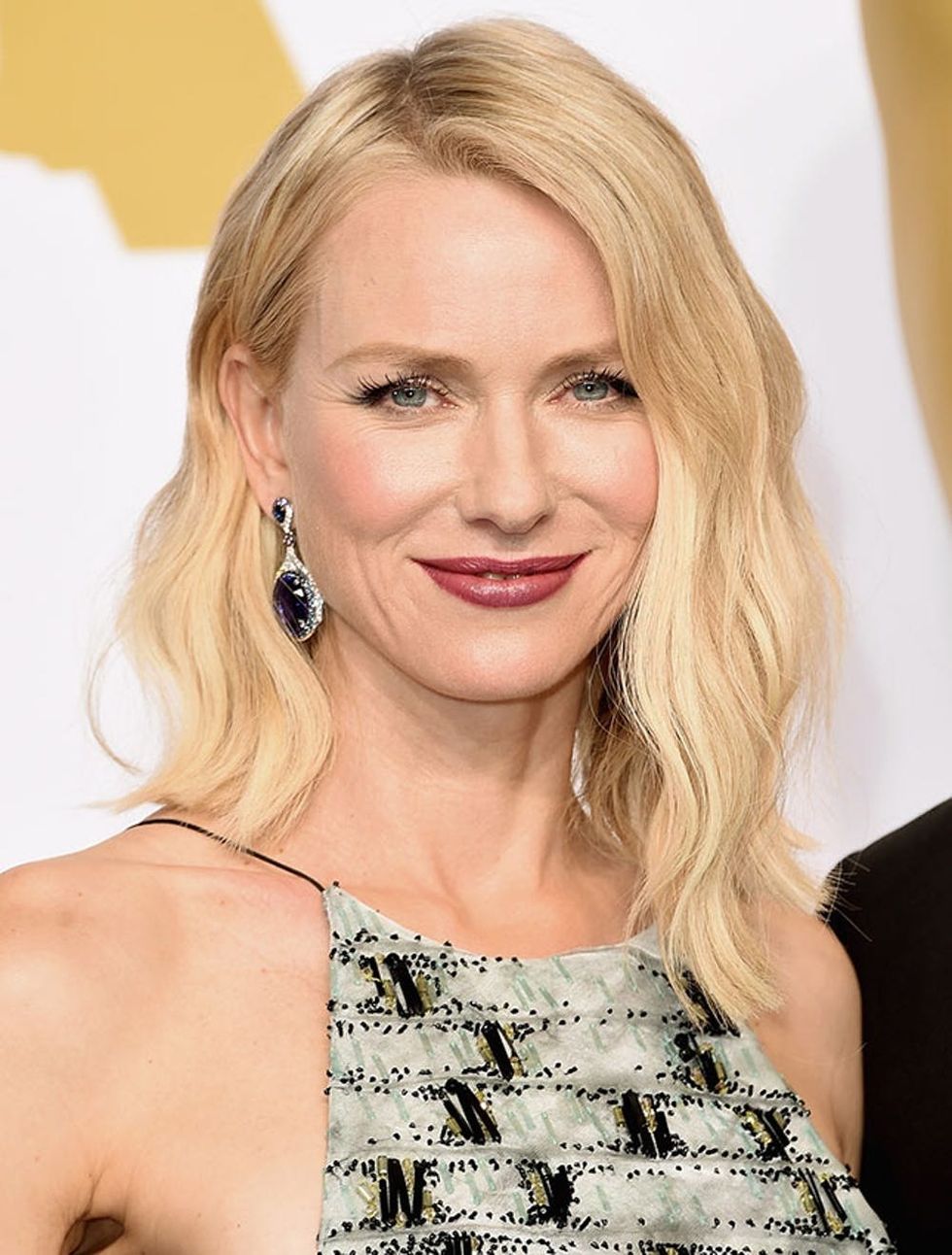 Naomi's wine-colored lip for spring might be the most major beauty revelation of the season. See how her moody lip gives soft pastels like the mint green in her dress an edgier feel? Consider that your new fashion girl palette. (Photo via Jason Merritt/Getty)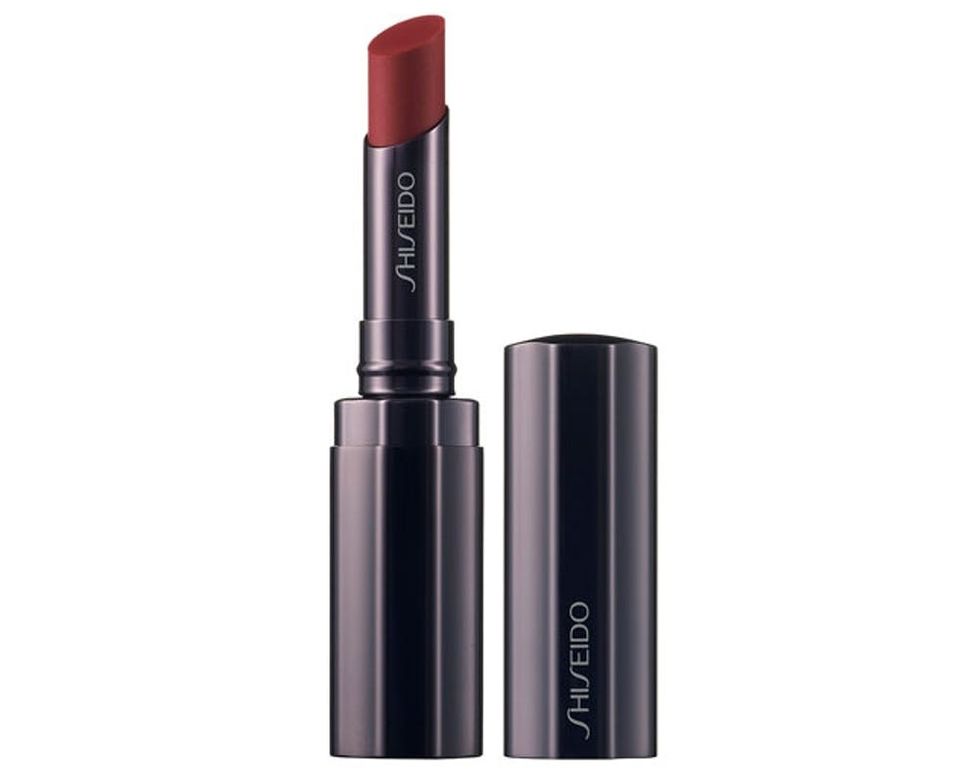 5. Shiseido Shimmering Rouge Lipstick in Golden Dragon ($25): This elegant, sheer lipstick not only leaves a glistening finish, but it enhances fullness with its moisture-packed formula.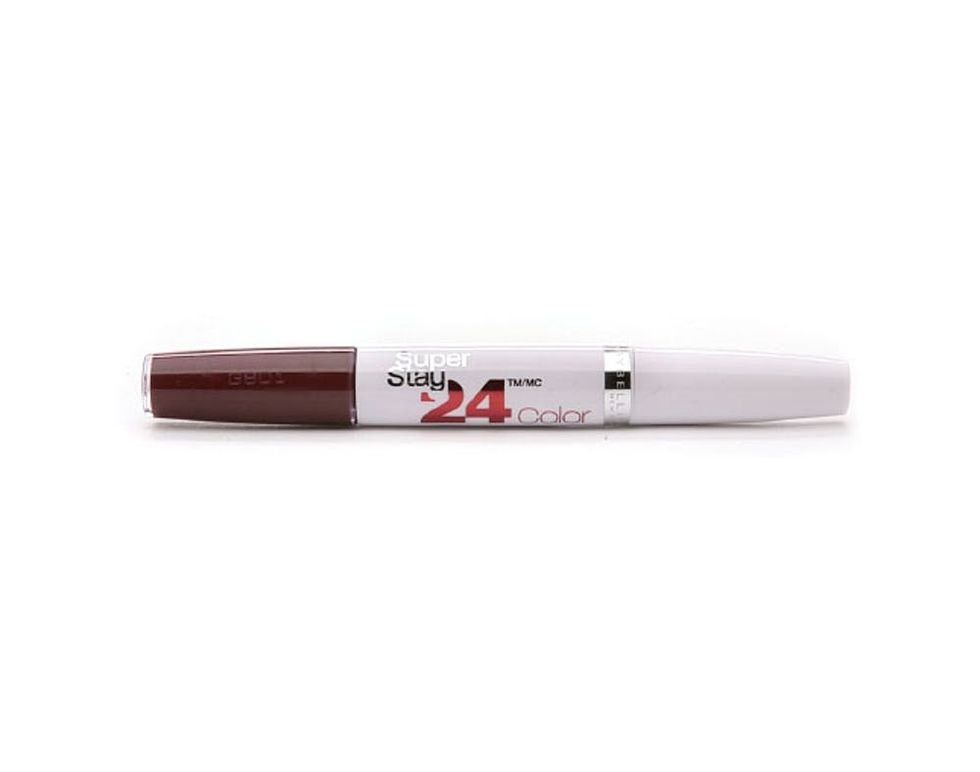 6. Maybelline SuperStay 24 2-Step Lipcolor in Everlasting Wine ($10): Glide on this long-lasting lip color that takes the phrase "wine stained" very seriously with its promise to stay smooth, balanced and put all day.
Lupita Nyongo'o's Metallic Marsala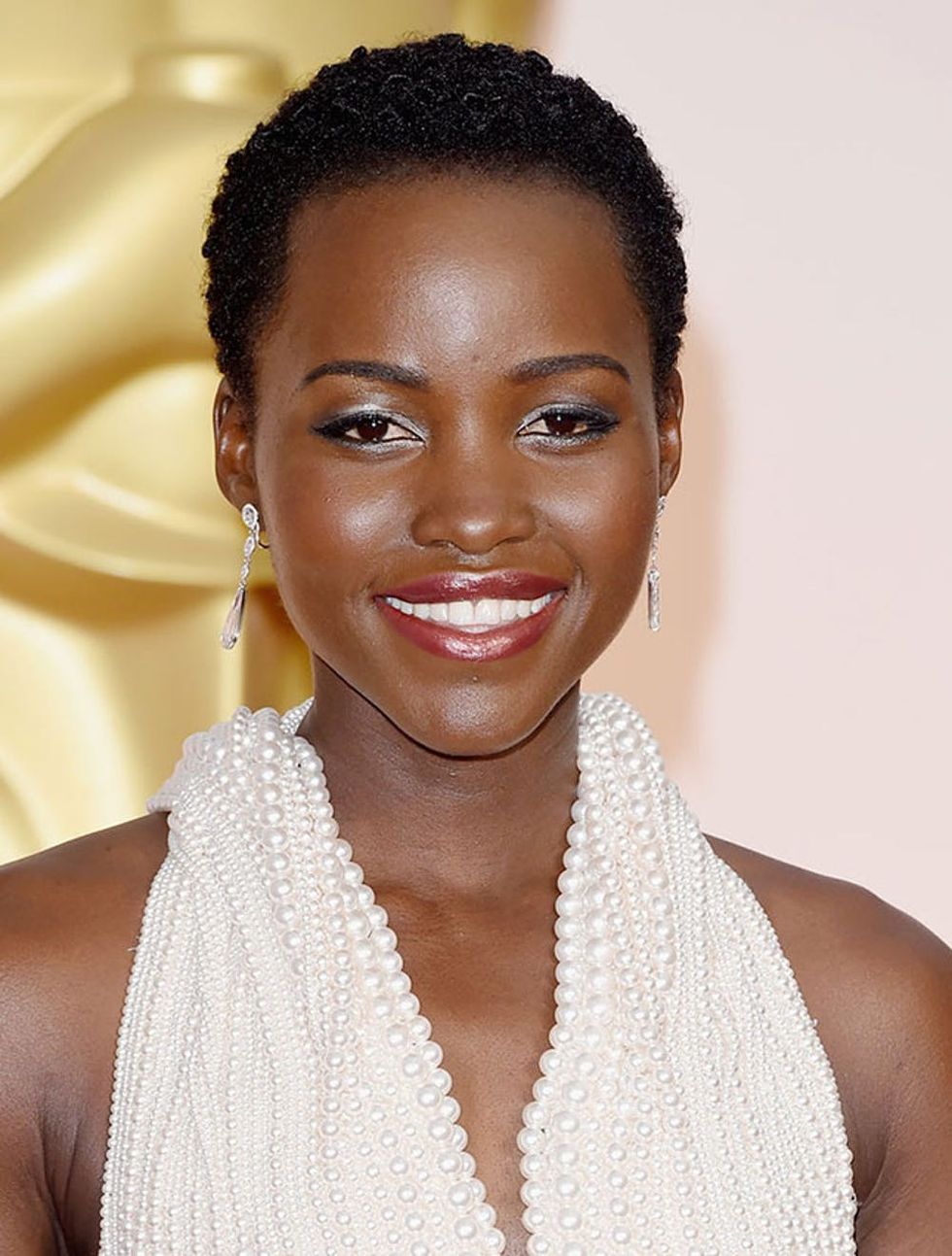 The red carpet's most buzzed-about It girl shows just how effortlessly marsala, the earthy Pantone-branded Color of the Year, can upstage your go-to red lip even at the most glamorous of events. (Photo via Jason Merritt/Getty)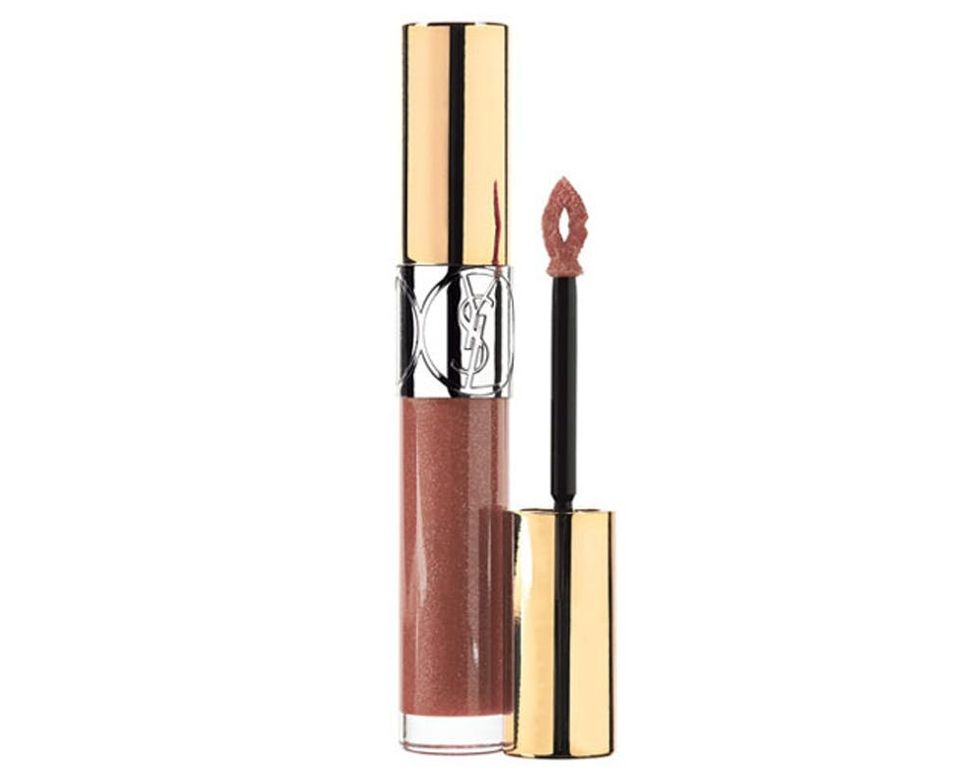 7. Yves Saint Laurent Gloss Volupte Lip Gloss in Saharienne ($32): This lightweight gloss promises a radiant shine with just a hint of shimmer to kick up the flirty factor of this next-level neutral.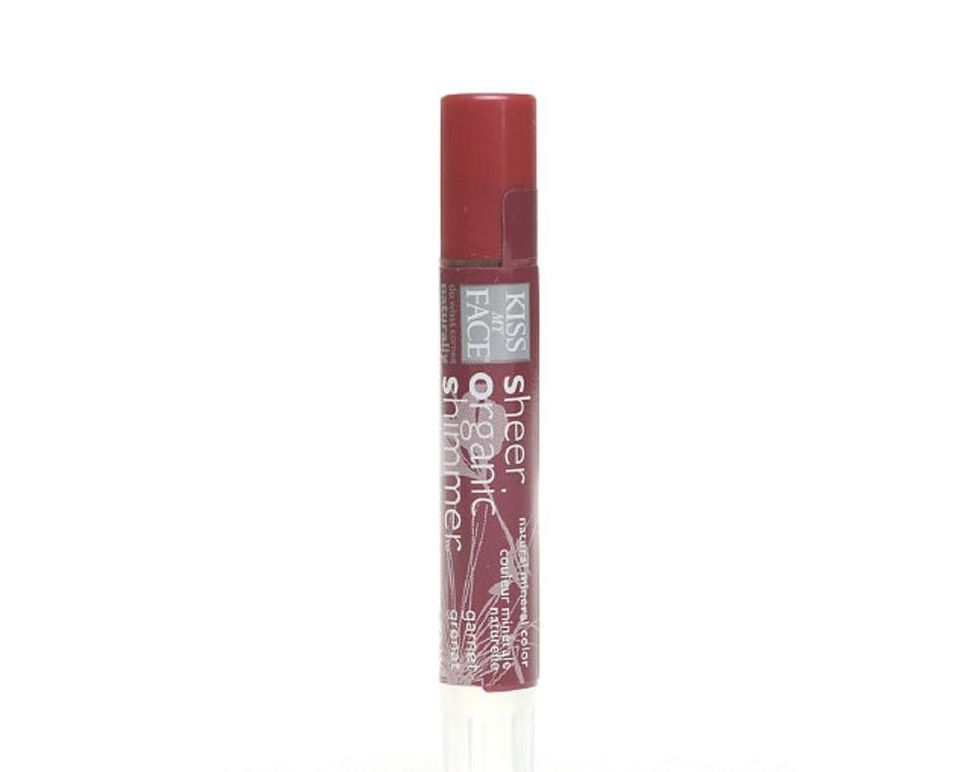 8. Kiss My Face Sheer Organic Shimmer Lip Gloss in Garnet ($5): Add an earthy glaze to your pout with this lip gloss that protects and repairs lips with vitamins A and E. If that doesn't seal the deal, the vanilla-mint scent will.
Jennifer Hudson's Jolly Rancher Grape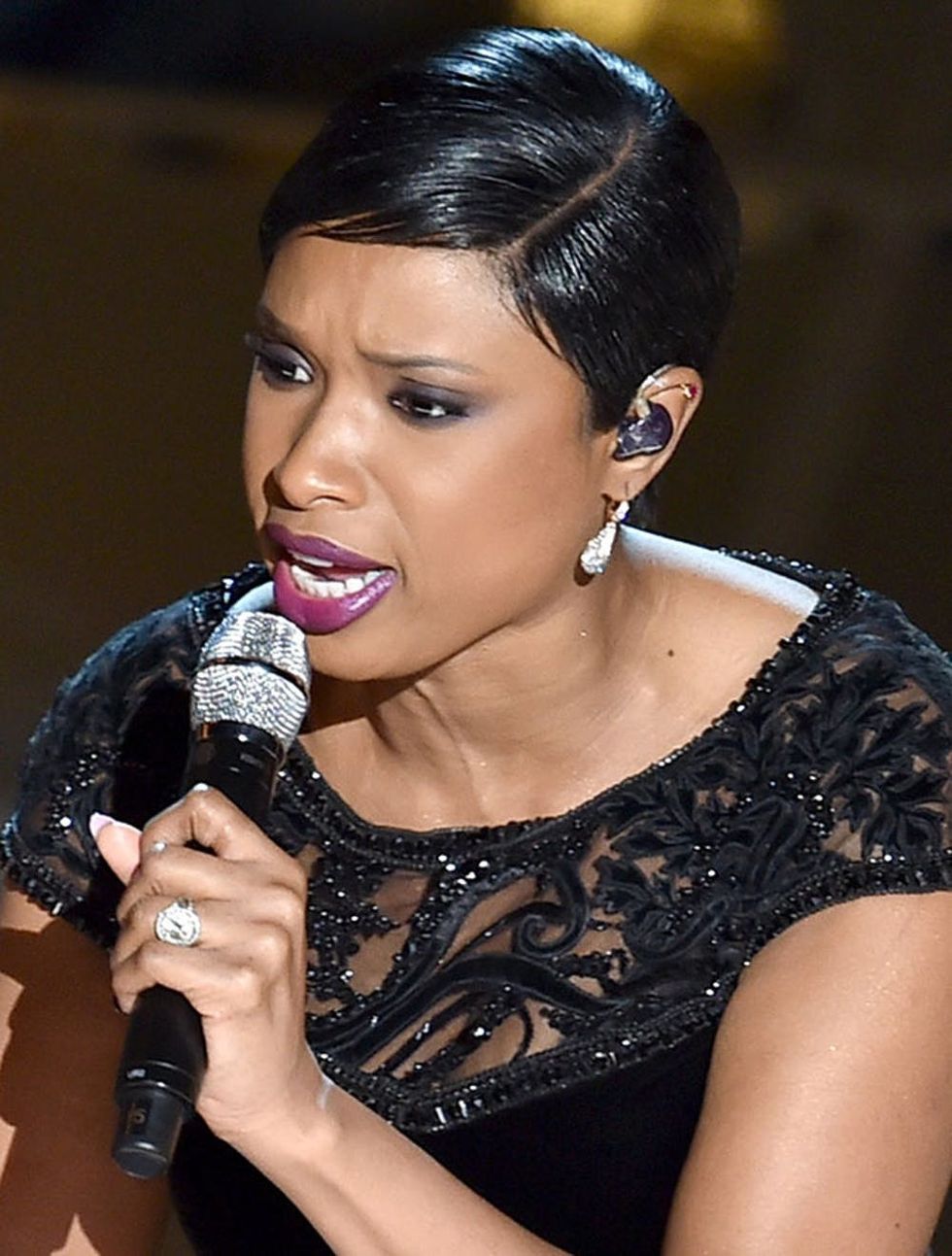 Jennifer opted for both a costume and makeup change for her Oscar night performance, and her fierce purple lip deserves a standing O. Don't just think this color is reserved for the stage: a pinky-plum hue will add an unexpected pop to your LBD like never before. (Photo via Kevin Winter/Getty)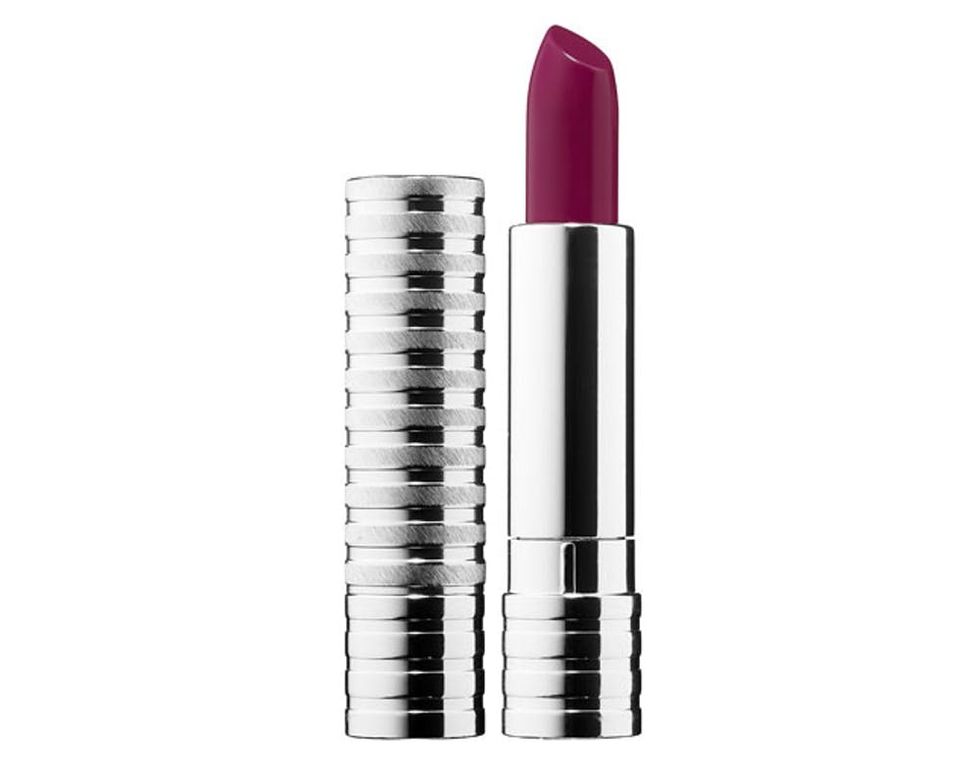 9. Clinique Long Last Soft Matte Lipstick in Plum ($16): Make this almost-fuchsia hue your new go-to way to add a pop of color to your look. Trust us: the matte finish on this long-wear lipstick will keep the offbeat color from looking overly theatrical.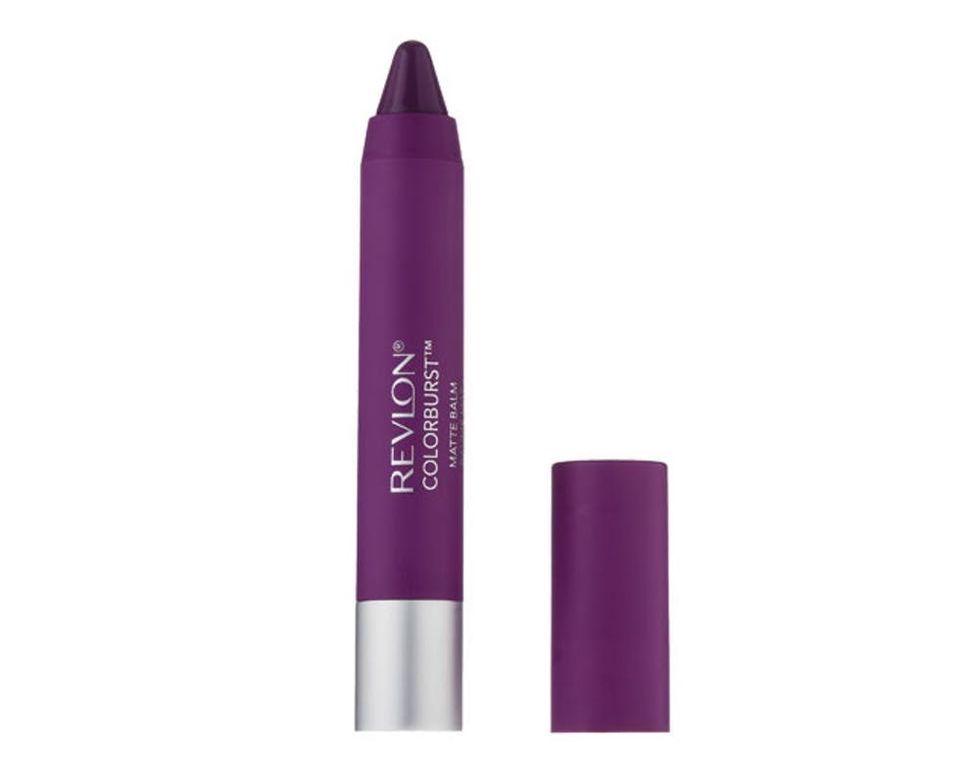 10. Revlon ColorBurst Matte Balm in Shameless ($7): Made with shea, mango and coconut butters, this moisture-packed lip crayon delivers a luxe, velvety color — an essential trait for a shade this statement making.
Gina Rodriguez's Pale Nude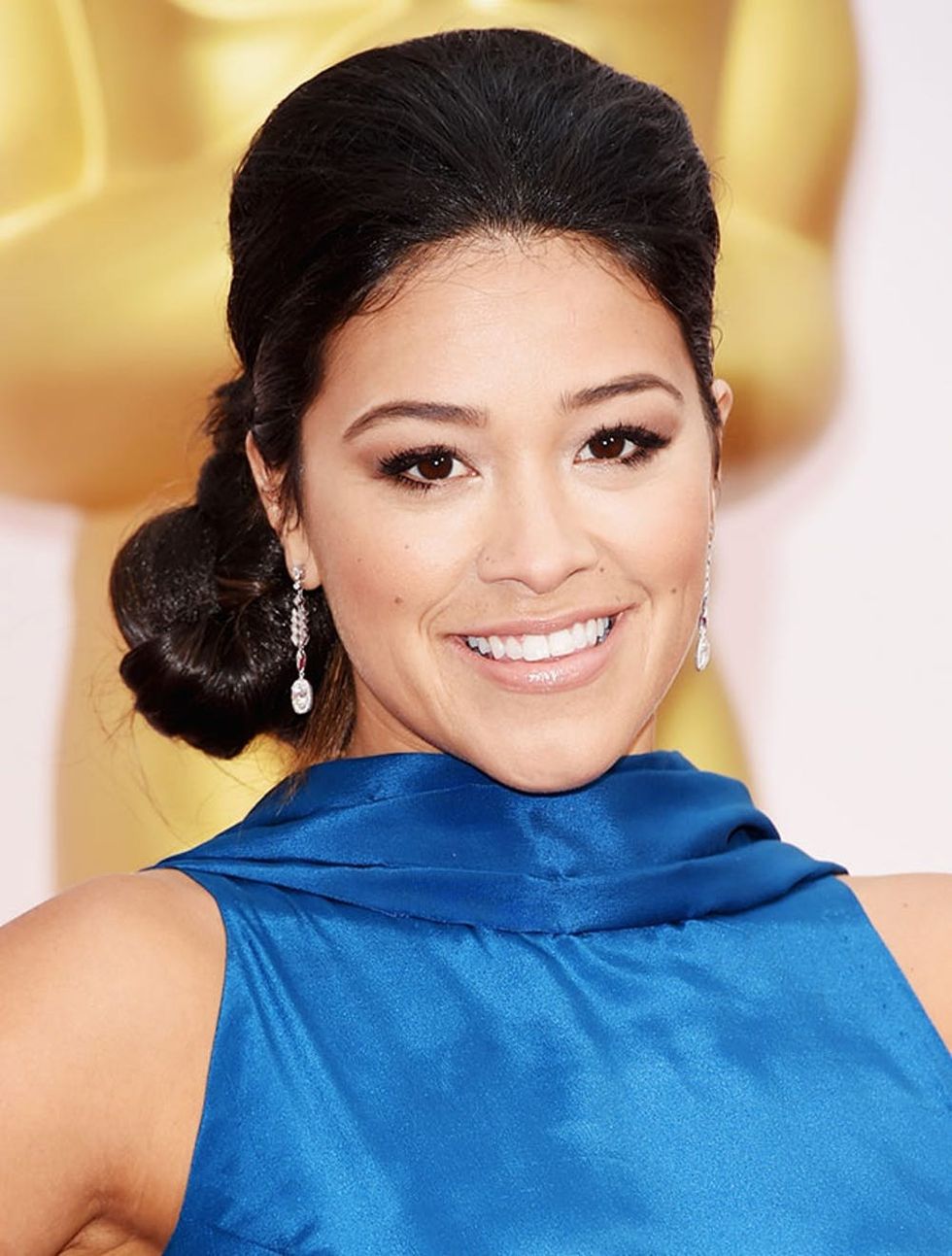 Gina proves that pale can be really pretty with an ultra light nude lip color that makes her pucker glow. How's that for understated? (Photo via Jason Merritt/Getty)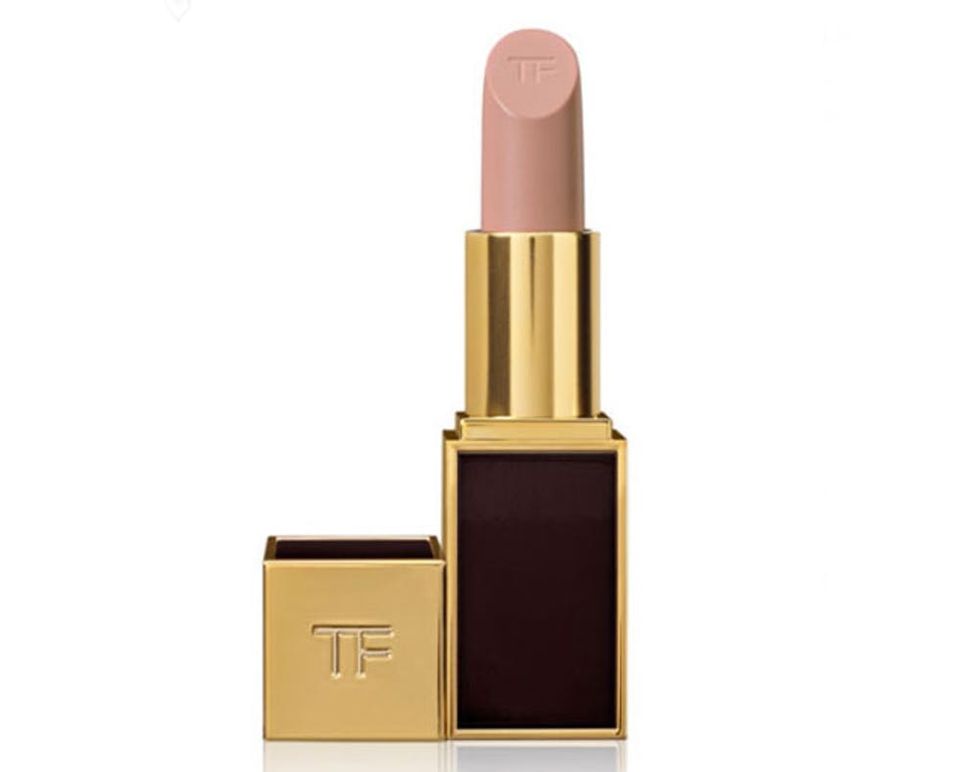 11. Tom Ford Beauty Lip Color in Blush Nude ($50): For fully luminous nude lips, look no further. This ultra-creamy lipstick is made with specially treated pigments that keep the color vivid so that your lips don't ever appear bare, plus exotic moisturizing ingredients.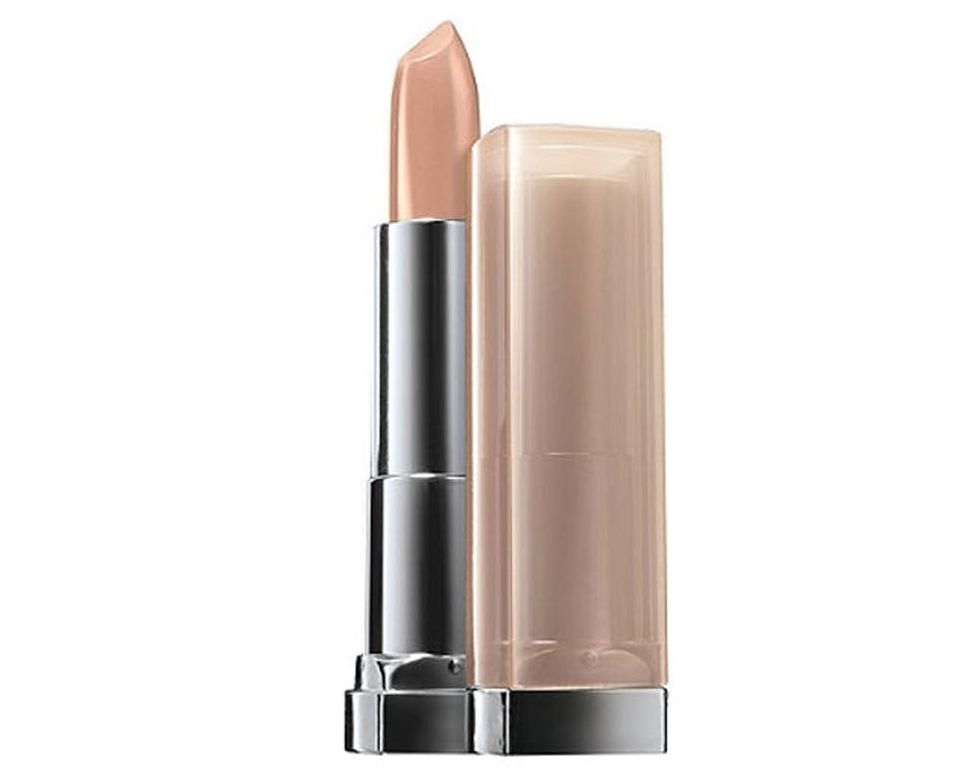 12. Maybelline Color Sensational The Buffs Lip Color in Truffle Tease ($8): Glide on this true flesh-tone lipstick for amped-up natural color and a luxe finish thanks to hydrating lanolin oil.
Margot Robbie's Orange-y Red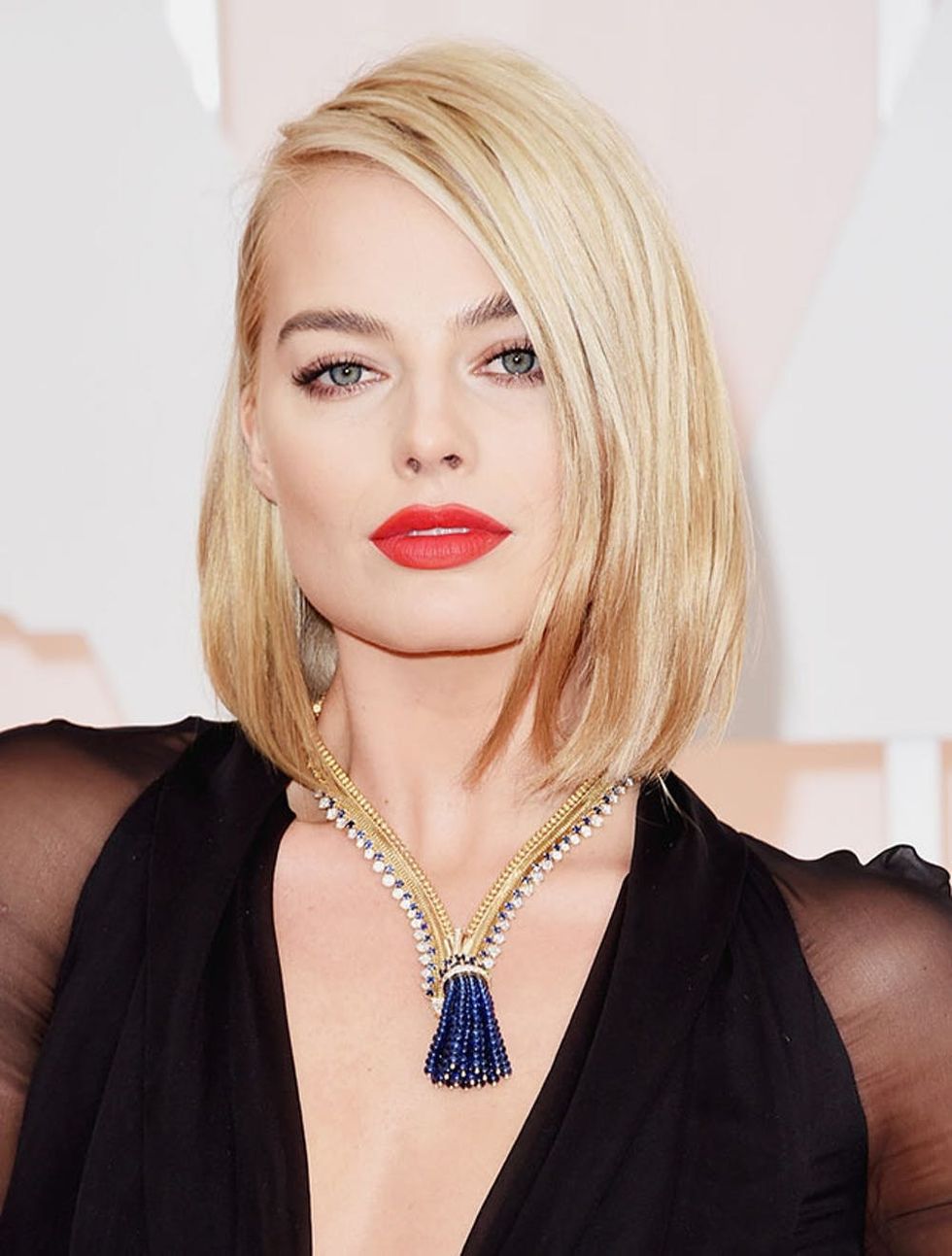 Move over, classic red lip. Margot's fiery red pucker is a refreshing take on the timeless look that's made for spring date nights — get the full tutorial for how to get her look here. (Photo via Jason Merritt/Getty)
13. Marc Jacobs Beauty Kiss Pop Lip Color Stick ($28): "Pop of color" might be an understatement with this honey-infused lip color stick that makes the bold, ain't-going-nowhere color appear even brighter.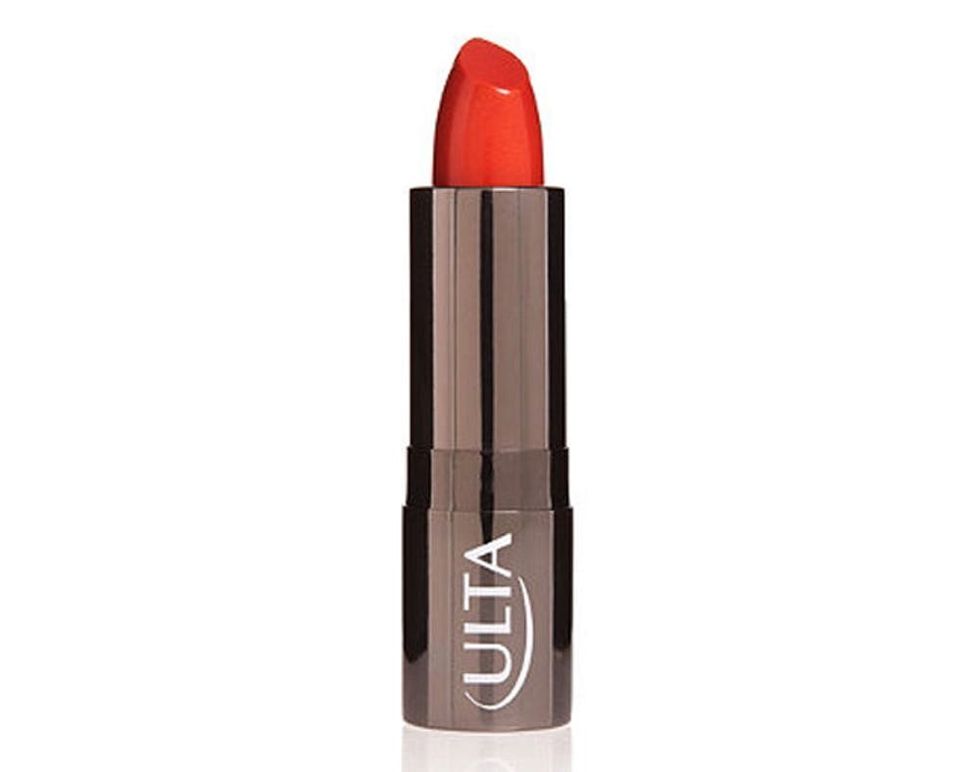 14. Ulta Lipstick in Coral Glow ($8): This rich coral lipstick is made with shea butter to keep the finish creamy and the feel silky smooth.
Chrissy Teigen's Cherry Coke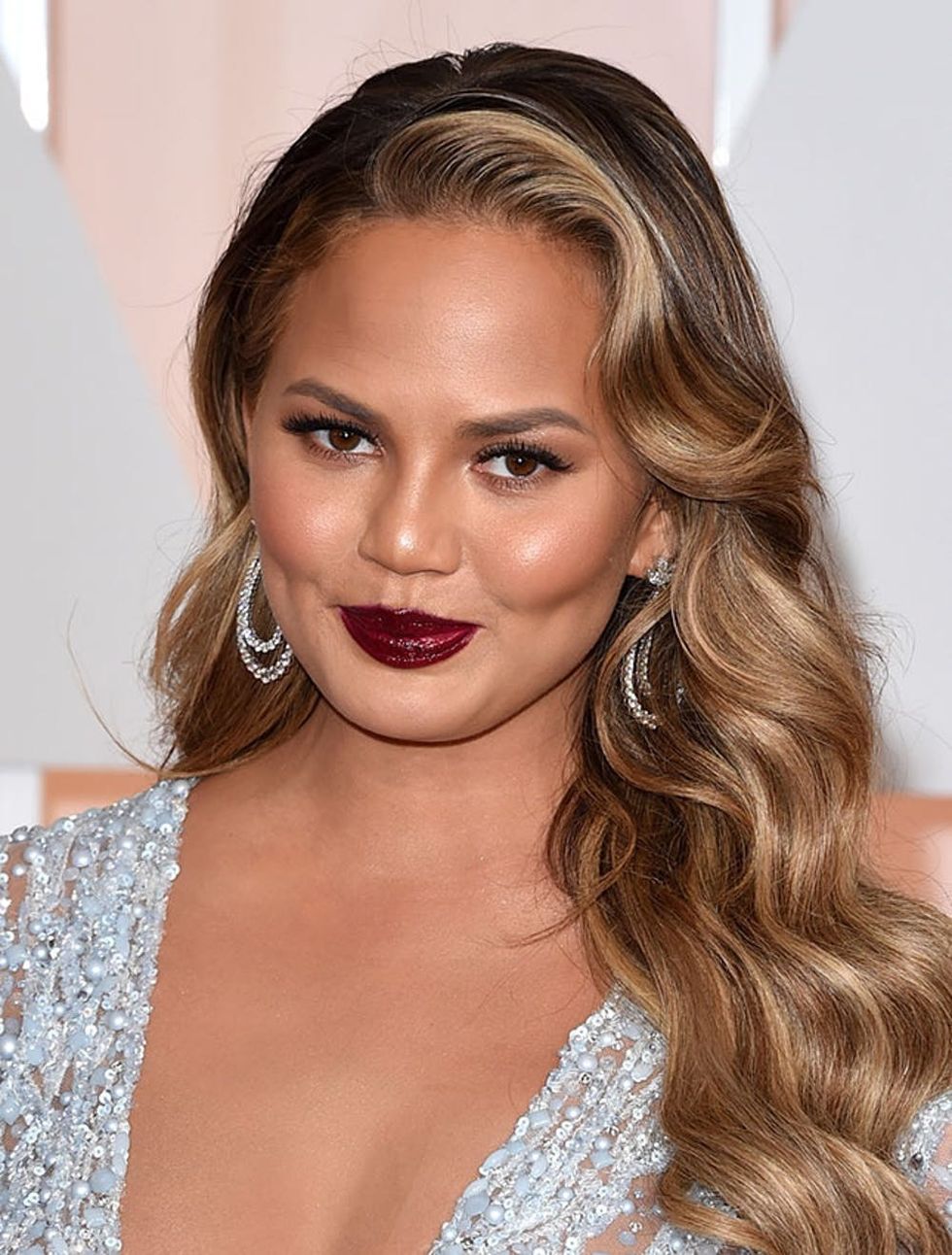 Chrissy schools us on how to wear dark lipstick without looking goth, and we're taking all of the notes, from pairing that almost-black red lip with spring's faintest colors to going ultra glam with your hairdo. (Photo via Jason Merritt/Getty)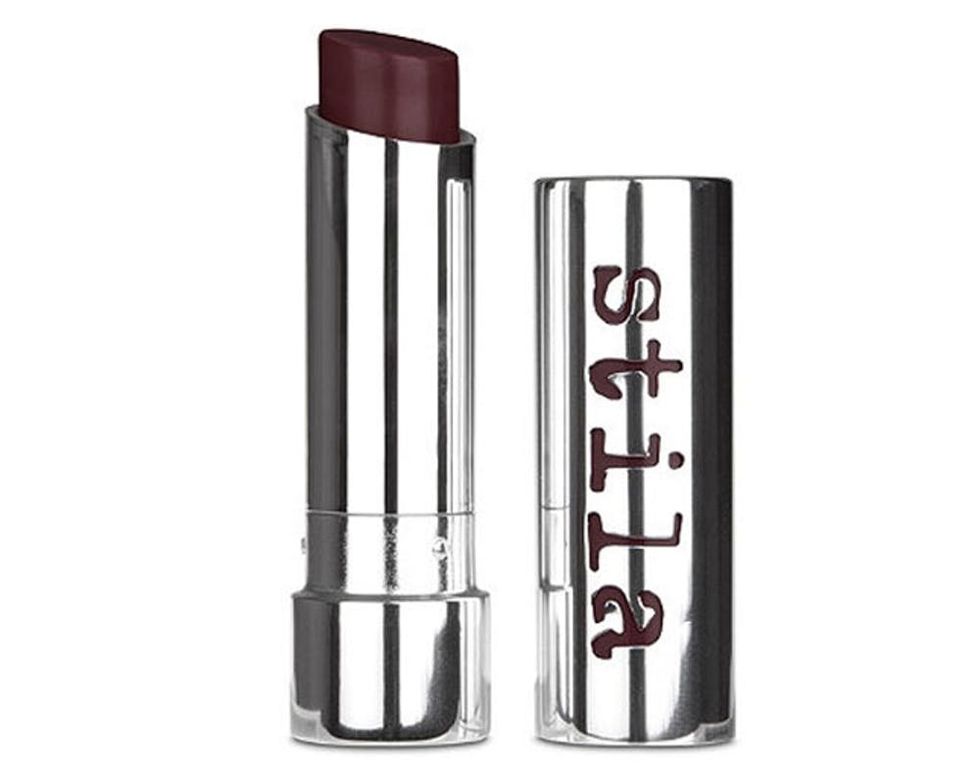 15. Stilla Color Balm Lipstick in Bridgitte ($22): This hybrid is a best-of-both-worlds product, delivering the high impact color of a lipstick with the nourishment of a balm. That means even though this dark shade may look heavy, it will feel the exact opposite.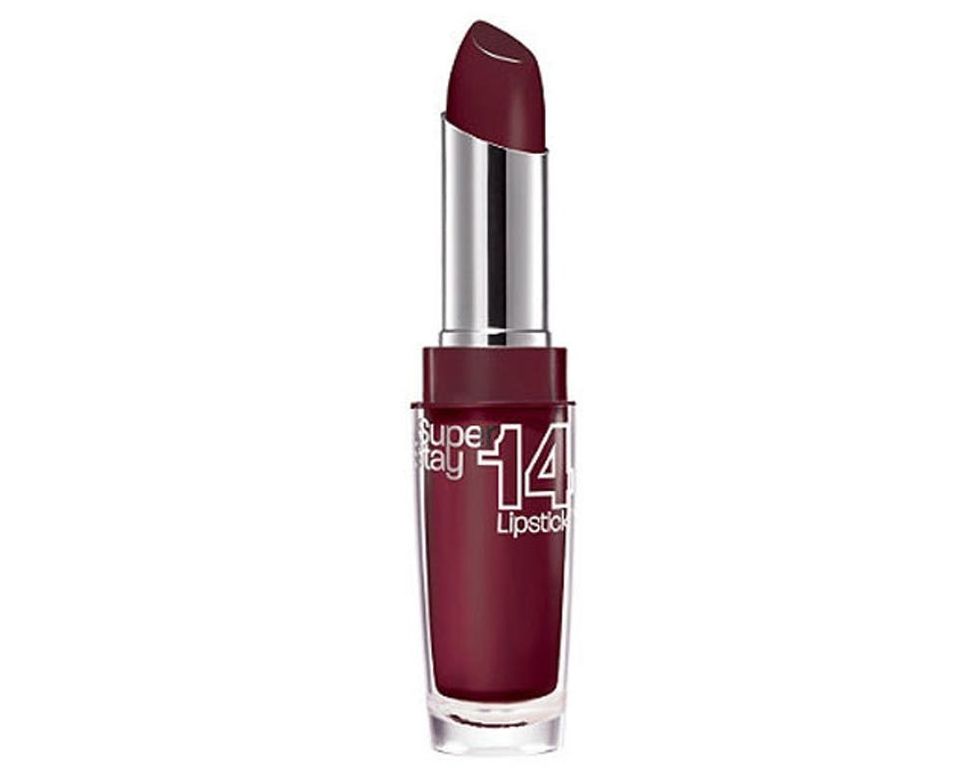 16. Maybelline Super Stay 14 Hour Lipstick in Wine and Forever ($9): Help your vampy pout stay fresh from that fist sip of coffee through your date night dinner with this lightweight product that promises 14 hours of rich color.
Zoe Saldana's Frosty Pink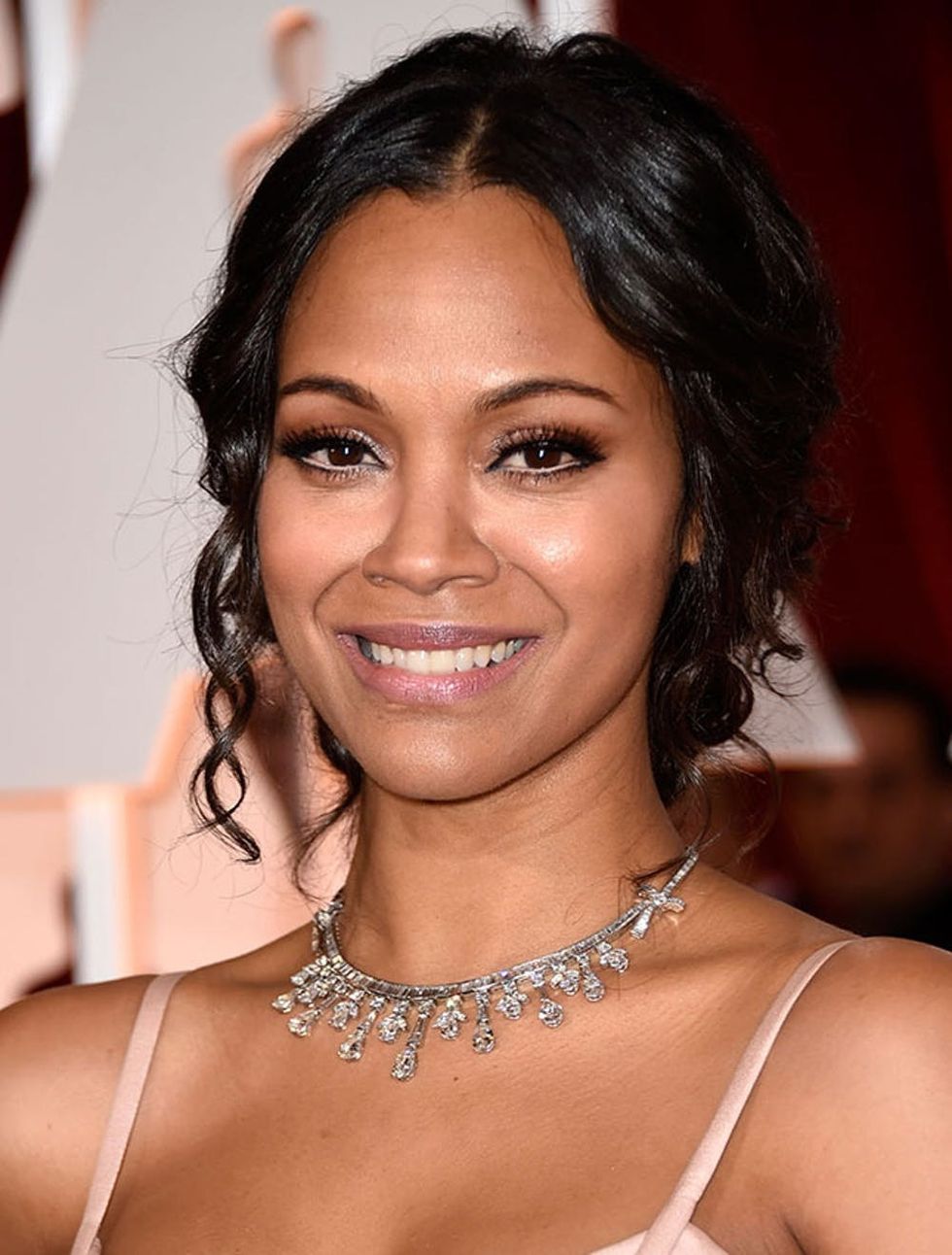 Ethereal, delicate and just soooo '90s, Zoe's frosted red carpet lip was a Clueless-freak's dream (so us for sure). Leave the grungy feel for fall: this spring, channel your inner Cher Horowitz with these shimmering pink lipsticks. (Photo via Fazer Harrison/Getty)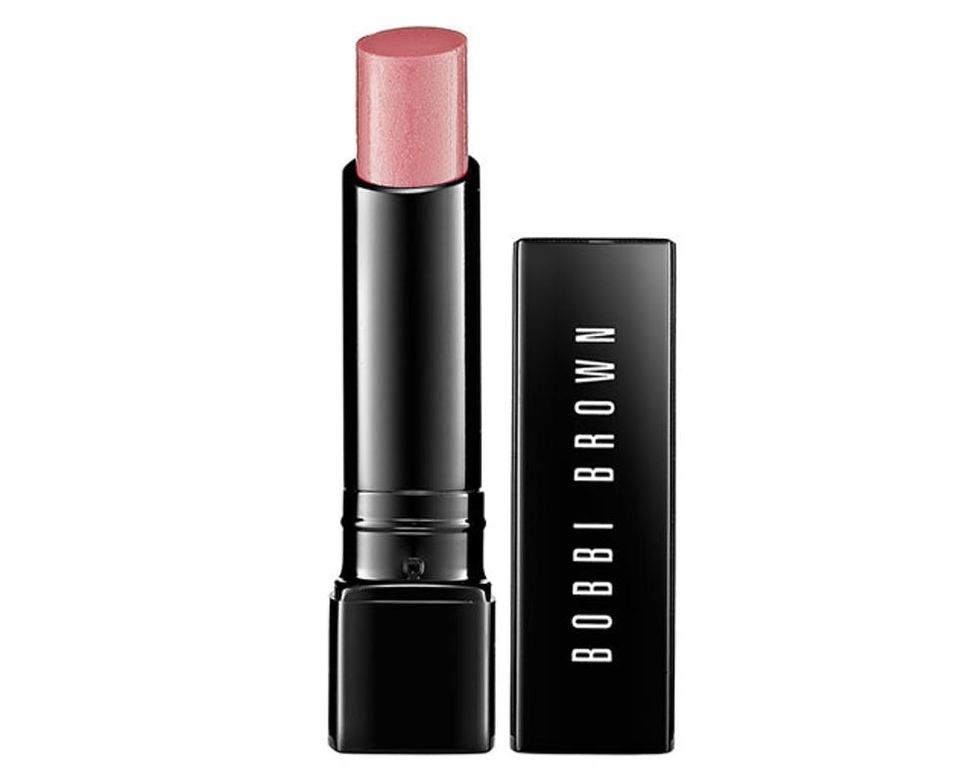 17. Bobbi Brown Creamy Lip Color in Washed Seashell ($26): This silky lipstick delivers a soft shimmer that's meant to last all day. Packed with shea butter and other skin conditioners, try this instead of your go-to balm.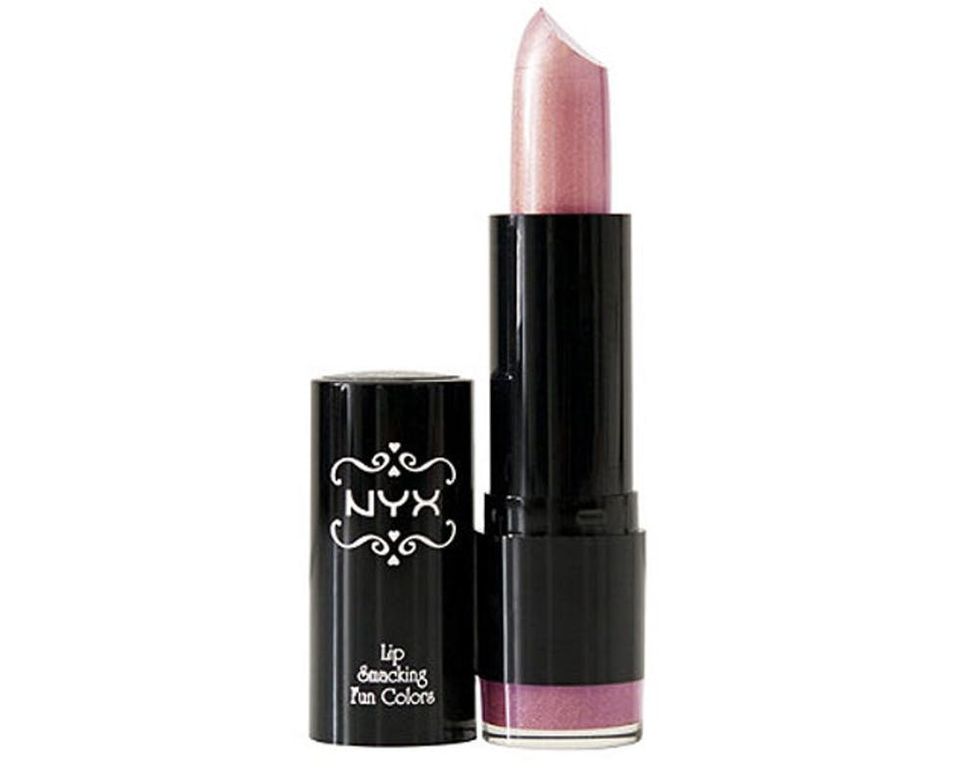 18. NYX Cosmetics Round Case Lipstick in Baby Pink ($4): Own that frosted lip look with this high-shine, smudge-proof lipstick that glides on like a velvety dream.
 Carmen Ejogo's Deep Fuchsia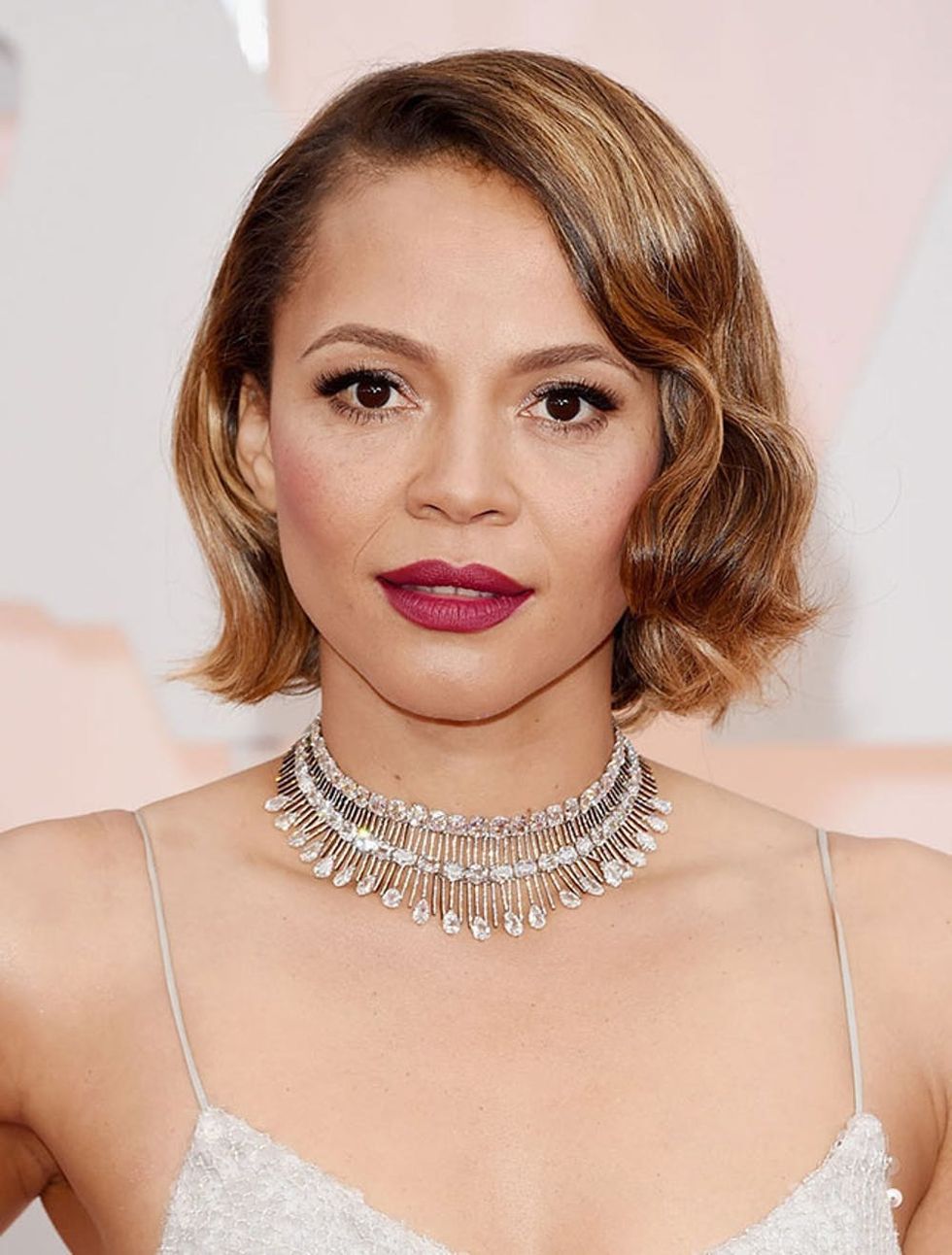 Let's face it: winter's berry hues just aren't as fun as a full-on fuchsia. Carmen shows us how to wear the bold color with class by keeping your eyes simple and your cheeks deeply blushed. (Photo via Jason Merritt/Getty)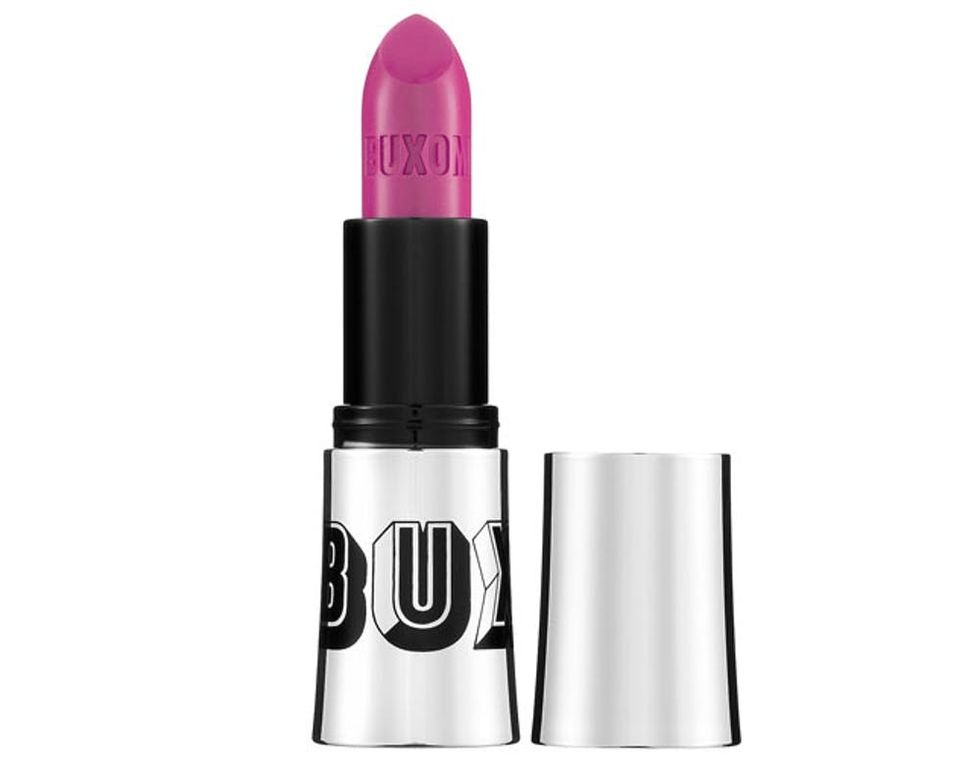 19. Buxom Full Bodied Lipstick in Swinger ($21): Command attention with this vivid lipstick that promises full coverage plus a gentle plumping effect you just can't say no to.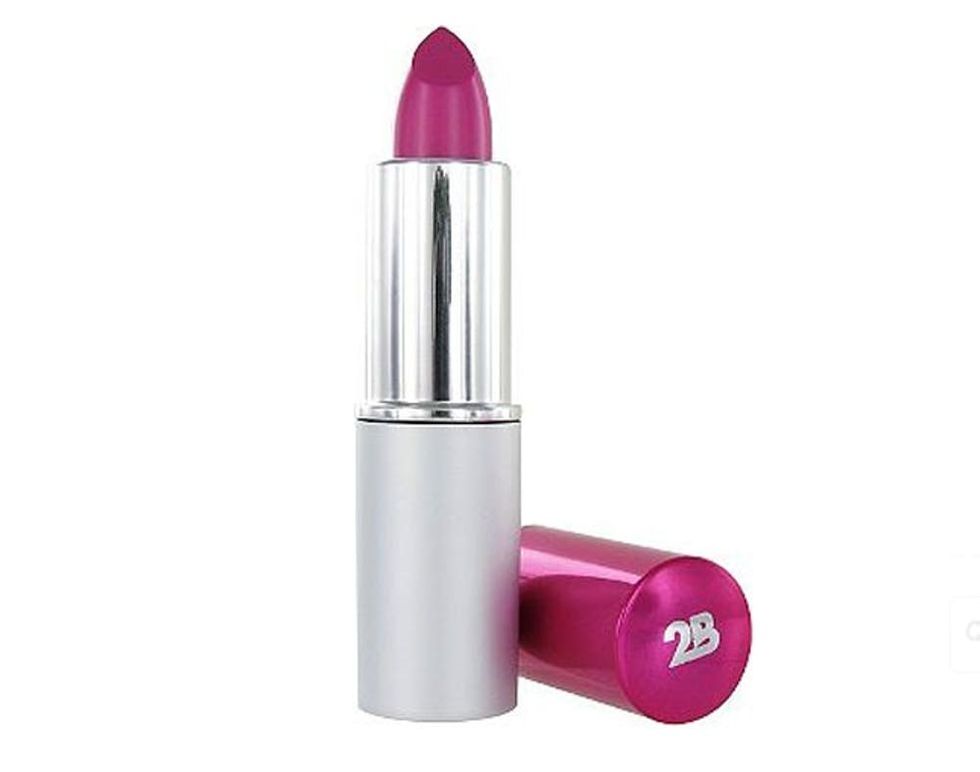 20. 2B Colours Lipstick Fuchsia in Fuchsia Crush ($8): This lipstick packs an eye-popping color that's impossible to miss.
Anna Faris's Brut Champagne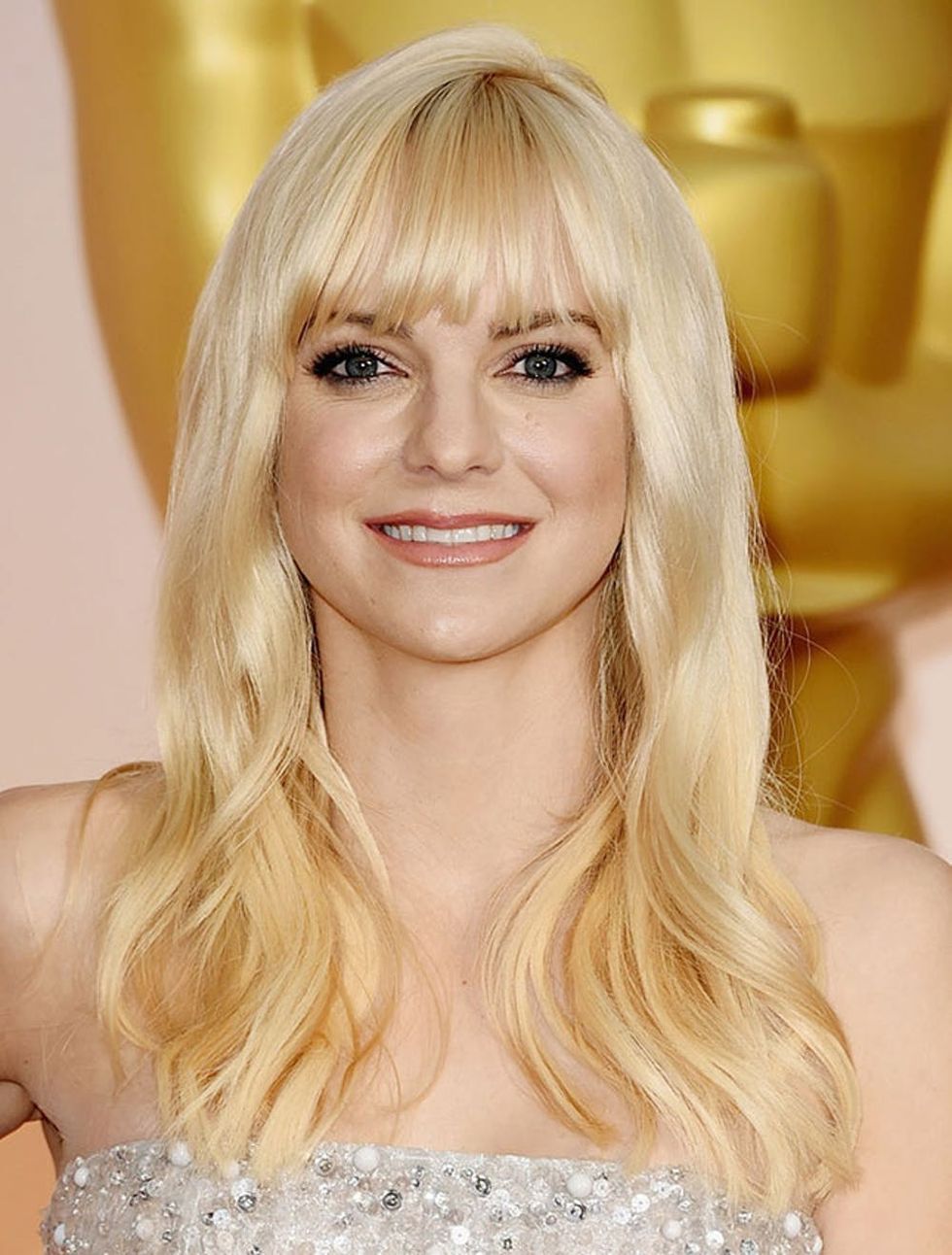 Anna's glistening rose gold lipstick might be the most luxe way to wear the nude lip trend. The metallic-tinged neutral is basically a glam enhancement of what you're already workin' with. (Photo via Jason Merritt/Getty)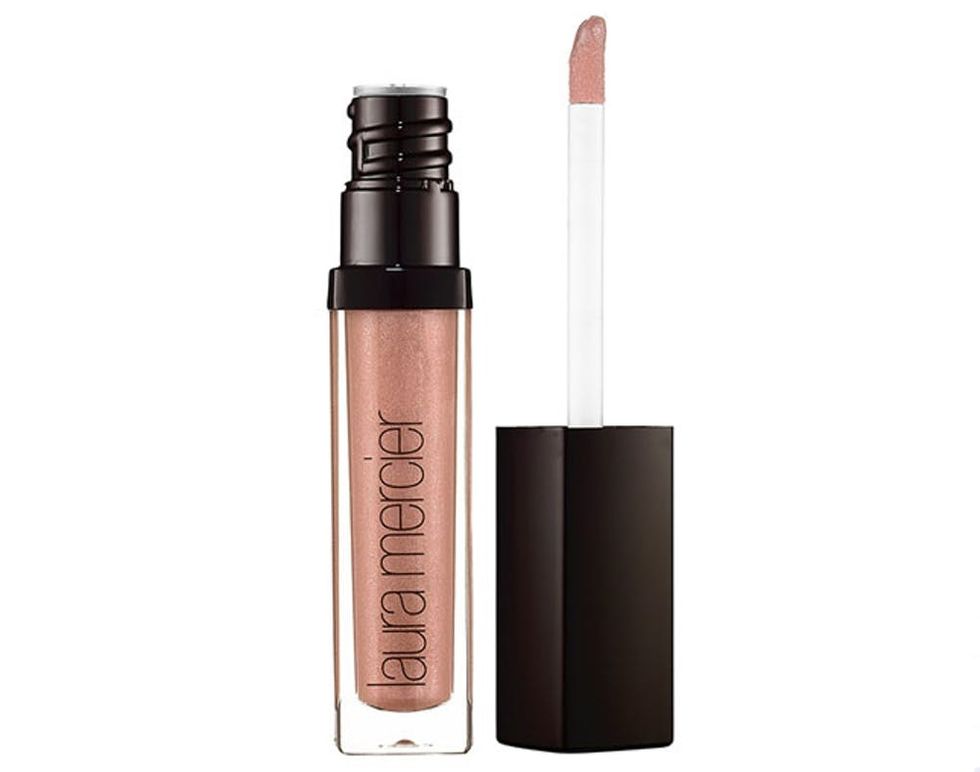 21. Laura Mercier Lip Glacé in Bare Naked ($25): Wear this high-shine gloss on its own for a gentle luster, or layer it on top of a solid neutral hue to create an expensive-looking dimensional pout.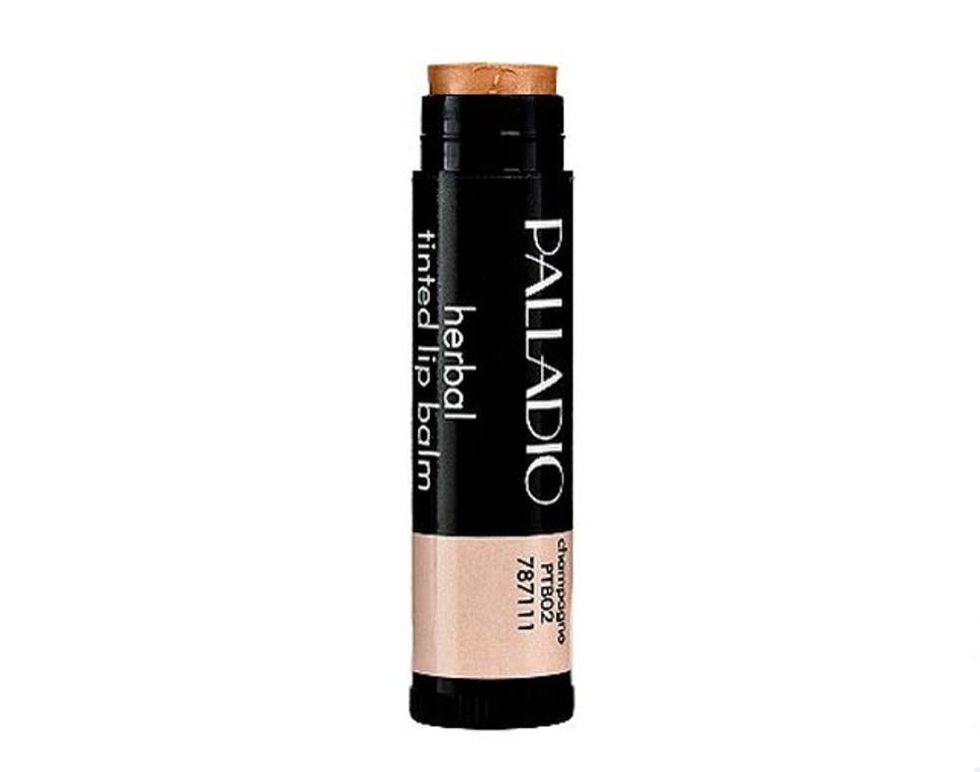 22. Palladio Tinted Lip Balm in Champagne ($4): The rose gold shimmer isn't the only thing going for this tinted lip balm: it's formulated with natural UV filters that protect your pucker from the sun.
Keira Knightley's Antique Rose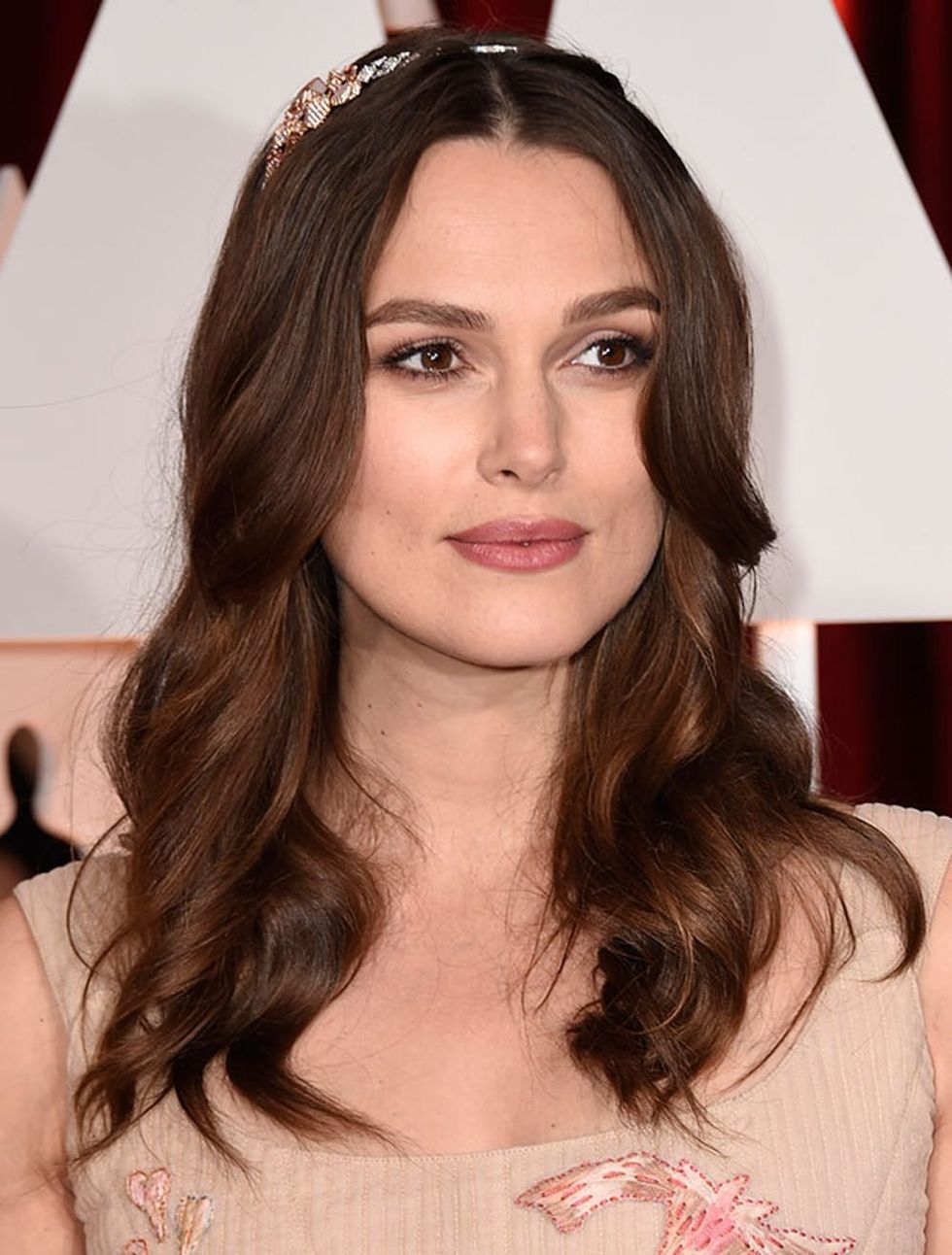 Look immediately refined with a rose lipstick like Keira Knightley, who's starring as our minimal makeup muse for spring. It's a fuss-free shade that will work for literally any occasion, from your fanciest cocktail party to a weeknight out with the girls. (Photo via Fazer Harrison/Getty)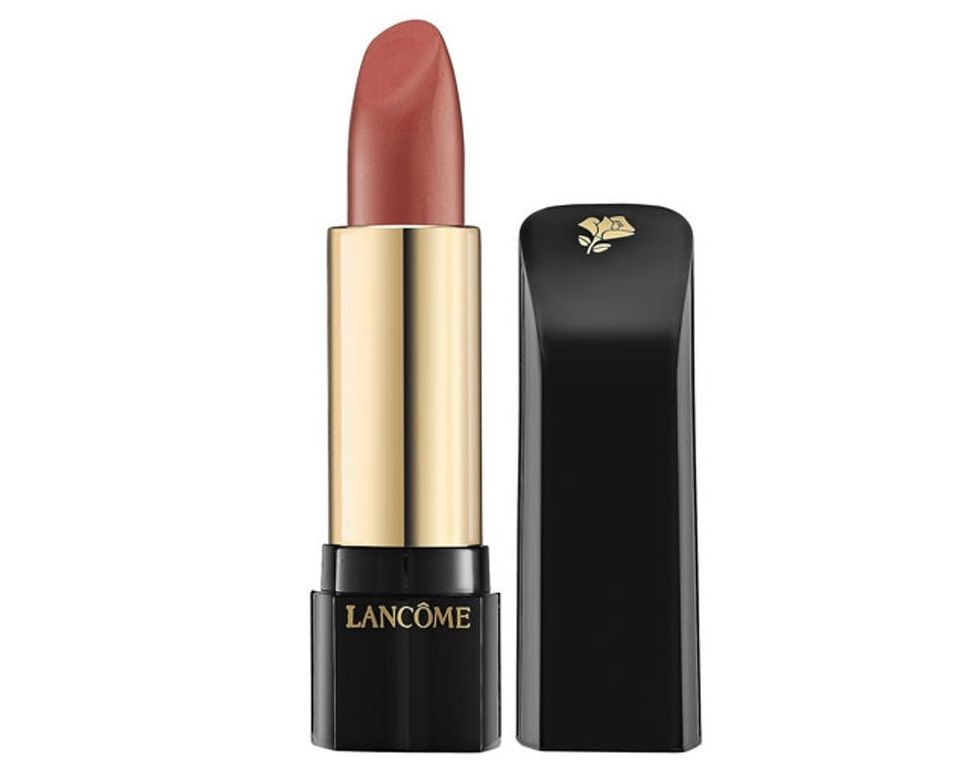 23. Lancôme L'Absolu Rouge in Lacewood ($31): This SPF-enhanced lipstick helps your lips look smoother and fuller with just one swipe, leaving a stain-like finish that will last for hours.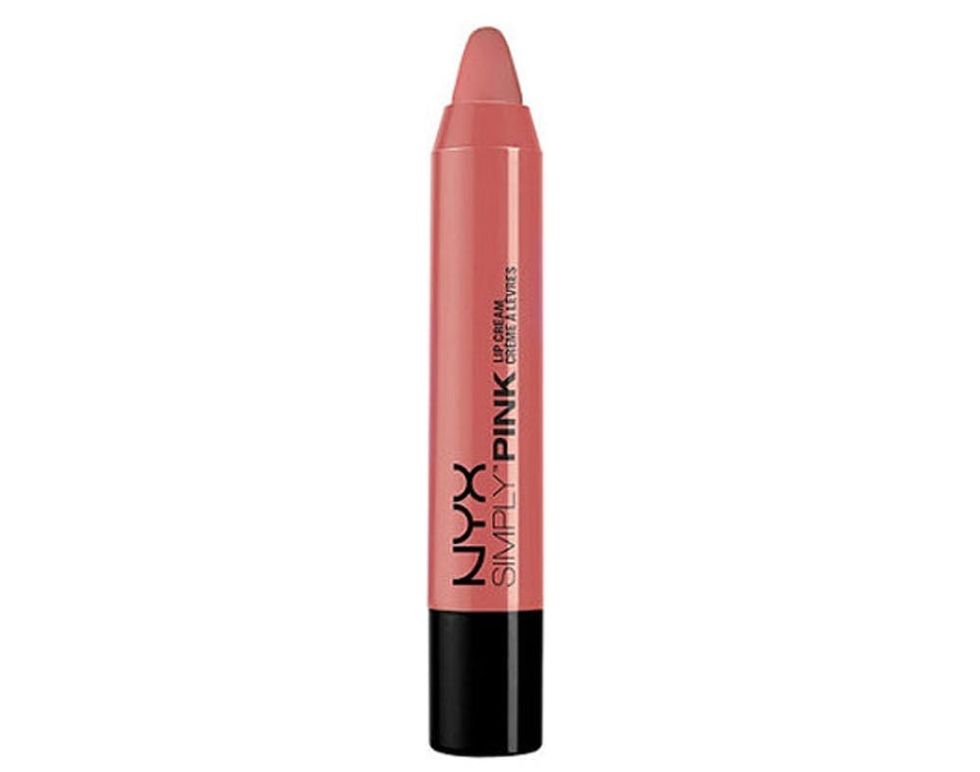 24. NYX Cosmetics Simply Pink Lip Cream in Enchanted ($7): This lip cream stick delivers glossy glide-on color that's the definition of pretty.
What Oscars night lipstick color was your favorite? Tell us which shades you'll be wearing this spring in the comments below.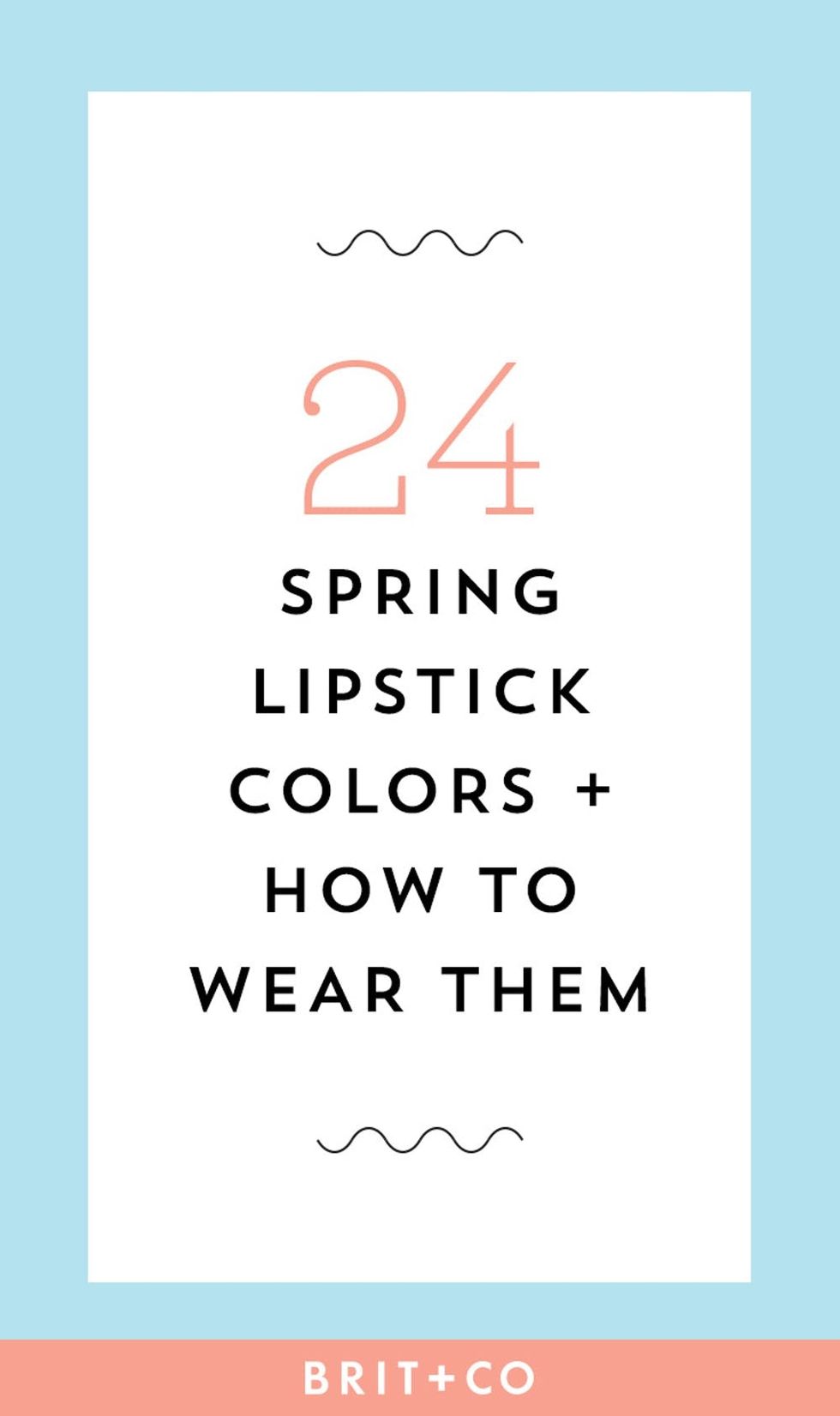 Makeup