17 Ideas for Throwing the Purr-fect Cat-Themed Party
Feb 27, 2016
If you're a cat lover, you already know that there's no getting enough of those furry felines. Well, now you can add "cat-themed" to your list of 30th birthday party ideas or spring bridal shower ideas. And while it's not like you ever needed another reason for throwing a cat-themed gathering, we've sniffed out 17 ideas to help you throw the purr-fect cat party just in case. Get ready for some seriously fab feline-inspired festivities that'll make any cat lady (and gent) want to party right meow.
---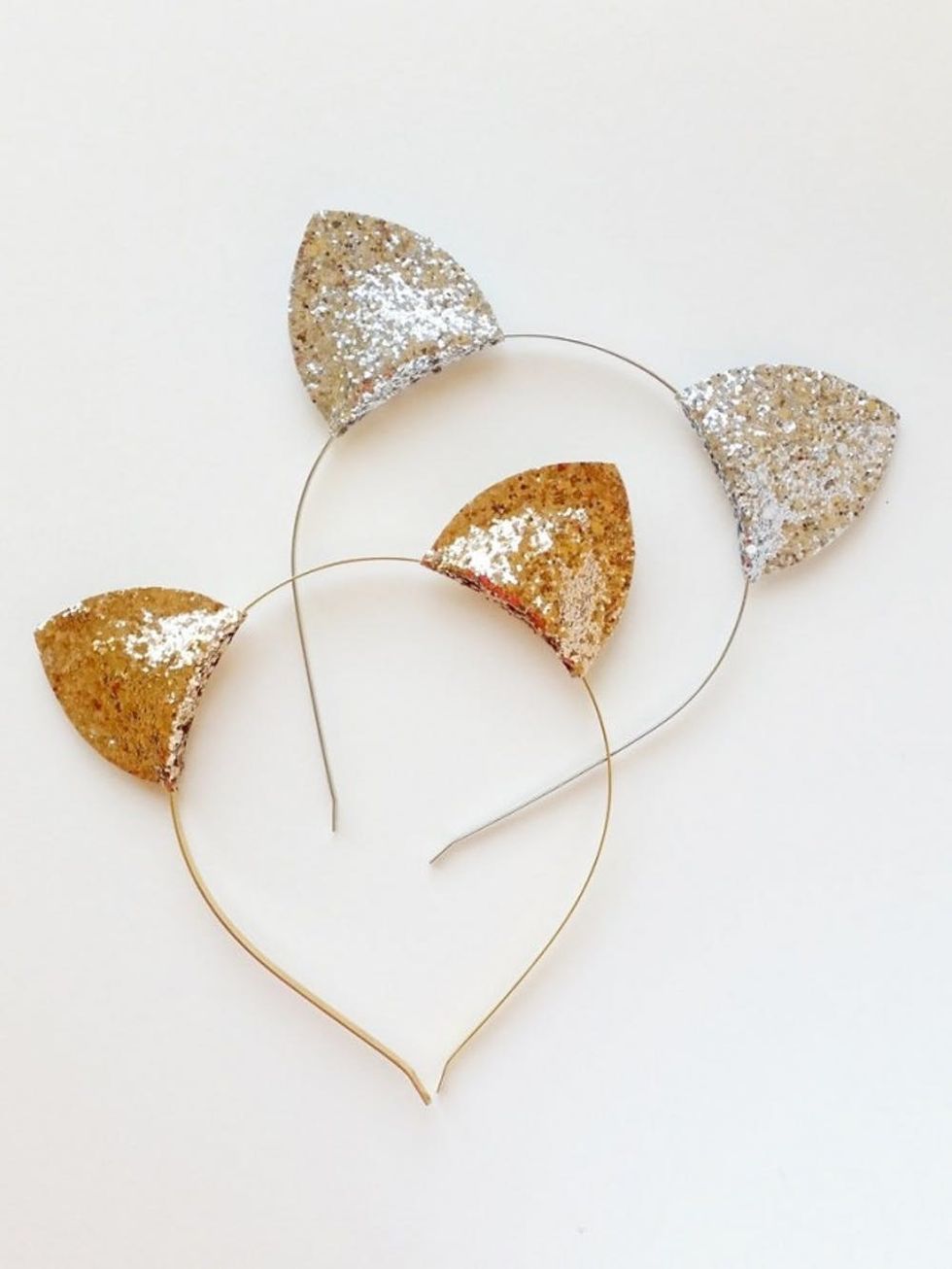 1. Sequin Cat Ears Headband ($14): Kick off the feline-themed festivities by handing each of your guests an adorable pair of cat ears. Sequin details are the perfect way to add a little *sparkle* to the party AND to the photo booth.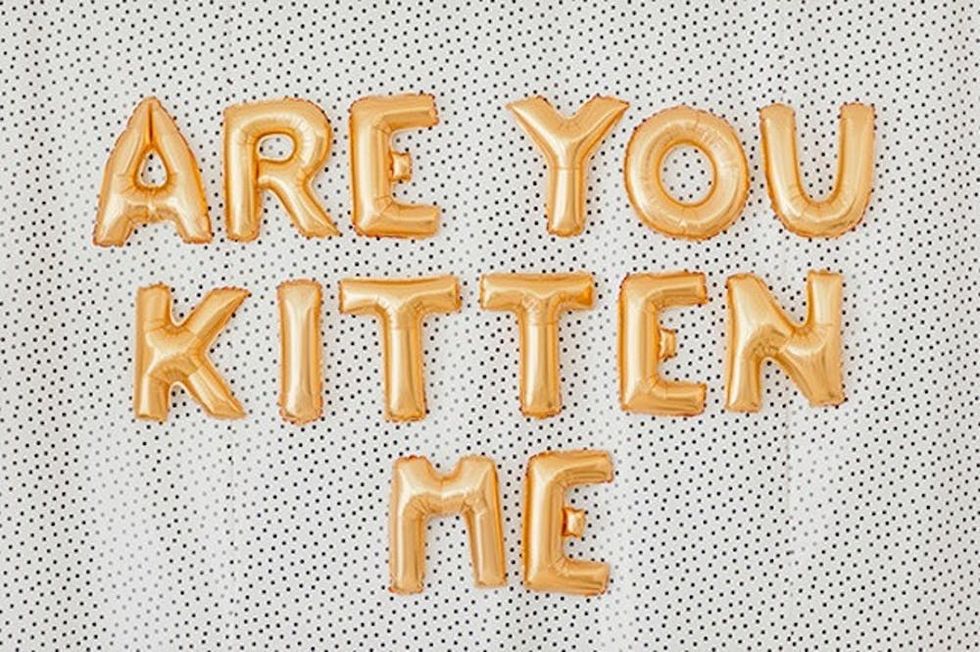 2. Are You Kitten Me Now Balloons: Cat puns never fail to make the day a little better. Be warned: Once you put up a punny cat-inspired balloon message, there's no stopping the full-on contest for whoever can come up with the most cat puns. (via 100 Layer Cake-let)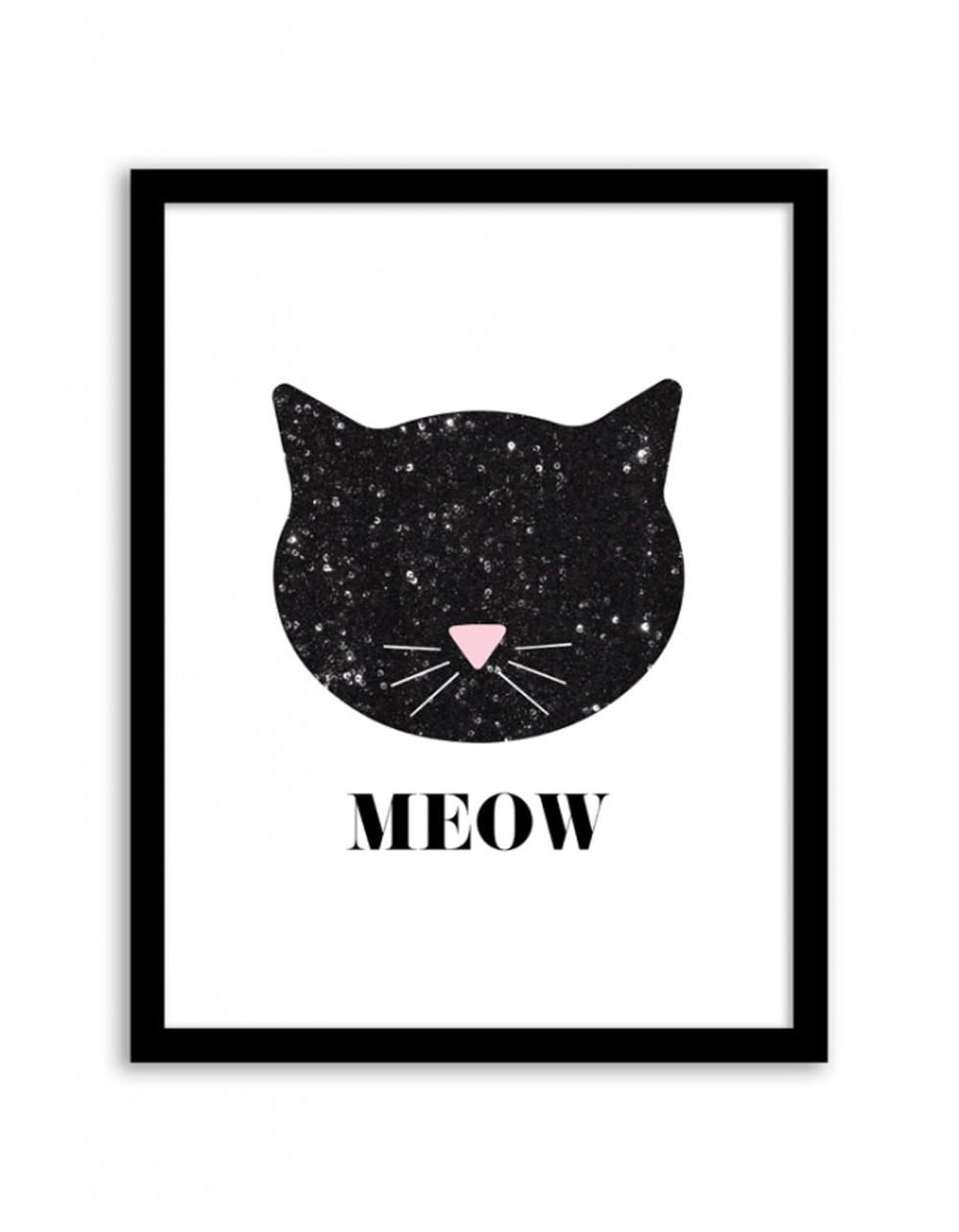 3. Printable DIY Sequin Cat Wall Art: If we guessed right, you need this free cat printable. Once you print out this bad boy, add some glitter or sequins to make it really pop. (via Chicfetti)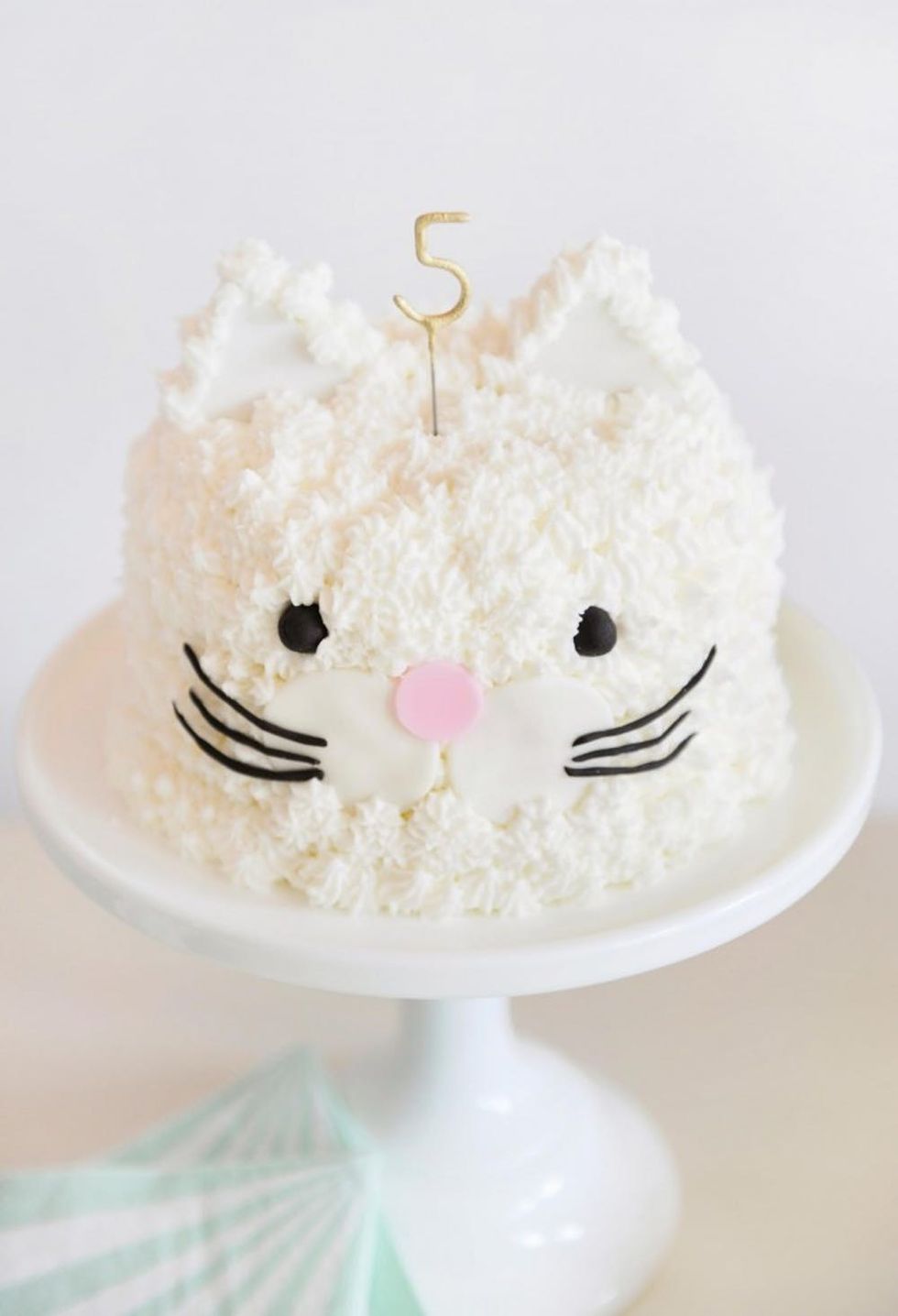 4. Cat Cake DIY: No celebration is complete without cake. Whether you're celebrating a baby shower or a bridal shower, this cat-inspired cake is a celebratory must-have. (via Project Nursery)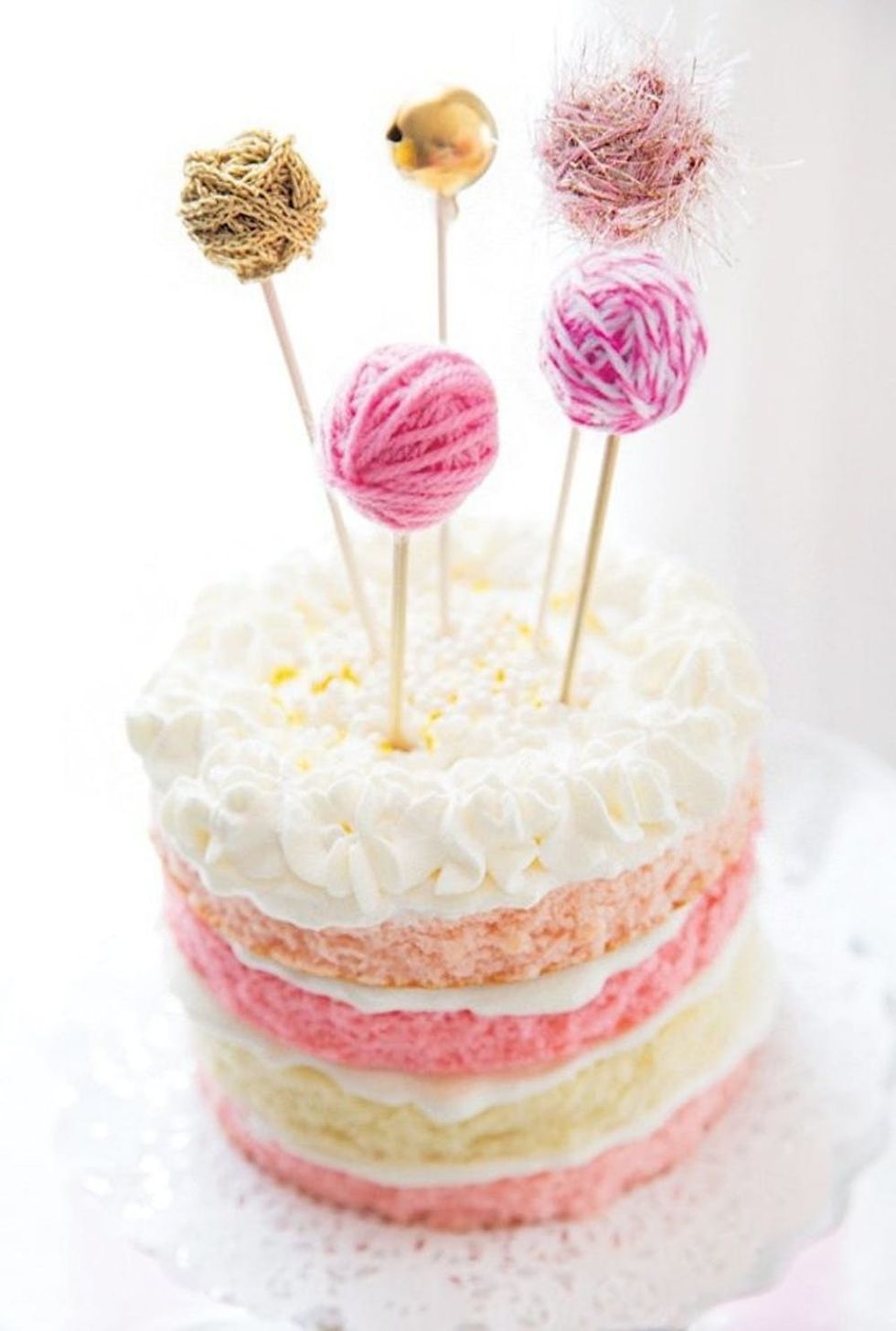 5. DIY Cat Toy Cake Toppers: Ditch those candles for a feline-festive cake topper. Chances are you can make them using things you have at home, so get creative! Got some leftover knitting yarn and a pair of chopsticks? (via Hostess With the Mostess)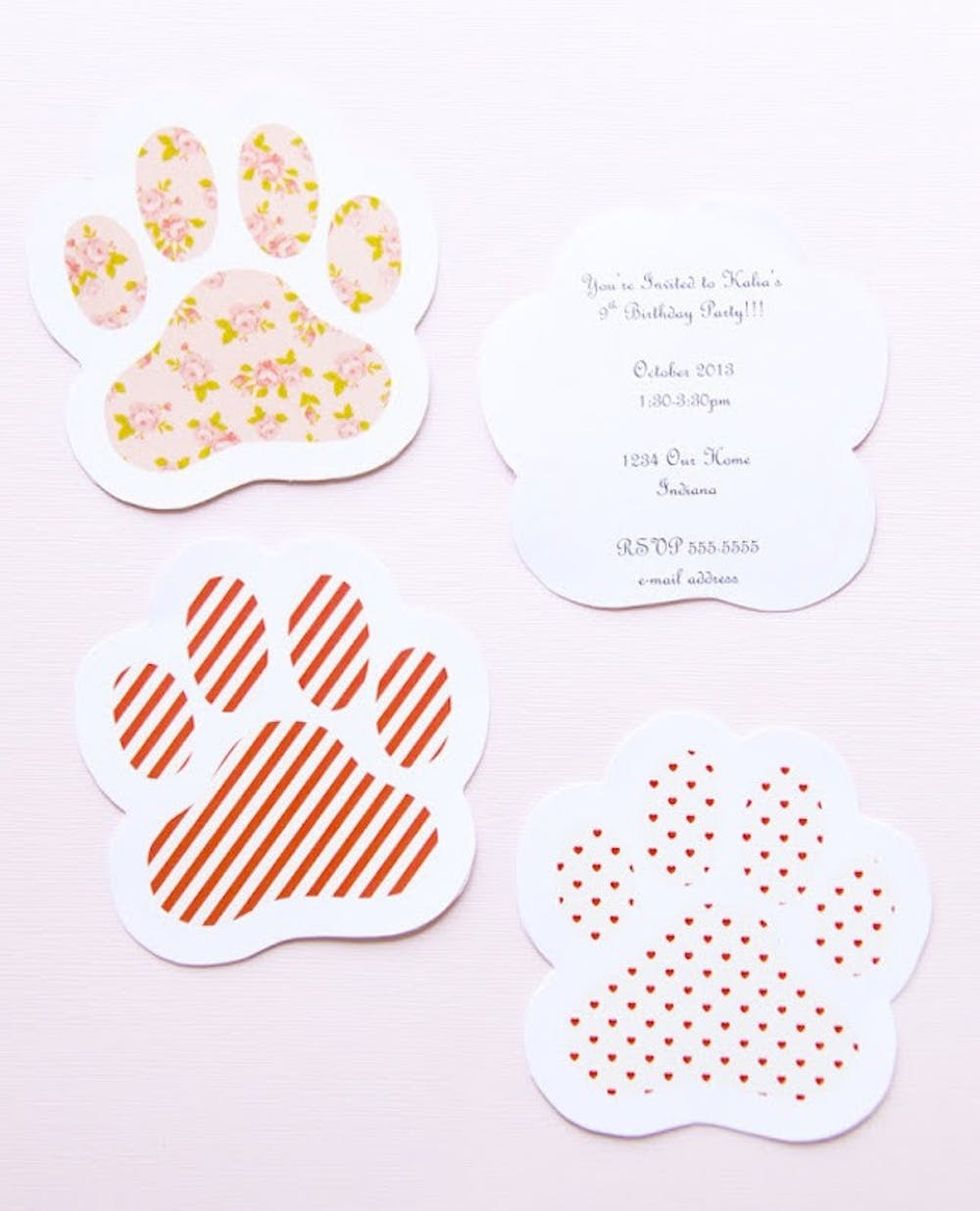 6. DIY Cat Paw Invites: Are you ready for some pawesome invites? You will be with these free paw print printables! And you can definitely reuse these babies when Easter rolls around. (via Fête Gazette)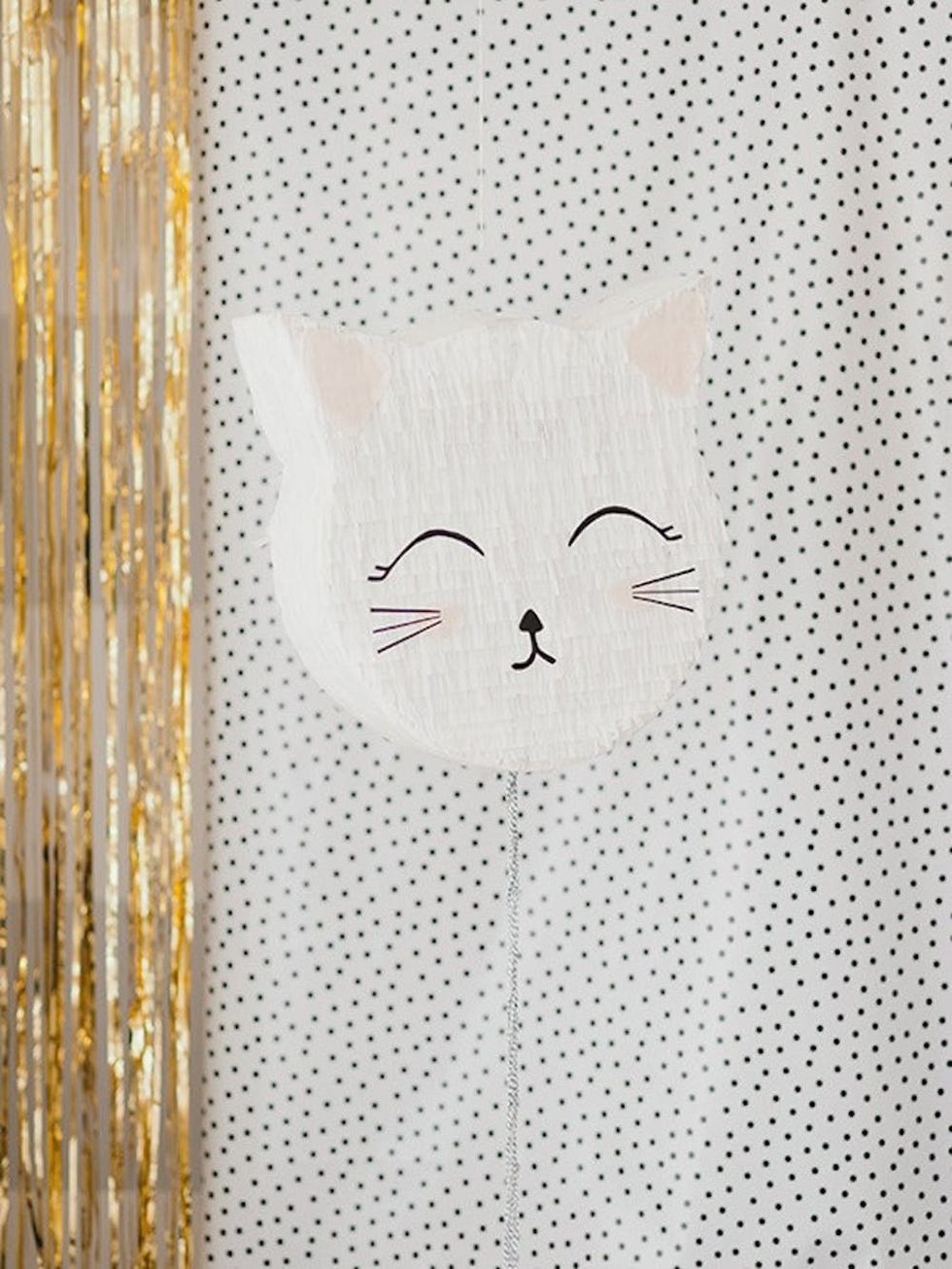 7. Cat Piñata: It's not a party without a good piñata, especially when it's as cute as this kitty. Piñatas are a fun addition to ANY party, which means it's totally cool for both kids and adults to take a whack. (via 100 Layer Cake-let)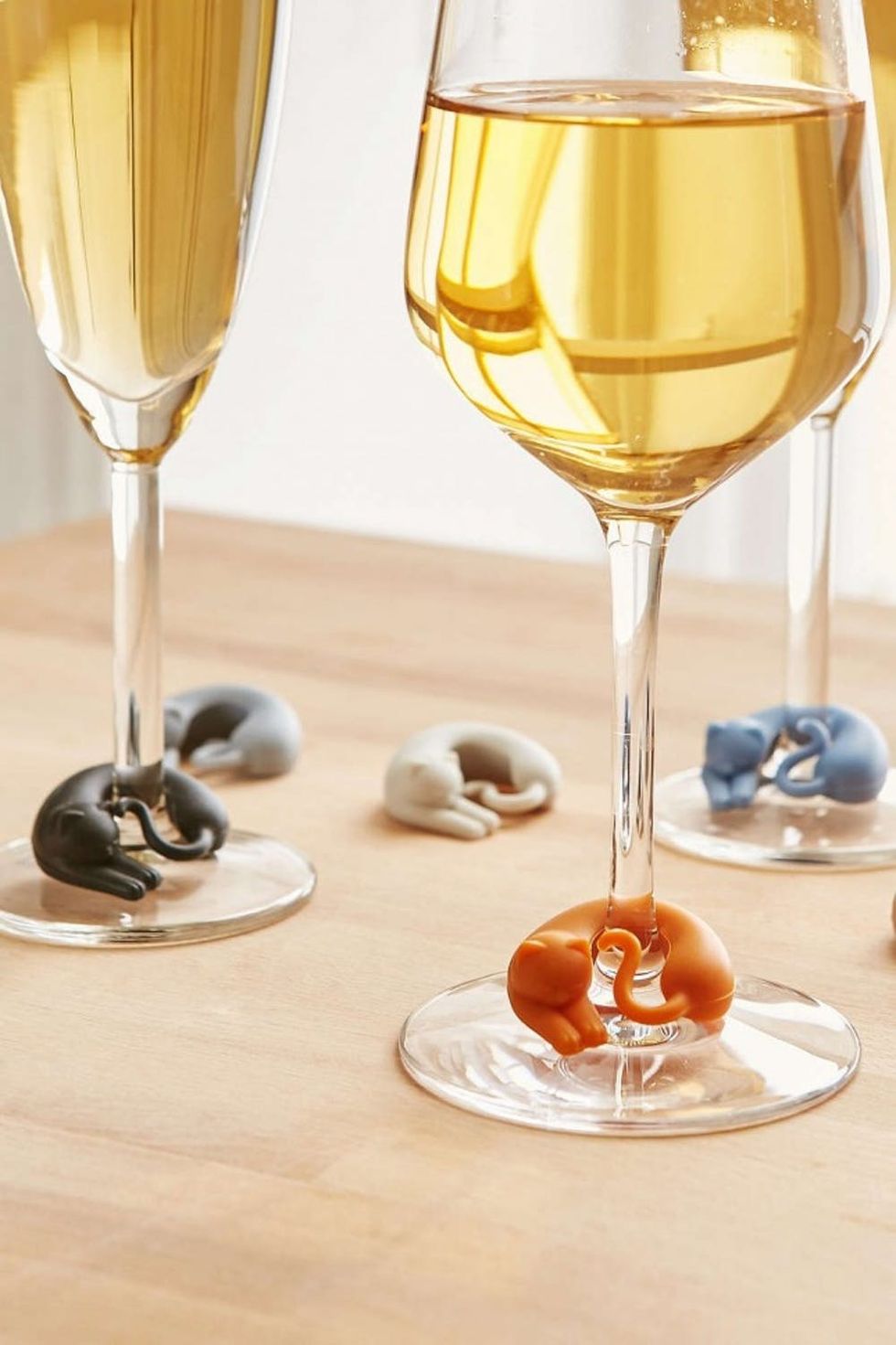 8. Wine Lives Drinks Markers ($12, set of six): Your guests won't have to worry about keeping track of their glasses with this set of kitty drink markers. Made of silicone, these cat-inspired charms can stretch to fit around whatever size glass stem you have.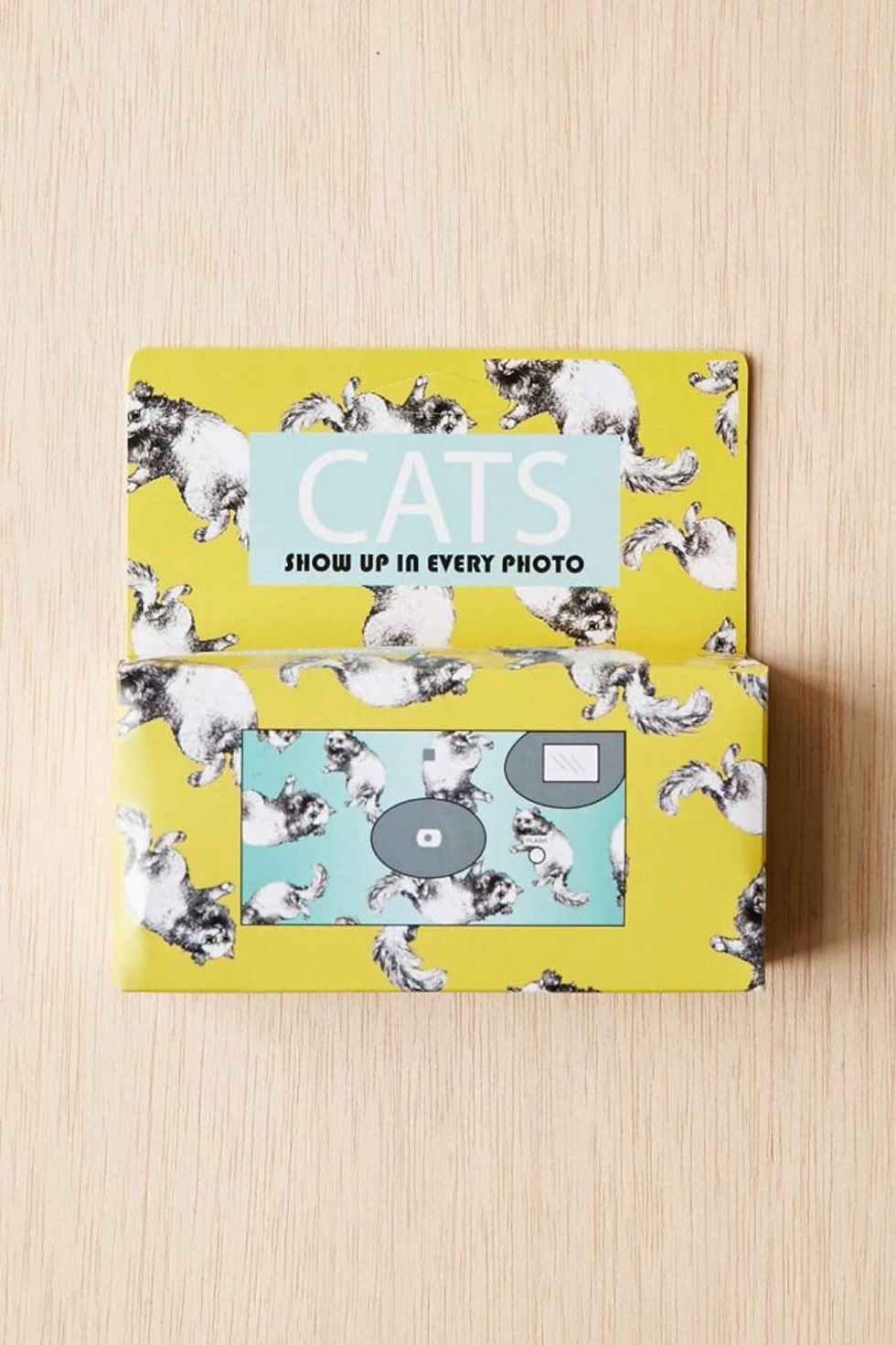 9. Cats Disposable Camera ($14): If you're looking for something unique that'll kick your cat-themed party up a notch, here it is: a disposable camera with cats that show up in every photo you take. Enough said.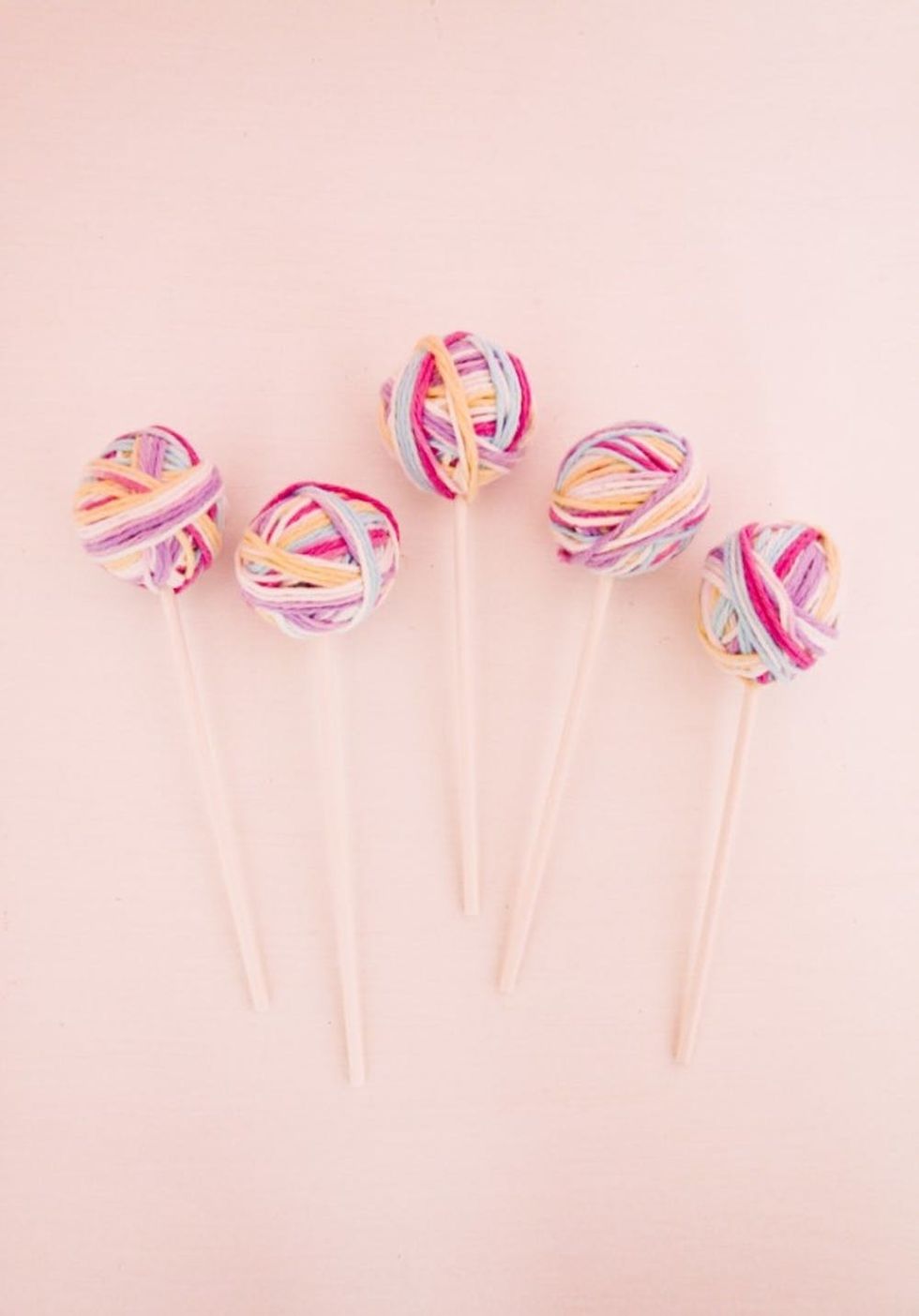 10. DIY Decorative Ball of Yarn Sticks: Incorporate your furry friend's favorite plaything into your kitty-themed party. Whether you use them to top your cupcakes, stir your drinks or even to pick up your bite-sized snacks, there's no going wrong with these fun and bright balls of yarn. (via Fête Gazette)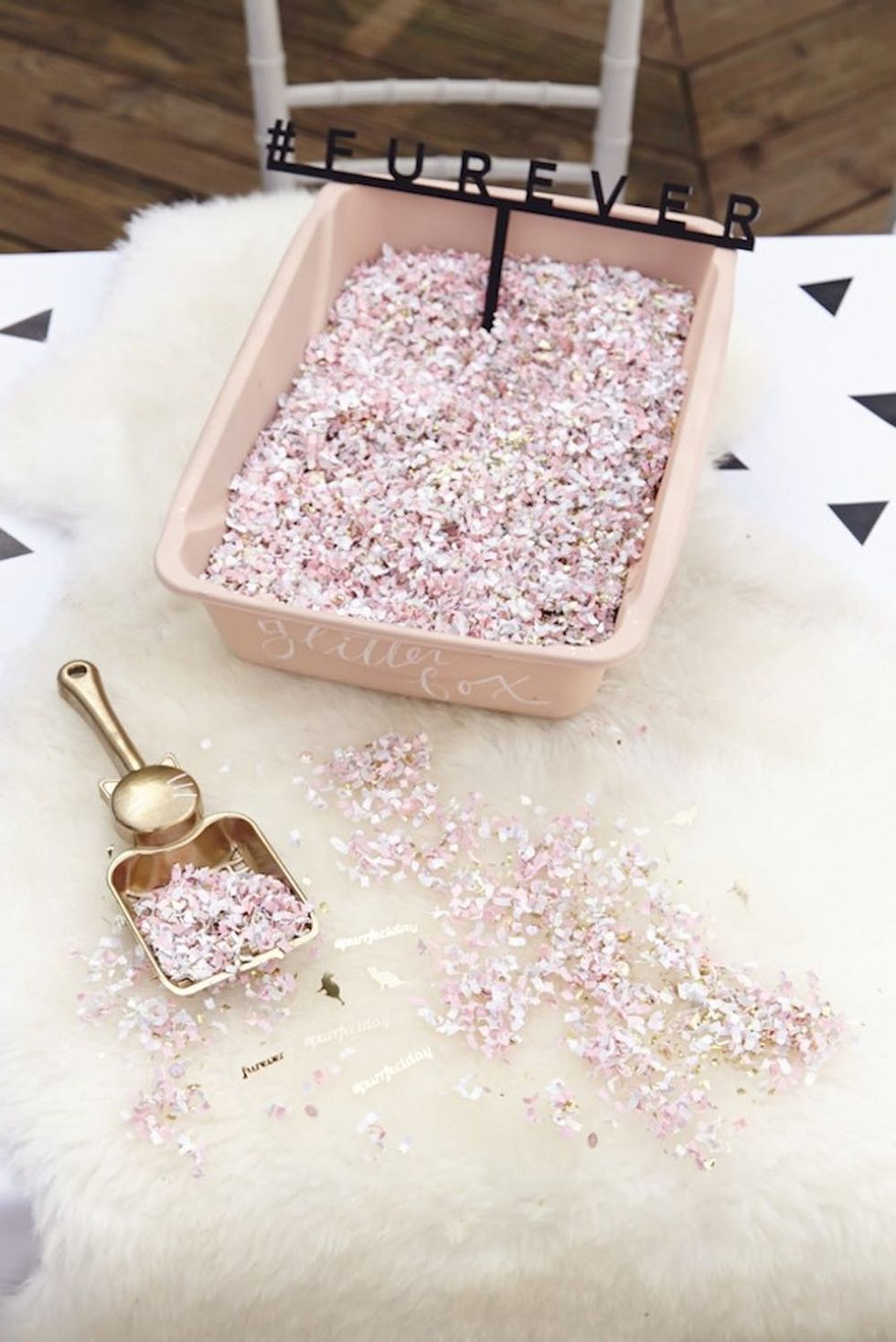 11. Glitter Box: Give the litter box a whole new meaning with this clever DIY. Grab yourself a clean tray, paint it a fun pop of color and fill it with glitter and confetti for a fab feline-inspired party essential. (via John Madson/Bridal Musings)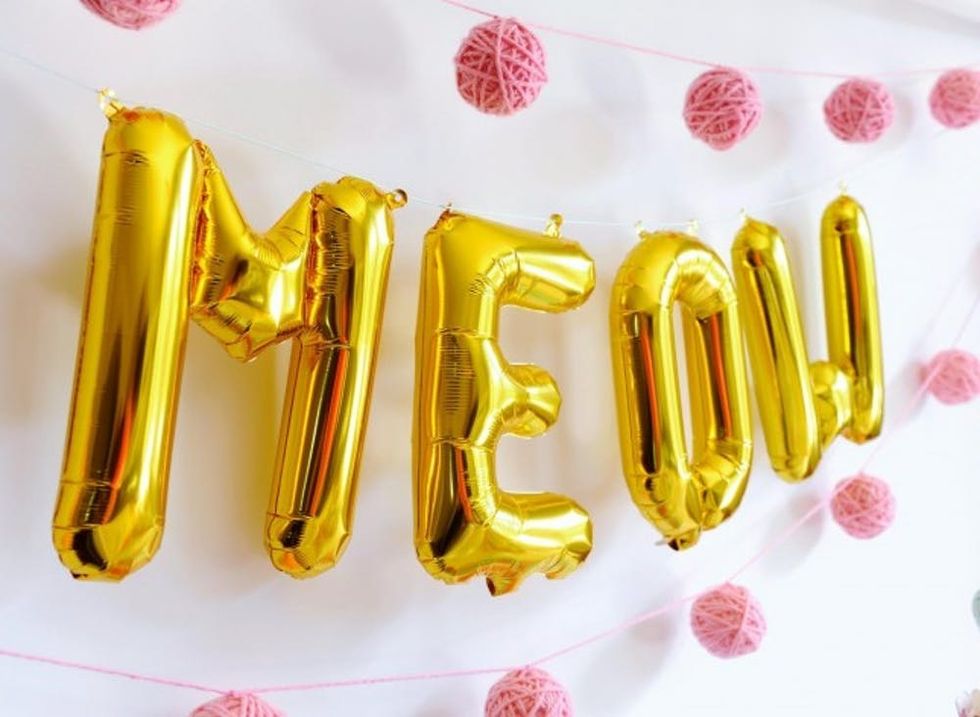 12. Balls of Yarn Garland: It's only appropriate that all garlands at your cat-themed party be made of balls of yarn. Pro tip: Meow-mix it up by alternating yarn colors for a unique and colorful pattern. (via Project Nursery)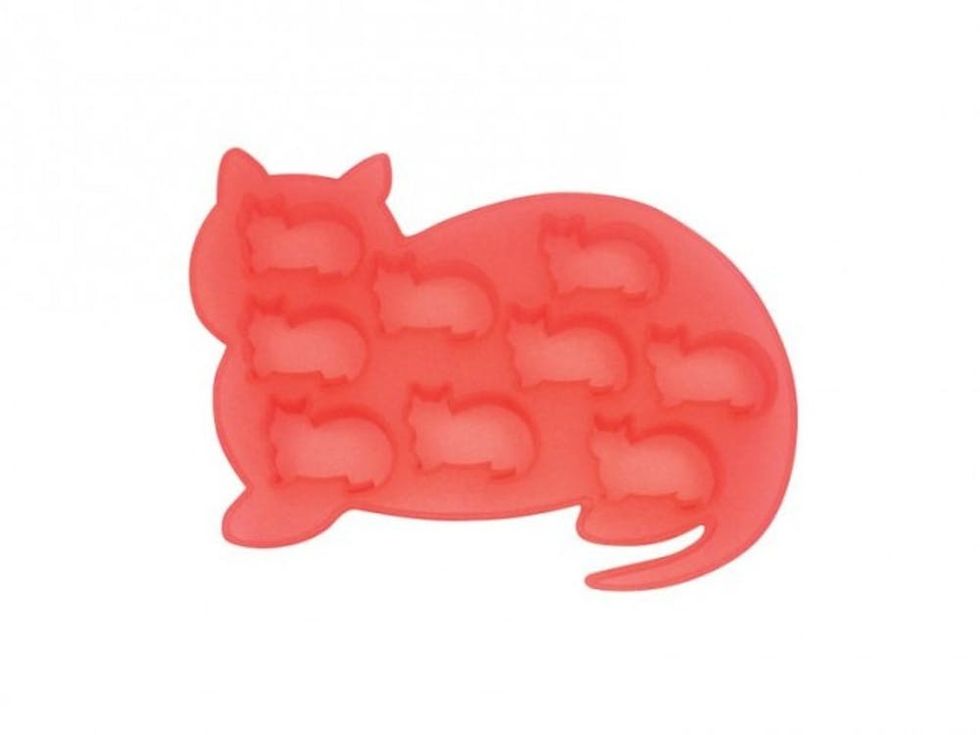 13. Eddingtons Red Cat Silicone Ice Tray ($9): Why aren't kitty-shaped ice cubes an everyday thing? If you ask us, cat ice cubes trump normal ones every time. You can bet your guests will agree.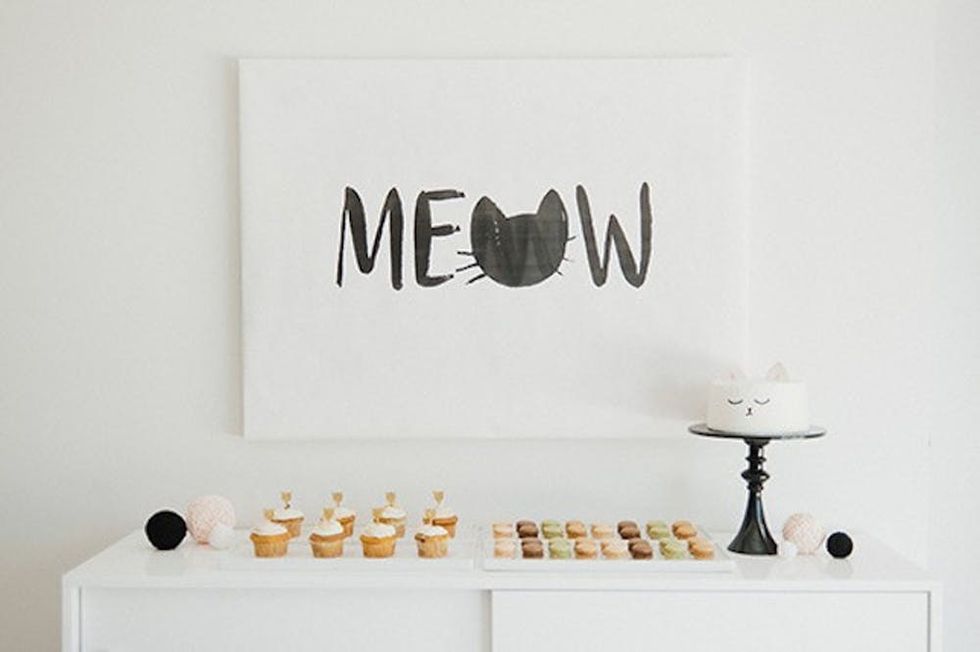 14. DIY Meow Print: Not only does this meow print look minimal-chic, but it's also totally DIY-able. Choose between poster paper and canvas (depending on your budget), pick up some black paint and get busy! (via 100 Layer Cake-let)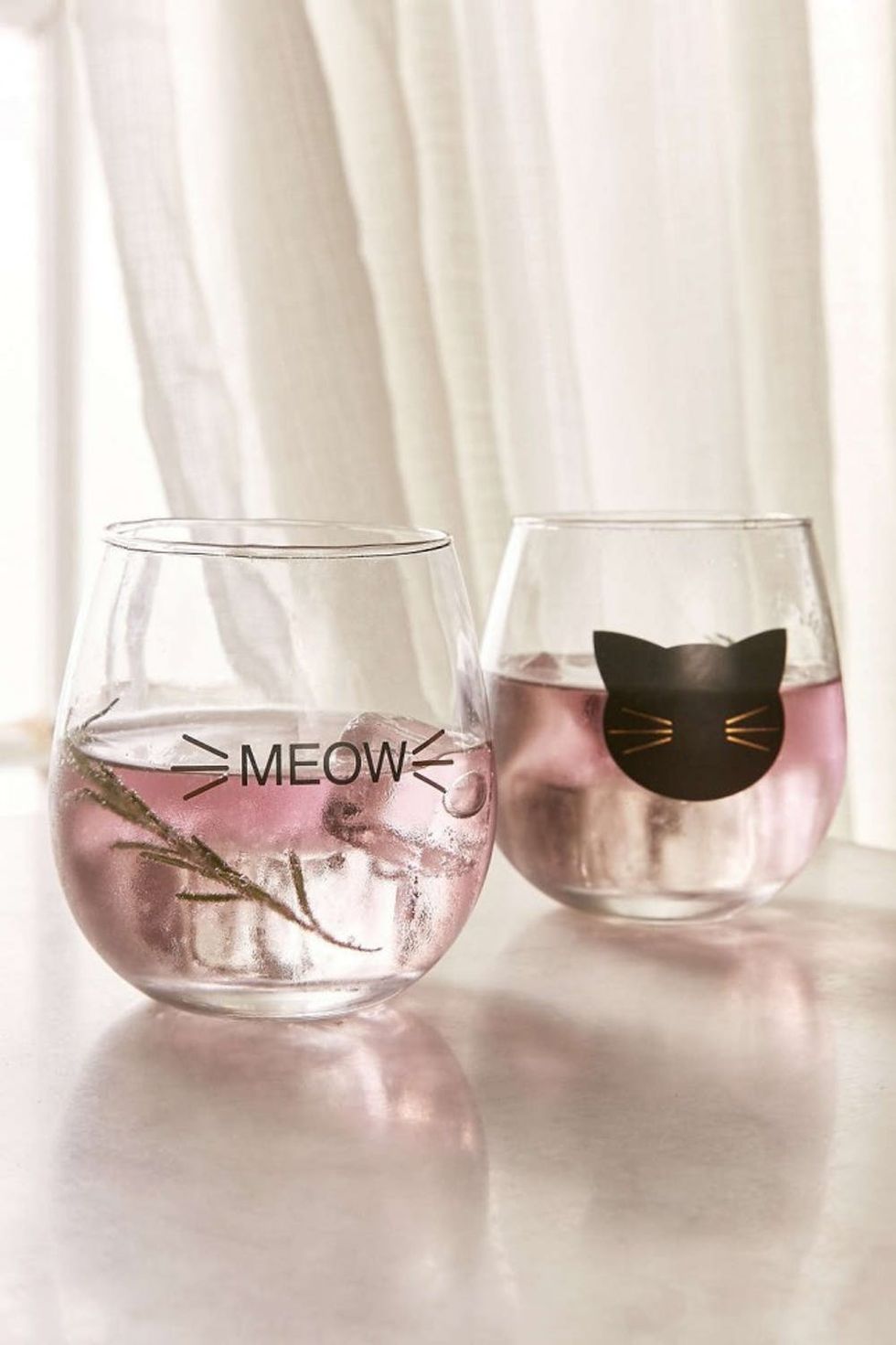 15. Meow Stemless Wine Glass ($16, set of two): This set of two cat-inspired wine glasses will whisk(er) your guests away. We'll leave it up to you to decide between a glass of Hello Kitty Champagne or Grumpy Cat Grumppuccino. Hmmm.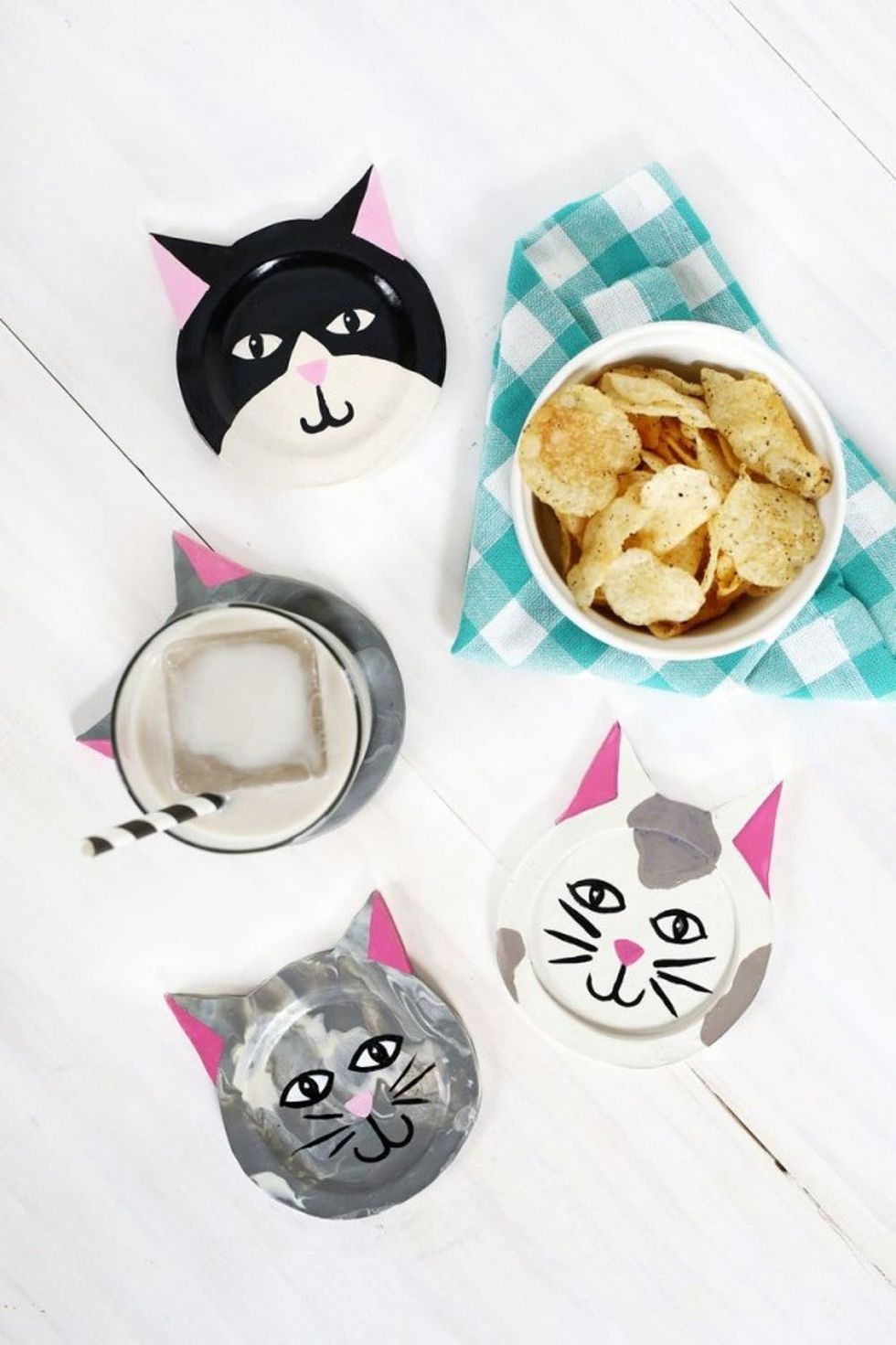 16. DIY Clay Kitty Coasters: Skip the rings on your coffee table and pass around some feline-shaped coasters. To create your DIY kitty coasters, use the free template as a guideline to create your coaster outline, decorate with acrylic paint, seal in your hard work with clay sealer and then bake. The best part? Now you've got those party favors figured out too. (via A Beautiful Mess)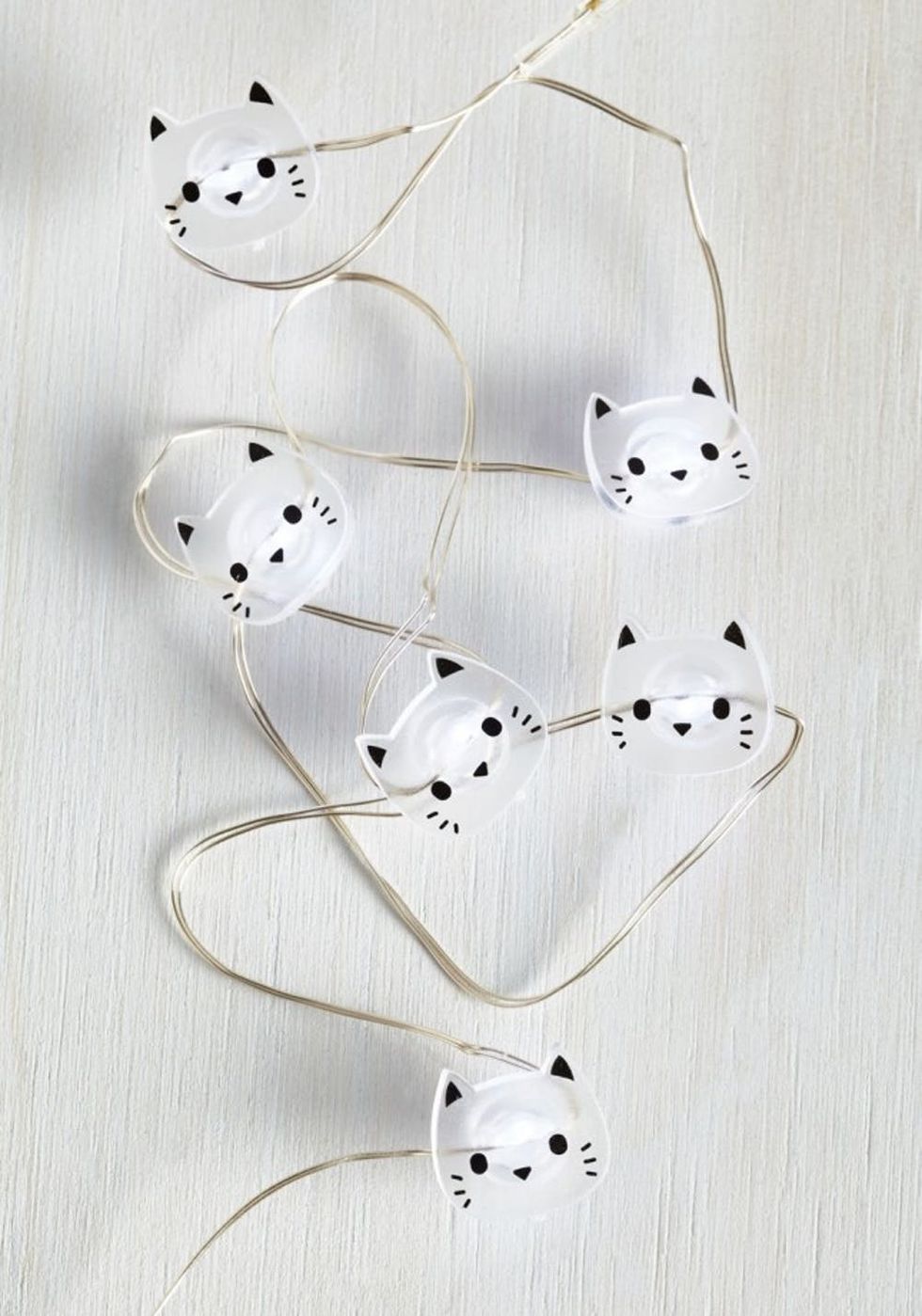 17. Luminosity Thrilled the Cat String Lights ($22): No one likes stumbling around a dimly lit space. Keep your cat-themed party bright and going all night long with these LED cat string lights. Not only are they super useful — they're also cute AF.
Which of these cat-inspired party essentials were your favorites? Follow us on Pinterest for more party theme ideas and decor inspo!