Chelsea Clinton Just Slammed This Controversial Jewelry Ad
Mar 25, 2017
Domestic violence is no laughing matter. And yet, the topic is often treated with less seriousness and severity than it deserves. As Amber Heard declared in her empowering PSA, the keys to eliminating violence against women are rooted in "how we deal with it, how we talk about it in the media, and in our culture."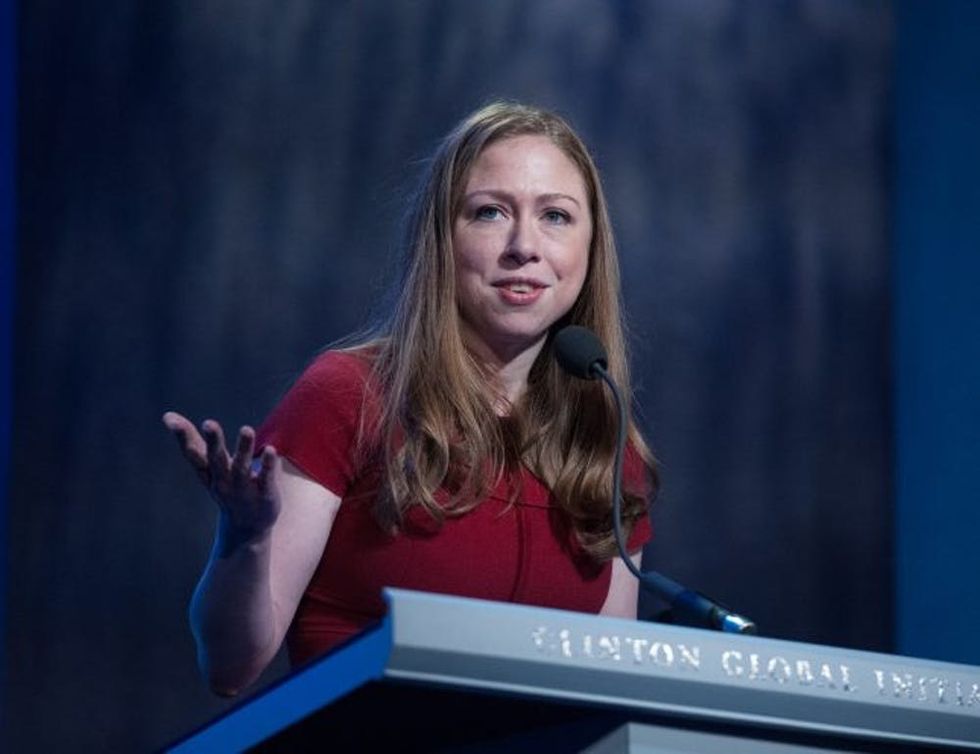 ---
Similar to the domestic abuse makeup tutorial that sparked outrage, Spicer Greene Jewelers, which is based in Asheville, North Carolina, is in a bit of hot water after placing a controversial billboard ad on Interstate 240 that many felt addressed that very issue in a less than responsible manner, with its sign reading: "Sometimes, it's ok to throw rocks at girls."
Offended parties, including one Miss Chelsea Clinton, quickly took to the net to express their concern that the ad was not only sexist, but propagated violence against women.
Talking about hitting girls is never funny. Ever. https://t.co/cvtxykutis

— Chelsea Clinton (@ChelseaClinton) March 24, 2017
.@SpicerGreene: Using violence against women & girls as an undertone to sell your "rocks" normalizes & glorifies said #VaW & girls. pic.twitter.com/W9h1h0464o

— Chicago Taskforce (@chitaskforce) March 25, 2017
@FastCompany Nope, that's just gross. Apparently no women work at #SpicerGreene

— Christina Ivanowich (@civanowich) March 24, 2017
@SpicerGreene your billboards are ALWAYS terrible and demeaning to women, but this one takes the cake. #notbuyingit #asheville pic.twitter.com/ECww4U1BVD

— SchiffLady (@DanaSchiffman) March 23, 2017
@SpicerGreene Even though it's (stupid) play on words, it's never ok to joke about harming women.
And your font game blows.

— N Harris (@nronharris) March 23, 2017
@SpicerGreene you've got to be shitting me. https://t.co/IxvZOSXYj0

— LizaJae (@LizaJae) March 23, 2017
Taking to social media following the major backlash that ensued, Spicer Greene apologized, writing: "We do not condone violence of any kind toward any being. We are humble enough to realize when we make a mistake and humble enough to realize the context in which we are speaking."
To whom we have offended with our recent billboard, please accept our #apologies. Please read full comment below. @SpicerGreene #Jewelers. pic.twitter.com/kADpNhnEF6

— Spicer Greene (@SpicerGreene) March 24, 2017
They went on to explain that they never meant to conjure up thoughts of abuse, but rather that they "intended the billboard as a play on words to encourage the loving act of gift giving and are deeply saddened that it offended anyone."
While some defended the jeweler, saying that the ad was being taken too seriously, people around the country continued to fume, demanding more in the form of action.
.@SpicerGreene so you will be removing the billboard because it does appear that you are condoning violence against women. https://t.co/TIxx51HCHq

— maggie richards (@feismom92) March 23, 2017
@SpicerGreene everyone. You've offended everyone. Take the sign down then apologize.

— The Mom Life (@themomlife4) March 24, 2017
@SpicerGreene Show you understand by taking down billboard & donating to anti-dating violence programs in your communities. https://t.co/LtdNSsPr8x

— Robin Warshaw (@robinwarshaw) March 25, 2017
@SpicerGreene your apology is disingenuous & worthless if the billboard is still up

— Jessie Jessup (@JessieJessup) March 25, 2017
It's not the first time the words have been tossed around in jest, as similar ads have been Tweeted about as far back as 2014, but we certainly hope this serves as a lesson, making it the last.
What's your reaction to Spicer Greene Jewelers' ad? Tweet us @BritandCo.
(h/t Teen Vogue, photos via Stephanie Keither + Rodrigo Varela/Getty)
Barbara Pavone
Barbara Pavone is a pop culture-obsessed writer based in beautiful (but ridiculously cold) Montreal, Canada. When she's not working, she's sipping on a Pimm's Cup and daydreaming about her celebrity hero, Saint West.
Politics