Brunch Is the Best Group Costume You and Your Squad Can Be for Halloween
Oct 18, 2015
Calling all weekend warriors! You love brunch, yes? So do we. And what else do we love? Um duhhh, HALLOWEEN. Naturally, we had to marry the two into an epic group Halloween costume. Grab your closest friends and draw straws on who gets to be bacon, eggs, pancakes, syrup and OJ. A huge thanks to our wonderful models — sorry that brunch wasn't actually included on set. #squadgoals for sure. Let's get making!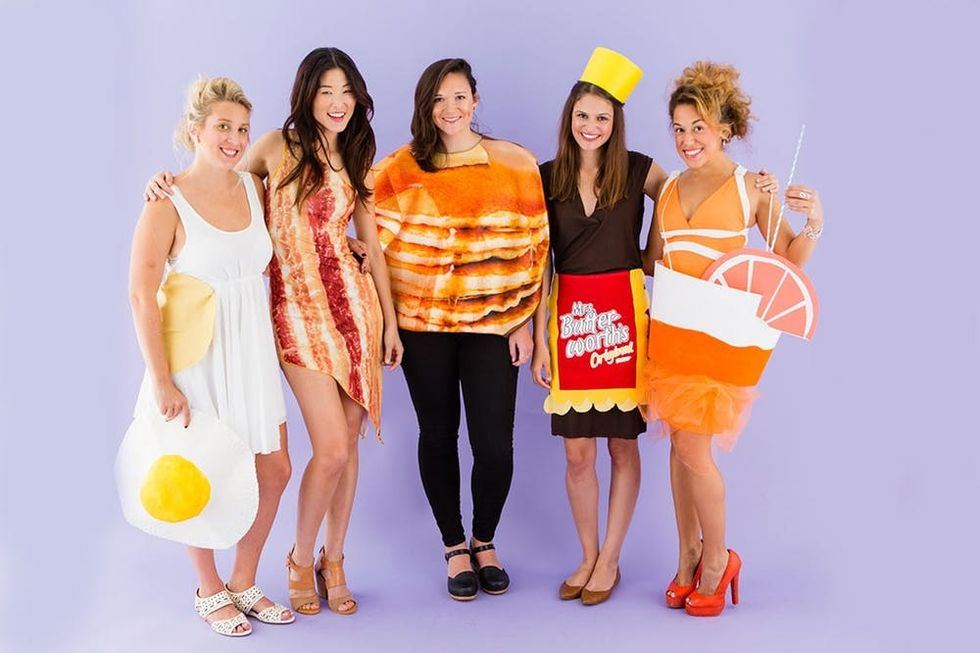 ---
Sunnyside Up Egg Costume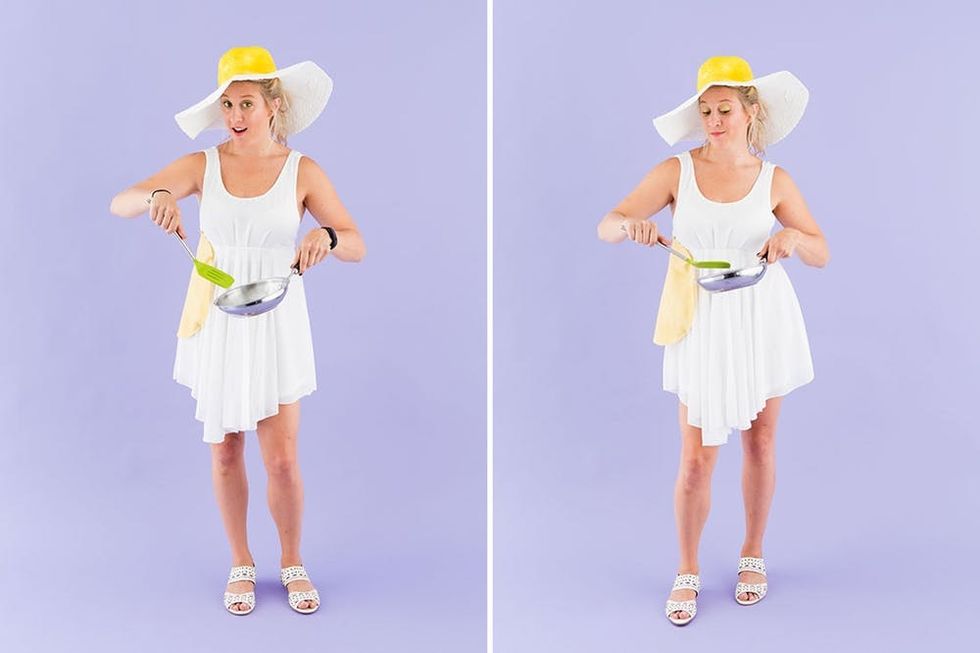 Eggs are for sure one of the most important pieces to breakfast. What amazes me is how many different ways you can cook them! For this look we added a big yellow yolk to the side of a white dress. To top it all off (literally), we bought a white sun hat and spray painted the bulb of the hat yellow.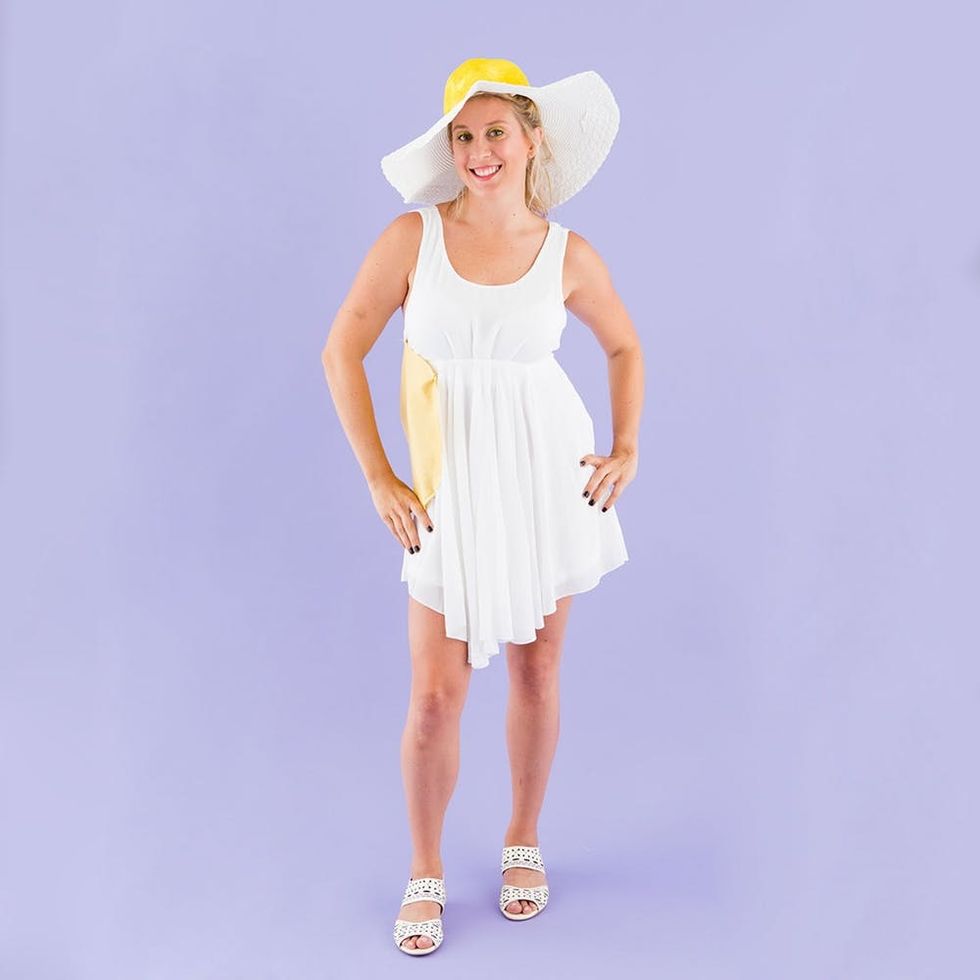 We're not yolkin' around – this costume is seriously easy to recreate.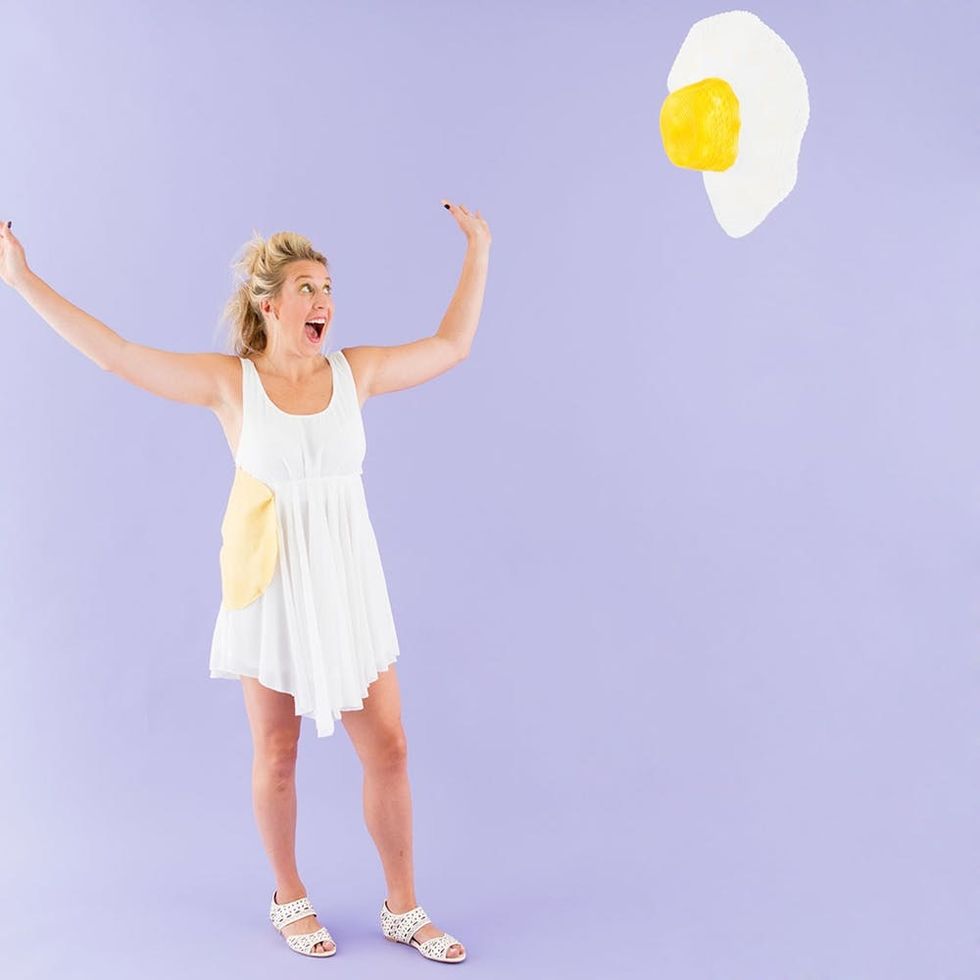 We recommend channeling your inner chicken and creating a textured faux-hawk for this eggcellent look. Create this by back-combing and sectioning your hair into three small buns down the back of your head. For makeup, go crazy and rock a yellow eyeshadow to match your inner yolk.
Sizzling Bacon Costume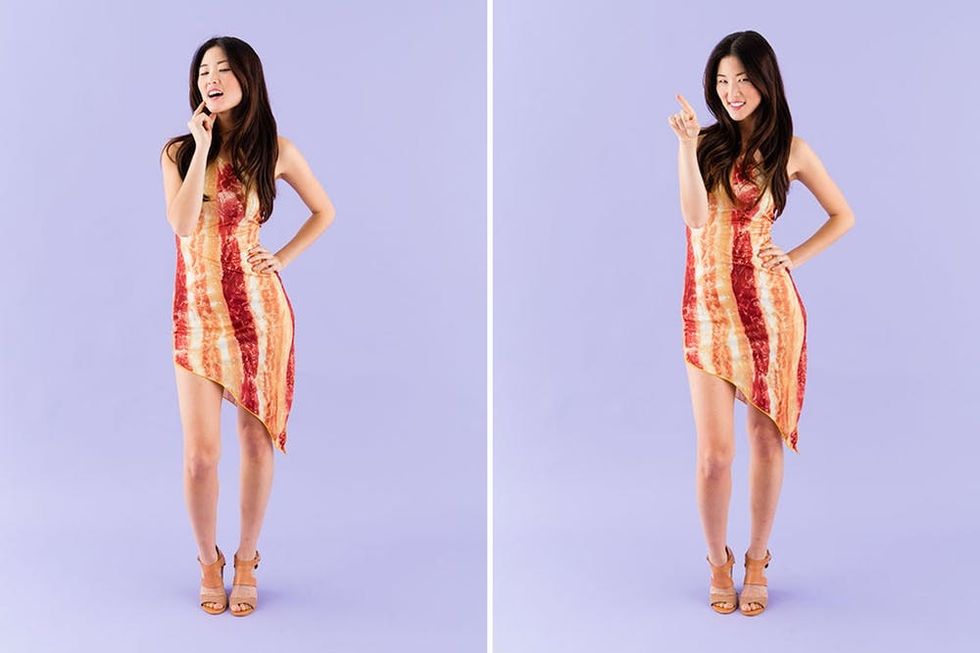 Yes, bacon dress is a thing. We purchased this off of Amazon for $18.00. Part of me thinks that it is okay to wear this 365 days a year, because why not – it's a bacon dress! If your gang doesn't want to be brunch with you this Halloween, grab two other friends and go as a BLT!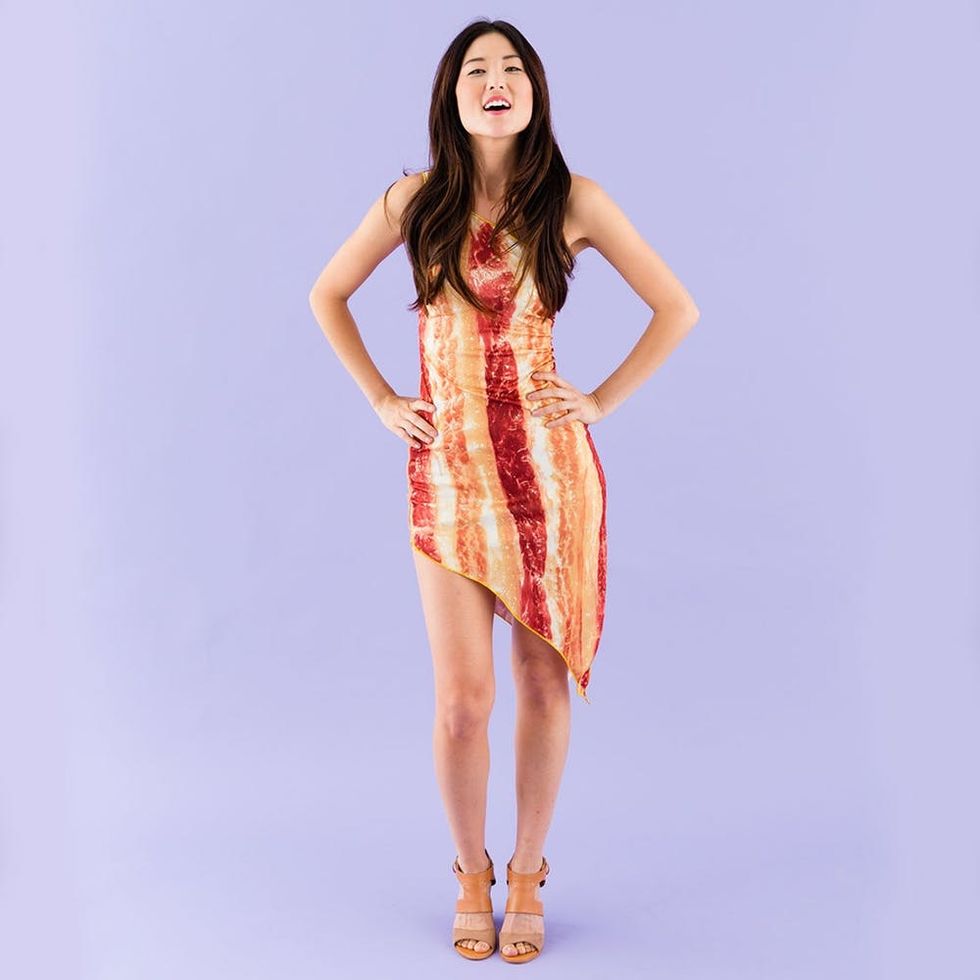 We might just need to purchase this dress for our office white elephant gift exchange… because, BACON.
Pancakes Costume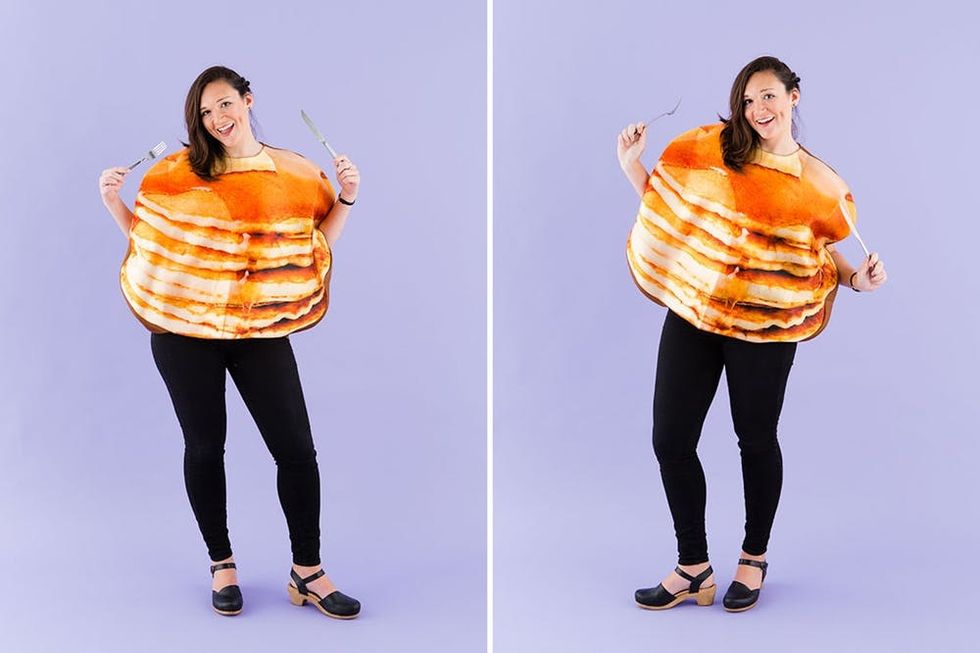 One could say that this entire Halloween costume post started because of associate editor Cortney's love of breakfast foods. She was actually these pancakes last Halloween and brought in the costume to add to the post! You can also buy this pancake costume on Amazon for $20. Amazon, you rule.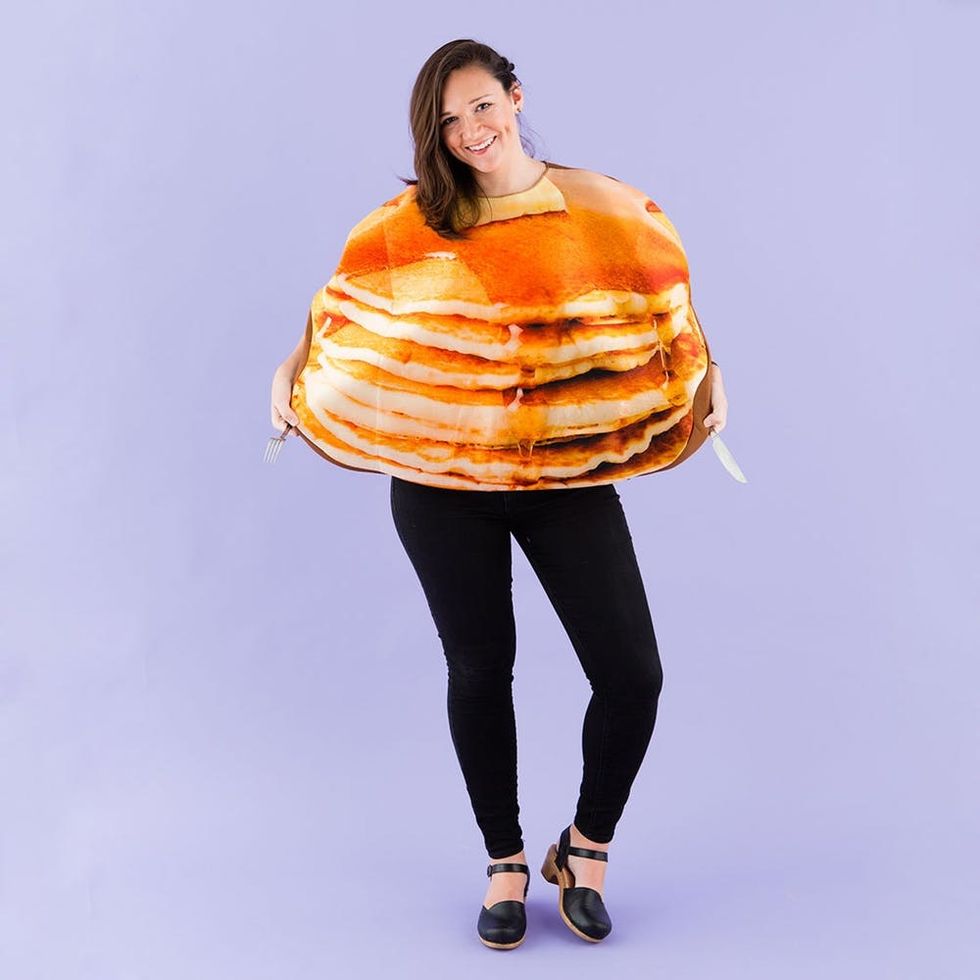 Break out your fork and knife accessories for this costume. To take this look to the next level, we suggest DIY-ing a small purse covered in plastic forks and knives or creating large utensils out of foam core. Plus, once Halloween is over, I have a hunch that large utensils made out of foam core would make pretty great photo-booth props for your next photo booth backdrop.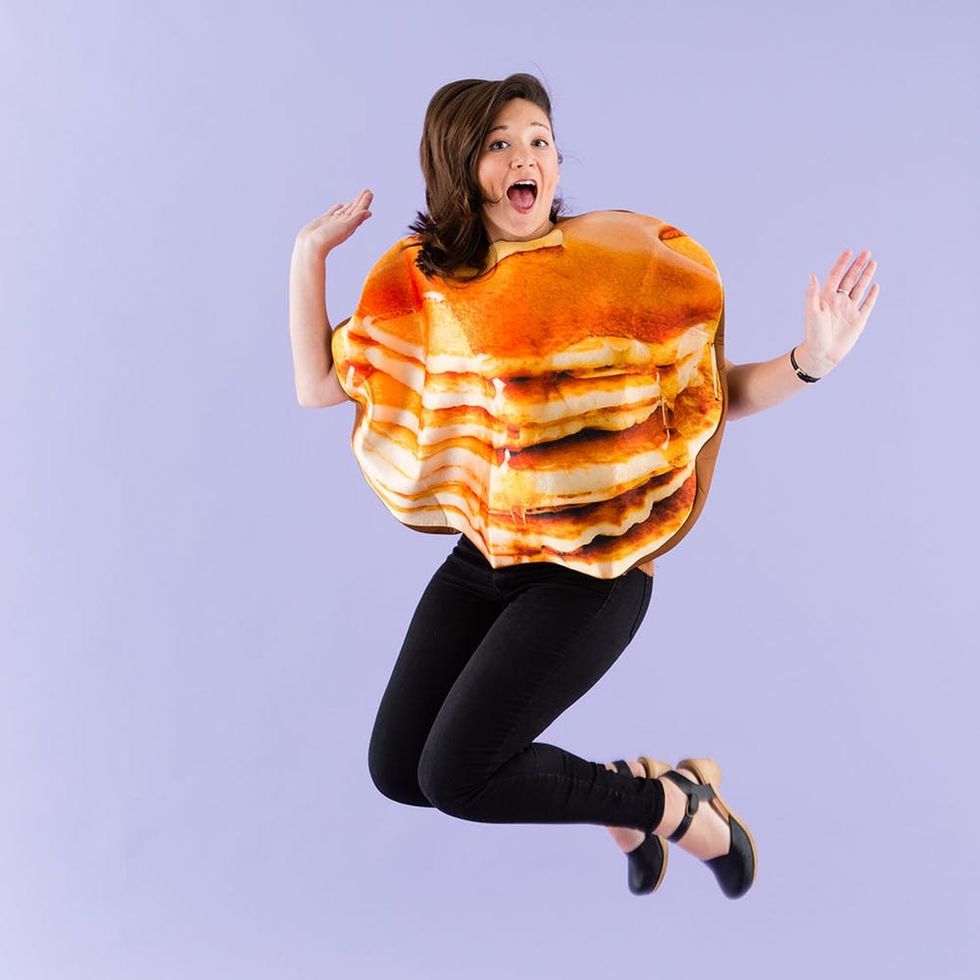 It's raining pancakes! (If that happened, it would top free pancake day at IHOP and be the best day ever.)
Sweet Syrup Costume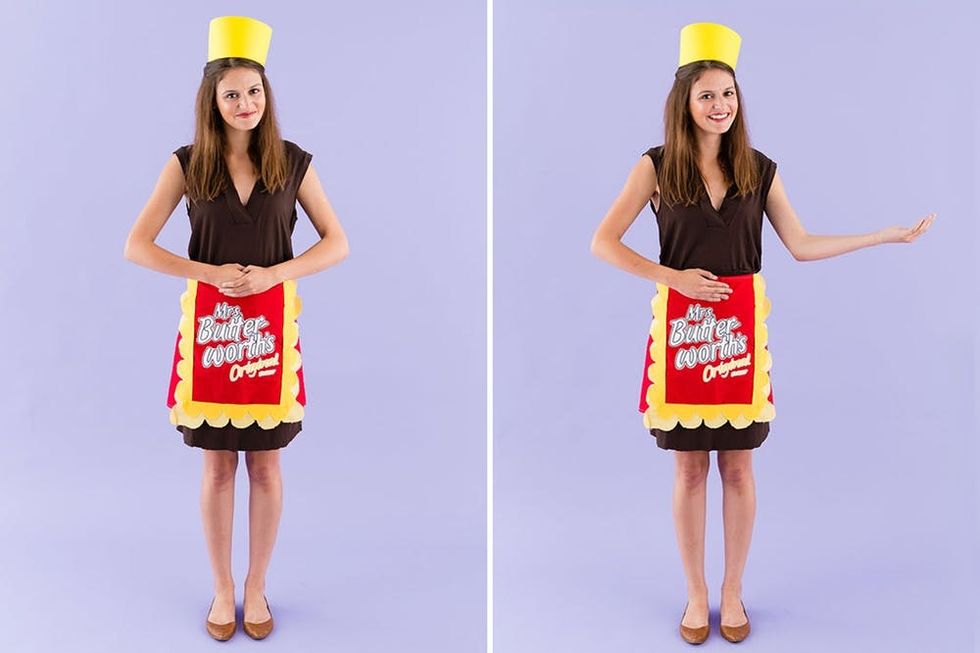 You can't have brunch without syrup! Pancake's ultimate side kick is none other than a bottle of Mrs. Butterworth's. The base of this costume is made out of a brown dress and a red apron. Then, use iron-on transfer paper to print out and transfer Mrs. Butterworth's logo onto your apron (you can download the logo right here!). Cut out scalloped edges from yellow fabric and felt to adorn the sides of the apron.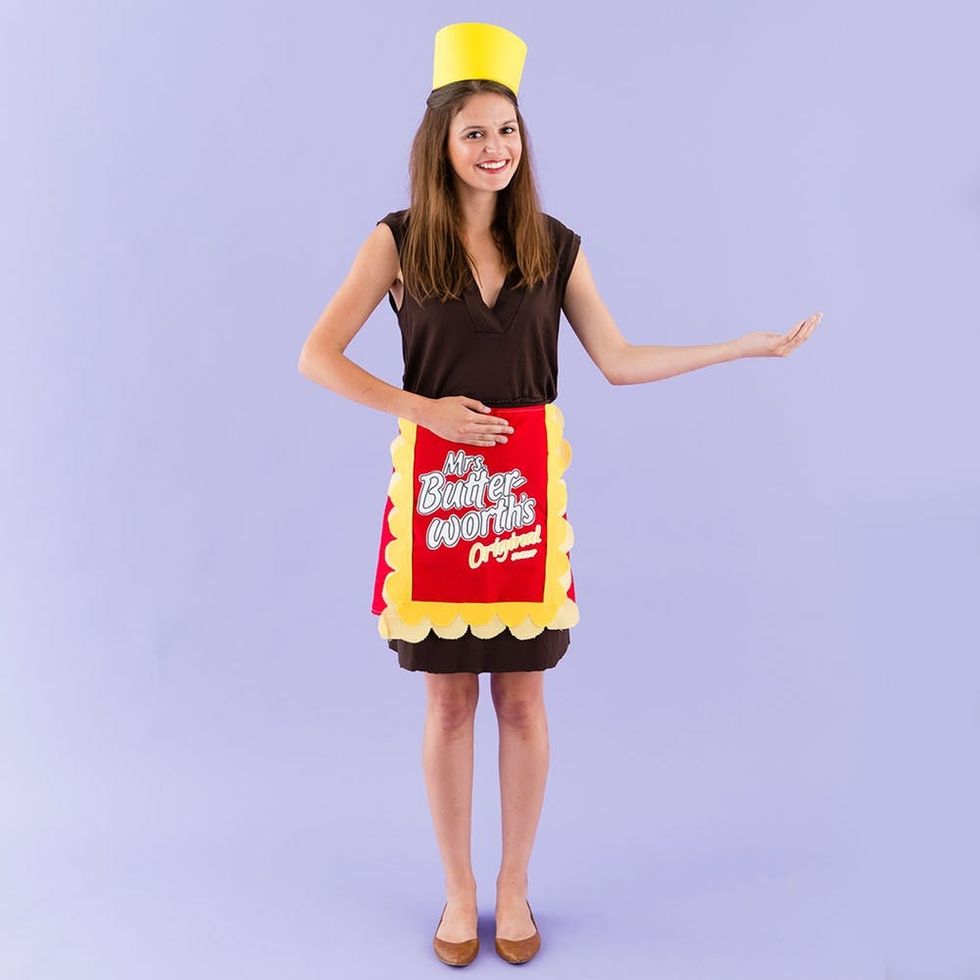 We gave Paige a yellow paper hat to represent Mrs. Butterworth's iconic yellow cap. Don't forget to channel your inner sweetness all night long!
Orange Juice Costume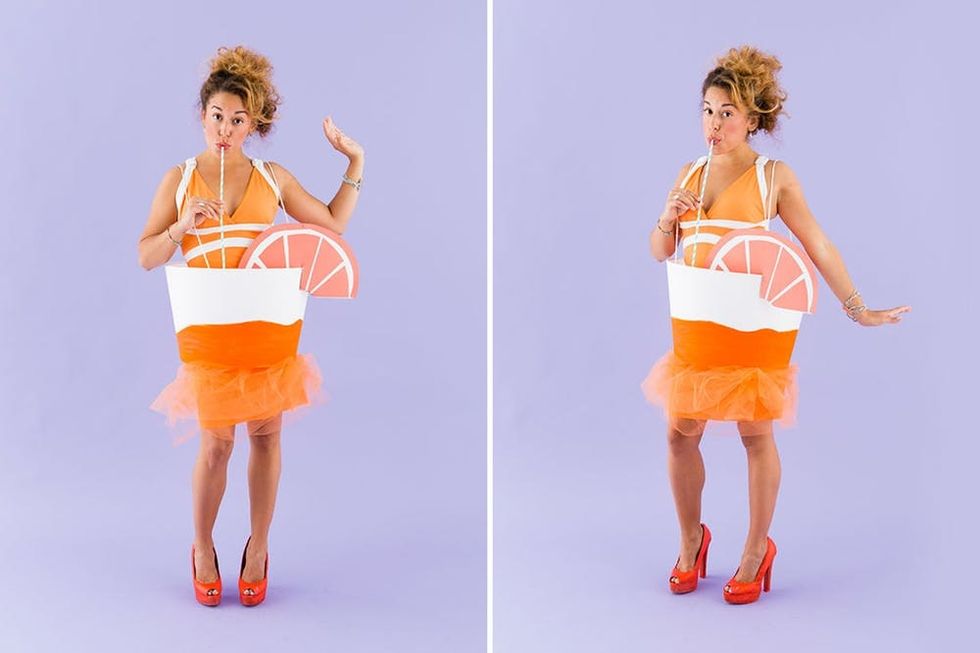 We are in love with this OJ costume. First things first, you will need a large lamp shade that you will be able to step into. We bought ours from IKEA. Use a wire cutter to remove the inner fixings of the lampshade, then paint the bottom half orange. Grab your favorite orange top and orange tube skirt to layer underneath the lampshade. We even added some orange tulle to jazz up this drink.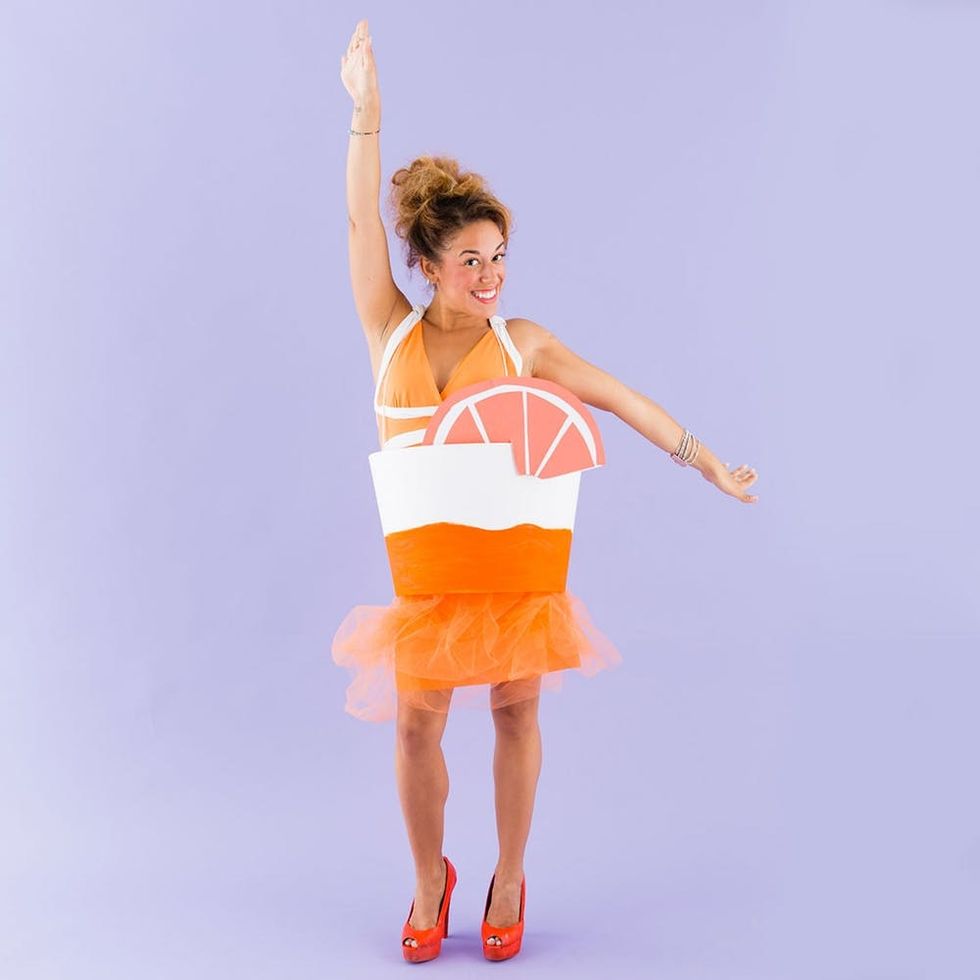 Create an orange slice from a piece of cardboard and construction paper. Cut a slit on the side and add it to the edge of your cup. Don't forget your straw! We taped three straws together to make it long enough to reach our glass ;)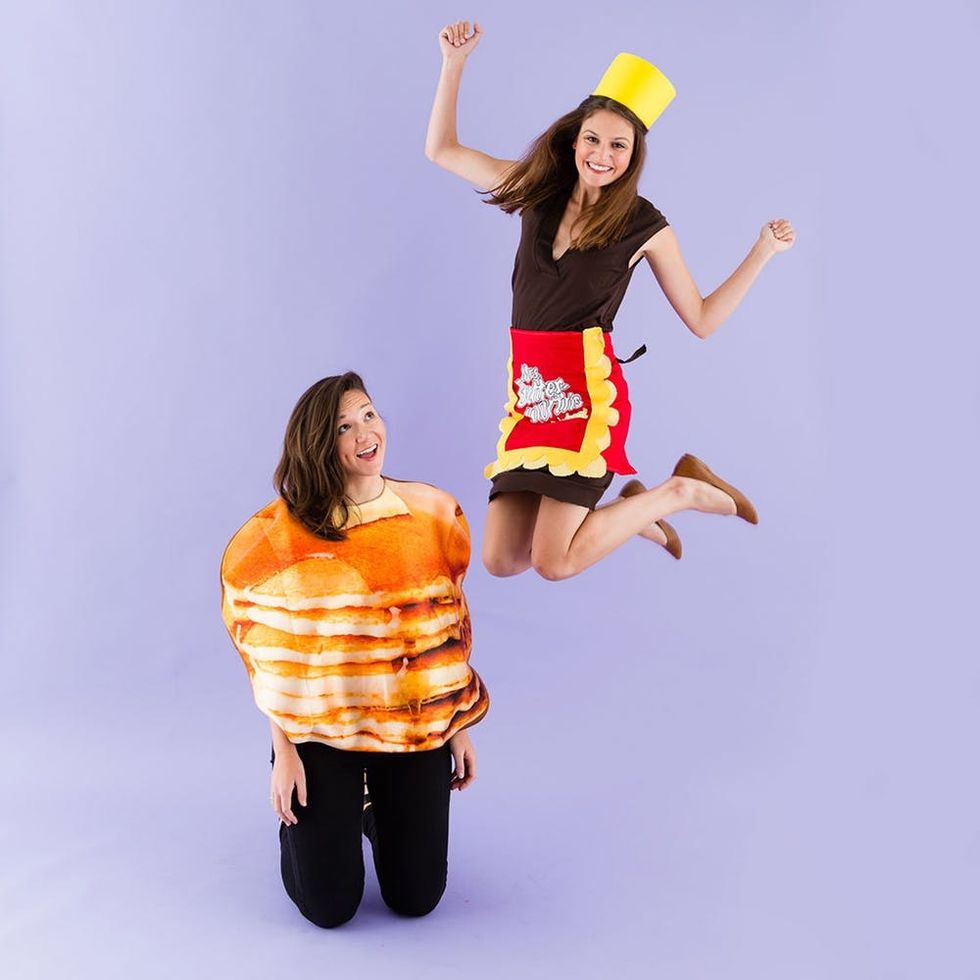 The two best friends that anyone could have!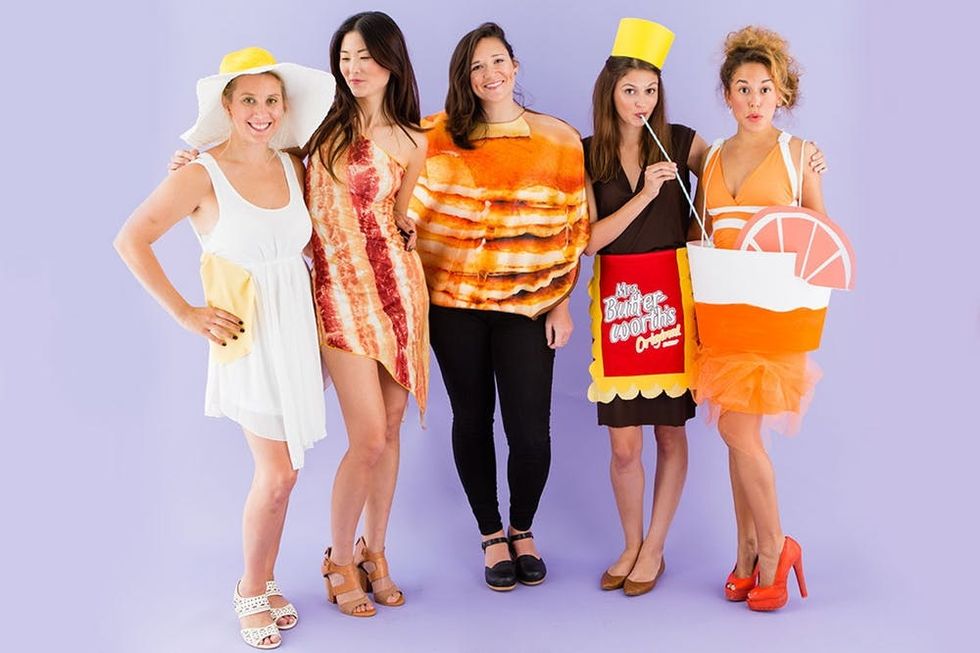 Who's ready for brunch? I'm hungry!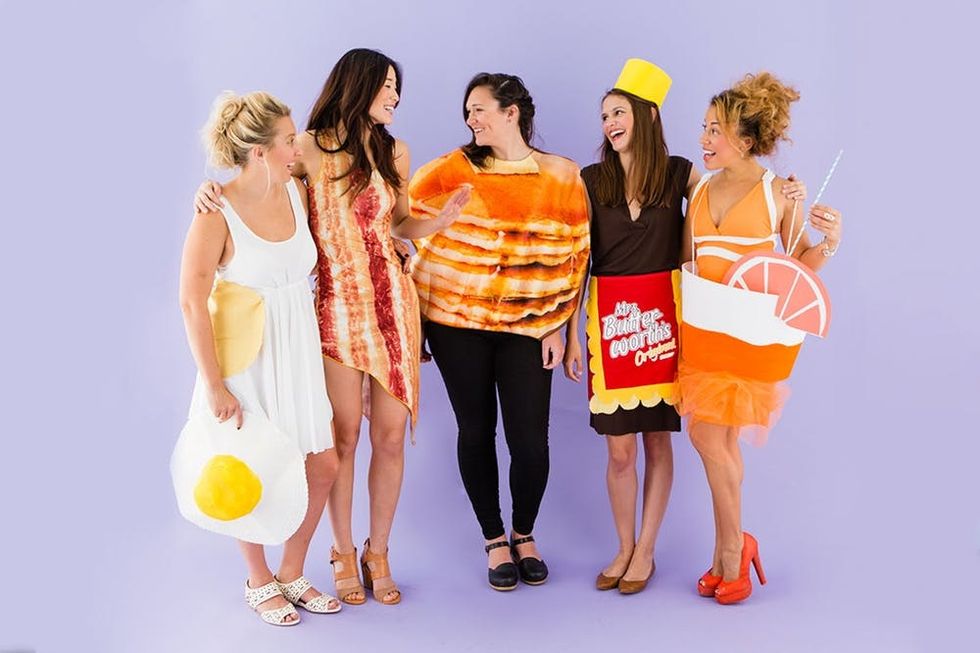 Just your typical Sunday brunch chit-chat.
Which food group would you dress up as? Share your thoughts with us in the comments below!
DIY Production and Styling: Kelly Bryden
Hair and Makeup: Misty Spinney
Models: Cortney Clift, Ashley Reed, Krystle Cho, Paige Sager, Mariaclara Golfo
Photography: Chris Andre
Kelly Bryden
Kelly Bryden, an east coast native, is stoked to be a part of the Brit + Co team. Design, DIY, and fashion are her passions. If she isn't crafting you can catch her on the dance floor or wrapped up in aerial silks.