Five DIY Dog Costumes to Dress Up BAE this Halloween
Oct 13, 2016
Waring B+C readers — cuteness overload is about to explode on your computer screen. I mean honestly, is there anything better than a cute little pup in an adorable costume?! We rounded up some of our favorite B+C pups for this edition of dog Halloween costumes, and let me tell you, it was a sight to be seen. I don't think anyone got work done that morning (sorry Brit and Anj!). Scroll down to read about pet costume ideas for your BAE this Howl-ween.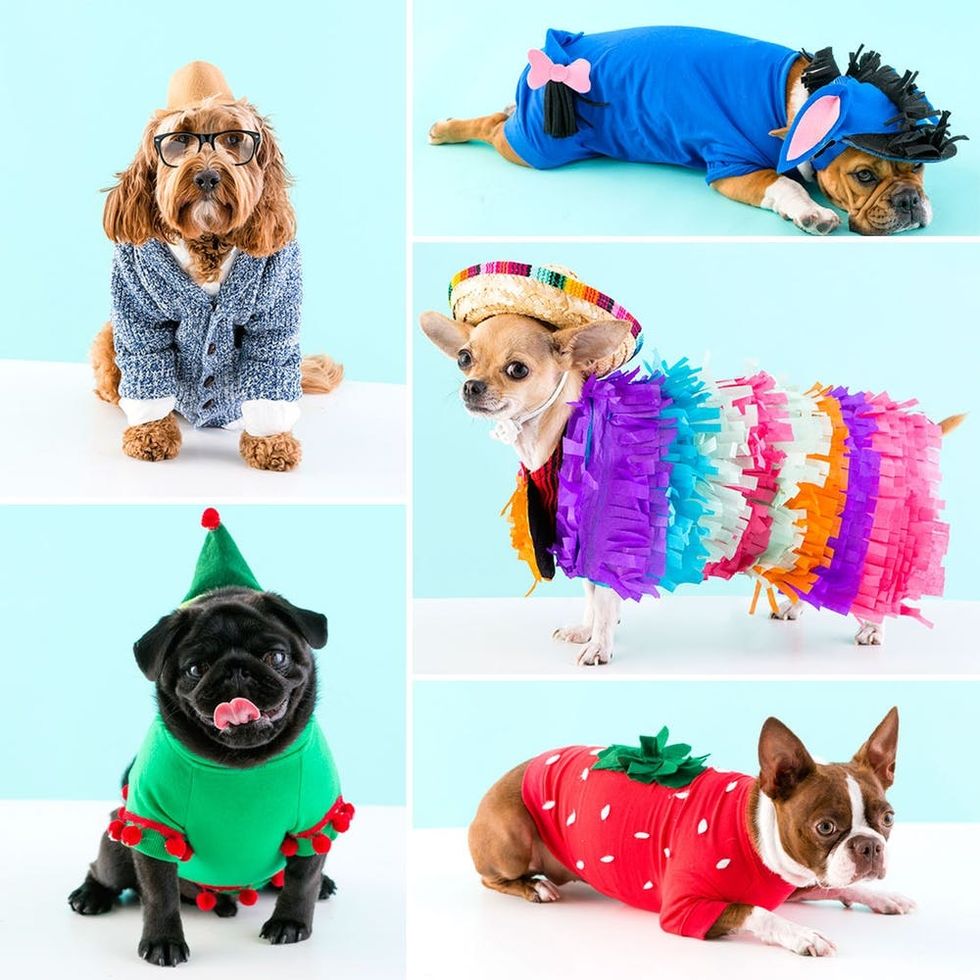 ---
The Hipster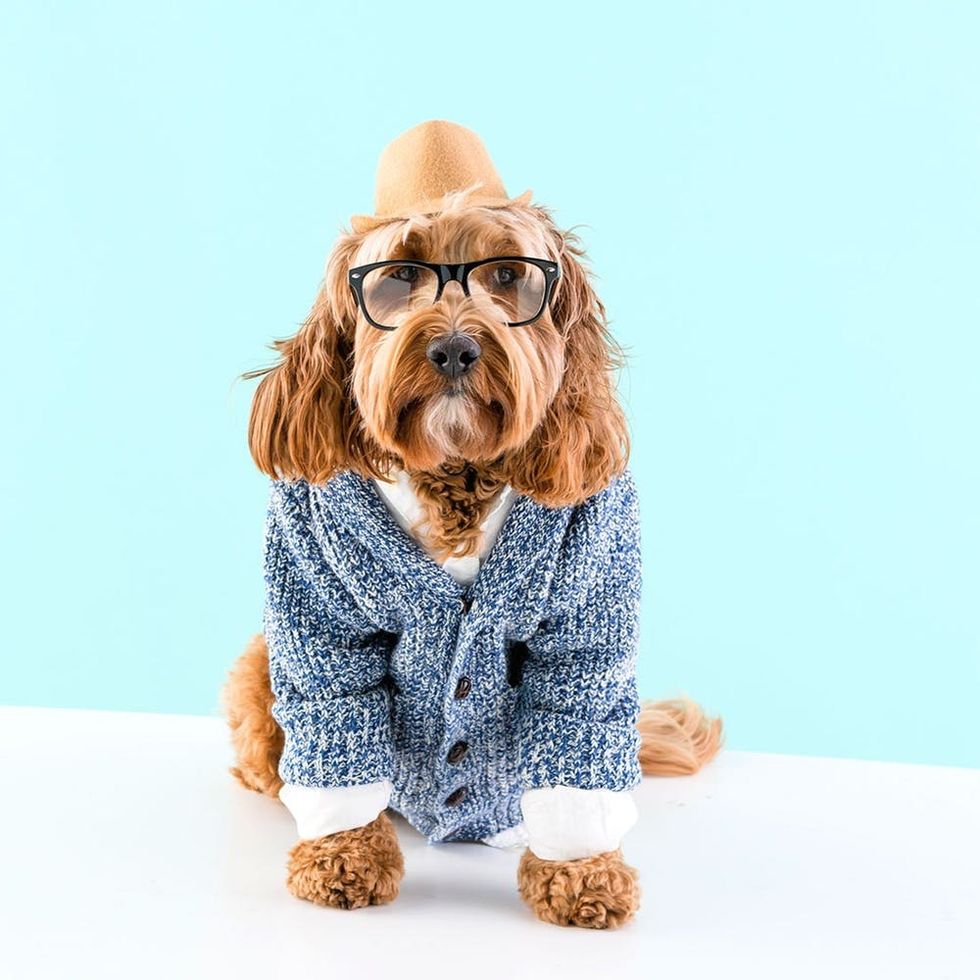 Did you know that toddler clothes work just as well on medium-sized dogs as they do on actual toddlers (insert laughing crying emoji face here)? Parker is wearing nothing other than an outfit from gap kids, a dog fedora and children's glasses that we found on Amazon.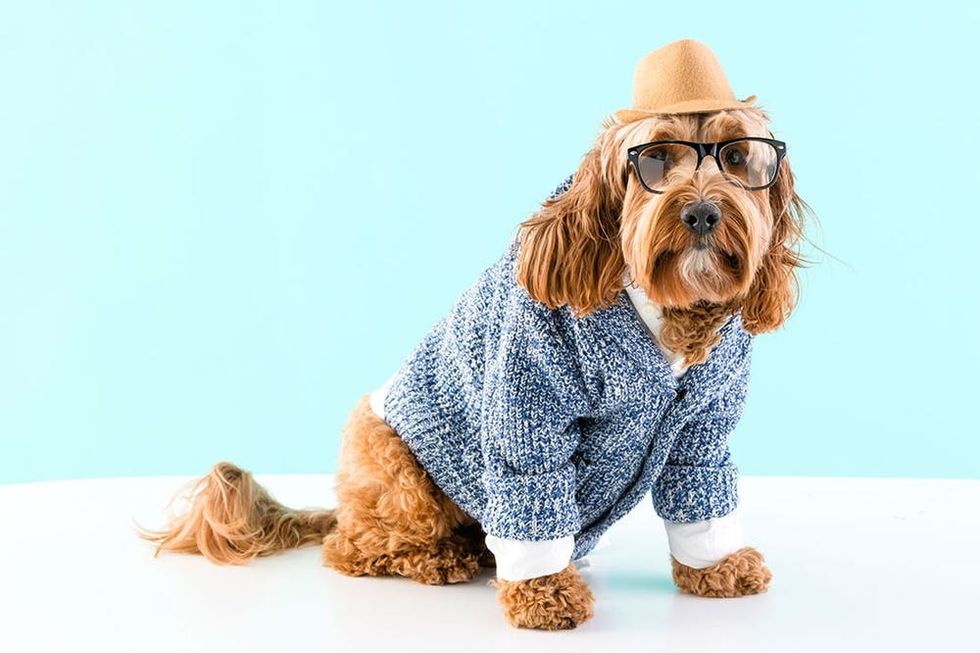 "Matcha tea latte with almond milk at a slightly scalding temperature. Please don't waste the environment by giving me a to-go cup — just pour it right into my doggie dish."
Eeyore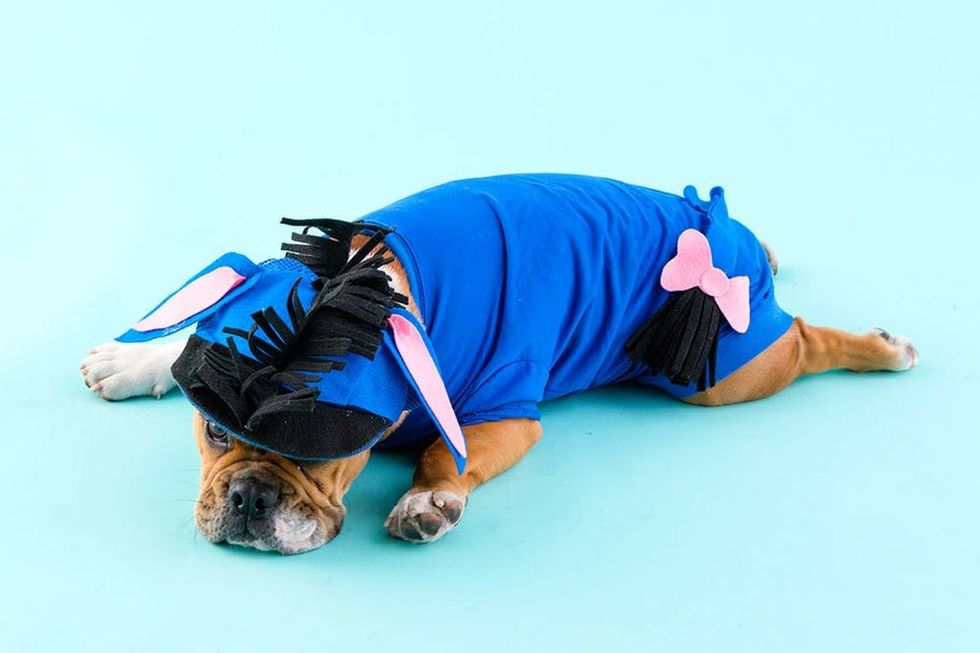 This costume was truly inspired by Sir Otis's personality — lazy except for when food is around. We bought a blue t-shirt and baseball cap (made for dogs) on Amazon and used felt to create Eeyore ears and a tail. We recommend attaching these felt additions using hot glue.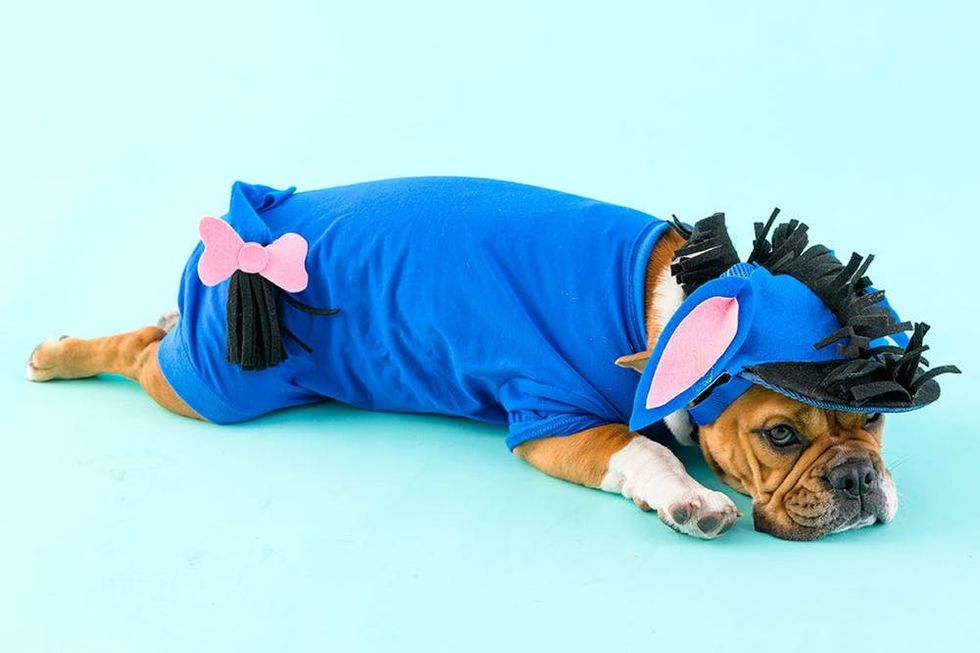 He wouldn't even stand up for the shoot (haha)! Oh Otis :)
Elf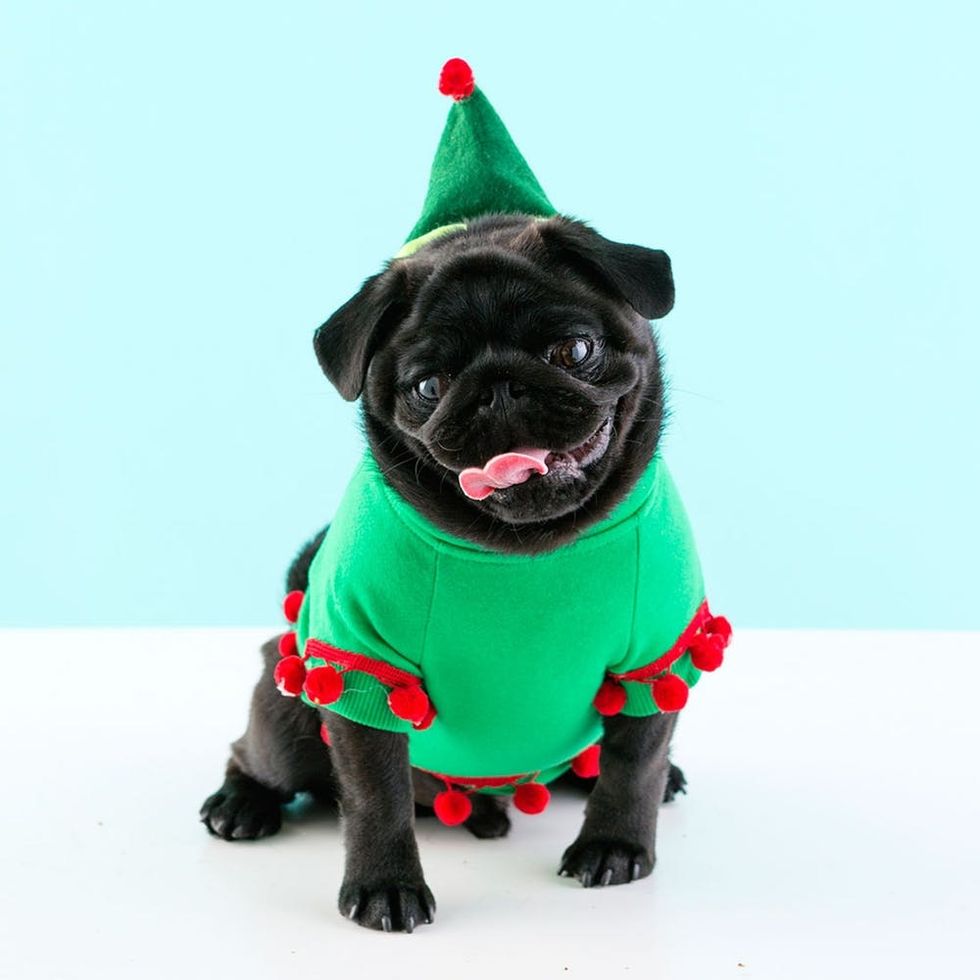 This face! We can't. Pablo Escobark is always causing laughs around Brit HQ, so he had no issues playing the roll of an elf. We purchased this green hoodie from Amazon and used red pom-pom trim to decorate the sleeves and waistband. We used green felt and an extra pom-pom to create the elf hat and hot glued it directly onto the hood of the sweatshirt.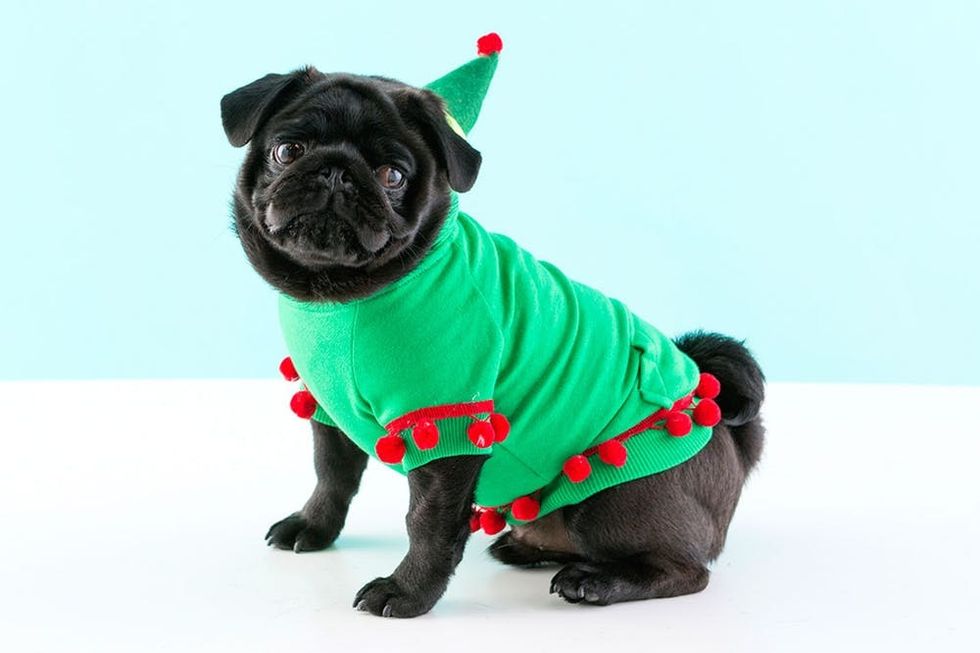 "You want me to make Christmas presents now? Well, hand me a cocktail first."
Piñata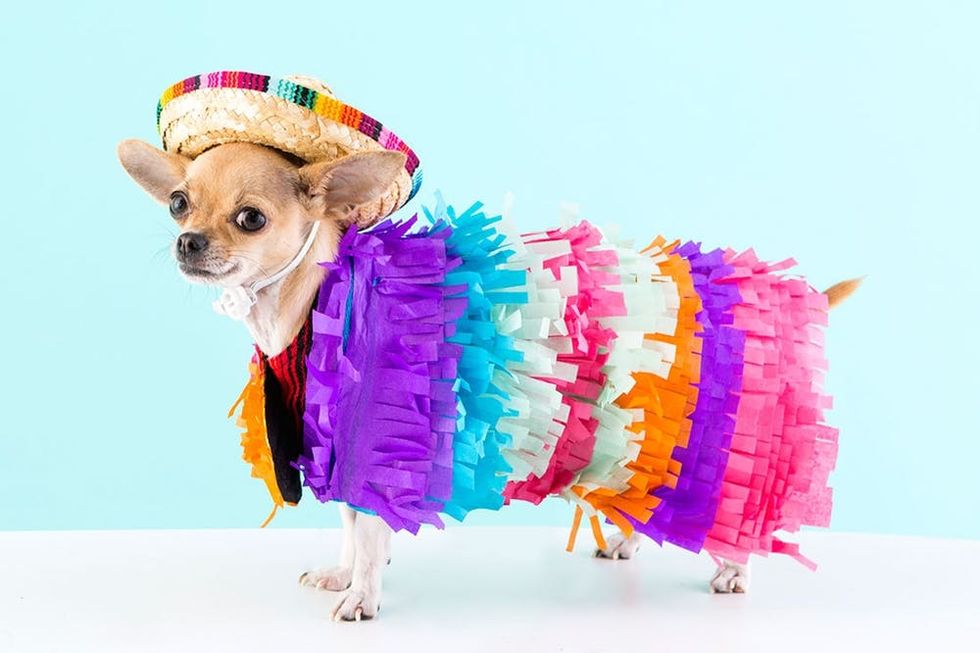 Nala is one of the newest (and definitely the smallest) addition to the B+C pup community. Weighing in at five pounds, she might seem like a timid pup but she means business. We bought a dog poncho from Amazon and covered it in tissue paper fringe to turn it into a piñata and then topped it off with a sombrero. Olé!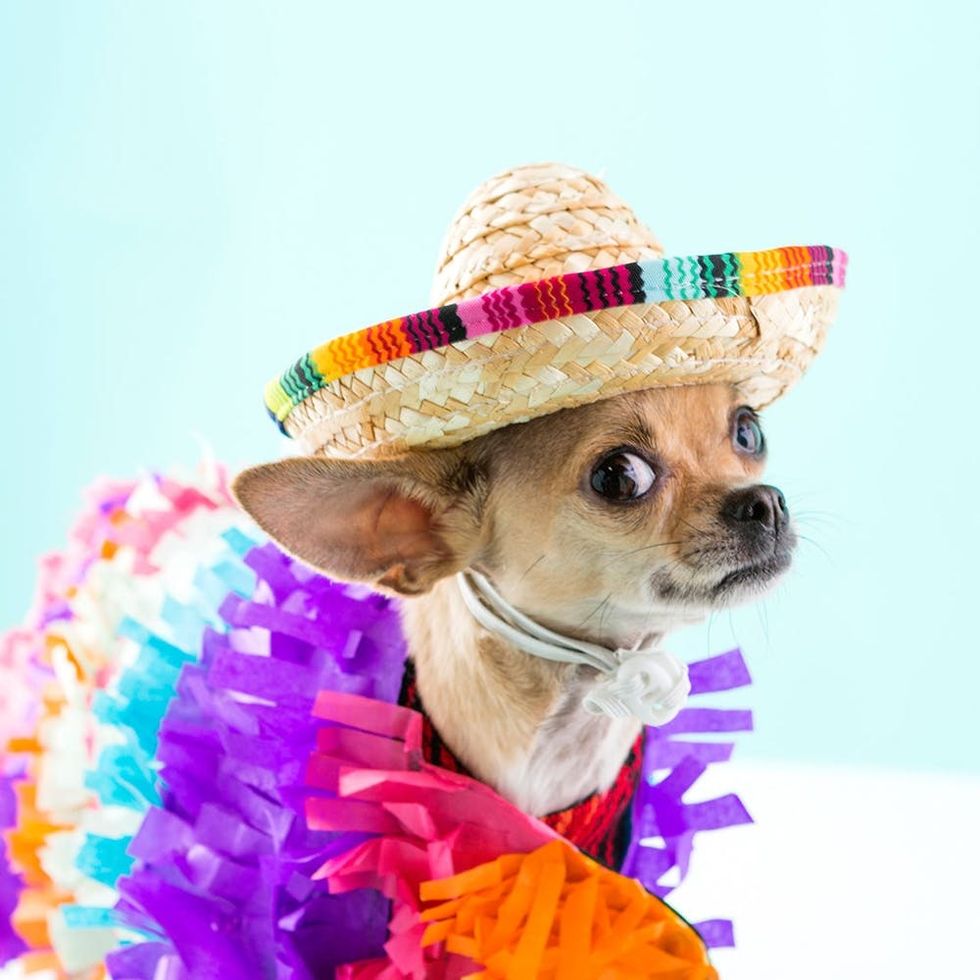 "Chica — don't even think about it."
Strawberry
Miss Brie is no Halloween costume newbie — last year she was a pineapple and this year a strawberry! All you need to create this fruity costume is a red dog t-shirt from Amazon and some felt to create the strawberry pattern.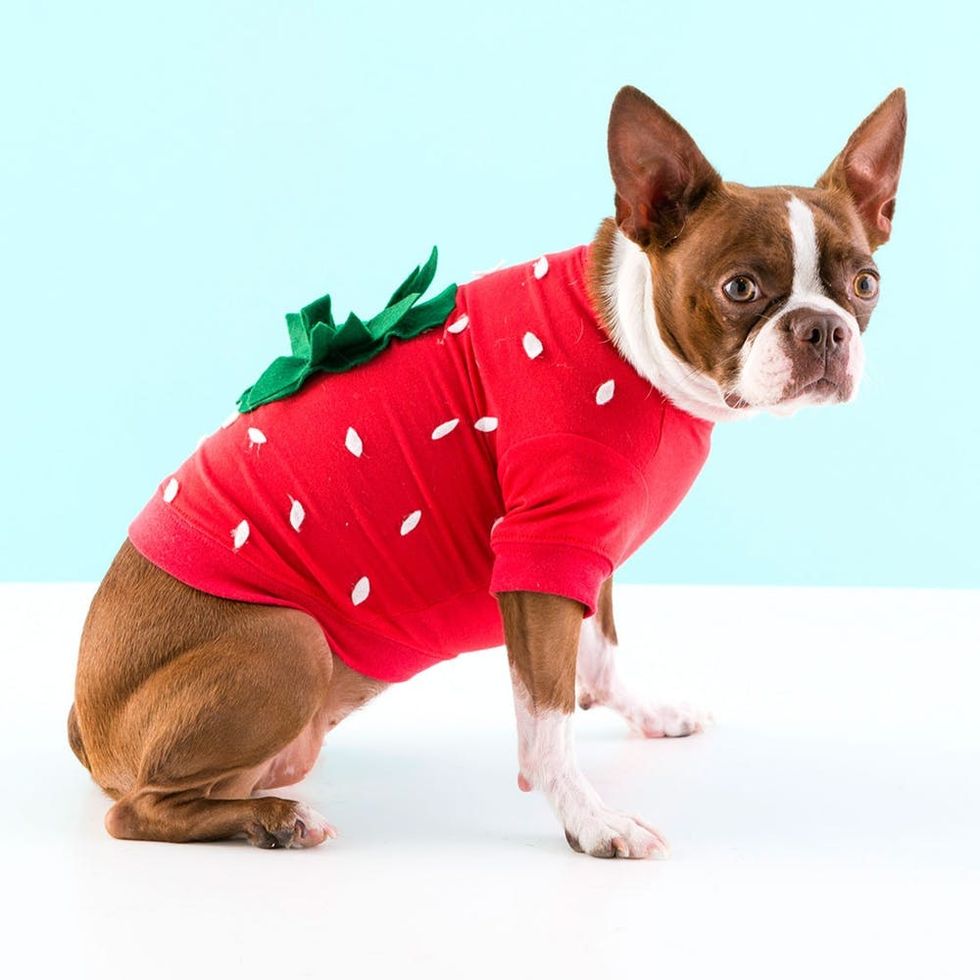 "Please don't add me to that fruit salad…"
Dapper Dudes
And when you are too shy to dress up by yourself — grab your pal and dress up together! Parker and Turkey dressed up as their inner dapper dude.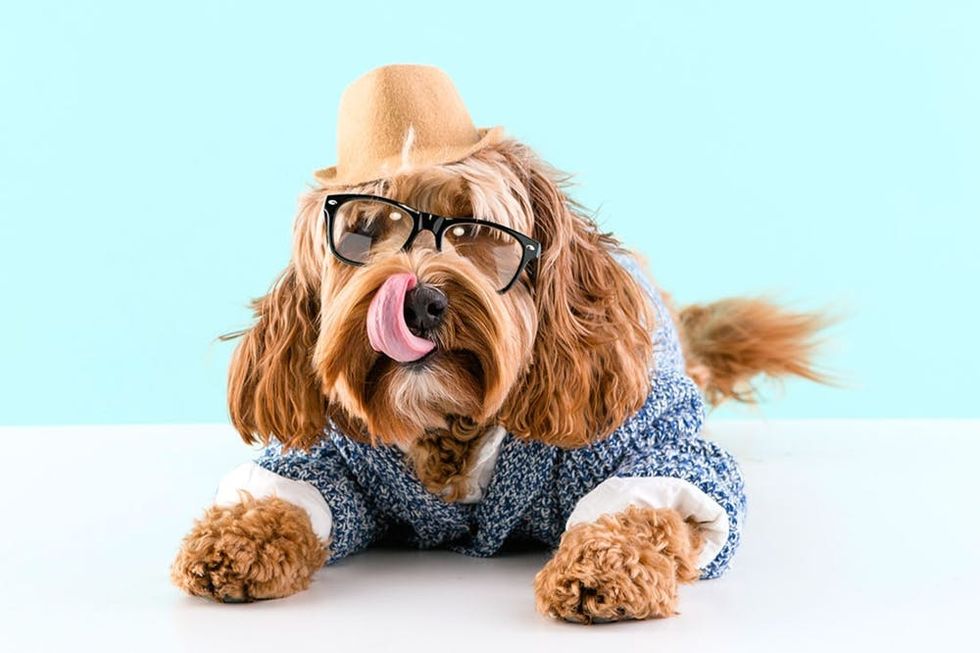 Happy Howl-ween!
DIY Production and Styling: Kelly Bryden
 Models: Turkey Temple, Parker, Sir Otis Wellington, Brie, Pablo Escobark, Nala
Photography: Kurt Andre
Brit + Co may at times use affiliate links to promote products sold by others, but always offers genuine editorial recommendations.
Kelly Bryden
Kelly Bryden, an east coast native, is stoked to be a part of the Brit + Co team. Design, DIY, and fashion are her passions. If she isn't crafting you can catch her on the dance floor or wrapped up in aerial silks.
Halloween Costumes