Look Like Zoe Saldana: 12 Embellished Pieces Inspired by the Golden Globes Red Carpet
Jan 15, 2014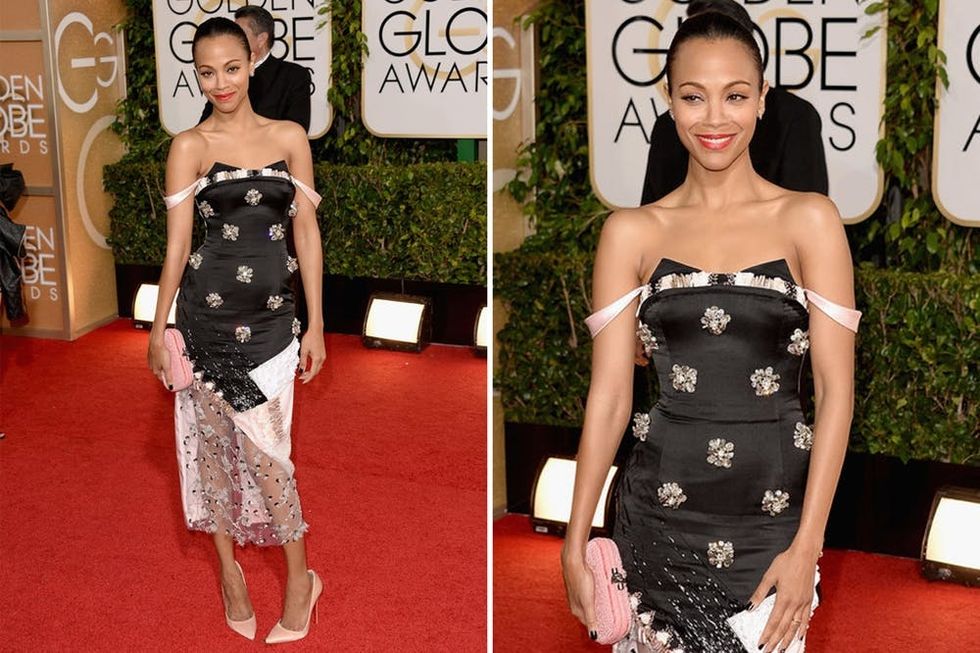 (Images via Popsugar)
---
The most hotly debated topic around the water cooler here at Brit HQ has revolved around our picks for best dressed stars at last Sunday's Golden Globes. And although it's a risky choice—though not as much as say, Tina and Amy's hilariously risqué Leonardo DiCaprio introduction—we think that Zoe Saldana absolutely nailed it in her custom Prabal Gurung dress. Among the sleek solid gowns and modern color block frocks floating down the red carpet this year, we get that the hyper-patterned number looked overdesigned. But Saldana's gem embellished midi added a fresh, playful touch to the red carpet that, along with Drew Barrymore's whimsical, petal studded Monique Lhuillier number, got us as pumped as ever for the switchover to Spring style. Add the sparkly, starlet-inspired look to your everyday wardrobe with these 12 embellished pieces.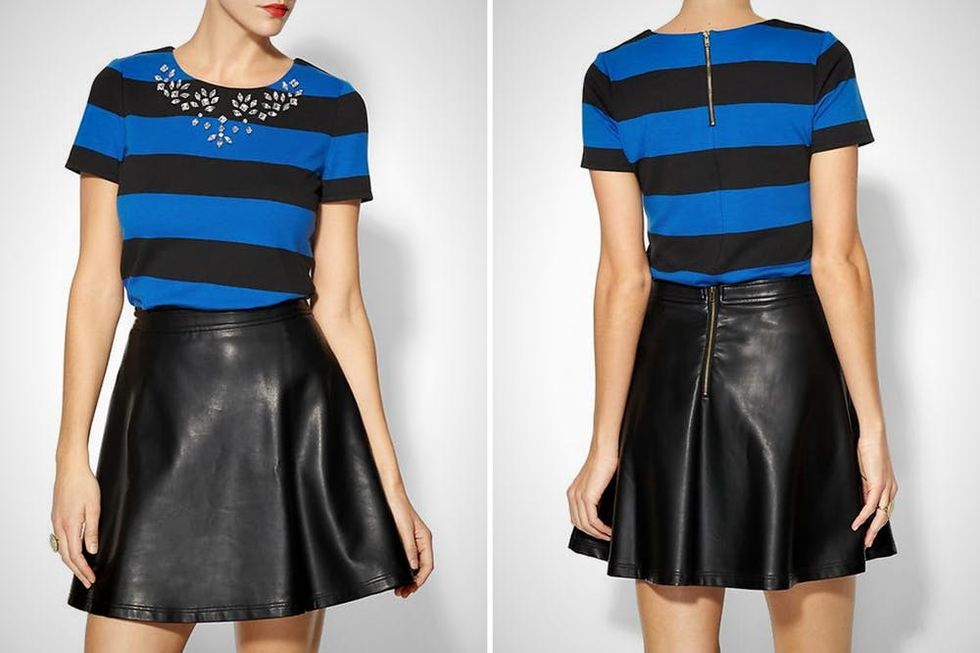 1. Pim Larkin Jeweled Ponte Top ($59): Rugby stripes and gem cut crystals are prooving to be a flawless combination. It seems like it's time to start channeling your inner prepster for Spring.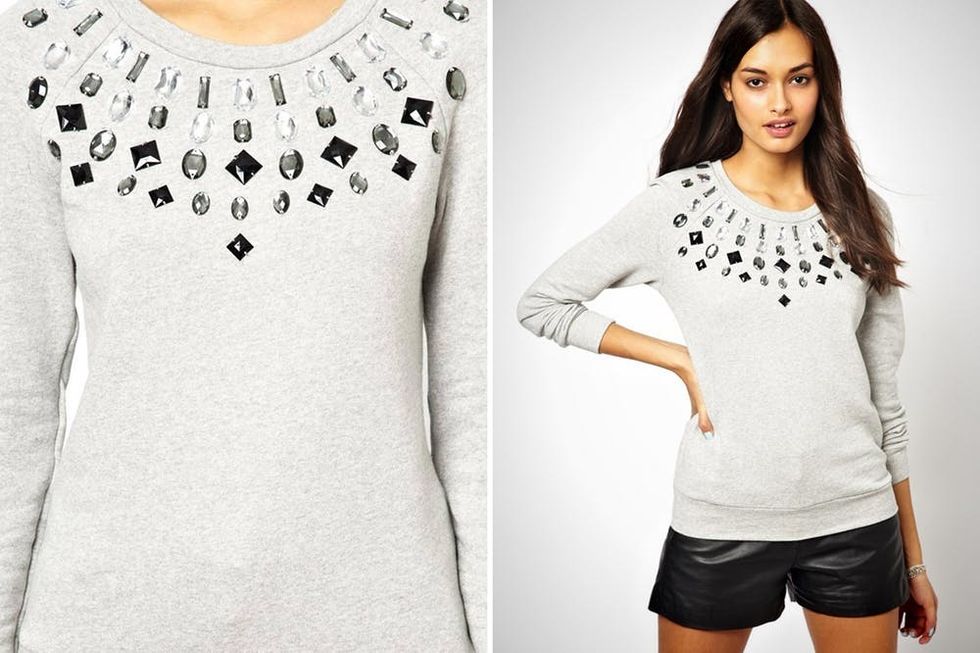 2. Glamorous Jeweled Sweatshirt ($40): The fancy sweatshirt trend continues, and we're 100% behind it! The grayscale jewels keep this bedazzled jumper classy.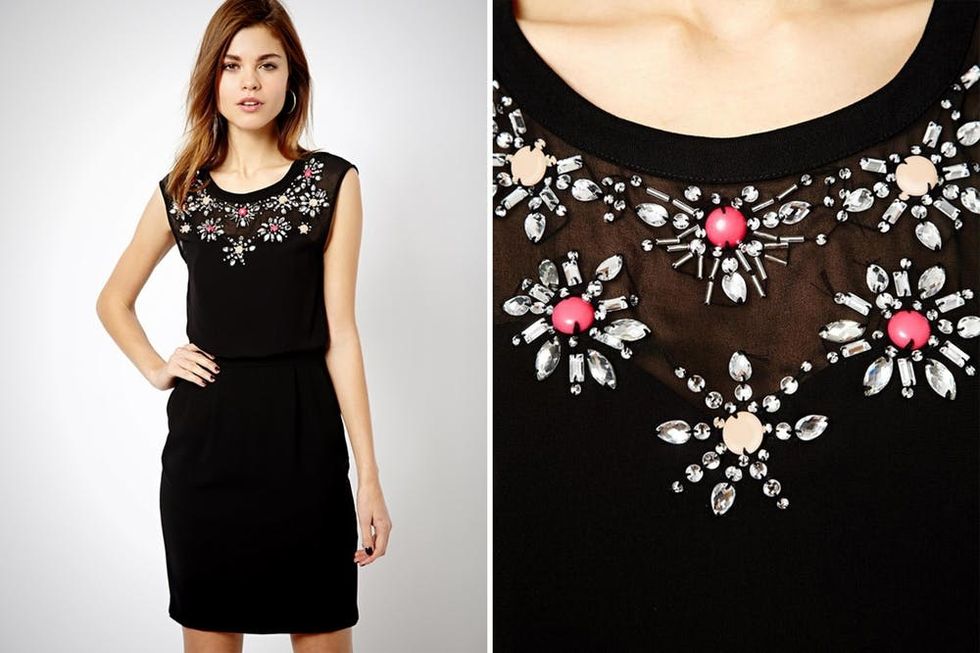 3. Warehouse Colored Stone Embellished Dress ($150): It's always risky to amp up a piece as iconic as the LBD, but this embellished dress totally gets it right. The casual, crew neckline keeps it refreshingly down to earth.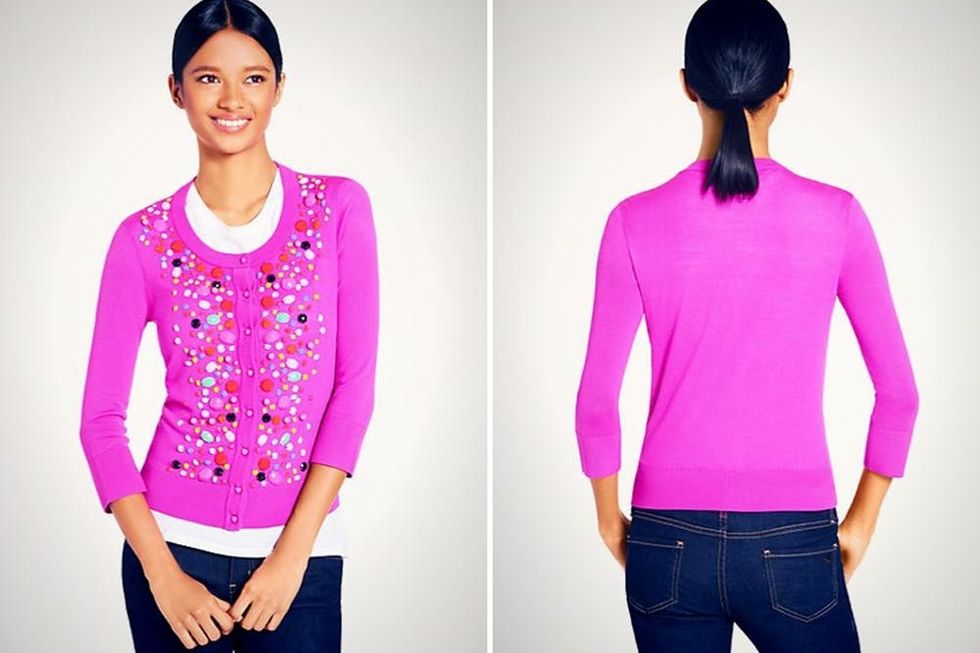 4. Kate Spade New York Libby Cardigan ($298): Color lovers, this is the cardi for you. Confetti gems burst off of this three quarter-sleeved button up that dazzles as an anytime coverall.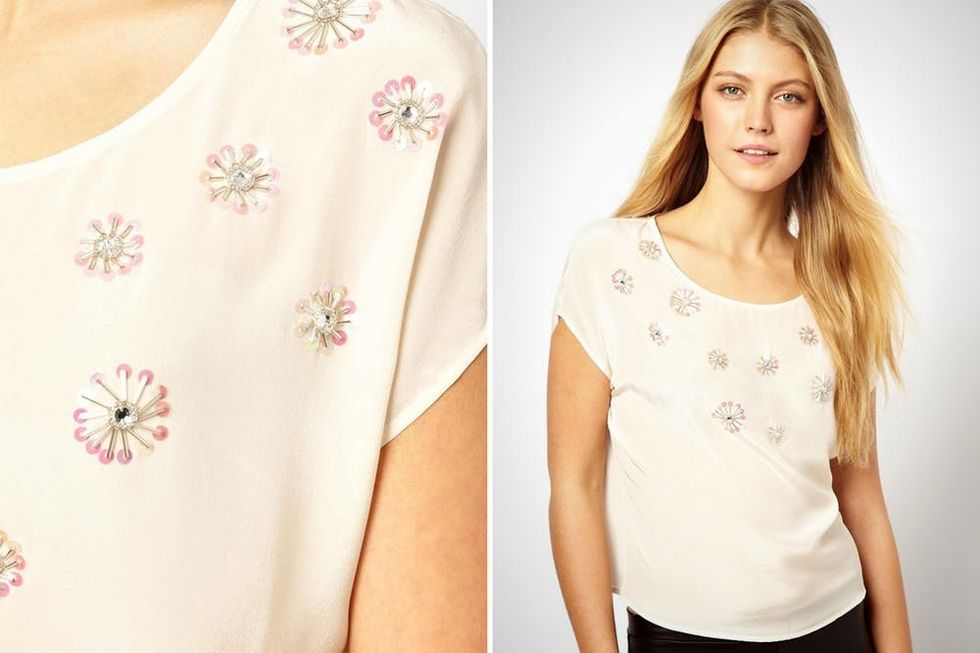 5. Selected Kanja Silk Top With Embellishment ($75): Orbits of iridescent sequins surround crystal clear gems on this expertly embellished silk top. Keep things easy and breezy by pairing it with light wash boyfriend jeans, or add edgy contrast with a leather midi skirt.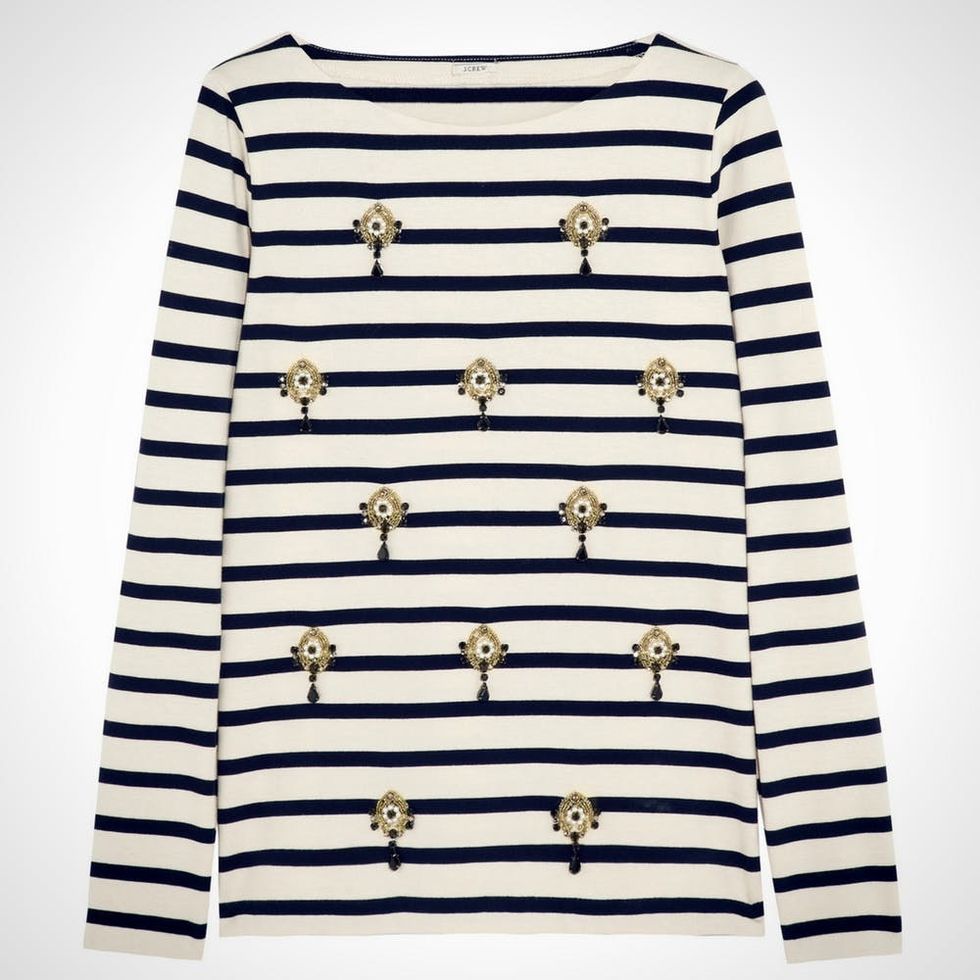 6. J.Crew Embellished Striped Jersey Top ($90): You guessed it: we're obsessed—this top is a perfect mix of prep and spunk. Don't he black stripes and drop crystals channel the elegance of J.Lawr's romantic white Dior gown at this year's Globes? Not too shabby.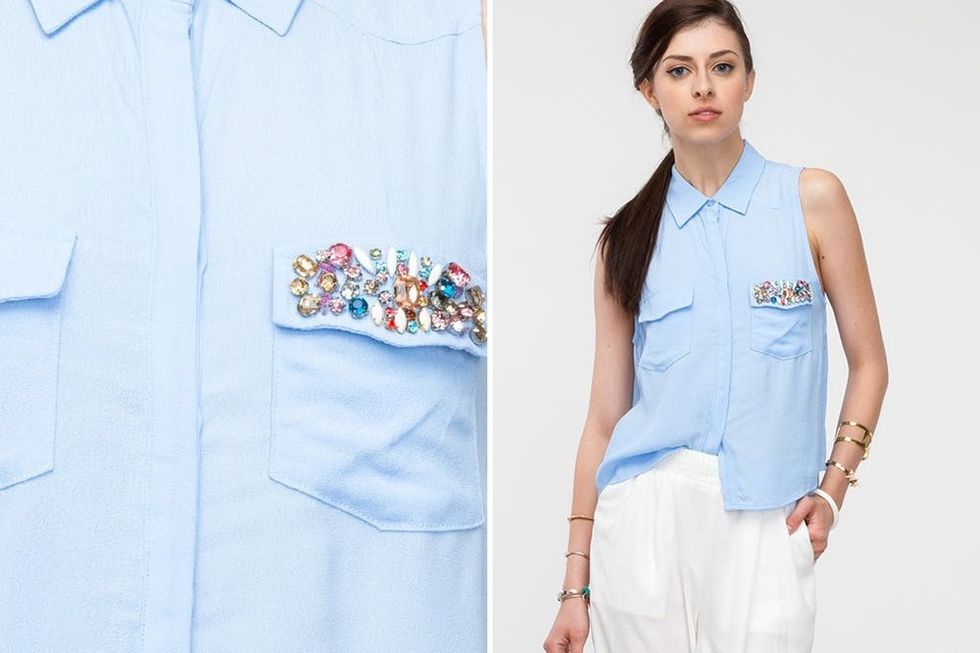 7. Tiger Lily Top in Blue ($24): Get the same casual feeling as a chambray top in a more polished package with this silky collared tank. One all-over embellished pocket provides just the right amount of pop.
8. J.Crew Crystal Embellished Cotton Blend Terry Sweatshirt ($100): Ahh, so this is where Sofia Vergara's statement jewels settled after the red carpet was rolled up! The mint sweatshirt and matte rhinestones are a match made in heaven.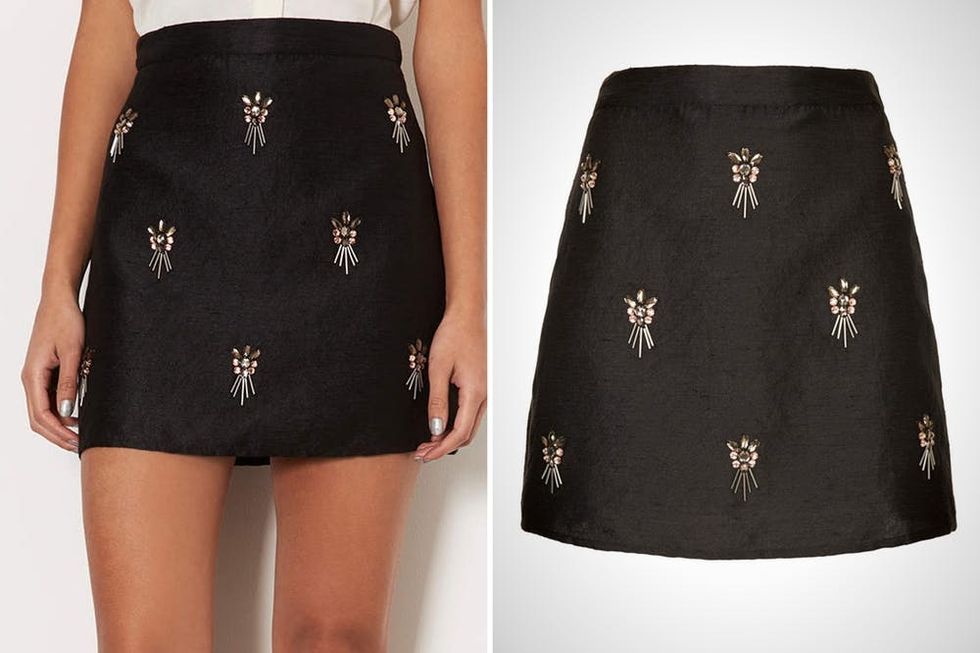 9. Embellished A-Line Skirt ($84): Art Deco-inspired embellishments shine in all their gilded glory against this basic black skirt. Wear this high waisted skirt with tights and a boxy blazer to the office, then keep the look fresh with a crisp graphic tee at cocktail time.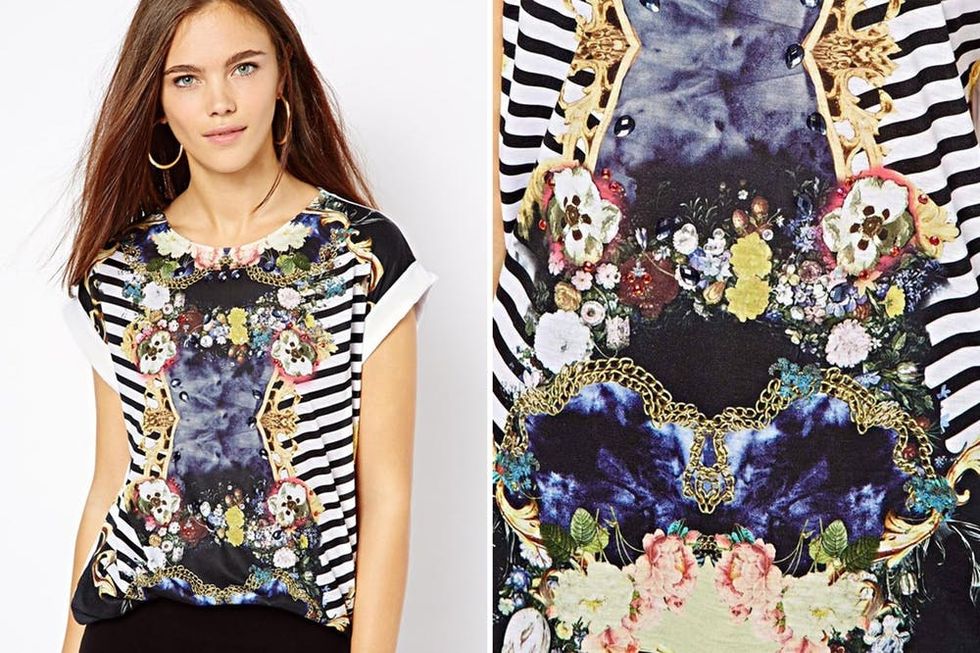 10. River Island Mirror Print Embellished Tee ($41): Half of the buzz of Zoe Saldana's red carpet dress was the alarming mix of textures, sheens, and patterns— a bold move that we wholeheartedly applaud. So think twice before you scroll past this equally head-turning tee that clashes countless patterns so thoughtfully.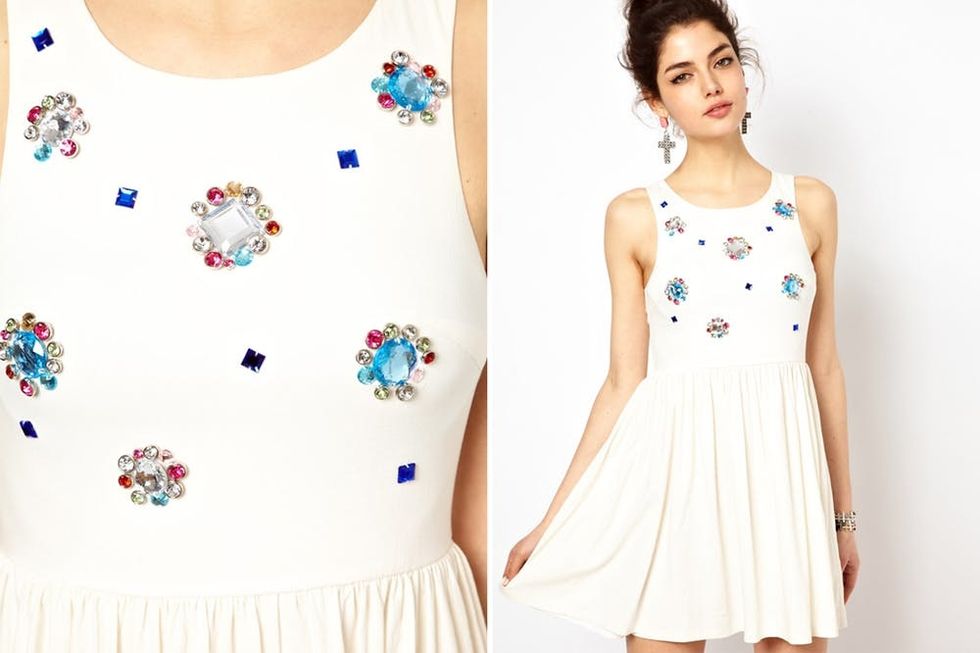 11. Ginger Fizz Prom Dress With Floral Embellishment ($34): The punchy embellishments on this stark white skater dress are almost too much (of a good thing) to handle. It's sporty, graceful, and totally made for the modern style maven.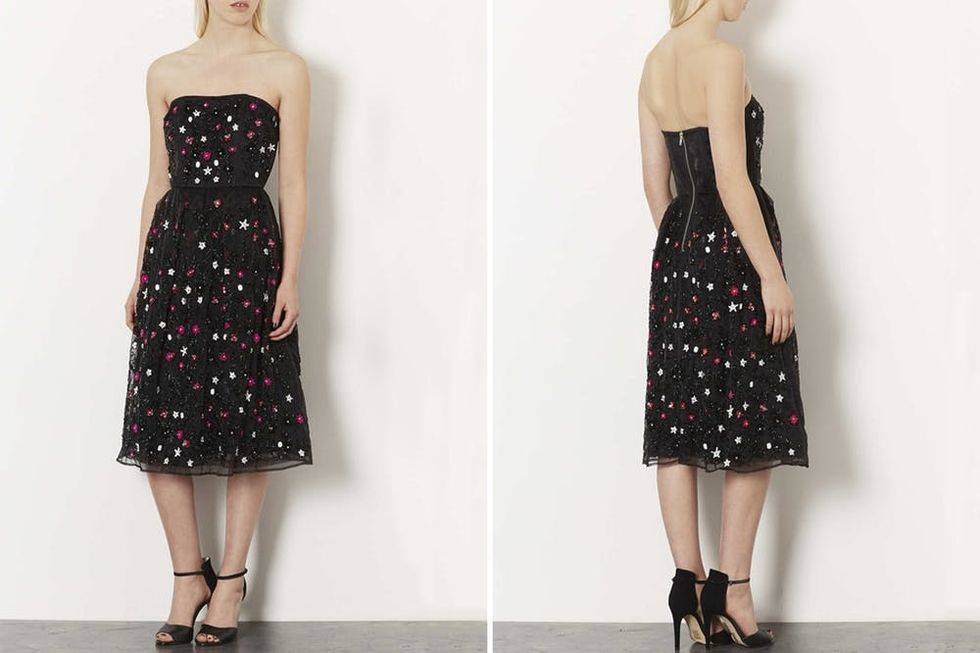 12. Limited Edition Sweetie Embellished Dress ($180): Are you ready for your own red carpet moment? Eye catching is an understatement. It's a guaranteed way to get on our best dressed list ;)
Did all things embellished catch your eye at this year's Globes? Which red carpet looks are you dying to recreate for everyday wear? Tell us in the comments below.