You Never Knew You Could Cook Eggs in Your Instant Pot Like This
Feb 16, 2019

In our new food series Foodie Fundamentals, we walk you through the basics on kitchen essentials like how to fry an egg and roast veggies in a snap.
---
By now, you may know how to pressure-cook eggs in an ramekin and use your Instant Pot to hard-boil eggs, but lesser known to IP fanatics is how to make a frittata (essentially a crust-free quiche). While some online tutorials may advise you to cook the quiche directly in the bottom of the IP bowl, we've found that it has more potential to burn (you'll hear that dreaded double beep warning from your device). Instead, we recommend creating a double-boiler-like system. Pour water on the bottom of the IP bowl, add the trivet, then position a small, round aluminum, silicone, or IP-safe cake pan on top (that is filled with your frittata mixture). Don't forget to cover that pan with aluminum too. Otherwise, you may end up with a soggy frittata, which isn't what anyone wants. Follow our tips for making a veggie version below, then get creative with your own add-ins. Keep in mind you'll want to keep the total add-ins to roughly 3/4 cup.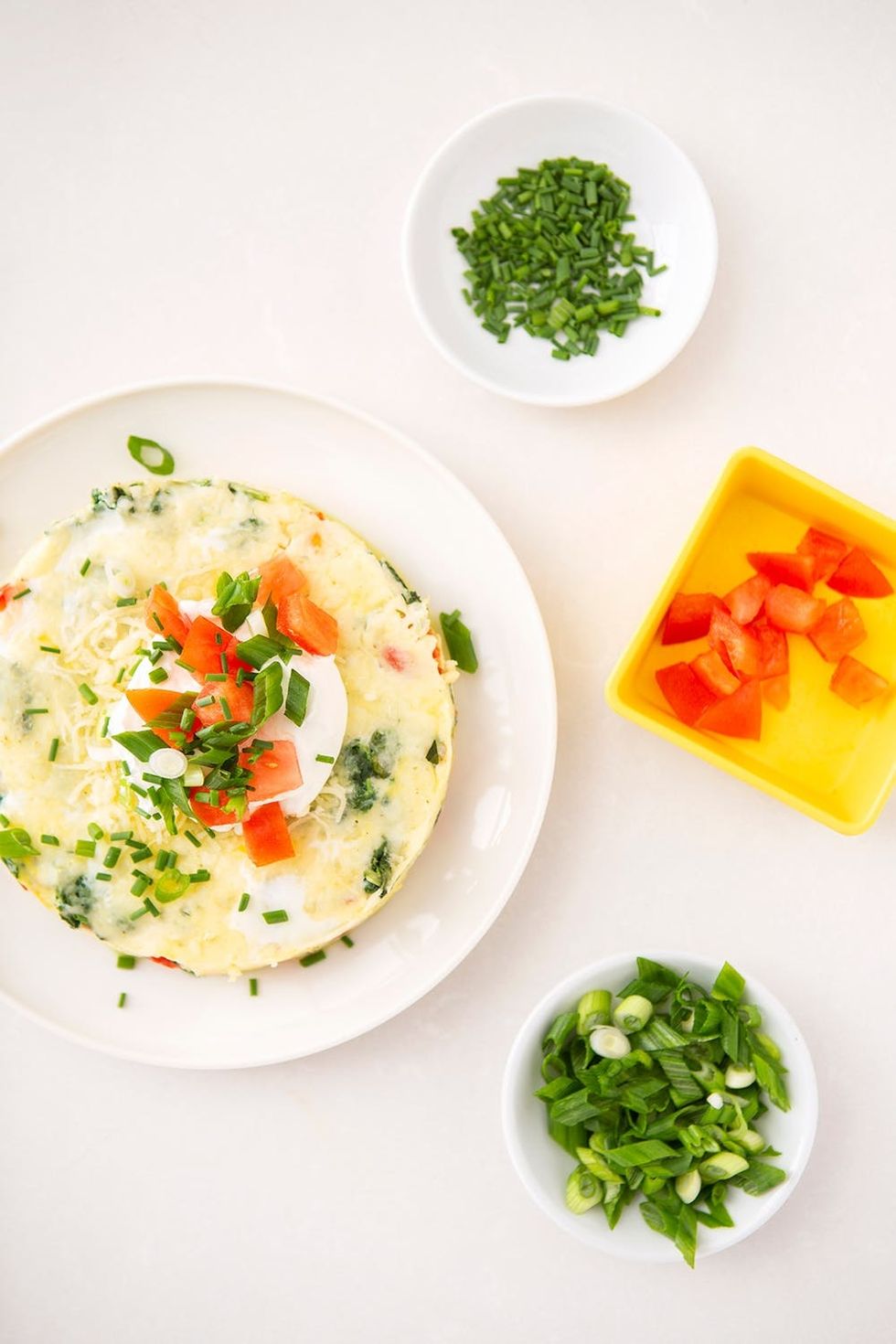 Instant Pot Vegetarian Frittata
(Serves 6)
Total Cook Time: 30 minutes
Notes: We like the taste of crunchy veggies in our frittata, but if that isn't your jam, feel free to sauté the veggies in a little bit of ghee on the bottom of your IP first. Then transfer them into the IP-safe cake pan and continue following the directions.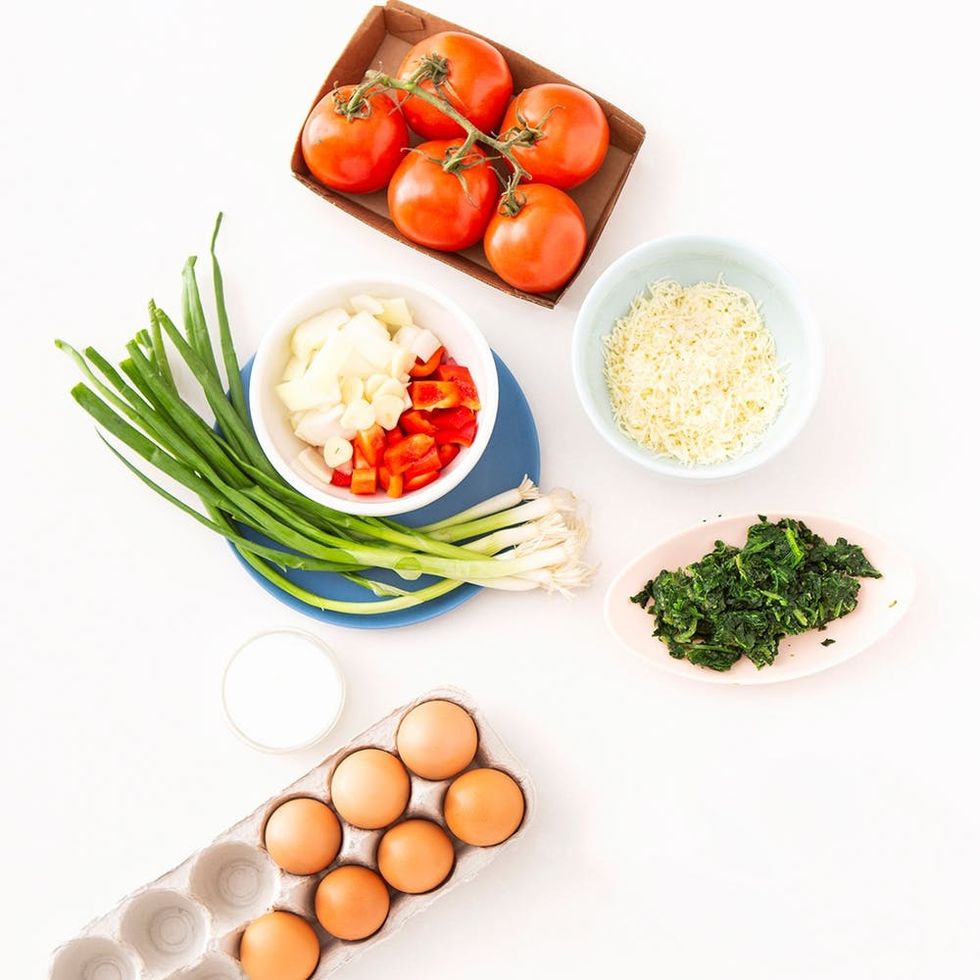 Directions:
1. Fill the bottom of an Instant Pot bowl with 1 cup water and place trivet on top.
2. Generously spray an IP-safe cake pan with ghee or vegetable oil and add veggies.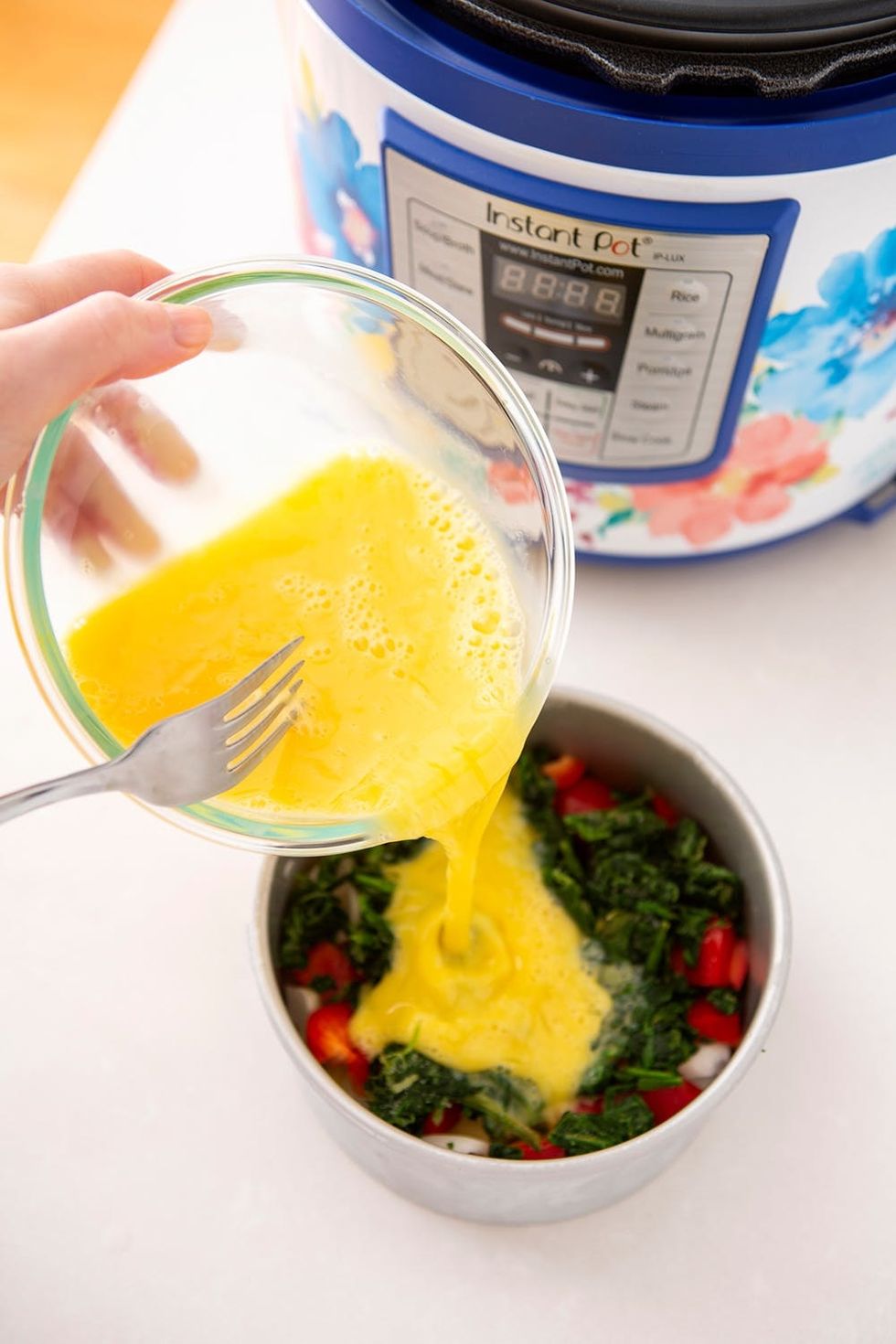 3. Combine eggs and garlic salt in a bowl and whisk until frothy, then add on top of the IP-safe cake pan.
4. Sprinkle shredded cheese on top, then cover pan with aluminum foil and place on top of trivet.
5. Close and securely lock Instant Pot top, and cook with the egg function (or 5 minutes with high pressure).
6. Allow to naturally release for 10 minutes, before quick releasing.
7. Use heat-proof oven mitts to remove bowl. Unwrap, and slide a knife around the sides.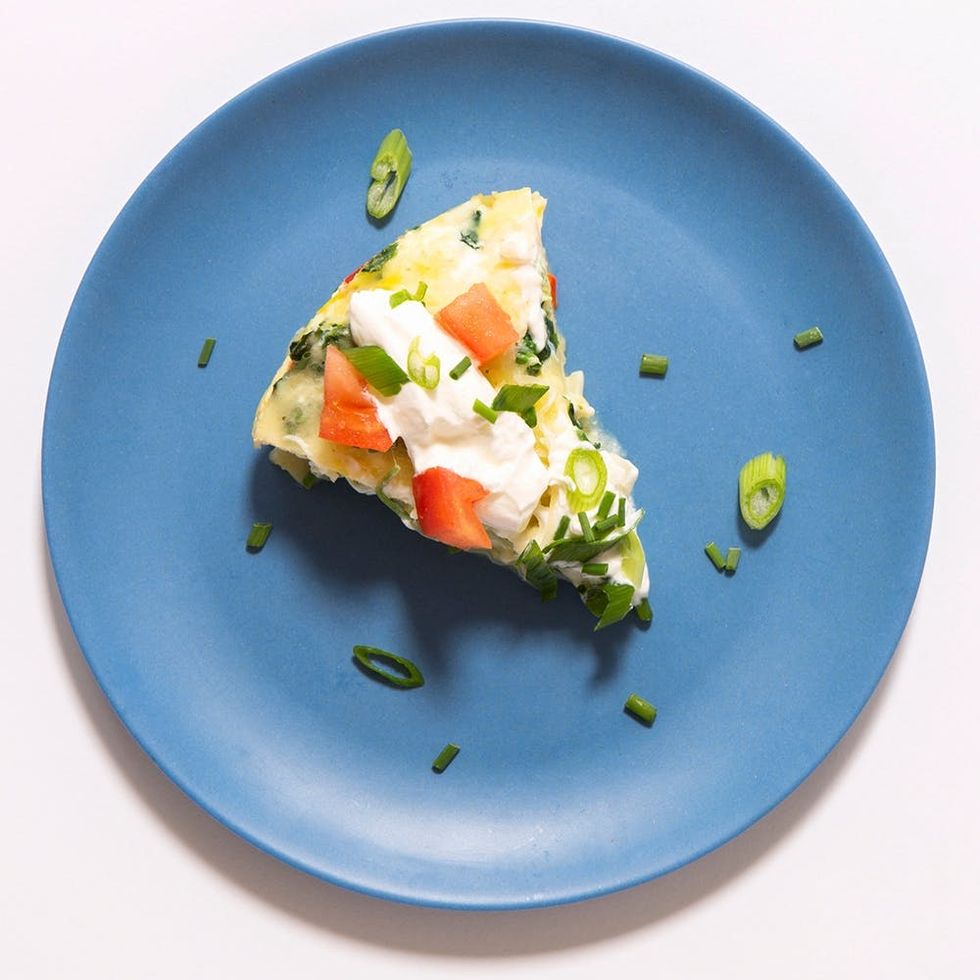 8. Carefully move frittata to a plate, and garnish with the fixings of your choice. We like adding more cheese, a dollop of sour cream, diced tomato, and sliced green onion and chives.
For more Instant Pot recipes, follow Brit + Co on Pinterest.
(Recipe via Anna Monette Roberts/Brit + Co; styling via Kayla Haykin/Brit + Co; photos via Brittany Griffin/Brit + Co)