Kristen Bell Wrote an Emotional Note to Dax Shepard on His 14th Sobriety Birthday
Sep 02, 2018
Kristen Bell and Dax Shepard's relationship is a lesson in long-lasting love. The pair, who married in 2013, have kept their spark alive by being "vulnerable with each other," supporting one another in times of need, and celebrating each other's accomplishments and milestones — as Bell did on Saturday, September 1, when she took to Instagram to write a note commemorating Shepard's 14th sobriety birthday.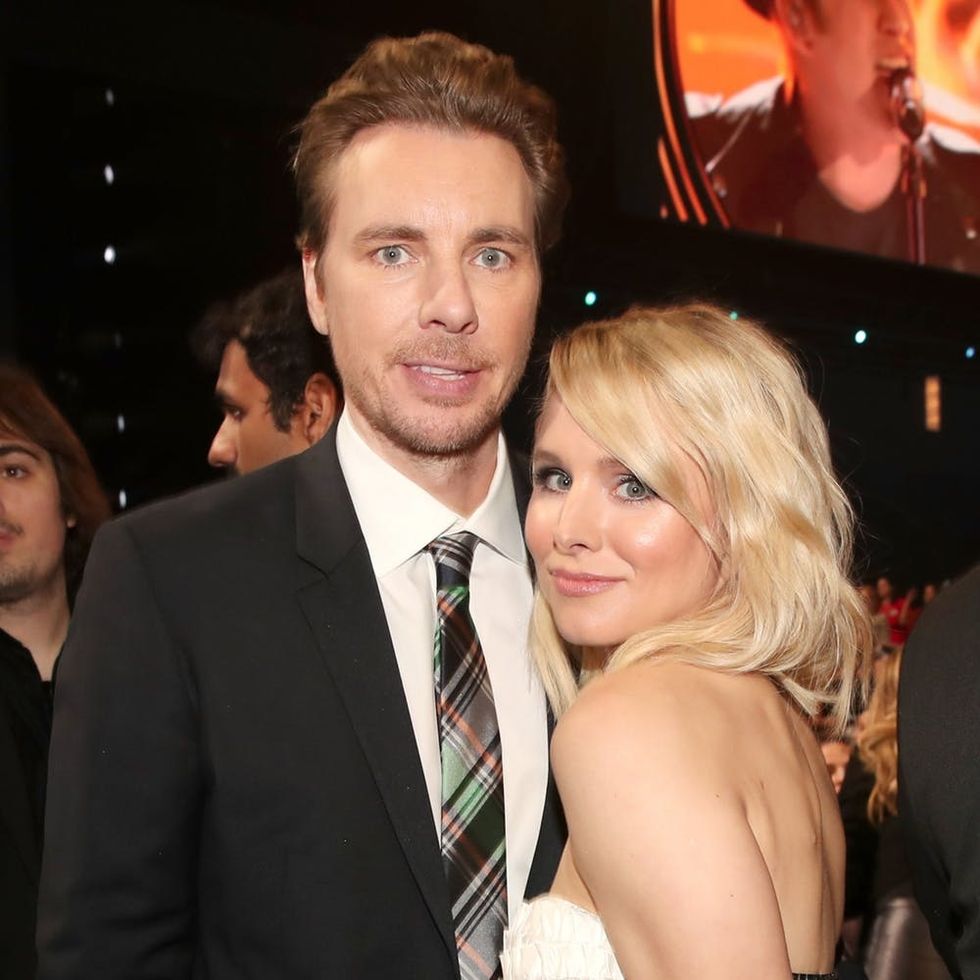 ---
Sharing a series of snaps — including one from their wedding day at a Beverly Hills courthouse and numerous pics of Shepard being adorable with their two daughters, three-year-old Delta and five-year-old Lincoln — the Good Place actress wrote: "To the man [who] mocked me when in our wedding photos because I cried too many tears of joy, who wore a baby Bjorn for two straight years to show his girls how to be as adventurous as possible, who held our dear little shakey mann pup for eight hours straight on the day we had to put him down, I know how much you loved using. I know how much it got in your way. And I know, because I saw, how hard you worked to live without it."
She continued, "I will forever be in awe of your dedication, and the level of fierce moral inventory you perform on yourself, like an emotional surgery, every single night. You never fail to make amends, or say sorry when it's needed. You are always available to guide me, and all of our friends, with open ears and tough love when it's needed most. You have become the fertilizer in the garden of our life, encouraging everyone to grow."
Bell went on to praise him for always being open about his battle with addiction, concluding, "I love you more than I ever thought I could love anyone, and I want you to know, I see you. I see how hard you work. You set an excellent example of being human."
In addition to the emotional tribute, Bell also surprised her love with a trip to the King's Hawaiian factory. Sharing a snap of his wife on the tour, he revealed, "I ate eight STRAIGHT out of the oven. Two more upstairs, and three at home. 13 all-in for one day is an accomplishment I will not soon forget. Also, the fact that Kristen looks like a scientist… just makes my heart swell to dangerous levels." Yup, these two are pure #couplegoals.
Who's your favorite celebrity couple? Tweet us @BritandCo.
(photo via Christopher Polk/Getty for People's Choice Awards)
Barbara Pavone
Barbara Pavone is a pop culture-obsessed writer based in beautiful (but ridiculously cold) Montreal, Canada. When she's not working, she's sipping on a Pimm's Cup and daydreaming about her celebrity hero, Saint West.
Celebrity News
Still haven't taken up that new creative skills you swore you'd learn this year? Or ready to take your design skills to the next level? Let's say so long to the weirdest year ever by checking those big learn-something-new goals off our perpetual to-do lists.
We've teamed up with Clorox to give you the gift of unlimited creativity now through the end of the year. Once you sign up, you can take as many of our 120+ classes as you want for FREE for one whole month!
Here's how it works:

Head to brit.co/learn and sign up for the "All Access Pass."
Use the code "CLOROXCARES" at checkout to redeem your free month of classes.
You will be automagically signed up for Clorox's email list once you redeem your free all access pass. (It's the #1 Choice for Disinfection!)
Your pass lasts one month from when you checkout. This means you have unlimited access to all the classes during that month.
This offer is valid now through December 27, 2020.
Browse our catalog to find the right class for you, tell a friend and take the class together over Zoom, or organize a 'cocktails + crafts' night with a friend in your bubble so you can learn something new together.
What are you waiting for? Time to start learning all the things!

Thanks to Clorox for making this happen! When it counts, trust Clorox.
Lifestyle