19 Savory Pumpkin Seed Recipes to Make This Season
Oct 10, 2015
A great pumpkin pie recipe paired with a seasonal latte is an autumn dream. But even with all our PSLs and pumpkin love, we've been neglecting an integral part of our beloved gourd — the seeds! Yes, they're all goopy and gross when you're scooping them out to make a jack-o'-lantern, but did you know how good they are for you? Those little seeds pack a huge nutrient-rich punch. From protein and zinc to antioxidants, these babies are a total superfood. Don't let them go to waste! Instead, make one (or many) of these savory pumpkin seed and pepita recipes to satisfy your heart and soul.
---
1. Best Carrot Salad Ever: No romaine here. This salad is chock-full of carrots, cranberries, walnuts, grated coconut, pecans and, yes, pumpkin seeds. Our mouths are watering. (via Healthy Foodie)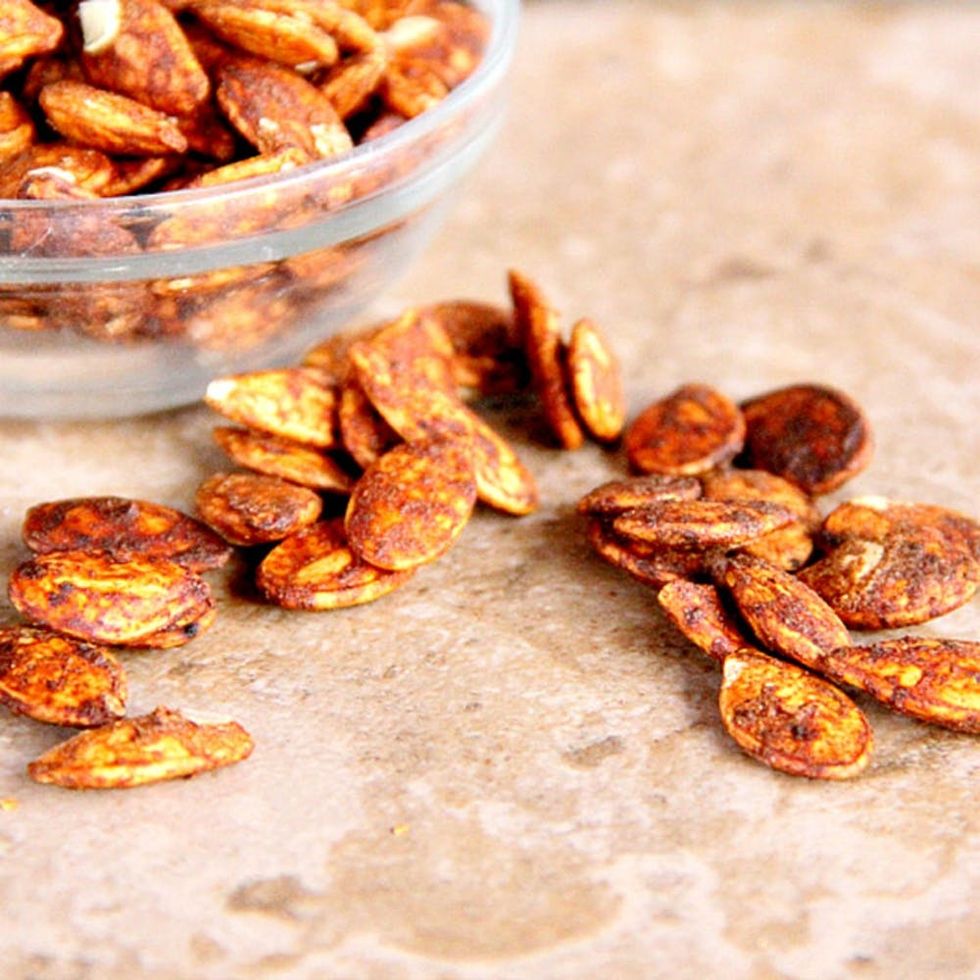 2. Cajun BBQ Pumpkin Seeds: Not that your cinnamon and sugar pumpkin seeds aren't good, but CAJUN BBQ?! Yum. With only a handful of ingredients, they're also easy to make. Don't mind us if we eat the whole pan. (via Thank Your Body)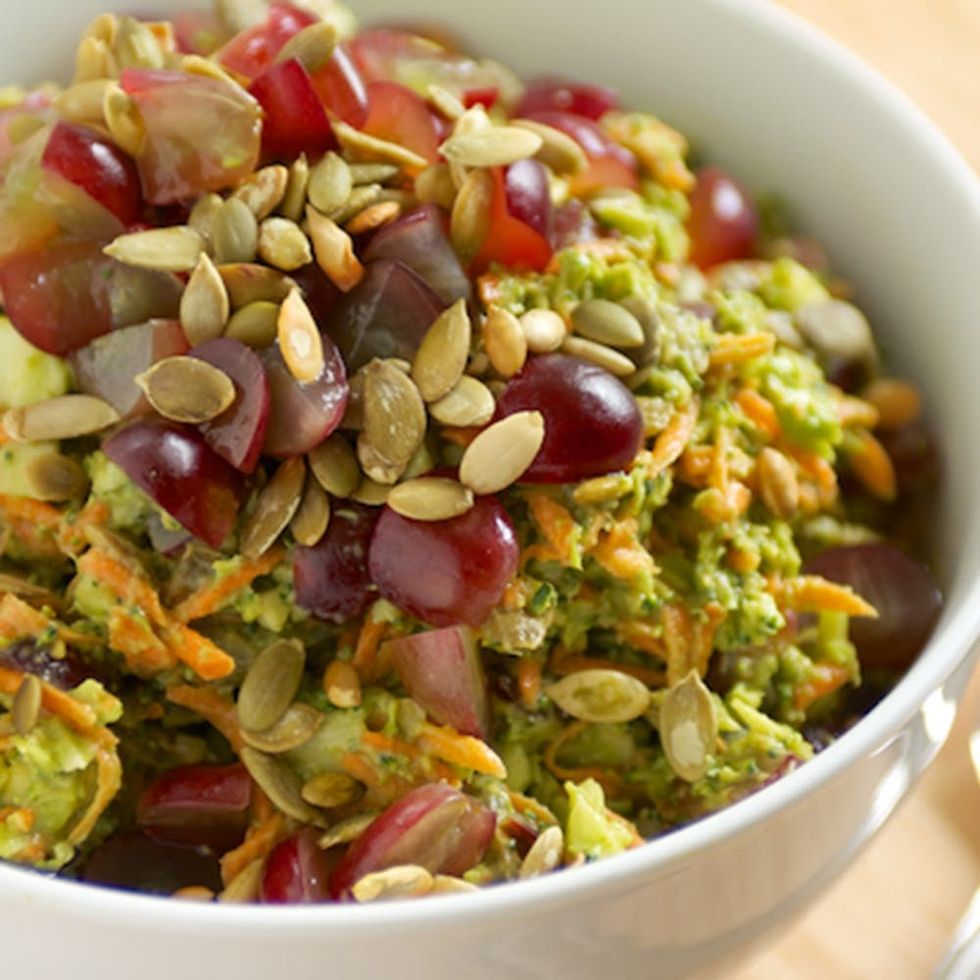 3. Broccoli Carrot & Pumpkin Seed Salad: Roast pumpkin seeds for about 10 minutes and toss them on top of this carrot and broccoli salad. The grapes and avocado dressing add some sweet and creamy tartness to make this a serious explosion of flavor. (via GI 365)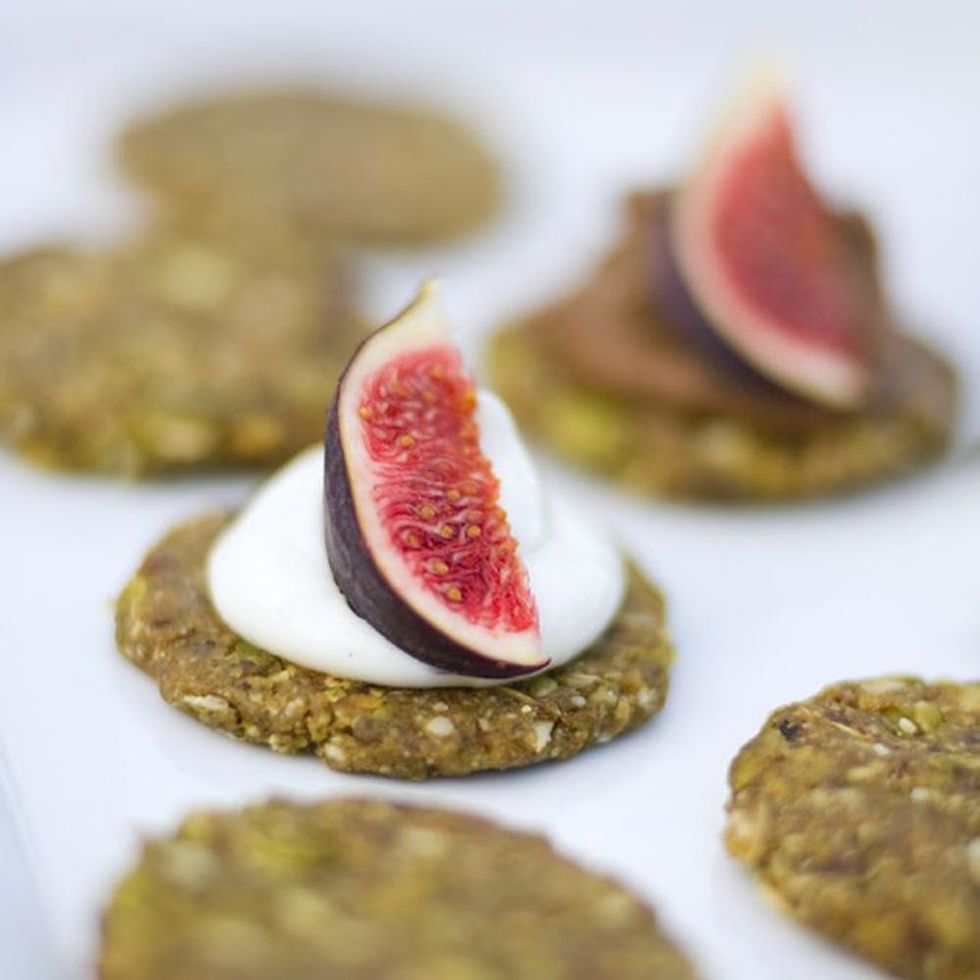 4. Pumpkin Seed Cakes: We have to admit — the fig and lime yogurt mousse on top of these really take the cake for us. It sounds gourmet, but the recipe is simple, which is exactly why we love it. (via Green Kitchen Stories)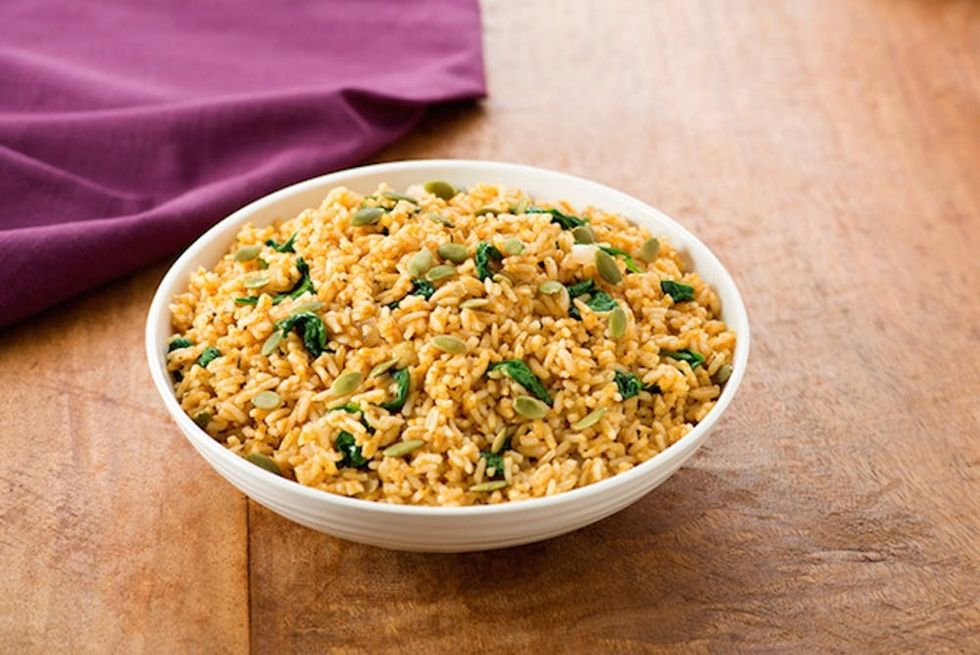 5. Pumpkin Rice Pilaf: This recipe feeds four, so it's a perfect side dish to add to dinner with the family or at your next dinner party. If it's a pumpkin-carving party, can we come? (via The Best of This Life)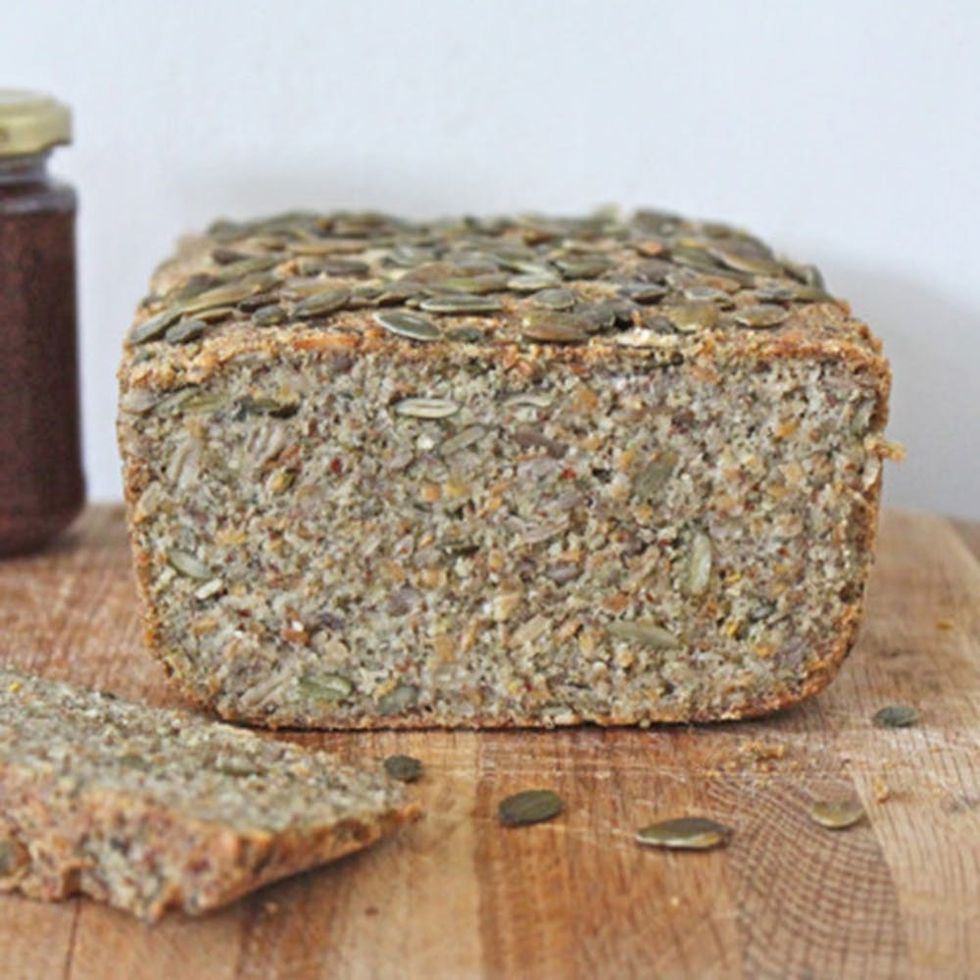 6. Almond Chia & Pumpkin Seed Bread: Toast this bread and top it with avocado, tomato and pumpkin seeds. We think it would also be great with a sunny-side-up egg on top. (via Deliciously Ella)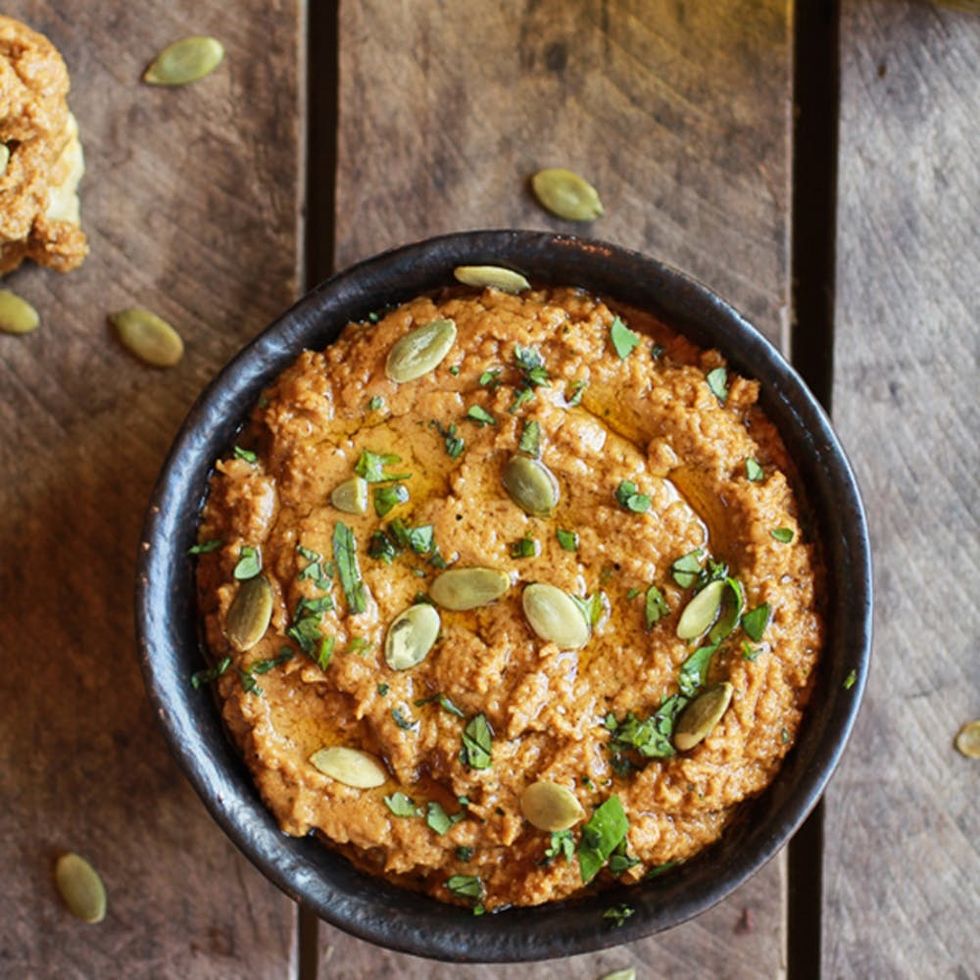 7. Roasted Pumpkin Seed Hummus: It's pumpkin hummus… need we say more? Chili powder gives this creamy spread just enough kick, and the delish photos alone are making us hungry! (via Half Baked Harvest)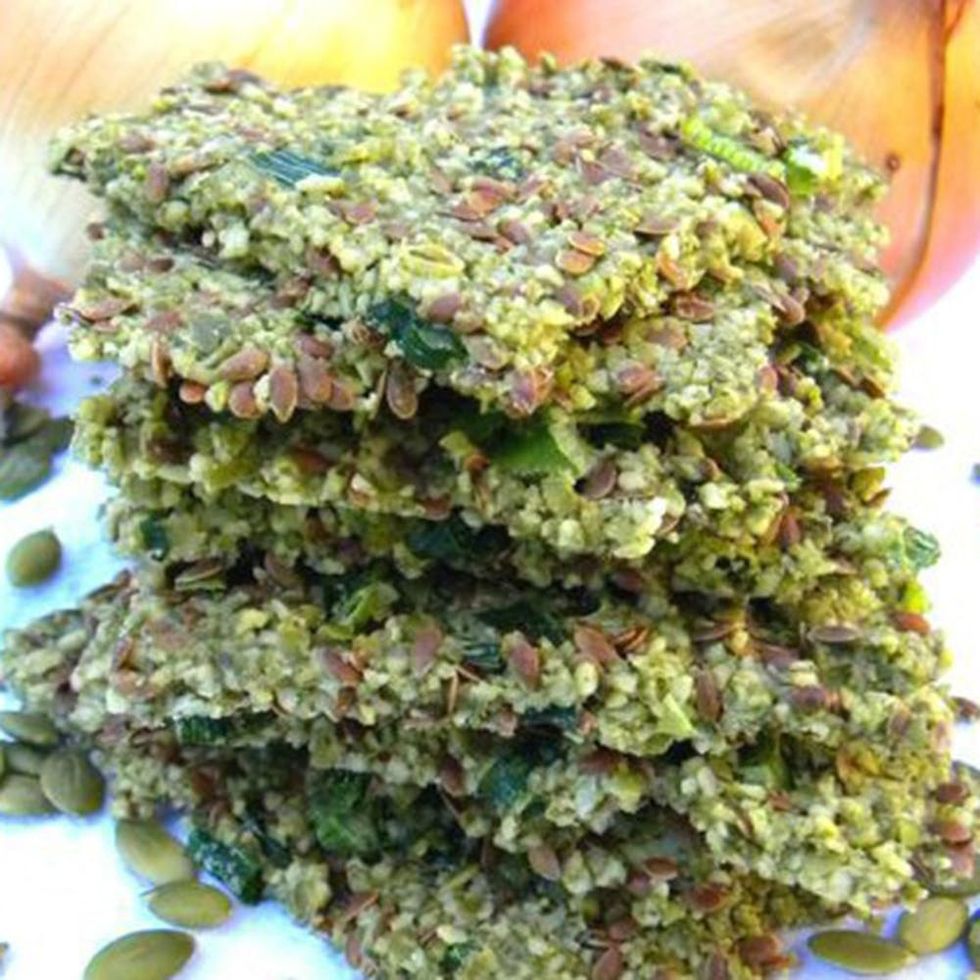 8. Pumpkin Flaxseed Onion Crackers: This is another great recipe with very few ingredients, making it another allergy-friendly snack. These babies are dairy-free, nut-free and gluten-free. They'd go great with the pumpkin hummus above. (via Raw Food Recipes)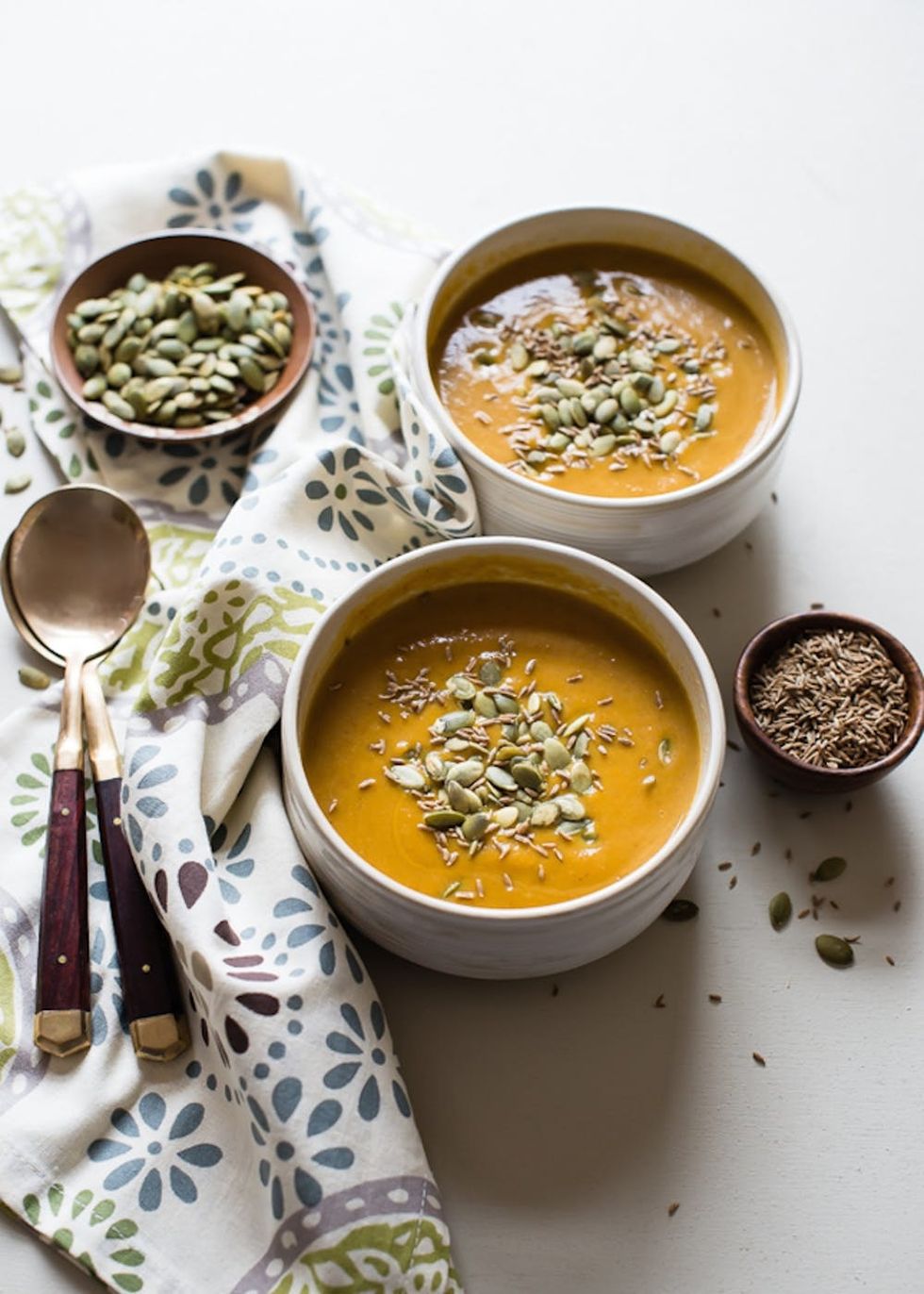 9. Slow Cooker Creamy Pumpkin Soup: Technically, pumpkin seeds are just a garnish here, but you can cook this in a slow cooker, so we are obviously in love with it. This is also dairy-, gluten- and nut-free without even trying. (via Cafe Johnsonia)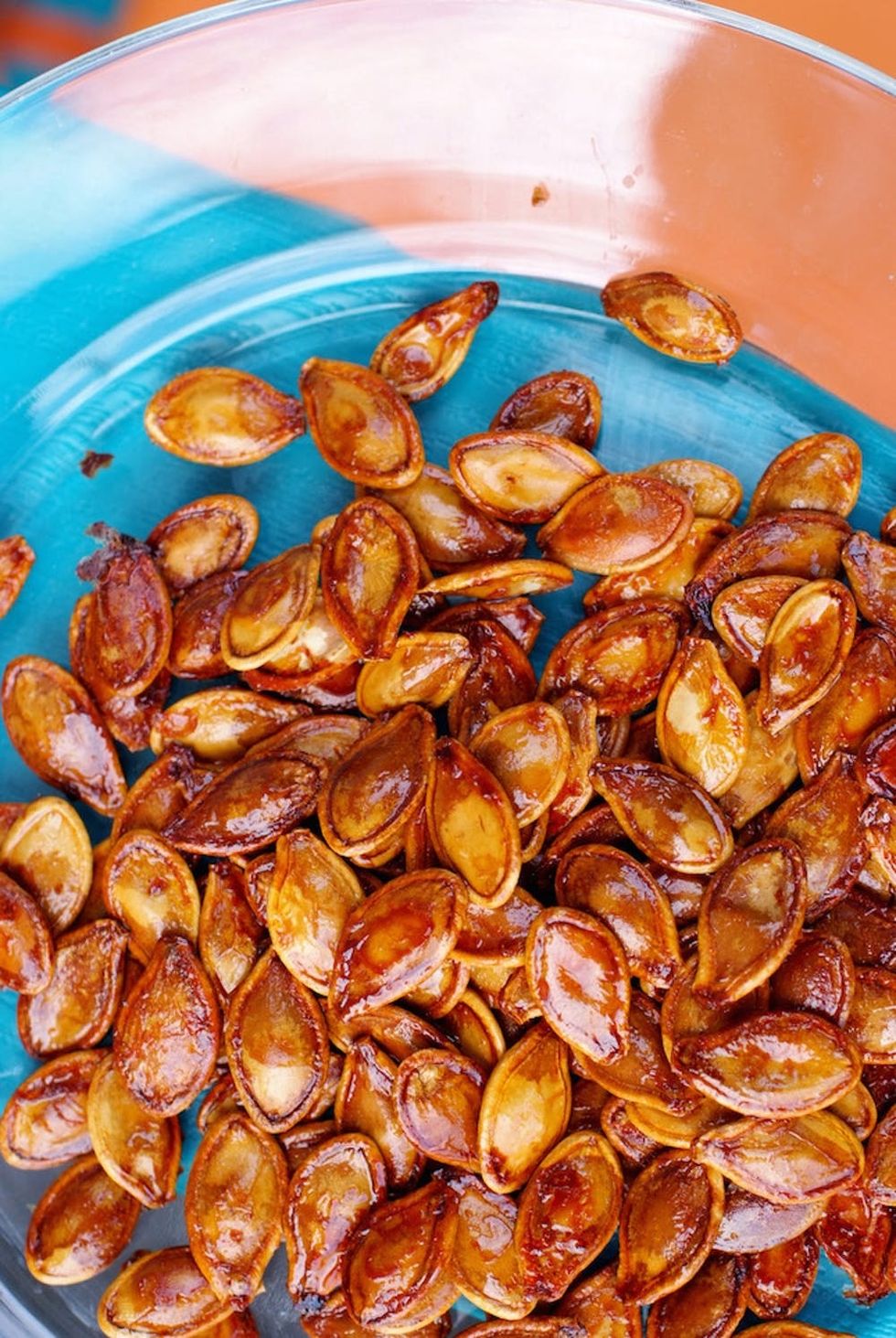 10. Drunken Pumpkin Seeds: These seeds are drowned in whiskey, bacon grease and brown sugar. Mmmmm. Doesn't matter the whiskey — pick your favorite and pour yourself a glass while you're at it. (via Copy Cake Cook)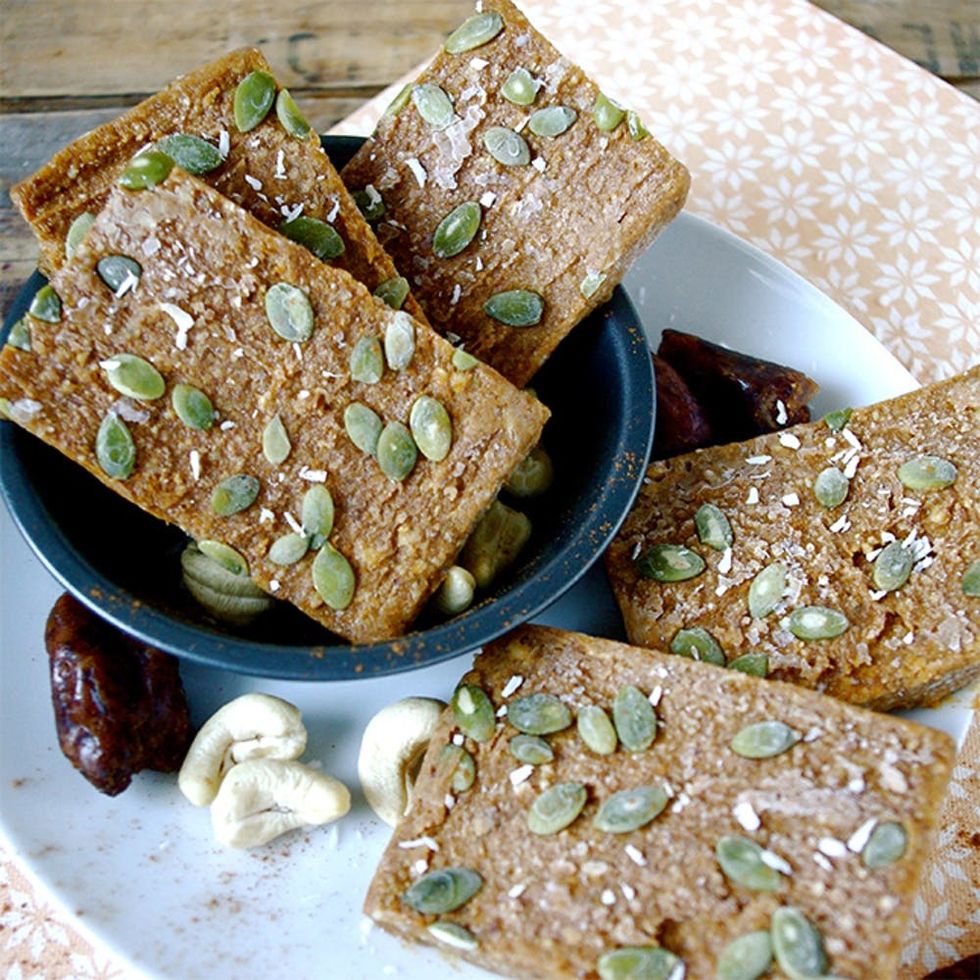 11. Vegan Pumpkin Pie Energy Bars: This girl completely understands our love for pumpkin everything. You can use rolled oats or your favorite protein powder to give these an extra protein boost. The tasty bars will definitely keep you full until your next (potentially pumpkin-filled) meal. (via Nutritionist in the Kitch)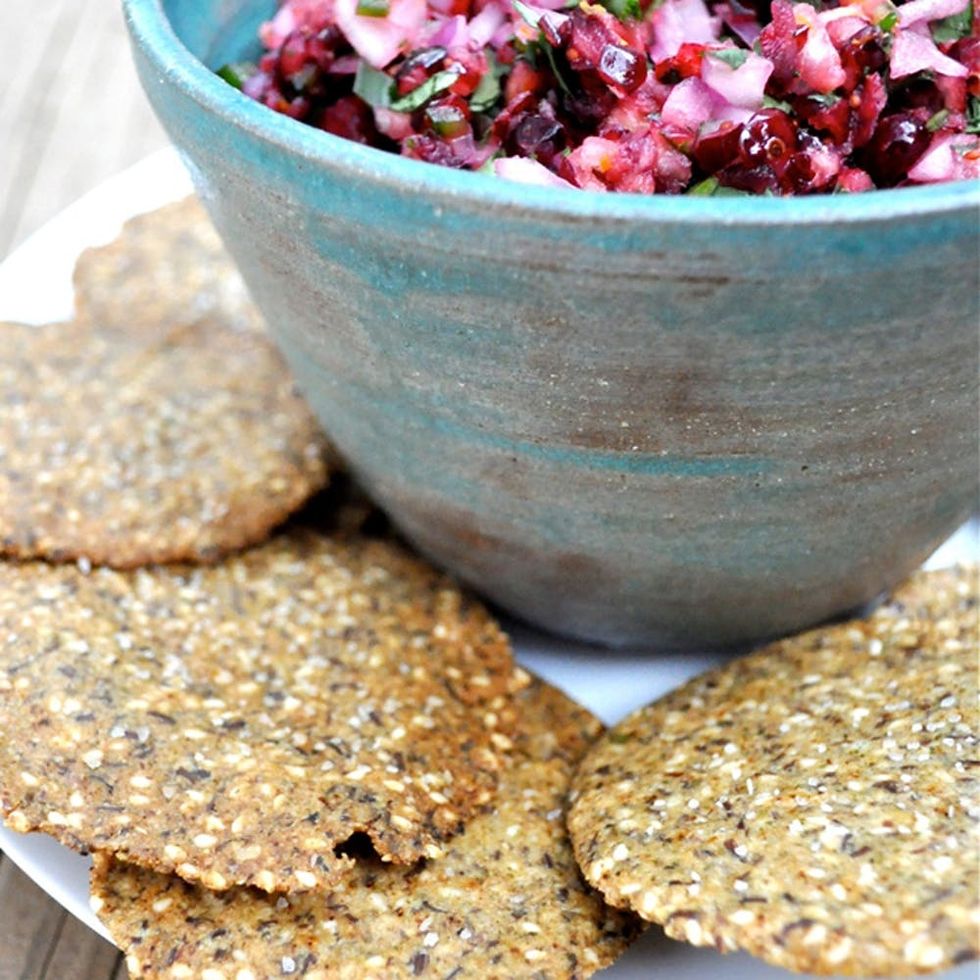 12. Paleo Pumpkin Seed Crackers: This play on sweet and savory has our taste buds jumping! Not into the sweet salsa? Pair these with some hummus or almond butter. (via Fed and Fit)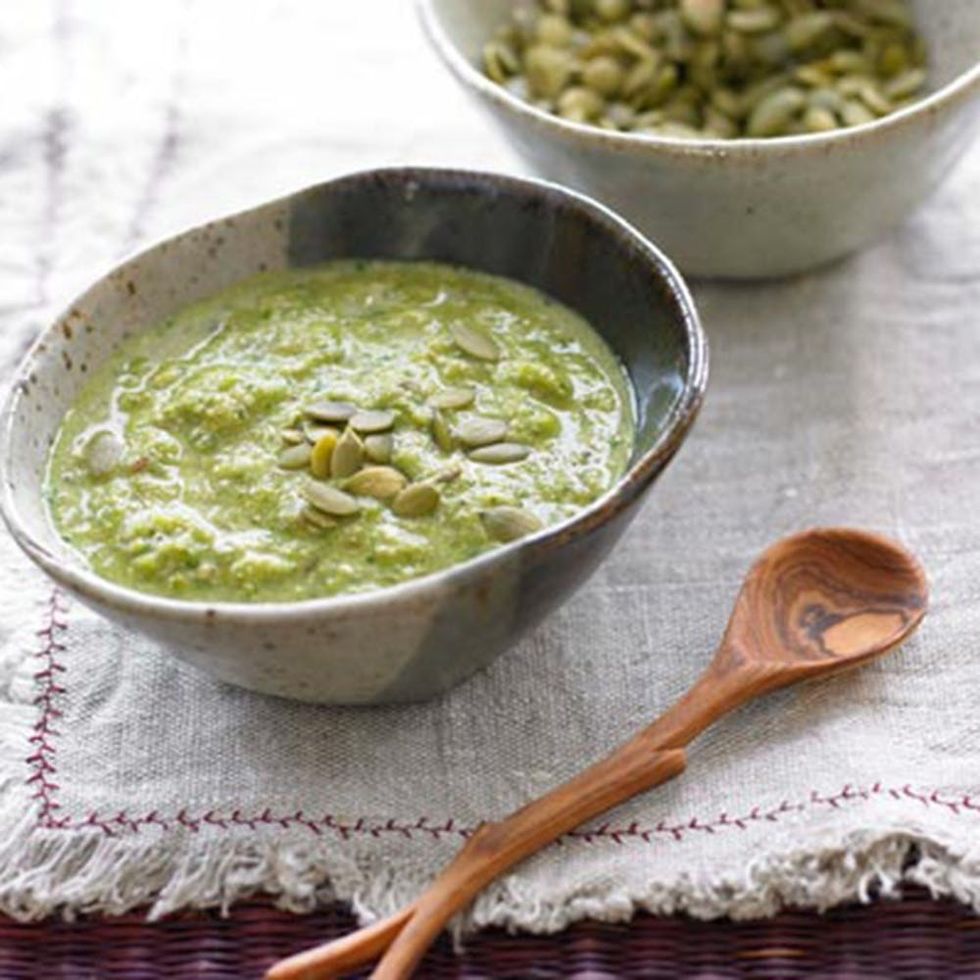 13. Pumpkin Seed Mole: This take on pumpkin seeds is anything but traditional, and we wouldn't have it any other way. Pumpkin seeds, cumin, cilantro and jalapeño make this a serious (and spicy) addition to your next meal. (via Leite's Culinaria)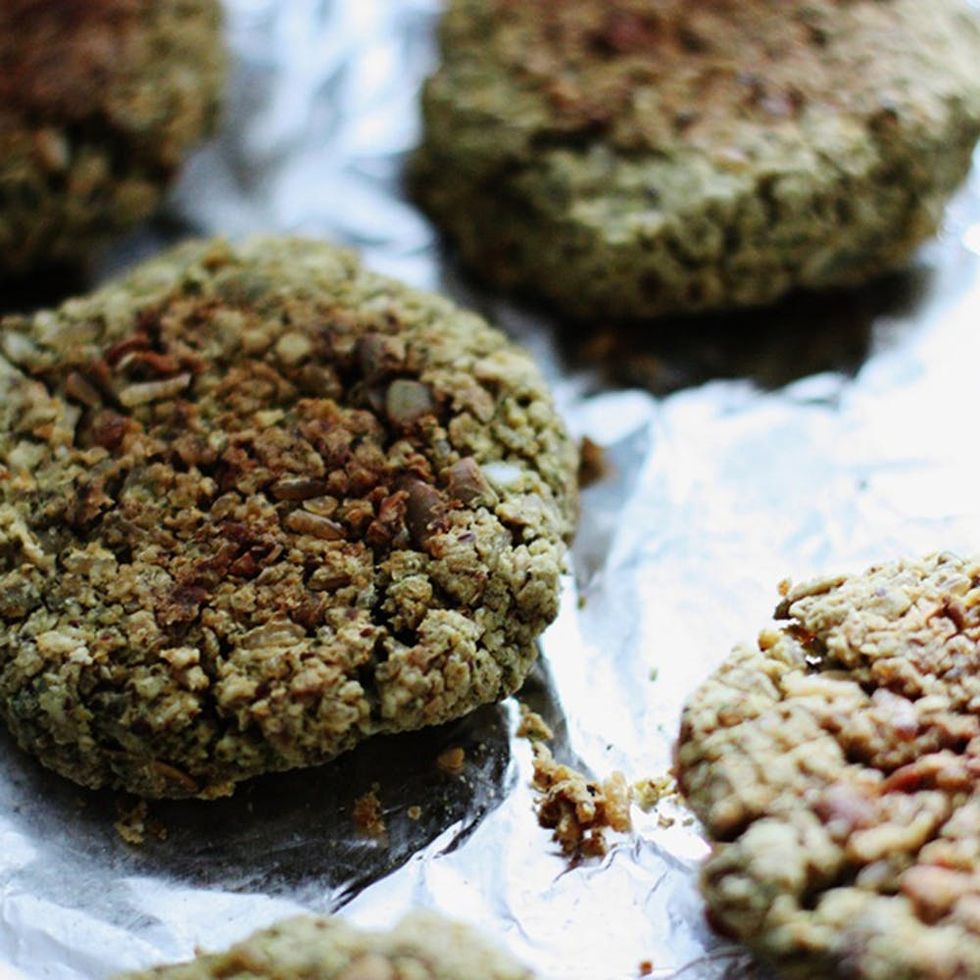 14. Chickpea Pumpkin Seed Burger: This vegan seed burger recipe is filling and nutritious. If that's not enough, blogger Gena, a certified clinical nutritionist, also offers substitutions for all your allergy-friendly needs. (via Choosing Raw)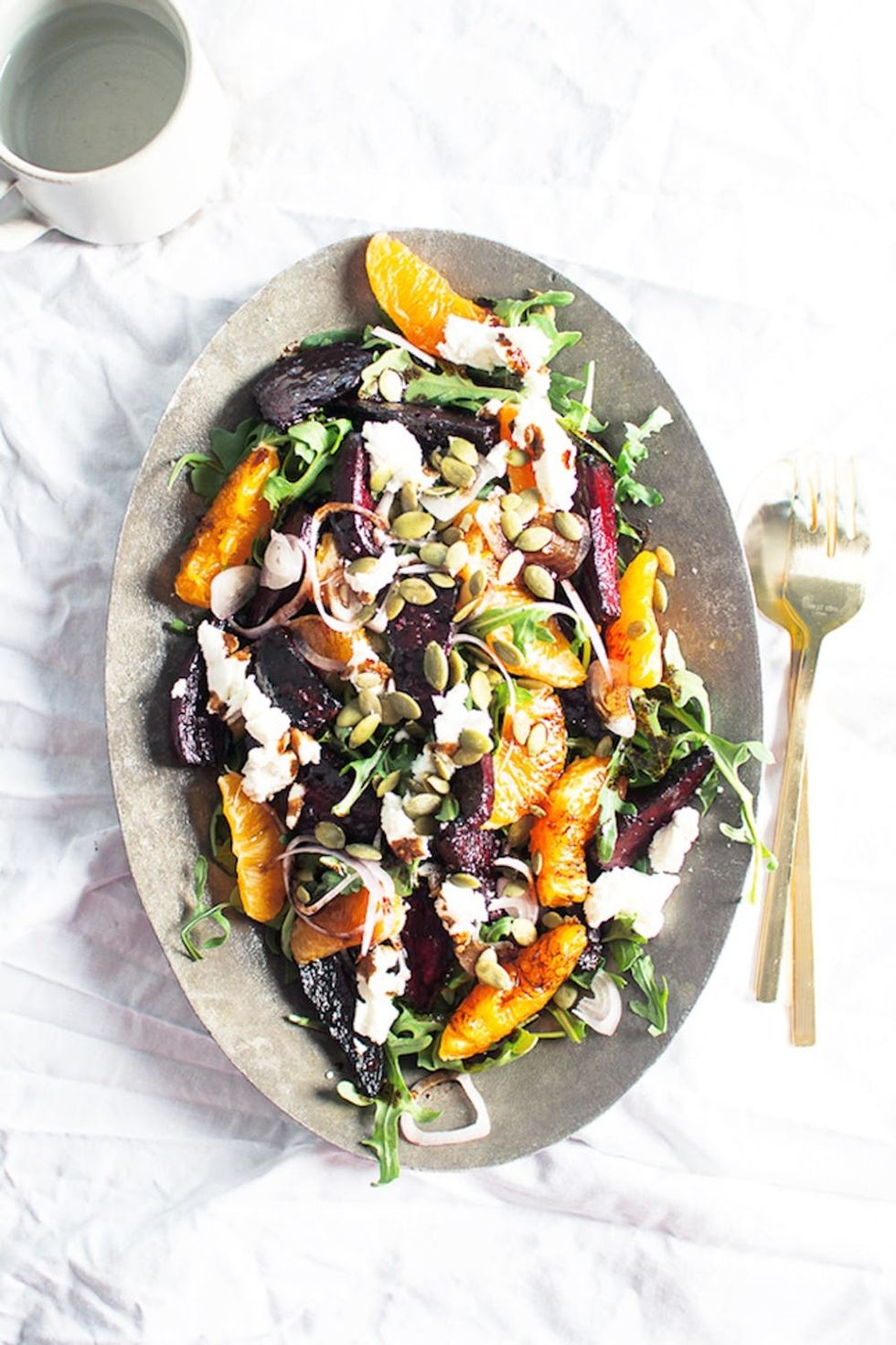 15. Autumn Salad With Pumpkin Seeds: Balsamic roasted beets, goat cheese, sweet orange and pumpkin seeds over a bed of arugula? This is the stuff of dreams. If goat cheese isn't your jam, switch it out for another cheese, like bleu or feta. (via Flourishing Foodie)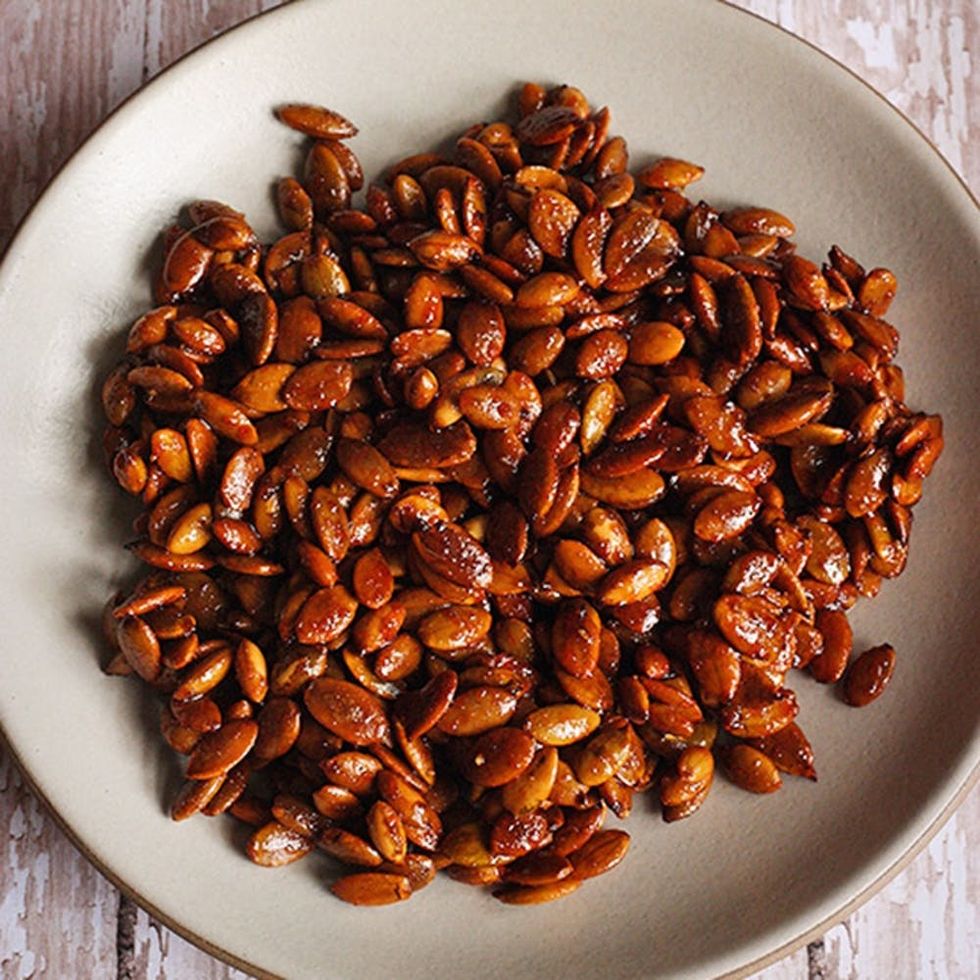 16. Honey Sriracha Roasted Pumpkin Seeds: These Sriracha-roasted pumpkin seeds give beer nuts a run for their money. The spicy seeds will go great with a fall craft brew. (via Soup Addict)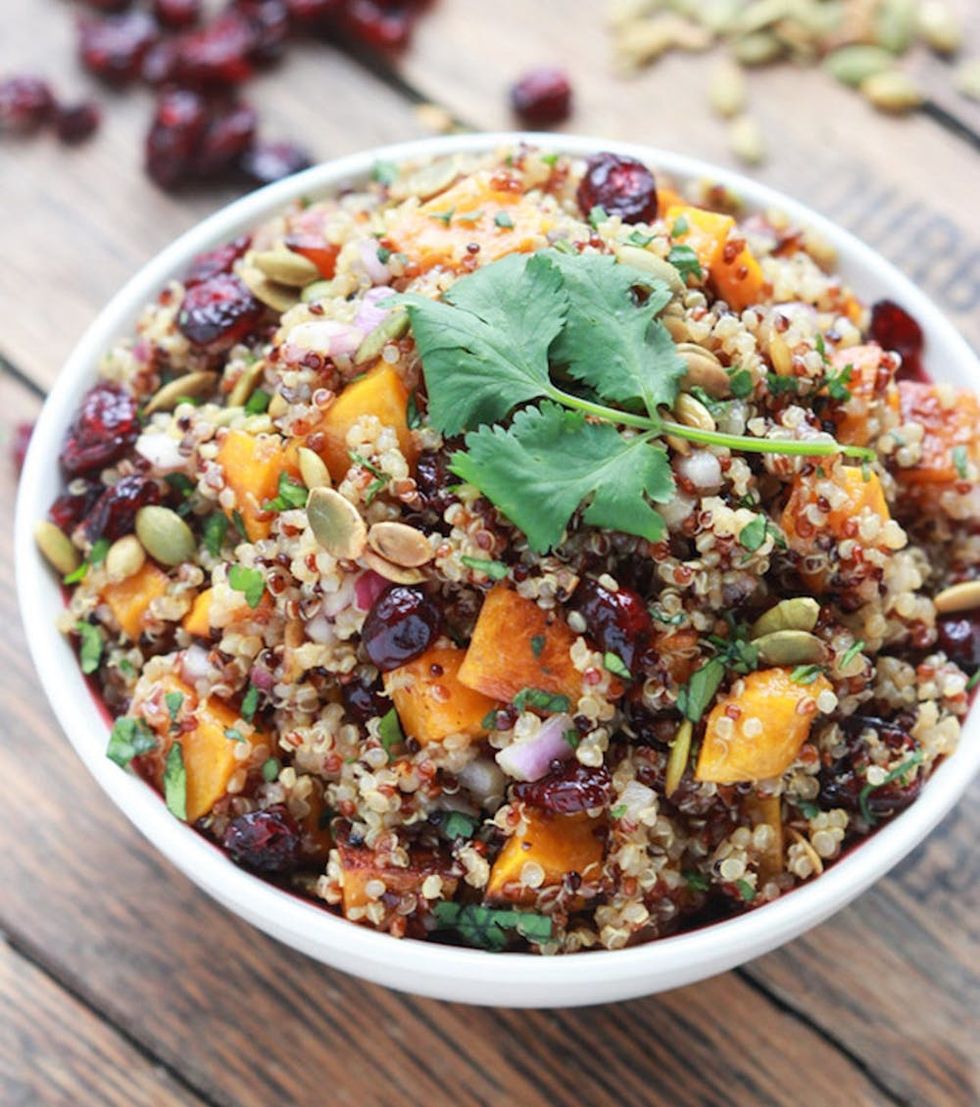 17. Butternut Squash  Cranberry Quinoa Salad: This quinoa salad is a beautiful superfood extravaganza. With the help of rainbow quinoa, it's a flurry of fall colors. We're almost sorry to eat it… almost. (via Little Broken)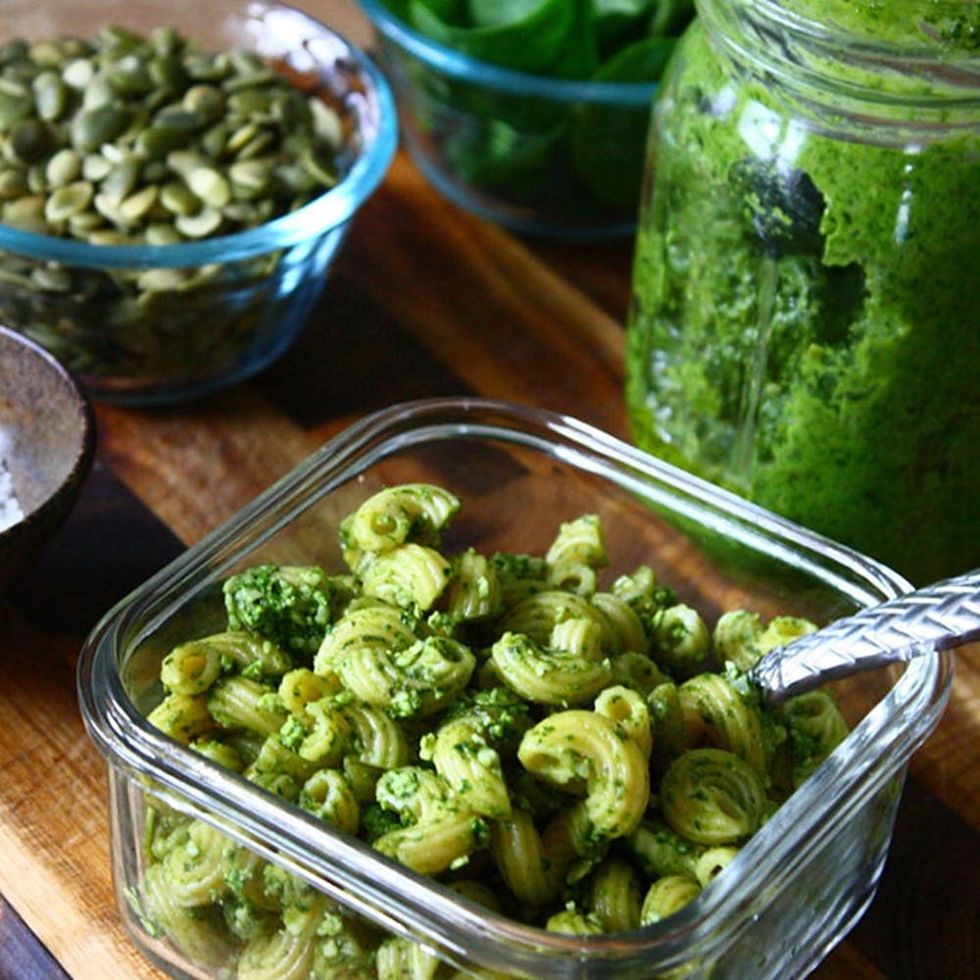 18. Pumpkin Seed & Spinach Pesto: Never mind the fact that this sauce is easy to make (with the help of a food processor); there is also a food cost breakdown so you know how much you're going to need to spend on ingredients. It's all under $15 and makes about 2 cups. That's plenty for quite a few servings of pesto pasta. (via Feast on the Cheap)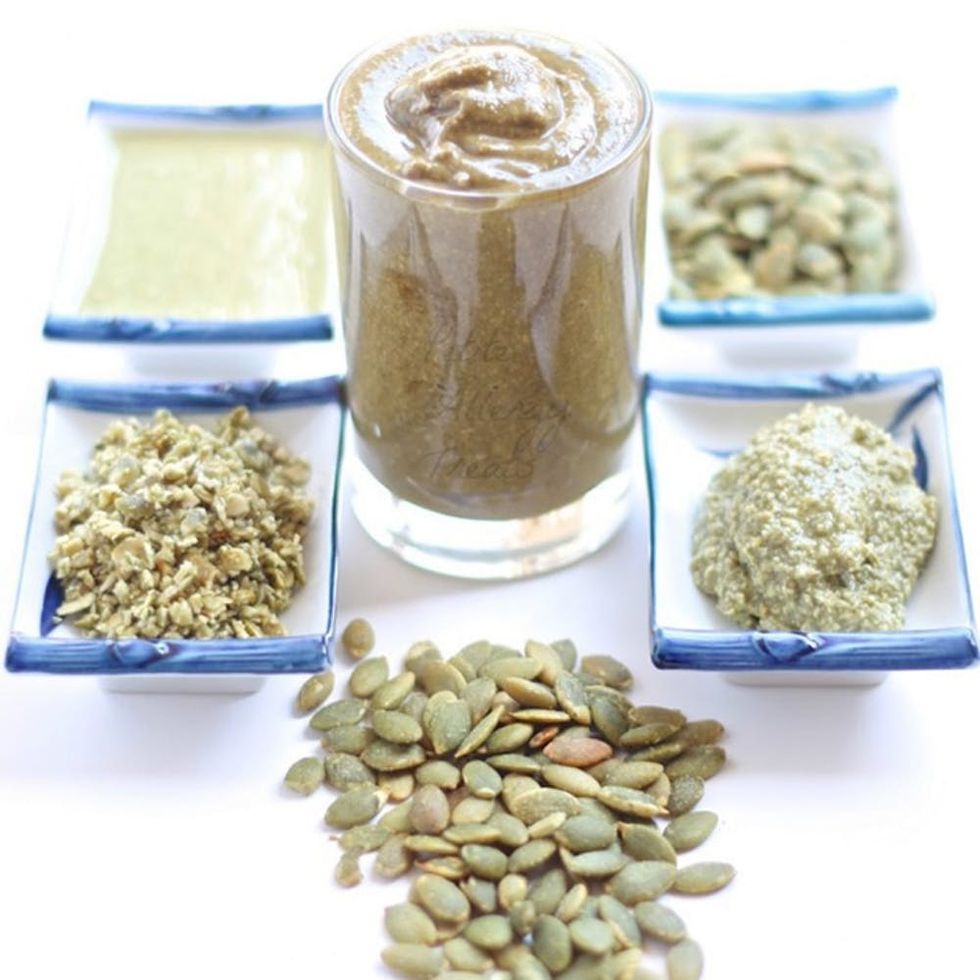 19. Creamy Pumpkin Seed Butter: This creamy pumpkin seed butter is gluten-free, vegan, dairy-free, peanut-free, tree nut-free, egg-free and soy-free. Also, it's delicious. Huzzah! (via Petite Allergy Treats)
Which recipe will you make first? Share your photos with the hashtag #britstagram!