4 Science-Backed Holistic Cold Remedies That Actually Work
Feb 13, 2019
Everyone's got at least one cold remedy they swear by — from raw garlic salves (yikes!) to the classic standby chicken noodle soup. But which ones are worth your time? We're here to share the best science-backed cold remedies that *actually* work. Fingers crossed you haven't gotten and won't get sick this season, but here's exactly what to add to your arsenal (besides your trusty Airborne) to ensure you sail through to spring snot-free.
ELDERBERRY
---
This tiny berry packs a major punch. Long used in traditional herbal medicine, modern clinical trials show that elderberry can prevent and reduce symptoms and duration of the common cold and flu by inhibiting viral and bacterial replication. Elderberry is most helpful when taken at the first sign of a cold or after exposure to someone who is sick. One recent study found that it reduced cold occurrences in air travelers and was able to shorten colds by an average of two days. Elderberries are also a good source of vitamins A, C, and B6, potassium, and iron, and they have twice the antioxidants of blueberries. For prevention during flu season, take a low dose daily to help build immunity; for acute instances, take a moderate dose 2-3 times per day. Note that herbal medicine is not a substitute for a flu shot, however!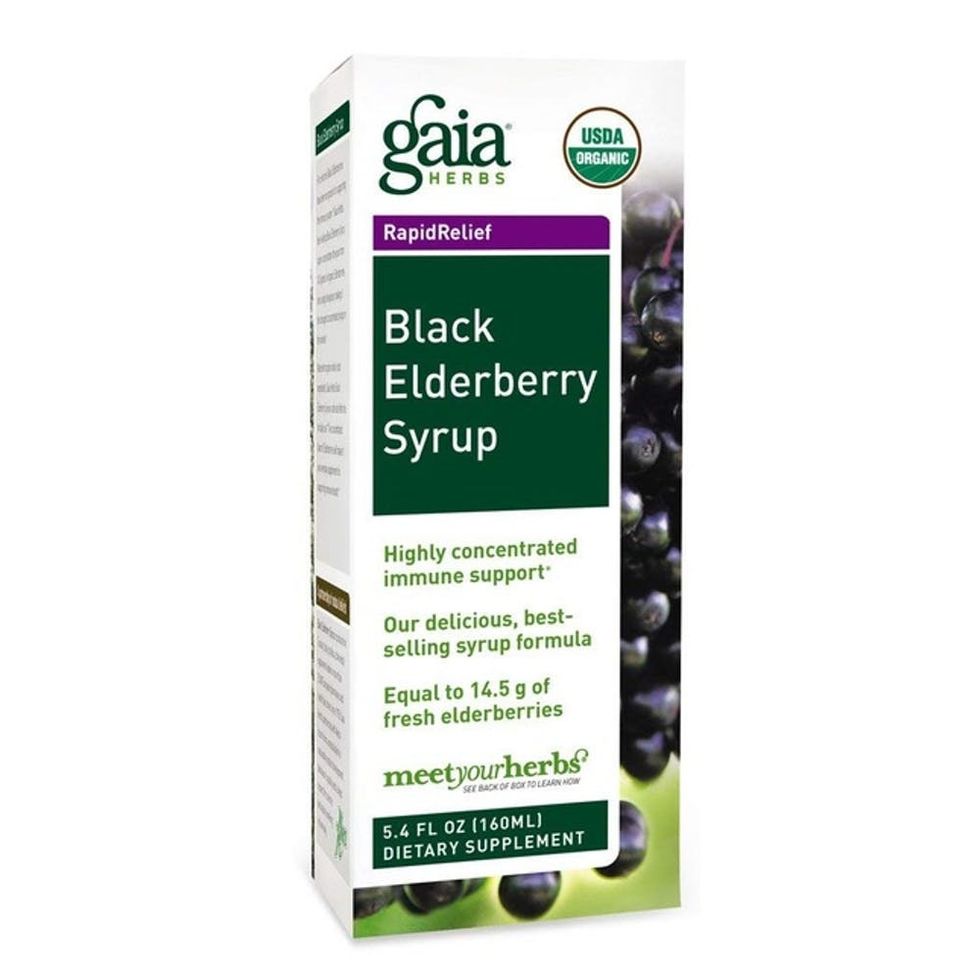 Gaia Herbs Black Elderberry Syrup ($21)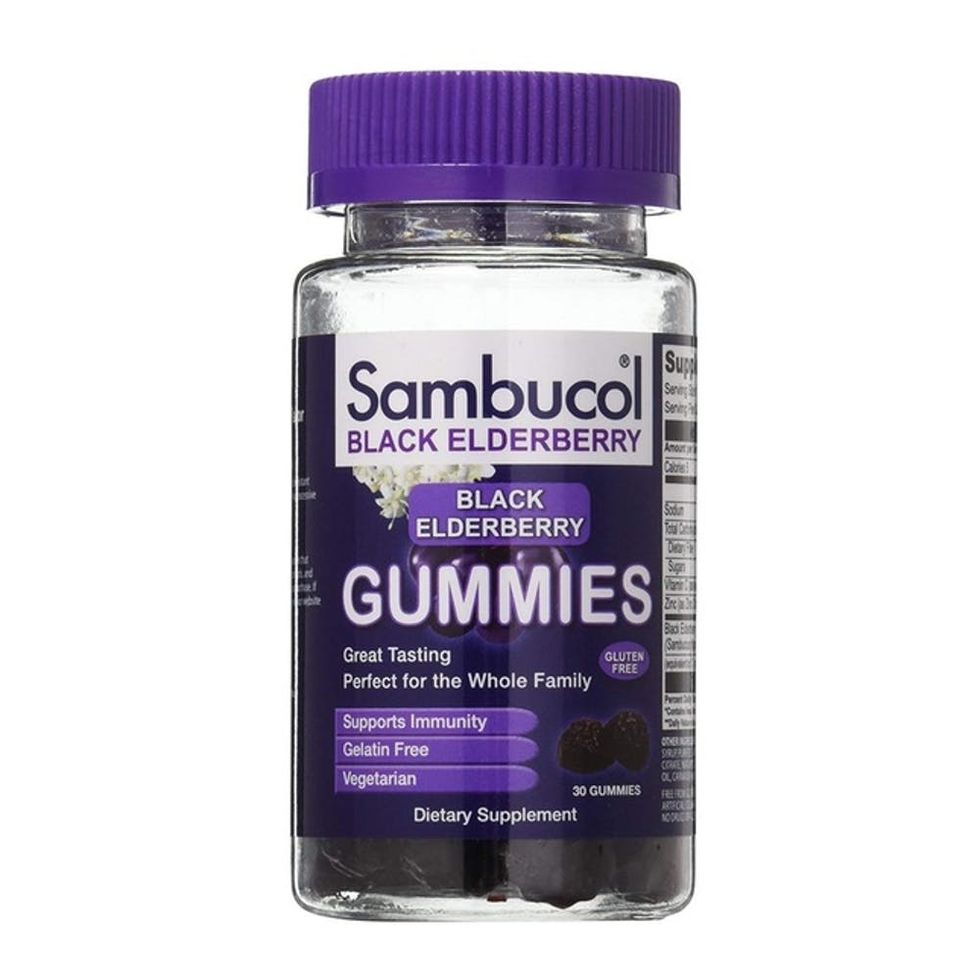 Sambucol Black Elderberry Gummies ($9)
ECHINACEA
You've probably heard of this hard-to-pronounce blossom before. A member of the daisy family (Asteraceae), echinacea is also known as purple coneflower and boasts powerful anti-inflammatory and antiviral properties. The roots of the flower have been shown to boost and stimulate white blood cells, improving the immune response to upper respiratory infections. Echinacea has also been found to shorten the duration of colds and is high in vitamins B and C, zinc, and magnesium. One study found echinacea to be as effective as Tamiflu in the early treatment of flu, when taken for 10 days at flu onset. Echinacea should only be taken in acute instances, for a short period of time — no longer than two months. Try a tincture or a tea.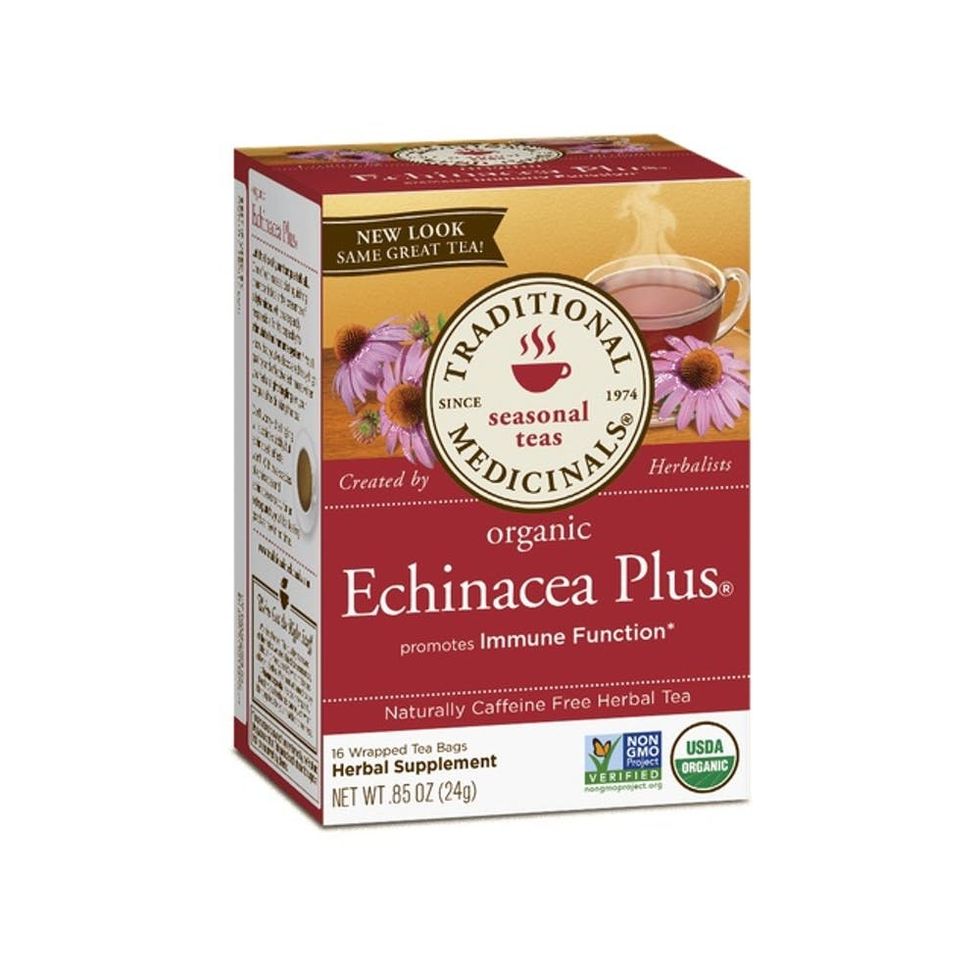 Traditional Medicinals Echinacea Plus Tea ($5)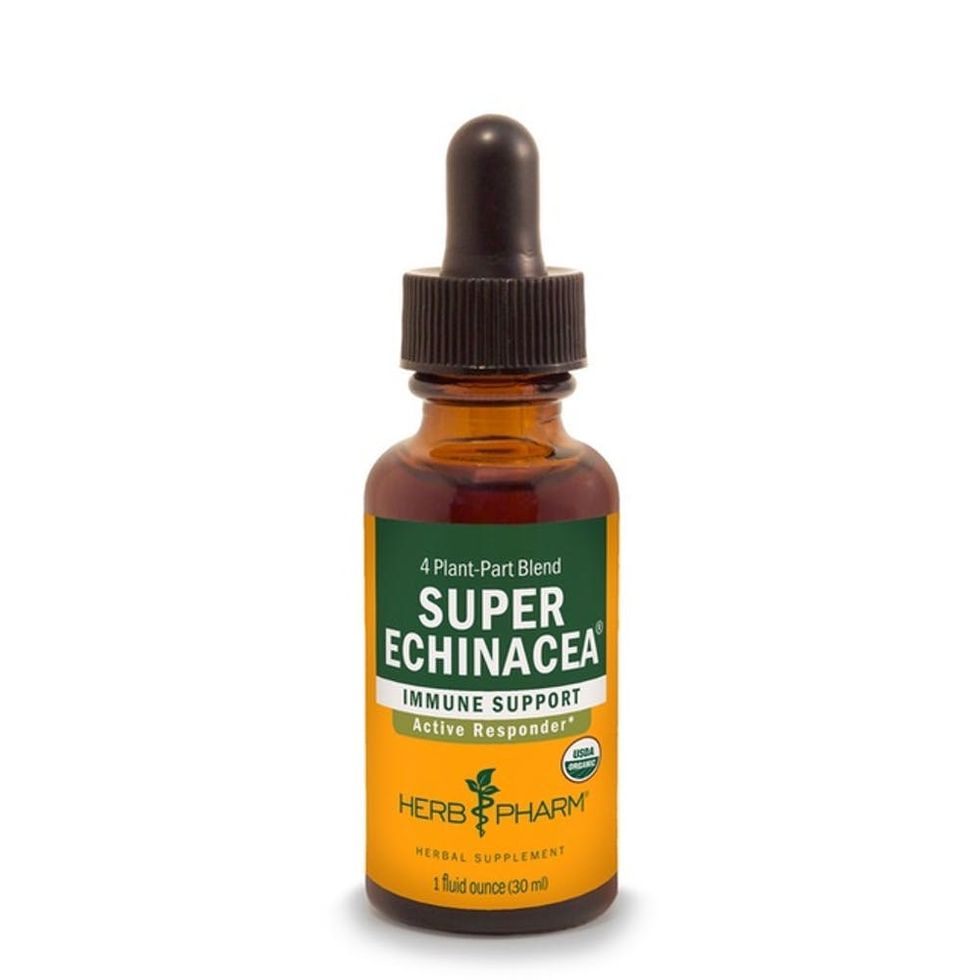 Herb Pharm Super Echinacea Herbal Supplement ($12)
PROBIOTICS
Chicken soup with a side of… kimchi? Probiotics aren't only good for your gut: These helpful bacteria play a direct role in immune cell function and may reduce the duration and severity of the common cold. Amazingly, 70 percent of immune cells are located in the gut, and a sluggish gut can result in low immune function — which is where probiotics come in as they work to quell inflammation and keep the intestinal lining strong against harmful microbes or substances. Food forms of probiotics are a great way to boost your gut microbiome without having to pop a probiotic pill. Kefir, a cultured dairy product that's more potent than yogurt, features a blend of yeasts and bacteria that can colonize the intestinal tract. Drink kefir alone, mix it with a little juice, or blend it into smoothies; or whisk it with olive oil, lemon juice and minced garlic for a tangy salad dressing. Farmhouse Culture Gut Shots are the reserved juice from fermented vegetables: One bottle has over 110 billion probiotic CFUs, and it's an easy, drinkable way to get a shot of potent probiotics in. Try sipping it with seltzer.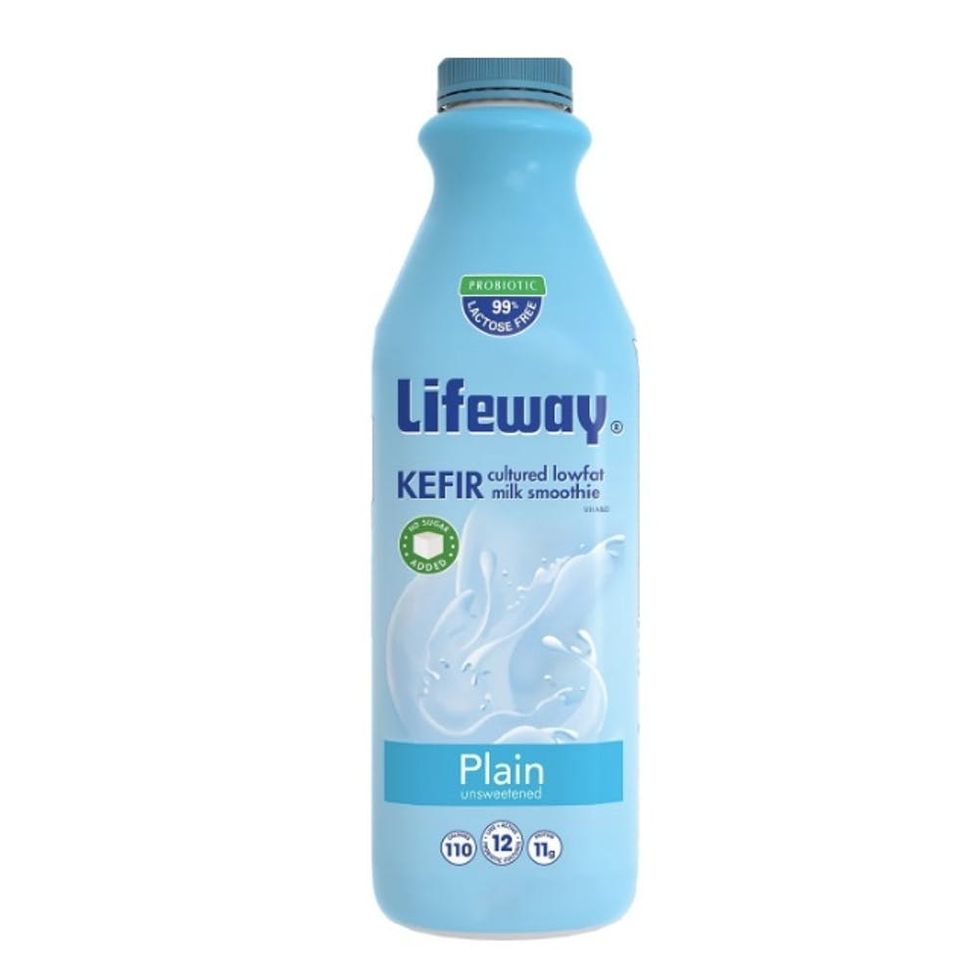 Lifeway Plain Kefir Cultured Low-Fat Milk Smoothie ($3)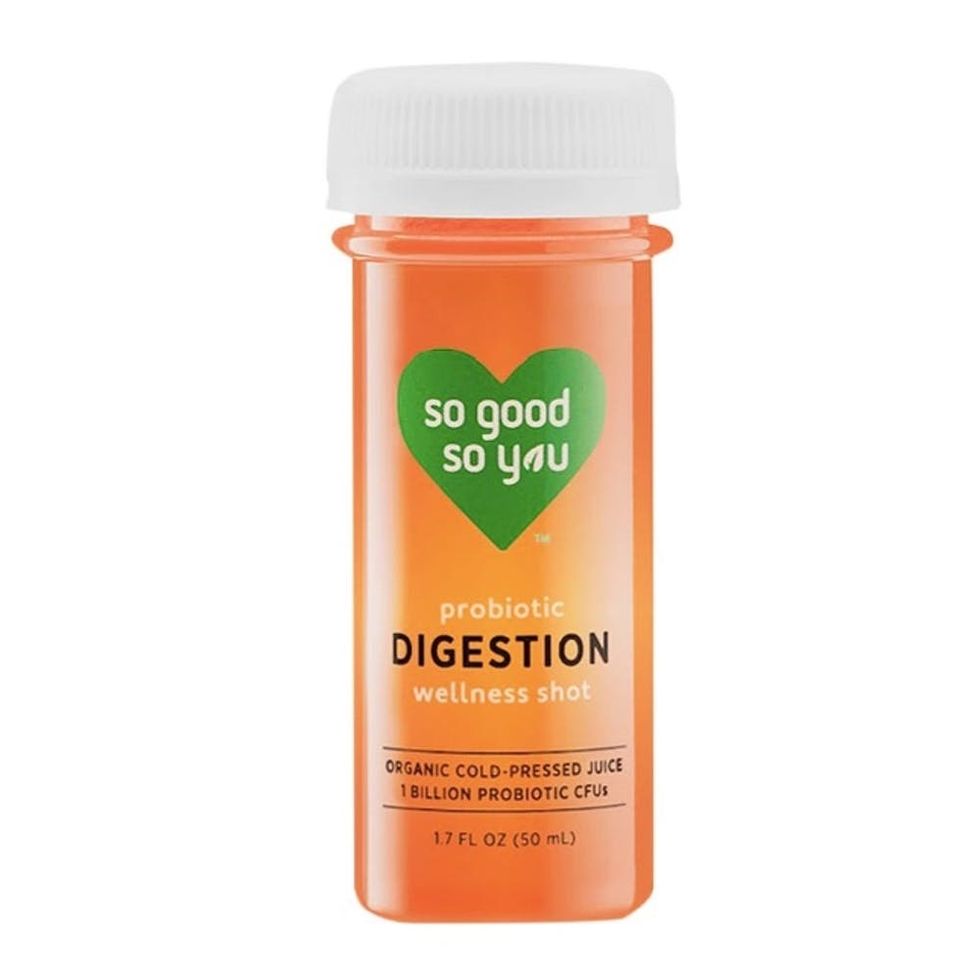 So Good So You Probiotic Digestion Wellness Shot ($2)
VITAMIN C
We've all downed a glass of OJ at the first sign of a scratchy throat. But does it actually work? Turns out, antioxidant powerhouse vitamin C can work wonders, even if you already take it daily. A meta-analysis of nine different studies found that extra therapeutic doses of vitamin C were found to reduce indoor confinement and symptoms of the common cold. Try a quick C-packed gummy or spray that you can tote around when you're on the go.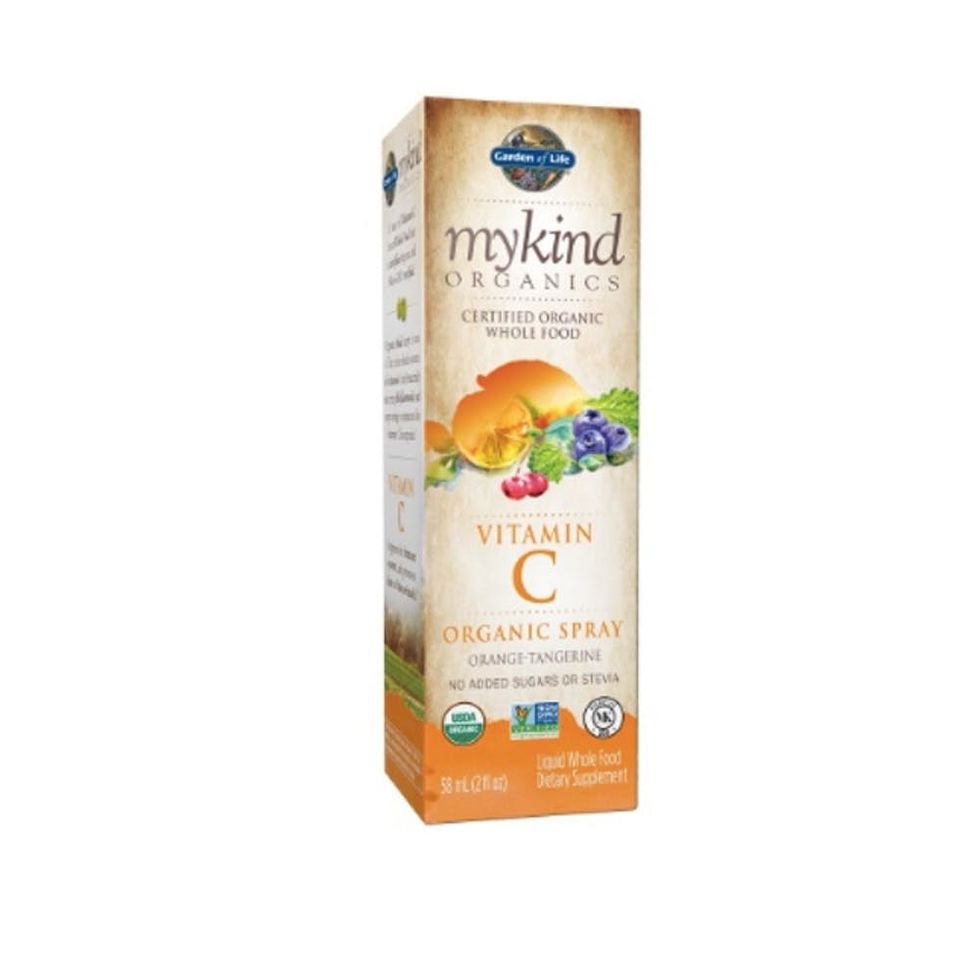 Garden of Life myKind Organics Vitamin C Spray ($13)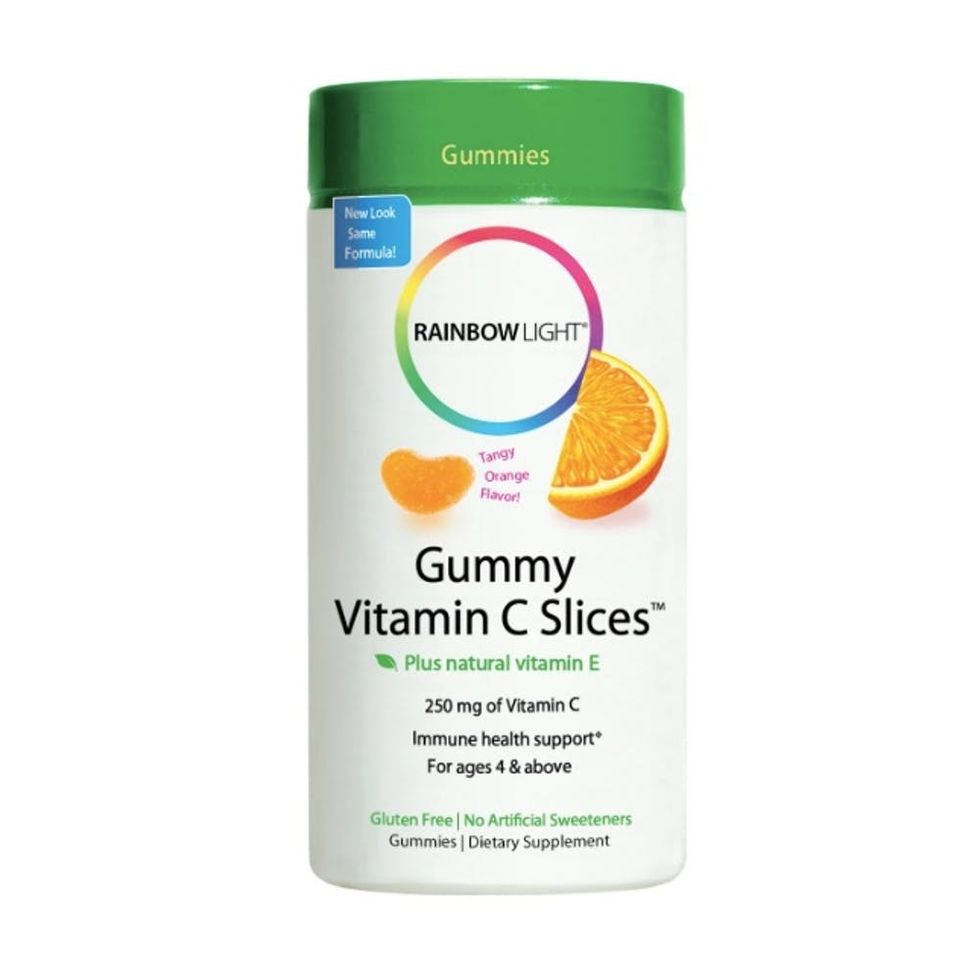 Rainbow Light Gummy Vitamin C Slices ($10)
What are your tried-and-true cold remedies? Tweet us @BritandCo.
(Featured photo via Getty)
Brit + Co may at times use affiliate links to promote products sold by others, but always offers genuine editorial recommendations.
Jessica Waller
Jessica Waller is a health and wellness writer and clinical nutritionist with a passion for science-backed self-care. A mom of two, yoga devotee, and avid home cook, she's always on the lookout for healthyish comfort-food recipes, statement shoes, and new wellness trends to obsess over (earthing, anyone?). Find her most recent musings on nutrition and self-care at
WELLTRIBE
.
Health