The Ultimate Father's Day Gift Guide for Every Kind of Dad
Jun 10, 2016
Father's Day is creeping up, so what better way to celebrate the number one fella in your life than with a really thoughtful gift that speaks to Dad's personal interests? Whether he's a brand new dad celebrating his first Father's Day or he's a veteran of the holiday, it's his special day to feel the love. Whatever he's into, we've got everything from style + grooming for the stylish pops to all the hottest gadgets for the techie dad. Check out all the goodies below!
---
NEW-FANGLED TOYS FOR THE TECHIE DAD
1. ASUS ZenPad 10 ($175): This super-powered 10.1-inch tablet runs on Android's Lollipop OS. Plus, it comes with stereo speakers and an 800-by-1280 pixel resolution display, so Dad can catch up on his TV shows with ease.
2. eero WiFi System ($199+): Make sure Dad never hits a WiFi dark spot in the house again with the eero WiFi extender that blankets the house with Internet anywhere he goes!
3. Skullcandy Ink'd Wireless Headphones ($50): The dad-on-the-go is going to love these Skullcandy headphones. The wireless Bluetooth unit is perfect for Pops when he's working out or on his commute to work.
4. Amazon Echo ($179): The Amazon Echo's Alexa is possibly the coolest virtual assistant around (sorry, Siri). She's so awesome, she counts as a virtual butler, really: delivering the day's weather, handling shopping lists and more. You can sync up your Echo smart home appliances too!
5. Fitbit Blaze in Gunmetal ($200): When the Fitbit Blaze hit the market earlier this year, it was the first smartwatch focused specifically on fitness. Fitbit is releasing the Blaze in a new gunmetal shade that Dad will love.
6. Airmega Air Purifier ($749): Yes, the Airmega Air Purifier is quite a splurge, but the price of clean air is priceless. The Airmega can also come WiFi-enabled (for $100 more), which allows you control your device via the mobile app. Got sibs? Split the cost and breathe easy.
7. Philips Hue White Ambience Starter Kit ($79): Make your father feel like he's living in the future with Philips Hue White Ambience Starter Kit. Not only does the kit sync up to the Amazon Echo so he can turn on the lights with HIS VOICE, you can also change the "mood" of the light.
8. Nixplay Seed Frame ($169): The Nixplay Seed Frame is no ordinary digital frame. You can access photos from social media, create playlists and even share images directly to Dad from your smartphone.
9. Moshi Avanti Headphones ($200): These ergonomically-designed headphones by Moshi were made for the audiophile. These beauties debuted at CES 2016 and are now available to the public for purchase.
10. Roku Streaming Stick ($50): Make sure wherever Dad goes, he can stay up to date with his TV shows. The pocket-sized stick gives Dad easy access to streaming platforms like Netflix, Hulu, HBONow and so much more. All he needs to do is plug it into a TV and he's good to go!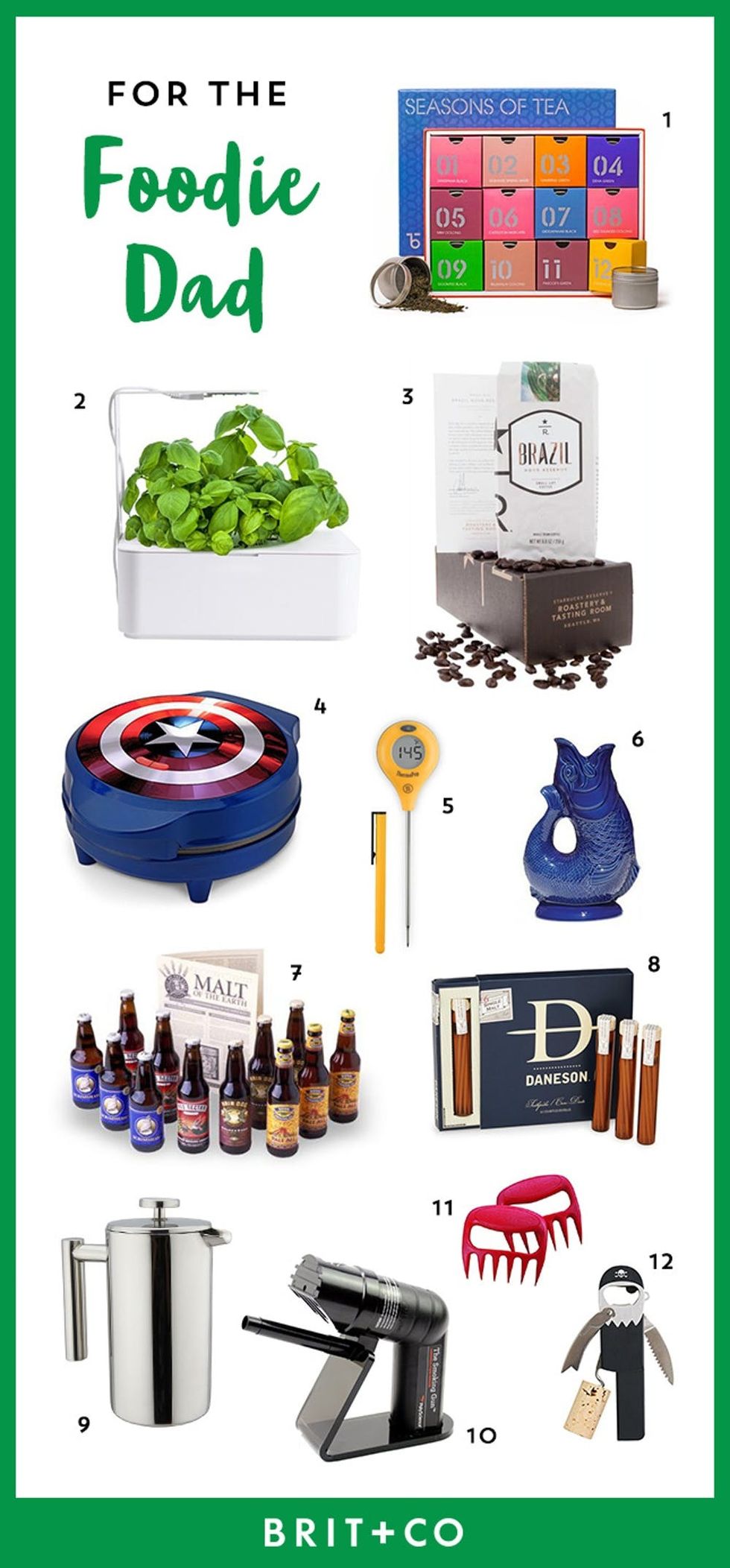 TREATS THAT WILL MAKE FOODIE DAD DROOL
1. Seasons of Tea Subscription ($20): If your dad's a tea-lover, have him take this quiz to find the perfect leaves for his daily cup. The subscription service uses data science to perfectly match his taste.
2. Click and Grow Smart Garden ($60): Tech-loving foodie dads will get a kick out of this stylish herb garden. NASA-inspired technology plus an integrated app is going to make him feel like a genius in the kitchen.
3. Starbucks Subscription ($19+): Supercharge Dad's morning with a subscription to Starbucks' special reserve roasts and earn major rewards points at the same time! These small-batch coffees are exclusive to this club, which gives him extra bragging points.
4. Captain America Shield Waffle Maker ($25): Is your dad a breakfast hero? Show him some love with this Captain America waffle iron that'll cook the shield right into your carbs.
5. ThermoPop Digital Pocket Thermometer ($29): This is the one tool any dad who cooks needs. The thermometer gives an accurate reading in just five seconds, is splash-proof and backlit so even nighttime grillers can use it.
6. Gluggle Jug ($50): This jug is a major hit at the dinner table. Its unique shape creates a glugging sound every time you pour from it, and we know the mischievous side of Dad will appreciate that.
7. The Beer of the Month Club ($28+): The ultimate gift for the beer connoisseur, this BOTM club offers six different subscriptions including microbrews, international beers and large bottle rare beers.
8. Scotch Toothpicks ($36): Cheaper than a bottle of 30-year single malt, these toothpicks are the perfect after-dinner treat. Gift these to Dad and his dental hygiene will be stronger than ever.
9. Stainless Steel French Press ($60): Your dad loves coffee and he loves great design. Bring some style to his morning brew with this modern, industrial-style French press.
10. The Smoking Gun Handheld Smoker ($100): If your dad dreams of a backyard firepit but lives in the reality of limited space (or funds), this smoking gun is the solution. Plus, shooting smoke into food will tap into his inner James Bond.
11. BEAR PAWS Meat Claws ($13): These meat claws are essential for any dad who's master of the grill. They're great for lifting and shredding large cuts of meat. Bonus: He can channel his inner Wolverine while he cooks.
12. Suck UK Legless Corkscrew Pirate Bottle Opener ($12): If Dad's favorite (ok, second favorite) holiday is Talk Like a Pirate Day (much to everyone else's embarrassment), gift him this fun pirate corkscrew.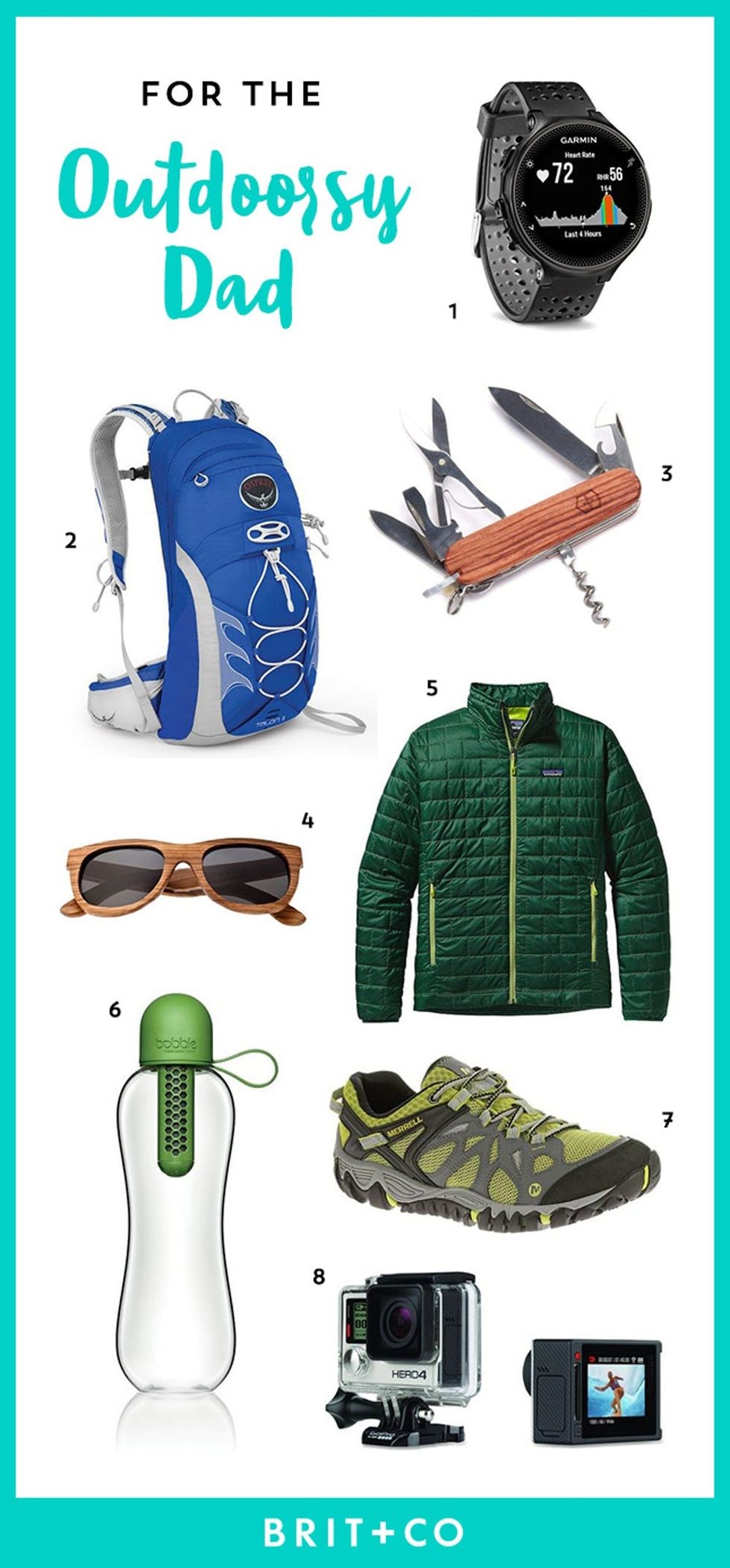 GADGETS AN OUTDOORSY DAD WILL LOVE
1. Garmin Forerunner GPS Heart Monitor Watch ($330): The Forerunner will keep tabs on where Dad goes and also keep track of his heart rate. It's the perfect gift for the father who loves backcountry camping and hiking.
2. Osprey Talon 11 Backpack ($90): The slim, lightweight Talon 11 Backpack is the perfect size for a day hike or even for Dad's daily commute. For the cyclist, it even has Osprey's trademark LidLock system that can keep his helmet locked onto his pack.
3. Swiss Army Huntsman Wood Handle Knife ($44): Every outdoorsy dad needs to have a solid Swiss Army Knife. Each one of these handsome knives is totally unique, as it's made with real wood with natural grain and patterns.
4. Earth Wood Sunglasses Barefoot 303z ($165): These wooden framed sunnies are polarized to shield Dad's eyes from up to 99.9% of harmful UVA/UVB rays. Plus, the frames are totally eco-friendly, made of natural wood and recyclable.
5. Patagonia Men's Nano Puff Jacket ($139): Keep Dad cozy with Patagonia Men's Nano Puff Jacket. Windproof, water resistant AND lightweight, this jacket is the stylish way to keep Dad protected from the elements while he's out in nature.
6. Water Bobble Infuse 20 oz. ($15): Whether he's into hiking or camping, a water bottle is a MUST if Dad likes spending time outside. But water alone can be so boring. The Water Bobble Infuse water bottle has a modular cap system that allows you to fill it with fruits or herbs so you can flavor the water. Yum!
7. Merrell All Out Blaze Aero Sport ($110): A solid pair of shoes is so important when you're outdoors. These shoes come with a ventilated mesh upper and Vibram's signature rubber soles that will help Dad's feet grip any terrain.
8. GoPro Hero 4 Silver Camera ($400): GoPro is the nature lover's BFF. The cam comes with a built-in touch display control and a waterproof case, and takes stunning wide frame photos with a 12MP camera and 1080p video, so Dad can relive his adventures again and again.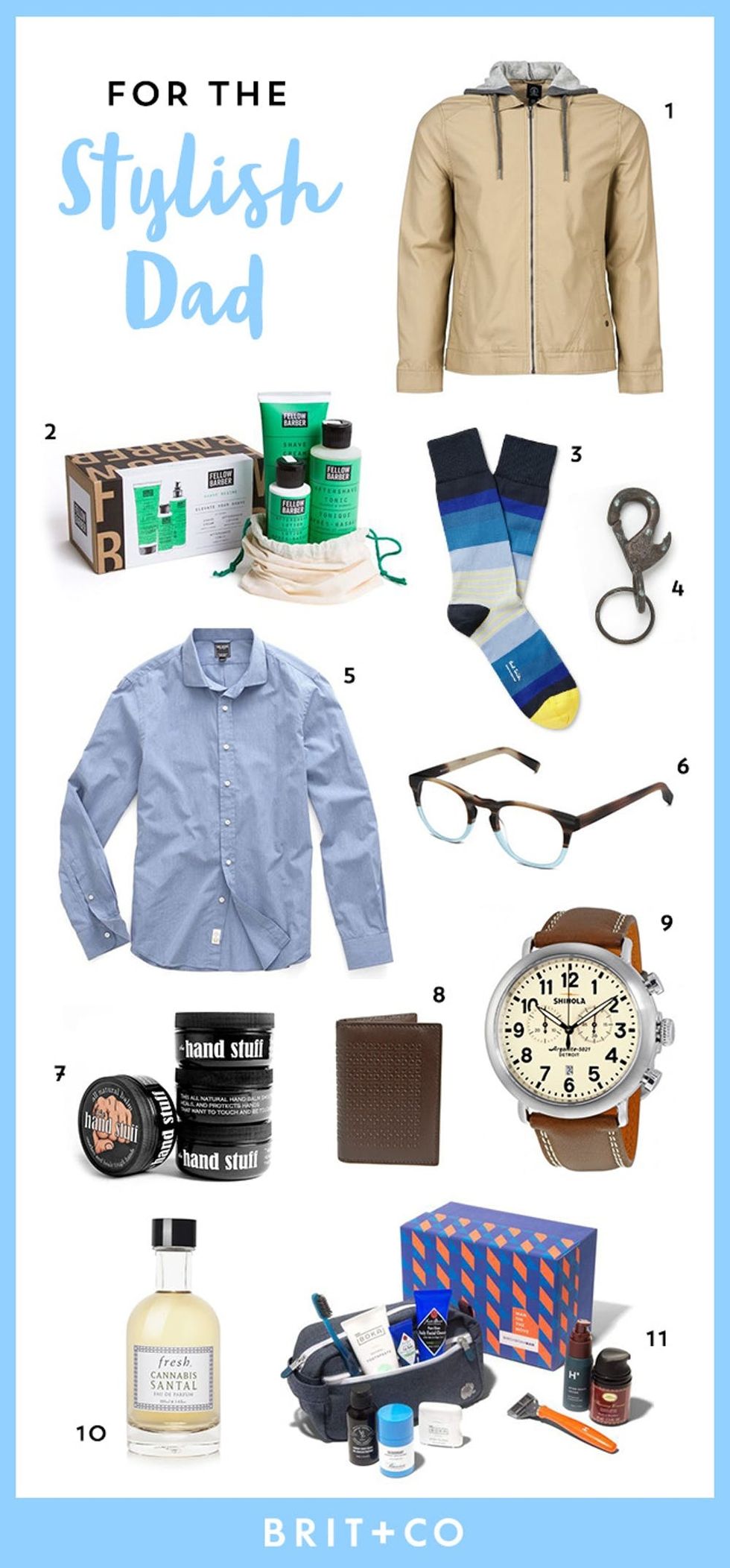 SUAVE GIFTS FOR THE STYLISH DAD
1. Volcom Barnett Jacket ($65): Dad will be warm AND stylin' in the Barnett Jacket from Volcom. It comes with a cozy jersey hoodie and is fully machine washable.
2. BloomThat x Fellow Barber Shave Regimen Kit ($34): Help keep Dad looking spiffy with this shave kit. This three-piece set comes with a shave cream, aftershave tonic and aftershave lotion.
3. Paul Smith Striped Stretch Cotton-Blend Socks ($32): Socks count as part of an outfit, y'all. Did you ever see a dude with unsightly white socks peeking out? Make sure your Pops is super stylin' with these bold socks that are also breathable and comfy AF.
4. Brixton Key Clip ($18): Dad's keys could use a little spiffing up with a key clip — but this is no ordinary key ring. This vintage-style ring doubles as a bottle opener!
5. Todd Snyder Poplin Dress Shirt ($225): This fine Italian poplin shirt is perfect for taking Dad from the office to dinner.
6. Warby Parker Topper Glasses ($95): Old school glasses are so laaame. Get your dad stylin' with a fresh pair of Warby Parker glasses that feature a two-toned design that's perfect for the office.
7. The Hand Stuff ($12): Whether you work with your hands or not, this stuff is a must-have for dads whose hands need serious moisture. Did you ever notice how dry dad's hands/nails always are? Tell him to slather this on and he'll be good to go.
8. Salvatore Ferragamo "Mini Gancini" Leather Card Case ($260): This gorgeous, buttery leather card case is *the* way to shell out business cards. Don't even let him think about pulling out a crinkled card from his pocket — he needs something professional and fly AF.
9. Shinola The Runwell Watch ($550): If Dad likes good craftsmanship, he'll definitely appreciate this Shinola Runwell Watch. Sure, it's kind of a splurge, but this timepiece is the first of the Shinola watches created in Detroit, and the brand has become synonymous with an obsession to detail and super high quality.
10. Fresh Cannabis Santal Eau De Parfum ($50): This men's scent smells So. Good. Slightly musky and woody, this scent is also loved by the ladies. Step up his fragrance game with this bad boy.
11. Birchbox Limited Edition: Man on the Move ($55): Give Dad all the grooming tools he'll *ever* need with this box full of goodies. From a razor to a black toothbrush (yup, he needs one) to some minty lip balm, this is a total one-stop-grooming-shop.
What are your plans for Father's Day? Tweet us @BritandCo!
Brit + Co may at times use affiliate links to promote products sold by others, but always offers genuine editorial recommendations.