This Easy Recipe for Rainbow Spaghetti Nests With Mozzarella "Eggs" Is Crazy Delicious
Apr 07, 2017
Yes, you'll probably dye your fingernails purple, but how much are the kids gonna love you for rainbow spaghetti? It's simple to prepare, and adding some mozzarella "eggs" gives you an ultra-effective lunch for the Easter holidays. It's even a project you can do with the kids (if you don't mind them looking like they've been tie-dyed). Why not pull out all the stops and go for a DIY rainbow party?
---
The question is, what kind of animal makes a nest like this? Or, at least, what are you going tell the kiddos those mozzarella eggs really are? Baby unicorns? Polka dogs? Or maybe glitter-breathing dragons! Read on for the colorful recipe.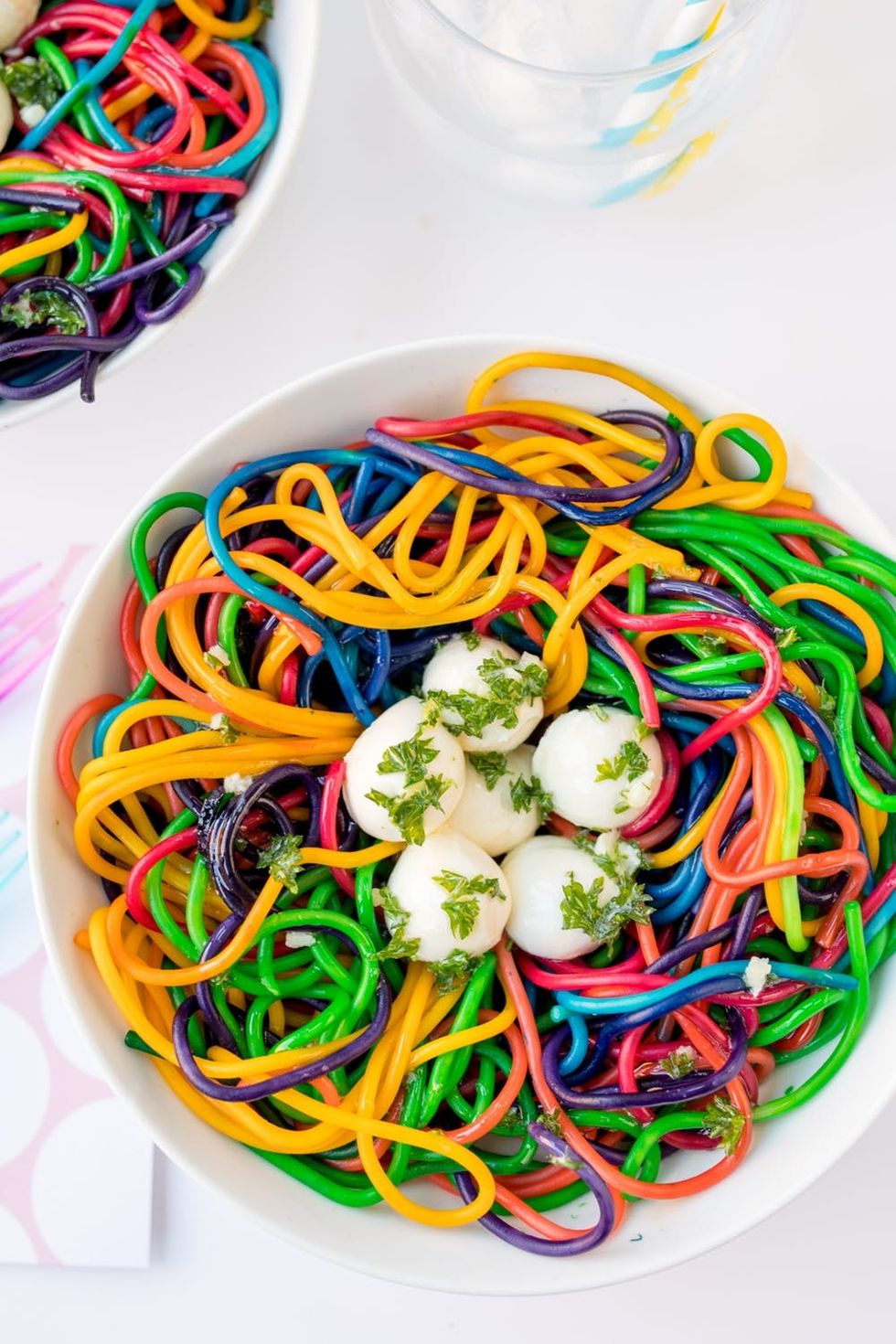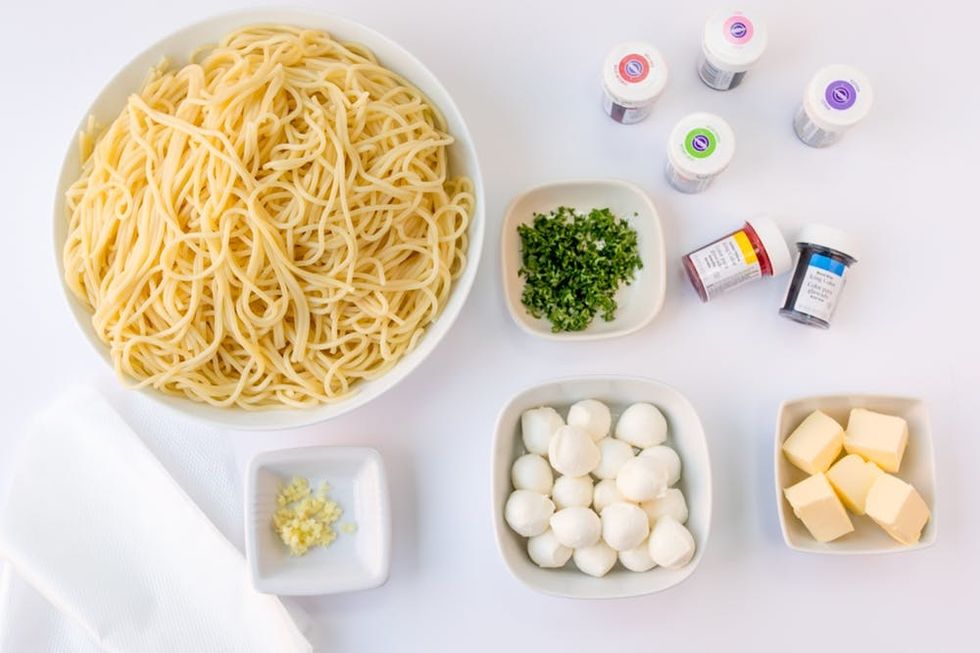 Instructions: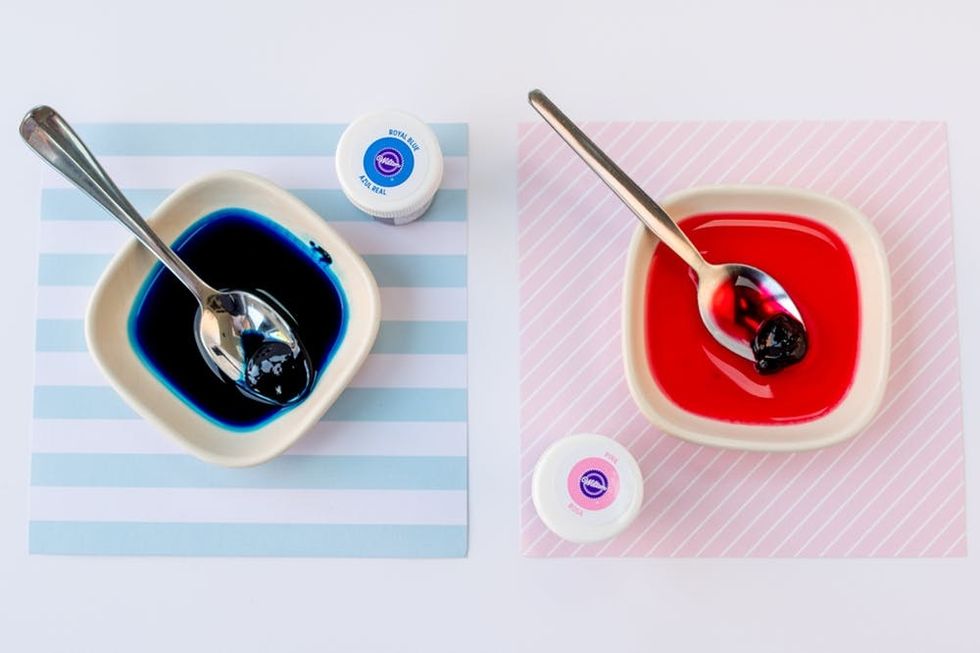 Mix 1/4 teaspoon of food coloring gel with two tablespoons of cold water. Repeat with all of the gels, so you have six portions of coloring.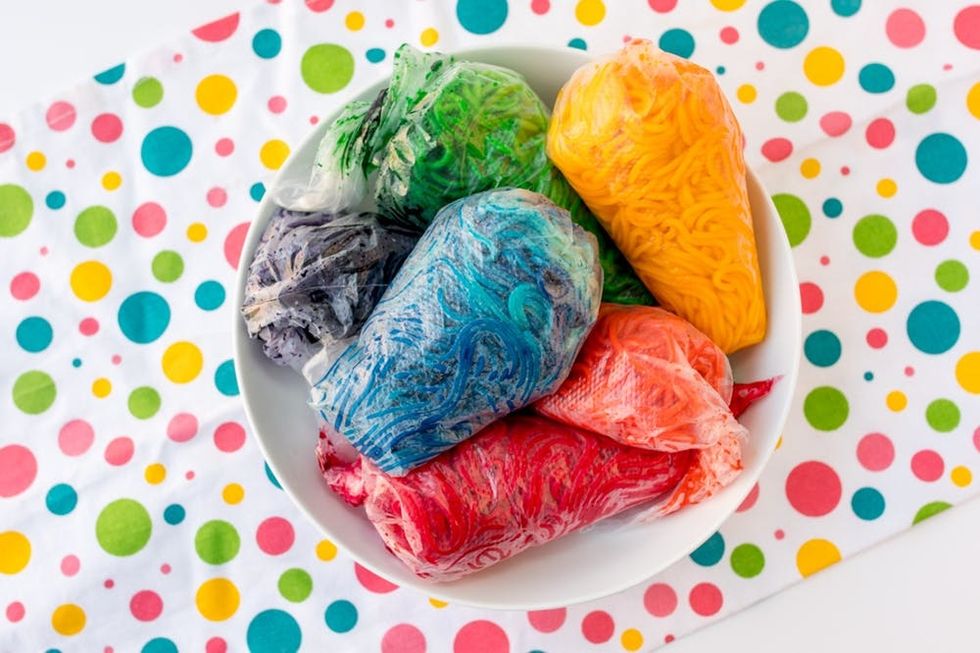 Divide the spaghetti into six portions and place each into a plastic sandwich bag. Add one of the dyes to each bag. Seal and gently massage the dyed water around the bag until all of the spaghetti is covered in color.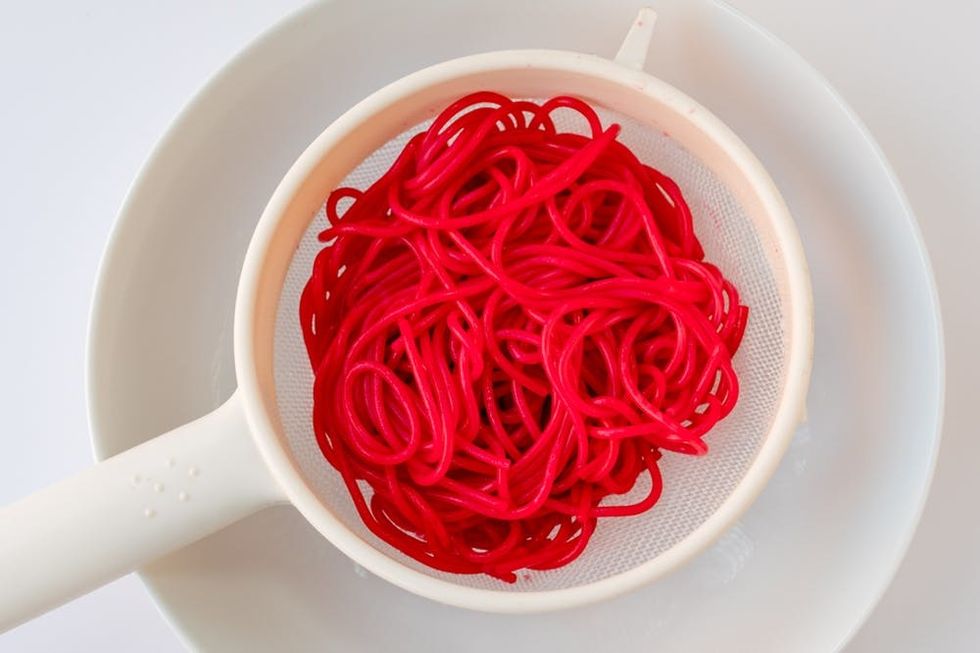 Leave to soak in for five minutes, then separately drain each portion of spaghetti over the sink, using a sieve. Rinse with cold water to remove excess color and place into a bowl. Try to keep the colors separate at first, as the lighter colors will transfer to the darker colored spaghetti.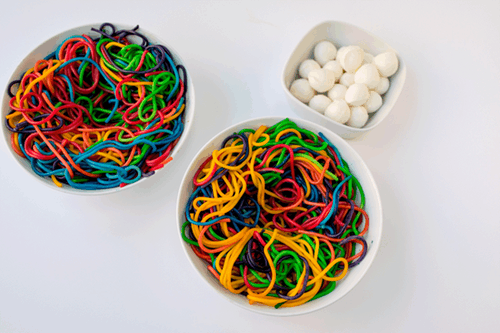 Divide the spaghetti between four bowls, and toss together (at this point, you can heat through the spaghetti slightly by microwaving for a minute or two — although our test kids didn't care if it was warm or cold!). Make a little well in each bowl, to give a nest shape. Place five or six mozzarella balls in each well.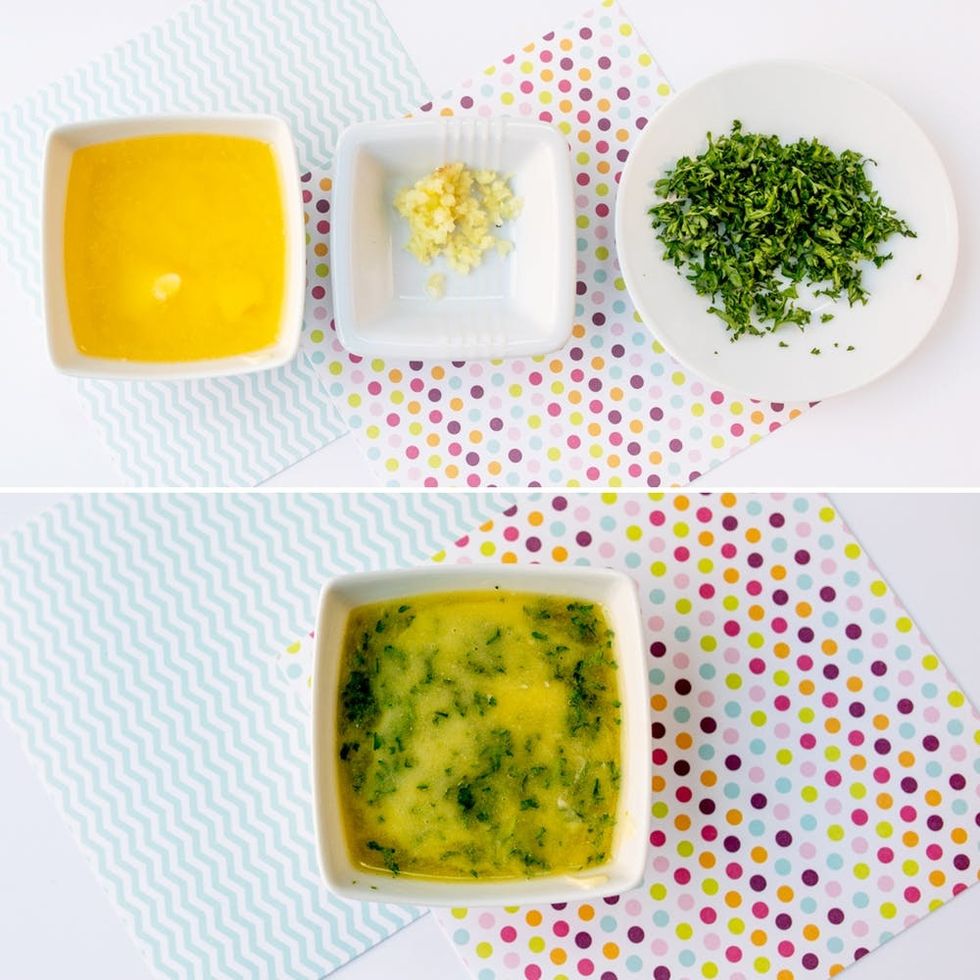 Melt the butter and stir in the garlic and parsley. Drizzle over or serve with the nests.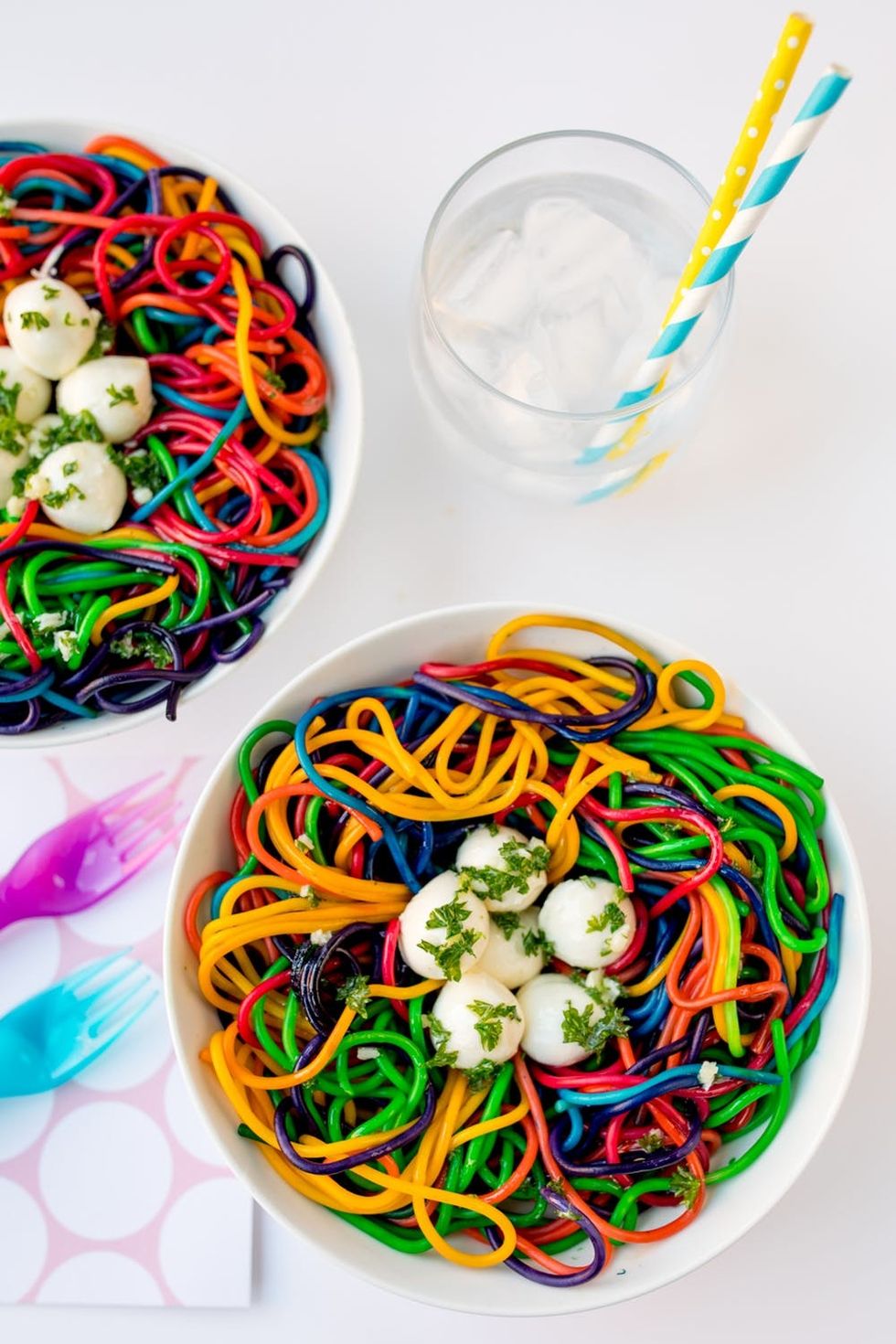 We'd love to see your rainbow spaghetti nests! Share your pics with us on Twitter @BritandCo, and follow us on Pinterest for more colorful recipe ideas.
Nicky Corbishley
Nicky lives in Cheshire in the UK with her husband Chris and their two children Gracey and Lewis. She spends her days creating, photographing and writing recipes for her blog
Kitchen Sanctuary
.