15 Washi Tape DIYs for Your Wedding Decorations
Mar 14, 2016

---
Washi tape has had a serious moment over the past couple of years, but that doesn't mean its 15 minutes of fame are over just yet. From centerpieces to invites to unique wedding cake toppers, washi tape hacks are also perfect for your big day. If you're in the process of planning your own wedding, you can put your huge (like, really giant) collection of washi tape to good use with some of the affordable and easy DIYs below. Scroll through to take a peak at how you can bring your fave crafting material into your very own wedding decor.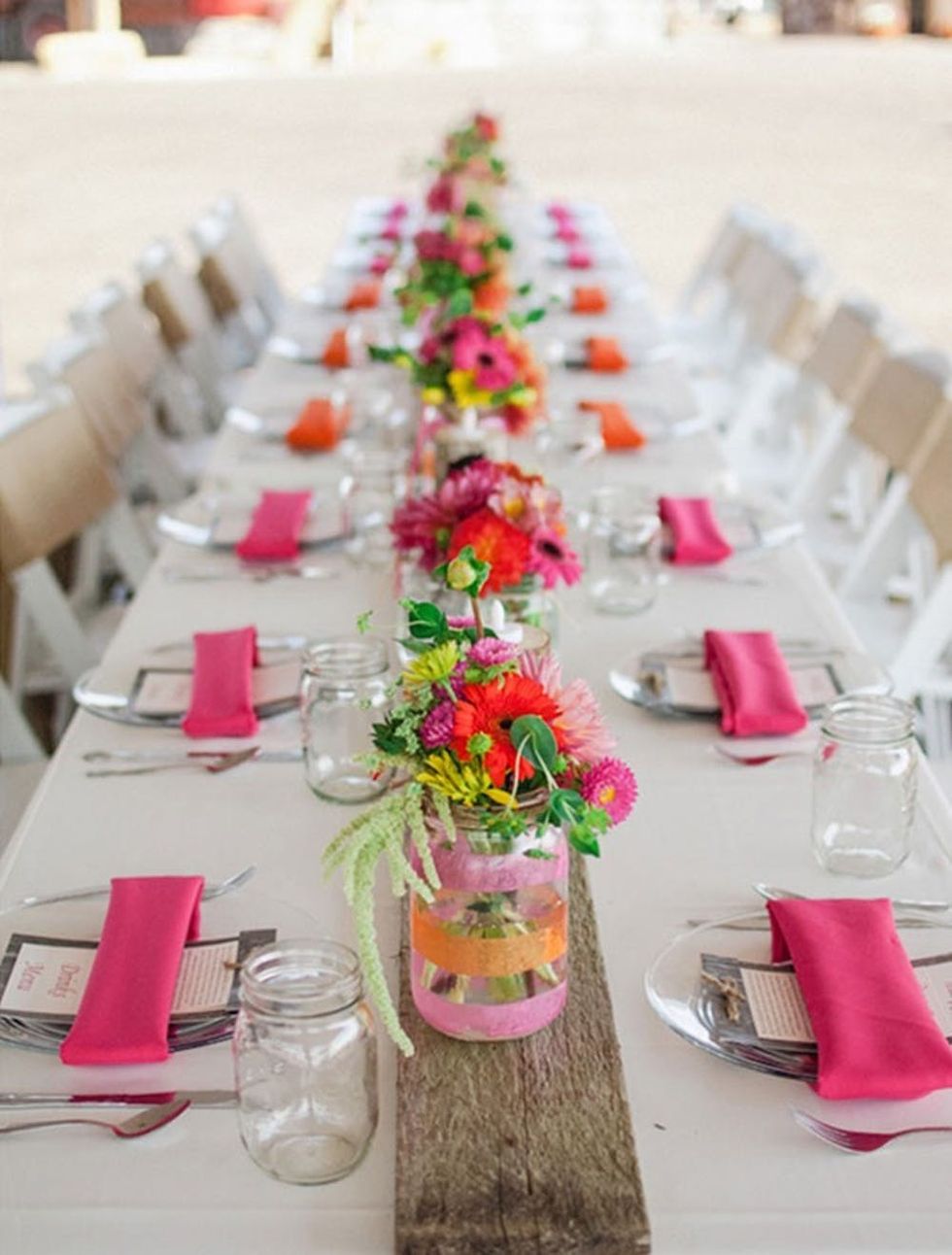 1. Washi Tape Stripe Mason Jars: Washi tape and mason jars are the epitome of a trendy-meets-classic wedding. Use tapes in your wedding colors, and wrap the mason jar to create a striped effect. Finish them off with your favorite flowers, and consider your centerpieces complete. (via Brittany Lauren Photography / Wedding Chicks)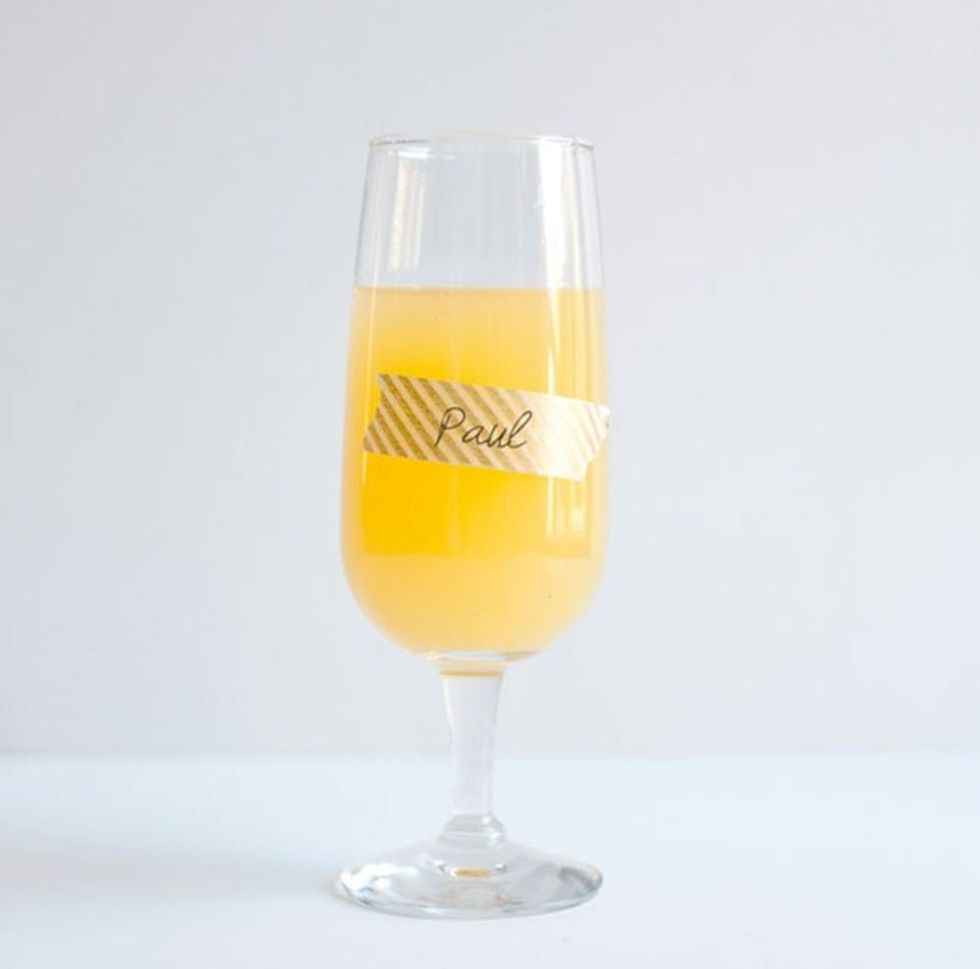 2. Washi Tape Drink Labels: Say goodbye to drink mixups! Losing your cocktail at any party is the worst, especially at a wedding. Avoid any confusion by adding a roll of washi to the bar so that each person can write their name on their glass. (via Sara Westbrook / One Charming Party)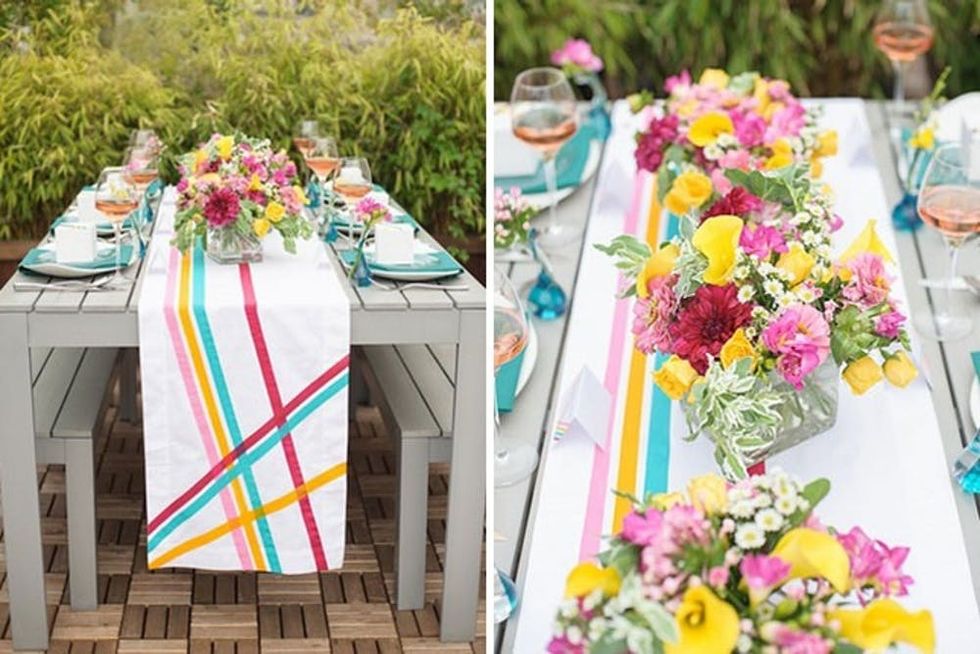 3. Washi Tape Table Runner: On the hunt for a budget-friendly table runner for the wedding party's table? Pick up an inexpensive white option and take it to the next level with your favorite washi tape. Your runner will be ready for the big day as soon as you pop on a few bouquets of flowers. (via Weddingmania)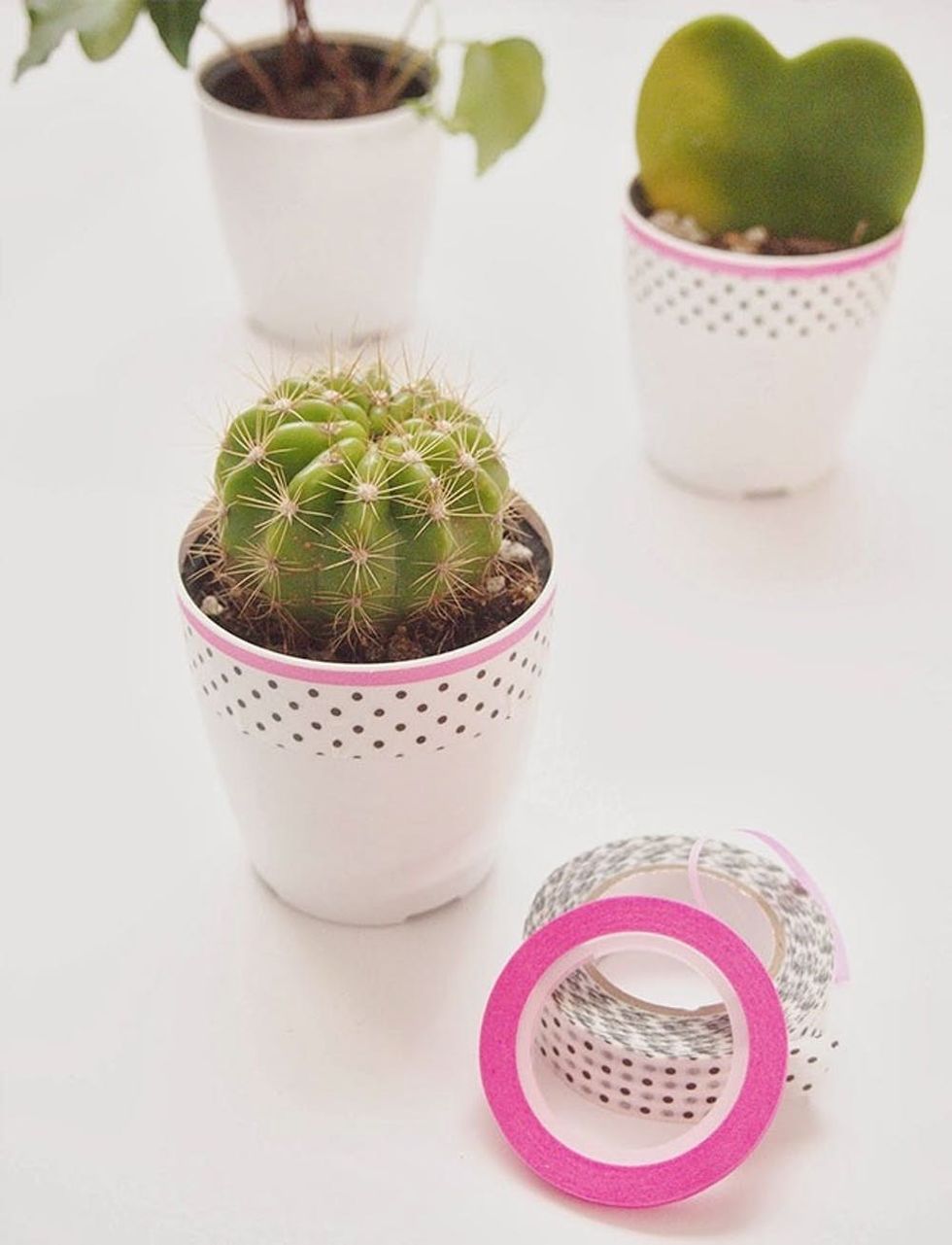 4. Washi Tape Cactus Favors: Give your guests a party favor that will live on even past the reception with a mini succulent planter. For this easy DIY, you can snag mini cacti from your favorite shop and add a couple rows of washi to give it a unique look. Use them to top off each place setting, and you can check the party favors box off your to-do list with glee. (via Yawarakana Jikan)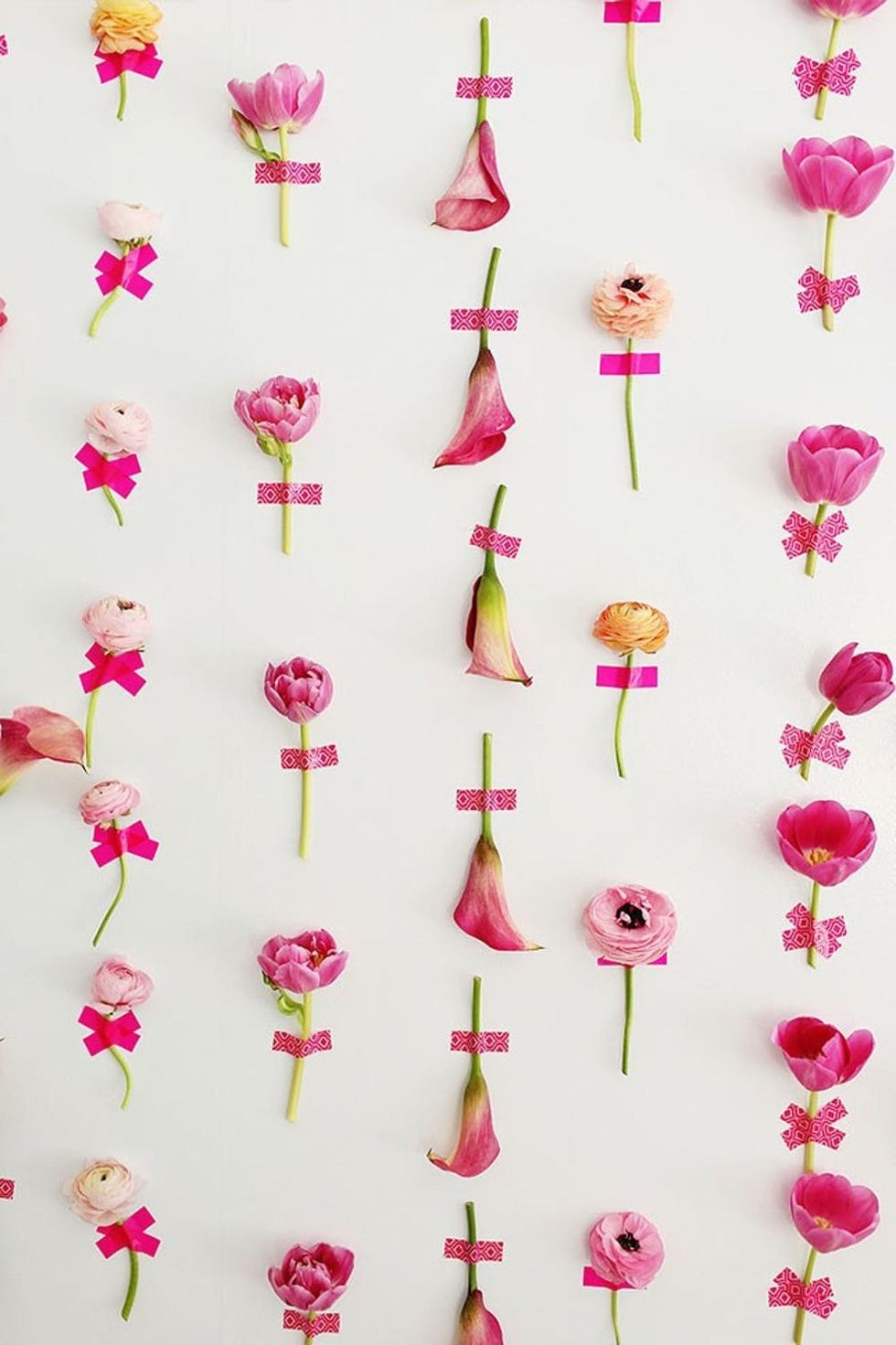 5. Washi Tape Photo Booth Backdrop: Is it even a reception without a photo booth these days? Instead of DIYing an elaborate backdrop, use this one as inpso. Cut flowers (real or fake!) and use washi to tape them to a blank wall. Get ready, because this is about to be the cutest photo booth of the wedding season. (via Kimberly Genevieve / Be Inspired)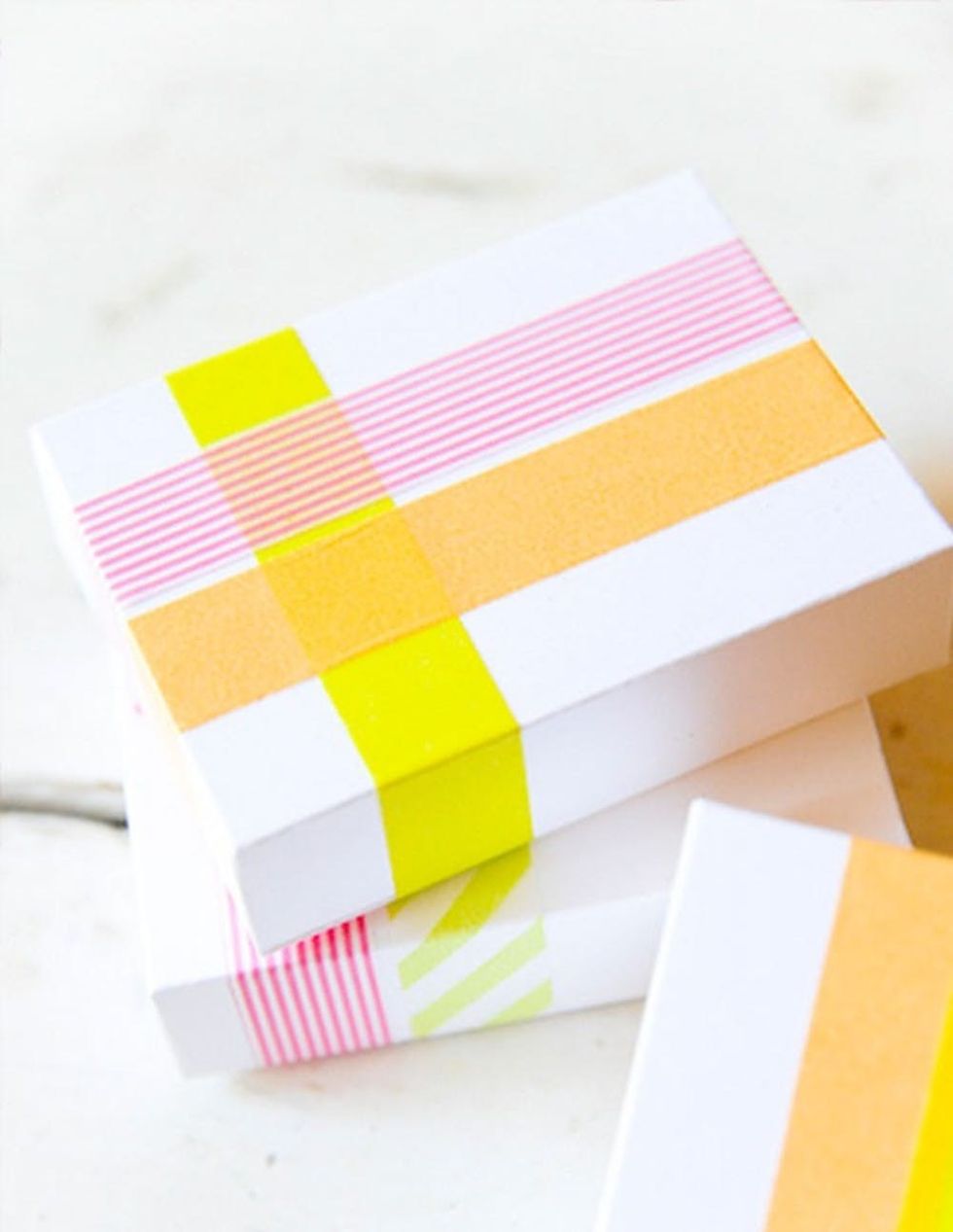 6. Washi Tape Favor Boxes: If you're going for a more traditional wedding favor, kick the box up a notch by adding some patterned tape. This means two things: You don't have to spend time fussing with ribbons, *and* your favor table will have some serious color. (via A Muse Studio)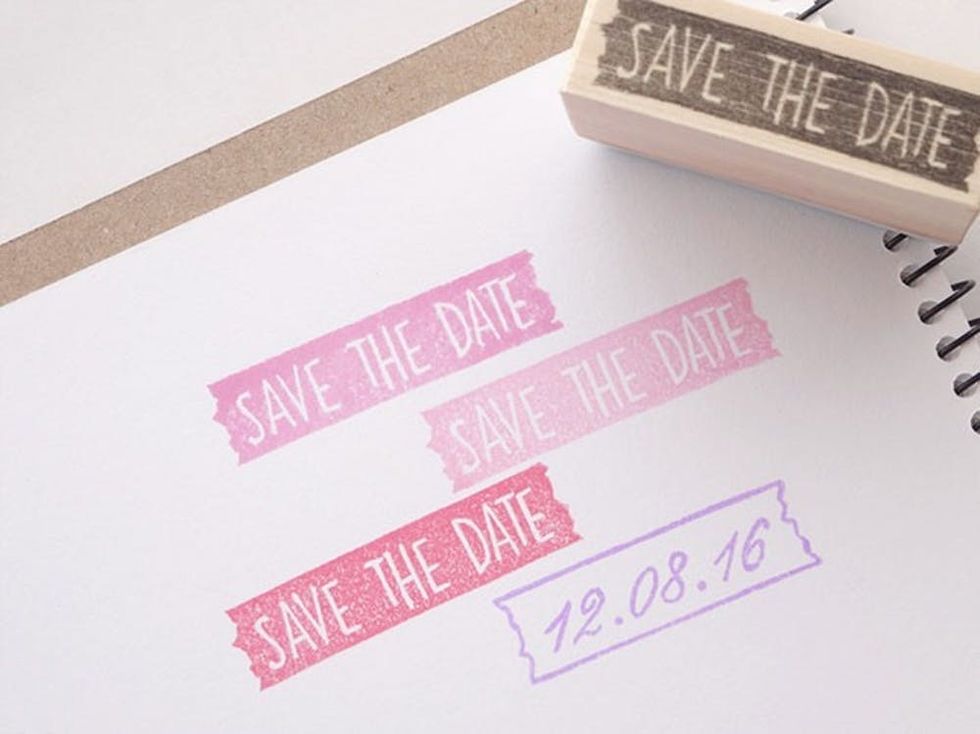 7. Washi Tape Save the Date Stamp ($22): Washi tape has become so popular that they even make stamps inspired by it. Pick up this save the date option to make sending your snail mail a total breeze.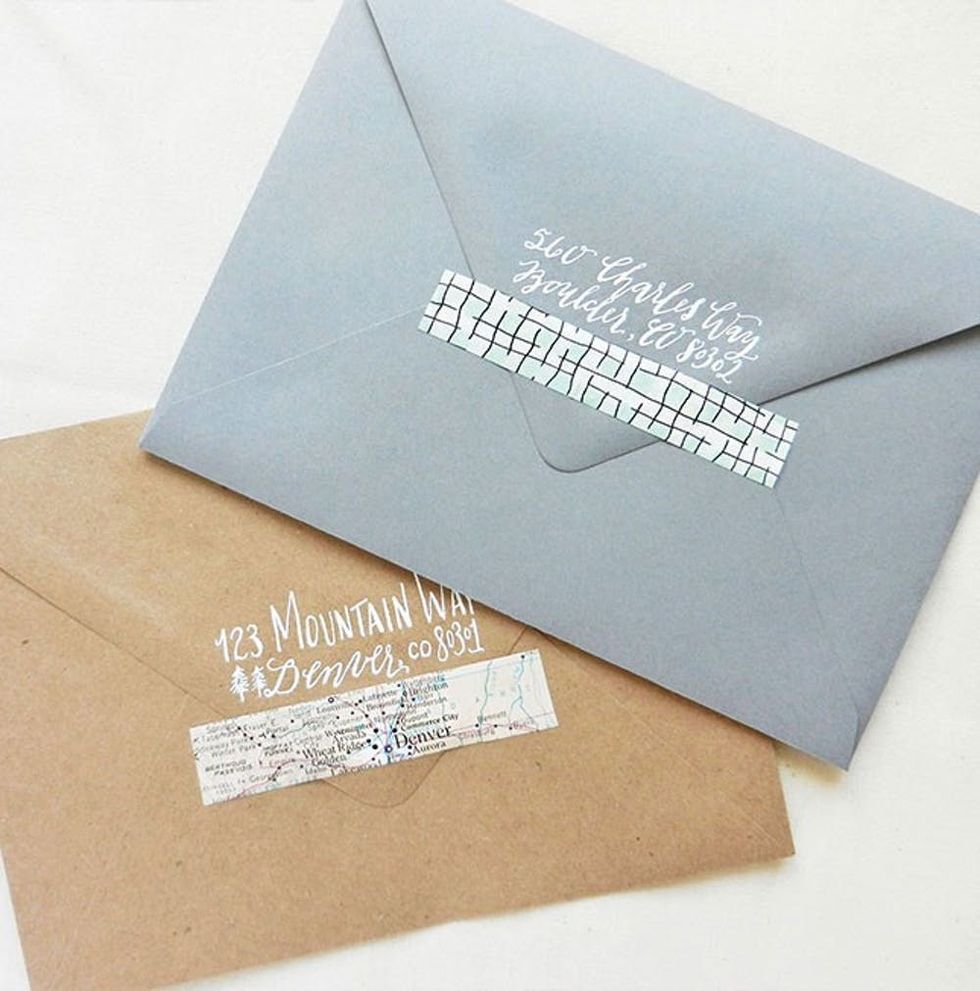 8. Washi Tape Envelope Closure: And if that's not enough for you, seal the envelope with a piece of washi. If you're on the hunt for the *most* custom washi out there, consider DIYing it. This tutorial shows you how to turn strips of paper into a patterned tape that you can add to your invites. (via The Postman's Knock)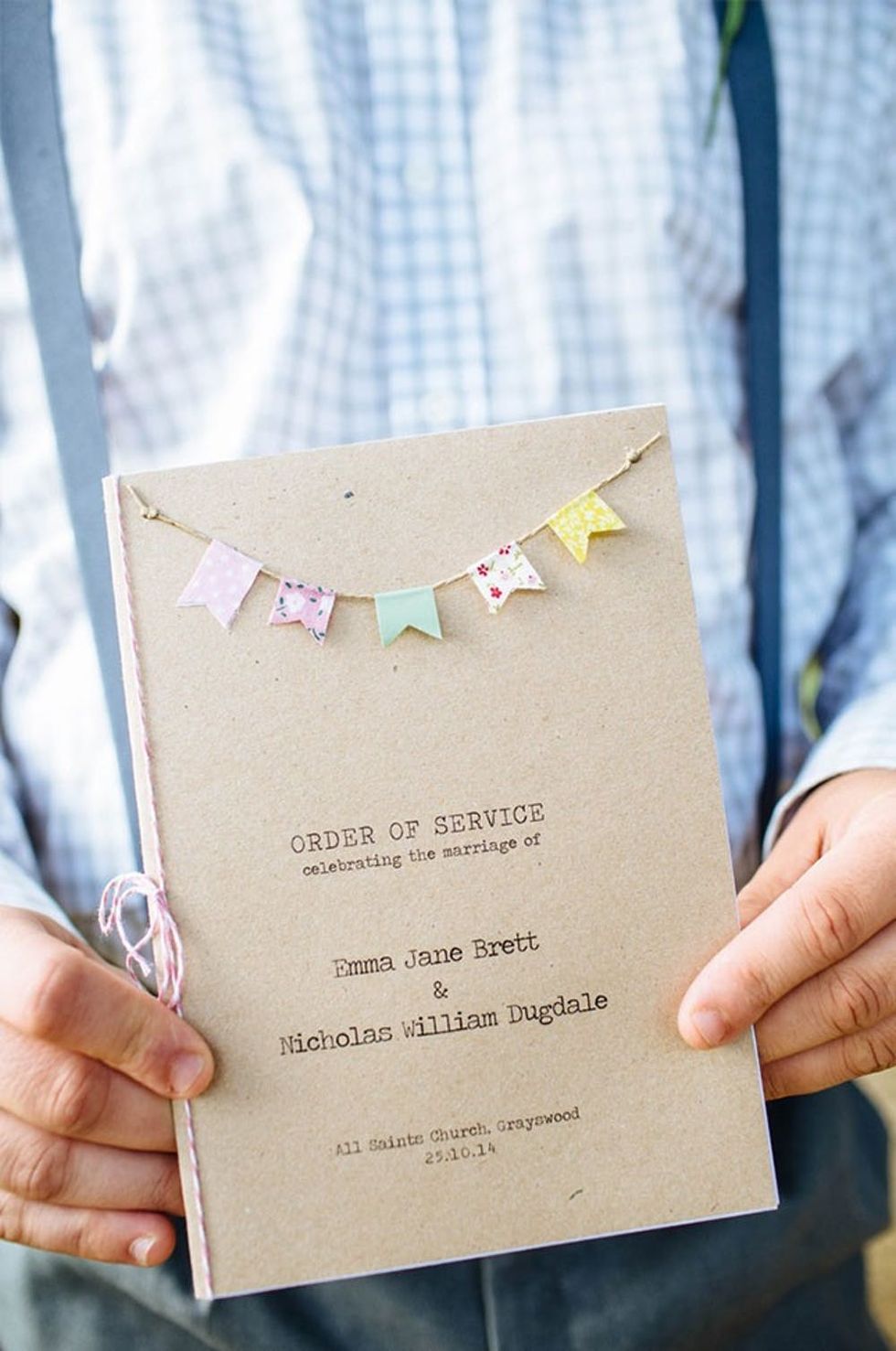 9. Washi Tape Garland Invitation: After you've got the save the dates figured out, it's time to move on to the invites. You can recreate this invitation in a few simple steps. Pick a classic, natural card stock and add some bakers twine. Then, add a washi tape garland to give it a one-of-a-kind vibe. They take a little extra time to make, but the finished product is beautiful. (via Laura Debourde / Whimsical Wonderland Weddings)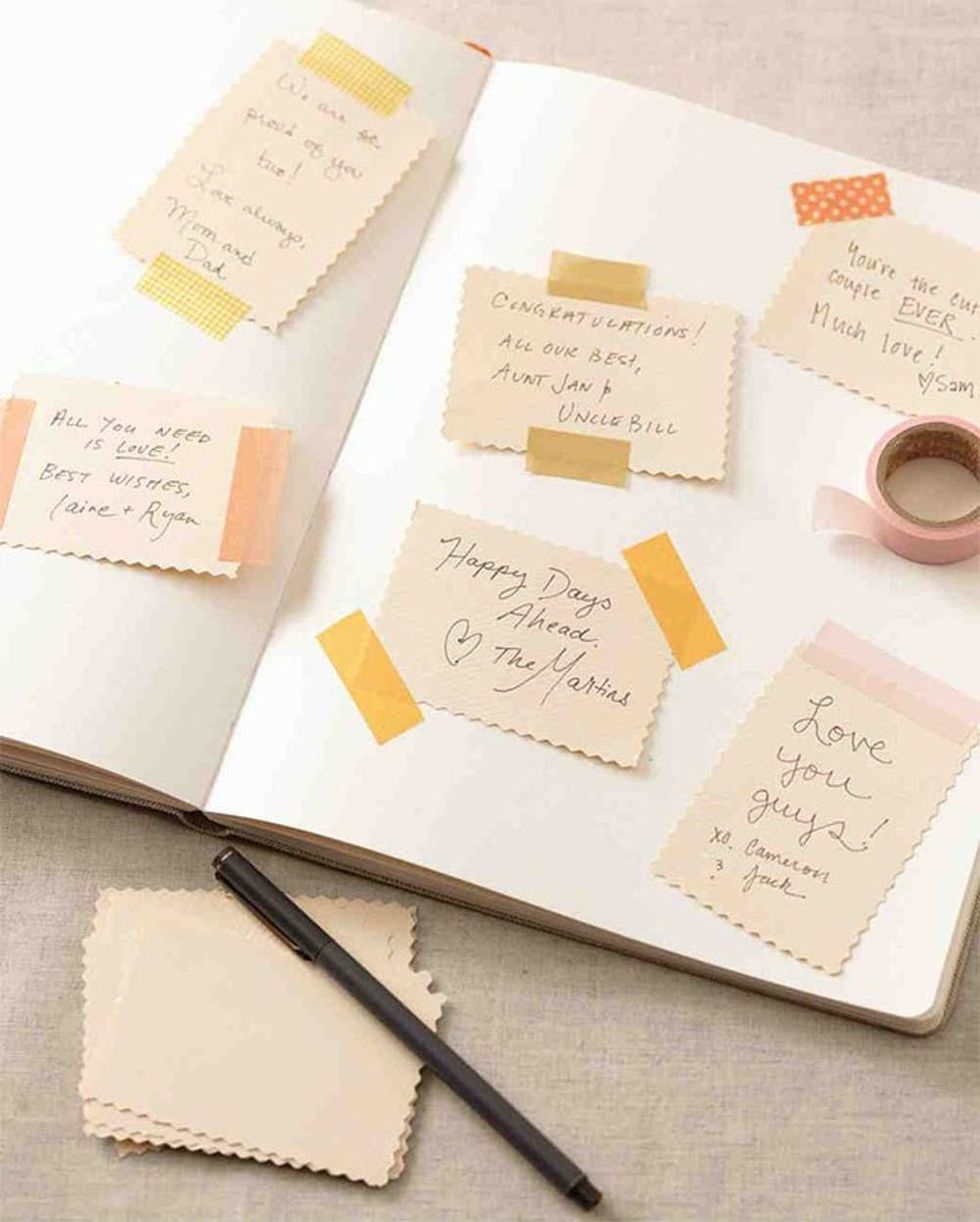 10. Washi Tape Guest Book: It only takes a couple extra steps to make a penny-pinching guestbook stand out. Instead of having guests write directly on the pages, offer a stack of stationery so they can tape it into the book. The finished product is a modern scrapbook vibe that you won't be able to resist. (via Martha Stewart Weddings)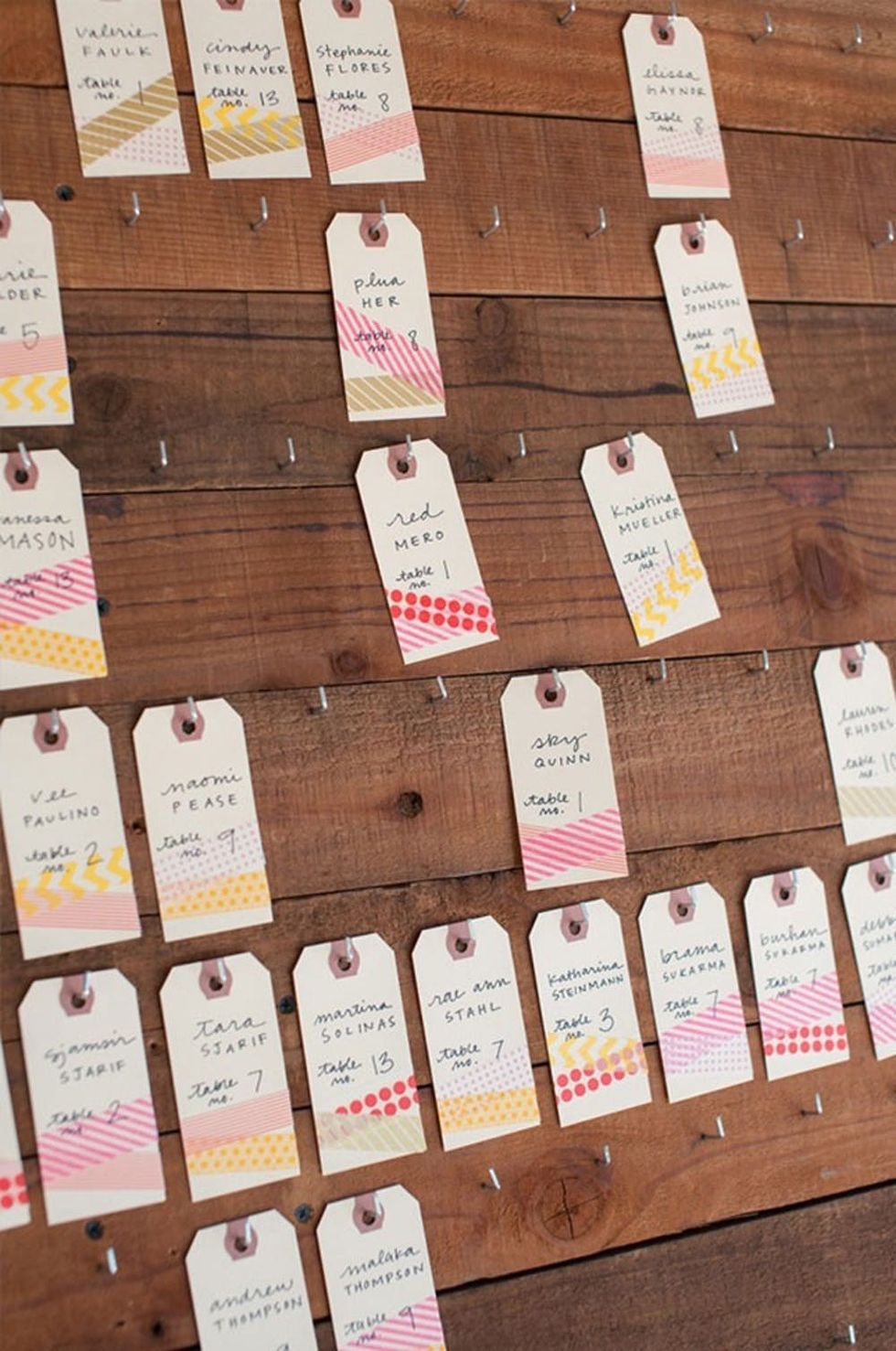 11. Washi Tape Seating Chart: The best part about incorporating washi tape into your wedding is that you can add special touches that show you really went the extra mile. That includes your seating chart too! Hand-letter individual tags and tape on a couple strips of patterned washi. Then add hooks to a reclaimed wood wall to hang all those names. (via Rahel Menig / Ruffled Blog)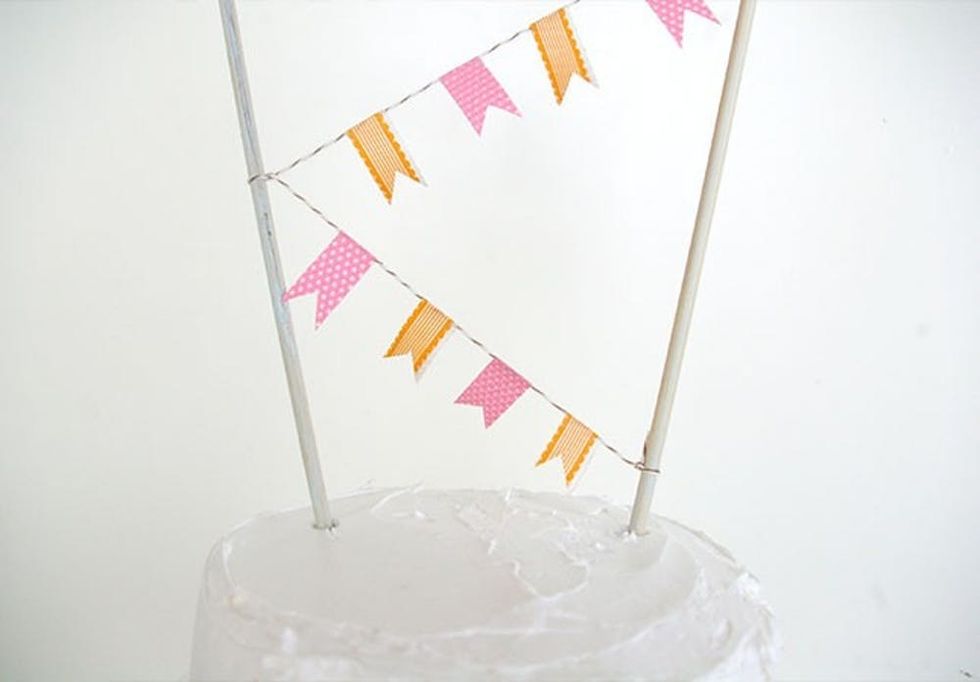 12. Washi Tape Cake Topper Bunting: Add an extra bit of color and texture to your cake with a bunting topper. Just fold washi over a strand of baker's twine, and cut V shapes to create mini flags. Not only is it super easy to DIY, but it makes a bold statement that your guests will be using as inspo for their next cake. (via Sugar + Cloth / Love Wed Bliss)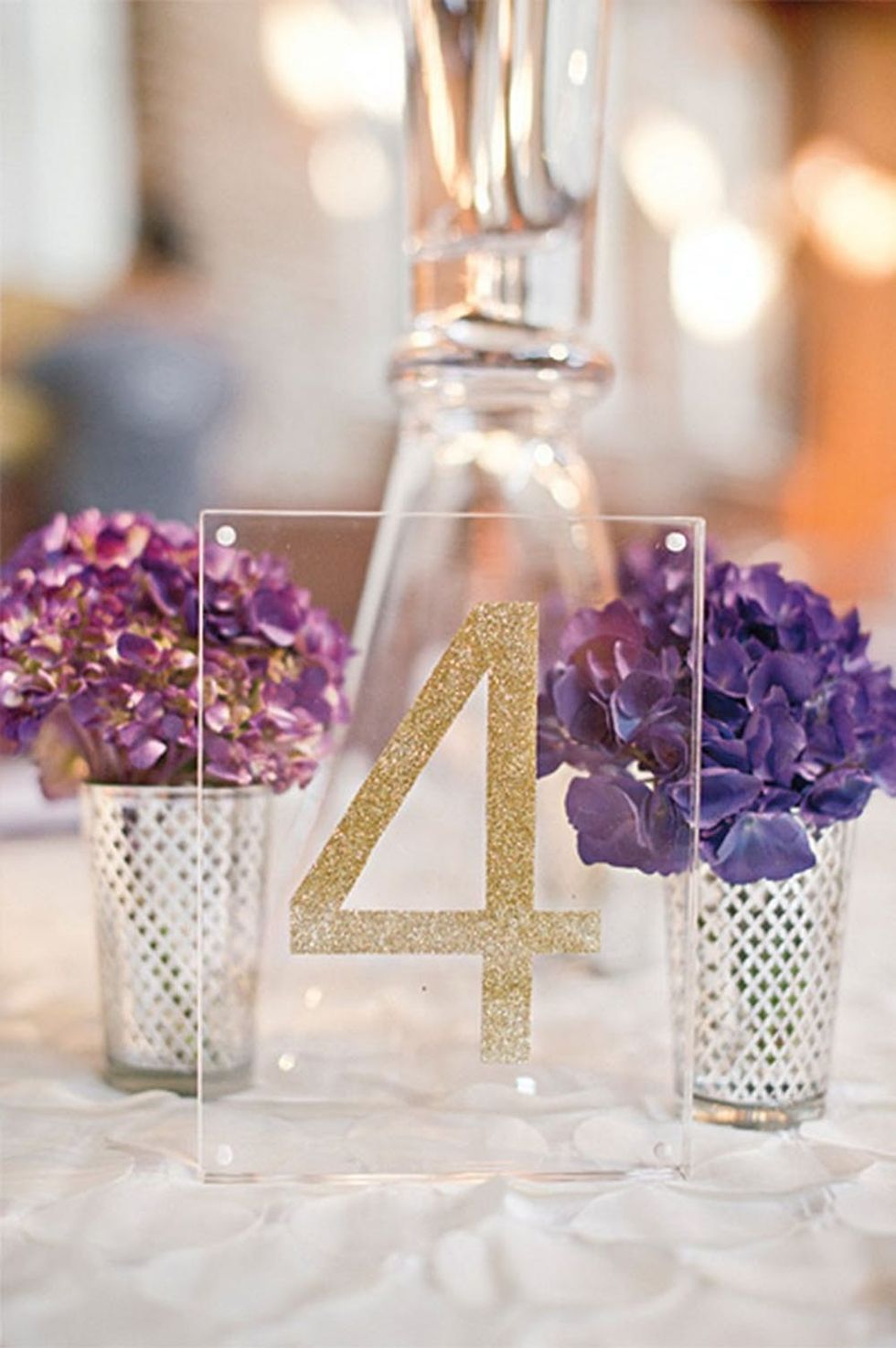 13. Washi Tape Table Numbers: Getting creative with washi at your wedding includes everything down to the table numbers. Adhere strips to a clear stand to create numbers. Stick them on each table to give your tablescape a glittery upgrade, but also keep things clean and elegant. (via Harwell Photography / Southern Weddings)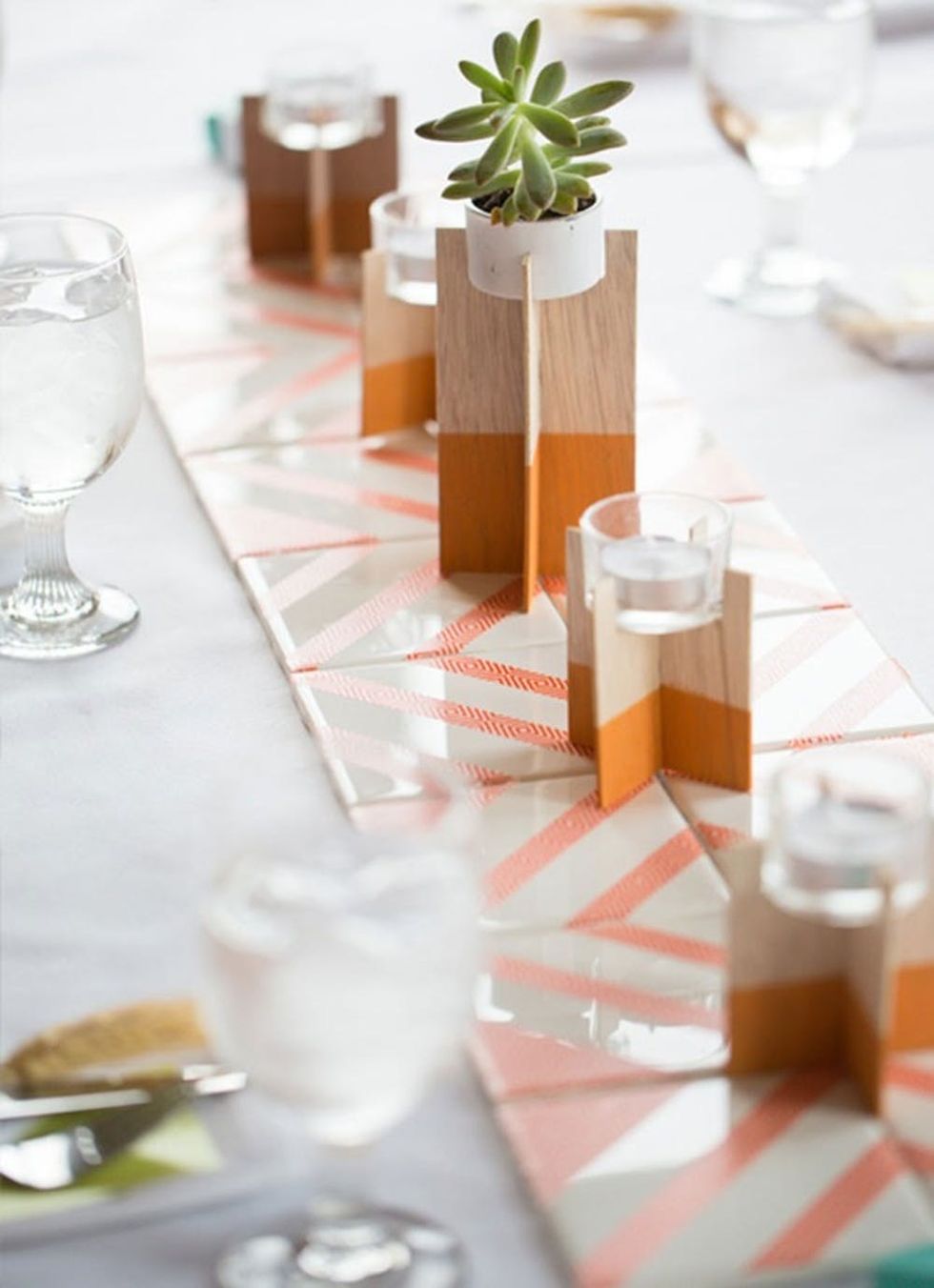 14. Washi Tape Tile Table Runner: If you have long tables instead of round tables, use this tile table runner idea to replace a traditional one. Tape on your favorite pattern and line them up to create a cool runner style. Top it off with candles and succulents to make it top-notch. (via Jessica Simons Photography / Wedding Chicks)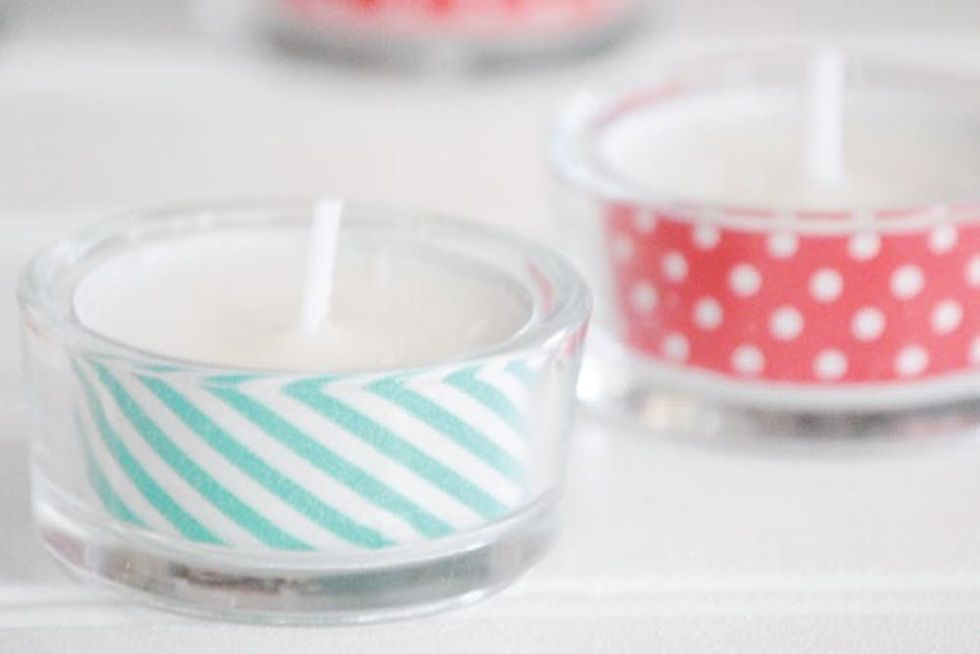 15. Washi Tape Tea Lights: Chances are you're going to have *lots* of candles and tea lights to make the venue warm and romantic. Add some color to the space by spicing up your tea lights with a strip of washi tape. Place them in clear votives and you'll be good to go. (via Fancy Little Things)
Your Big Day is just starting! Check out all things Brit + Co Weddings, and follow us on Pinterest for more beautiful + creative wedding inspo.