The Top 12 Style Trends of 2014
Dec 03, 2014
For fashion girls, flipping through your closet is like taking a trip down memory lane, a sartorial time capsule that shows the year as you wore it. And seeing those had-to-have pieces and impulse buys all alongside your hunted-down wardrobe staples says everything about that year's trends. If your closet looks anything like ours, 2014 marked the time you strayed from skinny jeans, flashed your midriff and slipped into comeback pieces you never thought you'd wear again (and again). Only time will tell if you'll continue to wear your joggers with flair or tuck 'em away in the darkest corner of your closet, but for now, let's revisit the most major style *dos* of 2014 — the ones (for better or for worse) we wore loud and proud, and have the #ootds to prove it.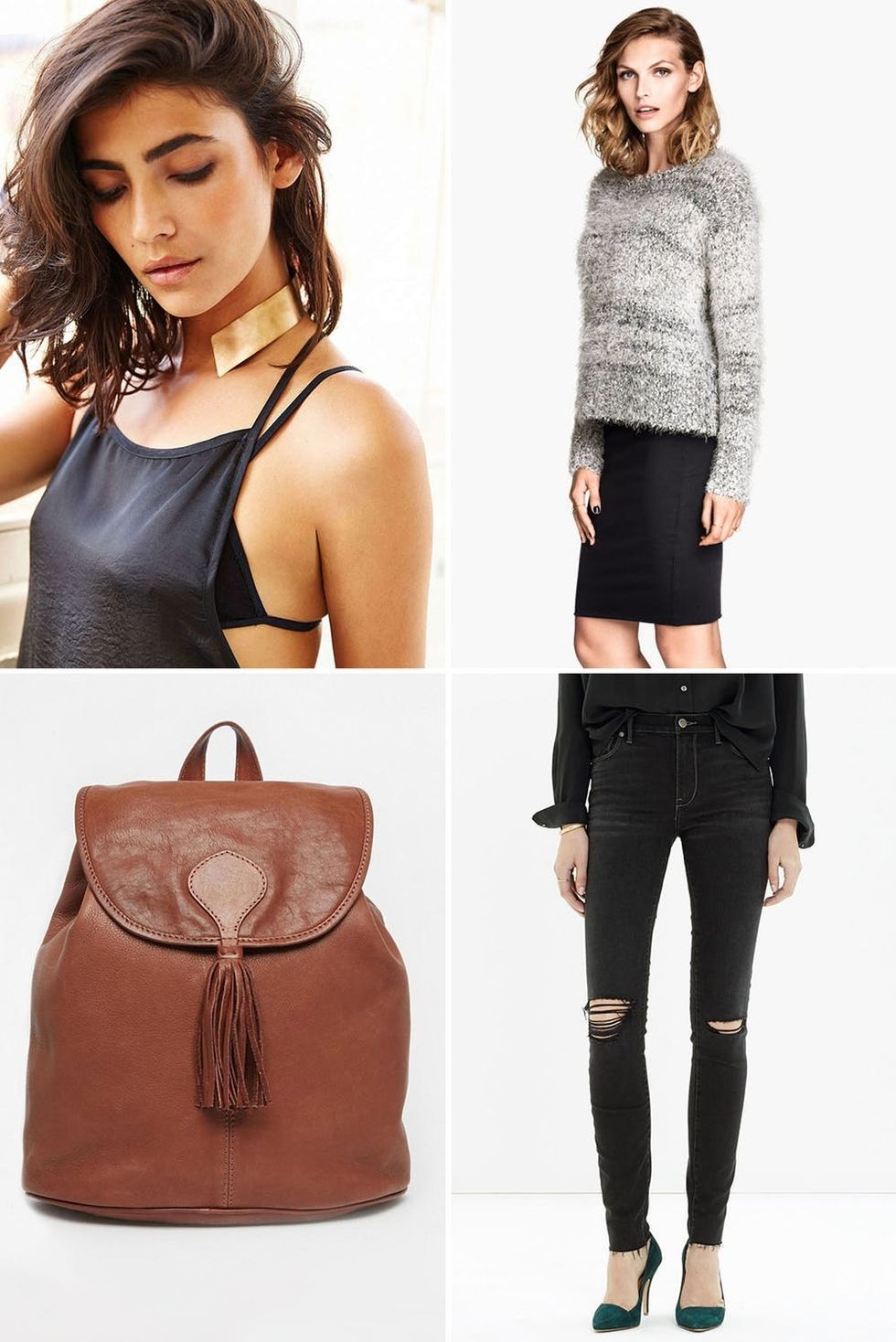 ---
1. '90s Comebacks: Around these parts, the '90s style revival looked a lot more like pieces were pulled straight from Posh Spice's closet than from the rest of the "Wannabe" crew's duds. That polished touch added a modern twist to pieces you usually only saw in your #ThrowbackThursday pics, but now wearing mini backpacks and chokers to the office is a thing — a comeback we were actually stoked about.
Sabrina SL Organic Bronze Choker Necklace ($180) H&M Knot Sweater ($35), Jack Wills Leather Backpack in Tan With Tassel Detail ($187) + Madewell High Riser Skinny Skinny Cut-Edge Jeans ($128)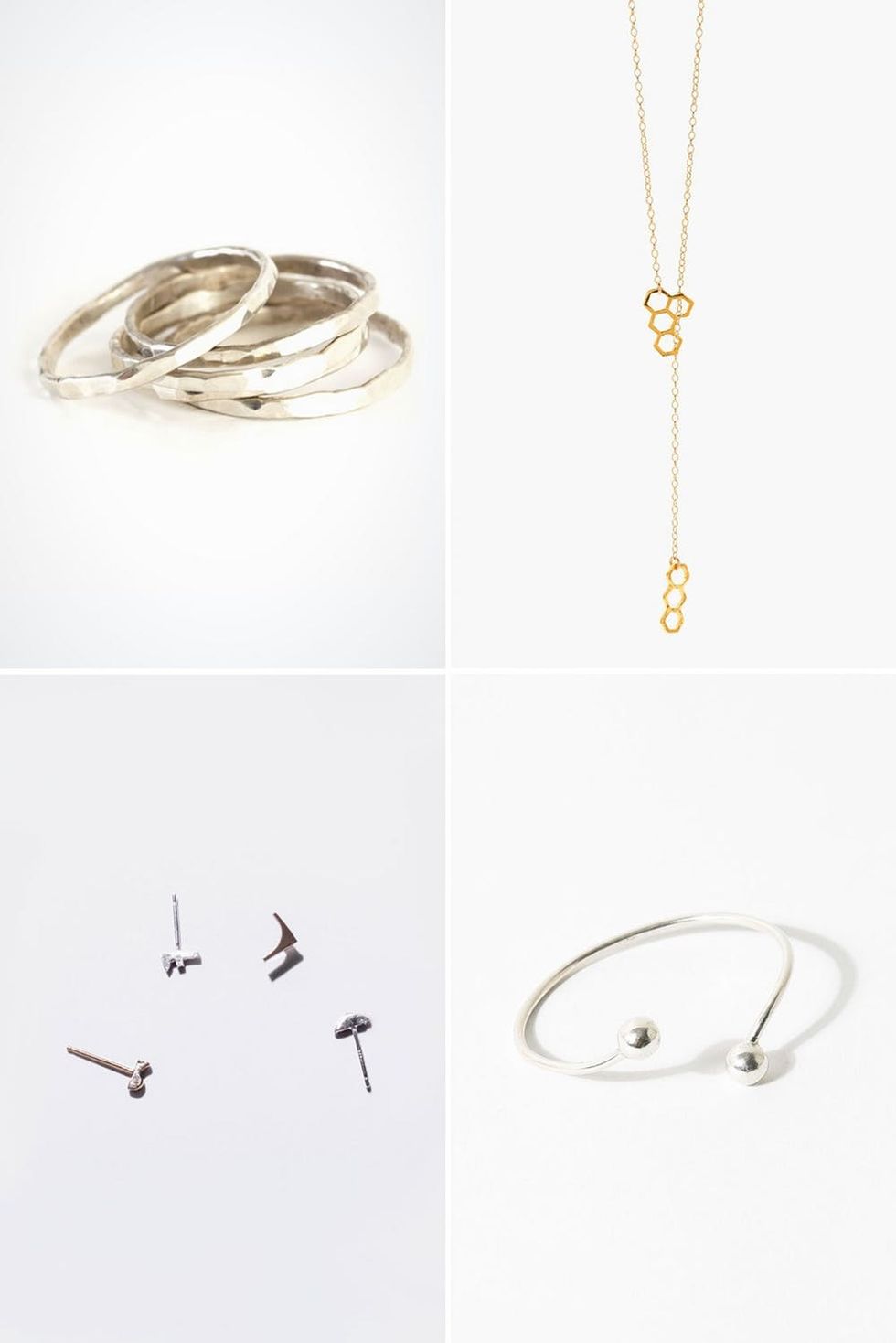 2. Delicate Jewelry: Big baubles took a back seat to much more delicate jewels in 2014, but that didn't mean the pieces were any less wow-worthy. Swinging lariats are stunning in their own right, especially when worn against a LBD or white tee, while paper-thin rings and delicate cuffs were equally commanding solo or stacked. The same went for studs — the more micro, the better — which had us wishing we had kept our triple ear piercing from way back when.
The Home Ground Faceted Stacking Rings ($55) gorjana Honeycomb Lariat Necklace ($56) Faris Small Studs ($50 each) + Alexes Bowyer Barbell Bracelet ($132)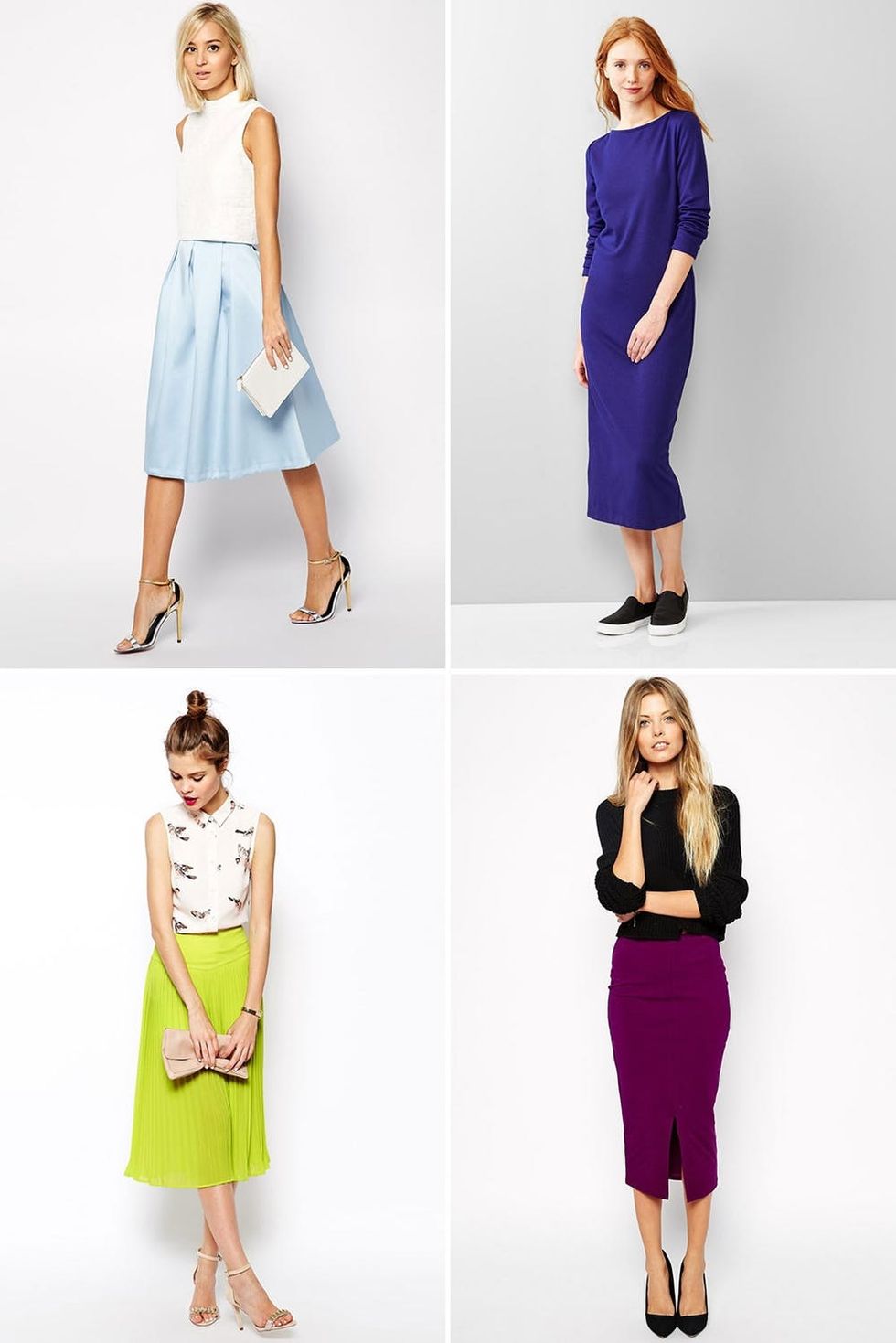 3. Midi Hems: The Goldilocks rule applied to hemlines this year (not too short, not too long, juuuust right) with the midi-length boom. Dresses, skirts and even trousers were cropped just below the knee, creating a streamlined yet unstuffy silhouette that was work-to-wherever perfection.
River Island Box Pleat Satin Midi ($91) GAP Boatneck Zip-Back Midi Dress ($70) ASOS Petite Pleated Midi Culotts ($76) + ASOS Midi Pencil Skirt With Front Split ($35)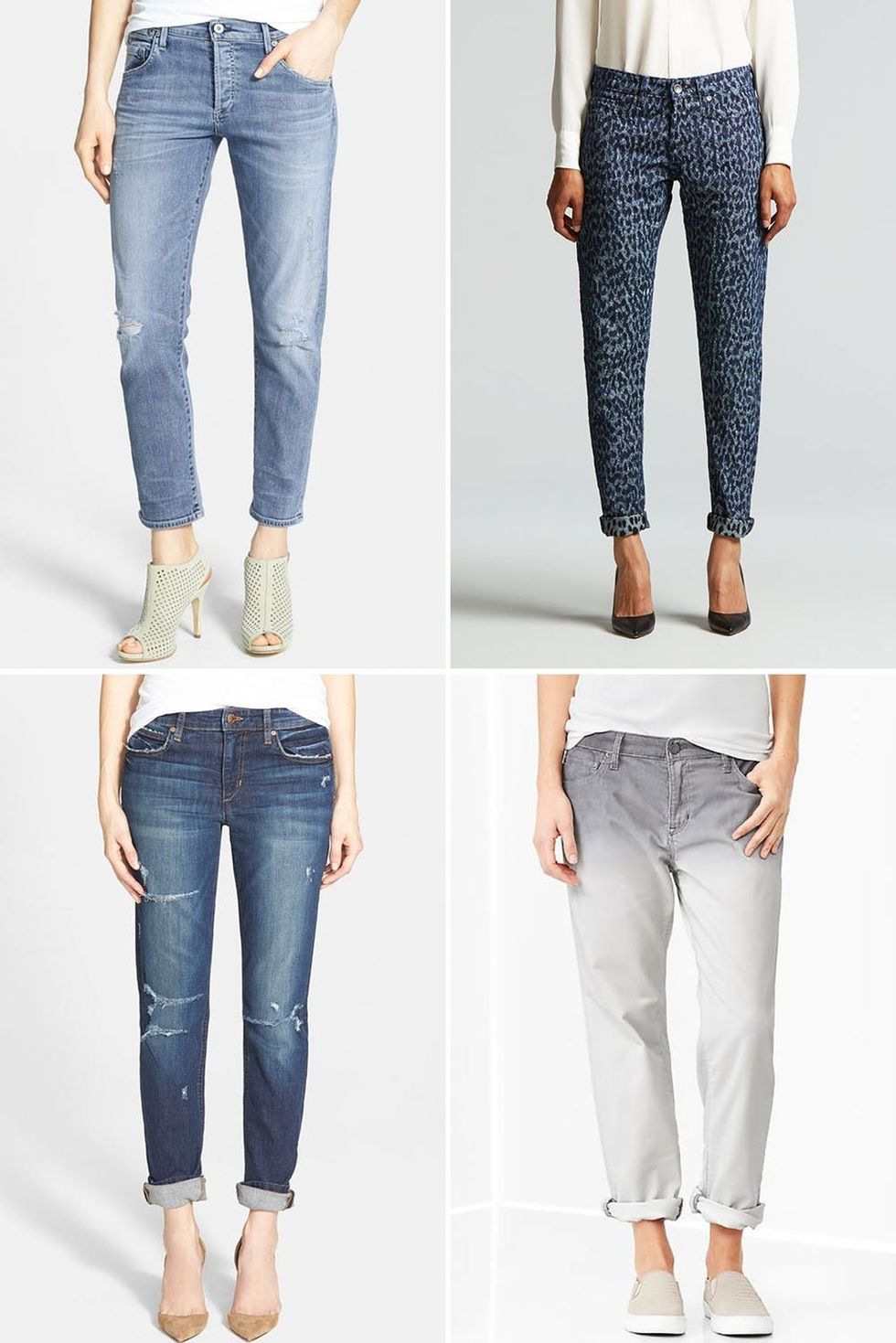 4. Boyfriend Jeans: Skinny jeans didn't quite die out, but the demand for this new, slouchier style of denim definitely signified that fashion girls were over squeezing into skin-tight silhouettes across the board (eg. how many bodycon dresses did you buy this year versus 2013?). Besides a roomier home for your booty, the best part about this more casual style was that it could be instantly dressed up with a quick cuff of the legs — slip into a pair of pumps and you were good to go.
Citizens of Humanity Premium Vintage Emerson Slim Boyfriend Crop Jeans ($155), Levi's Marker Boyfriend Jeans in Arya ($495), Joe's Boyfriend Slim Jeans in Jem ($126) + GAP 1969 Dip-Dye Sext Boyfriend Cords ($32)
5. #Cozygirl: Girls just wanna be cozy, and this year, there were more trendy ways to walk out of your house feeling like you were wrapped in a blanket than ever before. Joggers went from WTF to must-haves from the second we tried on our first pair, while toss-on-and-go pieces like overalls, longline cardigans and clogs (with or without socks) ensured gals were snuggly and stylish without exerting too much effort.
Forever21 Marled Knit Joggers ($20), Only Tarina Black Overalls ($76), Zara Long Cardigan ($50) + Maguba Chicago Kiltie Clog ($155)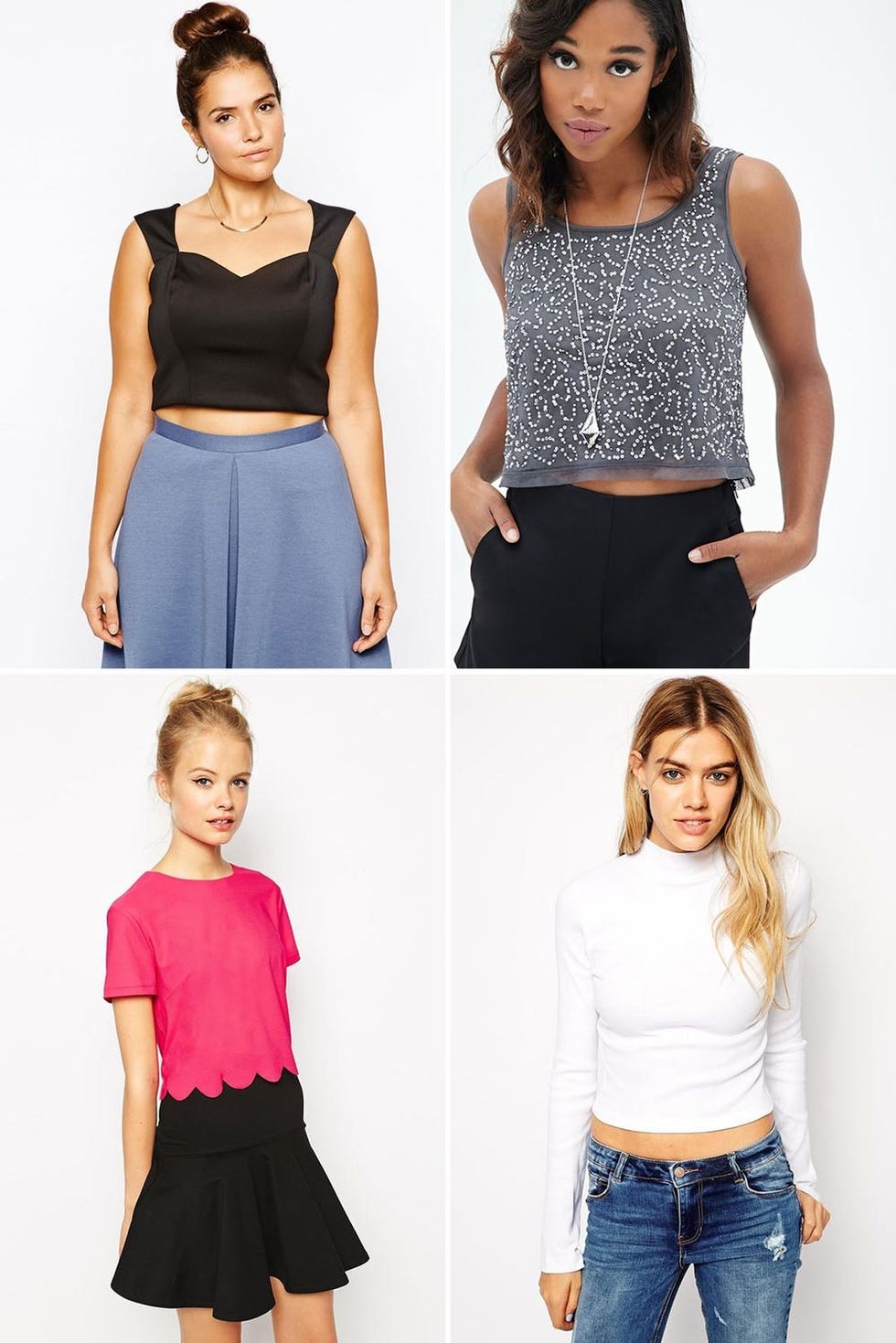 6. Crop Tops: Some say 2014 was the year of the booty, but if you ask us, we'll say that it was definitely the midriff's time to shine. No matter the season, no matter *your* shape, crop tops made every outfit all the more flirty and all the more fun, whether you let your belly button soak up the sun in a fitted bustier or kept it to a Taylor Swift sliver over a high-waisted skirt.
ASOS Curve Sweetheart Crop Top in Scuba ($48), Forever21 Mesh Sequins Crop Top ($9), Fashion Union Crop Top With Scallop Trim ($25) + ASOS Crop Top With Turtleneck and Long Sleeves in Rib ($27)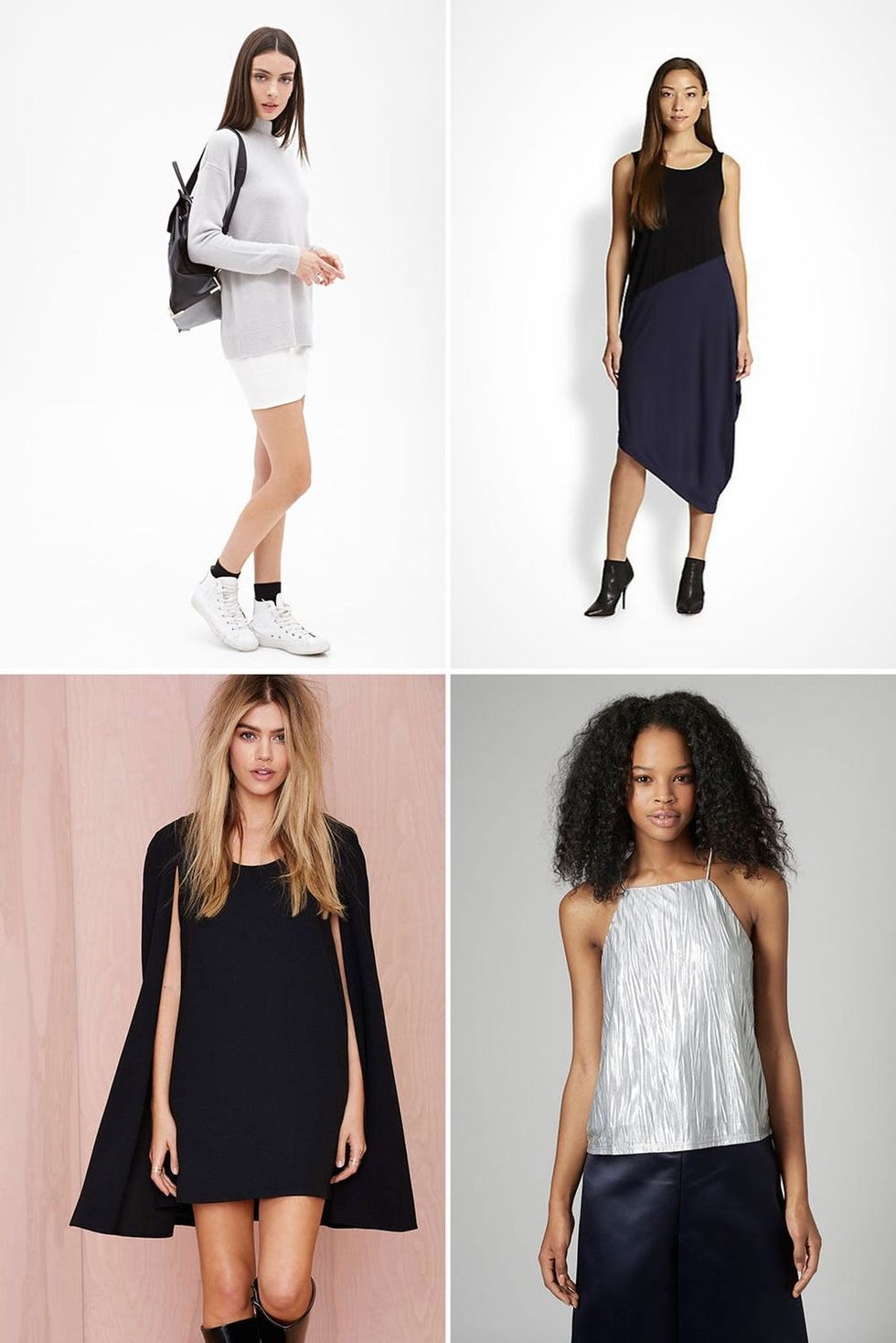 7. Modern Minimalist: It didn't matter how many embellished, appliquéd and patterned garments you owned; this year you tossed on something slick and dressed like a minimalist. But that didn't mean frill-free dressing was boring by any means: asymmetric hemlines gave an offbeat edge to any piece in your wardrobe, while high necks dressed up your collars enough to forgo a statement necklace. Plus, dressing sleekly meant you got to wear a cape, and who doesn't love wearing a cape?
Forever21 Oversized High-Neck Sweater ($18), Eileen Fisher Jersey Asymmetrical Dress ($119), Nasty Gal Catherine Cape Dress ($88) + Topshop Liquid Metallic Cami ($48)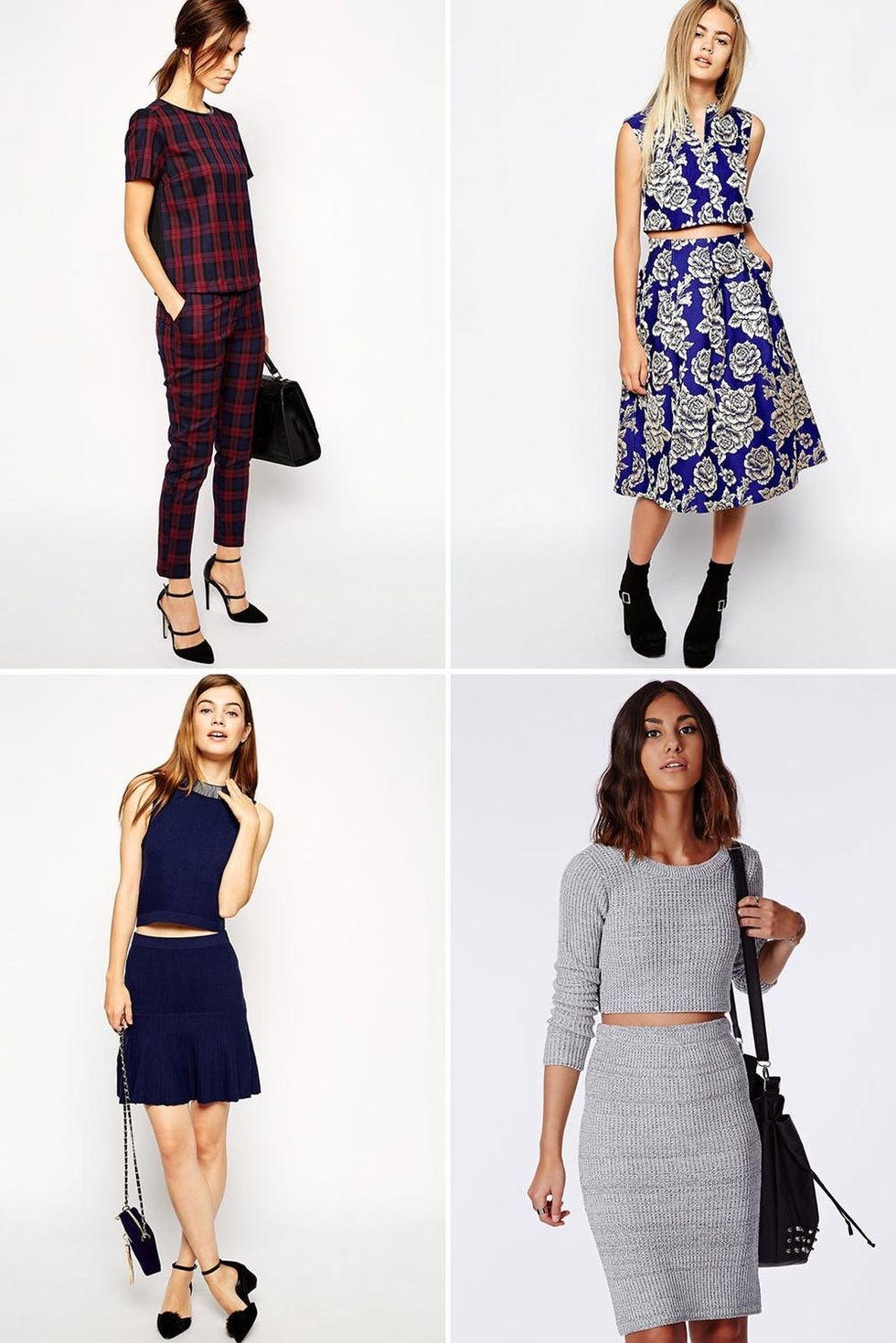 8. Matching Sets: Once crop tops took off, co-ordinates were the natural next step in the style game, pairing that oft worn half-shirt with a matching bottom — be it a skirt, trousers or shorts — to take the look to chicer-than-ever levels. Never mind that your wardrobe tripled with the purchase of a matching set — if we could coordinate from head-to-toe, we did.
Oasis Check Pant ($76)—Oasis Check Tee ($67), ASOS Co-Ord Cropped Tank With High Neck Embellishment ($57)—ASOS Co-Ord Skirt in Structured Knit With Pep Hem ($57), Missguided Casey Knit Scoop Neck Crop Top ($29)—Missguided Madelynn Knit Midi Pencil Skirt Grey ($29) + Sister Jane Rose Top ($64)—Sister Jane Rose Midi Skirt ($80)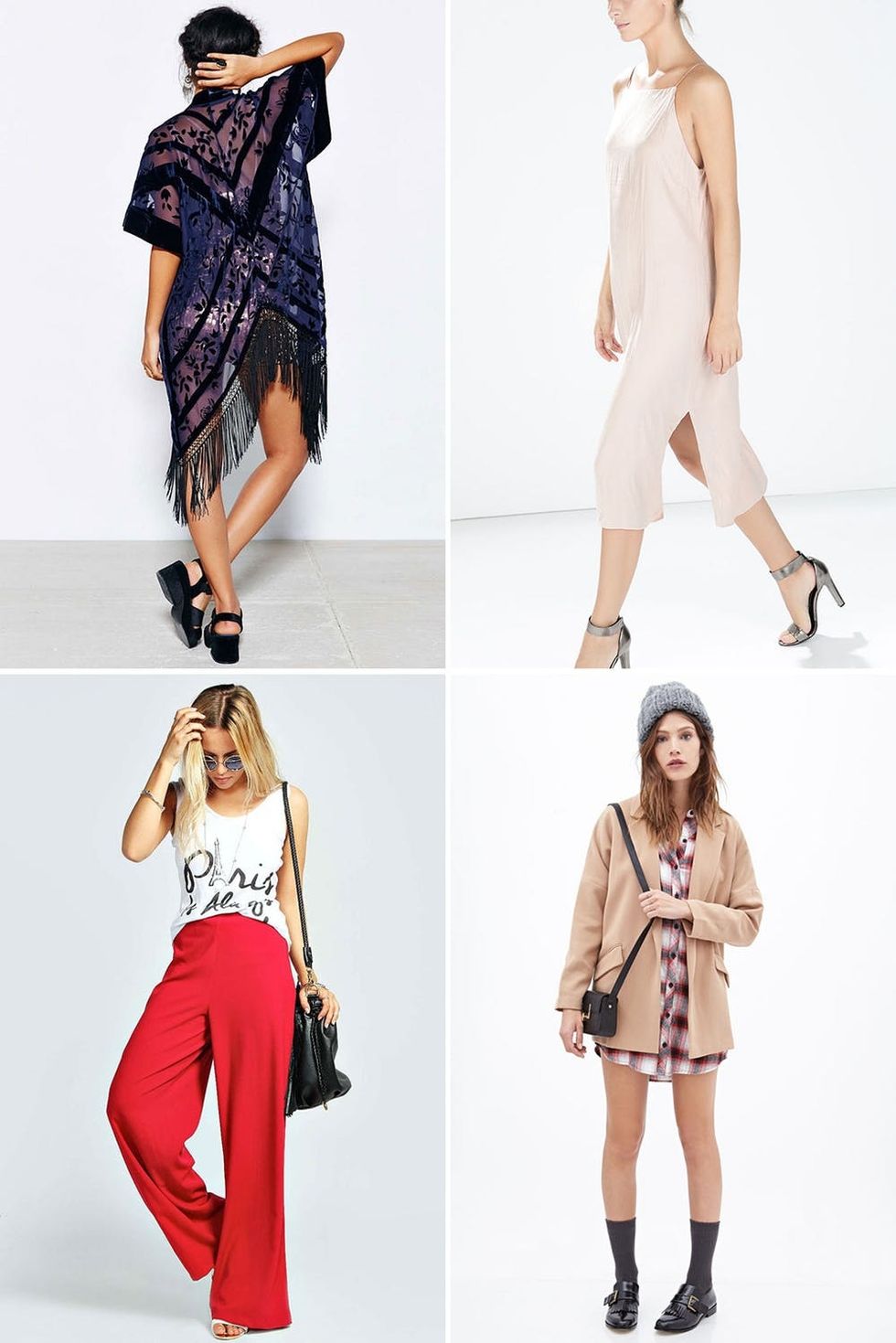 9. PJs as Outerwear: This is what happened when #wokeuplikethis beauty crossed over into the style realm. "Rolled out of bed" became haute, and it didn't seem like anyone was complaining, especially when your favorite lazy Sunday kimono, palazzos or shirt dress were now errand-appropriate pieces. And once we saw Rihanna in that slinky slip dress, we were sold on it being our New Year's Eve outfit.
Ecote Fantasy Kimono ($99), Zara Slip Dress With Slits ($80), Boohoo Amie Plain Crepe Palazzo Trousers ($30) + Forever21 Plaid Flannel Shirt Dress ($25)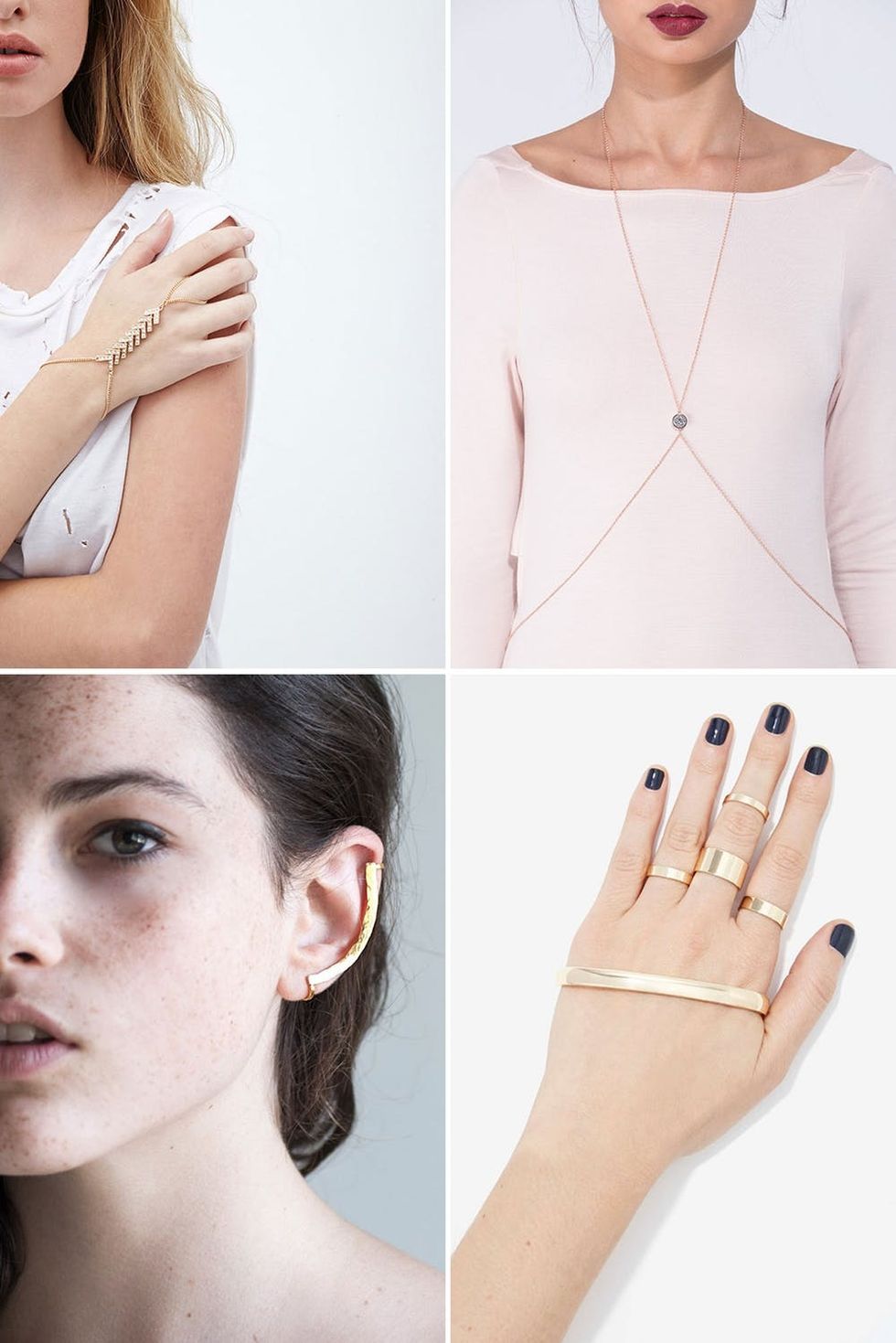 10. New Statement Jewels: Drop earrings, chunky cuffs, cocktail rings and rhinestone-studded necklaces were our M.O. for adding glitz to our get up until 2014 brought a halt to traditional statement jewels. Introducing the new class of wow-'em wares, including more daring (but as dazzling) hand and body chains as well as ear and palm cuffs that wrap up their respective parts in a cool shine. Ring sets kept your fingers in the game, and gave all the more reason to keep up with the latest nail art trends.
Knobbly Gold Minimalist Ear Cuff Hammered ($72), Forever21 Rhinestoned Arrow Hand Chain ($6), Amber Secrets Druzy Body Chain ($200) + Hand It to Ya Ring Set ($25)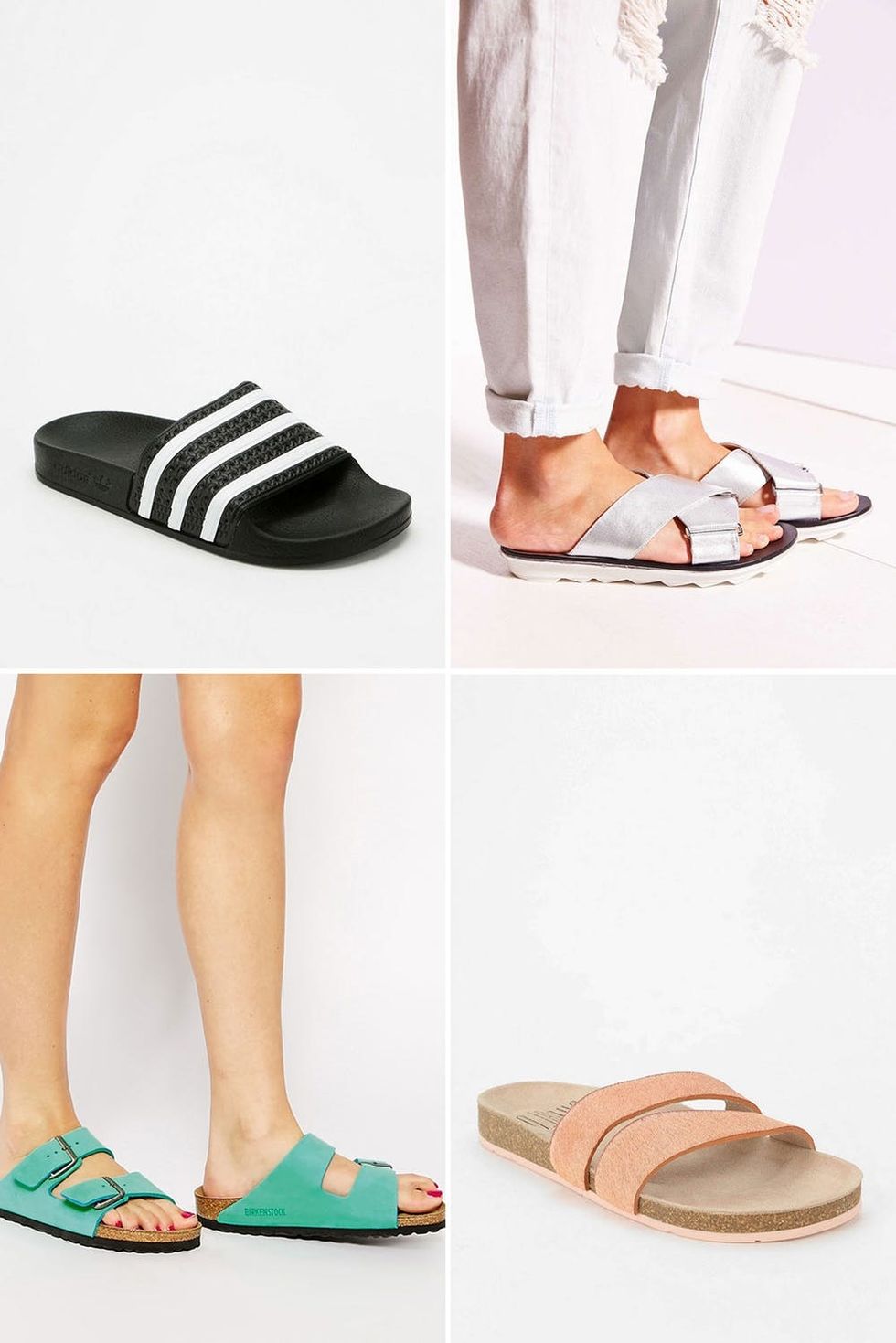 11. Slide Sandals: You'd never. Same here. Well, did you? We *almost* did. Wait, did you with socks? We still might try it… really.
adidas Originals Adilette Pool Slide Sandal ($30), Dolce Vita Felyx Cross-Strap Slide Sandal ($140), Birkenstock Arizona Leather Mint Green Flat Sandals ($123) + Charlotte Stone Alice Double-Strap Slide Sandal ($70)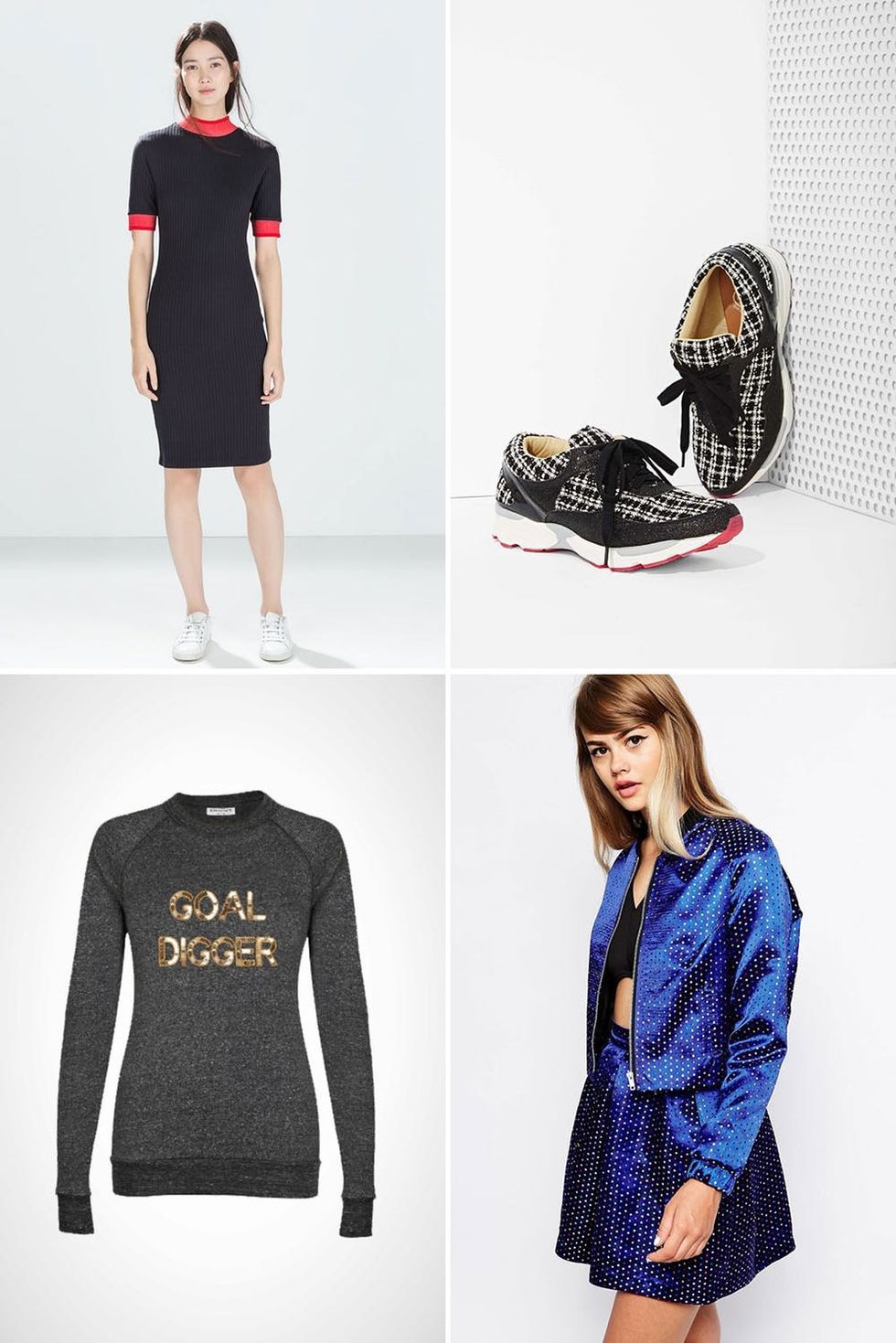 12. Athleisure: We were major cheerleaders of the altheleisure trend, which rebranded streetwear for the masses. Sporty details like varsity stripes and mesh found their way onto dresses, skirts and jackets, and *we* wore sweatshirts everywhere from the office to date night — now there's no turning back. Conversely, traditional athletic pieces like sneakers and track jackets got high-fashion makeovers that moved them our duffles to our #ootds.
Zara Ribbed Dress ($50), Jeffrey Campbell Run Walk Tweed Trainer ($135), Bow & Drape The Billie Sweatshirt ($48) + The Laden Showroom X Domino Club Satin Jacquard Bomber Jacket ($114)
What were your favorite trends of 2014? Which will you keep wearing into the new year? Tell us about your favorite style moments in the comments below.