9 Megawatt Neon Accessories on Etsy
Mar 09, 2012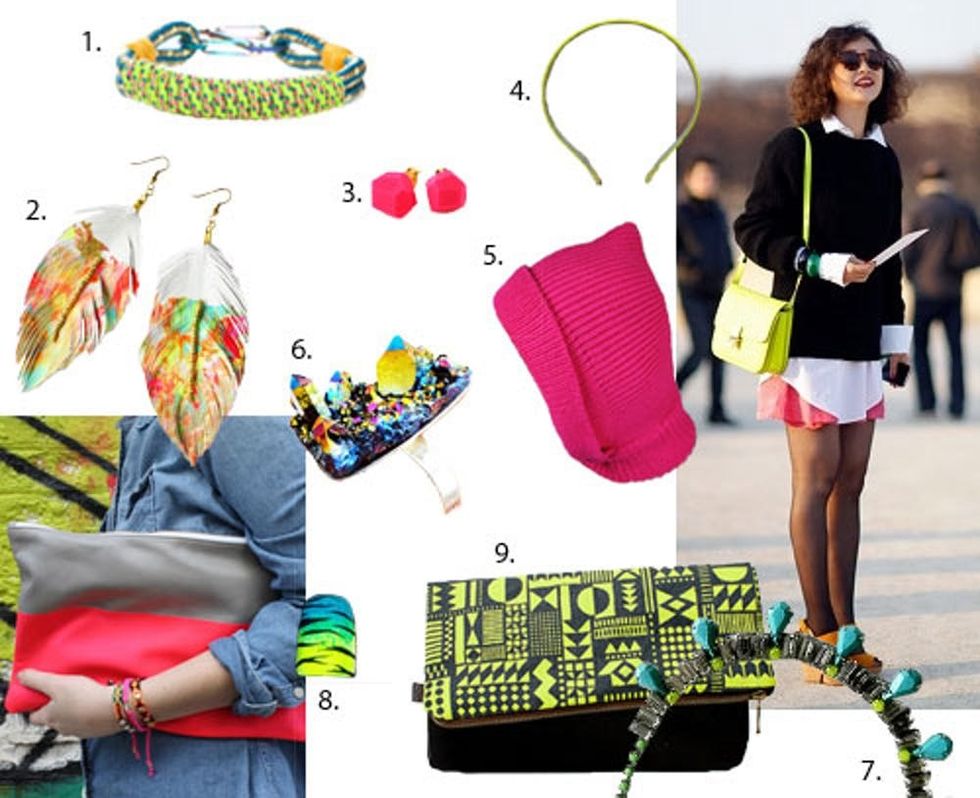 Let's be honest, not everyone can pull off the head-to-toe neon looks that have popped up on street style ingenues everywhere. One of the easiest ways to introduce neon into the mix is to start with a neutral outfit and add a neon pop with accessories like bags, shoes, scarfs, and jewelry. Etsy is one of our first stops when looking for unique accessories and there is definitely no shortage of neon on the site.
---
1. Neon Camping Cord Bracelet ($30): Reminiscent of Proenza Schouler's Resort 11′ accessories, the carabiner-clasp is my favorite part of this bracelet by moveSlightly. Offset the color and playfulness of the piece by pairing it with a tailored black blazer.
2. Faux Feather Earrings ($20): These leather earrings are designed to look and move like real feathers but the result is a much more sturdy accessory. And if leather isn't your bag, DIY it up with our tutorial on how to make Neon Duct Tape Feathers!
3. Neon Pink Geo Earrings ($15) + 4. Neon Yellow Headband ($5): Ease into the trend with a subtle hint of neon like these pink studs or yellow headband.
5. Vintage Obermeyer Ski Hat ($15): This megawatt hat is a perfect mood booster for gloomy gray rainy days.
6. Rainbow Quartz Ring ($80): Light bounces off this crystal ring to create. To balance the heaviness of the ring, we'd add several thin stacking rings to one or two of your other fingers.
7. Vintage Neon Painted Necklace ($65): Love Obsessed's hand painted necklace makes me think of this Dannijo stunner — without the $450 price tag.
8. Zebra Print Nails ($15): These neon nail stick ons combine neon with two of our other favorites: nail art and tie-dye.
9. Geometric Leather Pouch ($45): When you are carrying something as ultra-bright as this lemon neon pouch, you can keep the rest of your outfit neutral a la style star Taylor Tomasi Hill.
Where do you shop for super unique neon style bursts? Leave us your tips in the comments below or find us on Twitter.
Courtney Lewis is a partner at Hard Candy Shell, an agency that has helped companies like Rent the Runway, Jetsetter, and Of a Kind build enticing digital presences. She writes a blog called Heart Explosion, collects remarkable Amazon and Etsy finds on Tydepool, and is one of the creative cuteness connoisseurs behind Cute Roulette.