3 Recipes to Make Holiday Bitters (+ 3 Cocktails to Mix 'em In!)
Dec 15, 2013
Winter is in full swing and we've decided to make the most of being indoors and make our own bitters for cocktails! Making bitters is way easier than we thought, plus you can remix all your own flavors. It's the perfect DIY project for when you're stuck inside. Bonus: Bitters are the gift that keeps on giving. A little bit of bitters goes a long way, so you can make enough to last all winter. These would also make great gifts for fellow cocktail enthusiasts.
---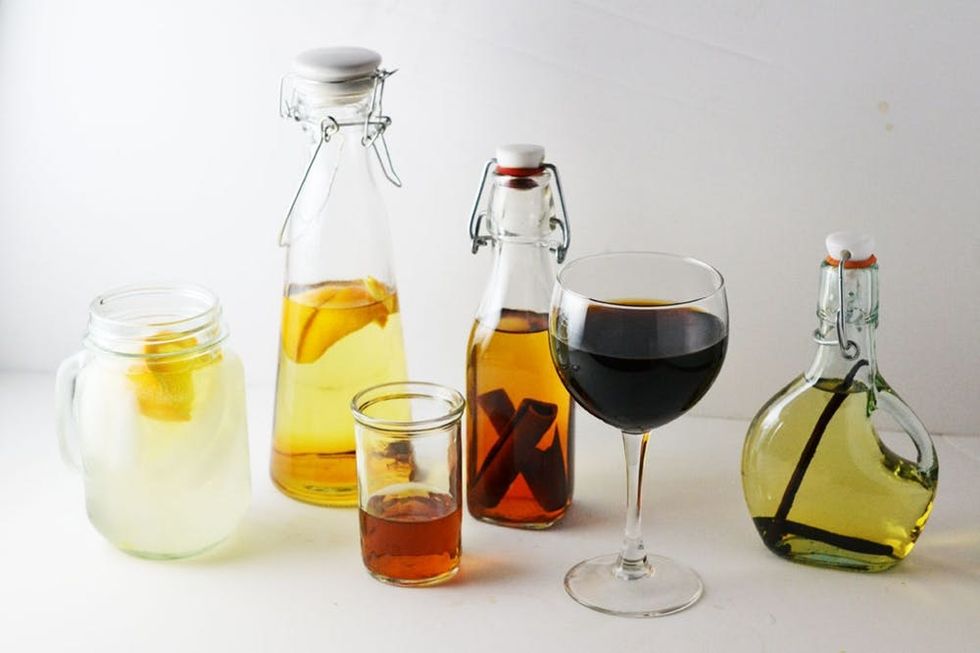 Not to mention, we also came up with three tantalizing cocktails to go with those bitters! These are just for inspiration, we think getting creative with your own flavors is what its all about.
Ingredients:
– 3 cups of grain alcohol (like vodka)
– 3 cinnamon sticks
– 2 large vanilla beans
-1 teaspoon cloves
– 3 orange peels
You'll also need a glass jar for each bitter that you make. Mason or canning jars work great for this!
Instructions:
1. Place bittering agents into glass jars
2. Fill jar with one cup of grain alcohol
3. Seal the jar and give it a good shake
4. Taste test the bitter each day. Once it achieves the right potency, remove bittering agents from bottle and use bitters in a cocktail! (For me, this took five days.)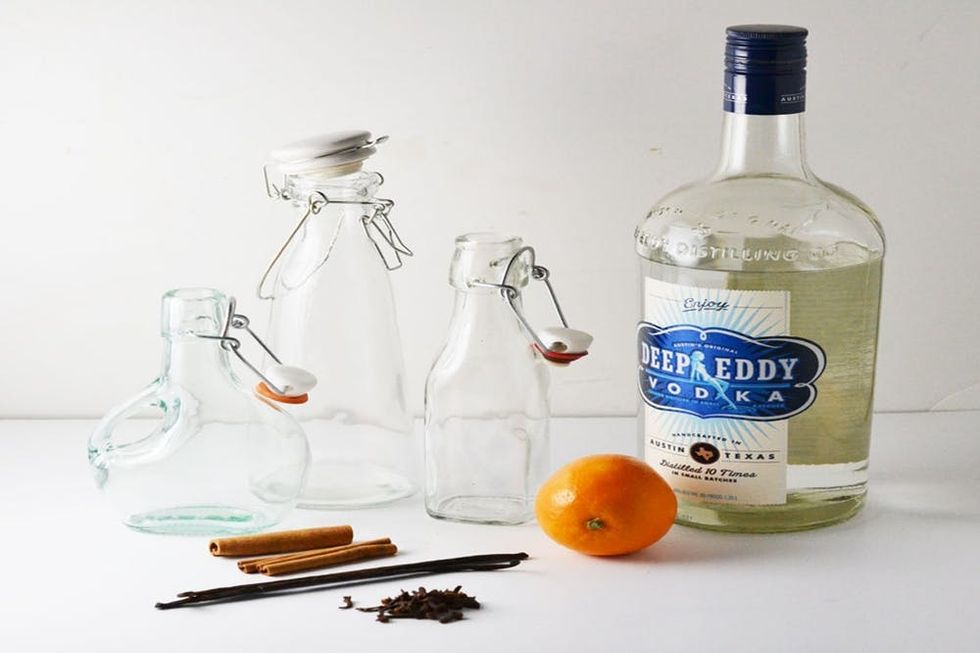 For our remix, we made three flavors of bitters: cinnamon, vanilla and orange spice.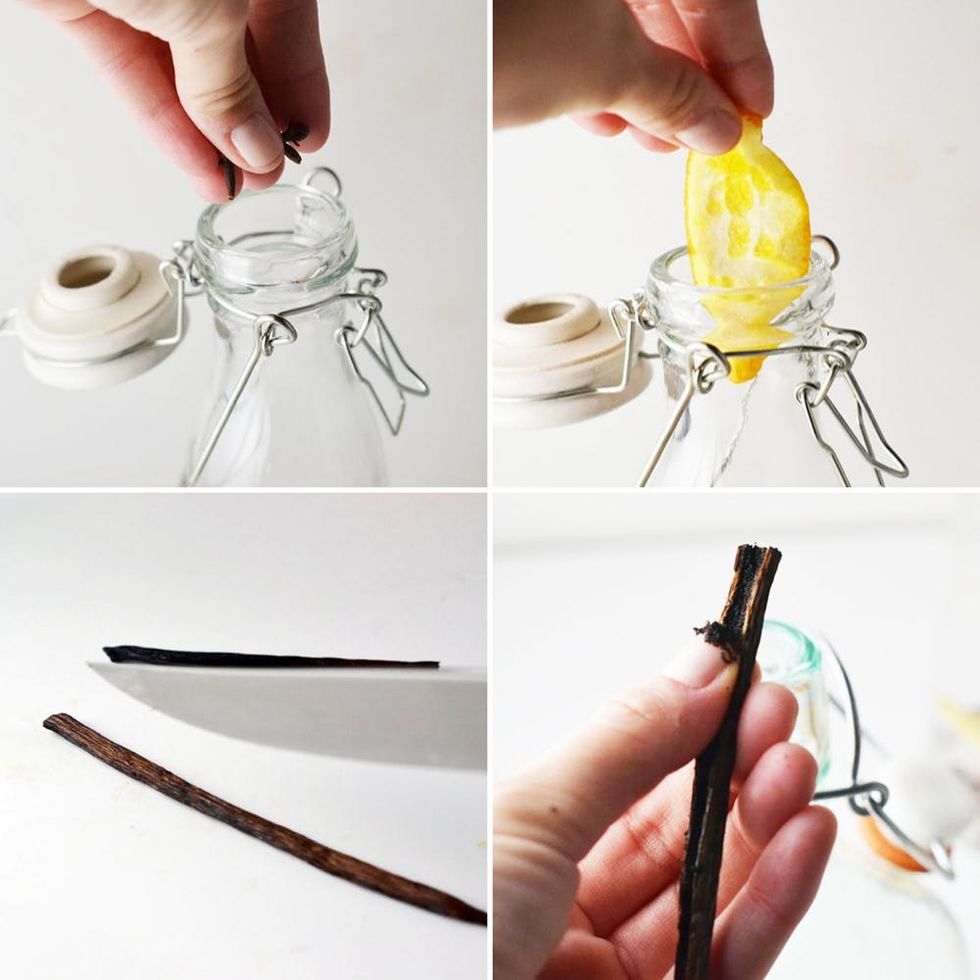 Time to get started! Start off by dropping the bitters into the glass bottles. Here go the cloves! Next add the fresh orange peel. For the vanilla, be sure to slit open the bean and use your thumb to scrape out the seeds inside. This will help release a lot of the flavor. Drop the vanilla bean and seeds into a separate glass jar.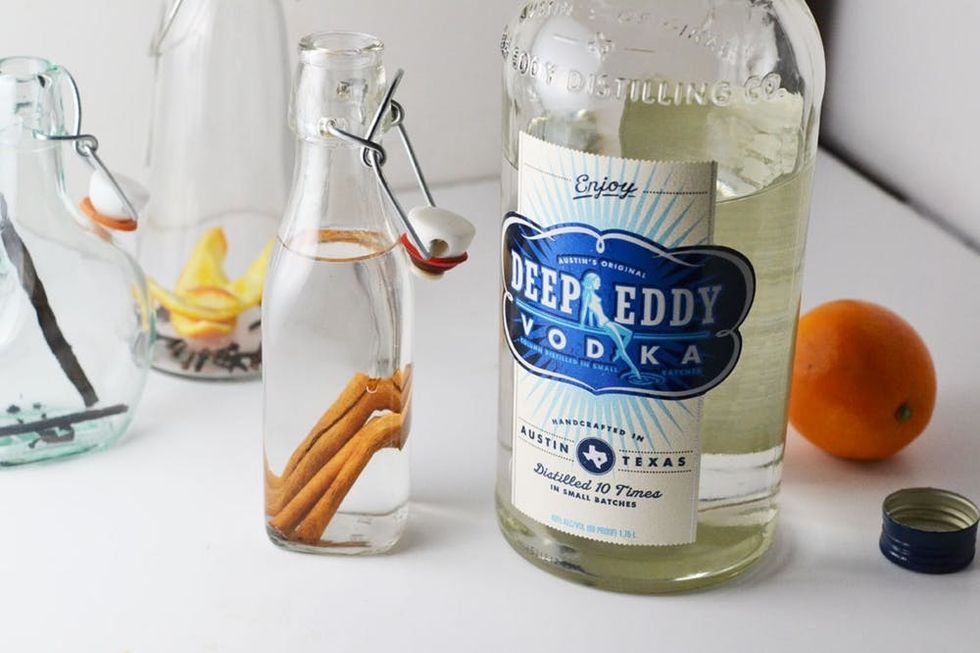 Place the cinnamon sticks in the third jar.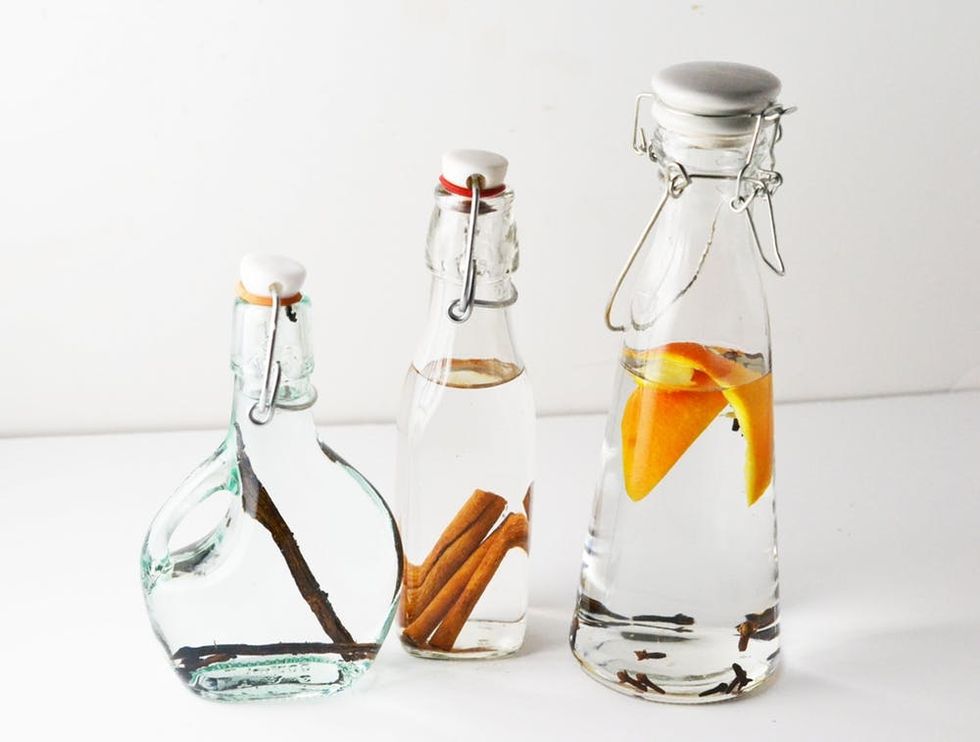 Fill each jar with one cup of grain alcohol. Be sure to tightly secure the jars. Give them a good shake and let them sit.
The next step is a matter of taste. Some people let their bitters go 21 days for soaking, so that they are extra potent. The key is to find your own balance. For me that was five days. Each day taste a little drop of the bitters, if you the like the taste, then you're done! If not, reseal the jar, give it a good shake and repeat the next day. After five days of soaking in this ratio, my bitters achieved just the right balance. Now onto the cocktails!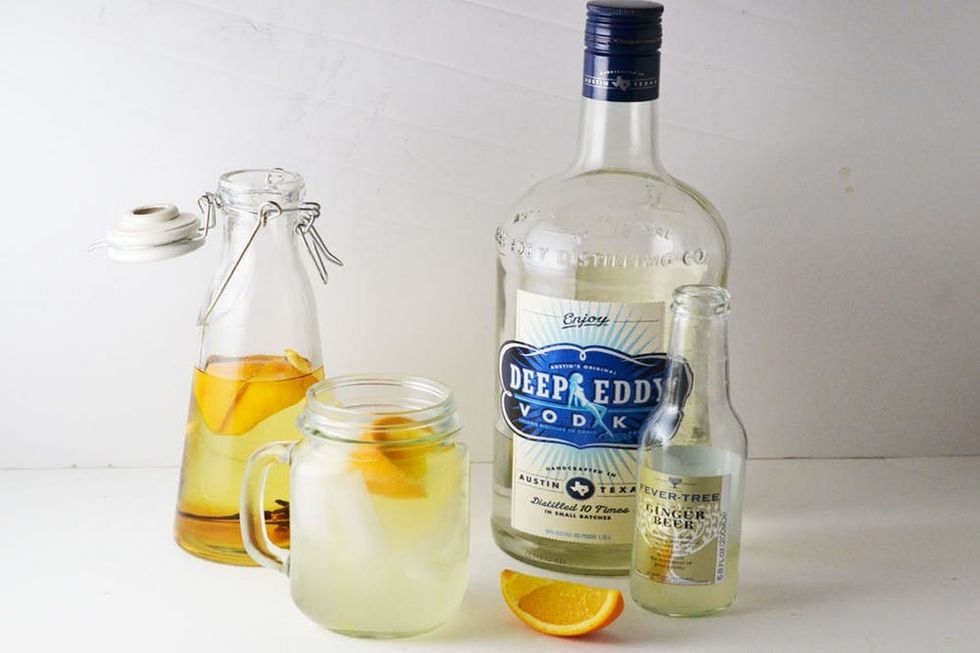 Orange Spice Moscow Mule
Ingredients:
– 1 cup ginger beer
– 2 ounces vodka
– 1 teaspoon orange spice bitters
– orange slice for garnish
Combine ginger beer, vodka and bitters over ice. Squeeze orange into drink and enjoy!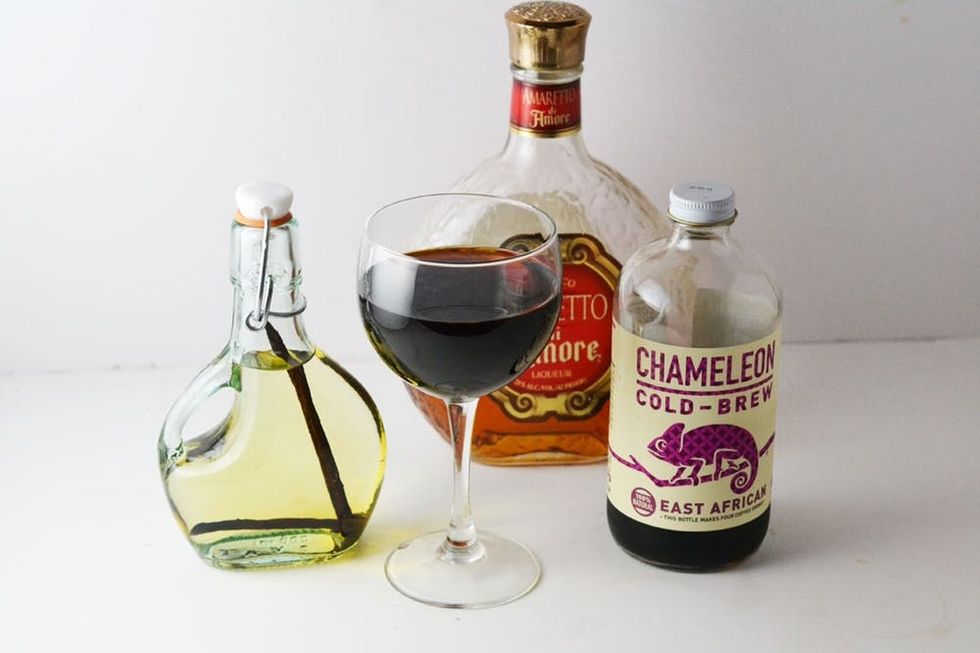 Amaretto-Spiked Coffee
Sweeten up this coffee cocktail with some vanilla bitters!
Ingredients:
– 3/4 cups iced coffee
– 1 ounce Amaretto
– 1 teaspoon vanilla bitters
Pour ingredients into glass and sip away!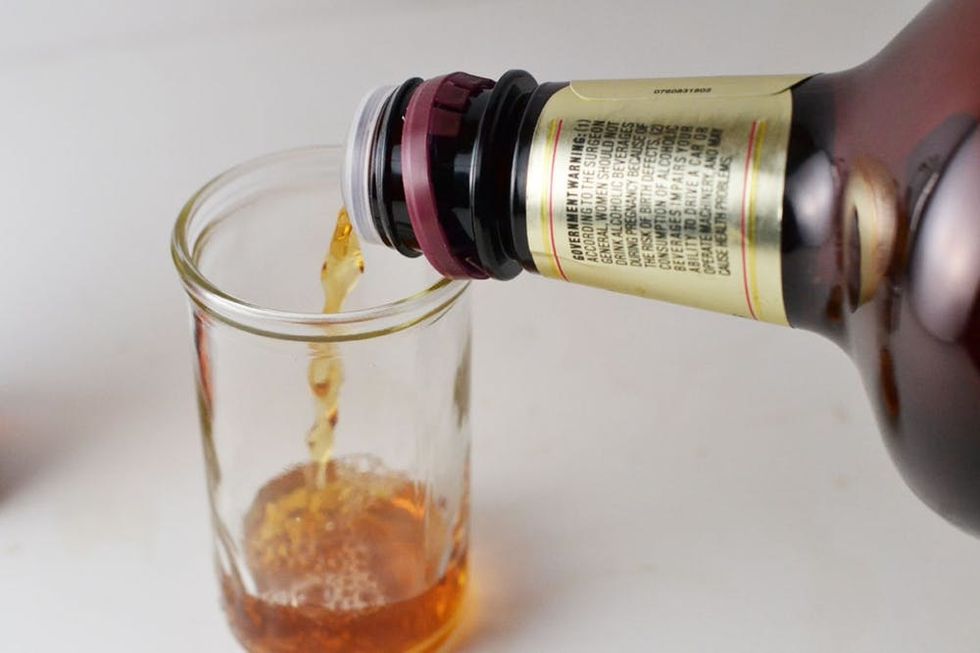 Homemade Fireball Shot
This is one of my favorites! If you are looking to get a little crazy, this is perfect way to impress your friends.
Ingredients:
– 1 shot of whiskey
-1 teaspoon of cinnamon bitters
Combine whiskey and cinnamon bitters in a shot glass. Cheers your friend and knock it back!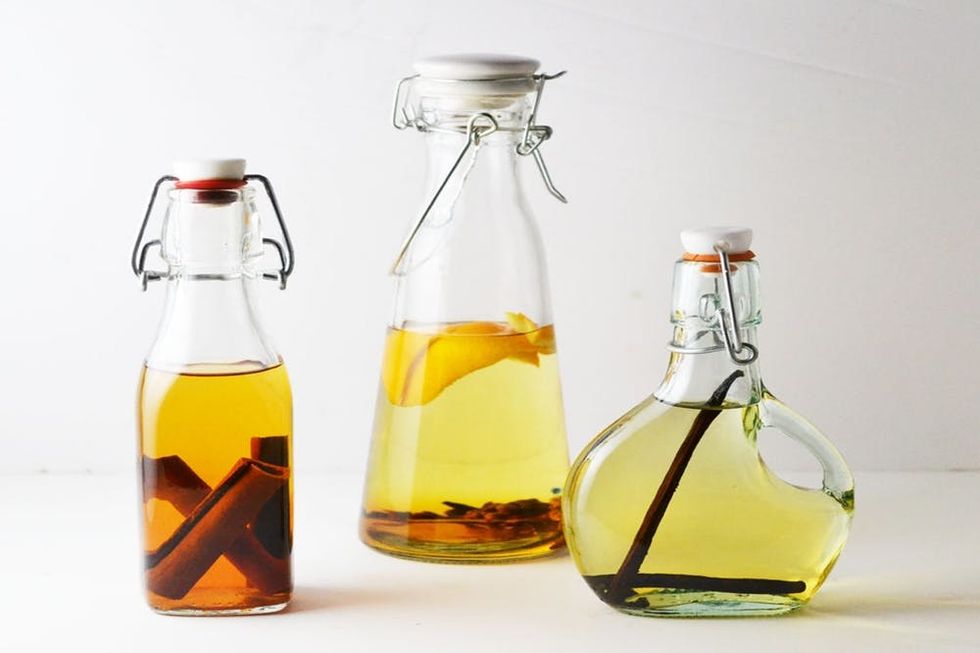 We've shared a few of our favorite ways to enjoy homemade bitters, and we want to hear from you! What bitter flavors are your favorites? Tell us in the comments below!