How to Quit Your Day Job and Become a Floral Designer
Mar 31, 2015
If you've ever tossed some stems in a vase in an attempt to create a statement-making centerpiece, you probably know that it's not as easy as it looks. We too have dabbled in the art of floral design, and it's a totally fun, DIY way to bring some vibrant blooms into your life and get to know big ol' Mother Earth while you're at it.
In today's installment of the How to Quit Your Day Job series, we're digging up some dirt (pun totally intended) on how to not only arrange some lovely blooms for your home, but maybe even make some money doing it. We're thinking big picture over here, because in the business of buds and blooms, floral designers don't just make money on wedding bouquets and prom corsages. They don't even just focus on flowers. From wreaths budding with greenery to olive branch table runners, the artistic potential of plants knows no bounds. And who better to learn from about floral artistry than the pros at Studio Choo?
---
THE Floral Design PROS: STUDIO CHOO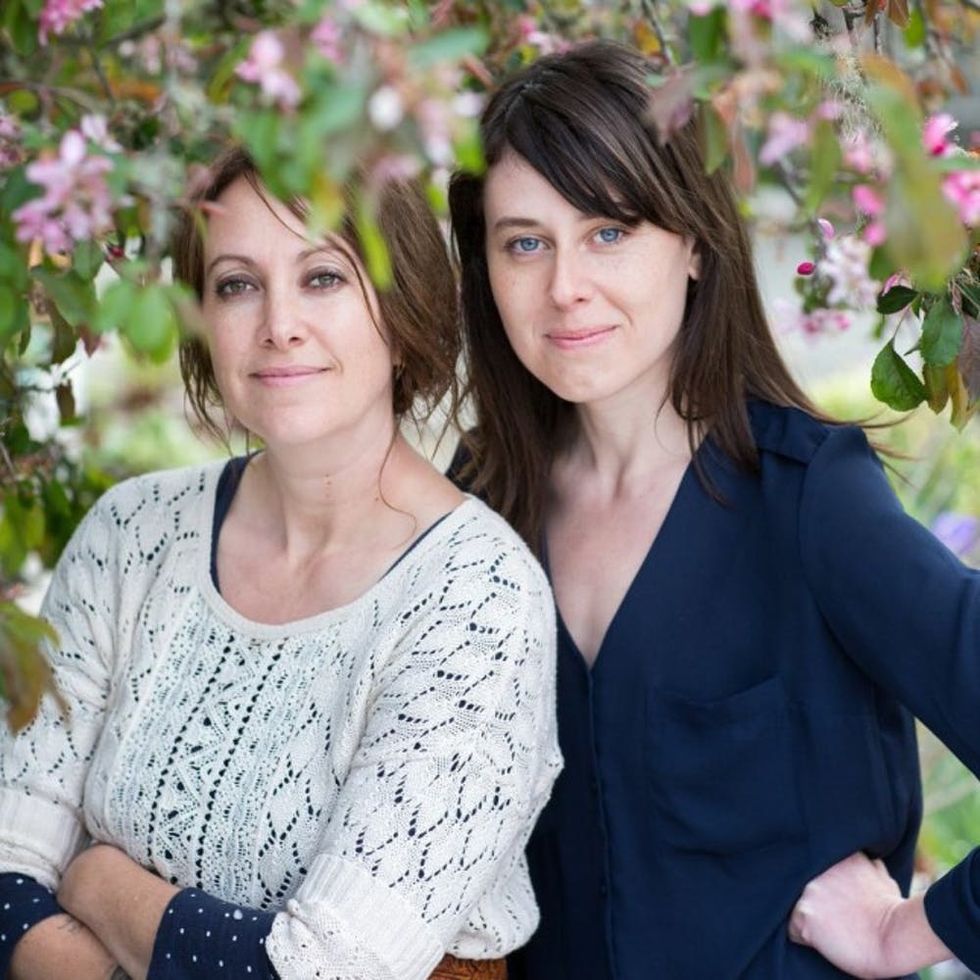 In 2009, BFFs and business partners Alethea Harampolis and Jill Rizzo started Studio Choo in San Francisco. Before that, Jill was managing a floral/design store where she hired Alethea. After a brief stint in Seattle as an estate gardener, Alethea returned to San Francisco to launch Studio Choo with Jill. From Jill's kitchen to a dedicated studio space, the two botanical beauties have perfected their craft and come up with a signature flower style all their own. Here's some of their inspiration/divine guidance on going from floral obsession to floral profession.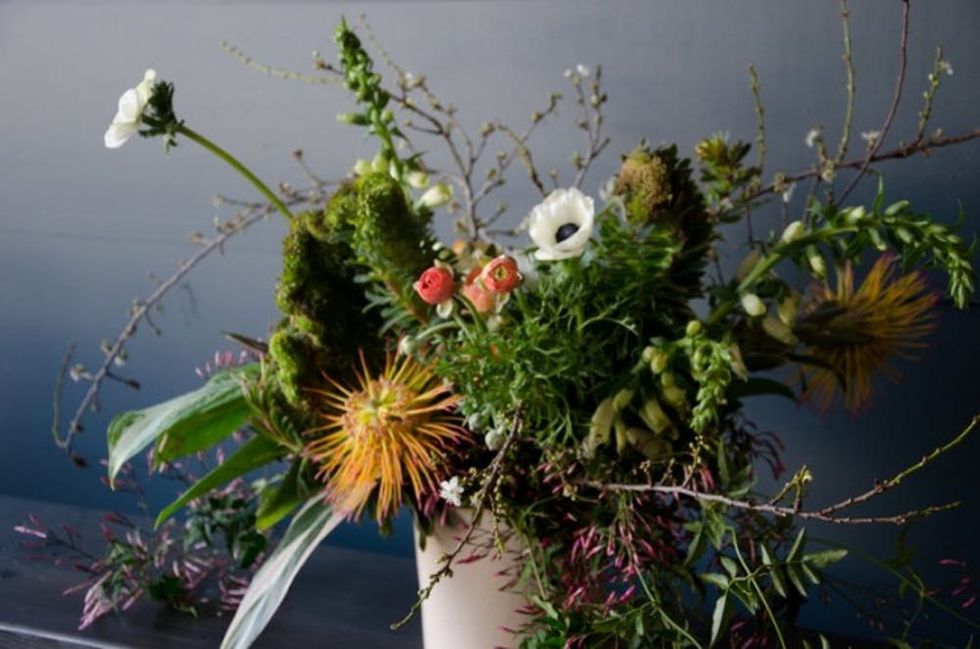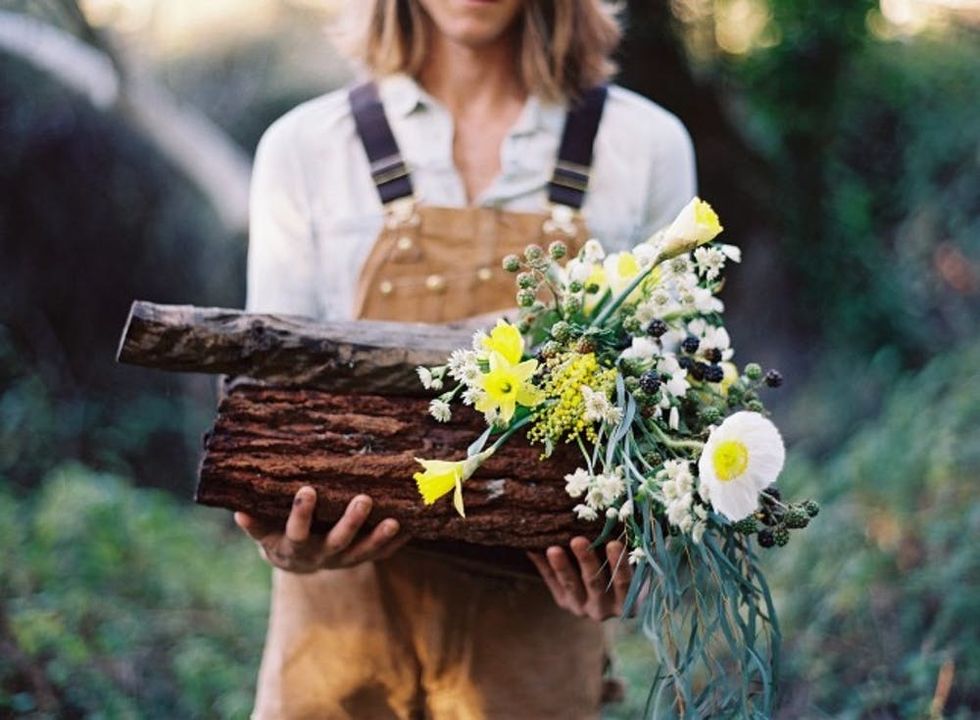 The Tips
Start Small. Jill and Alethea definitely did not go straight from bud vases to floral installations overnight. They set out to find their style by exploring their options and trusting all of their previous experience that had taken them from flower shops to landscapes. Jill said that they'd go to flower markets and local farms, then they'd buy what they liked and practice. She said, "We would then bring our creations all over the Bay Area and do little photo shoots to put online — anywhere from a green cow pasture to a tiny breakfast cafe."
They'd even drop off arrangements in local shops with business cards, saying yes to any and every opportunity. If there's one thing that will get your business card noticed, it's delivering it with a gorgeous bouquet of flowers.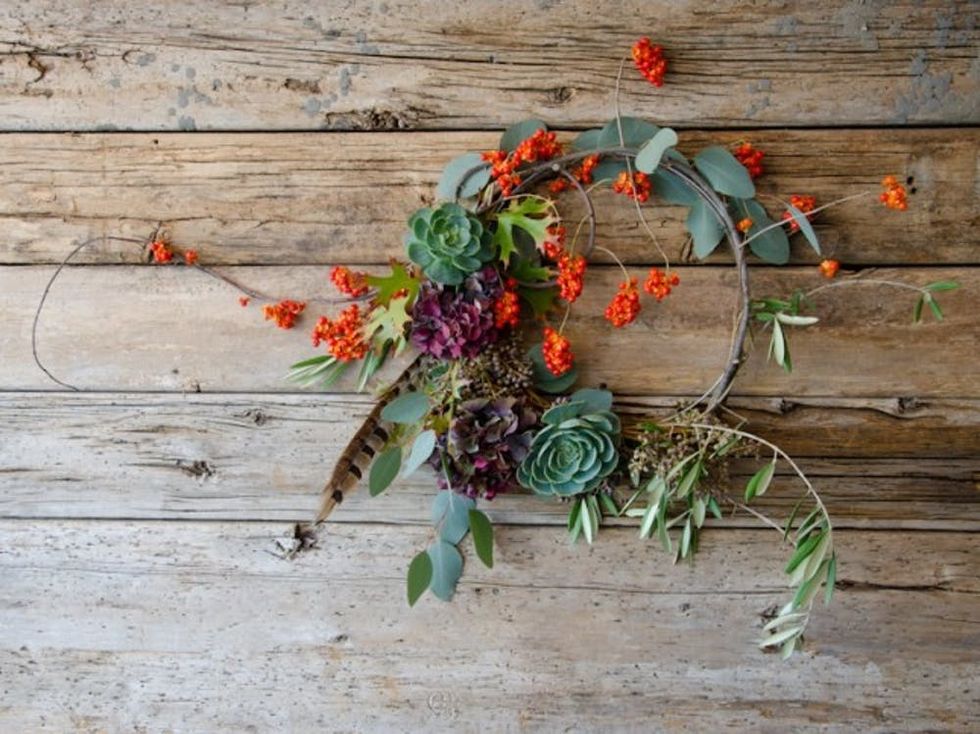 Grow Into Your Style. For Jill and Alethea, they set out to find an aesthetic that was different than the studios they'd worked for. Jill said that instead of taking the modern, minimal route, they set out to design "little, wild, overgrown gardens." Jill said their style is kind of like "wandering through your mother's garden, gathering up blooms while listening to The Doors. Romantic, nostalgic and a little wild." Are you in love yet?
By focusing on local materials and really owning their "gardens in a vase" style, Jill said they were able to set themselves apart, and people took notice. But even with all of their experience, their unique look didn't come to them overnight. They took time to finesse their process while sticking to what appealed to them. Jill said that, for them, it's important to think about air: "Making arrangements full of movement and air keep our style relaxed and interesting, with plenty of room to let things grow and change as the design ages."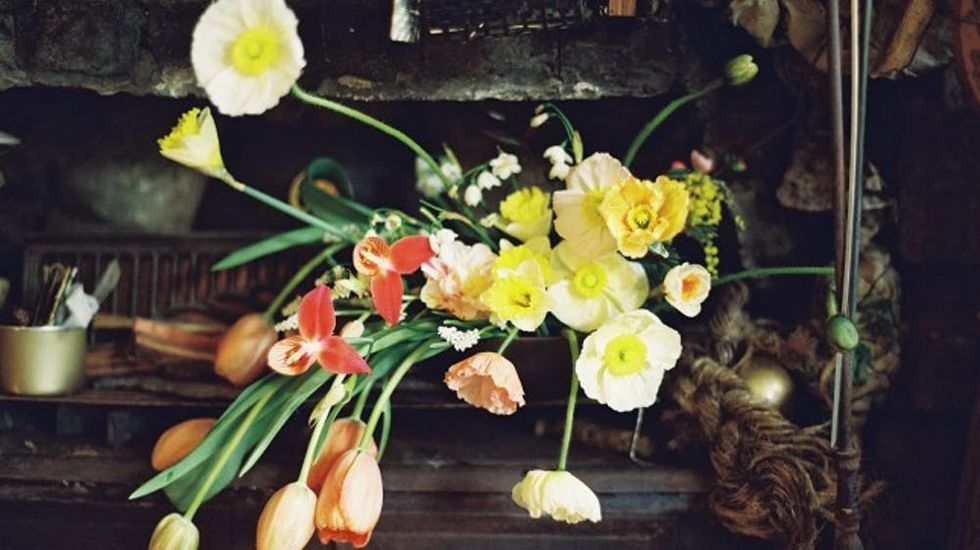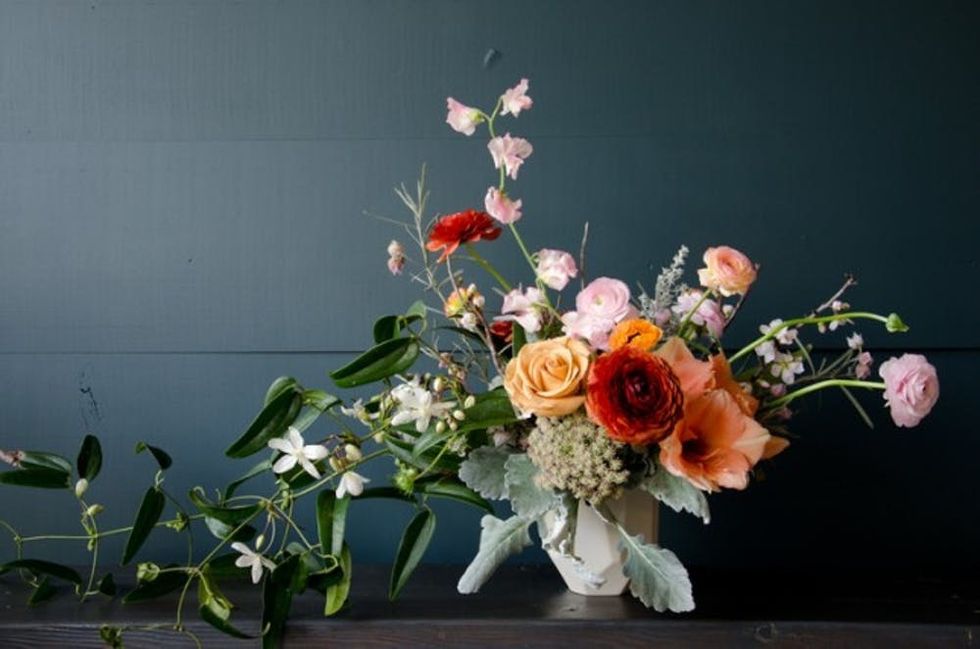 Ask for the Right Help. You probably know this by now, but starting a business is hard work — even especially a flower business. Jill said, "You have to be cool with being on your feet for hours on end, slinging a lot of heavy buckets/branches/what-have-you and be ready to work weekends for the entirety of wedding season." But, if it's your dream job, she says it's totally worth it.
A good way to keep yourself from getting burnt out is to know when you need help and ask for it. Jill said that this has been one the hardest parts of building Studio Choo. "It takes time to find the right people, and it's one of the most expensive aspects of owning a small business. That said, having good support allows for a little work/life balance." Seriously, there's never been a better excuse to stop and smell the roses. Jill said that being able to grow the business in sync with changes in their personal lives has been super important in moving forward, and it's also another perk to keeping your small business relatively small.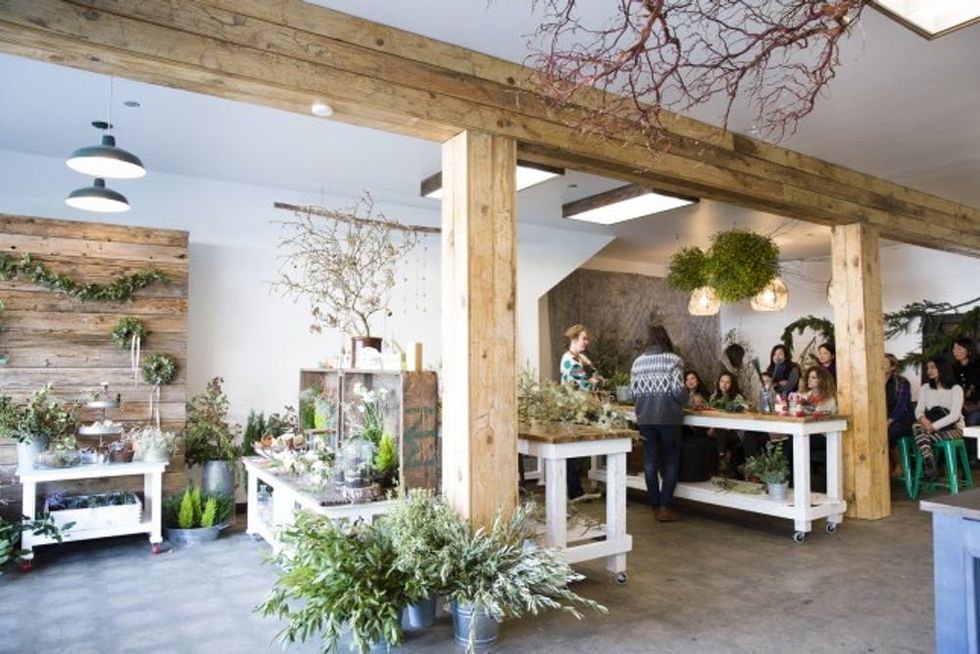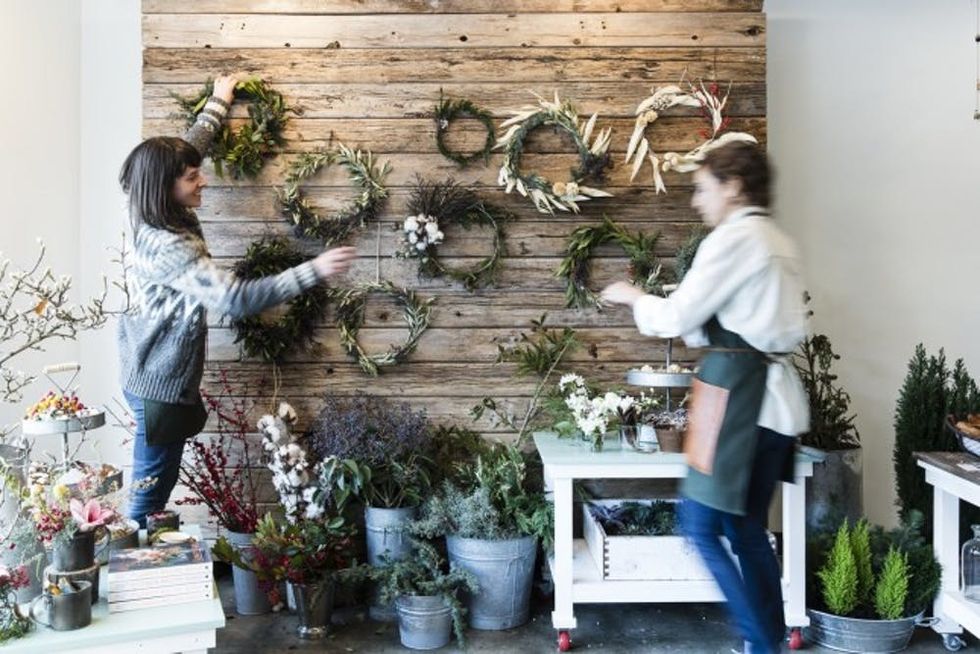 Think Beyond Bouquets. After they got their footing with Studio Choo, Jill and Alethea started using their expertise beyond what could fit in a vase. Over the past two years, they've released the Wreath Recipe Book, The Flower Recipe Book and even the stunning Flower Recipe Calendar. Jill said the books have been the biggest change for the business. All of a sudden, they weren't just selling flowers; they were teaching people all over the country how to craft their own pieces. They even teach IRL classes. Their class schedule for the next month takes them from the Macy's Flower Show in San Francisco to the Portland Garden Club.
Next on their list is a flower club and line of custom vases. The biggest project on the horizon though is finishing their new studio, which sounds like a total dream. It will even have gardens blooming right in the back.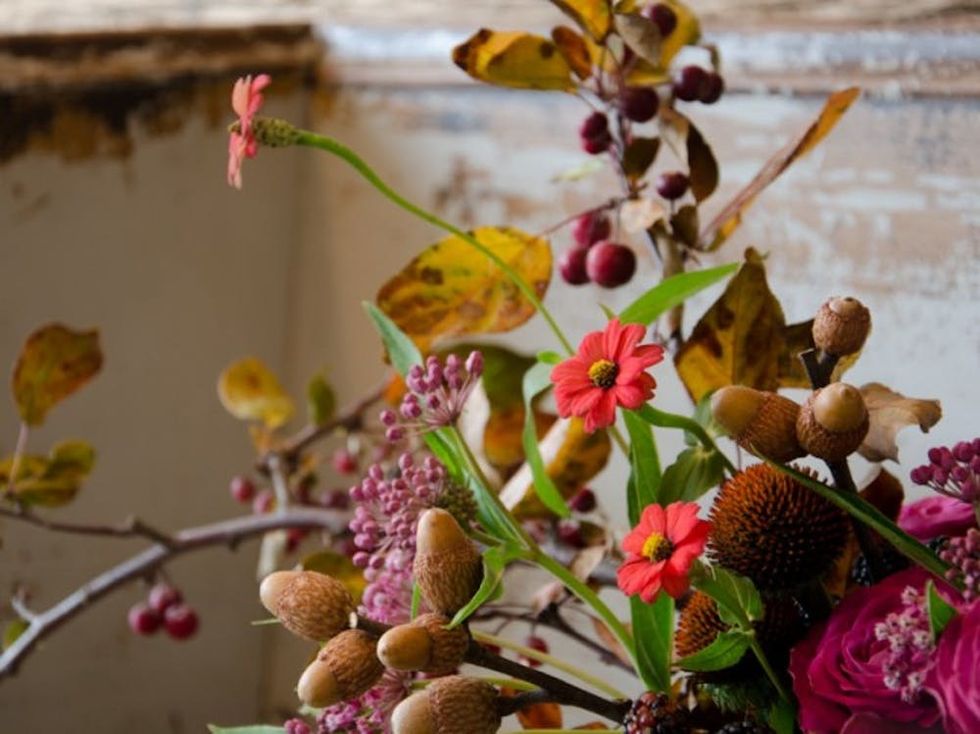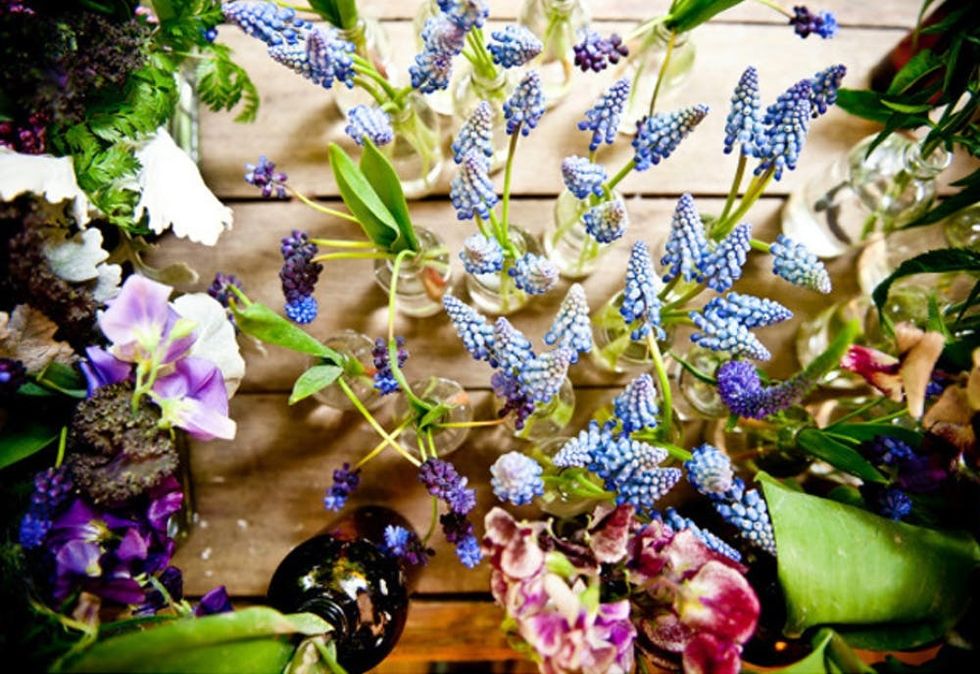 Show Your Mission in Everything You Do. These ladies seriously do so much more than design wedding bouquets (which, of course, they're great at), and no matter what they're doing, all of their exploration goes back to their main goal: "We love flowers and want to show you why."
When Jill says they love flowers, she doesn't just mean she loves them until they start to wilt: "We love how they open and change, grow and eventually die. The moment just before they fall apart is often when they are the most beautiful. We want to share why we are drawn to each bloom — the arc of a tulip, the craggy bend of a crabapple branch, the smell of a tiny sprig of daphne, the dark speckles inside a foxglove bloom." At the moment, Jill and Alethea have their sights set on seasonal blooms like Quince Forsythia and Tulip Magnolia.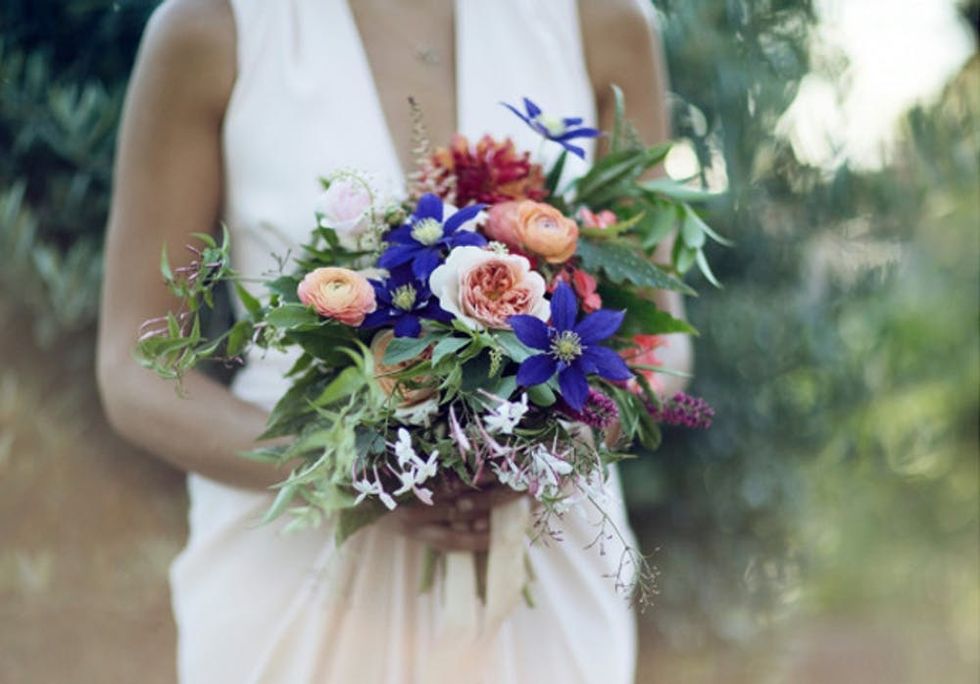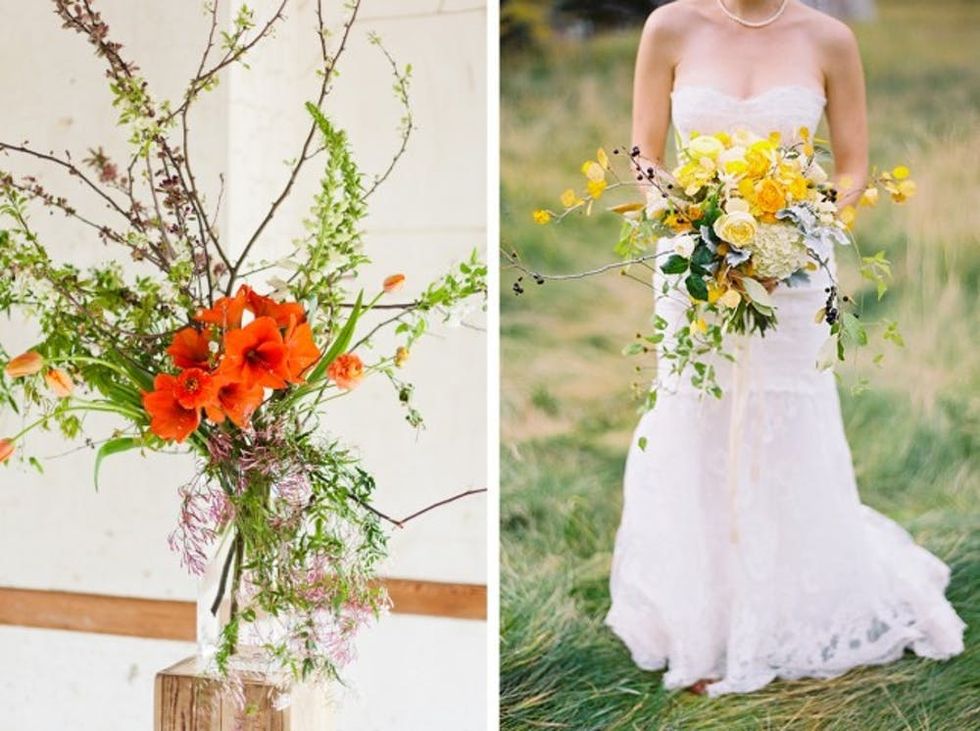 Put Yourself Out There. Like many self-driven pursuits, word of mouth is a big deal for Studio Choo. When they create unique, airy arrangements, people take notice — even really famous people, like the queen of domestic craft. Recently, they were featured on Martha Stewart Wedding's list of top wedding florists in the country.
We found Studio Choo through Instagram, and judging by their 14 thousand followers, we're sure that we're not the only ones. By going where there's already an audience for people who love looking at beautiful things, Studio Choo is spreading the botanical love to the social sphere.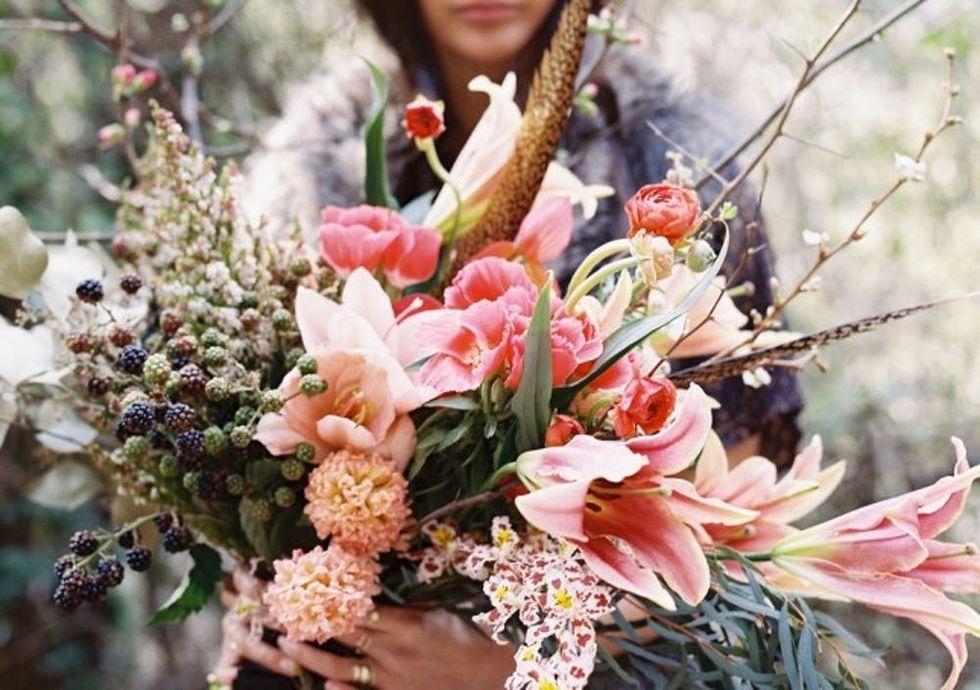 Studio Choo's Final Words of Advice. "Get as much experience as you can! Try lots of different styles, gain skills and knowledge, and then use what you have learned to do something unique."
If you love Studio Choo as much as we do, buy one of their books. If you're in the Bay Area, claim a spot in one of their classes.
PERFECT YOUR SKILLS
Speaking of classes, now that you have a little insight as to the business side of things, it's time to get your learn on. There are plenty of online ways to learn all you need to get started right here on the Internet at your leisure. Everybody has a side hustle, right? Here are some e-classes to get you started.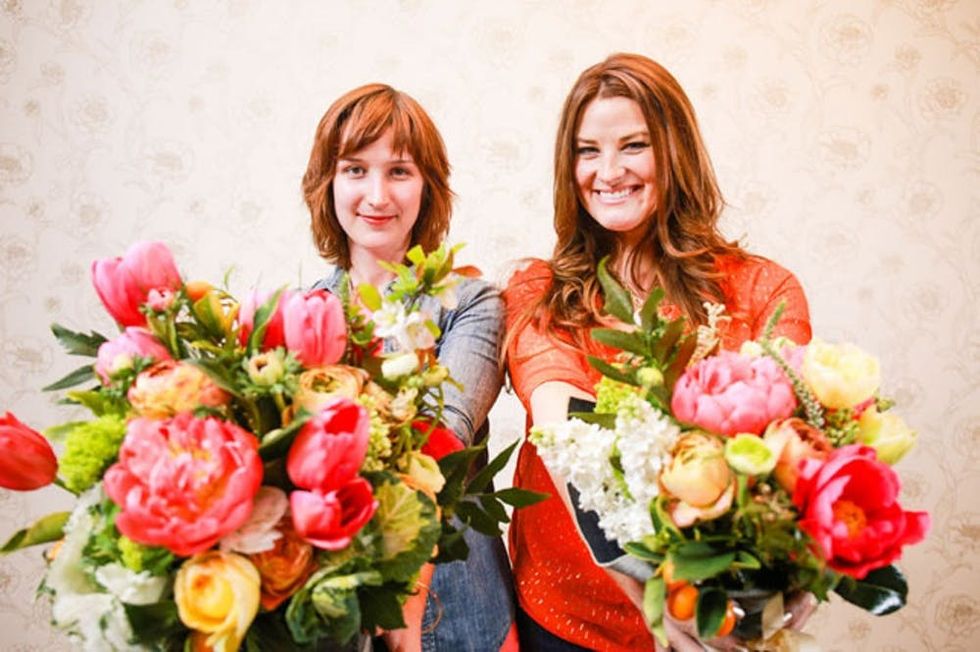 1. A Quick Introduction: Right from the Brit + Co studios, Christina and Rhiannon of Farmgirl Flowers will give you fundamentals of flower design so you can begin to familiarize yourself with some of the main principles of floral design — color, symmetry, composition and design. ($25 for one 25-minute class)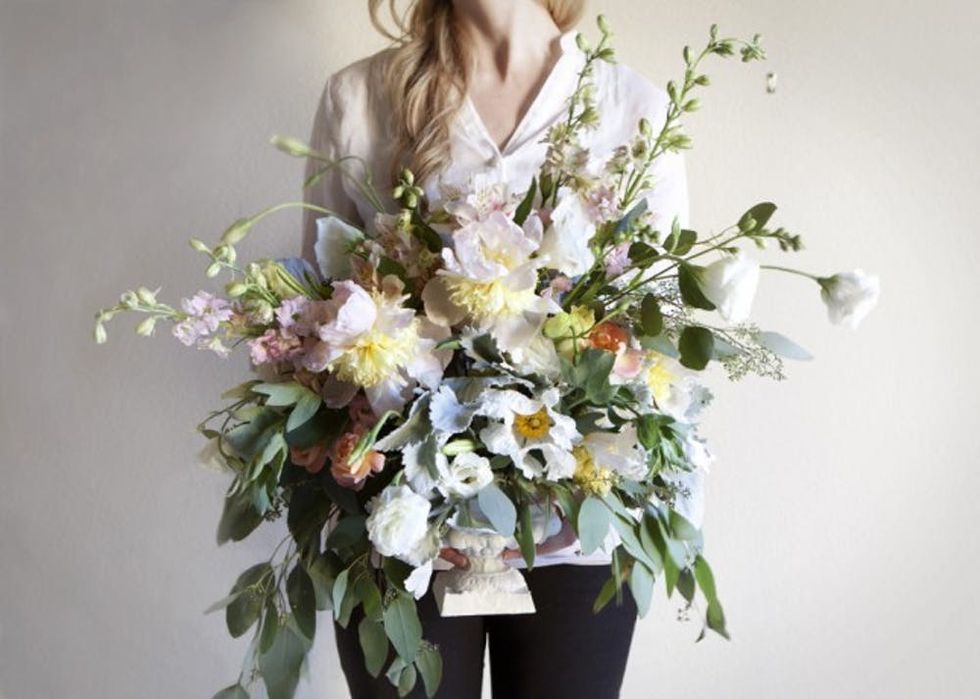 2. A More Extensive Intro Class: Chelsea Fuss of Nicole's Classes teaches a four-week course on the full 101 of floral arranging. In the class, you'll learn how to make a wild English garden arrangement, a wedding bouquet and a head wreath, just to name a few. She even has tips on sourcing stunning flowers. Set your own pace with the weekly schedule and turn in your homework by Sunday night. If only all homework included peonies, #amiright? ($125 for a four-week course)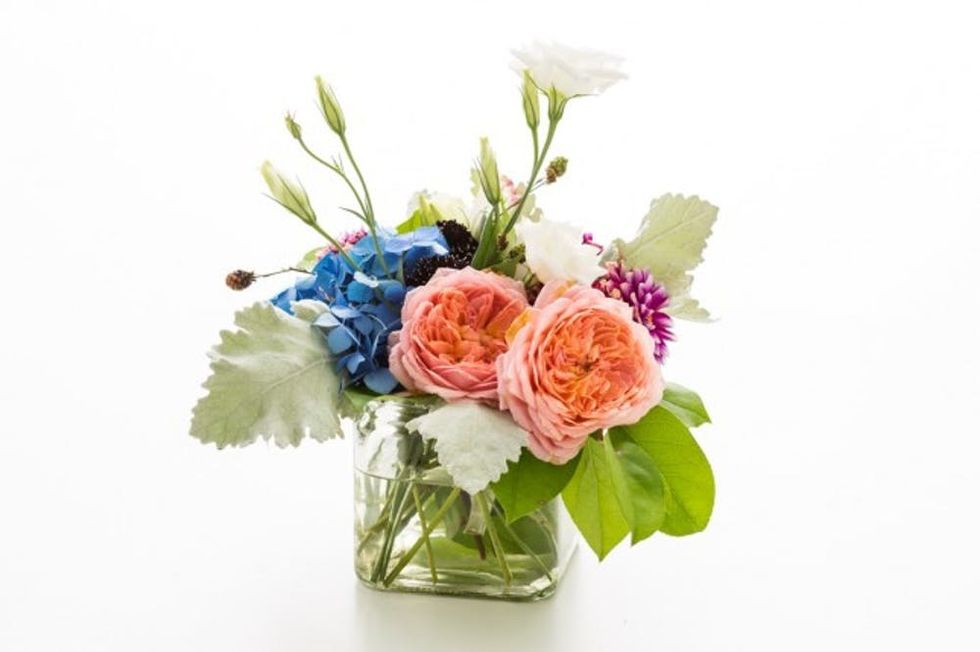 3. Getting Down to Details: This class goes from basics to specifics with full classes on wedding flowers, flowers for gifts and flowers for the home. The courses are a bit more expansive, starting with the history of flower arranging and even a whole class on containers. At your own pace, you can bloom through 11 classes and even get a CEU certificate at the end. ($40 [without certificate] for a 10-hour class)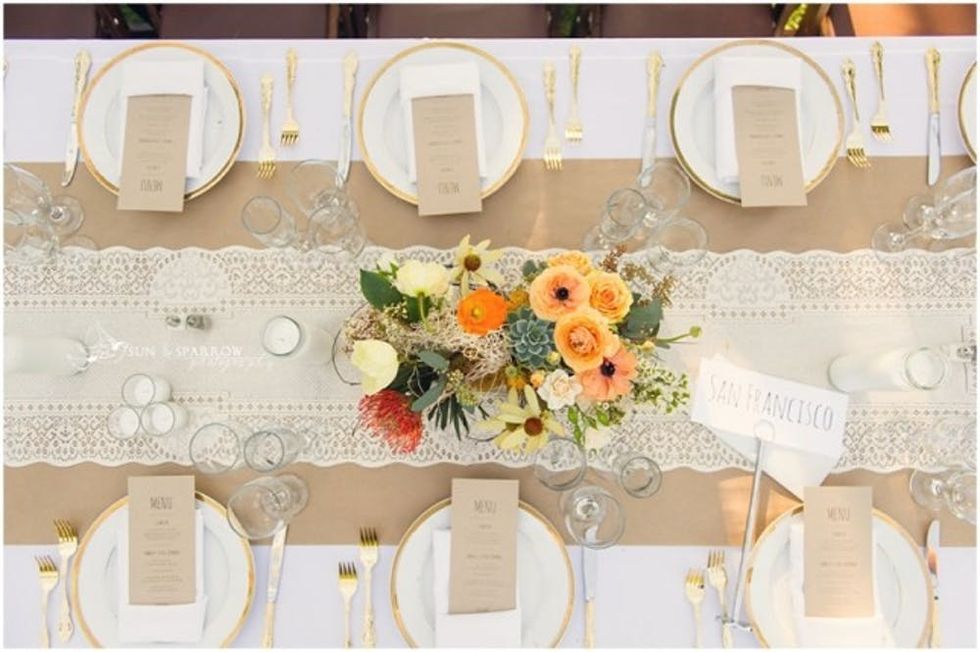 4. Bonus: Tablescape Styling: If you're going to host a spring shindig or deck out the table for someone else's, you can extend your floral arranging skills to be the life of the party. From a full center arrangement to scattered bud vases, this class covers all you need to know to branch into the business of tablescaping. ($96 for annual Skillshare subscription to view all classes)
We hope this column will continue to bring you the advice, inspiration and skills to go forth and create a life you're stoked about. As for us, we're just going to be over here studying up on the best local flower markets to start honing our craft. Look out, Forsythia branches; we're coming for ya!

What passion would you like to see covered in your Live Your Love Series? Let us know in the comments!
Work