Style Resolutions: How to Look Stylish in a Windbreaker (Really!)
May 14, 2015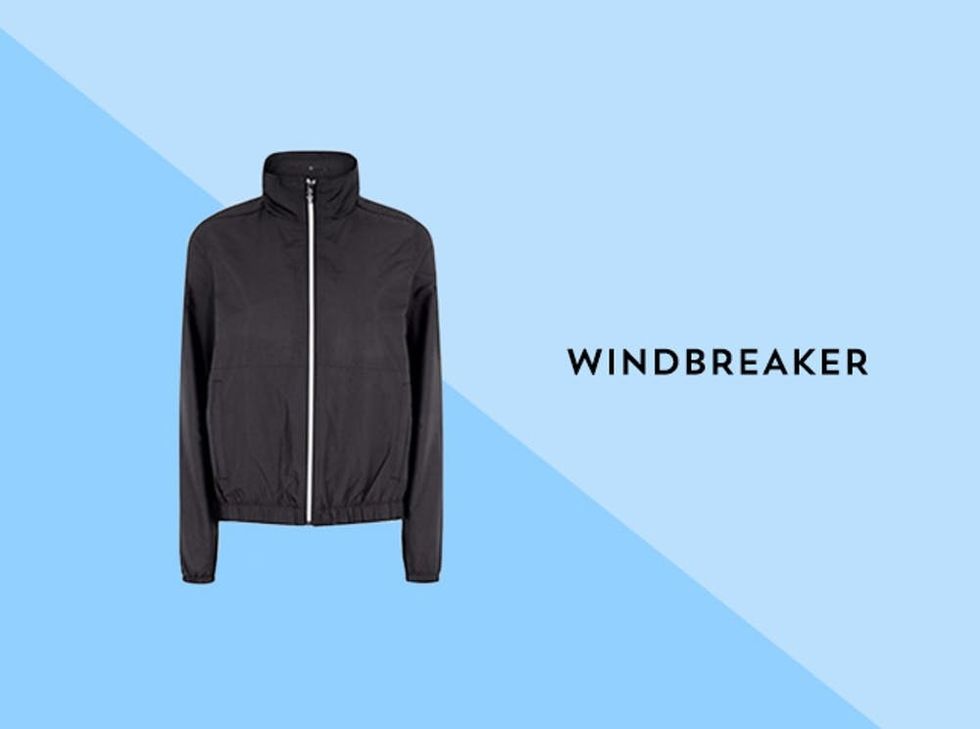 Your windbreaker — if you even own one — probably doesn't see the light of day unless it's raining or you're heading to the gym. And even then, you probably throw it on begrudgingly, because let's be honest, they're not the most fashion-forward or flattering pieces. But with the wave of sports-chic getups running through the fashion world, it's the perfect time to make the most out of that under-appreciated topper. From your nine-to-five to date night, here are three ways to style your windbreaker.
---
On-Duty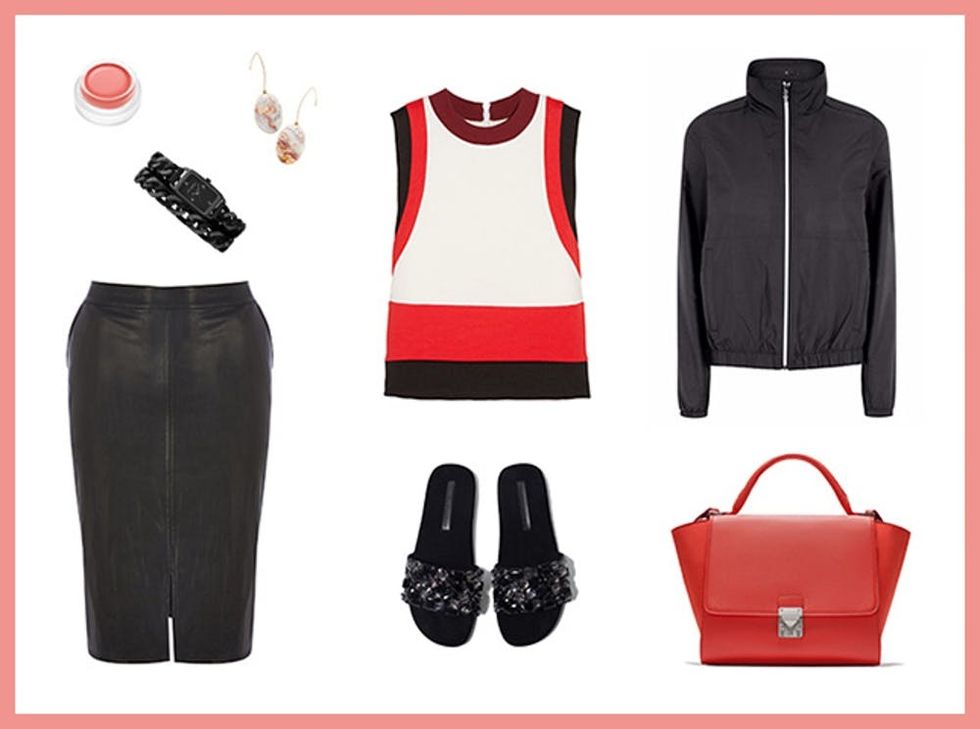 On a day when you need an extra style boost to get you through that long to-do list, you'll want pieces that make you feel powerful without compromising on comfort. A leather pencil skirt is incredibly chic and has a tough-girl edge that basically screams "I've got this." While sports luxe might not seem office appropriate, a color block top feels sophisticated and put-together and, when paired with your handy windbreaker, will make you feel ready to take on anything that comes your way. A pair of jazzed-up flats (with a top-notch pedicure, of course) will keep your feet happy despite all the running around you have to do, and a chain-link watch will help keep you on top of your game.
Victorinox Lugano Windbreaker ($149) + Warehouse Faux Leather Pocket Pencil Skirt ($68), Zara Jewel Slip-On Sandals ($80), Topshop Unique Color Block Jersey Top ($110), Anthropologie Sunset Field Earrings ($54), Zara Combined City Bag with Buckle ($90), Karl Lagerfeld "Kourbe" Double Wrap Bracelet Watch ($177), RMS Lip2Cheek Smile Blush and Lip Balm ($37)
Party On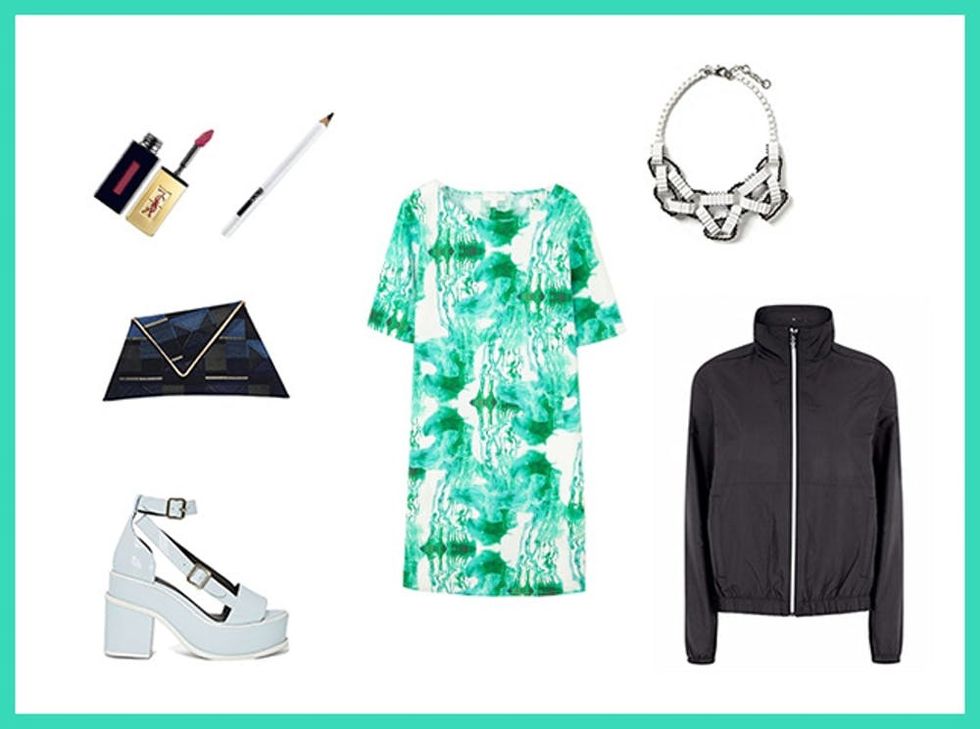 Your windbreaker might not be the first thing you grab out of the closet when you're putting together the perfect evening-out ensemble, but this outfit might make you change your mind. Forgo flirty and frilly for a more modern look with accessories that fuse high fashion and futuristic sensibilities, like platform Mary Jane sandals, an asymmetric clutch and a geo-link collar. These forward-looking accoutrements will ensure your sports-inspired topper doesn't feel out of place, while also adding to the fun, fresh feel of a bright, printed shift.
Victorinox Lugano Windbreaker ($149) + COS Printed Poplin Dress ($115), YES Agate Patent Leather Platforms ($155), Georgina Skalidi Blue Fabric Asymmetric Clutch ($104), Banana Republic Geo Link Necklace ($98), YSL Rouge Pur Couture in Rouge Vintage ($36), Studio 78 Paris Organic Black Eyeliner ($16)
Off-Duty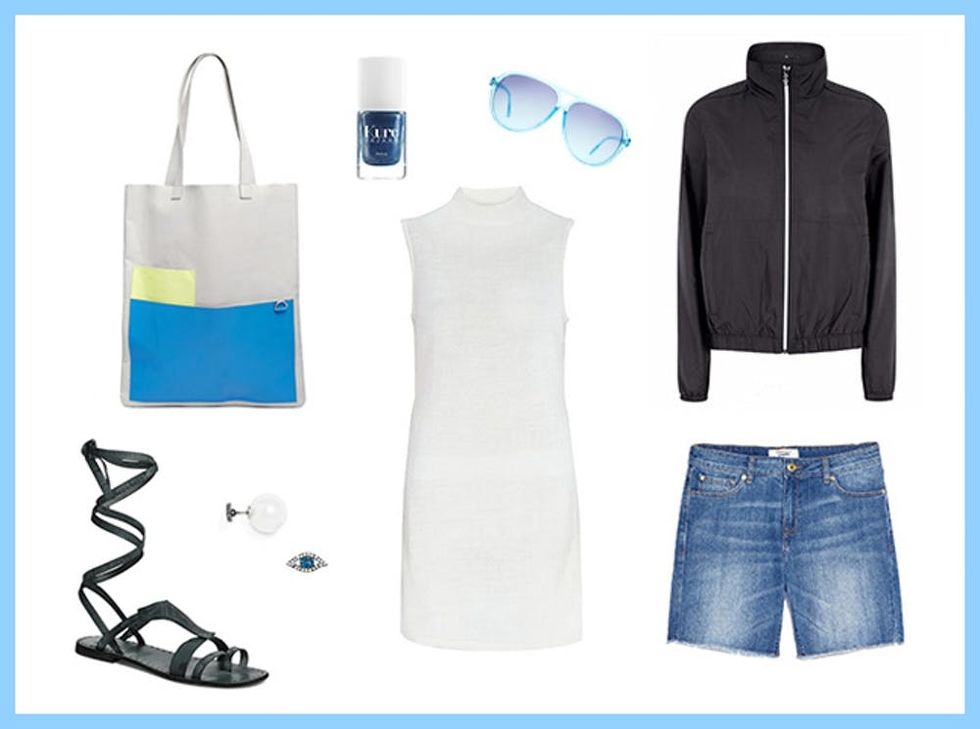 Off-duty is the most obvious time to whip out that windbreaker, but to avoid looking sloppy rather than stylish, ditch the track pants and tees for cutoff denim Bermudas, a sleeveless tunic and summer's favorite shoe: the gladiator sandal. Throw on a pair of sleek aviator shades and load up a funky leather tote with your latest read and snacks and beeline it to the park or your favorite weekend hangout spot.
Victorinox Lugano Windbreaker ($149) + Free People "Oliviera" Gladiator Sandal ($68), Crap Eye-Wear The Nite Shift Sunglasses ($56), River Island Cream Fluffy Side Split Tunic ($50), Bauble Bar Baby Blues 360 Studs ($32), Jack Wills Pocket Leather Shopper in Pale Gray Color Block ($179), Kure Bazaar Stone Wash Nail Lacquer ($16), Mango Medium Denim Bermuda Shorts ($45)
What pieces in your closet deserve more attention, but stump your style game? Tell us about your trickiest wear-again garments in the comments below and we might feature them in our next Style Resolutions post!
Libby MacCarthy
Libby MacCarthy is an urban planner turned writer with a love (bordering on unhealthy obsession) of all things fashion and beauty related. She lives for perfectly brewed coffee, farmer's markets, dinner parties and perusing impeccably designed boutiques. When she's not on the hunt for the latest trends, you'll likely find her plotting her next adventure or nose deep in a book. Libby currently splits her time between the East Coast and her adopted home of France. Follow her daily adventures on
Instagram
.