11 Non-Flower Crown Ways to Wear Flowers on Your Wedding Day
Jun 16, 2016
We love a good flower crown, but we are always looking for other ways to reinvent our favorite trends. 2016 has seen many brides go beyond the wedding bouquet and flower crown by wearing their favorite blooms on their arms, legs, necks, etc. Not only does this really free up your wedding hair options, but it also brings a whole lot of whimsical style to your big day. From tiny blossoms in your hair to flower necklaces and even flower shoes, the unexpected and utterly beautiful floral accessories below will bring that je ne sais quoi you've been looking for.
---
1. Arm Cuffs: Highlight all the work you've done on your body with a sweet arm cuff. A single one looks flirty, while one on each arm would be a gorgeous complement to an off-the-shoulder gown. Ribbons add an ethereal touch as they gently flow behind you on your trip down the aisle. (via Wedding Chicks / Mike Larson)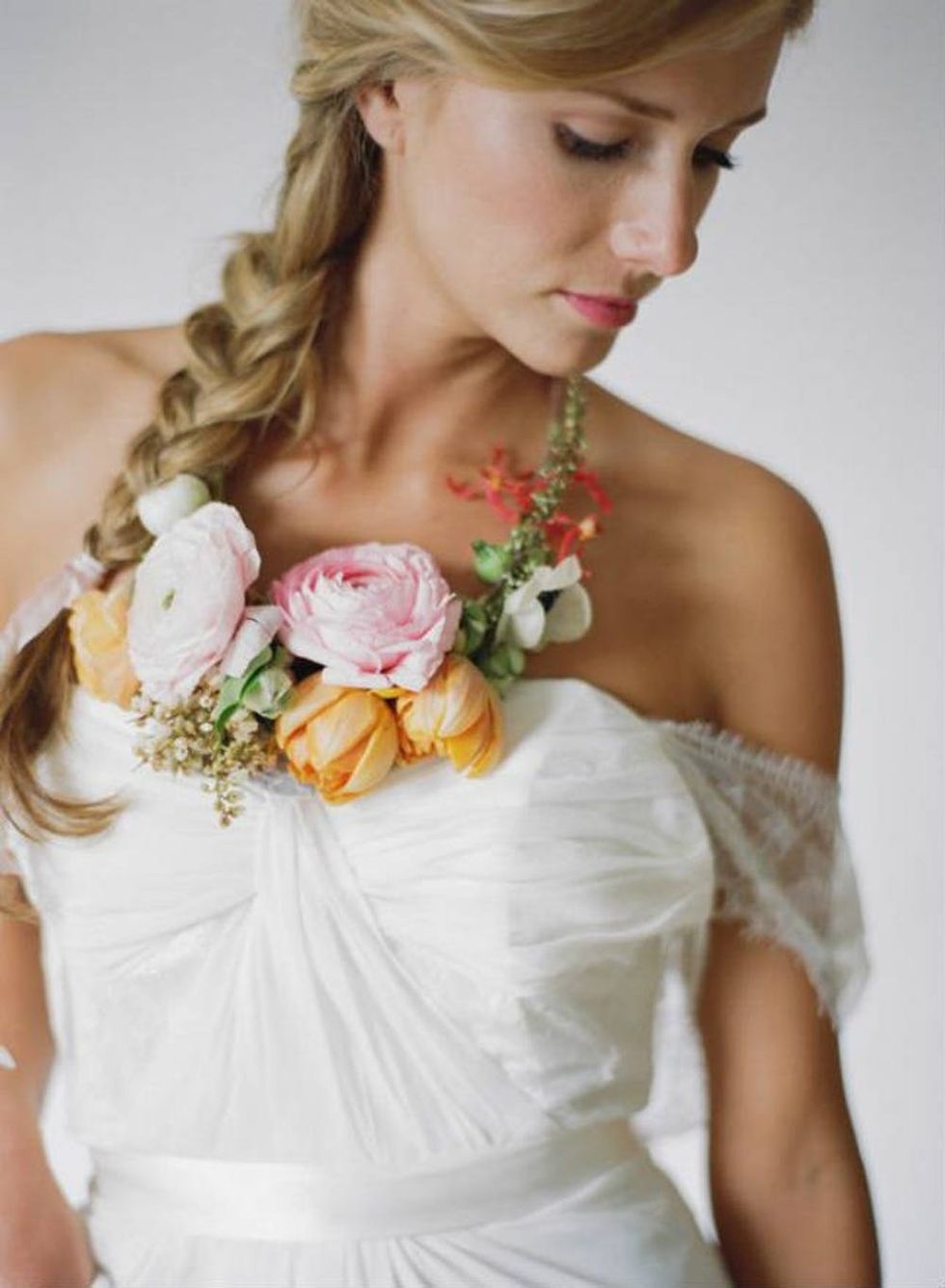 2. Fresh Flower Necklace: Bring that crown down over your head and it becomes the most breathtaking necklace. We love this as an alternative to a flower crown because it highlights your face and your dress neckline. Plus, you get to smell those gorgeous floral perfumes all day long! (via Amy Osaba Events)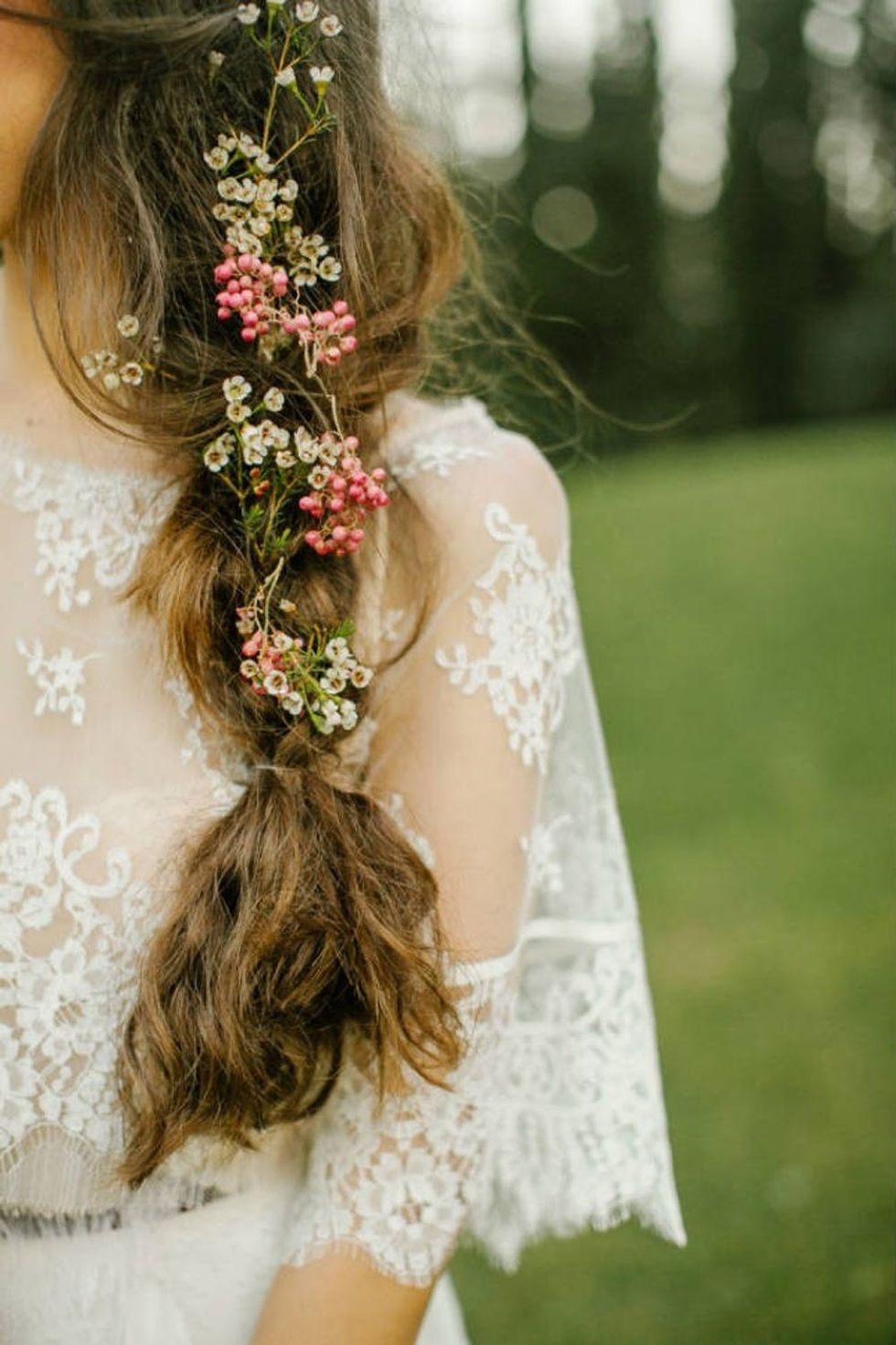 3. Tucked into Your Braid: Emphasize your loose and romantic braid by tucking delicate bits of spring into it. For maximum boho style, keep them casually placed, and then pull some hair loose around them. This will help keep the sprigs in place and add to the overall feel of the look. (via Style Me Pretty / Anna Roussos)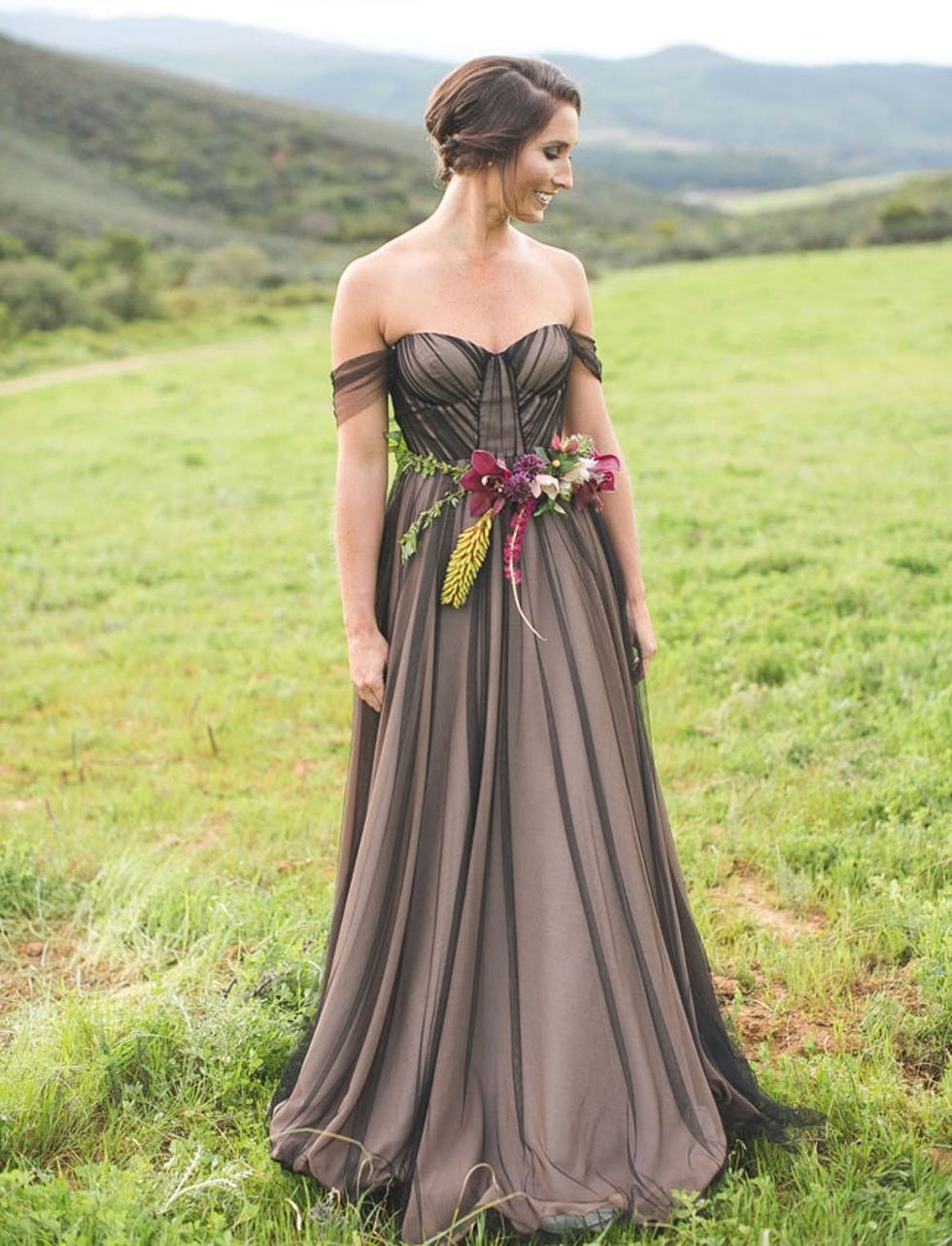 4. A Fresh Belt: A sash is always a good idea to define your waistline and add a little interest, but a fresh flower belt elevates the whole concept. With this, you might not even need a bouquet! Go sparse with blooming vines or big with this gorgeous boho-inspired version. (via Green Wedding Shoes / Adene Photography)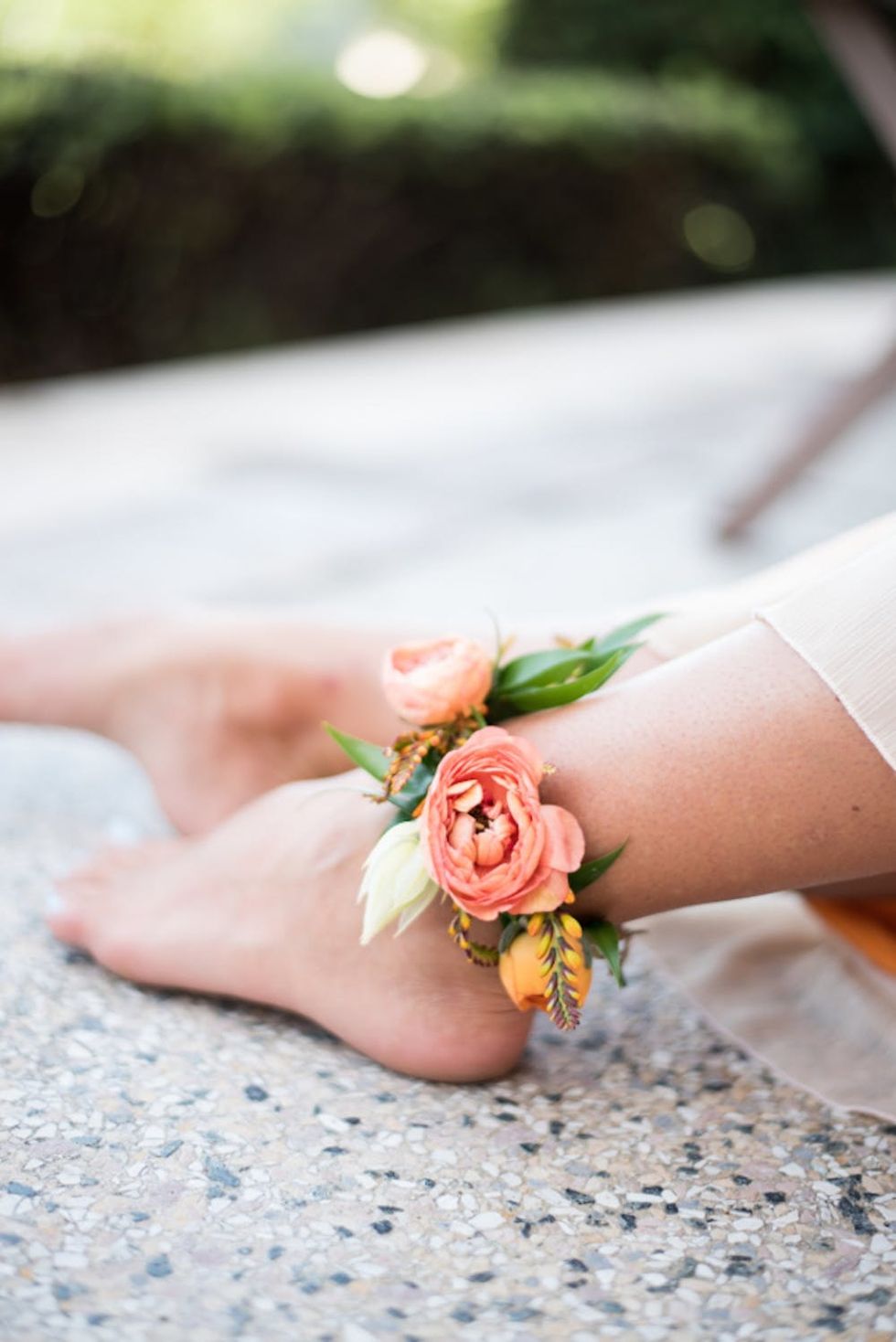 5. Fresh Anklets: There's nothing more perfect for a summer bride than anklets with fresh flowers. Choose hardier blooms that can take the movement, and be sure to choose a sheer or open hem so your dressed-up legs can be seen. (via Style Me Pretty / Leah Dorr Photography)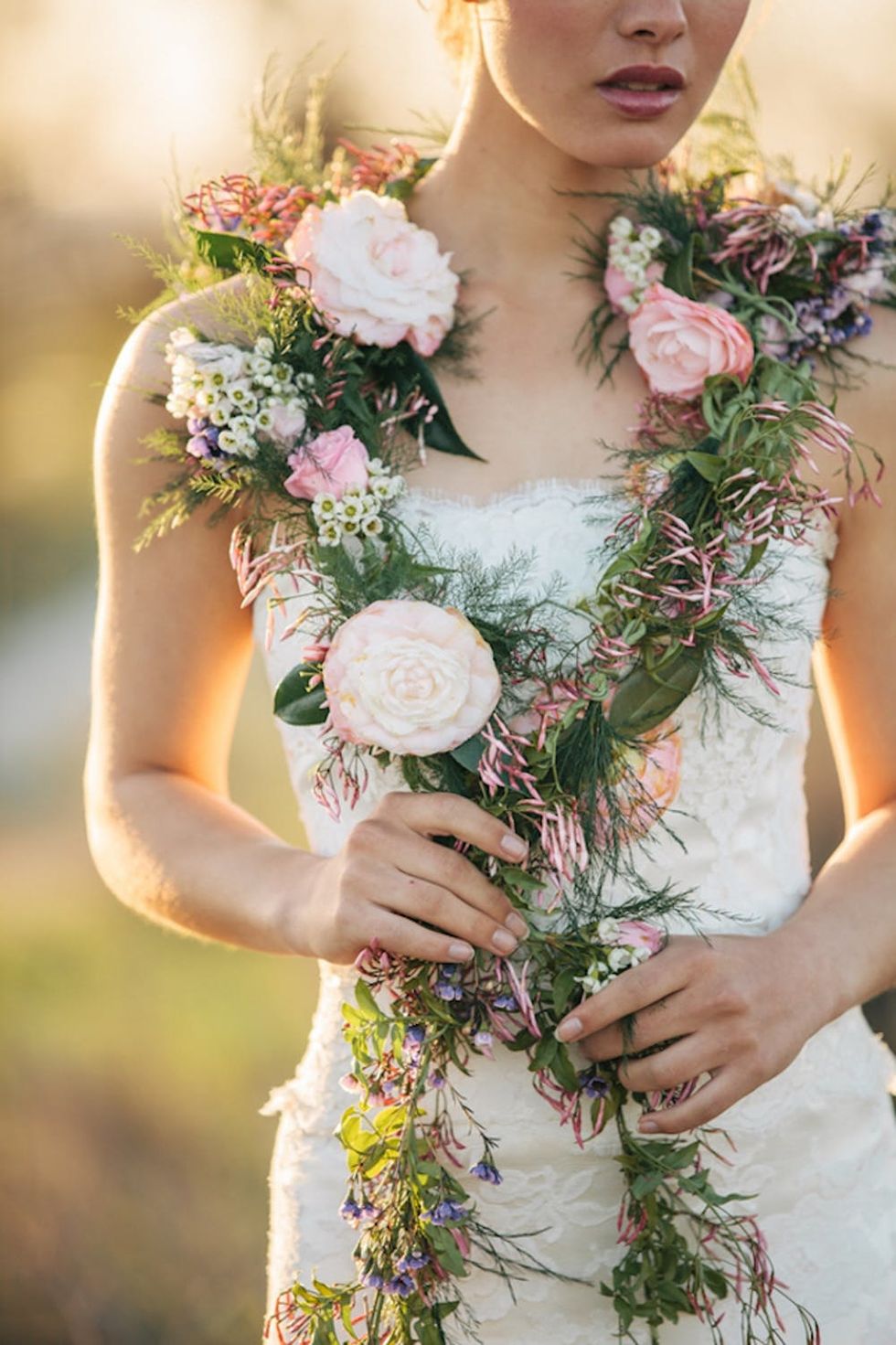 6. Floral Garland: Skip the bouquet and go for a floral garland rich with greenery and bright blooms. This will bring your solo and couple shots to the next level and make for a nice sweetheart table centerpiece once you're done rocking it. (via Engaged and Inspired / Jennifer Fujikawa Photography)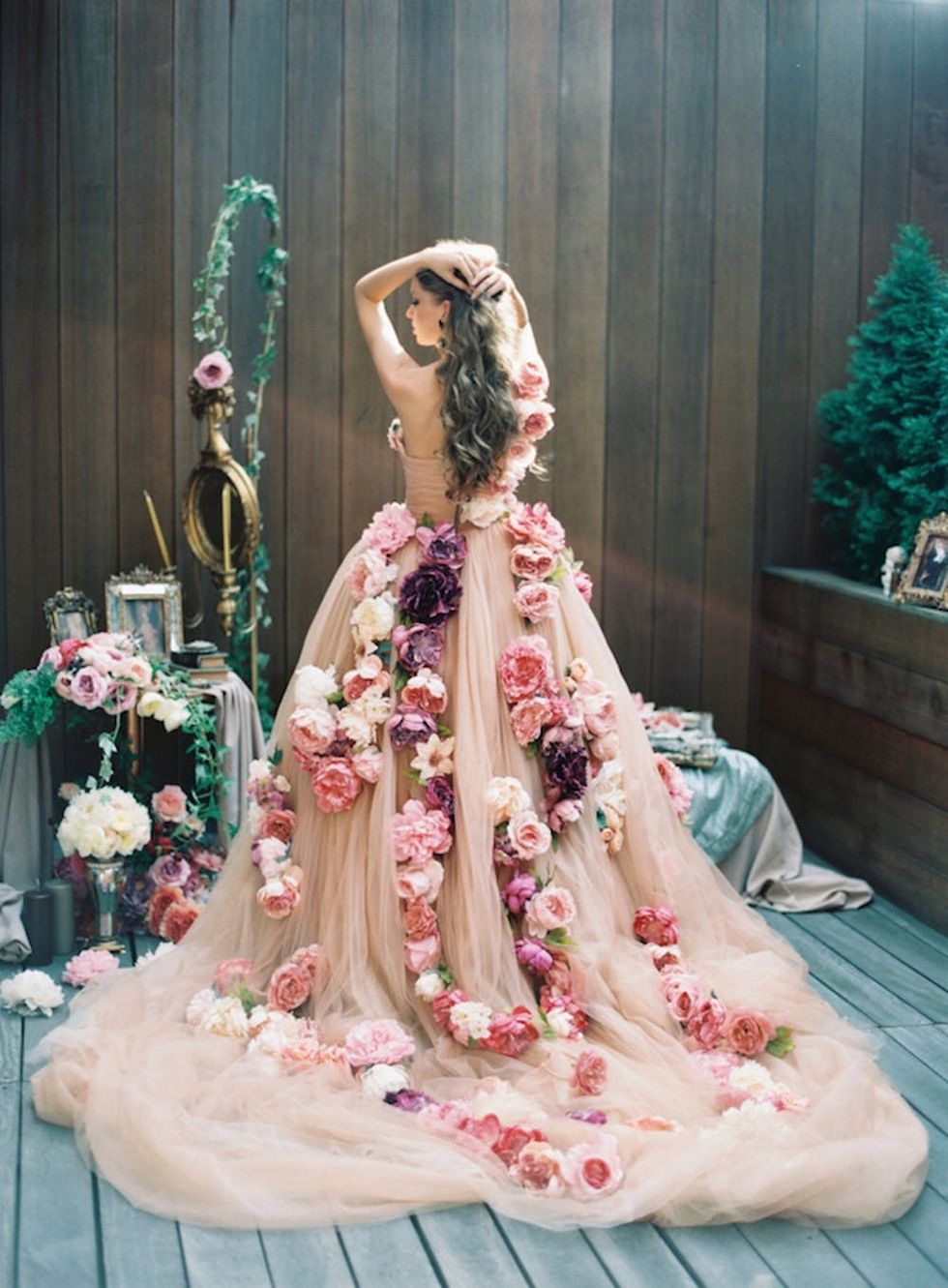 7. A Dress Full of Them: If you are going to go all out, you might as well just sew the flowers INTO your gown. This ethereal dress is like something out of a fairytale. (via Style Me Pretty / Lena Kozhina)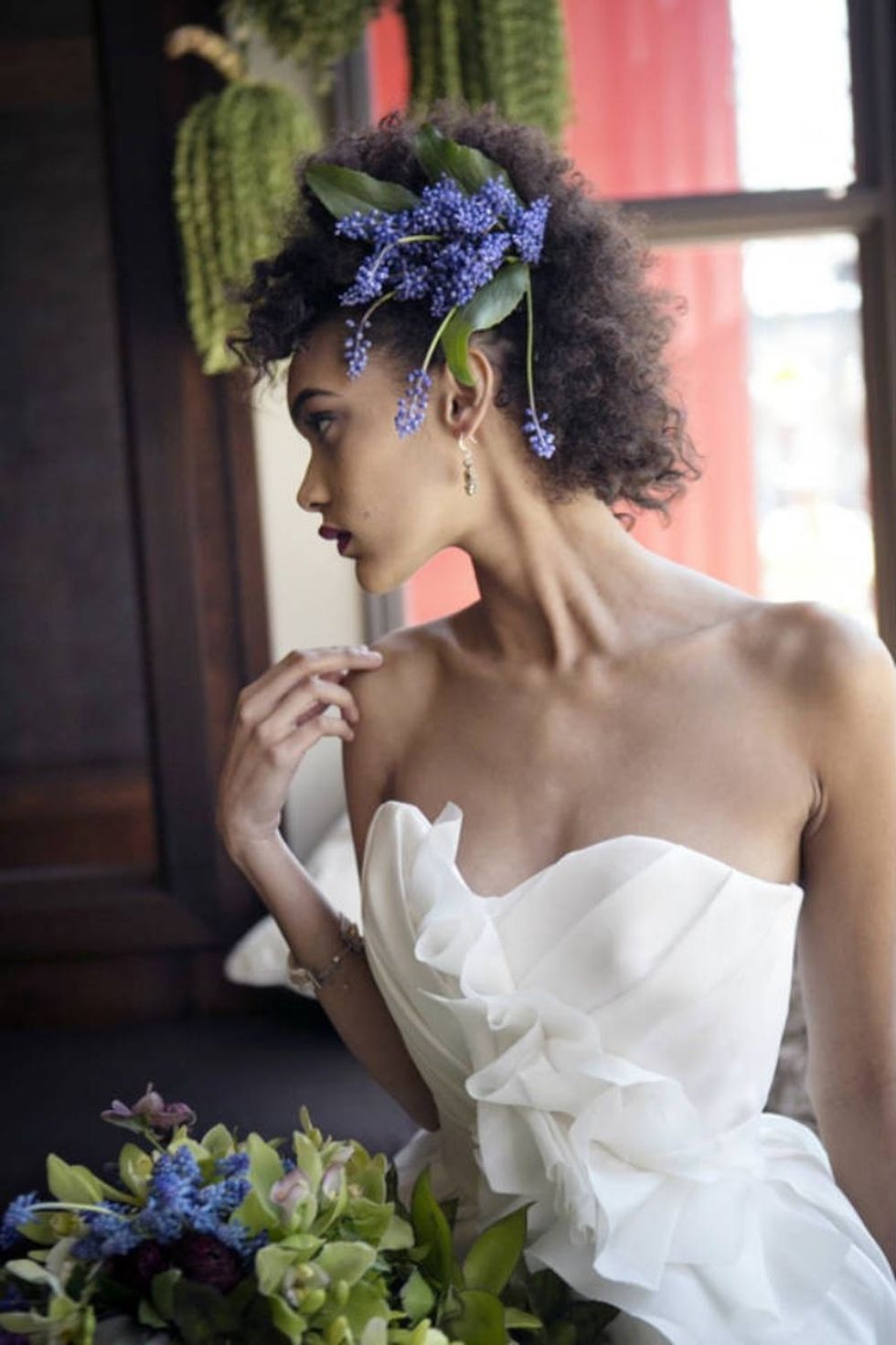 8. Tucked Behind the Ear: A handful of larger blooms look organic and modern when tucked behind your ear. Secure them with pins so they arc gracefully up to your temple to add lift and draw the eye up. No worries if they start to droop by the end of the night — the effect gets better as it looks more worn in. (via Passionflower Events)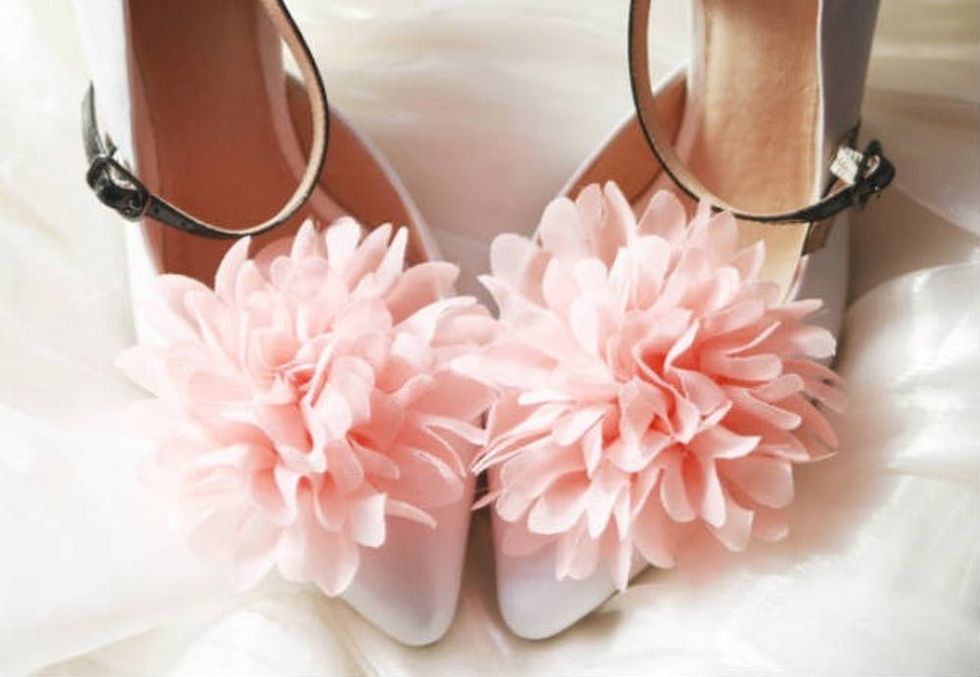 9. Flowers on Your Shoes: Just because your shoes are hidden under your dress doesn't mean they don't deserve a little extra decoration. Fresh flowers would be amazing, but you could just as easily add some silk flower clips like these for an extra touch of color and pizzazz. Just knowing they're there will make you want to kick up those heels on the dance floor. (via Weddbook)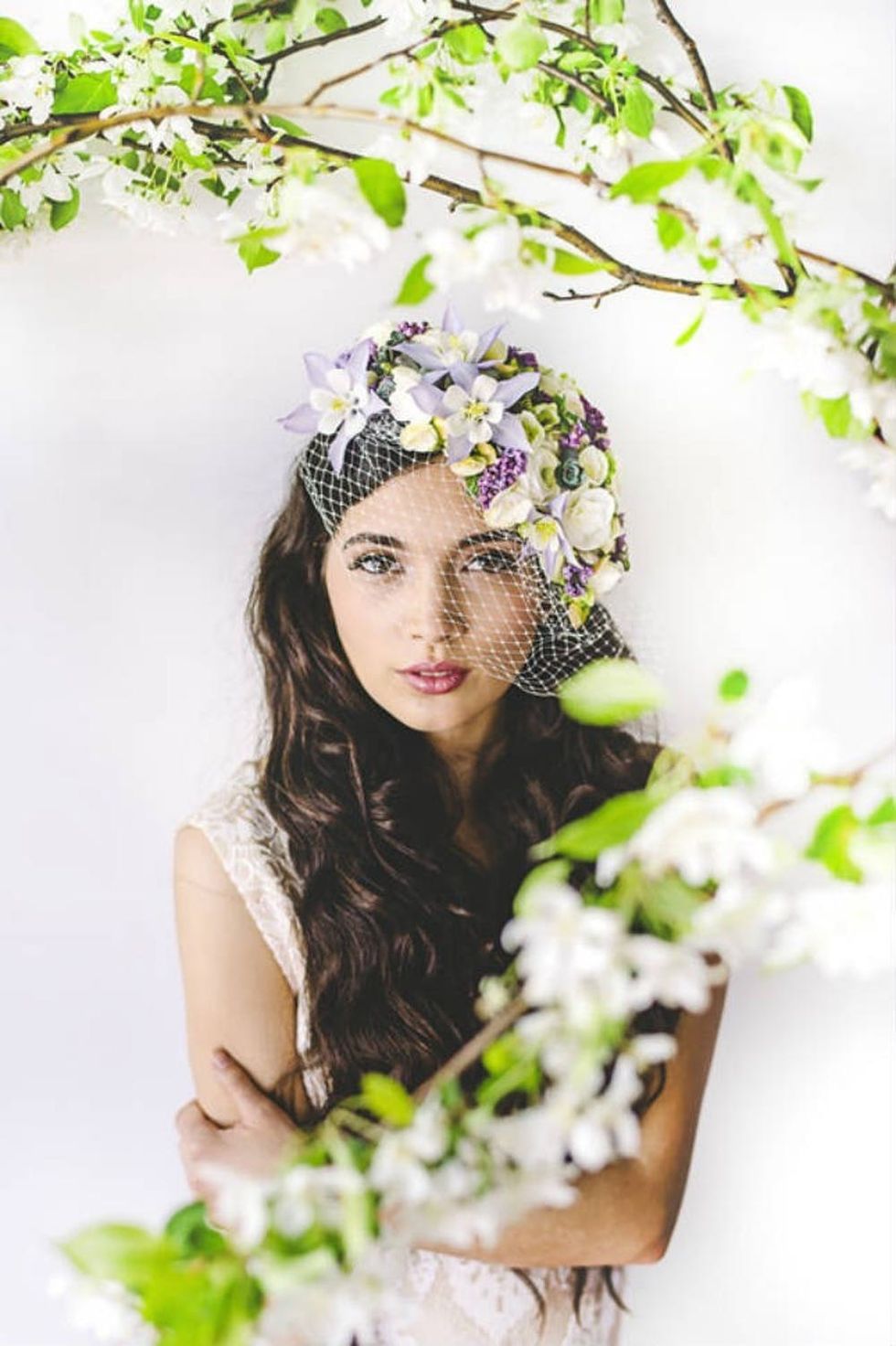 10. Flowers Over the Veil: We've seen flowers under your veil before any number of ways, but over the veil is seriously stunning! Pinning them over the veil lets every element be seen and adds great depth and texture to both flowers and veil. (via Passionflower)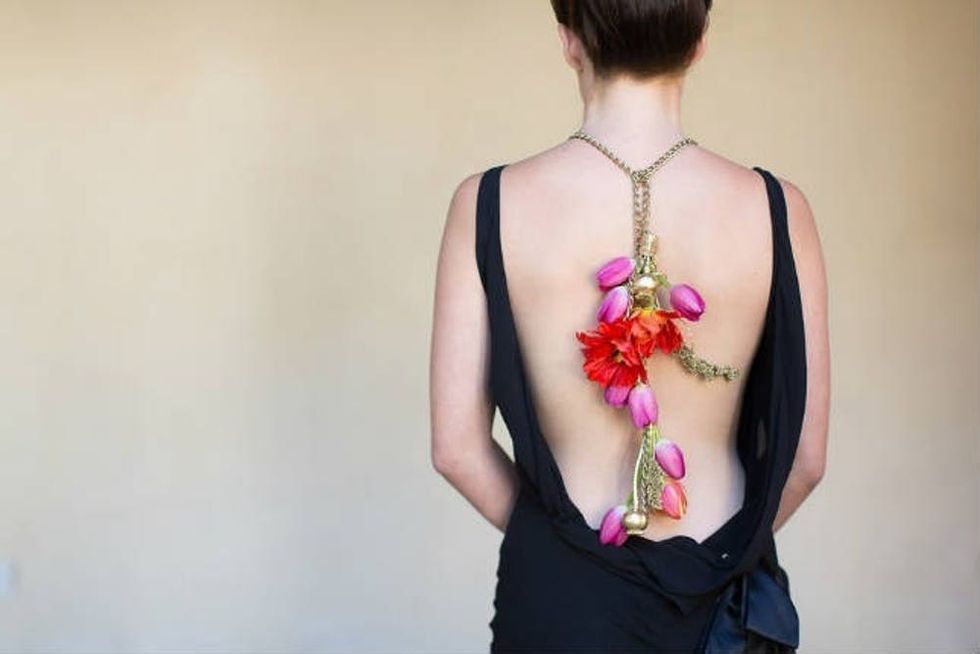 11. Dramatic Back Necklace: This is a serious stunner of a look that's perfect for all the low back styles that have been so popular on the runways this year. It's a gorgeous way to infuse some color, drama and creativity into your bridal look. You could also let your bridesmaids rock it down the aisle for a cohesive look. (via Fleur le Cordeur)
Loving these unique wedding florals? Follow us on Pinterest for more wedding inspo.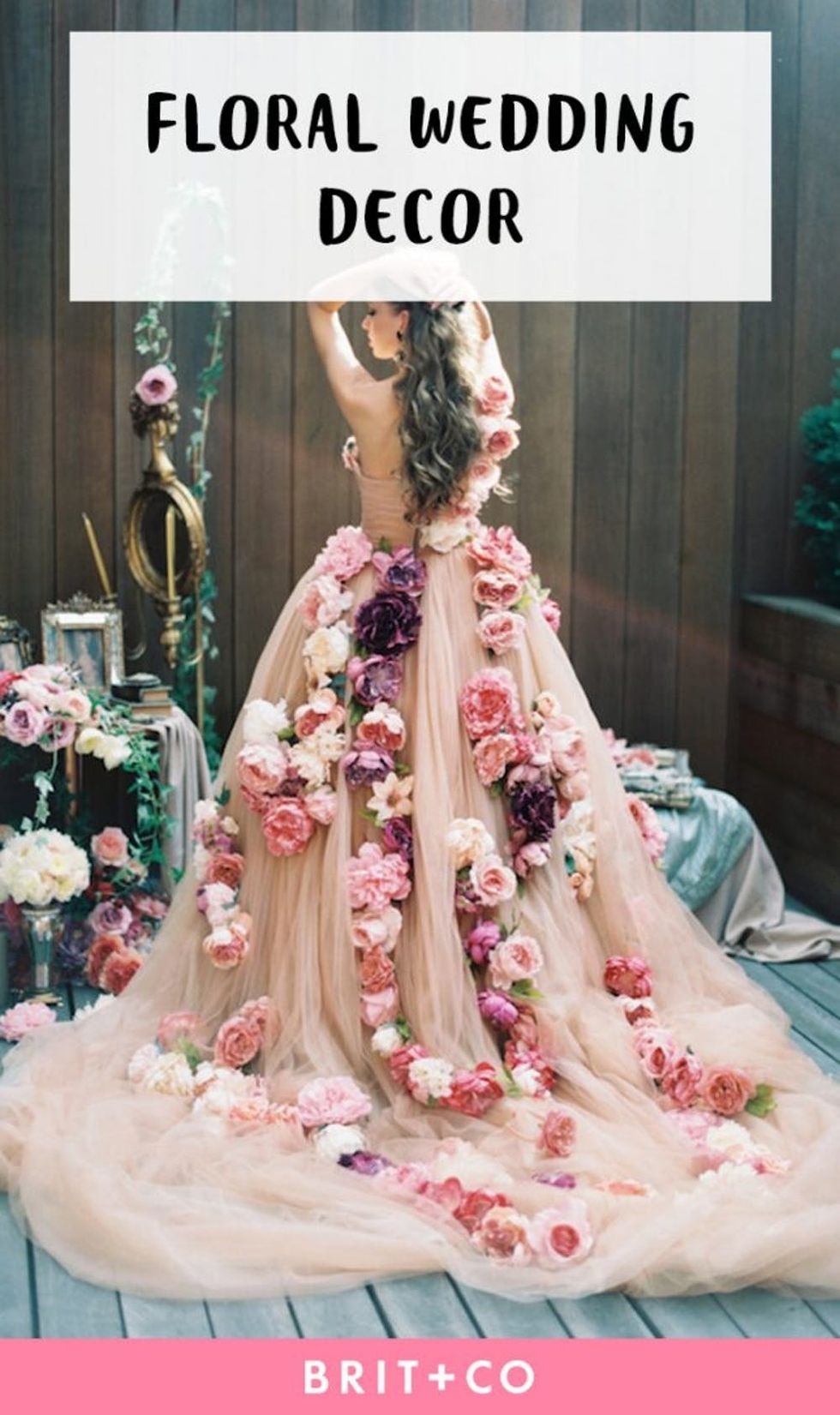 Alexandra Tran
Alexandra has been obsessed with all things wedding since she was five. When not drooling over all things "I do," she enjoys reading, classic films and cuddling the family dog. More of her wedding musings and advice can be found on her blog www.weddingloversanonymous.com, along with her brand new book "Champagne Dreams on a Beer Budget: How I saved $20,000 On My Wedding."