Kendra Wilkinson Baskett Has Been Rushed to the ER With Illness
Nov 19, 2017
Kendra Wilkinson Baskett is not having a great weekend! The Dancing With the Stars alum was rushed to the emergency room last night after abruptly canceling two scheduled performances of her sultry play, Sex Tips for Straight Women from a Gay Guy, at the Paris Las Vegas Hotel and Casino in which she stars alongside Queer Eye for the Straight Guy star Jai Rodriguez.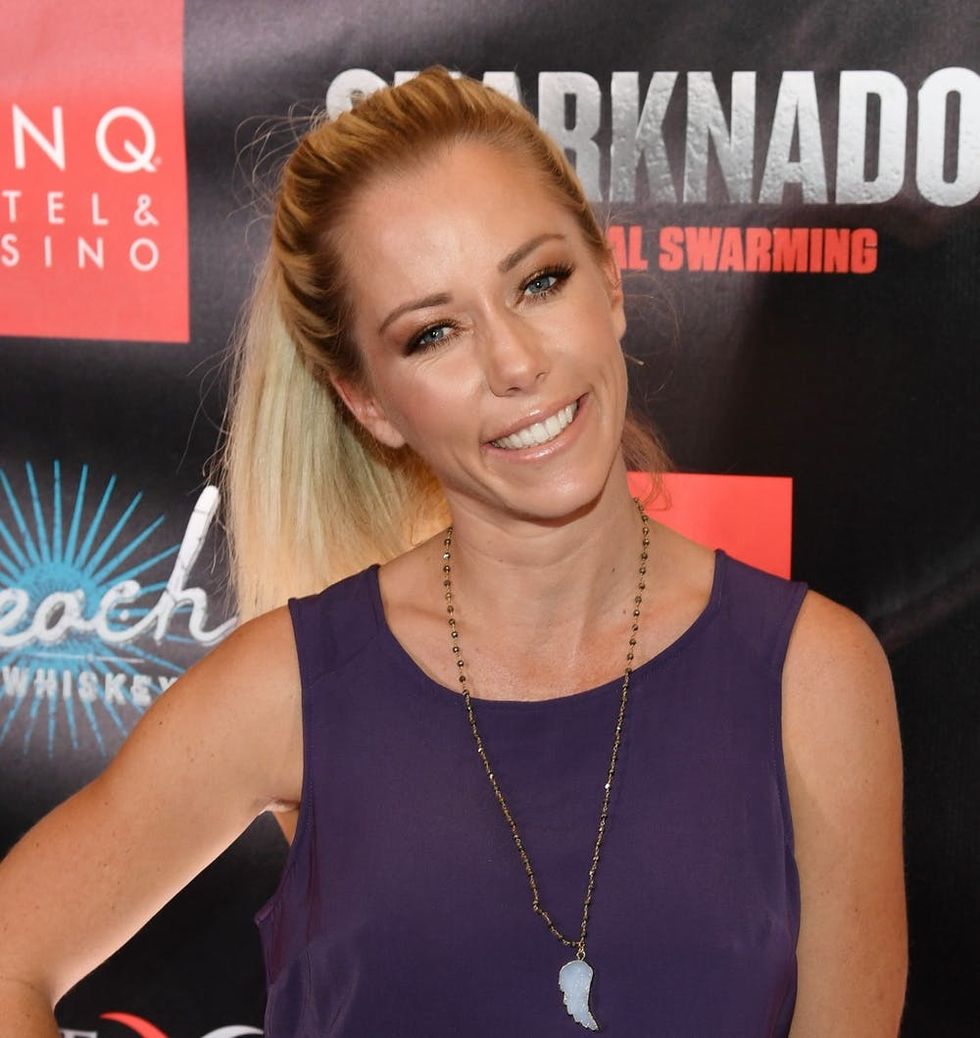 ---
Wilkinson Baskett first took to Twitter at 4:27pm to announce that she would only be putting on one show that day writing, "Super sick. Going to have to cancel the late show tonight. My heart couldn't cancel both. Sorry late show." Just two hours later, however things seemed to progress.
Sooooo sorry guys gotta cancel both shows tonight. Going to ER. Hurtin bad. I'll make it up to you. 😪

— Kendra Wilkinson (@KendraWilkinson) November 19, 2017
She later returned to social media to let fans know she wouldn't be appearing on stage at all, and would be heading to the emergency room instead. "Sooooo sorry guys gotta cancel both shows tonight. Going to ER. Hurtin' bad. I'll make it up to you," the 32-year-old wrote.
While she didn't initially share the details of her condition, she did upload a shot of a temp of 101.1, as well as one of herself laying in bed ill to her Instagram stories.
Still the mother of of two remained in good spirits, documenting her injection of morphine, saying, "There goes the morphine…. Bye-bye!" She also had the hospital staff in chuckles, joking, "You are my best friend now. After that shot on my butt… you are now my best friend. What's your name?"
Thankfully, things appear to be looking up this morning, with an update from the former Girl Next Door updating fans to say that she was feeling better, that the doctors found "nothing serious," and that she would be back onstage tonight.
Better today n will be back on stage tonight. The pain n aches were so bad last night. Nothing serious they found but on antibiotics n pain meds today. Thanks for your concern everyone. Love you.

— Kendra Wilkinson (@KendraWilkinson) November 19, 2017
The former Playboy model announced her Vegas debut back in April, telling E!, "I am going to play a lead role in a play called Sex Tips for Straight Women from a Gay Man and it will be in Las Vegas. Being a lead role in a play in Vegas? Like, come on! How much bigger can it get?" she gushed.
We're so happy she's feeling better!
Should celebrities be active on social media during emergency situations? Tweet us @BritandCo.
(Photo via Ethan Miller/Getty + @kendra_wilkson_baskett)
Barbara Pavone
Barbara Pavone is a pop culture-obsessed writer based in beautiful (but ridiculously cold) Montreal, Canada. When she's not working, she's sipping on a Pimm's Cup and daydreaming about her celebrity hero, Saint West.
Celebrity News
If you lack a certain way with words, then perhaps you can rely on showing how you feel this holiday season with an artful greeting card you can make at home! Brit dropped by our crafting studio where we teamed with Camp by Walmart to create a choose-your-own-adventure holiday card tutorial. In the interactive video, it's up to you to decide what type of card you want to make — sentimental, or stylish? Three-dimensional, or keep it simple? After you've selected your design vibe, Brit helps you assemble it all together so your last-min card is ready to send. Get ready to pick up a few new DIY tricks when you watch the video now!
Holidays