2 Ways to Transform Your Home into a Winter Wonderland
Dec 08, 2016
Oh, the holidays. So much delicious food, the best decorations ever and, sigh, a whole lot of tiring travel. Anjelika Temple here, Executive Creative Director at Brit + Co and holiday traveler extraordinaire. You think one or two Christmases is a lot? Try FIVE. For real. Ever since my husband and I moved to the west coast and started skipping family Thanksgiving, Christmas has become quite the east coast tour. We've got five sets of parents and that doesn't even cover the random cousin/aunt/friend-hosted dinners and lunches that end up making it into the mix. But guess what? This Christmas we're taking a break from tour. We've got a baby on the way and are taking some time to just be the two of us (before we're three!).
---
In past years, we've always gone for a holiday hike the weekend before we head east. This year, we're dreaming up ways to take this a step further and bring the festivities into our home. We teamed up with Hallmark Gold Crown to share two ways to transform your space into a winter wonderland — you won't ever need to leave the house! One option is all about hosting friends who are also staying local; and the other is maximum laziness for two, perfect for a gal who'll be seven months pregnant, AKA me :) Oh and bonus: You can get just about everything you see in this post at your local Hallmark Gold Crown store or online. #holidaywin
HOST A FRIENDS-MAS POTLUCK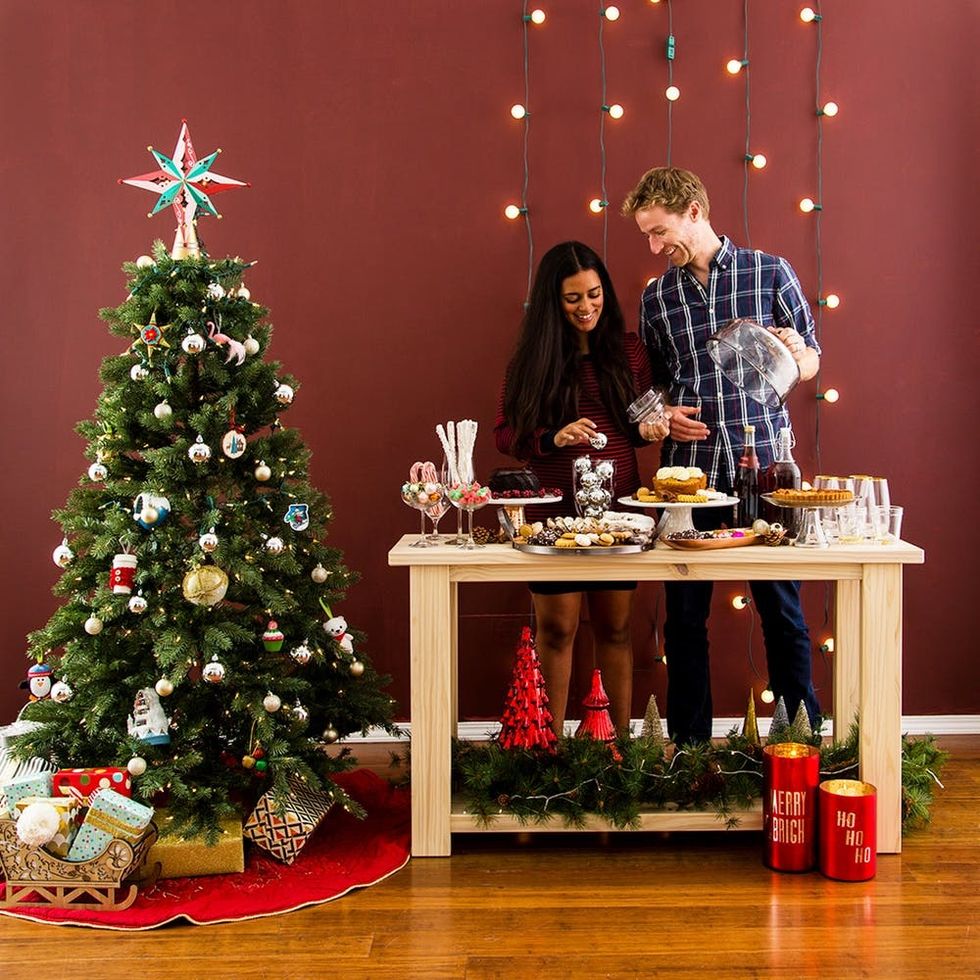 Hello, Friends-mas is obviously the new Friendsgiving! ;) We're not the only ones staying local this holiday season, so we're inviting our nearest (geographically) and dearest to partake in a holiday potluck. Set up a scene that's equal parts traditional and casual — we've all got the friend who might show up with a frozen box of pizza bites as well as the one who will design a *bespoke* holiday cocktail riddled with elderflower, thyme and more.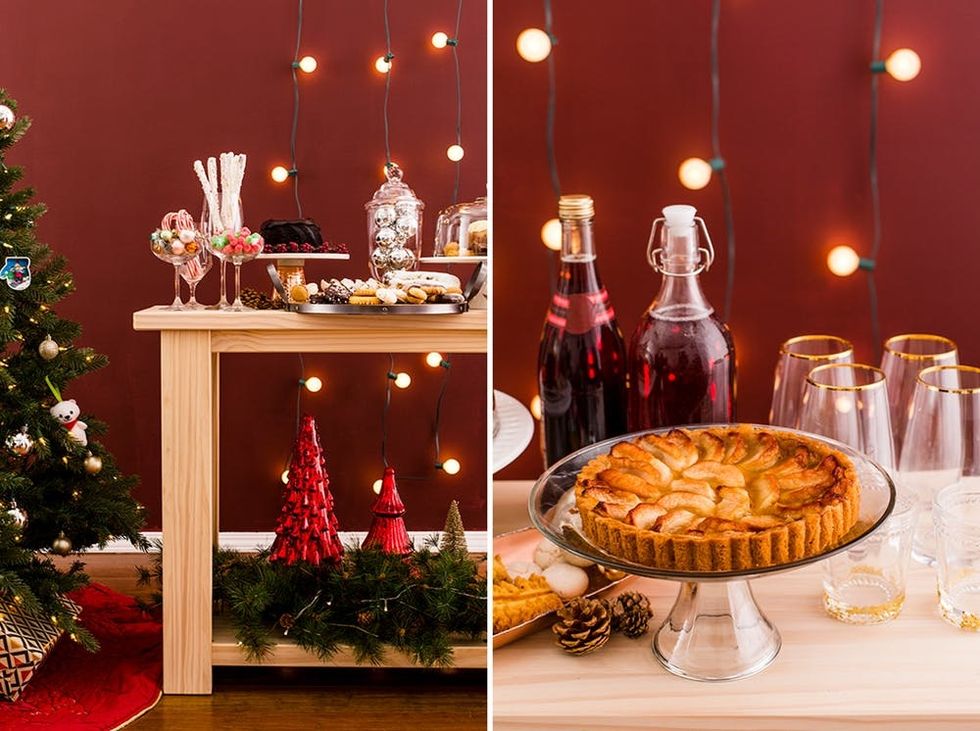 Stock Up On Classy Serveware: You'll want enough serving dishes, plates and bowls for your own homemade goodies but you also want to make sure you've got places for your guests' delicious goodies to go.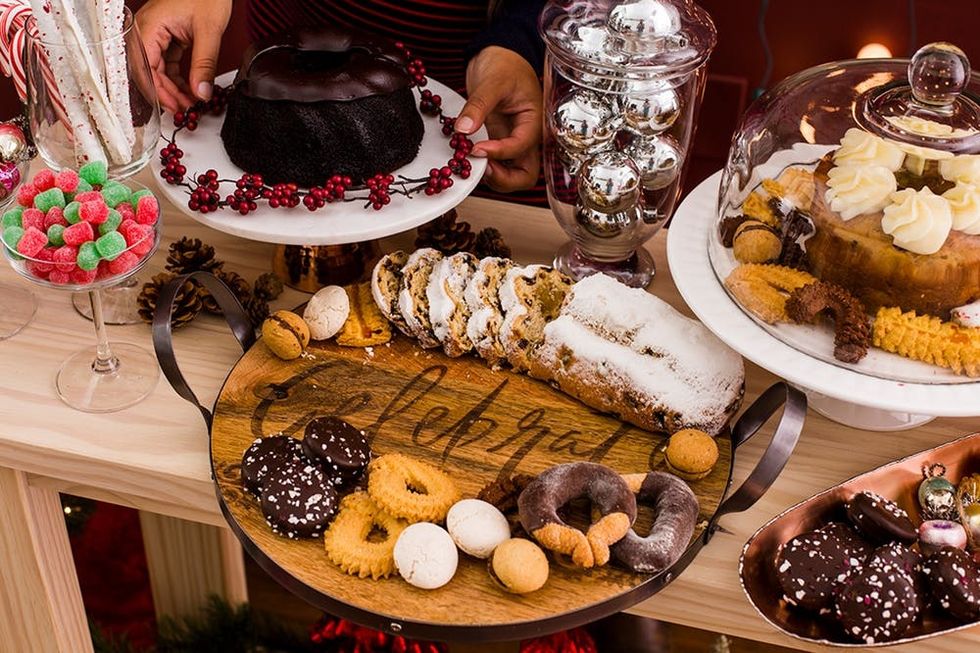 Sweets, Treats and Yummy Things to Eat: Without fail, people tend to forget to bring dessert to a potluck so we can recommend providing some bites that are easy to keep for a few days after. The right platter, like this Artisan Wood Serving Tray can make even a mismatched bunch of cookies, cakes and donuts look v fancy. We also adorned our bundt cake with a Red Berry Garland to give it a little extra color.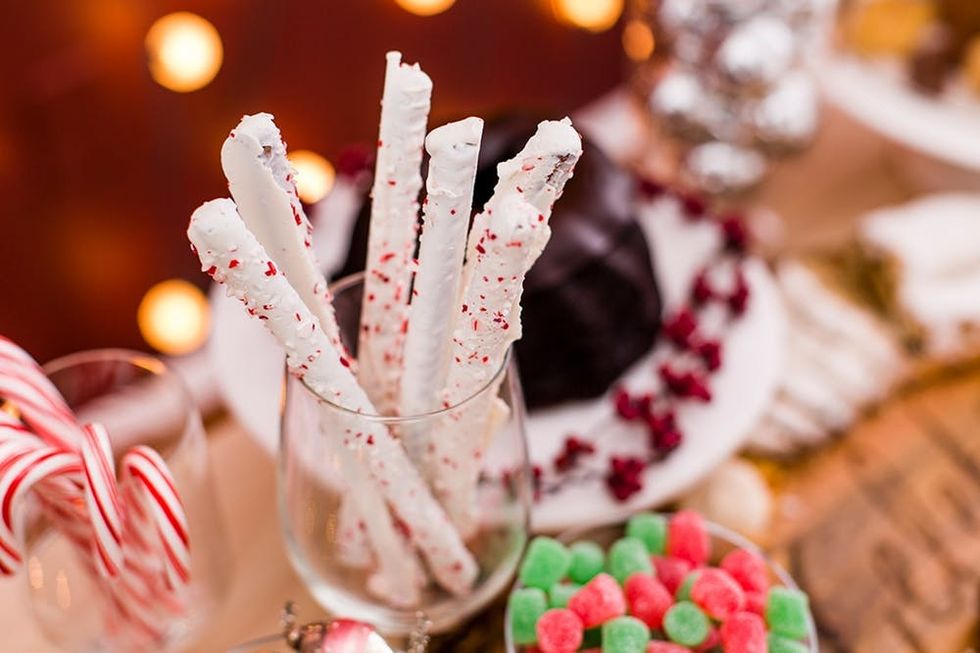 Pep Up Your Peppermint: Think beyond the candy cane ;)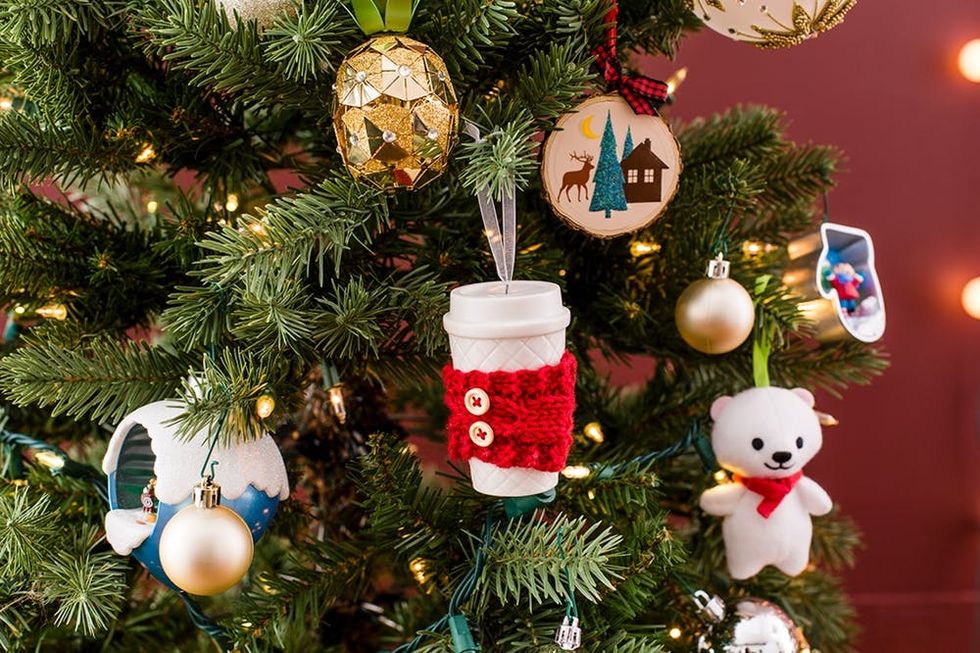 Update Your Ornament Game: We love heirloom ornaments and basic baubles, but it's a good idea to add a few new characters to your tree each year. (Our faves from Hallmark Gold Crown include: Pineapple Signature Ornament; Flamingo Signature Ornament; Pinata Navidena Ornament; Peppermint Swirl Christmas Cupcakes; Keepsake Kids Snowball the Polar Bear; Decorative Gold Glass Ball Ornament; Regional Mountain Lodge Ornament; Coffee Signature Ceramic Ornament; Mitten Cookie Cutter Ornament; and Winter Wonderland ornament.)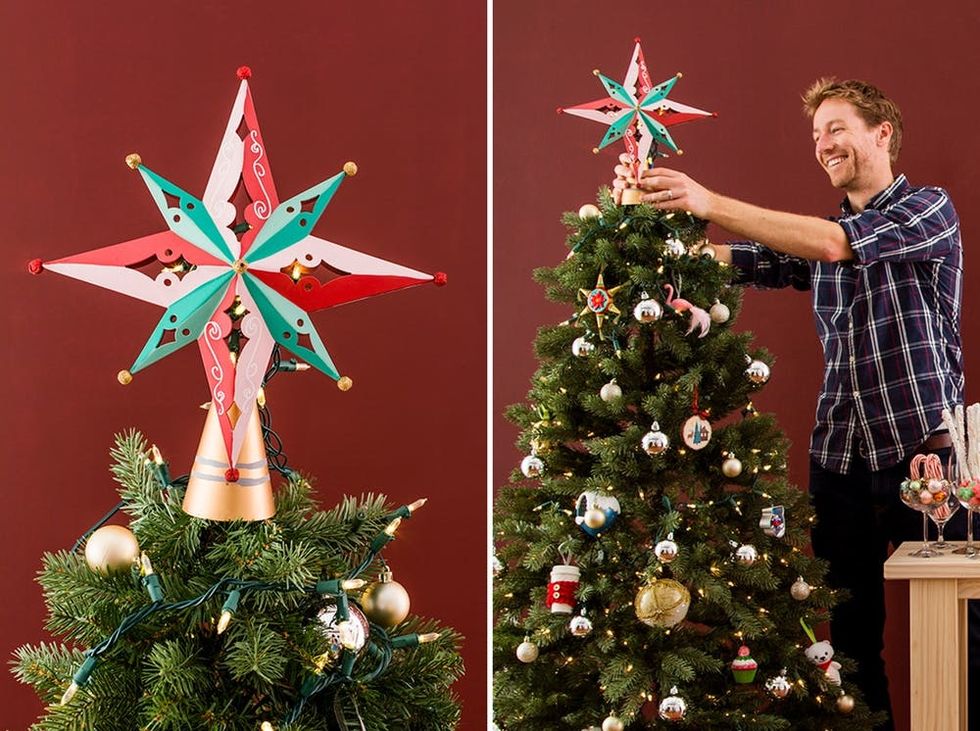 He's a STAR: That husband of mine is a real star, don't you think? It's hard to find a star that doesn't feel overly cheesy so we were pumped to come across this color-blocked topper!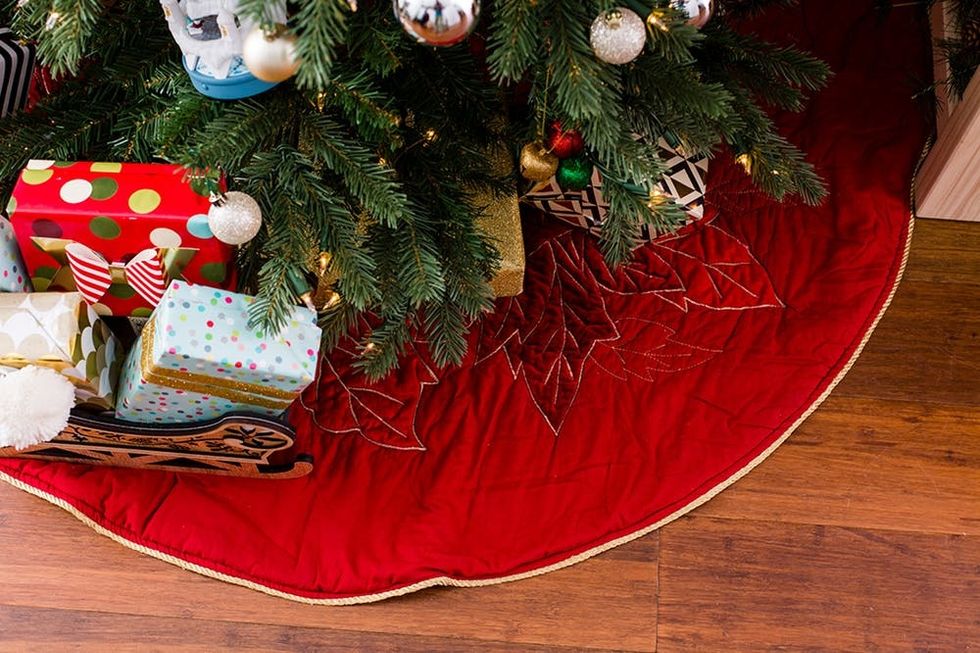 Don't Forget That Tree Skirt: Admittedly, I've forgotten how essential a tree skirt is on more than one occasion. Thankfully, Hallmark Gold Crown has a stitched Poinsettia option (part of their Heritage Collection) that'll pretty up your tree in a jiffy.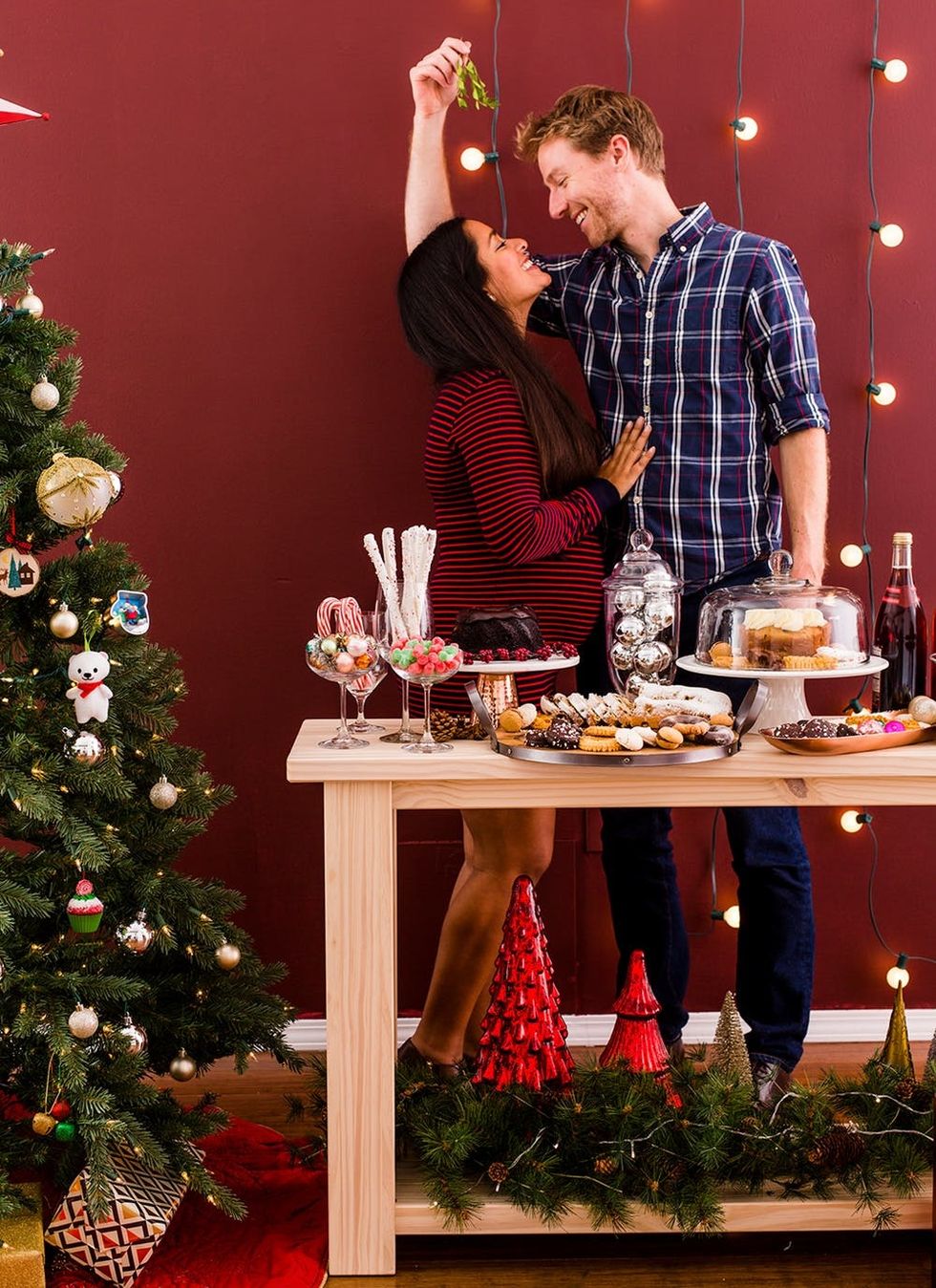 Of course, it's always handy to keep a stem of mistletoe at the ready ;)
REVEL IN A COZY STAYCATION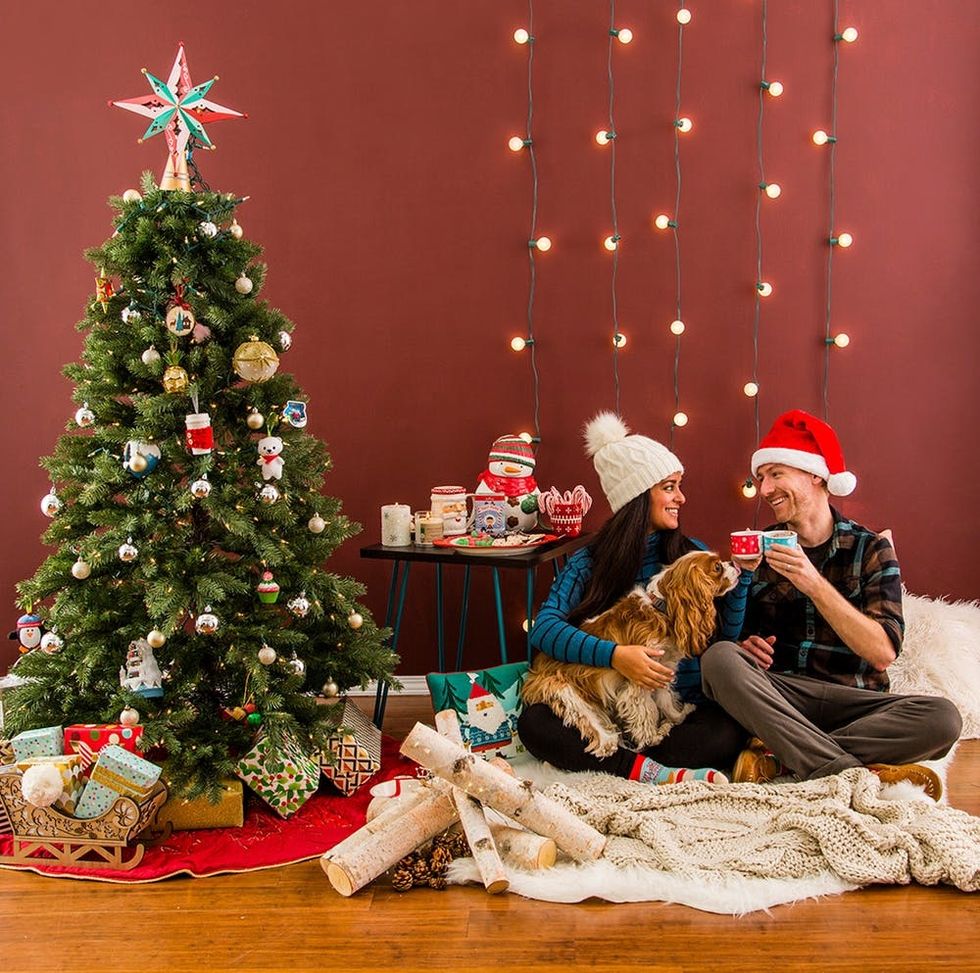 Now that you've hosted all your friends, you can sit back and let the laziness of holiday break set in. Revel in the comfort of your home, filled with cozy blankets and pillows — and let any stress about being productive or getting out of the house melt away. Take this time to enjoy your favorite person in the world, whether they're your bestie or your boo.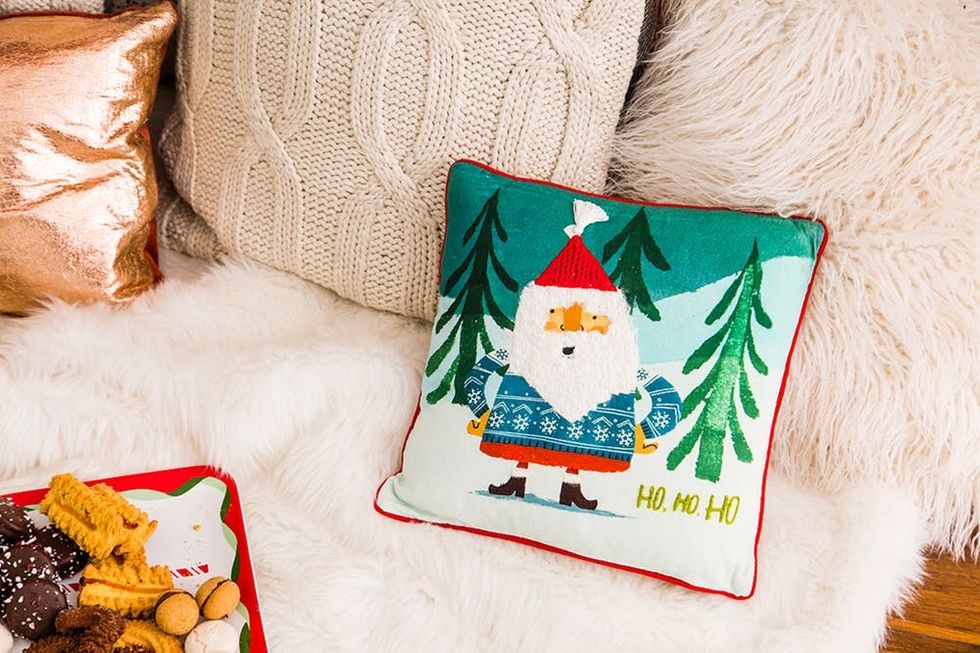 Ho ho ho! Pile on Plenty of Pillows and Blankets: To make a true nest, you need to pile on lots of pillows and blankets, and pretty much any other cozy textile you can find. We started with a furry rug as the base and added a Cable Knit Throw Blanket; Cable Knit Pillow; and Woodland Santa Pillow.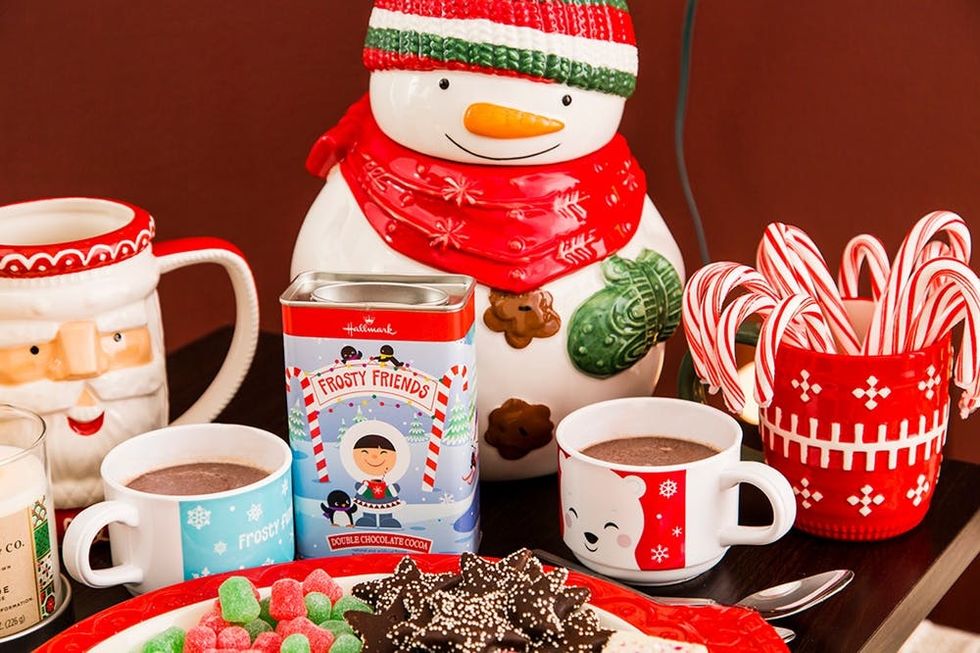 Hot Cocoa, Cookies and Candy Canes: You're going to need sustenance to get through a day (or week) spent lazing around. We stocked up on Frosty Friends Double Chocolate Cocoa Mix and picked up a matching Mug Set, Snowflake Mug and Woodland Santa Mug to seal the deal.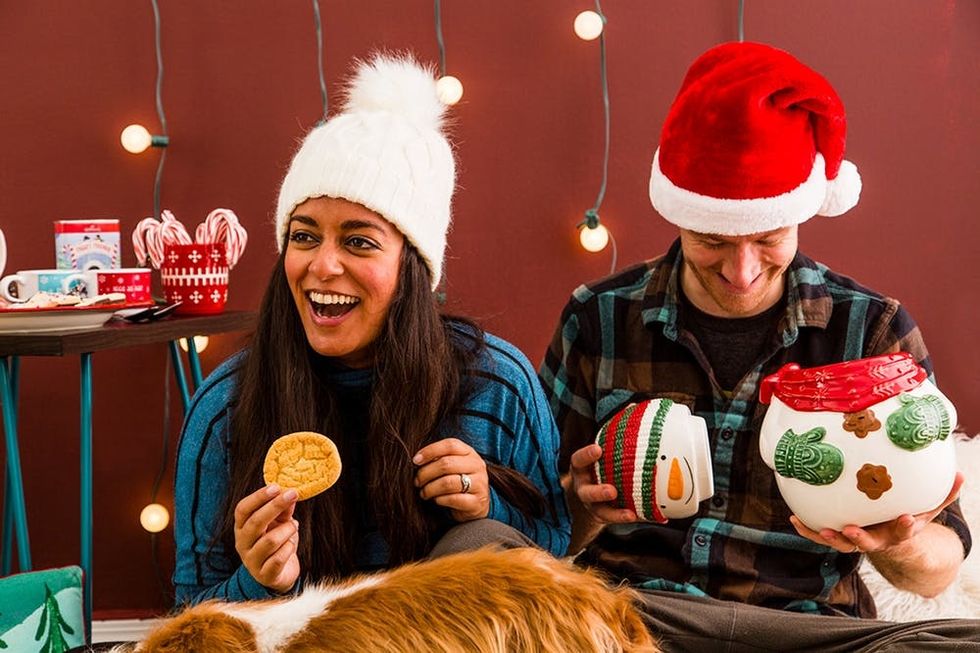 Did we mention… COOKIES?!: Sugar cookies, chocolate chip cookies and ginger snaps for a little sass.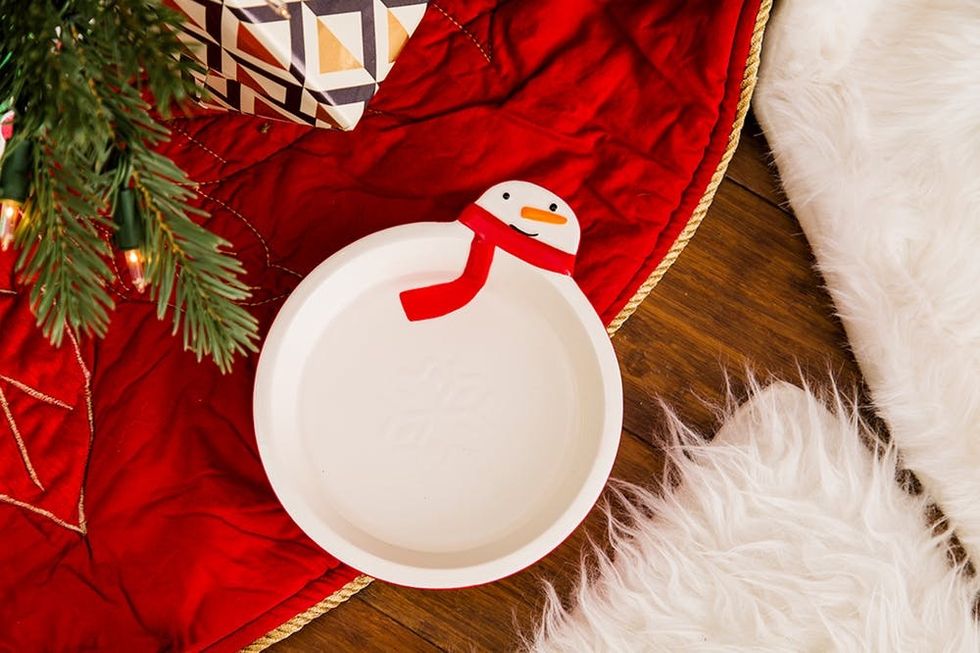 Don't Forget a Festive Dog Bowl: Technically this is a candy dish but we think it makes a perfectly cute water bowl for Turkey Temple.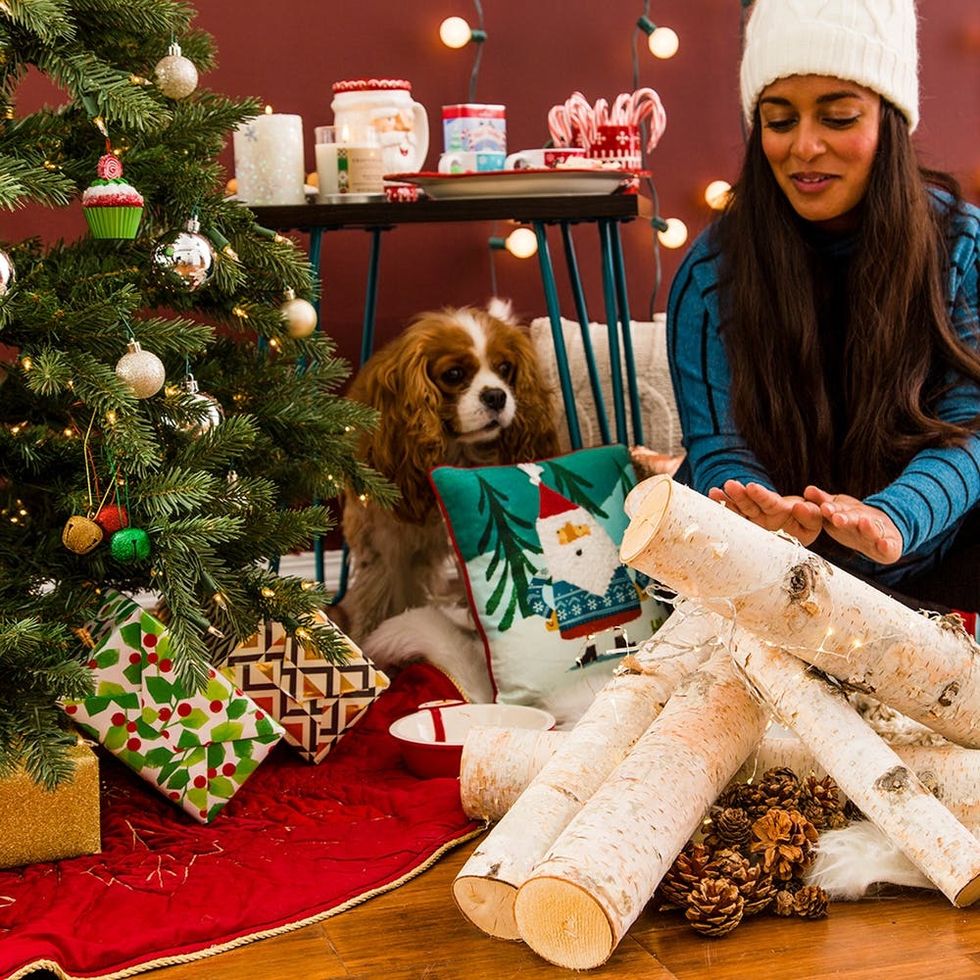 Set Up a Faux Fire: Okay, maybe those LED string lights aren't actually going to make your hands warm, but the effect is still pretty darn heartwarming.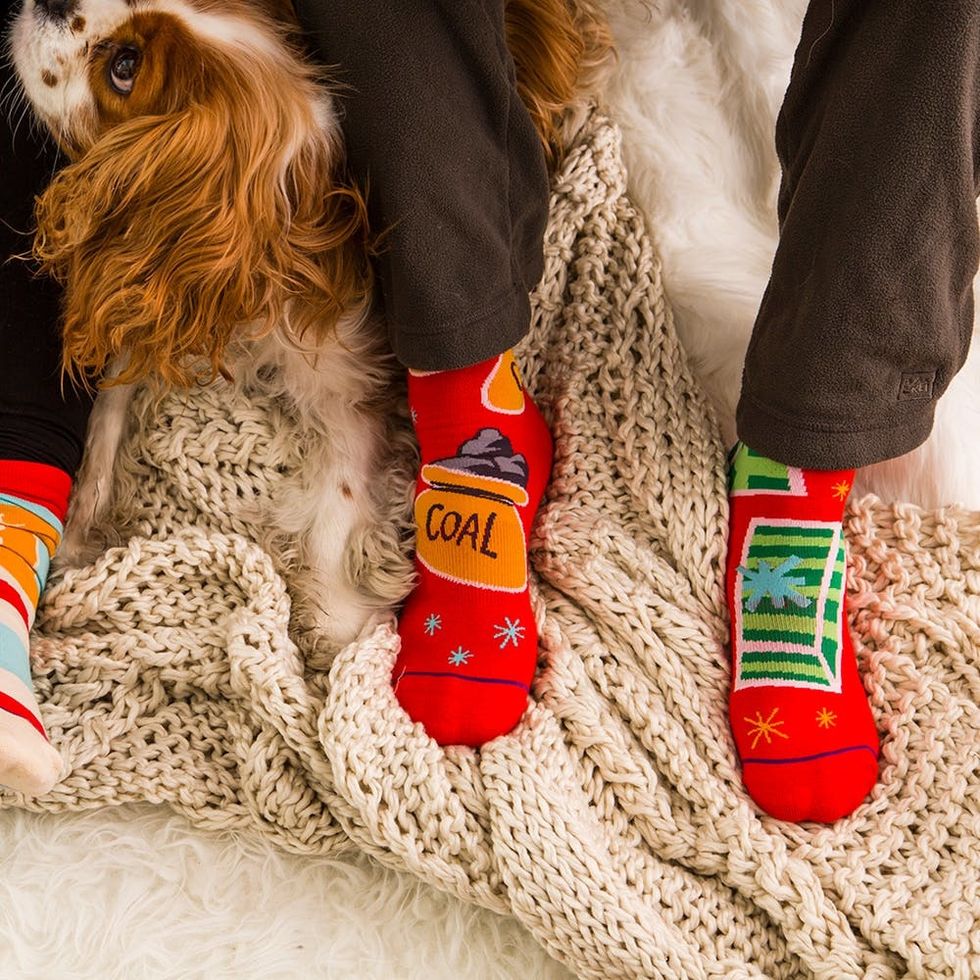 Keep Your Toesies Warm with Seasonal Socks: Who doesn't love Christmas socks? I know I get them in my stocking every year and this year will be *no* exception. For my husband David, I gave him a pair of Not on the Naughty List Toe of a Kind Socks.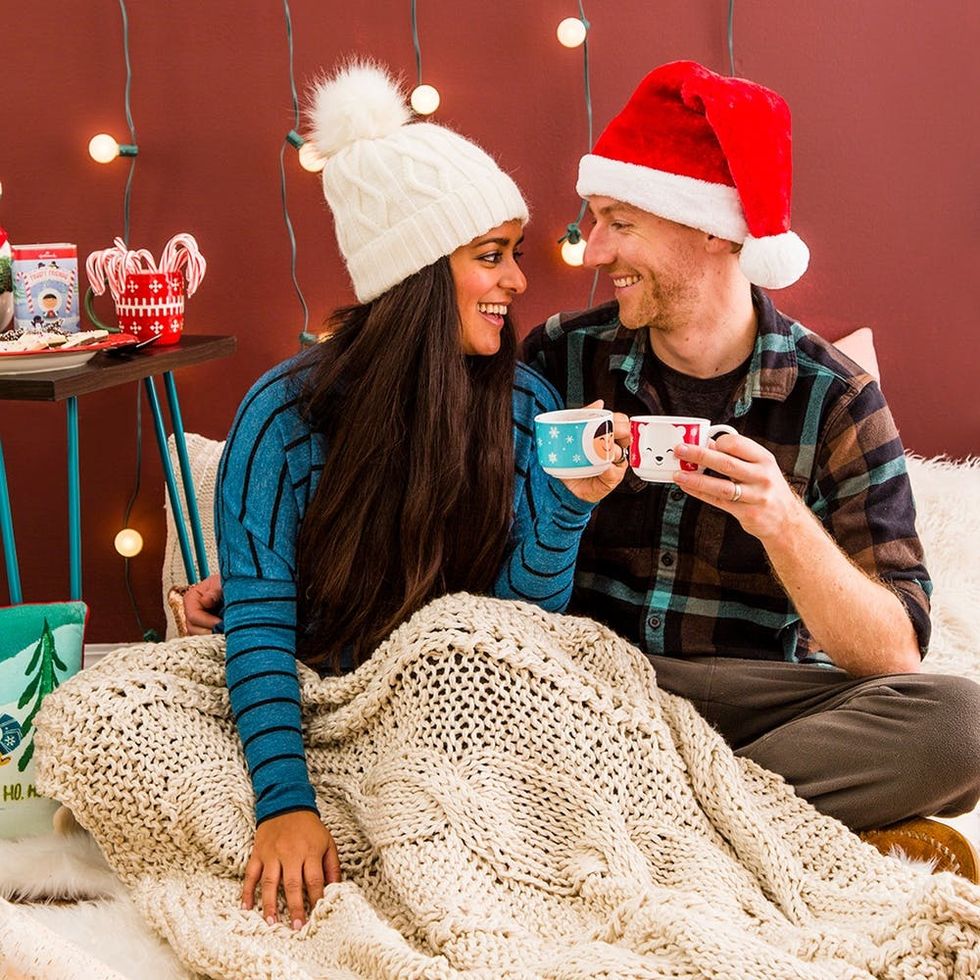 And there you have it. Two cheers for staying in!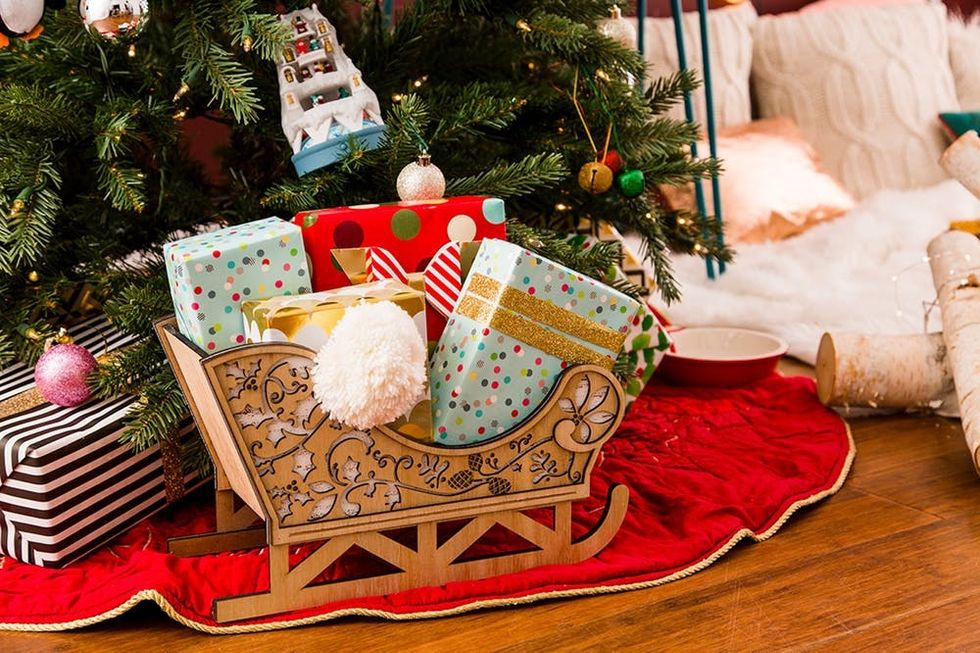 A whole sleigh full of presents? Yes please.
No day spent snuggling is complete without a sneak attack from your resident pup.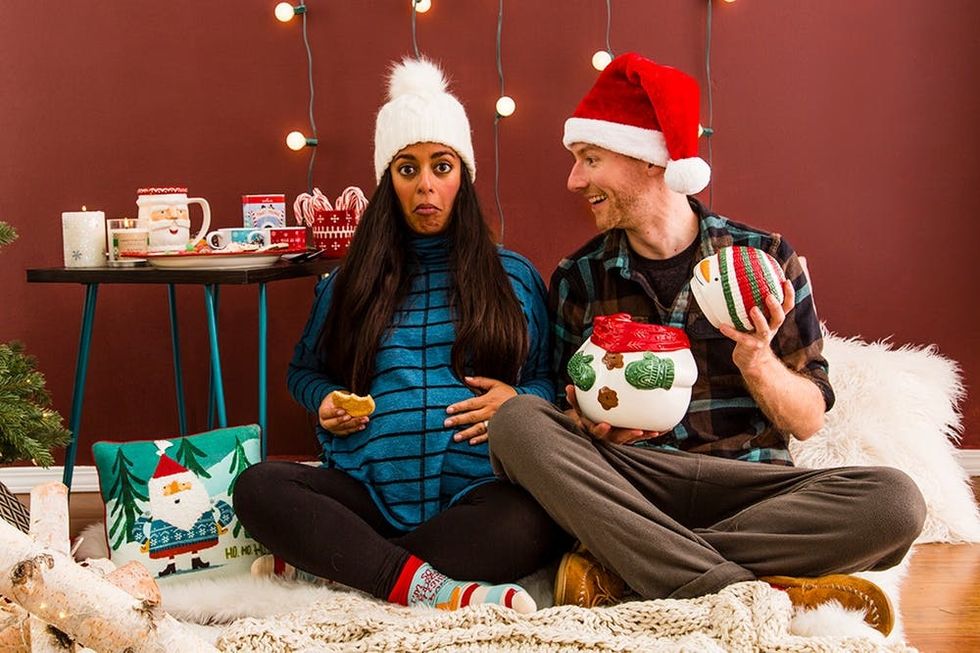 FEED THE BABY! At least that's what I'll tell myself when I'm on my fifth cookie… ;)
Author: Anjelika Temple
Styling and DIY Production: Irene Lee
Photography: Chris Andre
Modeling: Anjelika, David and Turkey Temple
Anjelika Temple
As Chief Creative Officer and Founding Partner at Brit + Co, Anjelika Temple brings her voracious consumption of all things creative and colorful to DIY projects, geeky gadgetry finds and more. When she's not DIY-ing her heart out, you'll find her throwing dinner parties with friends or adventuring with her husband David, their daughter Anokhi, and their silly dog Turkey.