6 Weekend Makeup Essentials for Under $15
Jan 01, 2016
Ummmm, 2016 is here — can't believe it, TBH. New Year's Eve called for top notch (glittery!) makeup, but after last night's celebrations, tonight marks your first opportunity to rage in 2016, followed by an epic recovery brunch to recap the celebration weekend. So to celebrate (and to help YOU celebrate), we rounded up six new year weekend makeup essentials under $15 that'll have you looking fab as you reeeeally ring in 2016. Cheers!
FRIDAY NIGHT New Year Dinner Par-Tay
---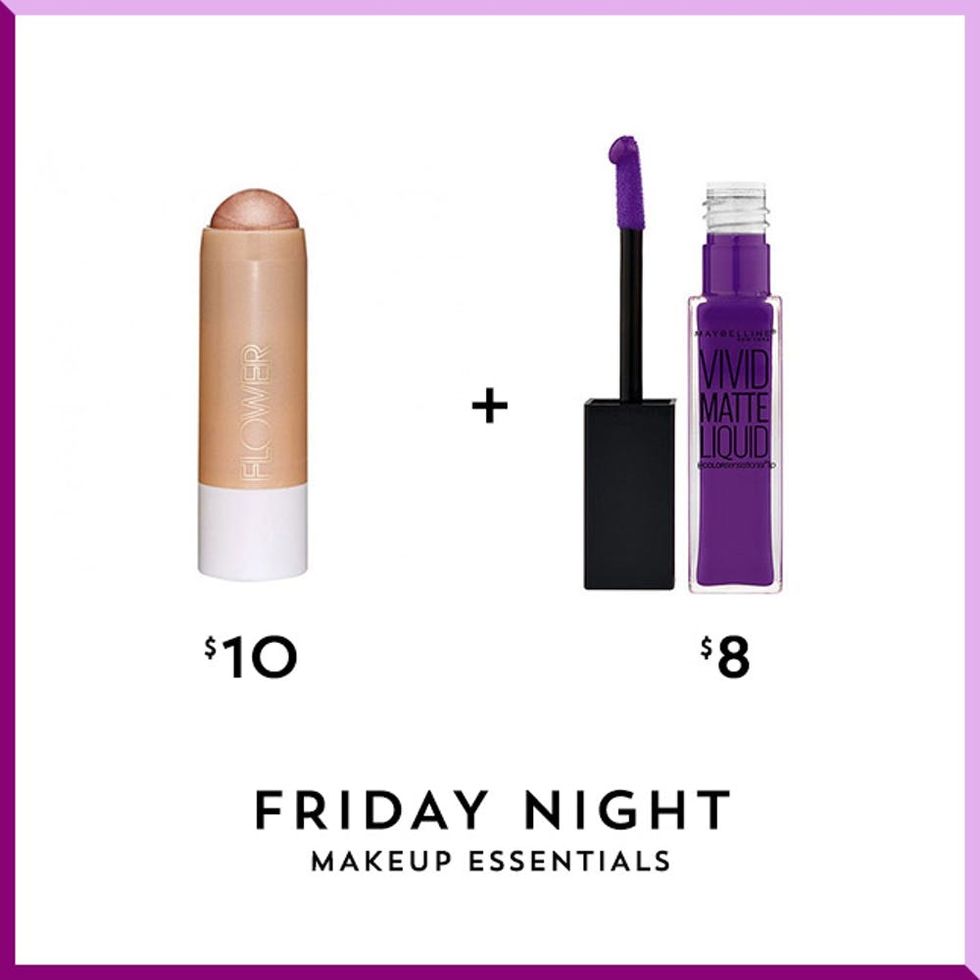 Tonight is the night to seriously glow. You know, to cover up your hangover. Pack on the shimmery highlighter and bring out the high points of your face with Flower Glisten Up Highlighter Chubby ($10). Swipe it on your cheekbones, the bridge of your nose, your cupid's bow and brow bones — done and done. The deep purple shade of Maybelline ColorSensational Vivid Matte Liquid in Vivid Violet ($8) is exactly what your pucker needs on a night like this!
SATURDAY NIGHT O.U.T. IN 2016 (!)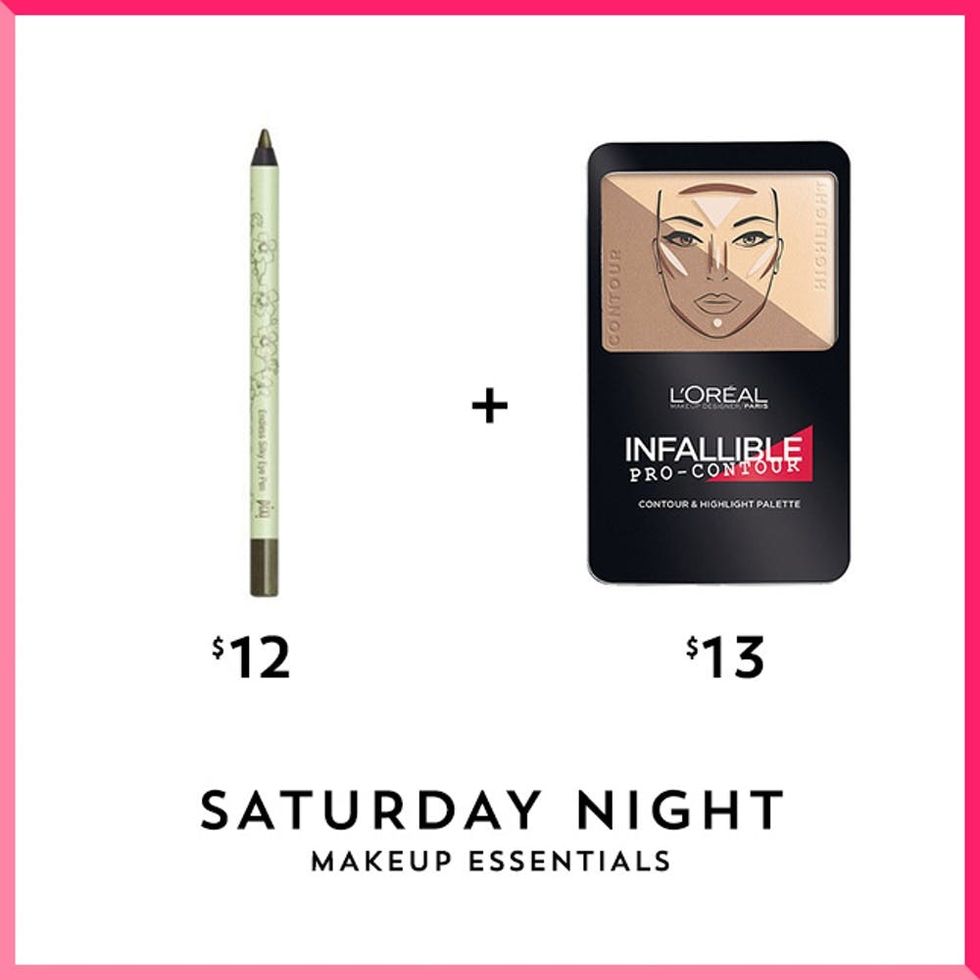 Now that NYE is a couple days behind us and our hangover has subsided, it's time to prepare for your first official full night out in 2016. Give your eye makeup an unexpected twist with pixi Endless Silky Eye Pen ($12) in a deep golden green shade like SageGold. After you've perfected your peepers, add some definition to your face (especially your cheekbones!) with L'Oreal Paris Infallible Pro-Contour & Highlight Palette ($13) — it makes contouring a breeze and will seriously stay put.
SUNDAY RECOVERY BRUNCH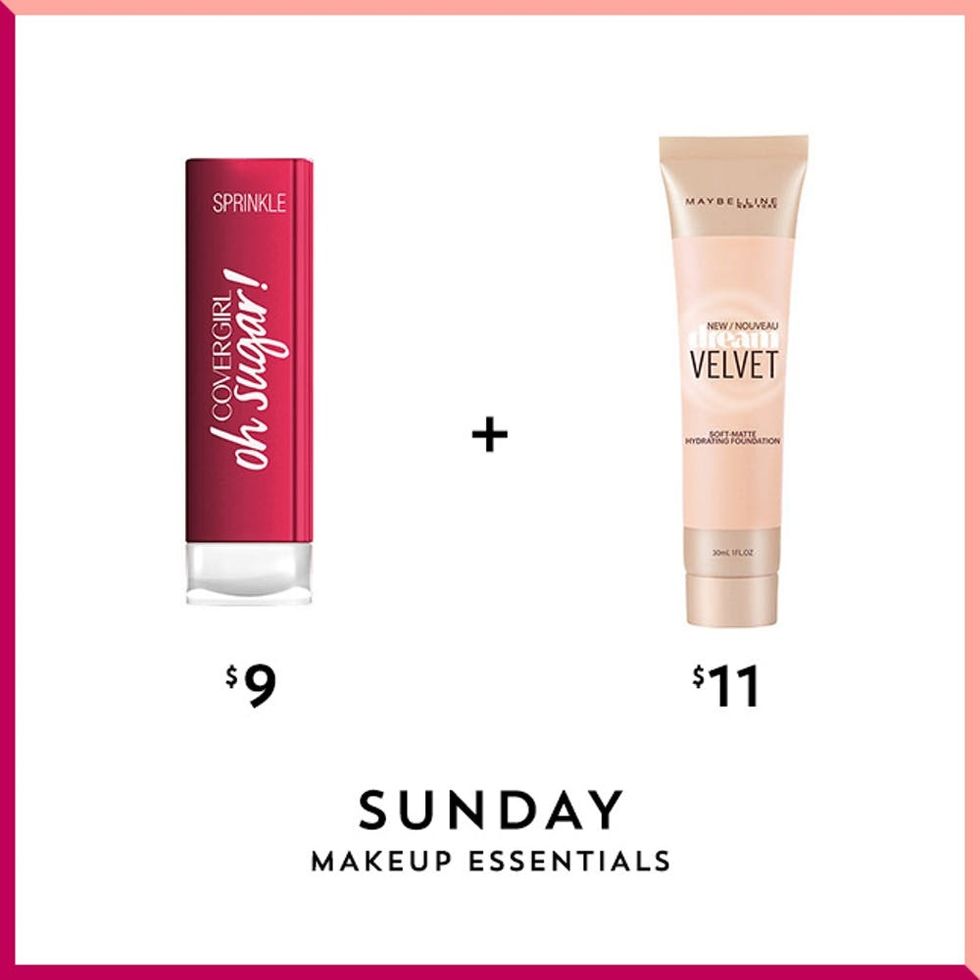 That was fun, wasn't it? Now it's time to dish with your besties about what went down on NYE over brunch. Add a bit of coverage to your face with Maybelline Dream Velvet Soft Matte Hydrating Foundation ($11) so you won't have to worry about those dark circles from no sleep making an appearance. Then, give your lips some much-needed moisture with Covergirl Oh Sugar! Vitamin Infused Lip Balm ($9) so they can recover from all those stains you've been sporting all weekend.
Tag us on Instagram @britandco with your favorite holiday makeup looks!
Beth Wischnia
You can typically find this Texan writing, trying on a new lipstick, gabbing with her identical twin sister or volunteering at the local animal shelter. She finds inspiration from rosé, beauty products, Tex-Mex and cats.