How to Throw a Tea Party for All the Moms in Your Life
Apr 28, 2016
We're all about twists on traditions, and Mother's Day festivities are no exception. This year, we're going to class it up like the royals with a modern day tea party. Whether you're putting this shindig together for just you and your mama or throwing an intimate gathering for all the moms in your life, it's a surefire winner for pretty much any Sunday afternoon.
---
We teamed up with Hallmark Gold Crown to style out a sweet little scene complete with, you guessed it, the perfect card for every mother you want to appreciate this Mother's Day. But it's not just about cards — we hit up our local Hallmark Gold Crown store here in San Francisco to find yummy flavors of tea, hand-lettered mugs, cheese boards, trays and more. Read on to see how we brought this gorgeous get-together to life. (P.S. For more Mother's Day inspo, head to our Tea Time Pinterest board!)
CHAI-INFUSED TEA CAKES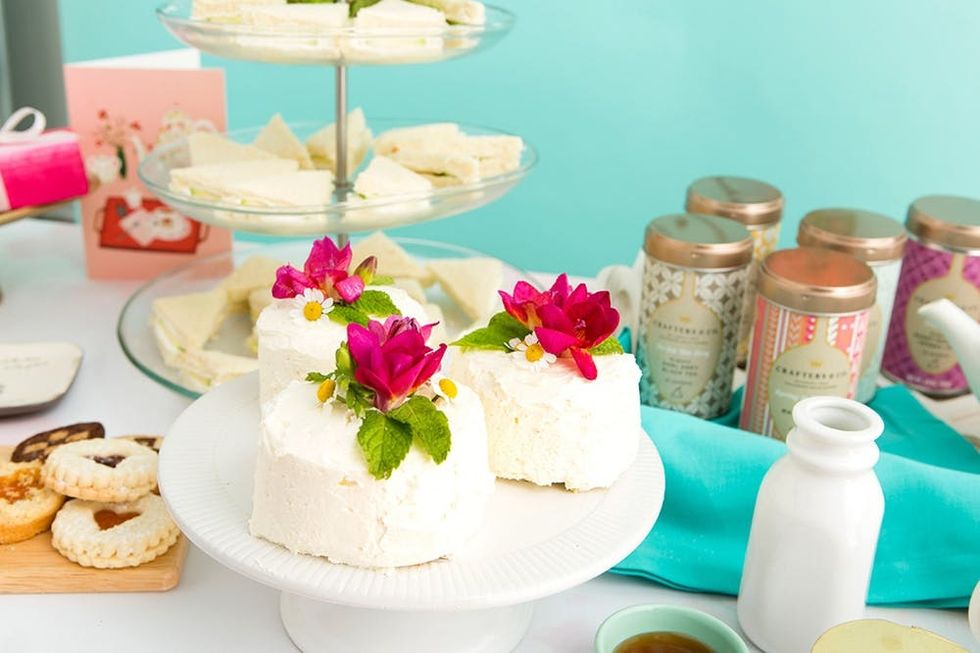 As the old adage goes, the way to any woman's heart is through her stomach. So, let's start with tea cakes! We created these sweet li'l darlings by making tea-infused milk for the batter. Yum.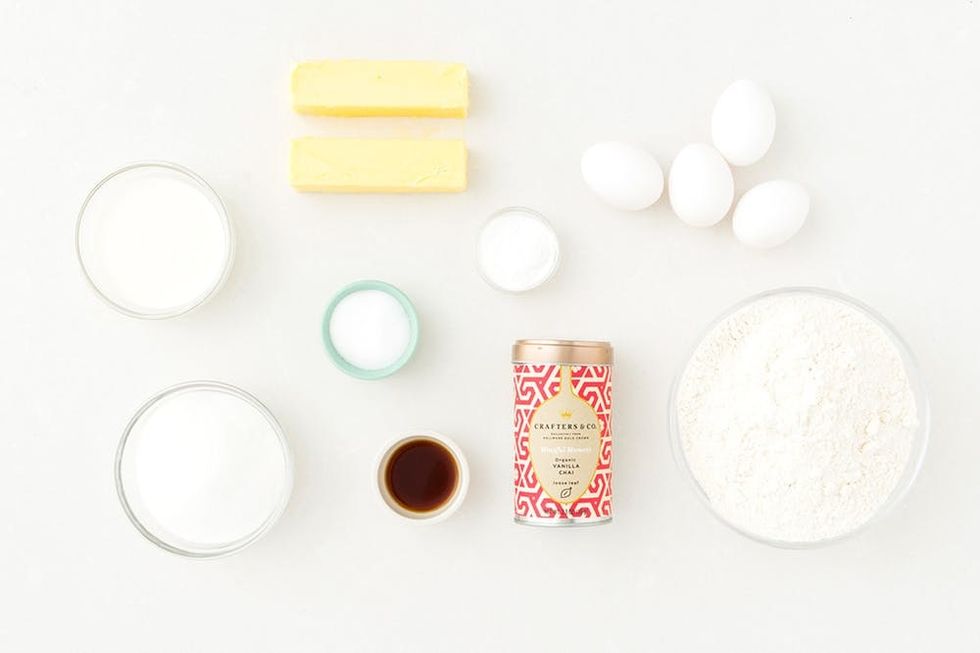 Ingredients for the cake (see below for frosting):

For the batter recipe, we were inspired by Brit + Co contributor and online class teacher Tessa Huff's Raspberry Earl Grey Cake. We made a few small adjustments. Here's how we did it.
HOW TO STYLE YOUR TEA PARTY SCENE
It's easy to create a party scene with a few simple tricks from your hostess handbook (aka Brit + Co!). We started by using paper to create a colorful blue backdrop. Then we drew a mom heart right on the paper and adorned with faux flowers.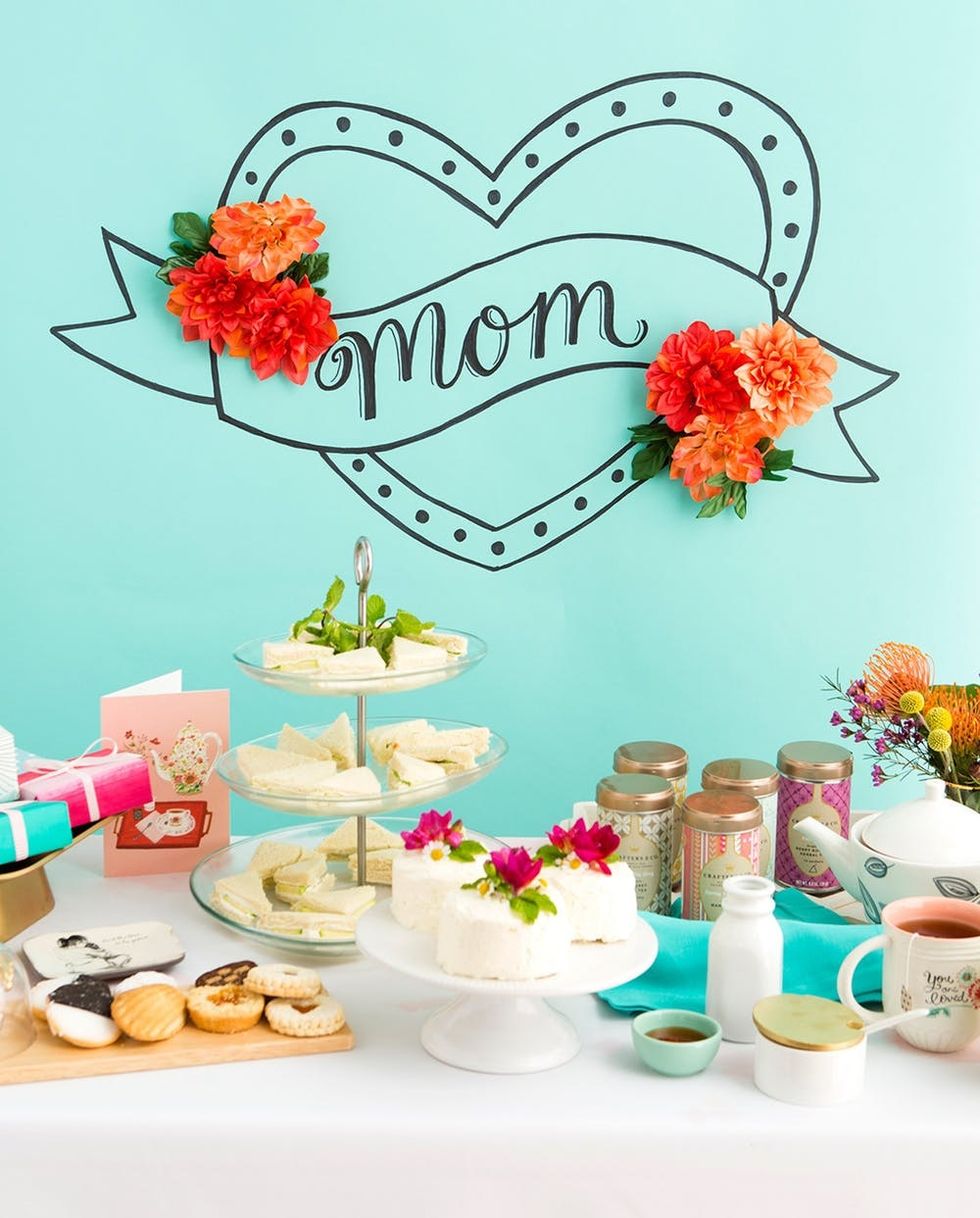 On the table, we've got a mix of sweets, treats and gifts. As we mentioned, we picked up most of these items at our local Hallmark Gold Crown store — you can even throw this party together the morning of Mother's Day if you're not the best advance planner ;) Here's a list of the products that made this table sparkle.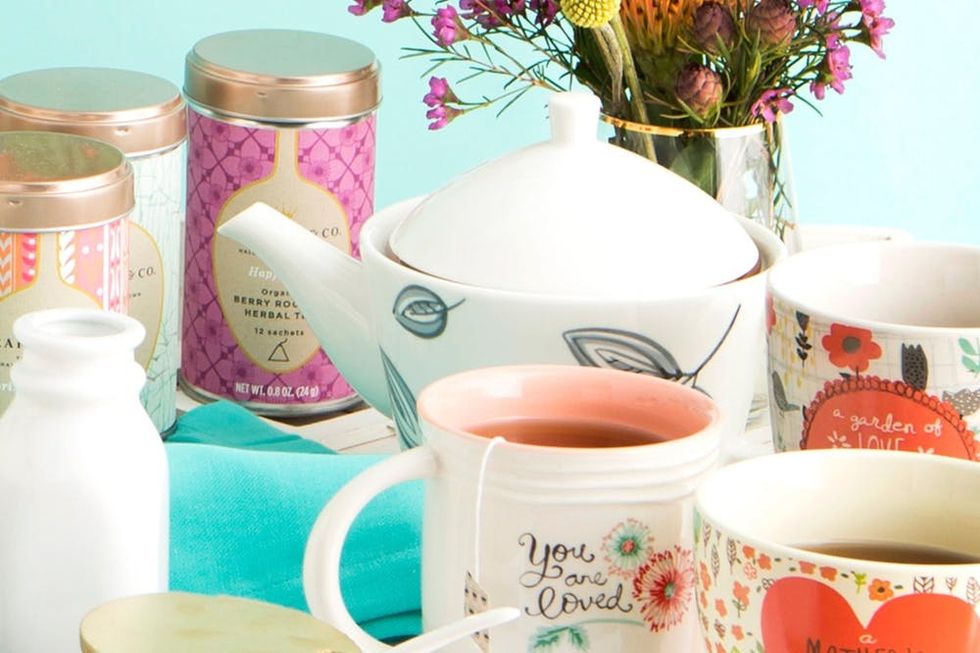 1. Porcelain Teapot ($35) and Mugs ($10): You can't have a proper tea party without a teapot and mugs, and Hallmark's got plenty of designs to choose from.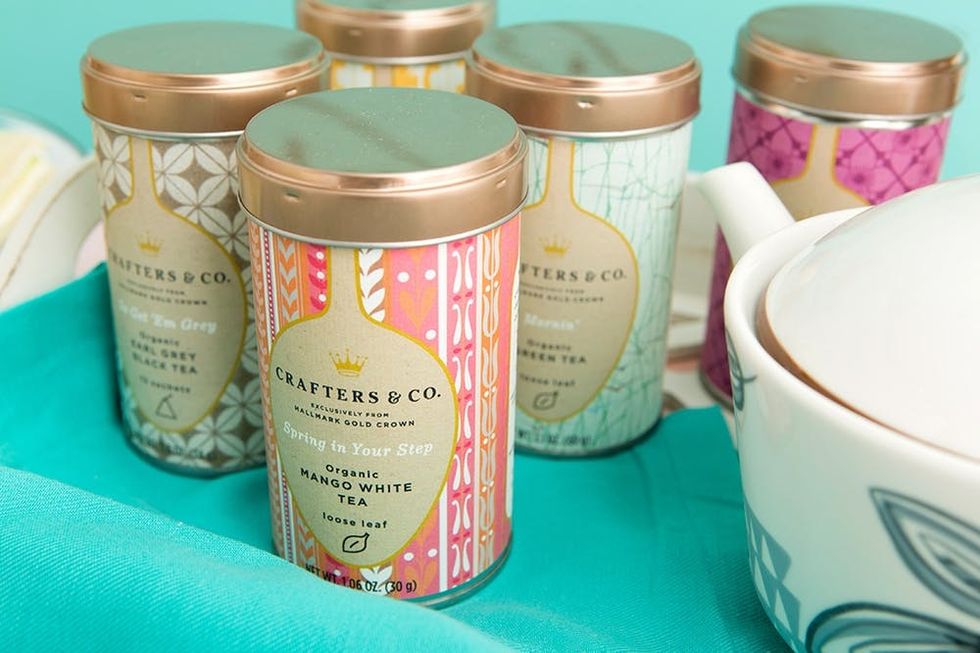 2. Crafters & Co. Loose-Leaf Tea Tins and Tea Sachets ($13): We picked up quite a few packages of Crafters & Co. teas, and it was hard to choose a favorite. Whether you like the loose-leaf style or the classic tea sachet, they've got plenty for you to choose from.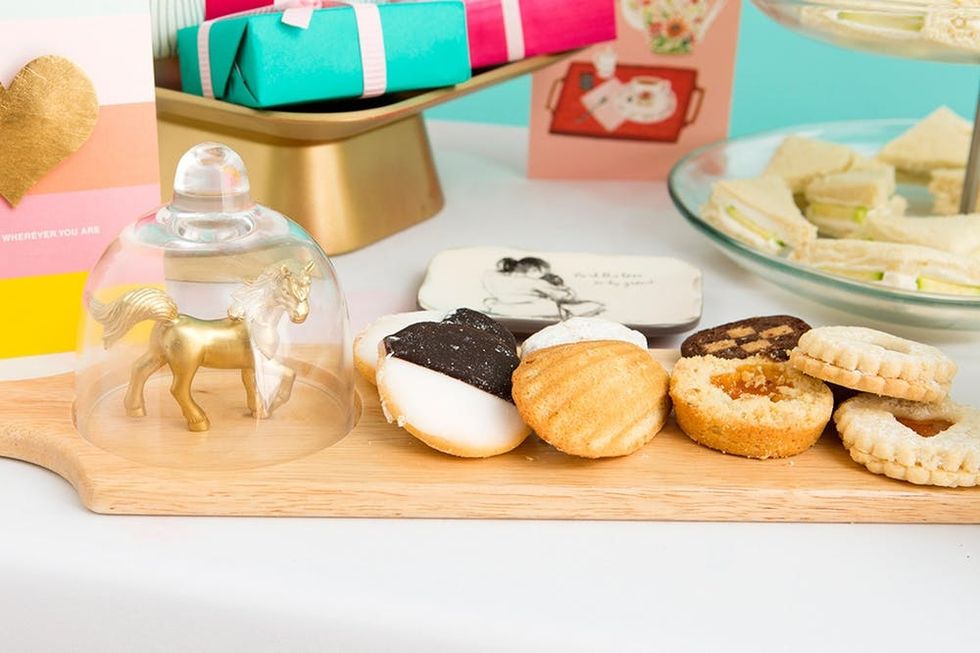 3. Wood Tray With Petite Glass Cloche ($25): I know it might seem slightly insane to call a wood tray baller, but this one is that. Use it for sweets like we did, or for the ultimate cheese plate, complete with glass dome.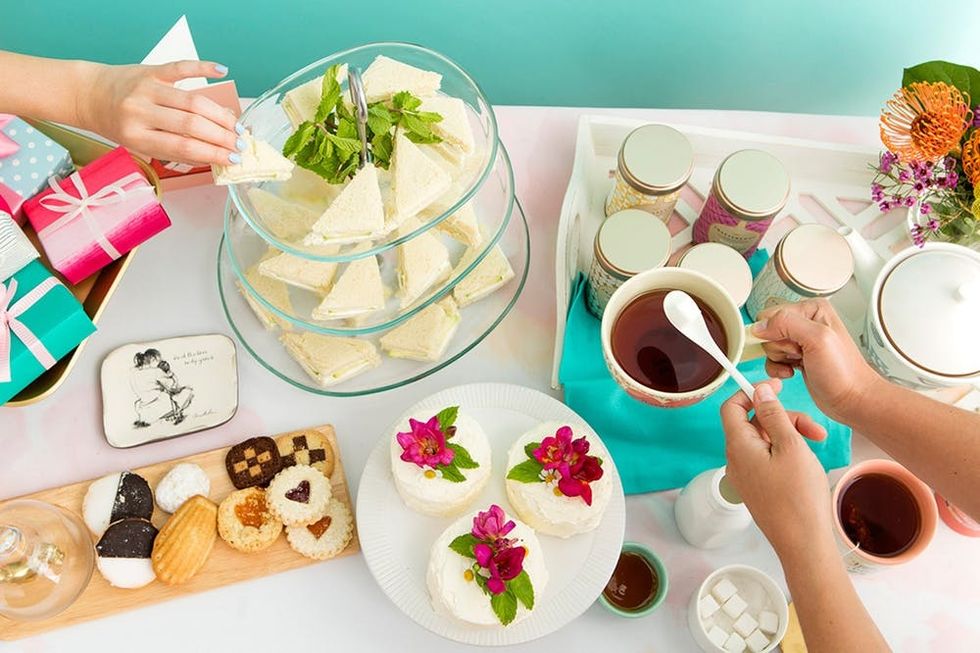 4. Latticework Wood Serving Tray ($20): Under all that tea is a gorgeous latticework serving tray. It's a great way to show off the linens underneath.
FIND THE PERFECT CARD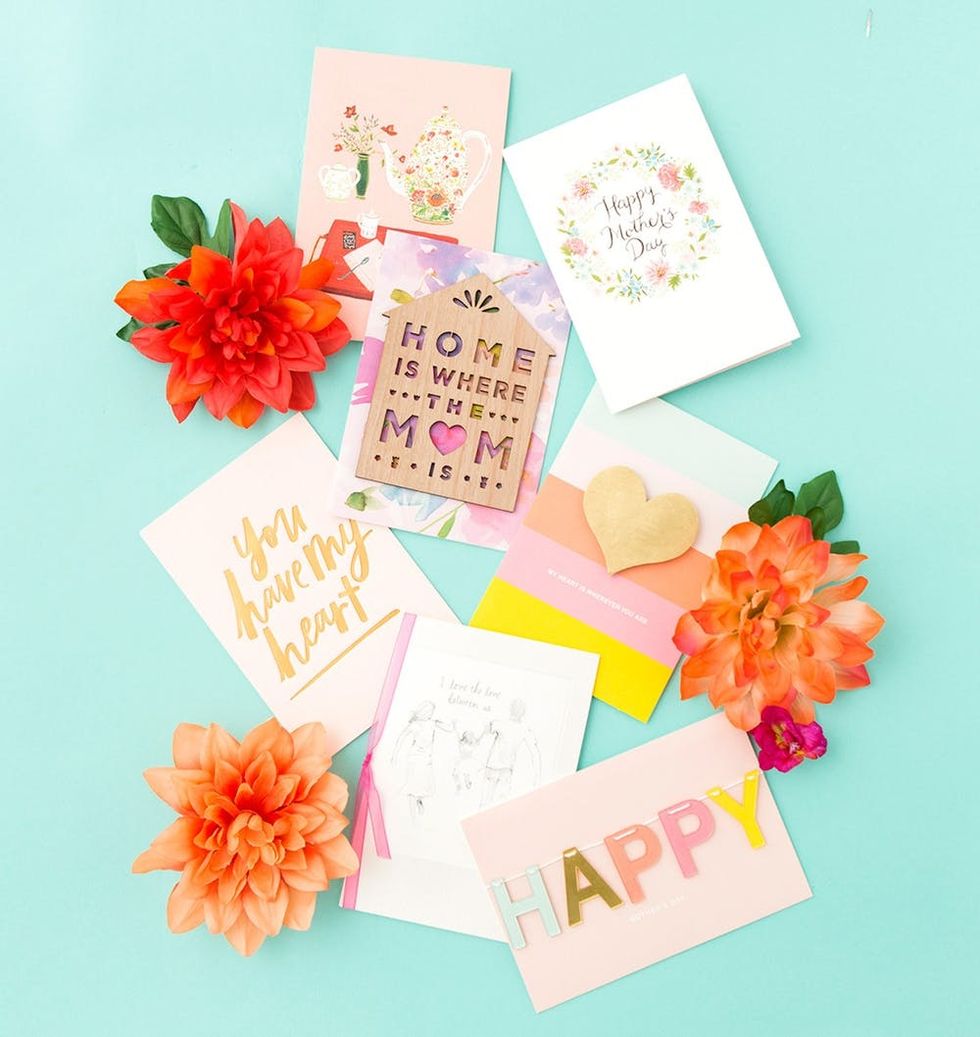 Don't forget about writing mom a heartfelt card. If you're hosting a sit-down affair, you could even place a card in an envelope and use it as a place card! The fairy godmother of all things greeting card, Hallmark Gold Crown absolutely has you covered in the card department. These are just a few of our faves — but we recommend browsing the store (or online) to find one that's perfect for your mama.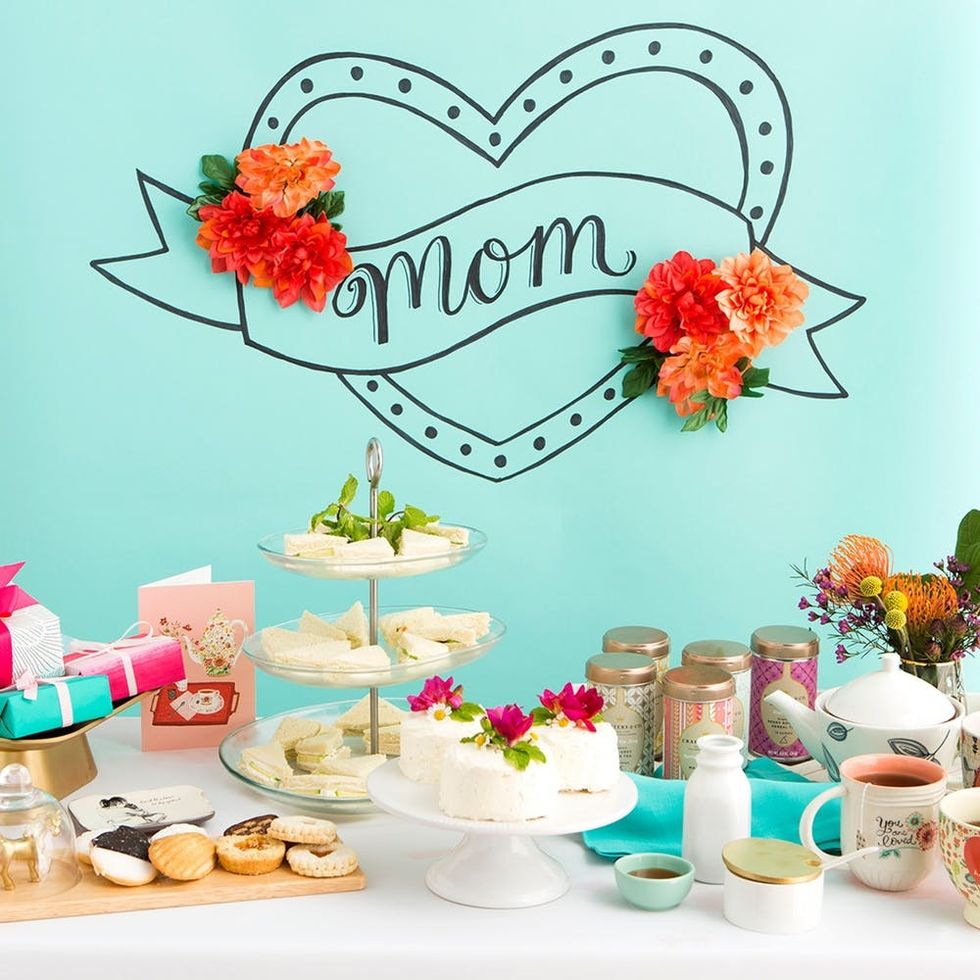 How are you celebrating Mother's Day this year? Talk to us on Instagram @BritandCo, and be sure to use hashtag #britstagram.
This post is a collaboration with Hallmark Gold Crown.
Food + DIY Production and Styling: Roxy Taghavian and Irene Lee
Photography: Kurt Andre and Brittany Griffin
Anjelika Temple
As Chief Creative Officer and Founding Partner at Brit + Co, Anjelika Temple brings her voracious consumption of all things creative and colorful to DIY projects, geeky gadgetry finds and more. When she's not DIY-ing her heart out, you'll find her throwing dinner parties with friends or adventuring with her husband David, their daughter Anokhi, and their silly dog Turkey.