How to Make the Most Adorable Rio Olympics Mascot Cupcakes
Aug 12, 2016
The Olympics have rolled around again, and what better way to get in the spirit than being surrounded by good company while nibbling on some Olympic-themed treats?! Using your favorite cupcake recipe (I went with a simple but delicious vanilla bean), or even store-bought if you're tight on time, I'll be showing you how to decorate these adorable cupcakes based on the Olympic mascots of this year, Vinicius and Tom. They're perfect to take to your next Olympics viewing party!
---
— cupcakes (store bought or homemade)
— buttercream
— royal icing
— fondant (in three shades of green)
— chocolate melts
— gel- and oil-based food coloring
Tools:
— plastic rolling pin
— small raindrop or leaf cookie cutter
— small piping bags
— spatula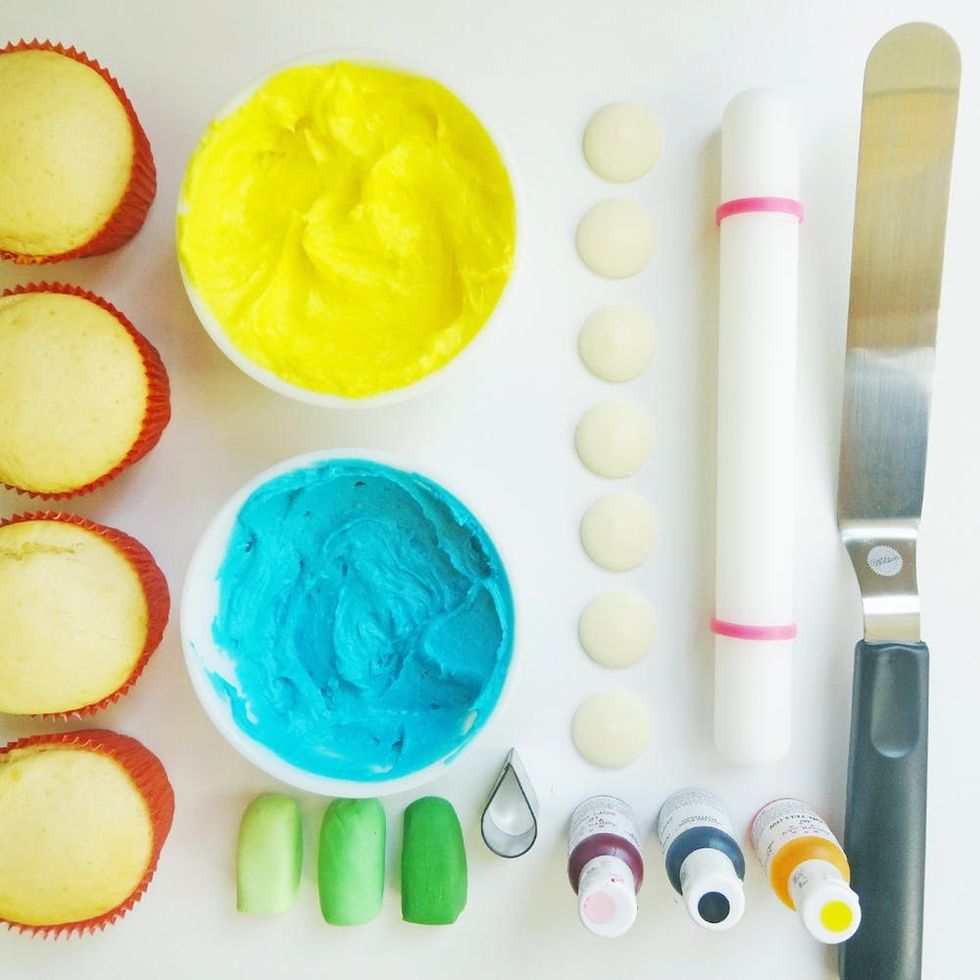 VINICIUS
Instructions:
1. Tint half of the buttercream bright yellow, and melt chocolate in the microwave or in a double boiler.
2. Take 3/4 of the melted chocolate and transfer into a piping bag. On a baking tray lined with parchment paper, pipe large jelly-bean-shaped faces. You can print or draw out a template to make them more consistent, or just refer to a picture of the mascot and freehand. The sizing will be dependant on the width of your cupcakes.
3. Dye the rest of the melted chocolate with yellow oil-based food coloring, as similar to the color of the buttercream as possible. Transfer to piping bags and pipe into triangles for the ears. Allow the chocolate to set.
4. Cover cupcake with buttercream, smoothing it over with a spatula. Place the chocolate faces in the center of the cupcake and slide the chocolate ears into the frosting.
5. Color royal icing (or cookie icing) black, red, pink and orange, and place into piping pages. Draw on the facial expressions and fill in the orange section for the ears.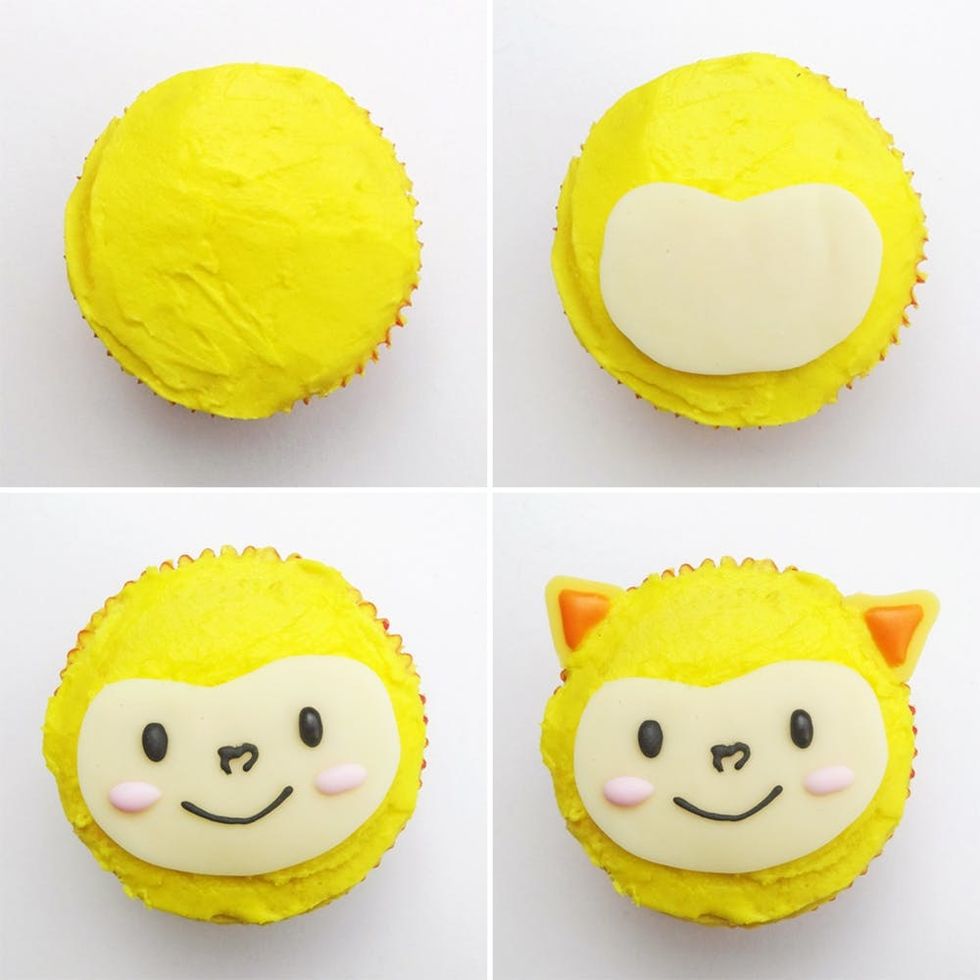 Cover cupcake with yellow buttercream, then add the chocolate face and ears which you have previously piped out on a baking tray lined with parchment paper.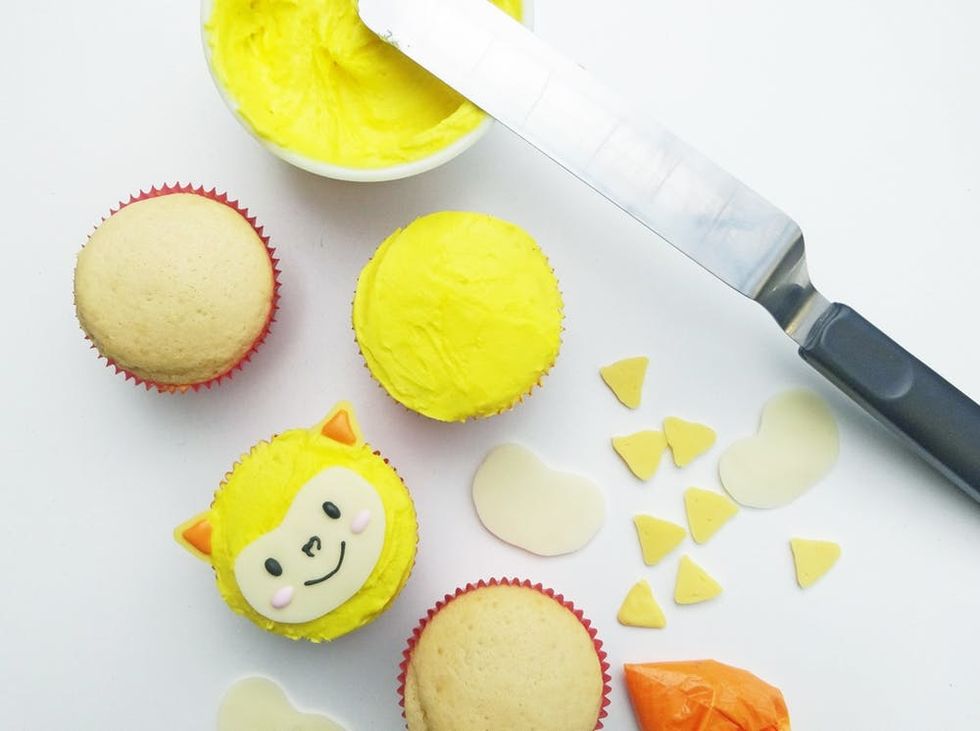 Finish off by drawing in the face and ear details with royal icing.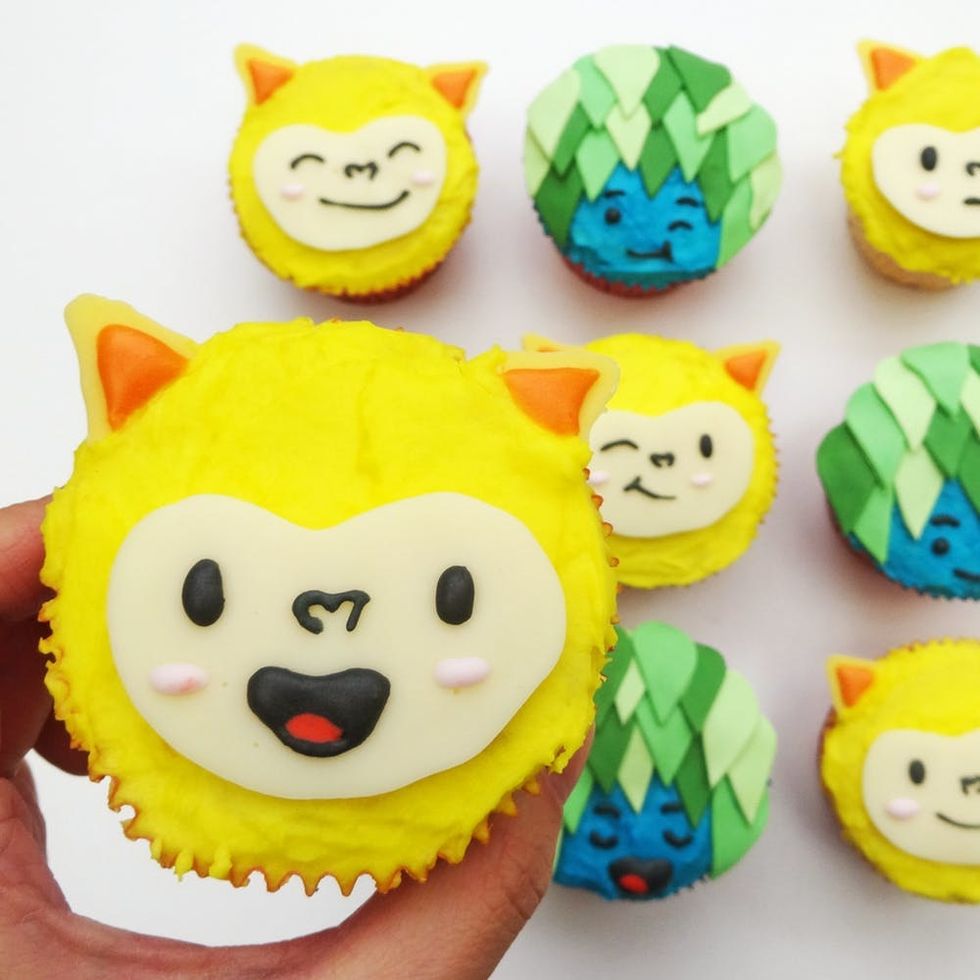 TOM
Instructions:
1. Dye fondant in three different shades of green and the rest of the buttercream blue.
2. Cover cupcake with blue buttercream using a spatula to smooth over.
3. Using a small raindrop or leaf-shaped cookie cutter, cut out a number of pieces from each shade of green.
4. Leaving roughly a third of the cupcake blank (for the face), lay a row of green fondant "leaves," alternating with the different shades of green. Repeat while overlapping until the rest of the cupcake is covered.
5. Use royal icing (or cookie icing) to pipe on the faces and final details.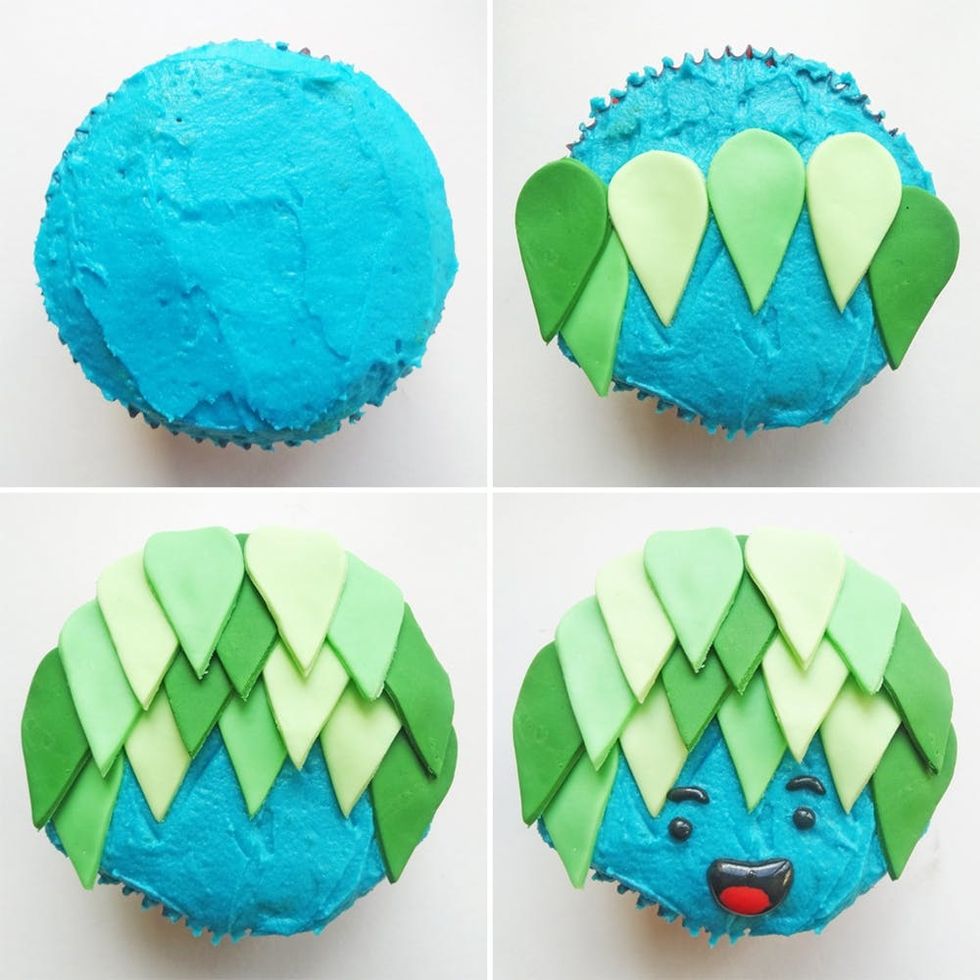 Using a small raindrop or leaf cutter, cut out a number of pieces from each shade of green fondant. Ice your cupcake with the blue buttercream, then begin laying the fondant "leaves" directly on the frosting, alternating between the different shades of green. Remember to leave 1/3 of the iced cupcake blank for the face!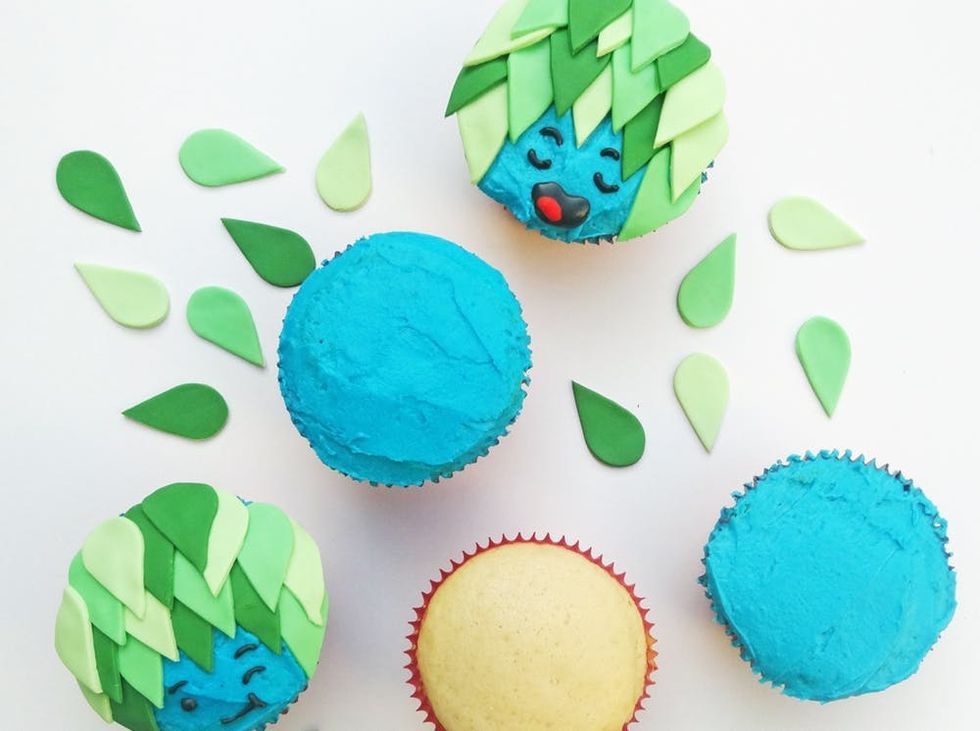 Continue to layer the leaves until the cupcake has been covered, then pipe on the final facial details with black and red royal icing.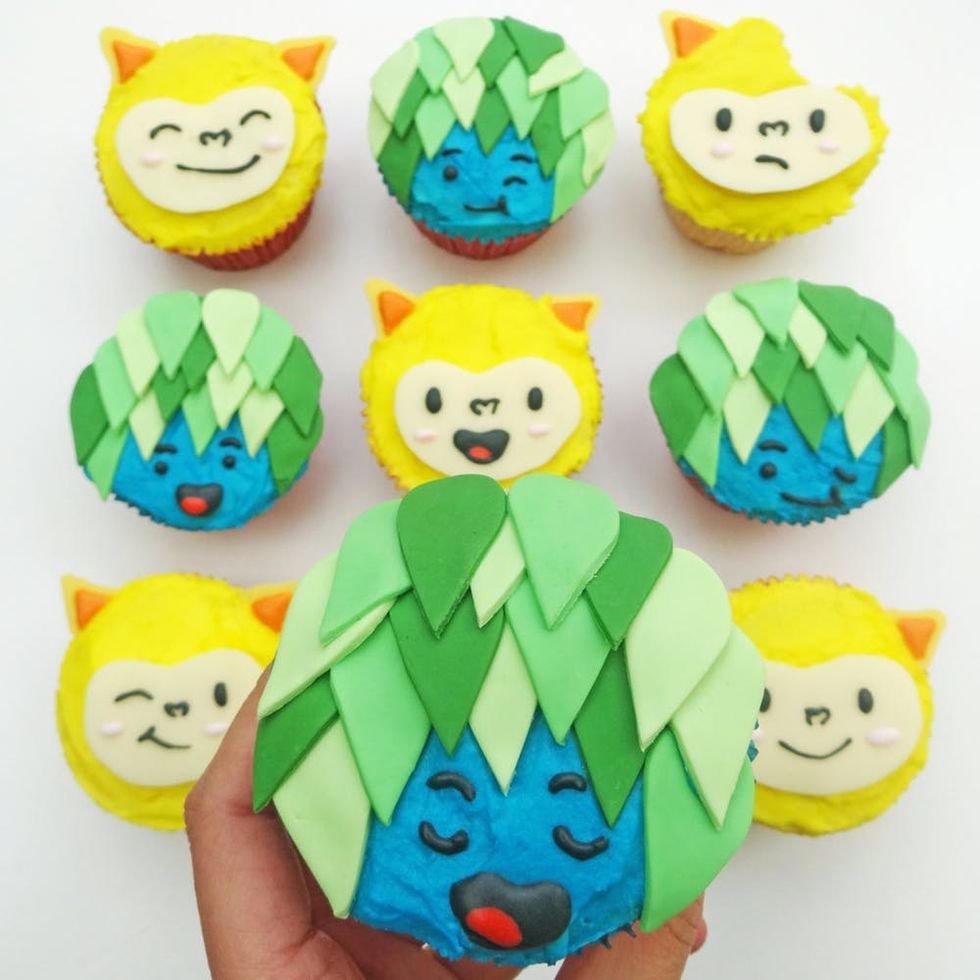 And that's it! Now you have some adorable Olympic-themed cupcakes to make your next Olympics viewing party (even if it is a party for one) so much sweeter!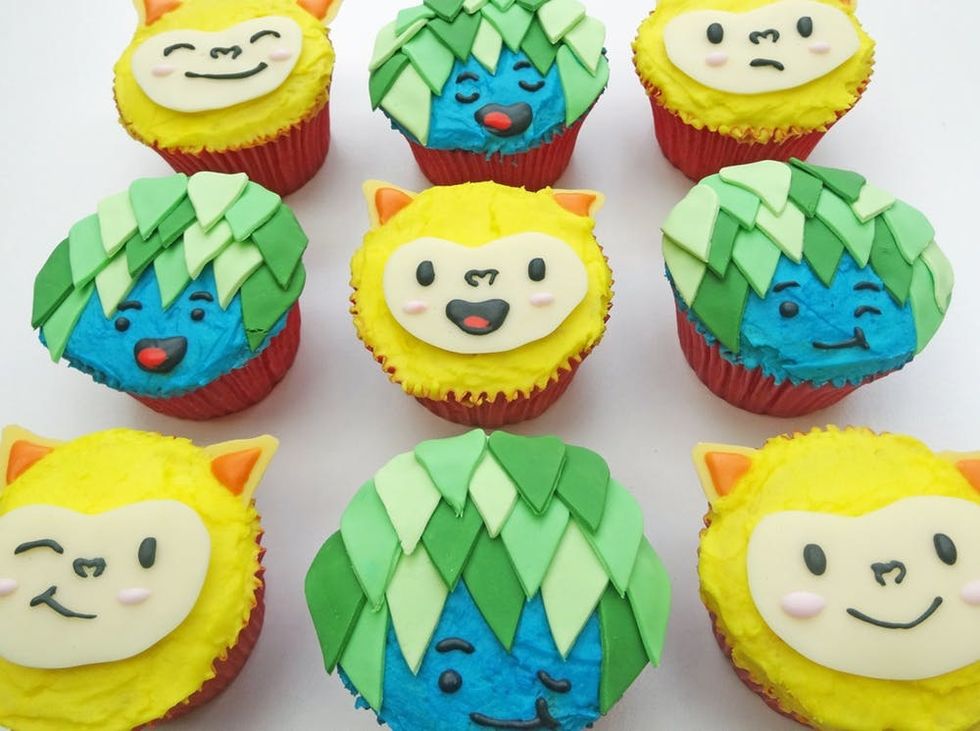 They are ALMOST too cute to eat!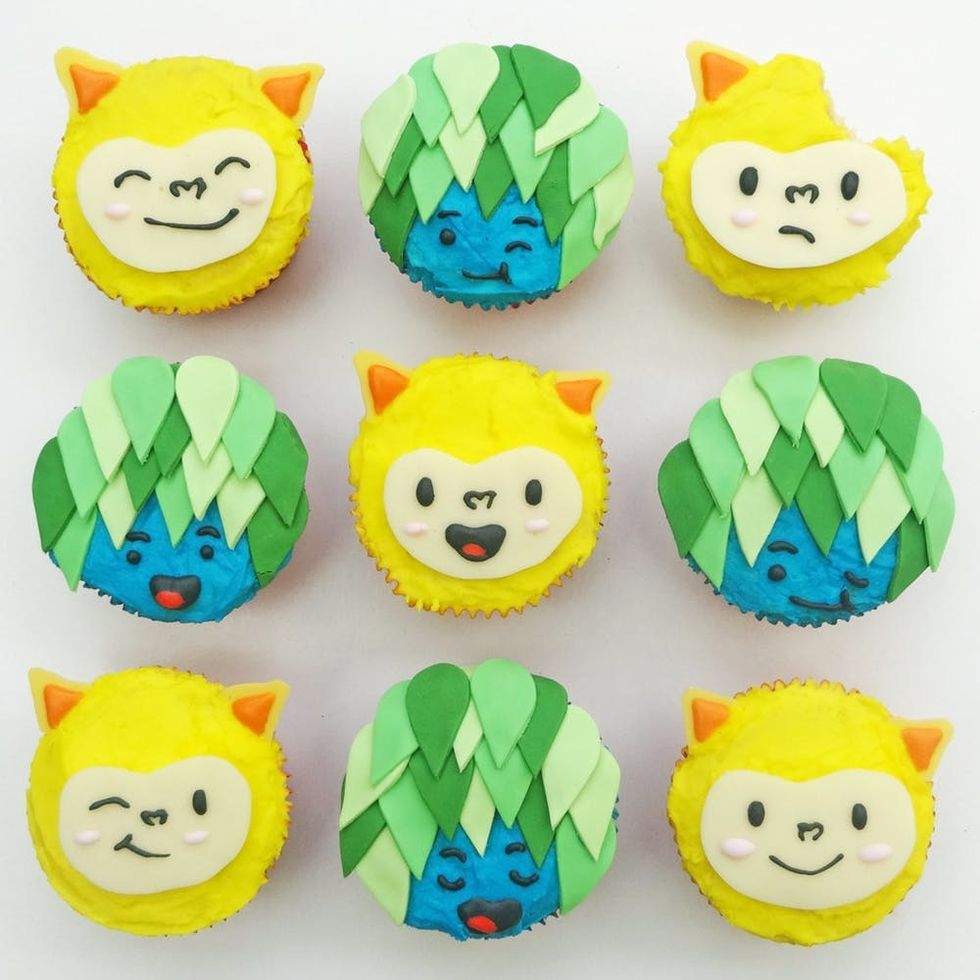 But in the end, you won't be able to resist.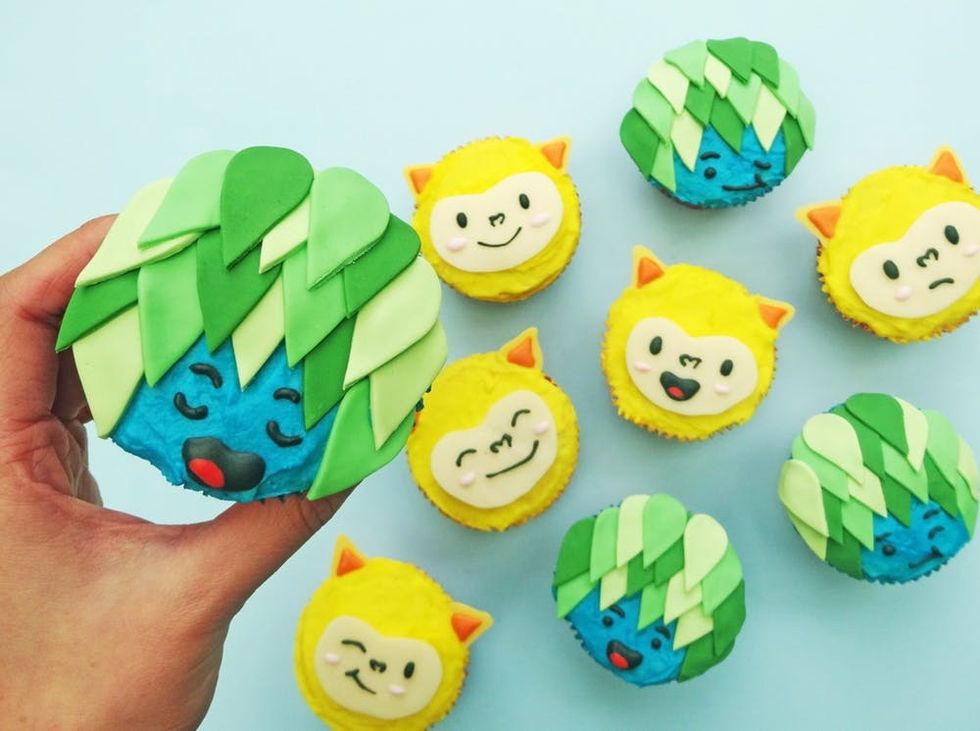 Show us your go-to Olympic snacks by tagging us on Instagram + using the hashtags #bcfoodie & #britstagram!
Vickie Liu
Vickie is a baker and stylist living in Melbourne, Australia. Her background in architecture, interior design and commercial arts can be seen in her simple creations and clean and crisp photography.