Peeps — Too Cute to Eat?
Mar 23, 2016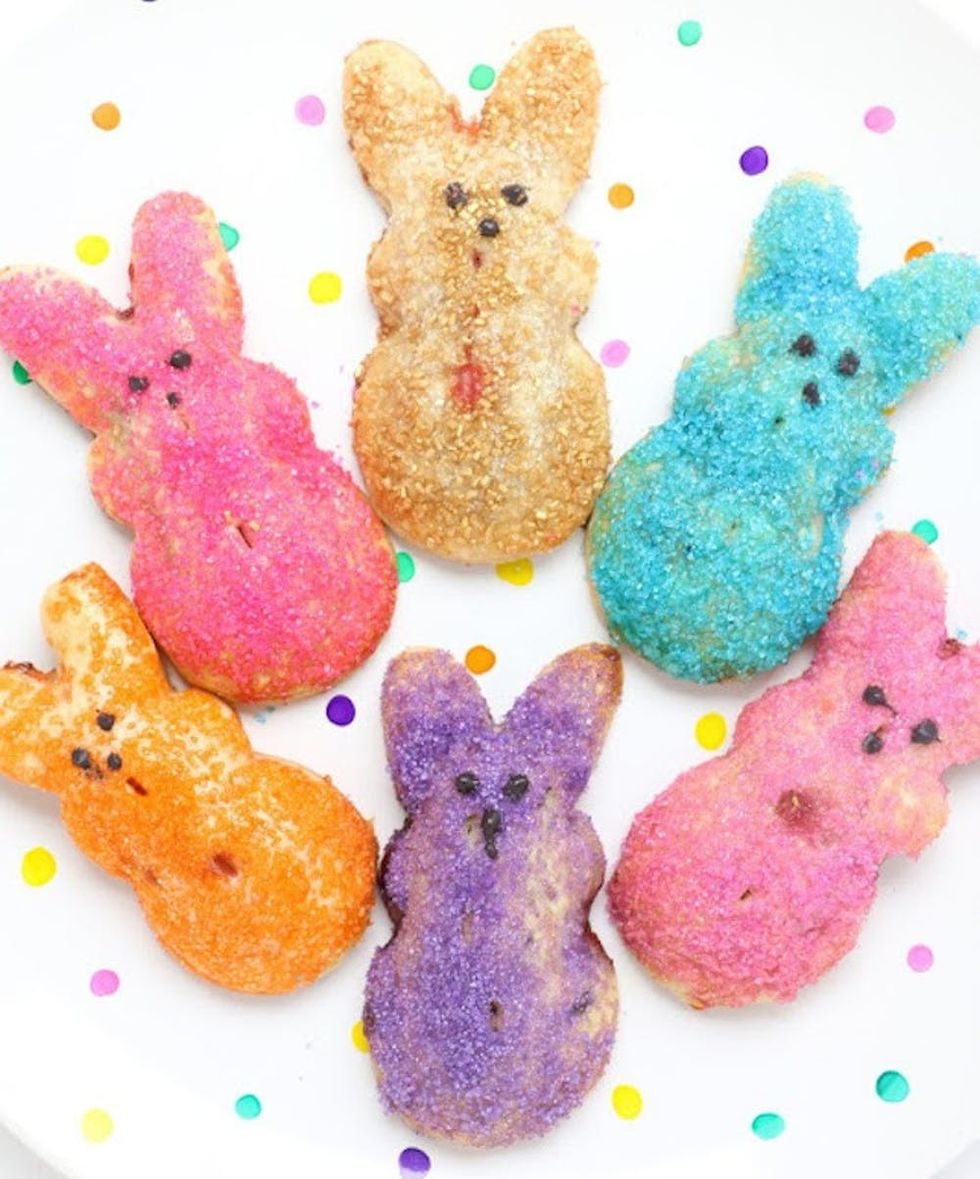 Okay, there's no easy way to say this, so I'm just going to put it out there — I'm not a fan of Peeps as an Easter treat. There. I've said it. Peeps have no taste dimension. They are so sugary sweet, they hurt my tastebuds. Their crusty coating is painful to bite into. It's the gastronomic equivalent of nails on a chalkboard. I rarely do indulge in sugary treats, but when I do, it will be something delectable, like a handmade marshmallow, dipped in dark chocolate. But, blasphemy aside, I will give Peeps fans this much: I adore their iconic form and pop-art colors. Whether chick Peeps or bunny Peeps, piles of the little cartoonish critters are just too cute to eat. Here are 11 fun DIY projects that you can make with Peeps.
---
Over at bell'alimento, Paula has created the most adorable Peeps centerpiece. Taking a clear vase filled with spring tulips, she stuffed a circle of Peeps in front of the stems, so that it appears as if the pink bunnies are playing ring-around-the-rosie while peeking out from behind glass. Their perky eyes and pop of color strike just the right sunshine-and-rainbows note to brighten any Easter tablescape.
There are many wacky things that you hear of folks doing with Peeps. Like letting them grow super stale — like a year's worth of stale — before eating them. Or melting them into ooey-gooey marshmallow fluff that's stuffed between two cookies and dipped in chocolate. That's right. Peeps S'mores or Peeps Flambé, anyone?
Can't get enough? Here are 19 more things you can cook with leftover Peeps.
Got a Peep recipe to share? Tag us on Instagram @britandco.
Sally Jones
Sally Jones is a writer and editor living in New York City. She has worked at many websites including iVillage, Ladies Home Journal, More, Parenting, Cosmopolitan, The Knot and YourTango, in jobs ranging from editor to COO. Renovation and interior design are her
unhealthy obsessions
hobbies. She has renovated every home she's lived in, including the rentals, and like... whoa, who does that? You can catch her at her blog
Renov8or
.