These Royal Wedding Dolls of Prince Harry and Meghan Markle Are Getting Major Backlash: Here's Why
Jan 19, 2018

With royal fever in full swing thanks to both Kate Middleton's pregnancy and Prince Harry and Meghan Markle's recent engagement, enthusiasts are no doubt snapping up all of the memorabilia they can find to commemorate the exciting event. There's one item in particular they may want to pass over, however: a set of royal wedding dolls that looks nothing like the royal couple.
---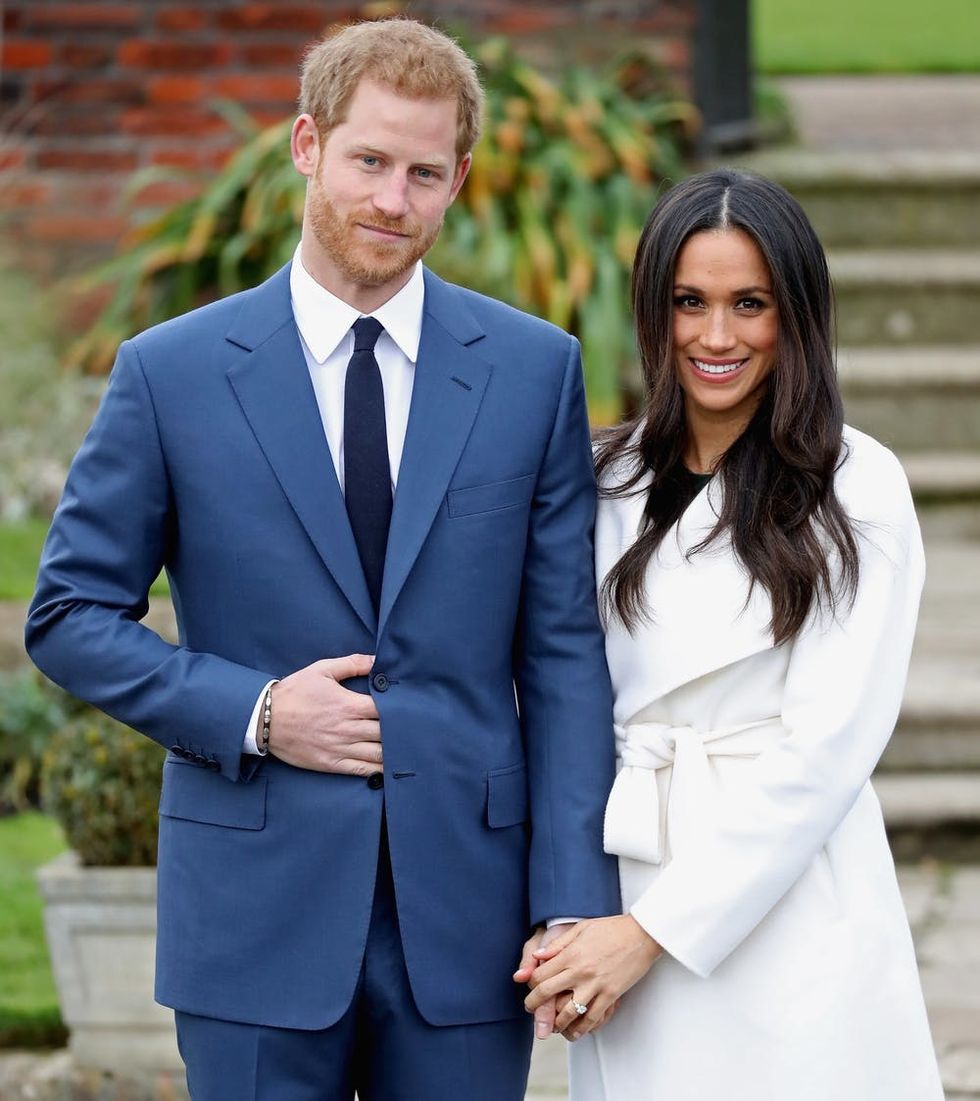 Sold via the HistoryWearz Etsy shop, New Jersey based artist Shirlee Corsey is offering the duo for $175. Those who have come across the dolls have made a few *pointed* observations in regard to the miniature versions of the famed twosome, however: notably, the fact that the resemblance to their RL counterparts is slim to none.
Shirley Corsey is selling her 'royal wedding' dolls' for $181 on Etsy. But for some reason, the Harry doll has brown eyes and hair instead of blue eyes & red hairhttps://t.co/M1qjGQtASk
Follow us: @MailOnline on Twitter | DailyMail on Facebookhttps://t.co/bYevmOJkqm

— Hit Radio 104.7 (@hitradio1047) January 18, 2018
Not only does Prince Harry appear to be sporting a bowl cut (a style we can't ever recall seeing him in) in doll form, his 'do also happens to be a brown-ish shade that's a far cry from his signature ginger locks. On top of that, the toy features brown eyes where the royal's are bright blue.
When it comes to mini Meghan Markle, sans for the long dark hair and sleek brows, there's not really much likeness between the doll and the former actress, either.
Shoppers were unimpressed, to say the least.
So…. these Prince Harry and Meghan Markle dolls are really something hey? 🤔 pic.twitter.com/CAIdl2tLx2

— Capital Liverpool (@capliverpool) January 17, 2018
These "Harry" and "Meghan" dolls really are off their clackers. pic.twitter.com/tjBjcGGZyp

— Eamonn Forde (@Eamonn_Forde) January 18, 2018
Let me list the things that are wrong with these new 'Harry & Meghan' dolls.
1. Everything. pic.twitter.com/HJTRrQzTqS

— Michael Moran (@TheMichaelMoran) January 18, 2018
I'm not sure which is more unnerving: the Harry and Meghan Dolls themselves, or the fact that people actually want them. pic.twitter.com/5QkZVIgHfK

— Anna Mazzola (@Anna_Mazz) January 18, 2018
I think the Harry doll has borrowed Lord Farquad's (from Shrek) hair pic.twitter.com/QSApAwTvxl

— Dan Farmer 🤓🏴󠁧󠁢󠁷󠁬󠁳󠁿 🇫🇮🇪🇪🇧🇬 (@dan_boi91) January 17, 2018
Yikes!
What do you think about the Prince Harry and Meghan Markle dolls? Let us know @BritandCo!
(Photo via Chris Jackson/Getty)
Desiree O
Desirée O is a 'Professional Bohemian' who loves anything and everything related to the arts, entertainment, and pop culture. She ADORES being a 'Newsy' for Brit + Co, covering all of the latest tidbits of awesomeness that you want to read about. When she's not writing, she's either making messy art, going on long adventurous walks with her camera, or poking around over at bohemianizm (http://www.bohemianizm.com/). You can find out about Desirée O and her work at http://DesireeO.com/ or follow her on Twitter @DesireeO.
Celebrity News
If you lack a certain way with words, then perhaps you can rely on showing how you feel this holiday season with an artful greeting card you can make at home! Brit dropped by our crafting studio where we teamed with Camp by Walmart to create a choose-your-own-adventure holiday card tutorial. In the interactive video, it's up to you to decide what type of card you want to make — sentimental, or stylish? Three-dimensional, or keep it simple? After you've selected your design vibe, Brit helps you assemble it all together so your last-min card is ready to send. Get ready to pick up a few new DIY tricks when you watch the video now!
Holidays