How to Nail This Spring's Trends on Any Budget
Apr 26, 2016
It should be no surprise that we gals at Brit + Co are *always* embracing new clothing trends. The number of ladies who have shown up twinning at work in the latest "it" clothing is laughable (we'll never forget last year's chambray dress obsession). Admittedly, we're far from immune to the temptation of revamping our wardrobe every time the latest look fills stores. Which is why we thank our lucky stars that Neiman Marcus Last Call, which offers the latest designer pieces at AMAZING prices, is right down the road from B+C HQ.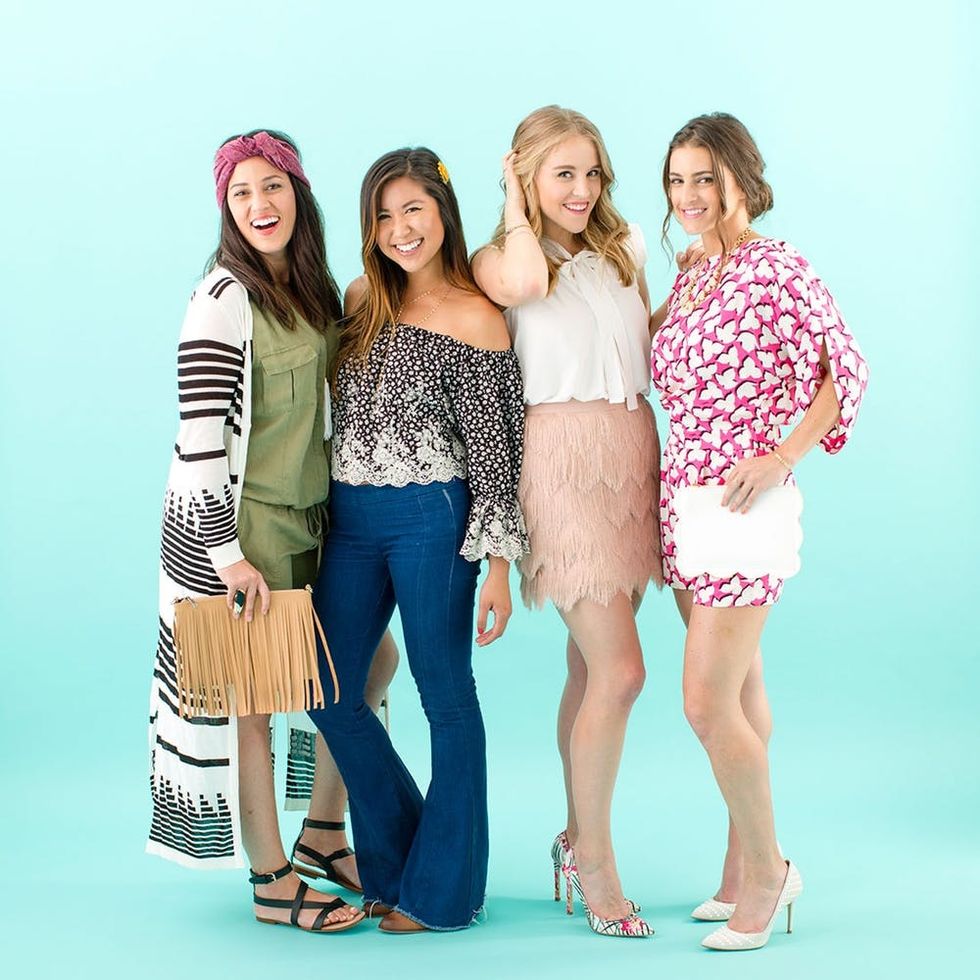 ---
To take our neighborly love to the next level, we officially teamed up with Neiman Marcus Last Call to share our favorite spring trends: boho chic and feminine details. The goal: Show the gals how to wear these looks (and designer labels!) on any budget. Because while some of us are new bohemians enamored by all things fringe and bound to rock the boho chic look for years to come, others just want to test the trend for the sake of staying fashionably relevant. Last Call has the pieces we'll want to invest in *and* ones for those who just want to try the latest looks.
Bonus for our NY readers: As a part of our partnership, we are leaving the digital space and heading into the store. Neiman Marcus Last Call Studio is hosting an event at their Brooklyn store on 5/5 from 5pm – 8pm where members of the B+C team will be helping curate and select head-to-toe looks and gift ideas. Come by and we'll help you get decked out in these trends.
And now for our looks!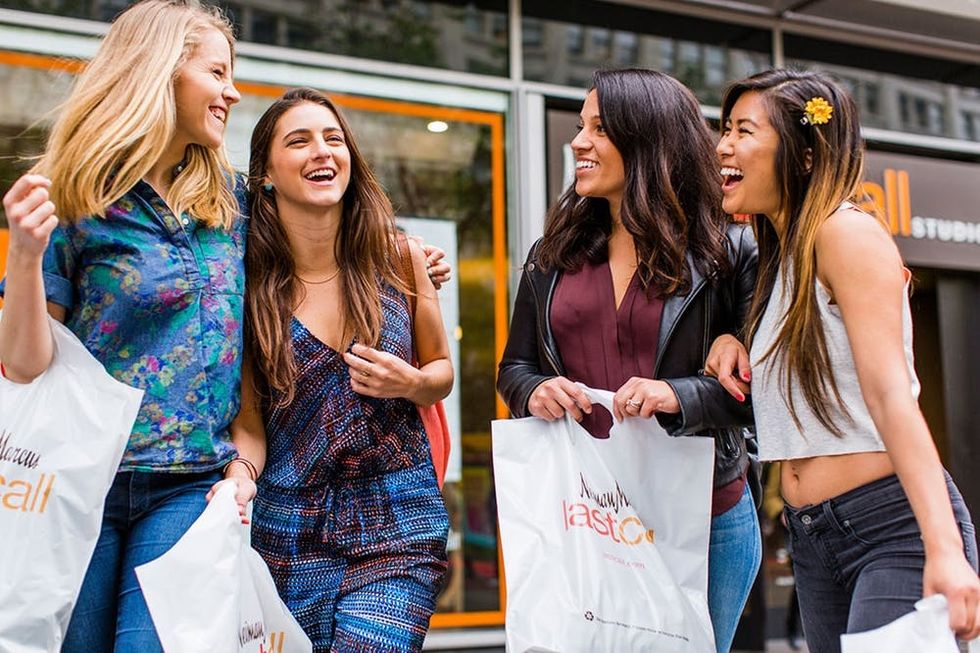 For each trend, we had the gals find one key piece of clothing in Last Call based on their budget and style preference.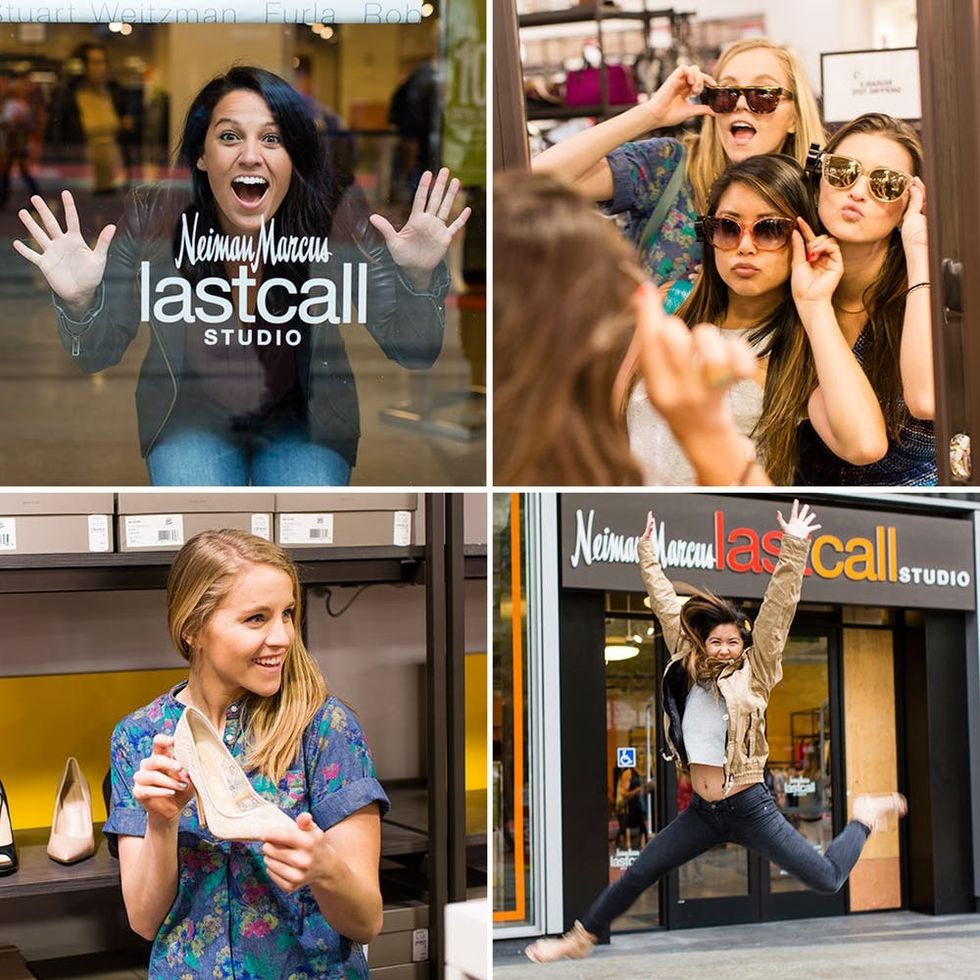 We kind of had a field day at our local Last Call store. We'll shop for the sake of research any time ;)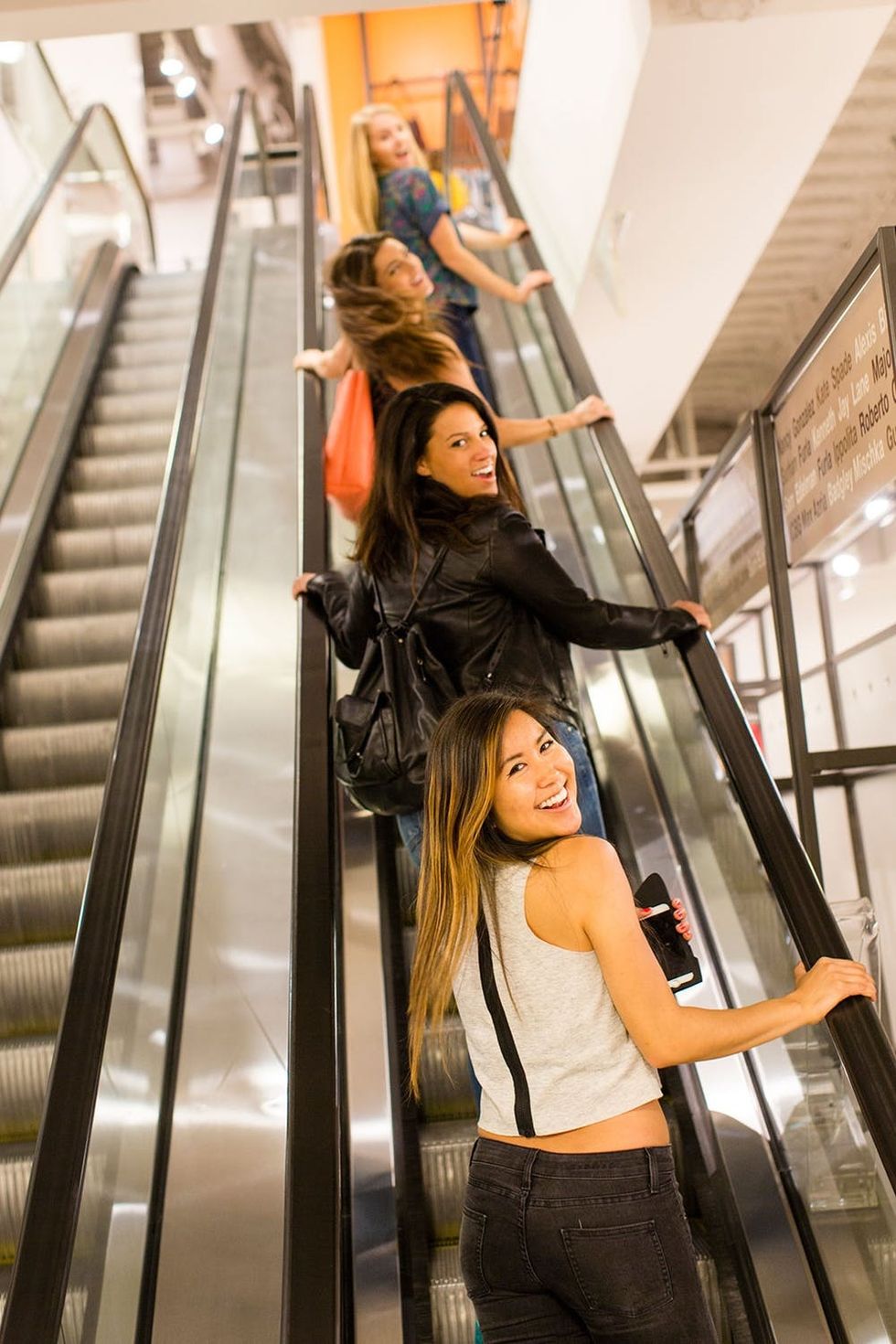 You know, just realizing our #squadgoals from every teen movie ever :)
BOHO CHIC
Oh, boho. We're SO thrilled that the '70s vibes are back in action and decking every mannequin in sight. There's no doubt that the boho chic trend will be dominating the festival scene this year, and we're not mad about it.
BOHO CHIC: UNDER $100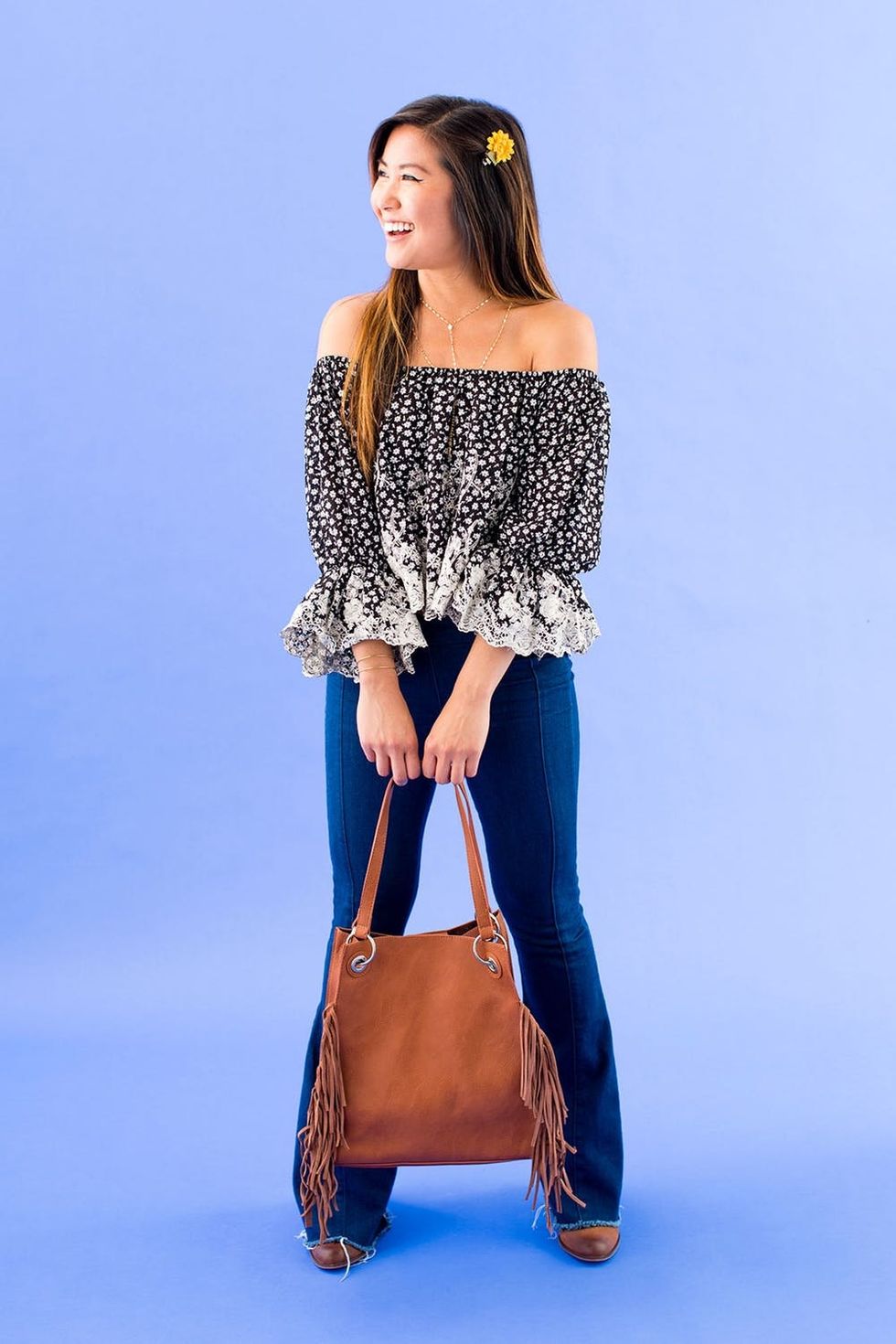 B+C visual designer Marisa Kumtong is heading to said festivals and wanted to try the boho chic look, but isn't quite ready to overhaul her wardrobe (and her budget) with the trend. So she opted for key pieces under $100 to try for the season. Check out Marisa's take on boho chic: This *amazing* off-the-shoulder blouse, flared bell bottoms, a heavenly fringed tote and delicate gold chain jewelry.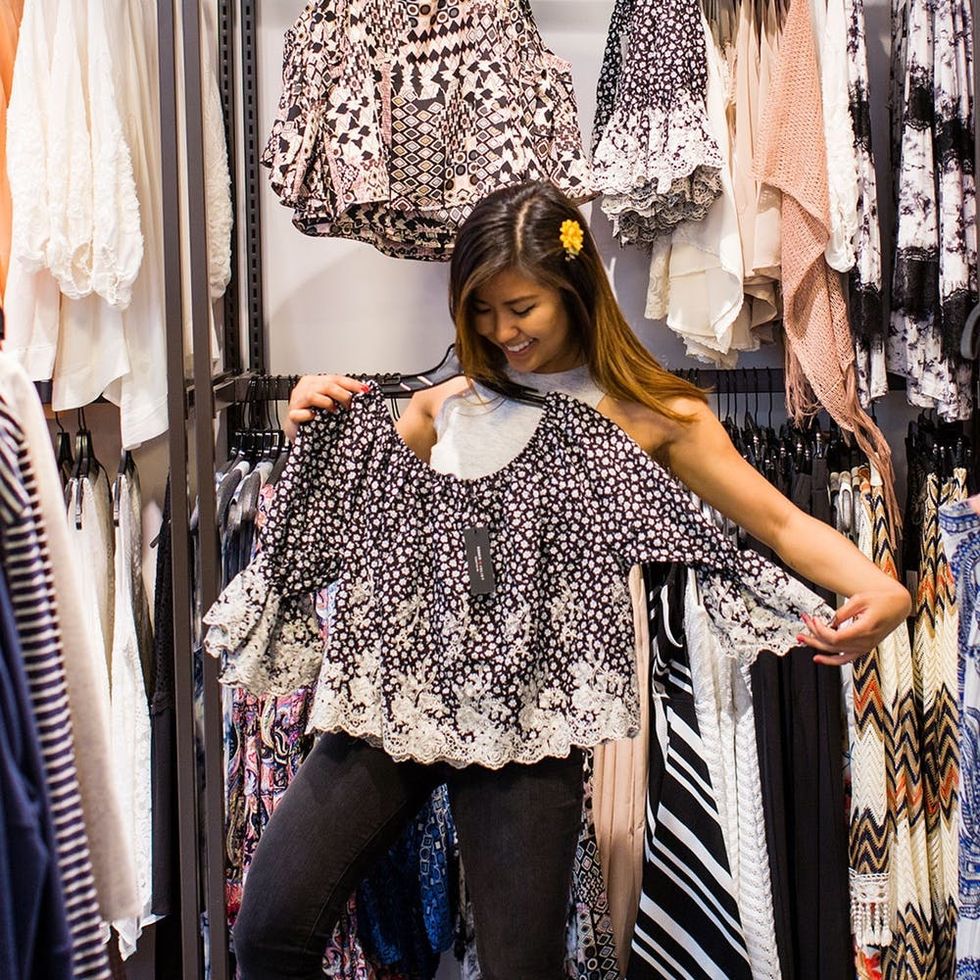 Pictured above: Pure joy after finding *The One* in Last Call. Not pictured: Marisa actually jumping for joy moments later.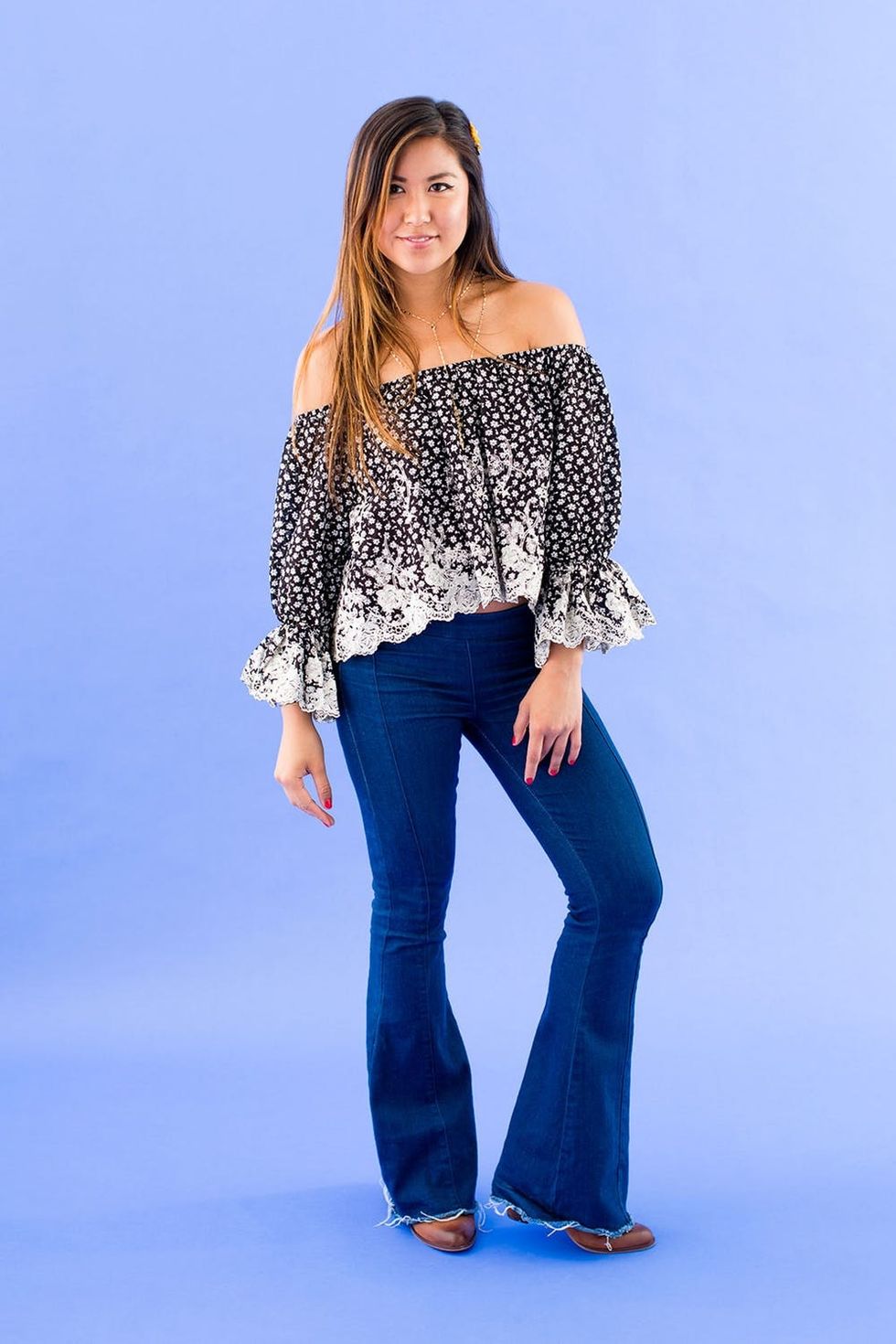 "I'm all about comfy clothes, and I'm one hundred percent down for whatever trend allows me to basically feel like I'm wearing pajamas in public. I love this blouse so much. It shows just the right amount of skin. Two thumbs up."
Get the Look: Romeo & Juliet Couture Embroidered Floral Cropped Blouse ($69) + model's own jeans (similar ones here!) + Steven by Steve Madden Selinna Studded Nubuck Bootie ($107) + Panacea Lariat Y-Drop Necklace ($30) + Urban Originals Fringed Wonder Tote ($85) + model's own hair clip
BOHO CHIC: OVER $100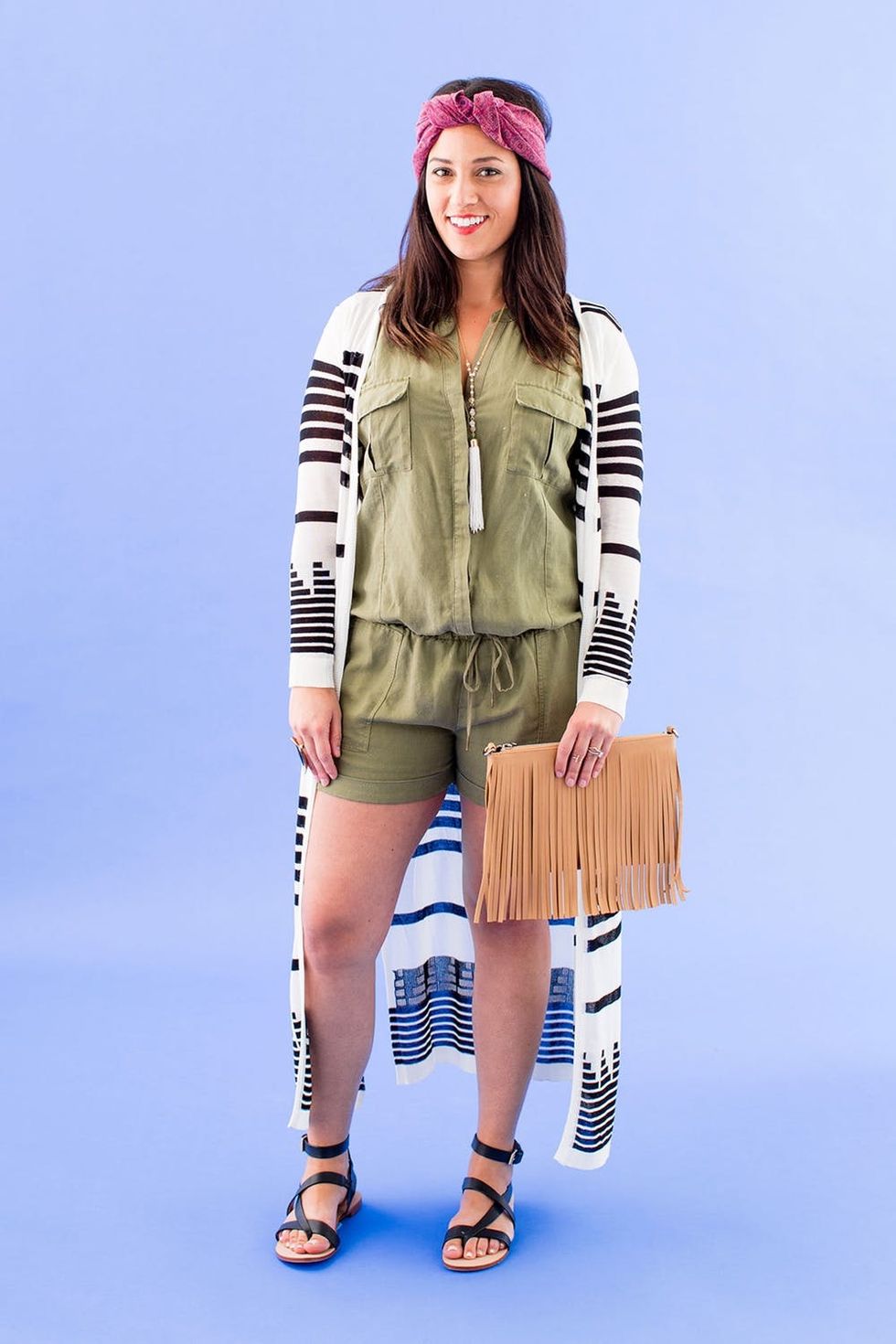 Brand Partnership Manager Ashley Fischer Stern is well versed in the boho look, so she's thrilled that it's so in right now. She sprang for this linen Joie romper and paired it with a patterned maxi cardigan, quintessential fringe bag, beaded tassel necklace and strappy sandals. And check out that rad head wrap! Learn how to make your own with our tutorial.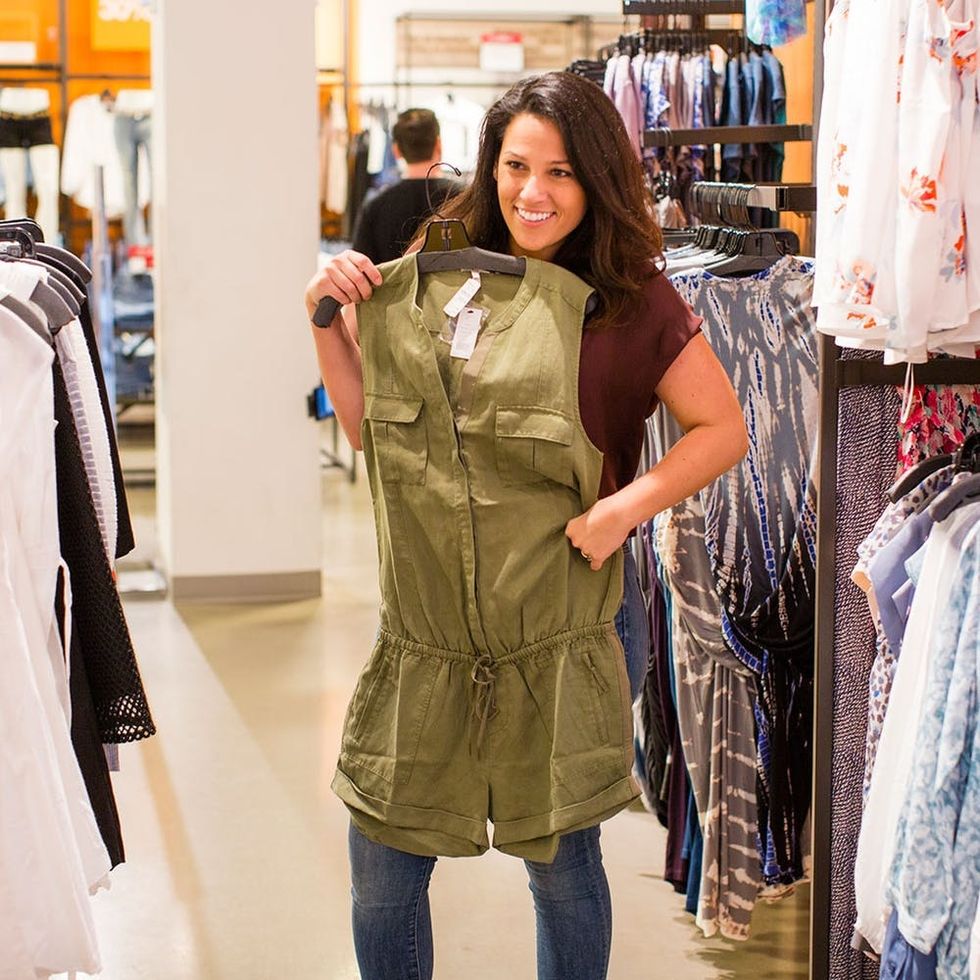 Ashley, meet the romper of your boho-themed dreams.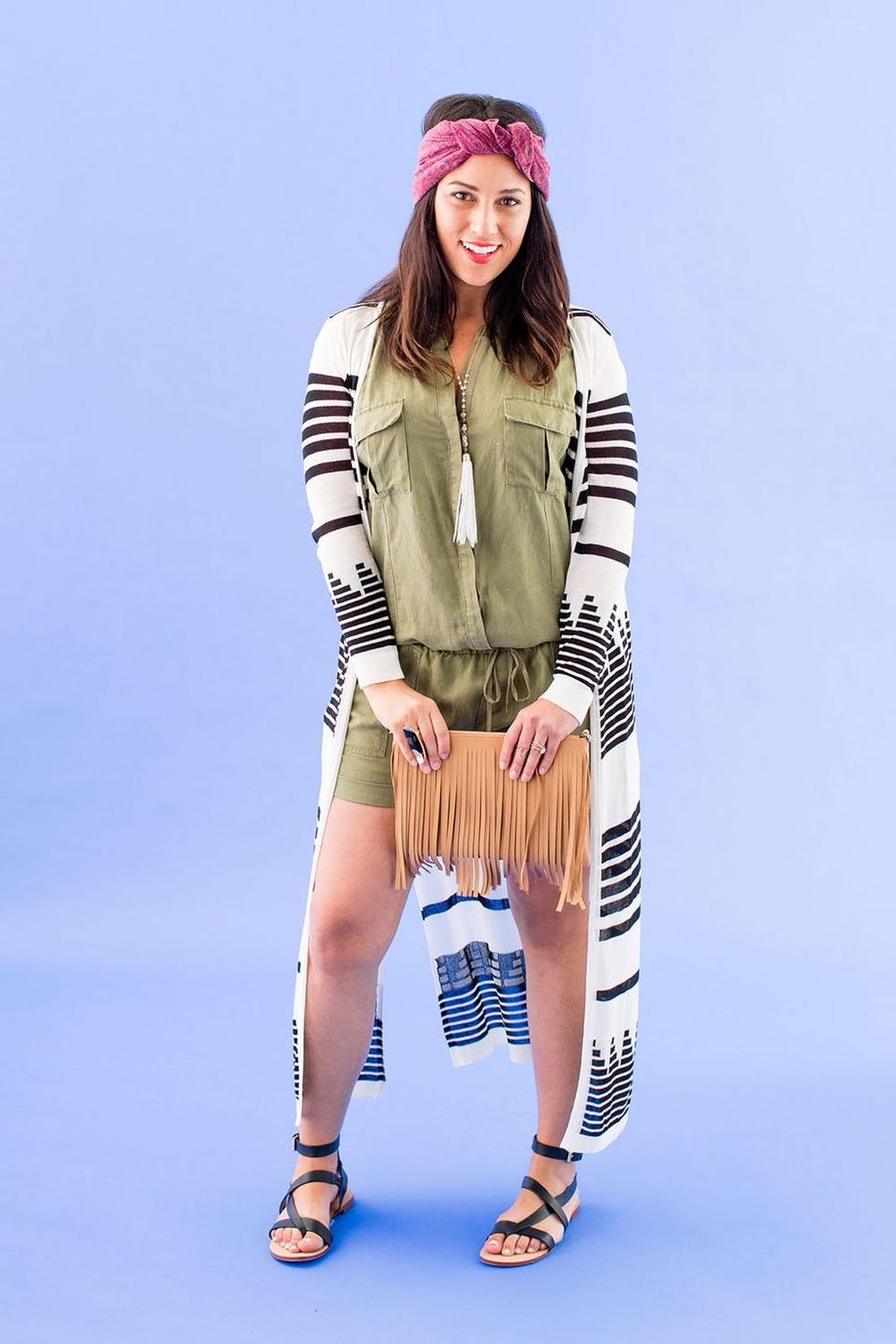 Ashley's favorite aspect of the boho chic trend? The versatility of all the pieces. "I like that I could throw on this cardigan or necklace with anything and feel instantly chic. I could wear the cardigan with leggings and a tank and still feel put together."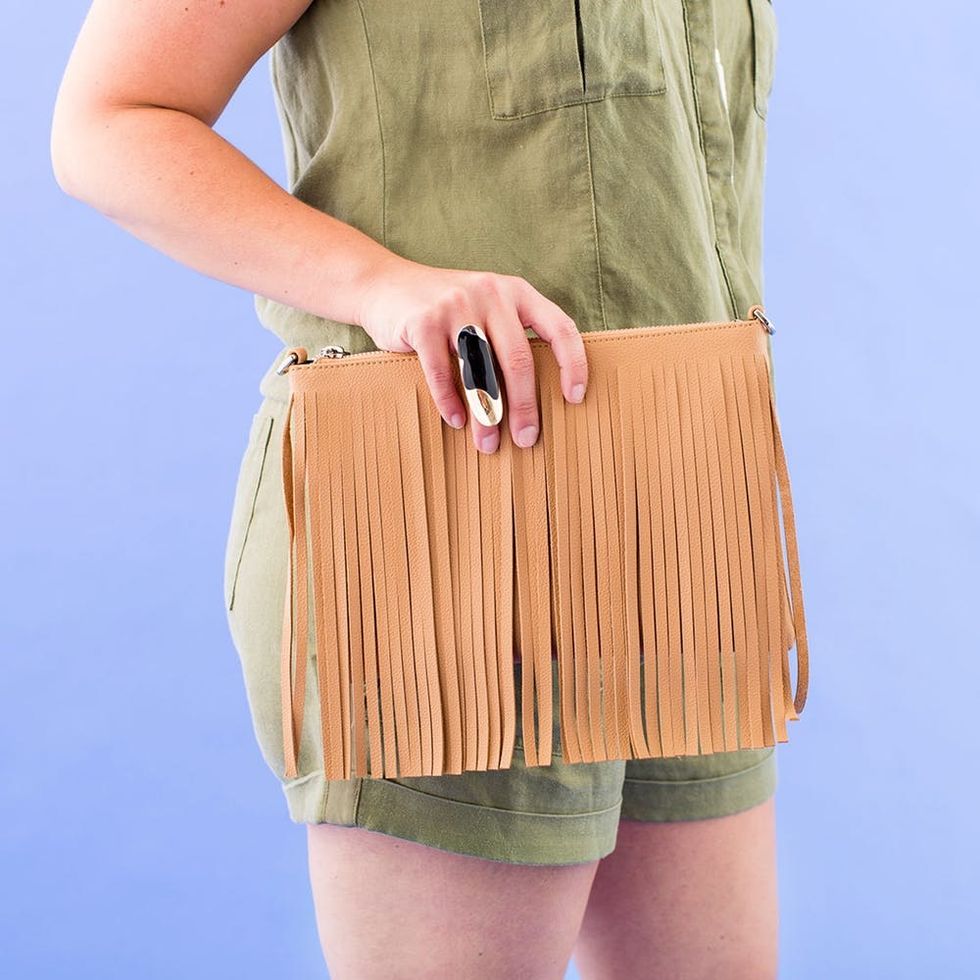 "As for the clutch, I LOVE fringe and think this is the perfect way to embrace the boho chic trend without going overboard," she says.
Get the Look:Joie Malira Sleeveless Romper ($149) + Neiman Marcus Long Striped Open Cardigan ($99) + Posse Dara Fringe Crossbody Bag ($120) + tassel necklace (here is a similar one) + Splendid Crete T-Strap Sandal ($65) + model's own ring, model's own headwrap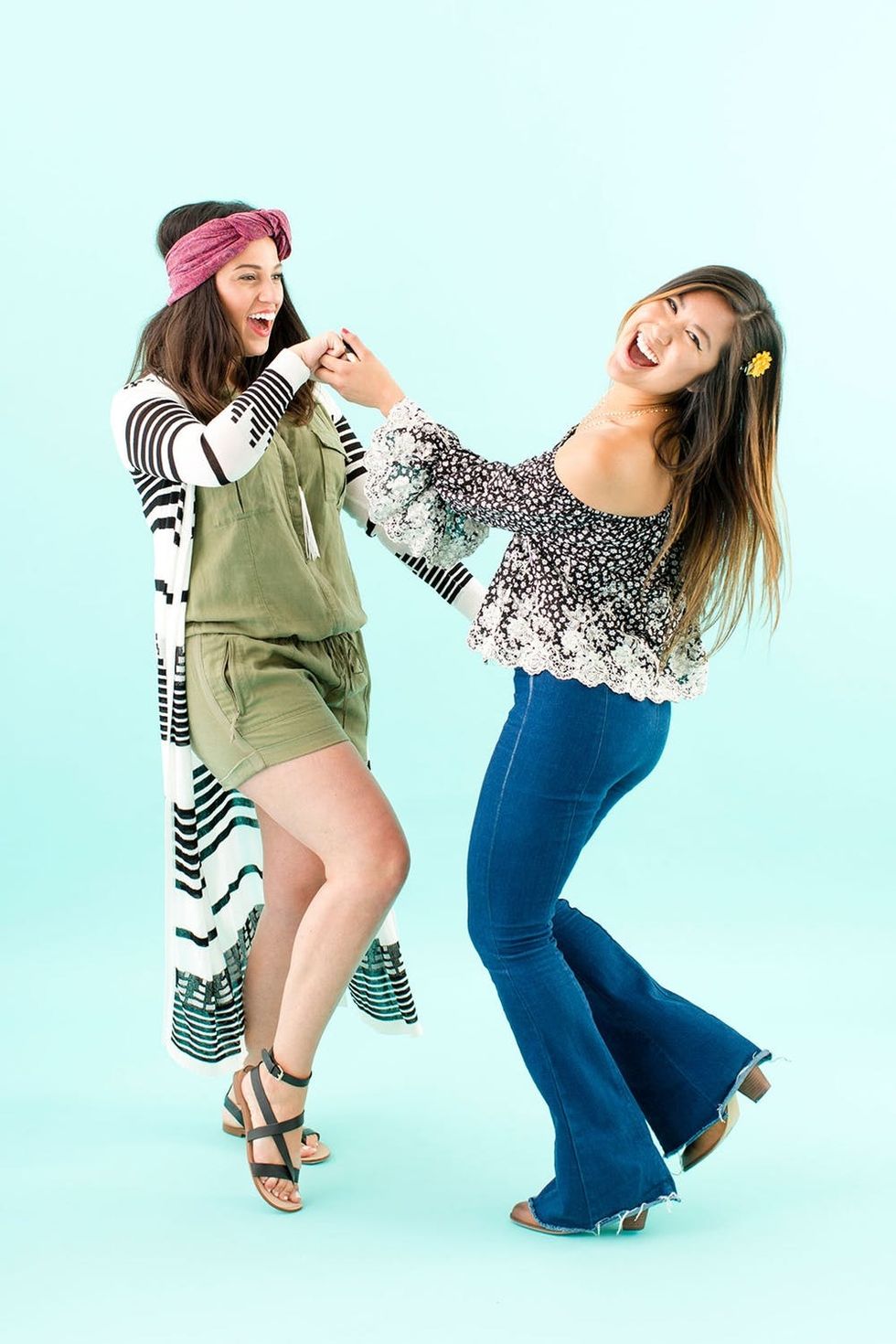 FEMININE DETAILS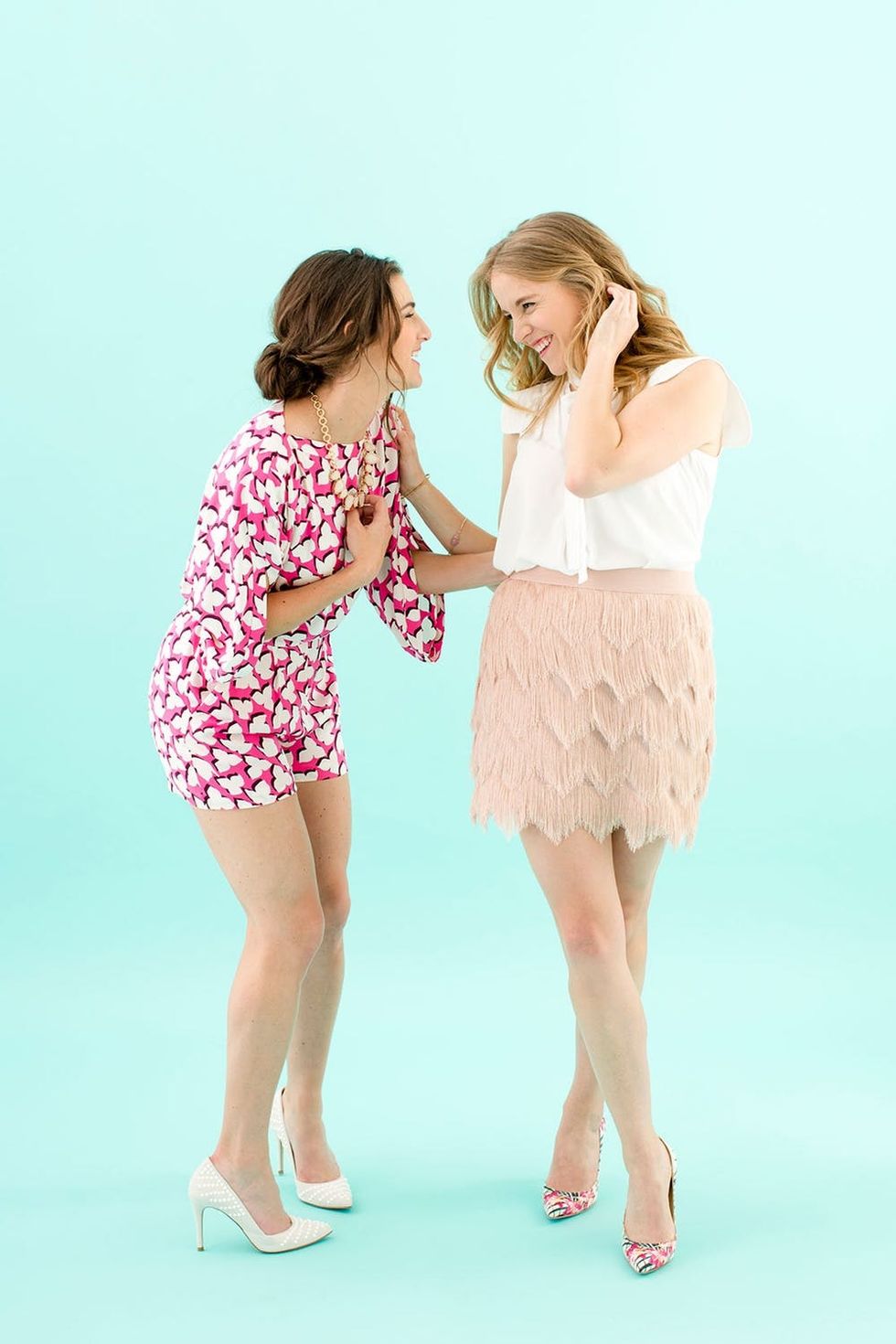 Next up: Senior Brand Partnership Planner Ashley Perlman and Creative Content Producer Maddie Bachelder (me!) taking a stab at the feminine details trend. This look is all about florals, ruffles, embroidery and flirty silhouettes, and makes us want to majorly embrace our girly sides.
FEMININE DETAILS: UNDER $100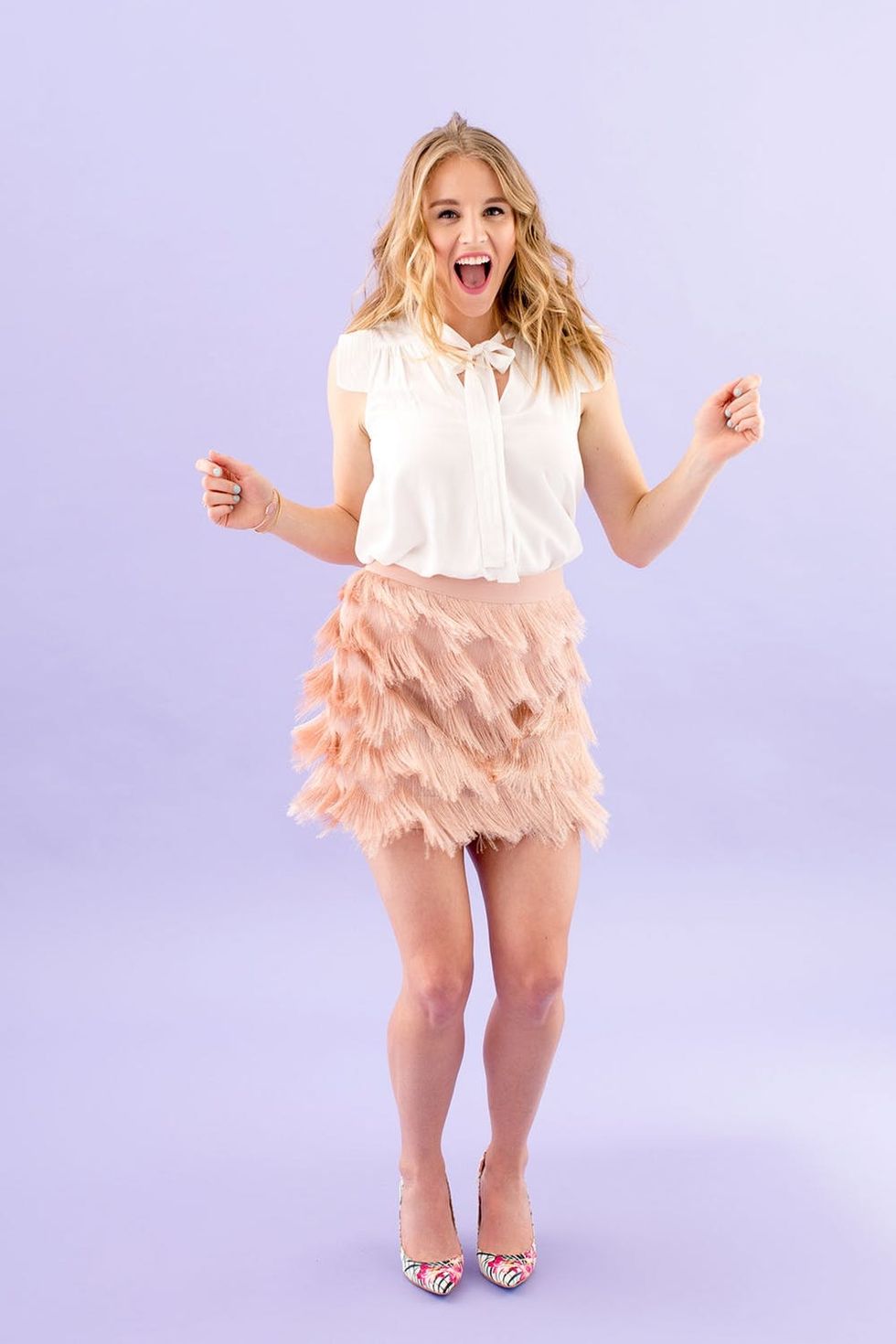 While my wardrobe is generally made up of minimalist silhouettes and (gasp!) all black everything, I was downright elated to find this flirty fringe skirt. Who could say no to a piece that makes you want to dance all the time? This miraculous outfit has bows, fringe *and* floral prints, and I still look sophisticated. It's magical.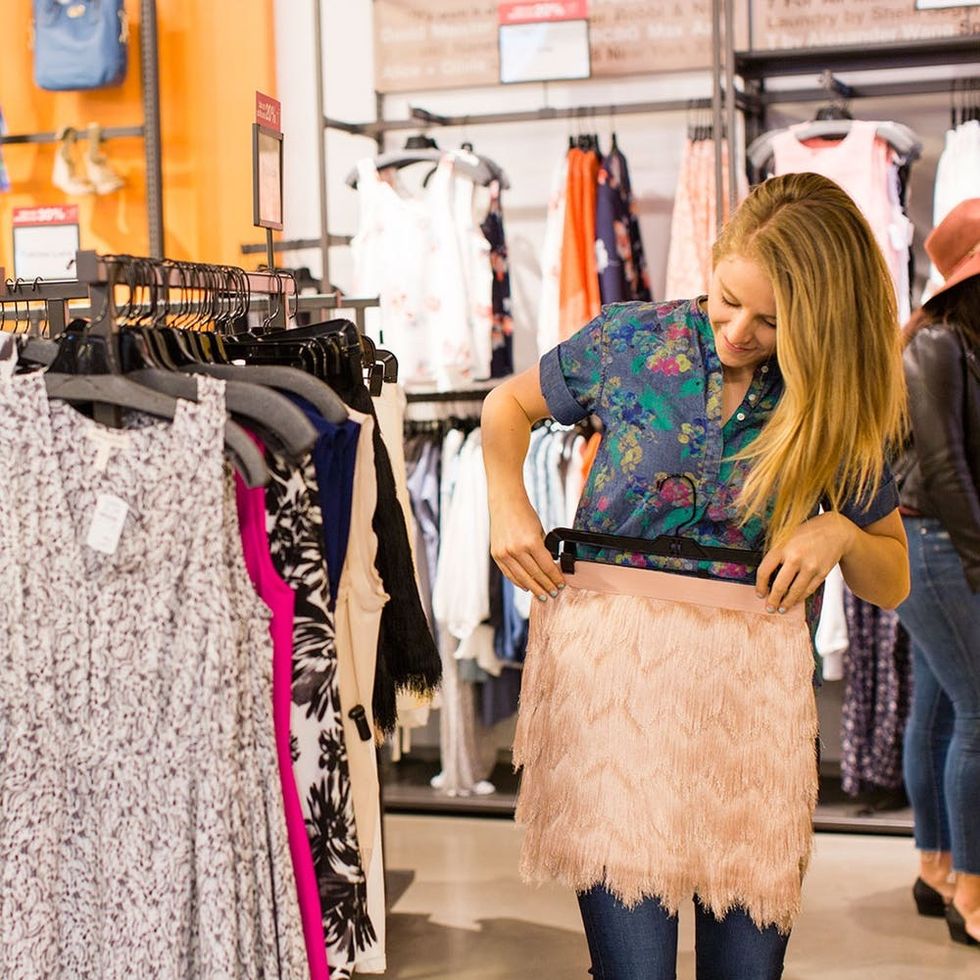 Seriously, it was love at first sight.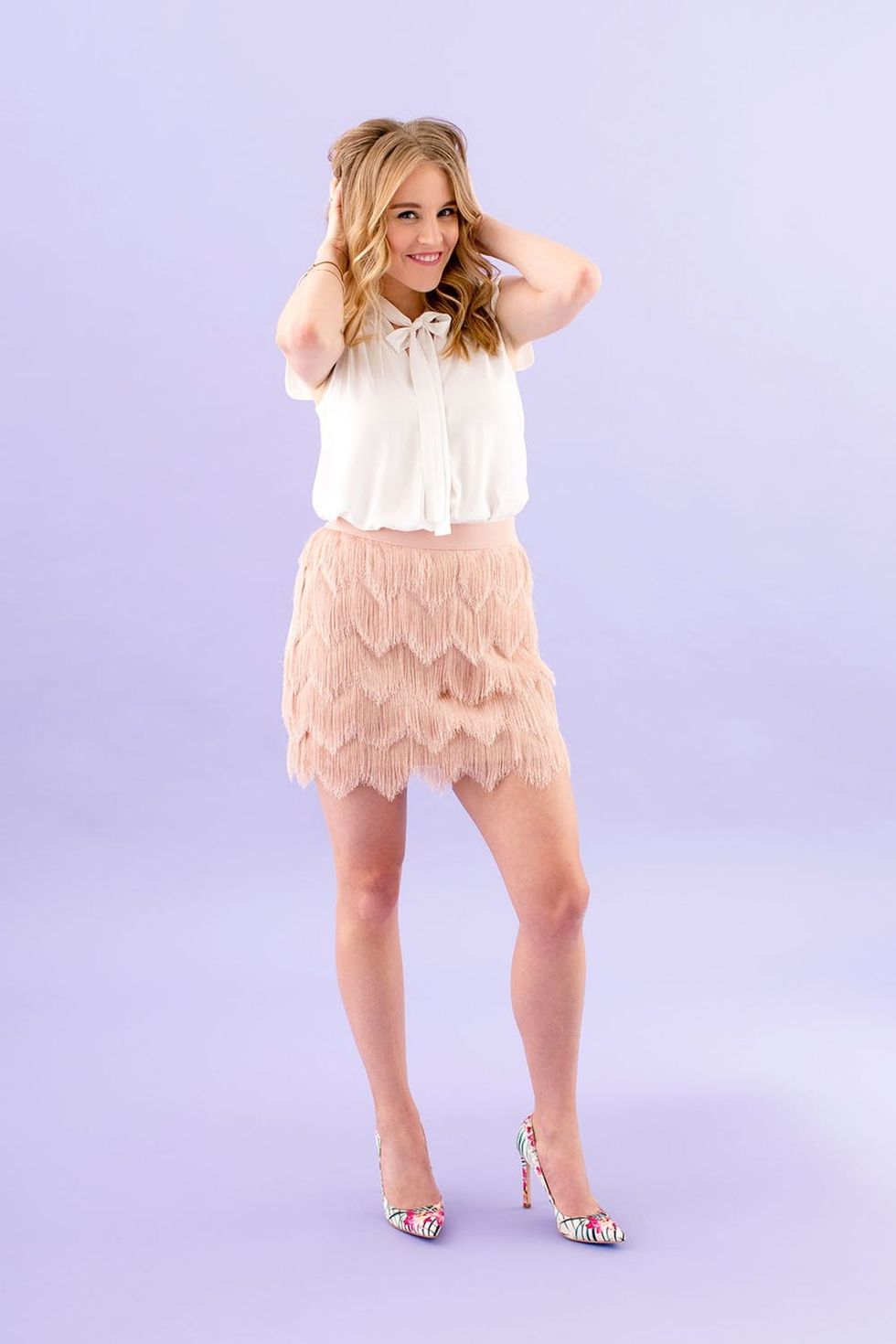 Between the skirt and the floral print pumps, this outfit completely boosted my confidence. The test worked: I may be an official convert to the feminine details trend.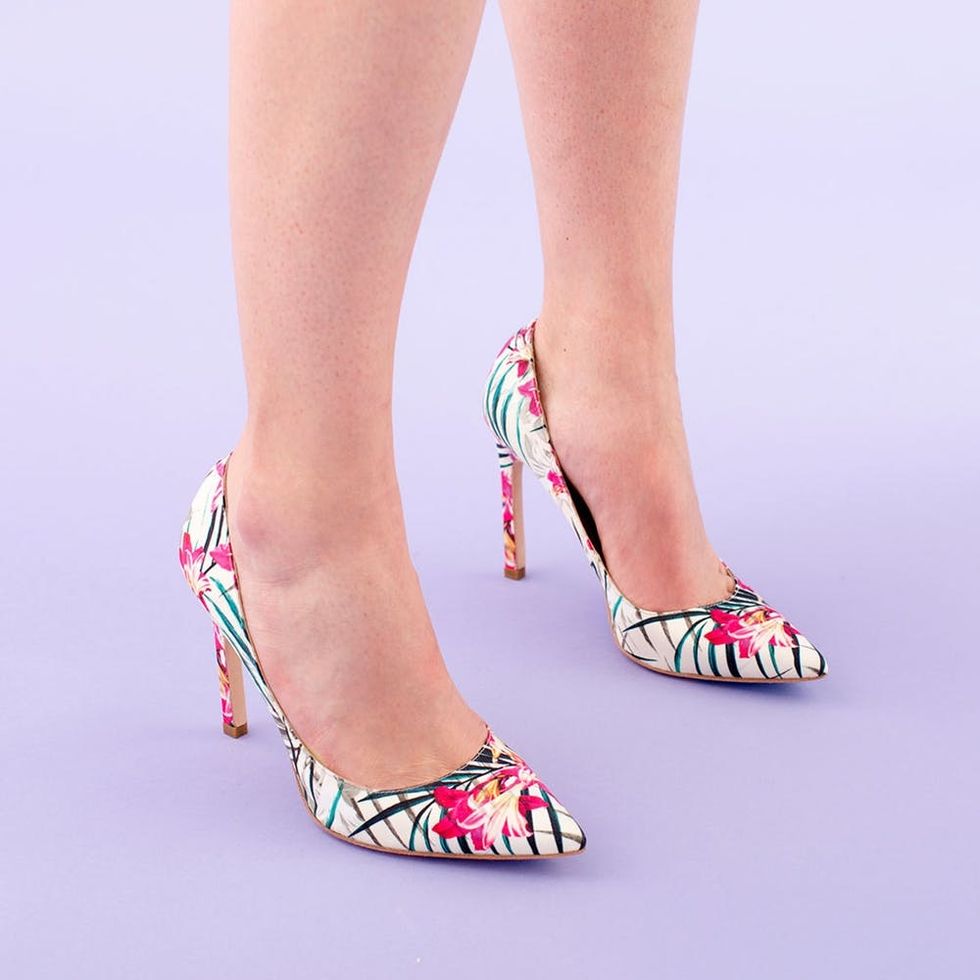 Ever the efficient shopper, I chose these tropical Ivanka Trump pumps because I can wear them for so many occasions: paired with trousers or denim for work, a simple dress for evenings out and even to an upcoming summer wedding.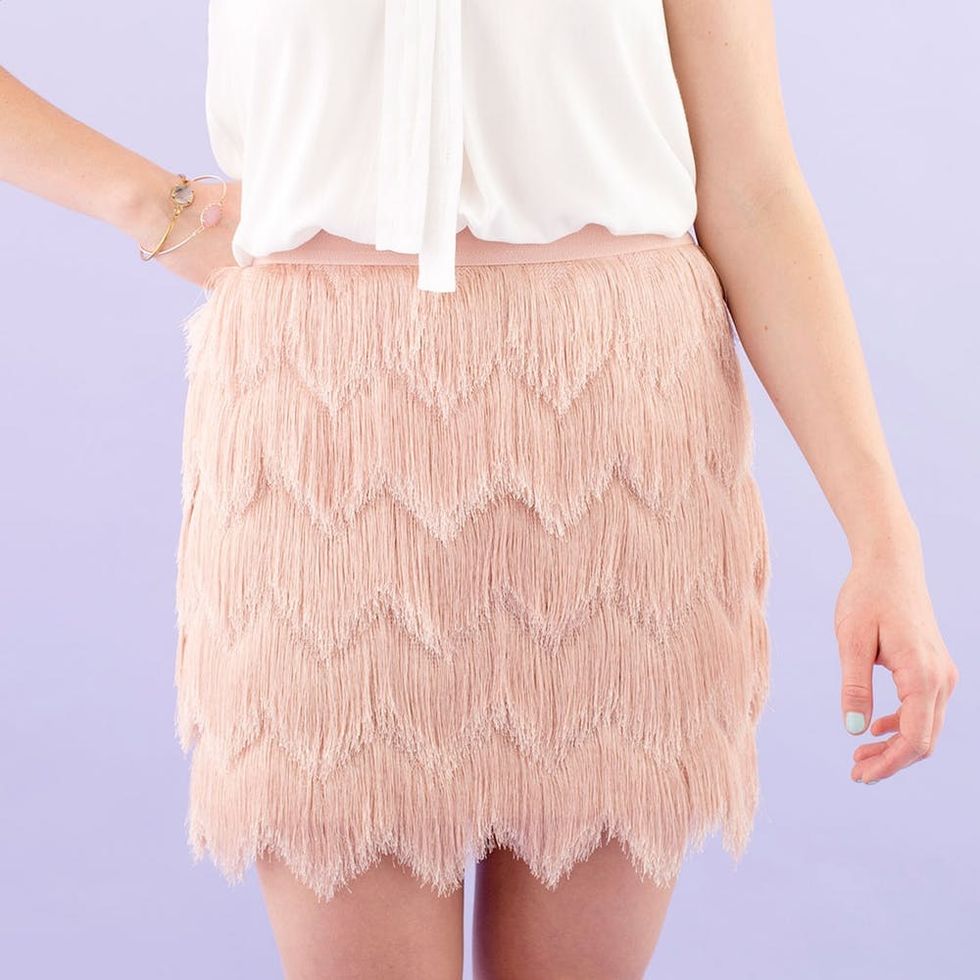 And one more shot for the cheap seats in the back: The most amazing, feather light, dusty rose, fringe-y, swingy, sassy skirt. I'm smitten.
Get the Look: BCBGMAXAZRIA Modie Tiered Fringe Skirt ($99) + Max Studio Tie-Neck Blouse ($59) + Ivanka Trump Carra Pump ($109) + model's own ring + model's own bracelets
FEMININE DETAILS: OVER $100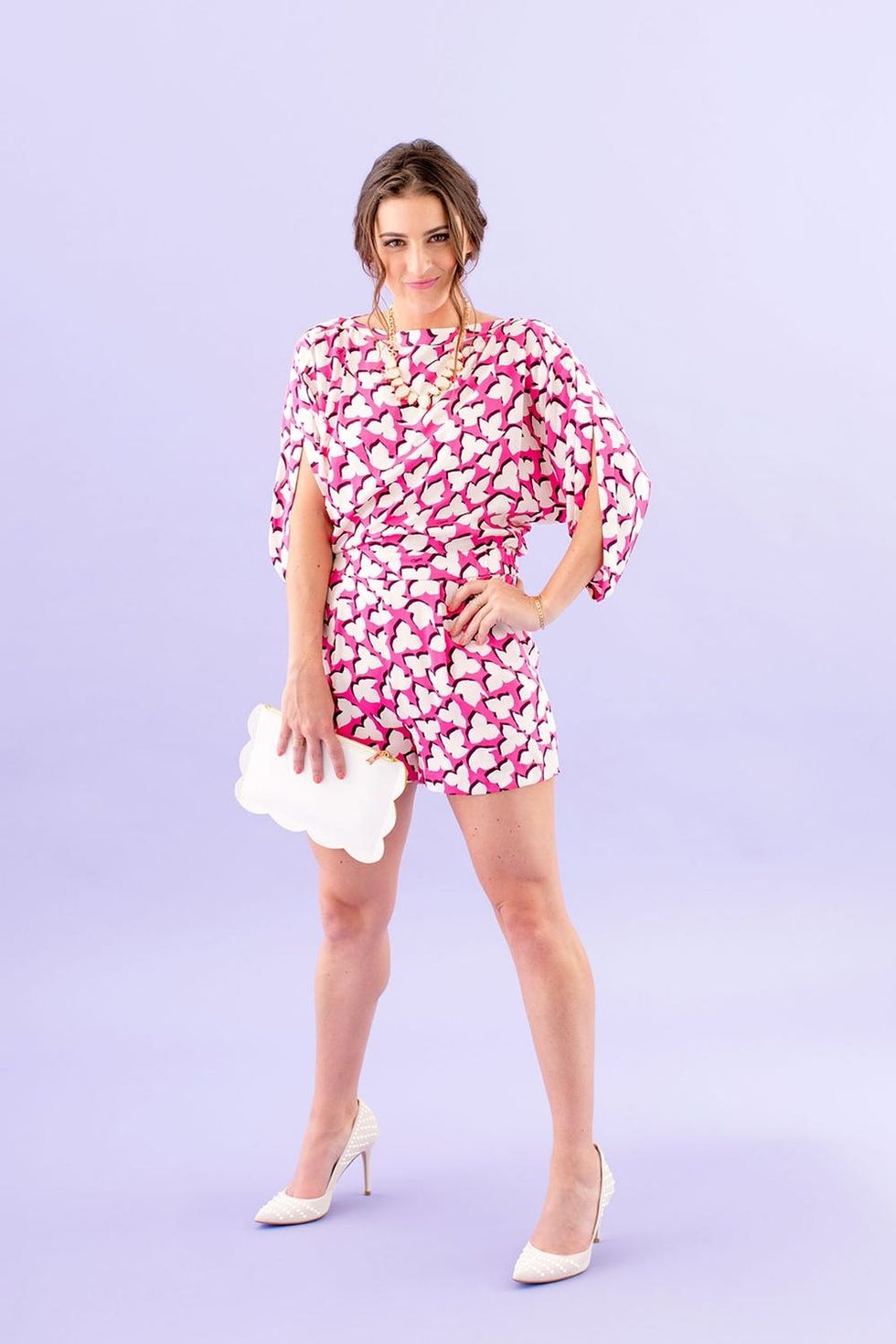 Ashley P, the princess of feminine details, absolutely SLAYED in her new Diane von Furstenberg romper. Excuse us while we bow down. This gal loves her feminine silhouettes and has been known to stun in a jumpsuit at least once a week, so this DVF romper is kind of the answer to her sartorial prayers.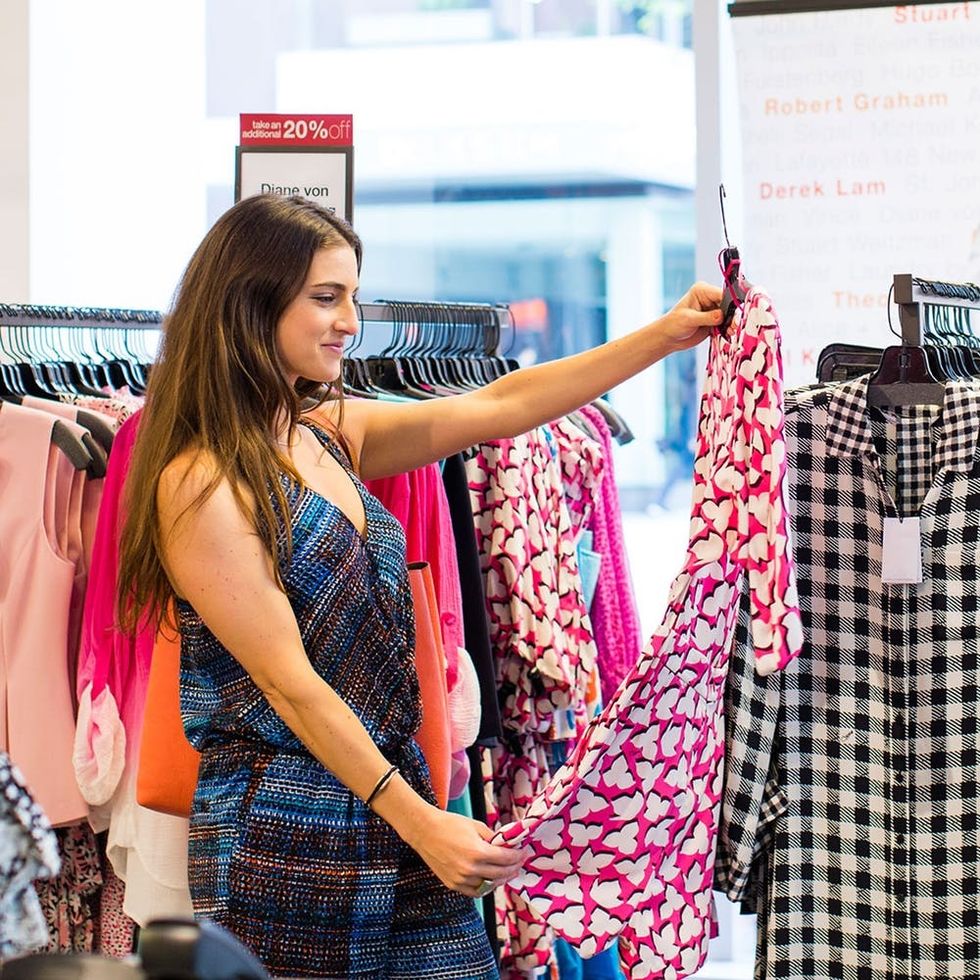 Just look at that satisfied smile on Ashley's face.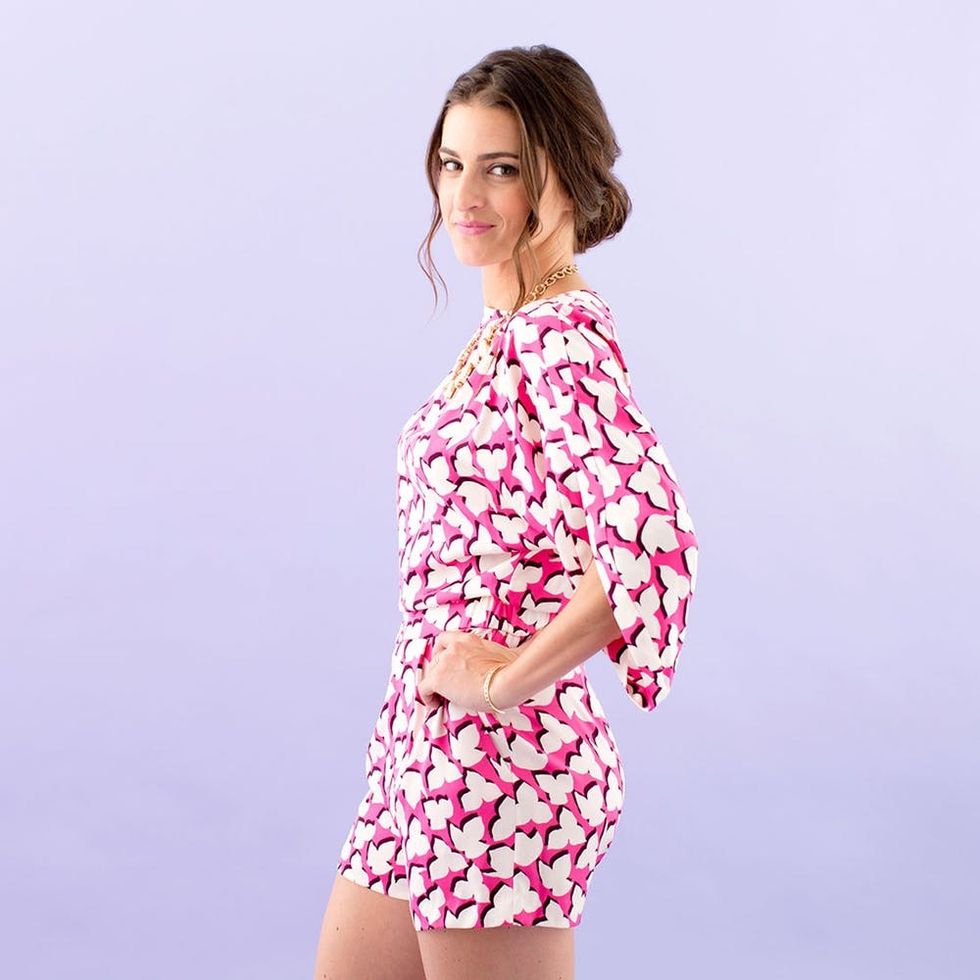 "I love this romper. It hugs me in all the right places and is super comfortable and easy to move in. I felt flirty, fancy and fun. I liked that I could wear this out on the town, to work or on a date. It's very versatile."
She paired this epic jumpsuit with a clean scalloped clutch, classic jewel necklace and messy chignon bun. We're kind of obsessed with this abstract floral print, too.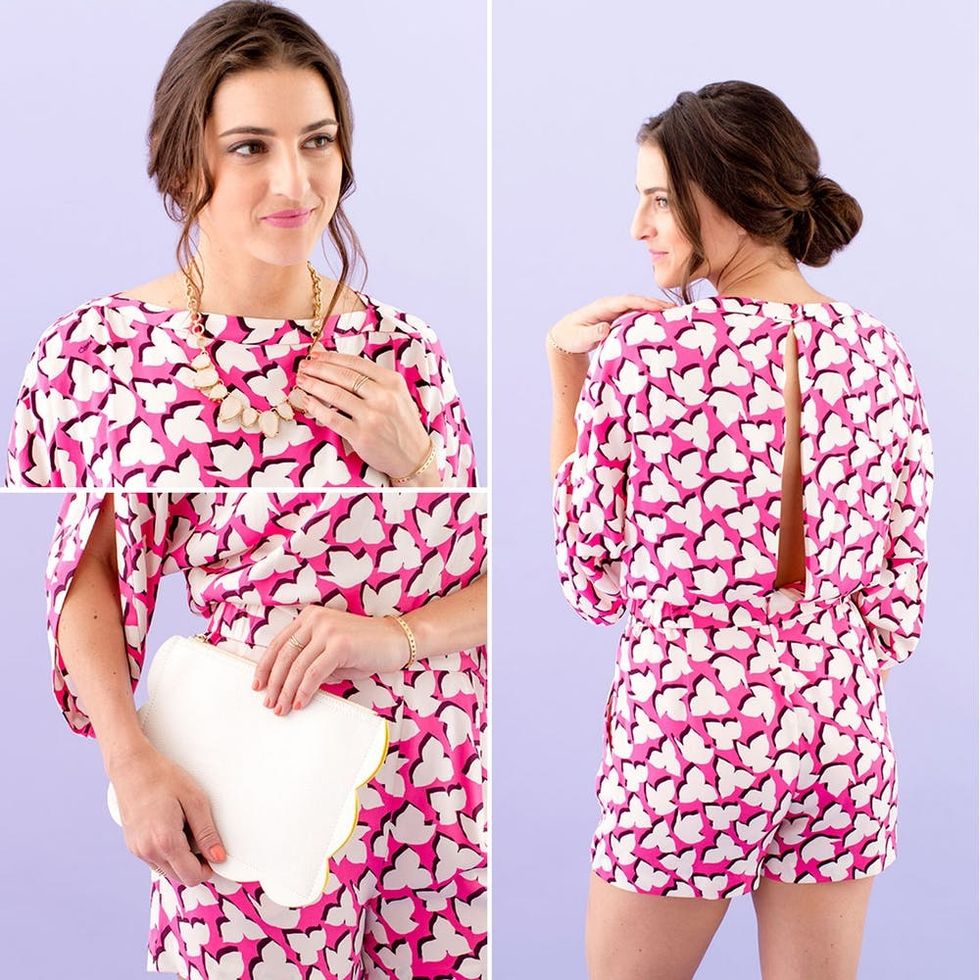 Get the Look:Diane von Furstenberg Soleil Romper ($289) + French Connection Elmyra Pump ($99) + Neiman Marcus Scalloped Small Pouch Bag ($50) + R.J. Graziano Oversized Collar Necklace ($67.50) + model's own bracelet + model's own ring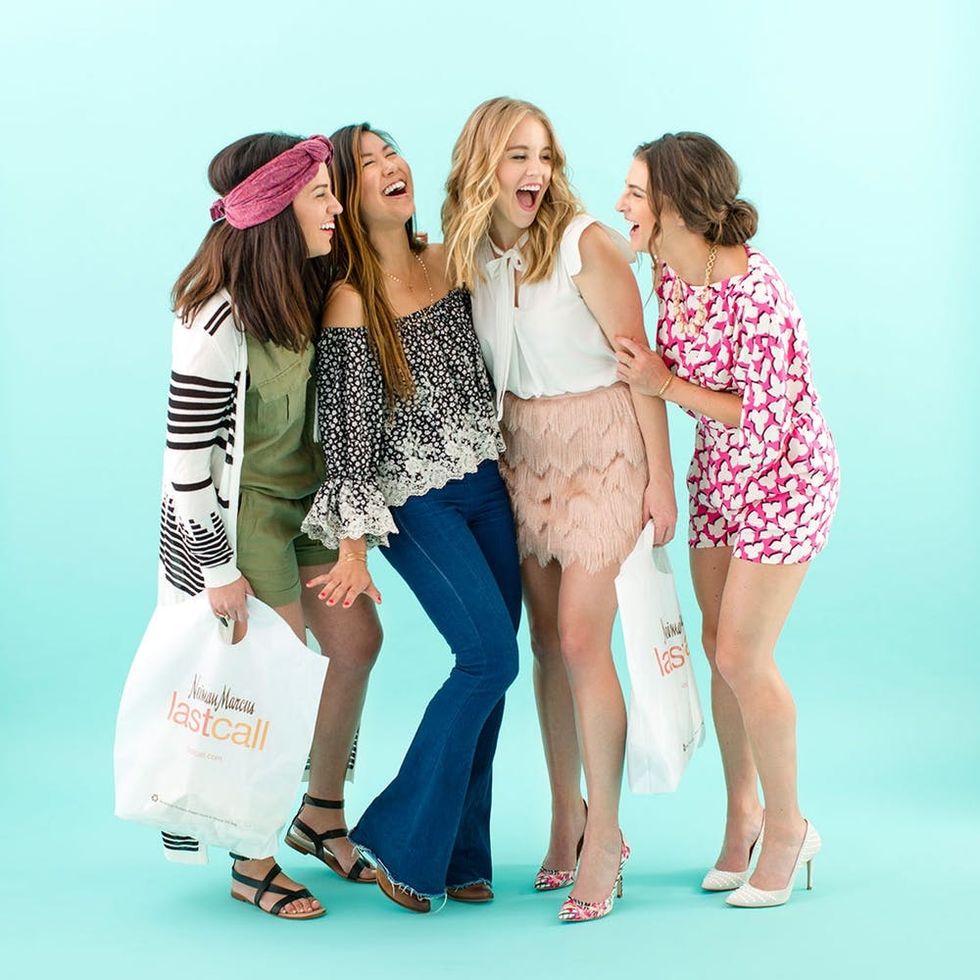 And there you have it — how to rock the reigning spring trends on all budgets. Thanks for making our fashion dreams come true, Last Call!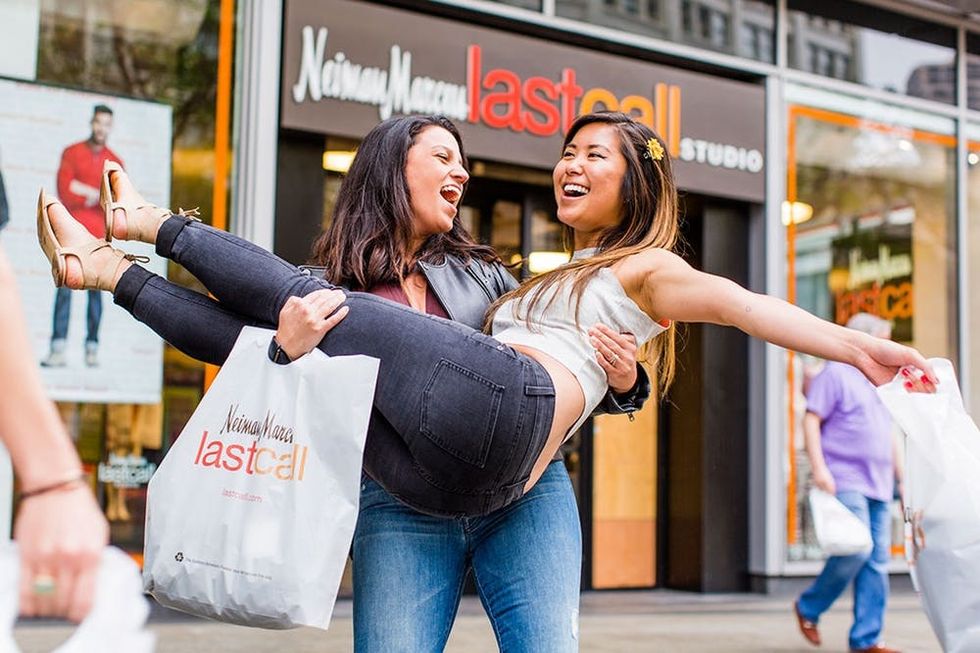 How do you rock the latest spring fashion trends? Share on Instagram with the hashtag #iamcreative so we can take a peek!
This post is a collaboration with Neiman Marcus Last Call.
Author: Maddie Bachelder
 Models: Marisa Kumtong, Ashley Fischer Stern, Maddie Bachelder + Ashley Perlman
 Production + Styling: Maddie Bachelder + Ursula Wagner
 Makeup + Hair: Misty Spinney
 Photography: Chris Andre
Trends and Inspo
More From Trends and Inspo