You'll Want to Make This Spring Seasonal Vegetable Galette Hack ASAP
Mar 29, 2017
Spring has sprung! The weather is warming up and daffodils are starting to pop up in the most unexpected places, making it the perfect time to hit up the local farmers' market. There's nothing better than coming home with a bounty of florals, fruits, and vegetables for the week.
But let's be real: Who has the time to craft a farm-to-table meal when your social calendar is also in full bloom? So when I was searching for something to make with this season's freshest veggies, I went with this easy peasy galette hack. Pre-made pie dough FTW! Asparagus, leek, and Swiss chard are in season and pack a serious healthy punch. So get your oven pre-heated and read on!
---
Ingredients:
6 asparagus stalks, thinly diced
½ bunch of Swiss chard, diced
1 medium leek, thinly sliced
3 small red potatoes, thinly sliced on a mandolin
1 9-inch pre-made pie crust
¼ cup heavy cream
¼ cup Gorgonzola cheese
1 clove garlic, minced
1 egg, beaten to blend
dill and chives, for garnish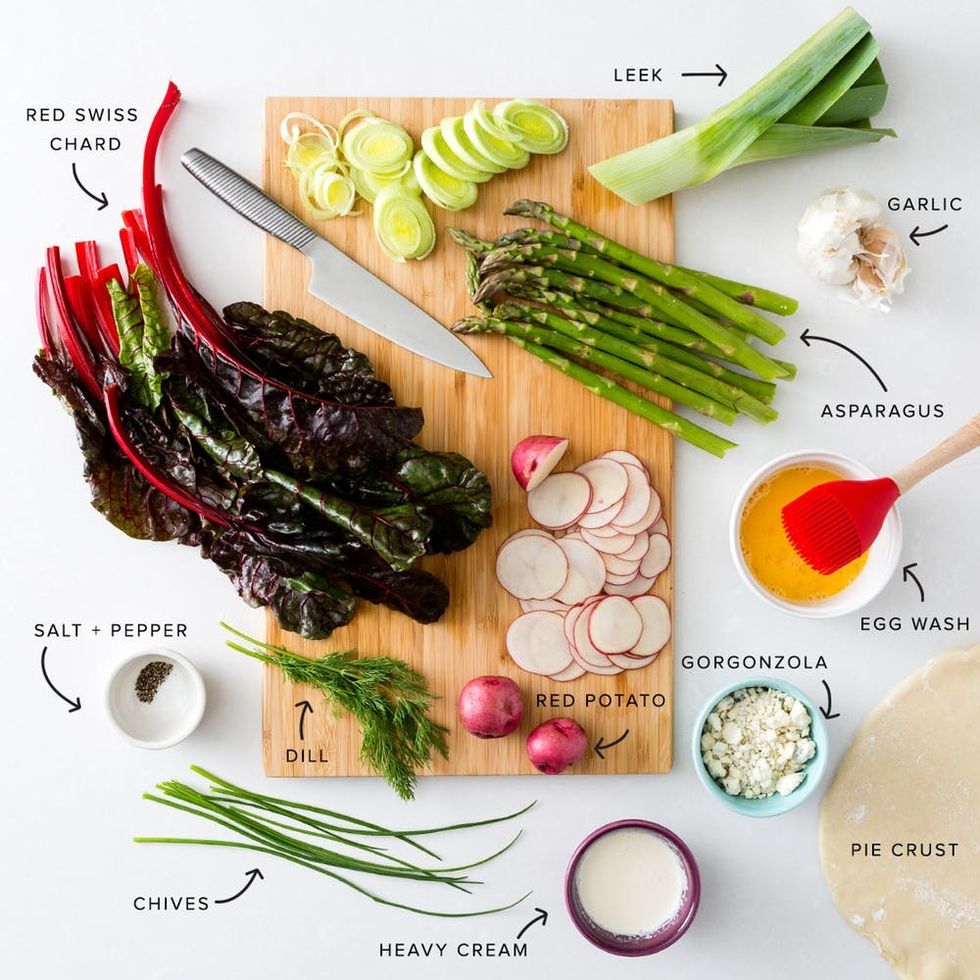 Instructions:
Preheat the oven to 400 degrees Fahrenheit.
On medium high heat, sauté the leeks until they're soft but still retain color. Add in the asparagus and chard. Cook for approximately seven minutes and set aside to cool.
Mix together the cheese, heavy cream, and garlic.
Unroll your pie crust onto a parchment-lined baking sheet and spread the cream mixture onto the dough, keeping a one-inch border.
Add the spring veggie filling and arrange the potatoes on top.
Fold over the edges of the dough, creasing as necessary.
Brush the dough with the egg wash.
Bake for 35 minutes.
Garnish with dill and chives, and then serve.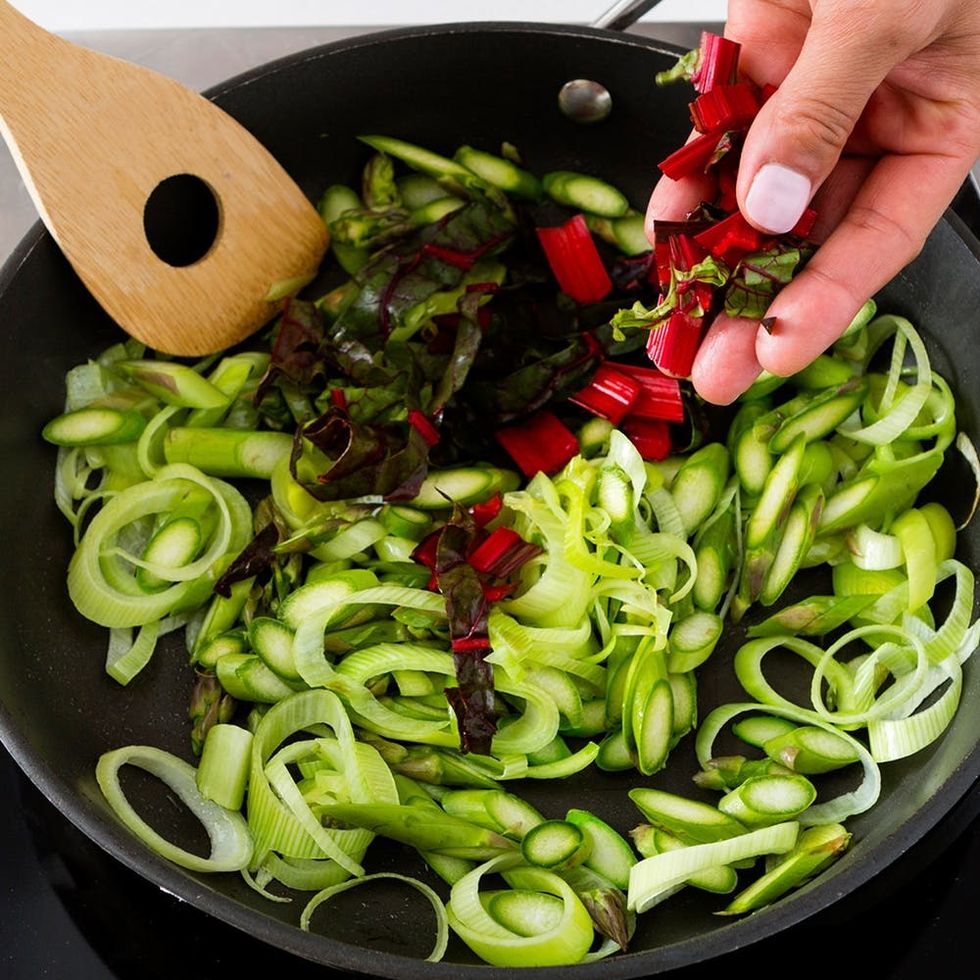 First up, you're going to make your filling by sautéing your veggies until they're soft, but still have a crisp. Cook your leeks, asparagus, and chard on medium heat for about seven minutes, and then set aside to cool. Meanwhile, preheat your oven to 400 degrees Fahrenheit.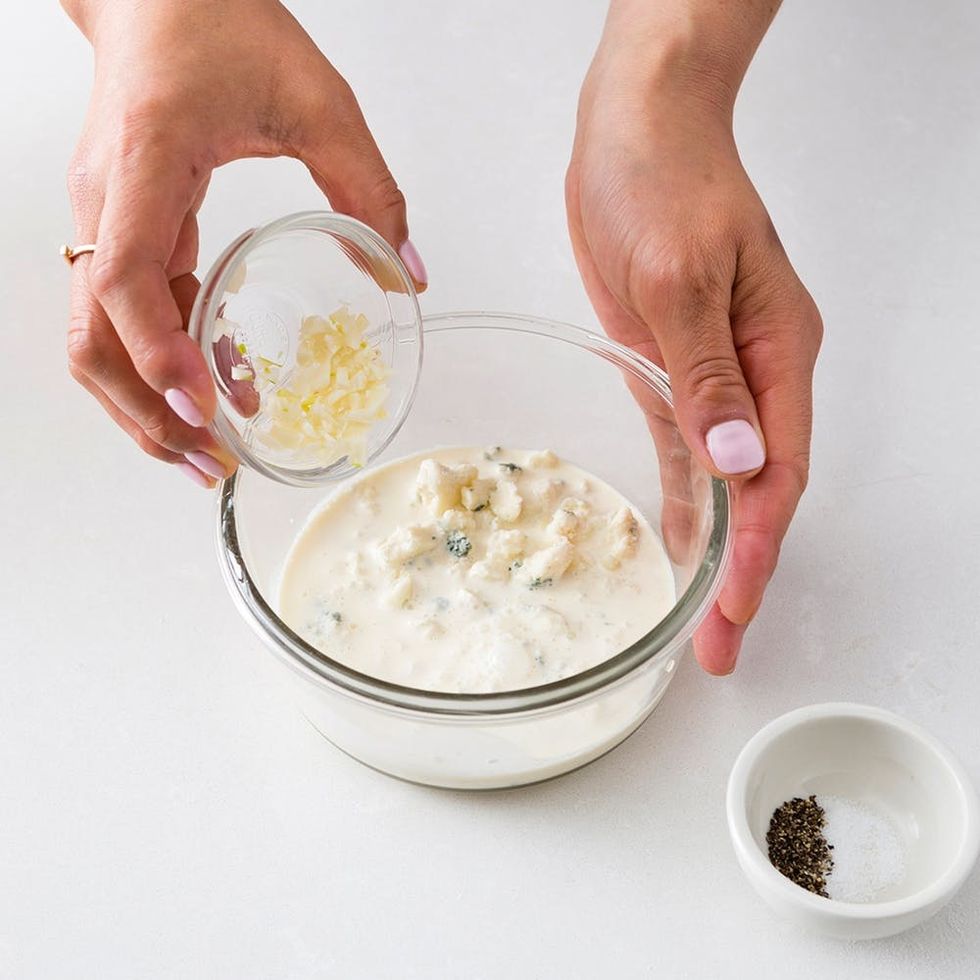 While the veggie filling is cooling, make the cheese mixture. Stir together the cream, Gorgonzola cheese, garlic, salt, and pepper. You can always give this part a taste to see if you need to add any additional spices.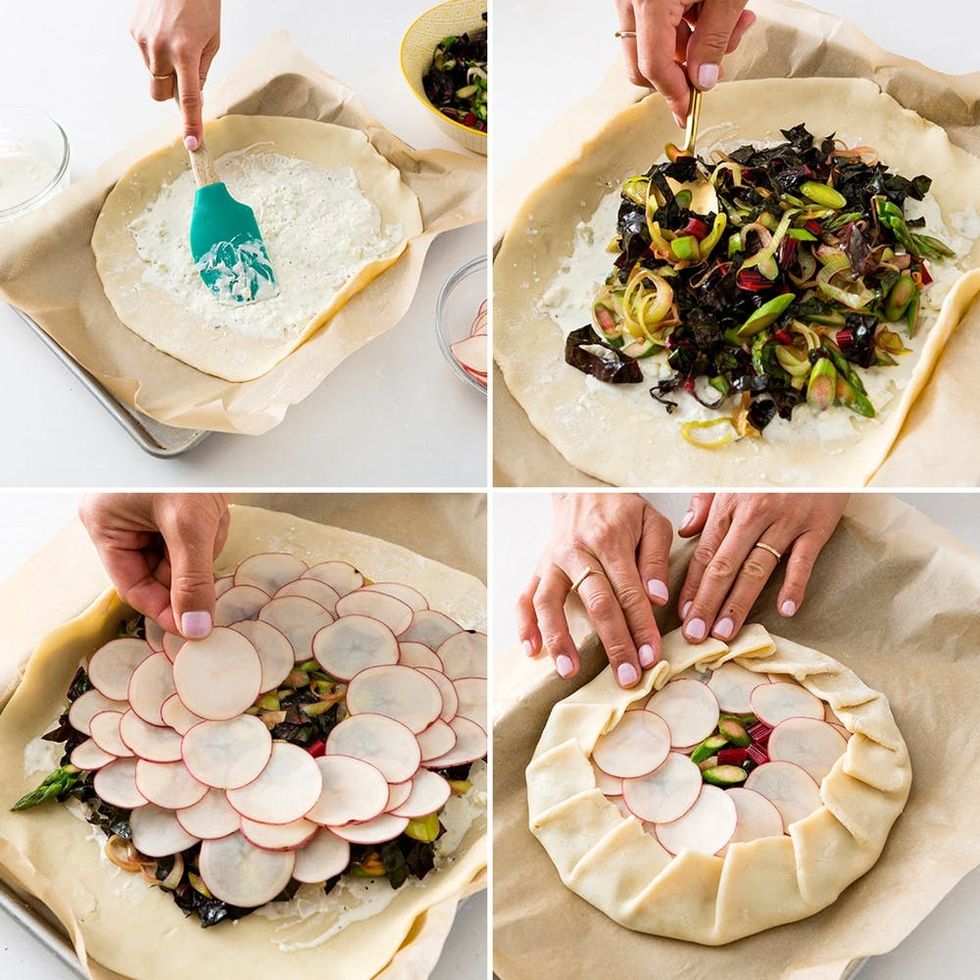 Now that you have all of your elements ready, it's time to construct the galette. Unroll your pie crust onto a parchment-lined baking sheet. Spread a layer of the cheese mixture on the bottom, add the vegetable filling, and top with a beautiful arrangement of potato. Be sure to leave a one-inch border, so you can fold the dough over. Create creases and folds to make sure your filling is snug in there.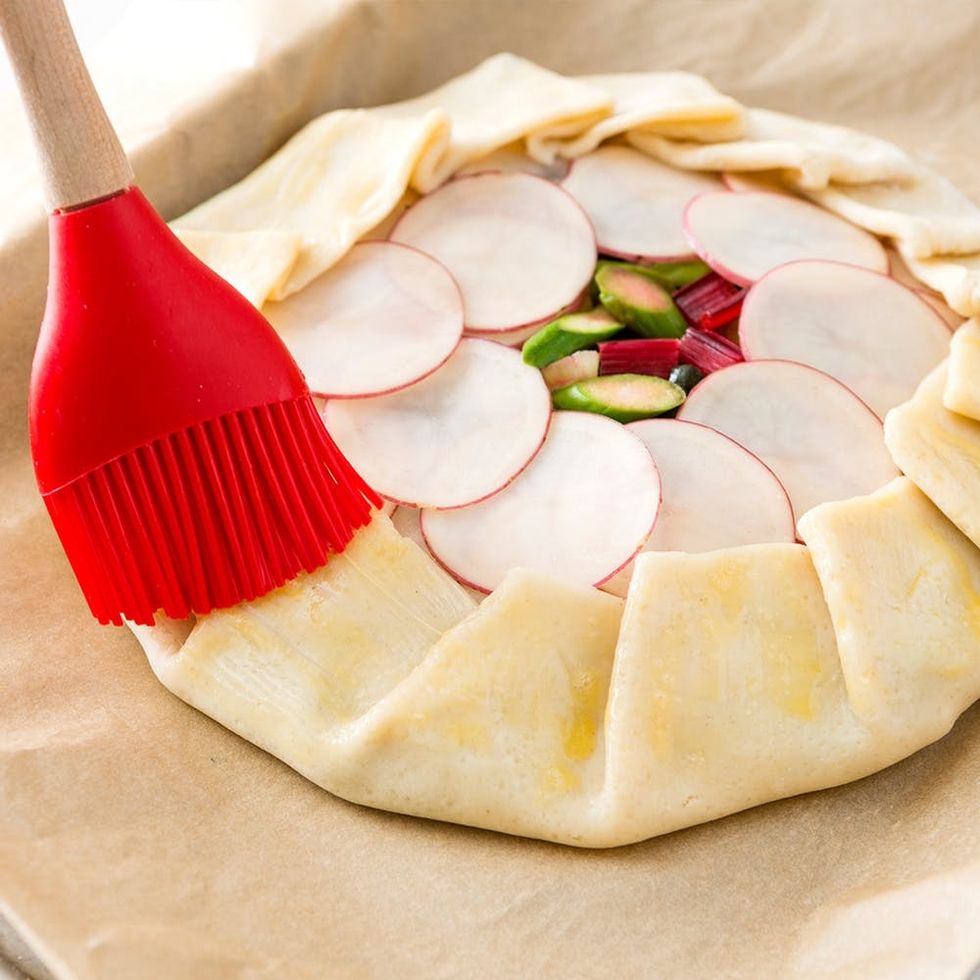 Lastly, brush the egg wash on the pastry dough. You'll want to make sure you're generous with the egg, so your crust can have a nice color and shine. Throw it in the oven and bake for 35-40 minutes, until the potatoes and crust are a nice toasted brown.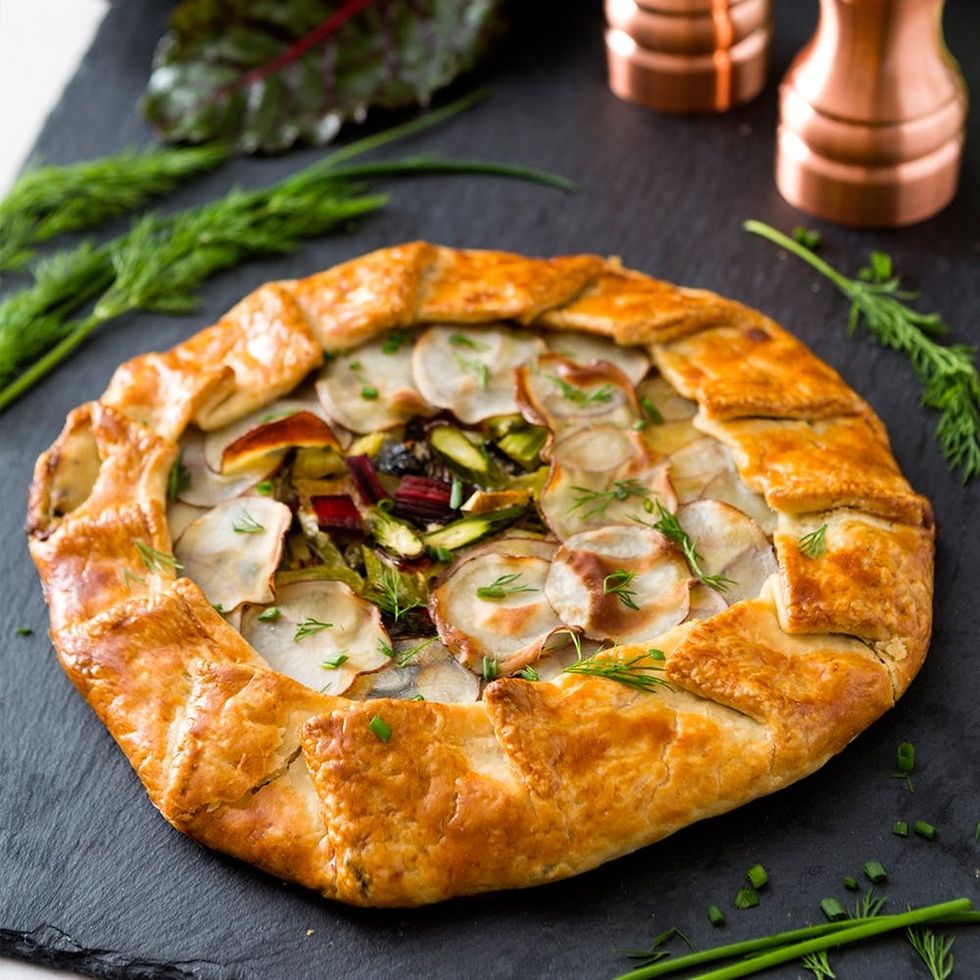 Garnish with fresh dill and chive and try not to burn your mouth digging in!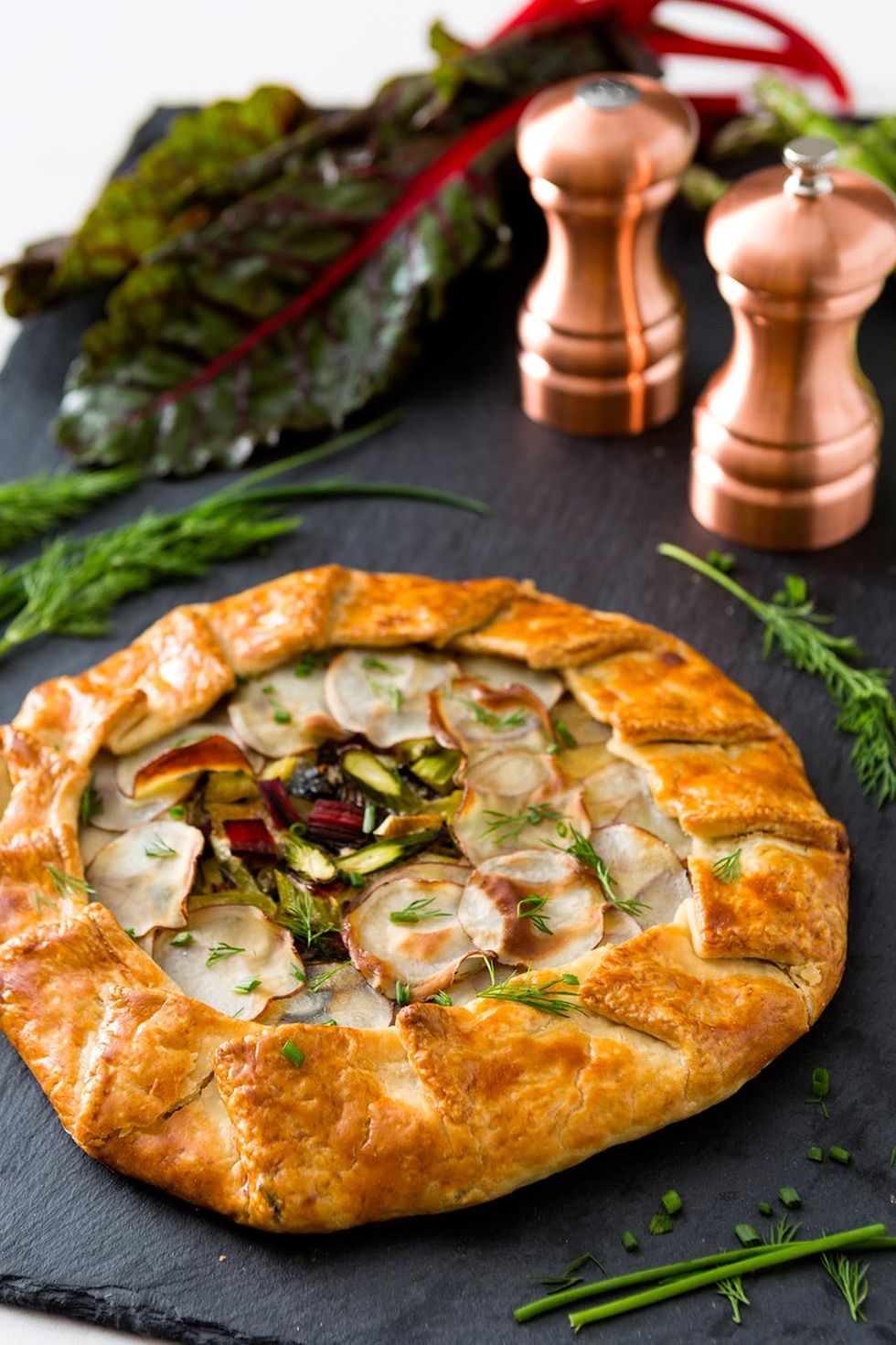 Take a look at that golden brown crust. It's sooooo good.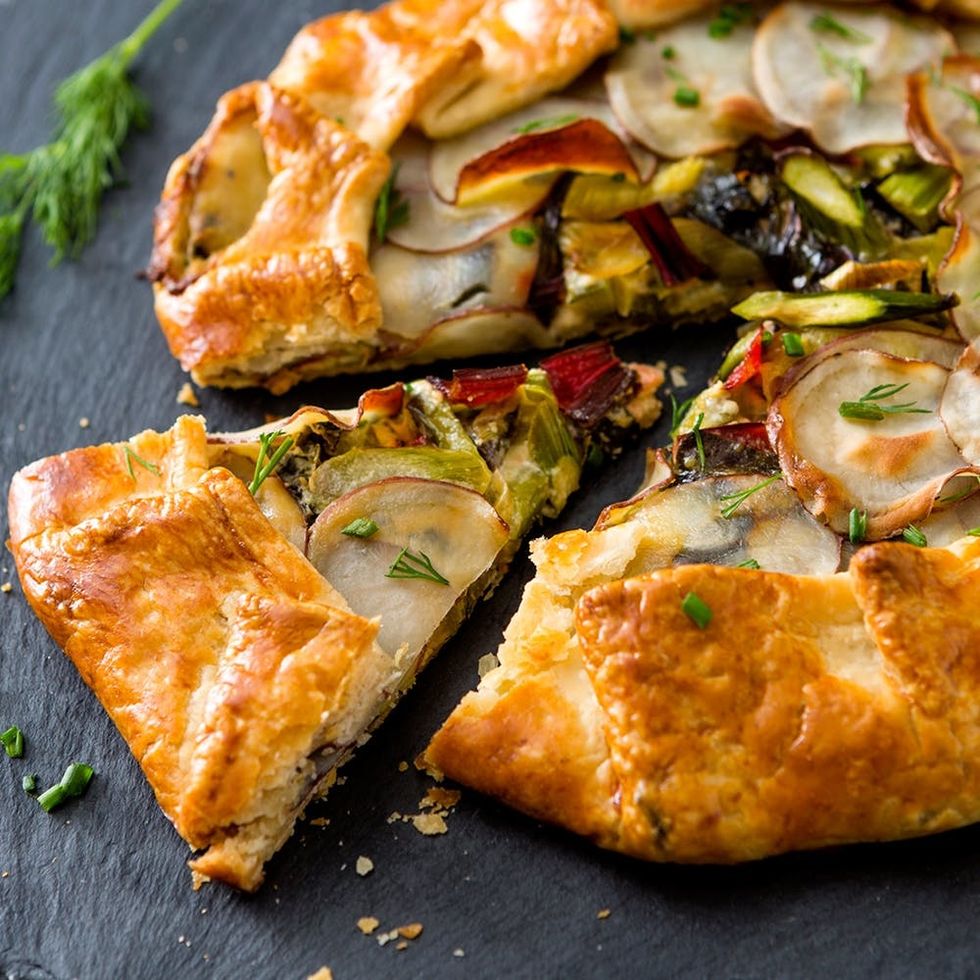 This galette is colorful, tasty, and incredibly easy to make. It's also a GREAT way to make use of vegetables that are on their way out.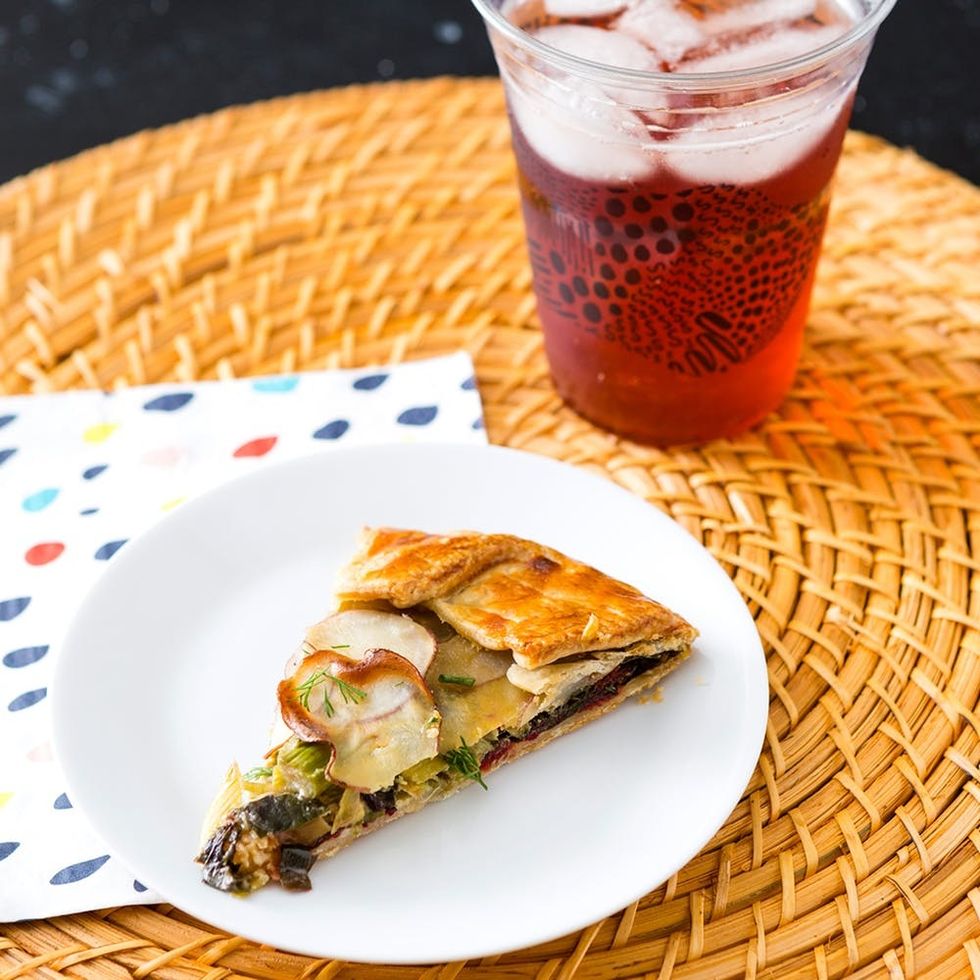 Cut off a slice and get ready to dig in! This looks especially good paired with our Brit + Co for Cheeky® line of disposable goods available at Target and online.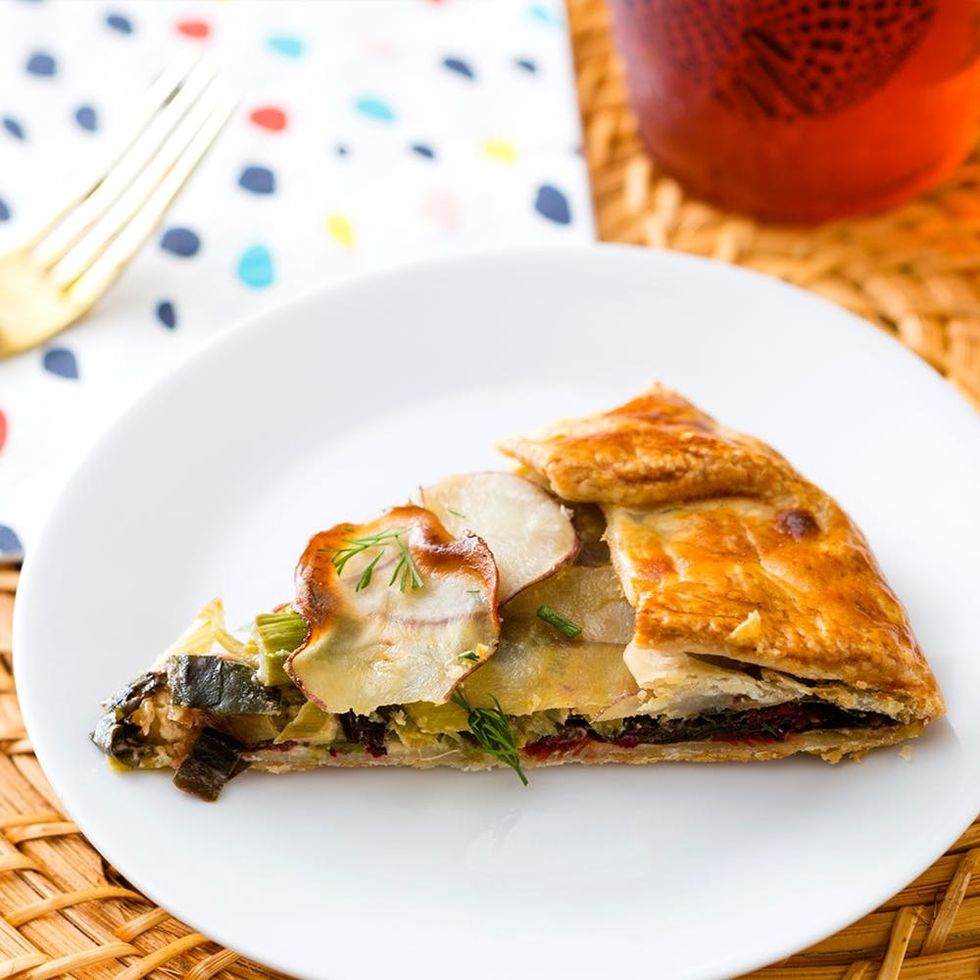 I don't know about you, but I'm ready to eat. CHEERS!
What are you making with this season's freshest produce? Look for more recipe inspo on our Pinterest page.
Photography: Kurt Andre
Lindsay Saito
As a Creative Content Producer at Brit + Co, Lindsay is a mover and shaker—cooking, crafting and creating—all day, every day. While away from the office, you can find her adventuring, looking for magical moments and eating tacos.
Recipes