Tatyana Ali Debuts Baby Bump AND Totally Non-Traditional Engagement Ring
Apr 02, 2016
Admit it, '90s girl: You were just as obsessed with the Fresh Prince of Bel Air as we were. While Will Smith was his usual charming self on the show and Alfonso Ribeiro's Carlton and Karyn Parsons' Hilary Banks were genius comic relief, it was probably Tatyana Ali playing Ashley Banks who you related to the most. Well, now Tatyana Ali is all grown up — and at last night's Black Girls Rock! event, she proved it by showing off her adorable baby bump AND new non-traditional engagement ring from fiancé Dr. Vaughn Rasberry.
Thanks so much everyone for all the well wishes!!! Looks like this is going to be a really full year 😍 pic.twitter.com/Edb7gTBjB5

— Tatyana Ali (@TatyanaAli) April 1, 2016
---
Surrounded by intricate gold metalwork, the ring's stone appears NOT to be the usual giant diamond celebs are so obsessed with (*cough cough* Ciara). Upon closer examination, we suspect it's either a pearl or an opal. Let's take a closer look, shall we?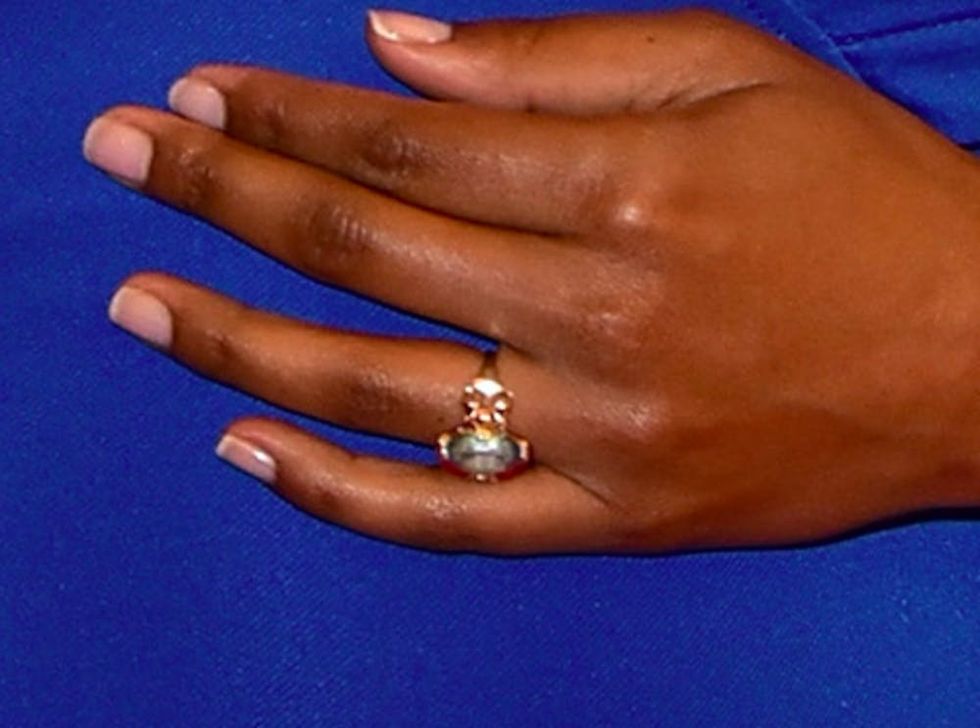 What do you think? Opal? Pearl? Something else? At any rate, we're loving the totally unique ring — a fresh departure from the usual giant diamond.
Tell us your stone theories @britandco!
(Photo via Brian Killian/Getty Images)
Kelli Korducki
Kelli is Brit + Co's Senior News Editor. Her interests include sensible footwear and glasses that take up 25 percent of her face.
Celebrity News