Tuesday's Tech of the Week: Wedding Edition
May 01, 2012
Yesterday we served up a brand spankin' new way to create beautiful and social wedding websites with our very first Brit & Co. app, Weduary. And last week we brought you the "Just Engaged" Toolkit for on-the-go crafting and beauty. It only makes sense that we take today to share our favorite digital tools for planning your perfect big day.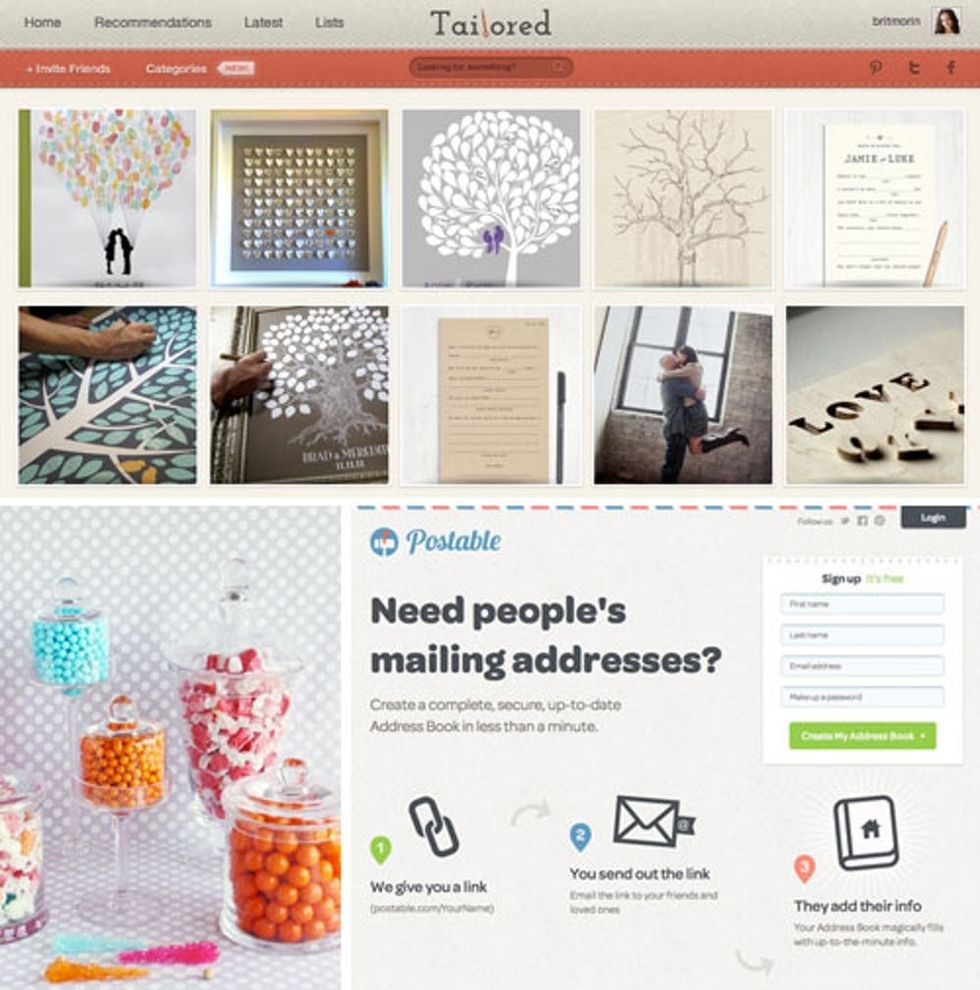 ---
If you've been following us for a while, you've already seen our posts on Tailored (Pinterest for weddings), Our Favorite Online Party Stores, and Postable (the easiest way to collect addresses online), but our friend the Internet's got a few more marital tricks up its sleeve.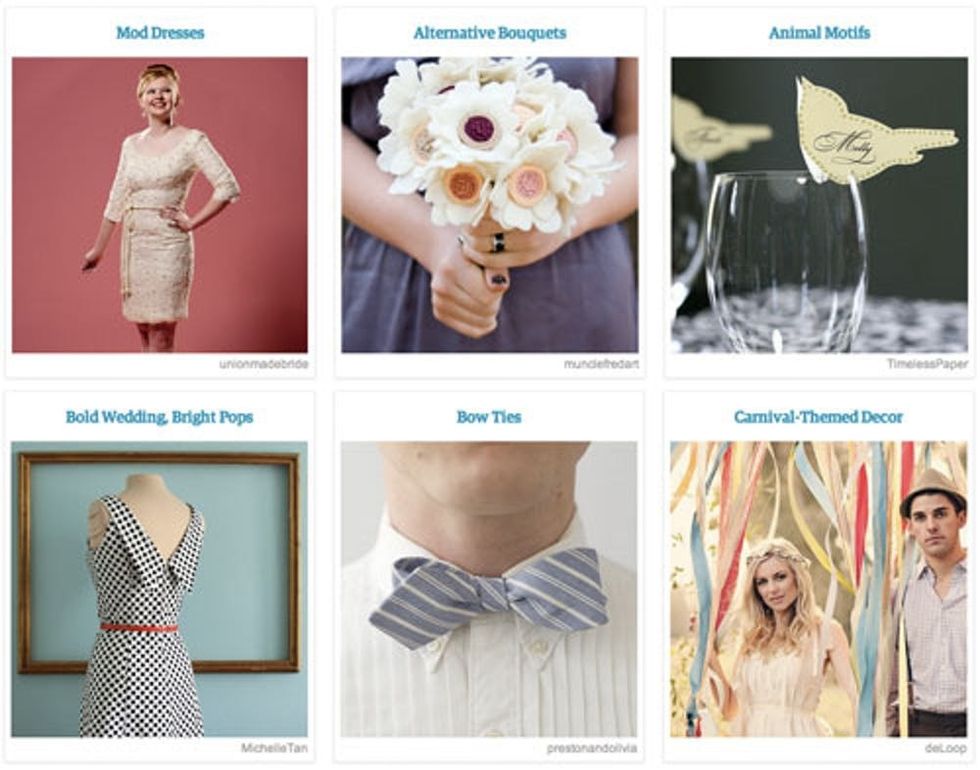 That's right. Etsy has officially launched a Weddings portal and it includes a totally customizable Registry! We are pumped. Etsy has quickly become a go-to for crafty DIY-loving brides over the last few years, and the new Weddings zone embraces and enhances that. Check out trends from non-traditional hairstyles to mod dresses to alternative bouquets, and get inspired for your big day.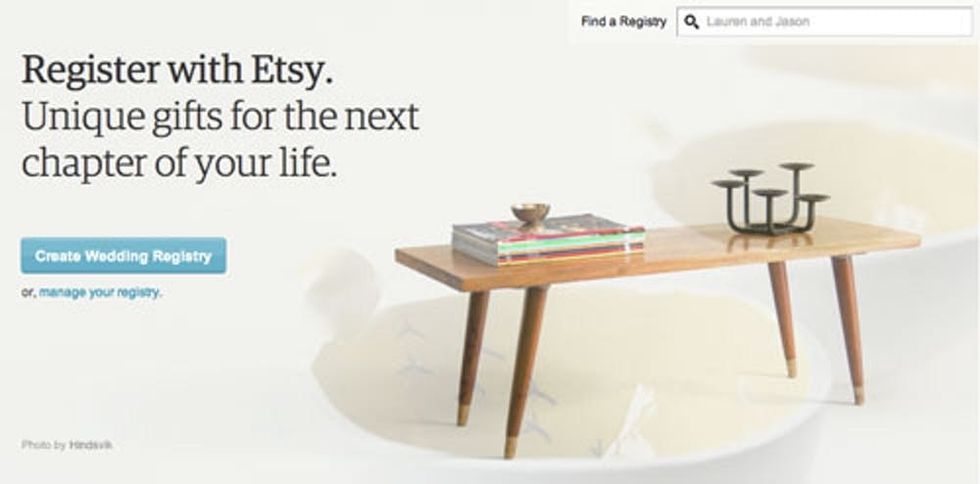 The registry makes it super easy for couples to choose gifts that match their personal taste, decor, and lifestyle. From customized art pieces to vintage kitchen items, you can happily say goodbye to yet another high end toaster. Not only will this make the gifts you give and receive much more unique and personal, but it's sure to bring a whole new slew of shoppers to Etsy's site.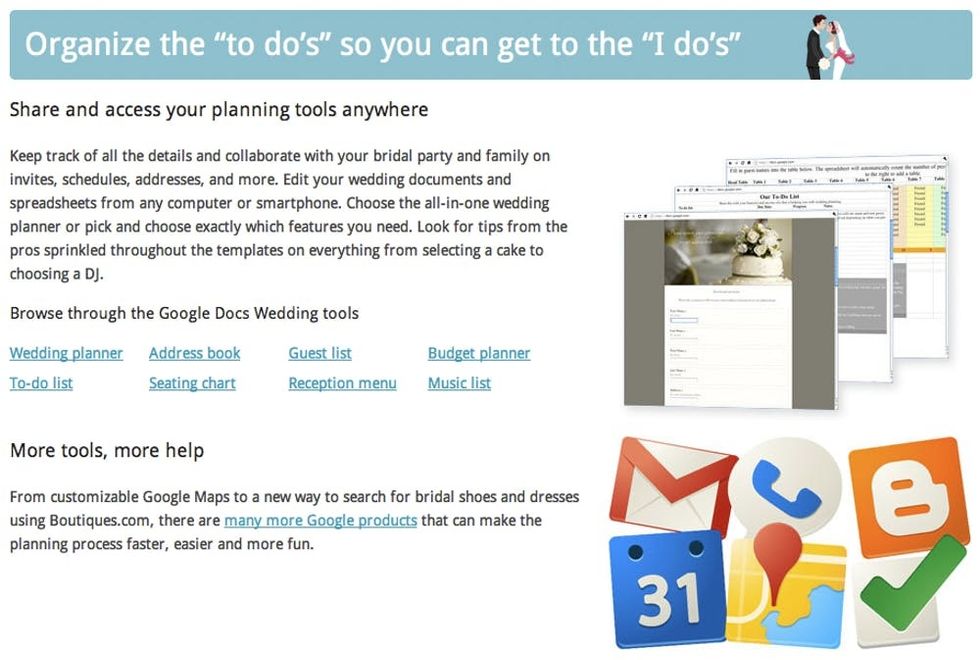 Google Docs for Weddings 
We use Google Docs for keeping track of just about everything here at Brit HQ and party planning is no exception. Lucky for brides and grooms, Google has a specific section devoted to all things wedding! From creating a simple website (though you should obvs be using Weduary for this!) to planning your budget, seating chart, guest list, and customizing maps for your events, Google Weddings will cater perfectly to folks who love to stay organized.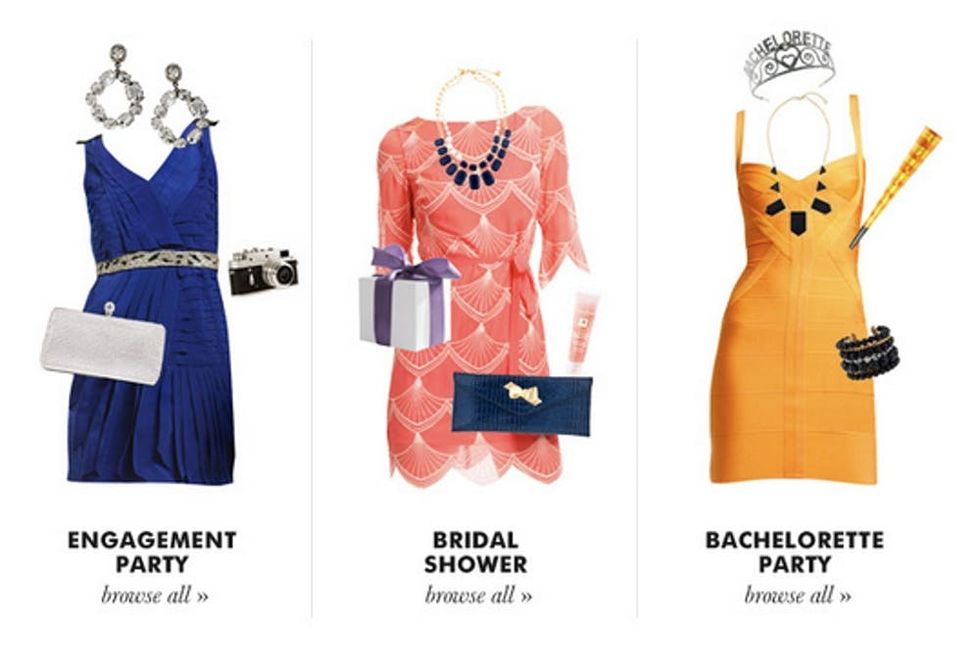 Rent the Runway
So, you just got engaged? Get ready to dress to the nines on a sometimes-more-than-monthly basis because you are about to throw, attend, and try to reschedule a whole lot of events where you're the guest of honor. You've got engagement drinks with friends, the official engagement party, high school girls brunch, college girls drinks, bachelorette party, and we haven't even gotten to the weekend of the wedding! Rent the Runway offers designer dresses for rent at a fraction of the retail price, and will guarantee your belle of the ball status at every event.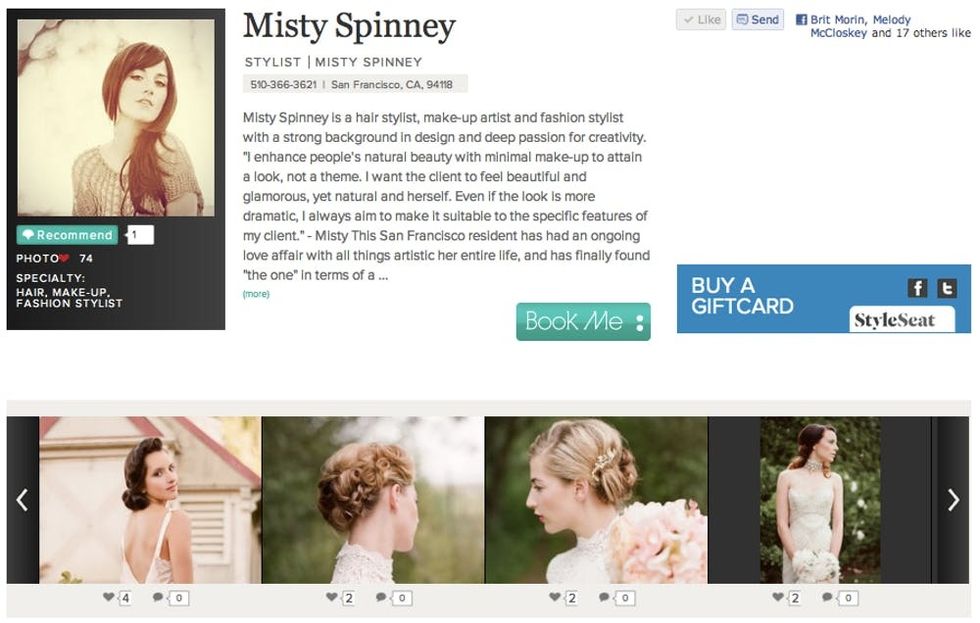 It's never too early to start thinking about the hair and makeup styles you want to rock on your big day. StyleSeat gives you access to the profiles and portfolios of stylists across the country, so not only can you get inspired but you can book someone as soon as you find one you like! And if you're in the Bay Area, be sure to check out Brit Resident Stylist Misty Spinney's rockin' profile.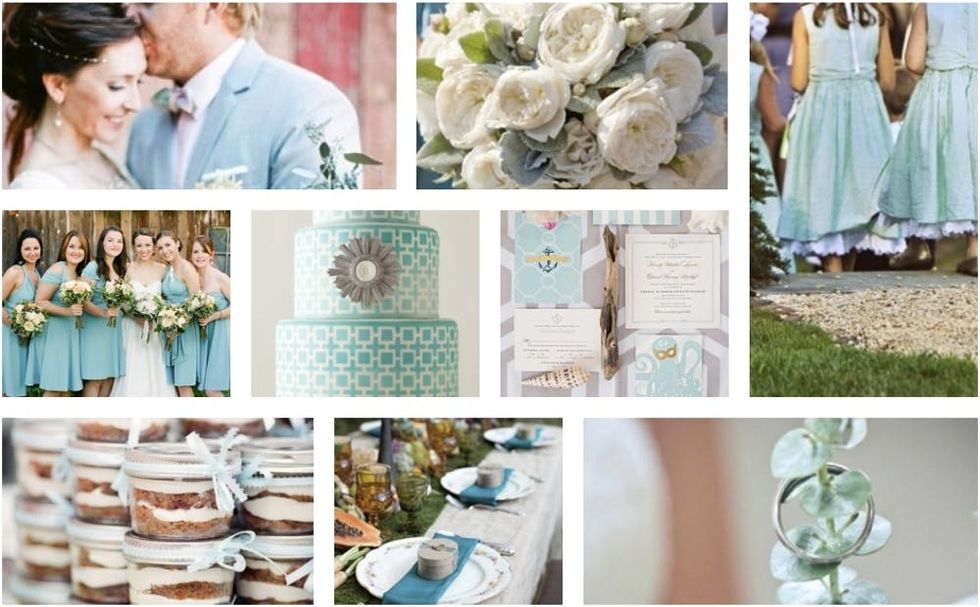 Lover.ly 
Sure, it's got that whole Pinterest thing going on, but one thing we love about Lover.ly is that it looks much more like a visual mood board than a bulletin board. And the thing we love the most? You can search by COLOR. Yes, color! It's a great way to limit the visuals being thrown at you, and can help you further define your wedding palette. (Related: Check out last week's post on Type and Color for more unique ways to construct color palettes.)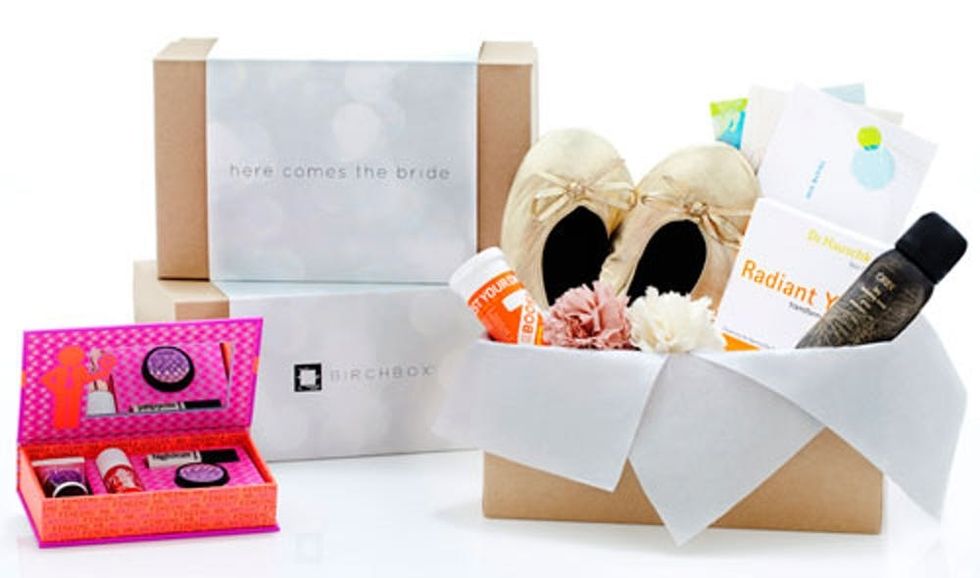 Birchbox Bridal Beauty Game Plan: Not really an online tool, but a solid list, this game plan from Birchbox outlines how to maintain that blushing bride glow throughout your engagement, wedding, and honeymoon. This is also a pretty good time to subscribe to Birchbox so you can try out all sorts of unusual and awesome beauty products before your big day. And if you're the maid of honor, go ahead and order the "Here Comes the Bride" box of goodies for the bride ASAP.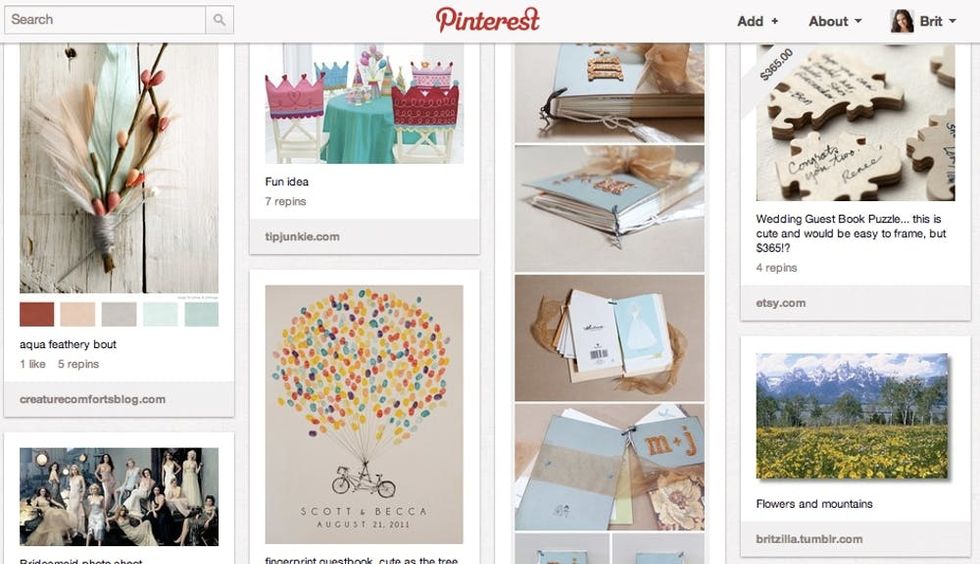 Pinterest: Last but certainly not least, Pinterest! If you just got engaged and haven't yet signed up for Pinterest, now is the time! It can be bit of an overload at times, but is the perfect place to stow away all those bits and pieces of wedding inspiration you find online.
For more wedding tips from our founder, Brit Morin, check out her series this week on Birchbox. And if you've got any wedding problems that need solved, DIY projects you'd like to share, or questions about our new app, Weduary, leave us a note in the comments below or find us on Twitter. (Computer + Wedding Rings Image Source: Tecca)
Anjelika Temple
As Chief Creative Officer and Founding Partner at Brit + Co, Anjelika Temple brings her voracious consumption of all things creative and colorful to DIY projects, geeky gadgetry finds and more. When she's not DIY-ing her heart out, you'll find her throwing dinner parties with friends or adventuring with her husband David, their daughter Anokhi, and their silly dog Turkey.