Is the Vitro the Prettiest and "Smartest" Phone Case Ever?
Apr 04, 2013
Are you one of those people who always has their phone out at the dinner table and during meetings? It's okay, I'm just as guilty. Of course, digital etiquette would prescribe that you should put your phone away completely so that you have 100% of your attention on the people around you, but if you are too tied to your gadgets, the next best idea is keep your phone turned over so it's not lighting up with notifications every five seconds.
If keeping your phone turned over still freaks your Type-A digital self out for fear of missing an important notification, you might want to check out our newest digital find, the Vitro, a sleek case for your phone that acts as both a battery charger and messenger. It can keep your phone charged up and is also able to send visual notifications each time you get a text message, phone call, calendar alert, or social media notification. While still in the conceptual design phase, we're hopeful this gizmo could come to life in the near future.
---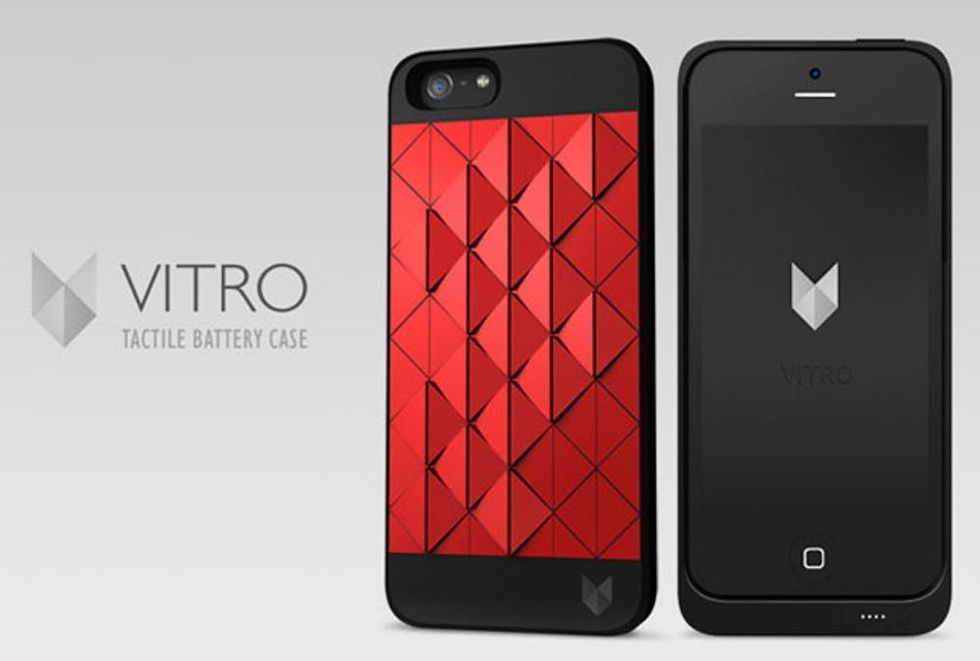 At first glance, this may only look like a cool geometric design on a rechargeable iPhone case, but when you look closer, you can see that those diamond shapes actually MOVE. Woah! Your phone is alive!
So how does it work? The surface consists of 23 movable tiles, creating a whole new form of communication between you and your phone. Through the Vitro notification center, you can enable the case to react to different notifications in different ways.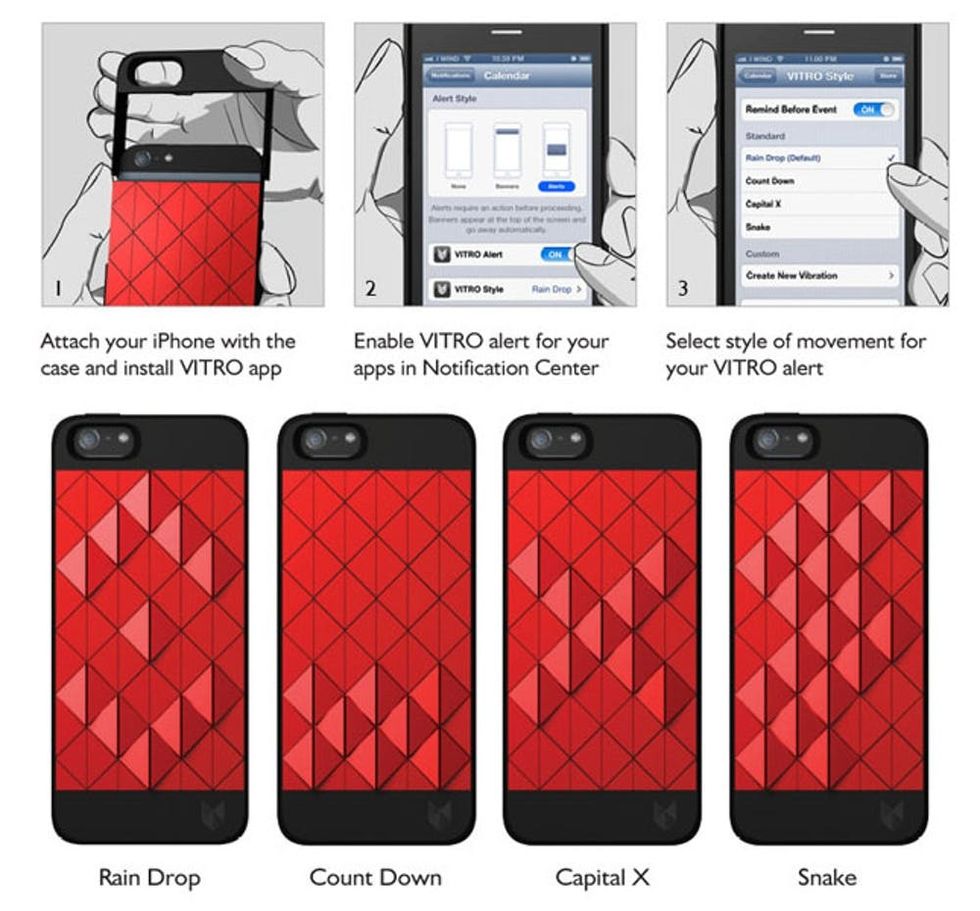 As seen in the image above, you can customize the shapes the tiles make for different types of alerts. For example, if you wanted to know when you have a calendar alert, you could select the Count Down option and watch as the tiles slowly move down the phone. Rain Drop seems like a good one for an alert when you're receiving a phone call, and, of course, the Snake could work for all social media alerts.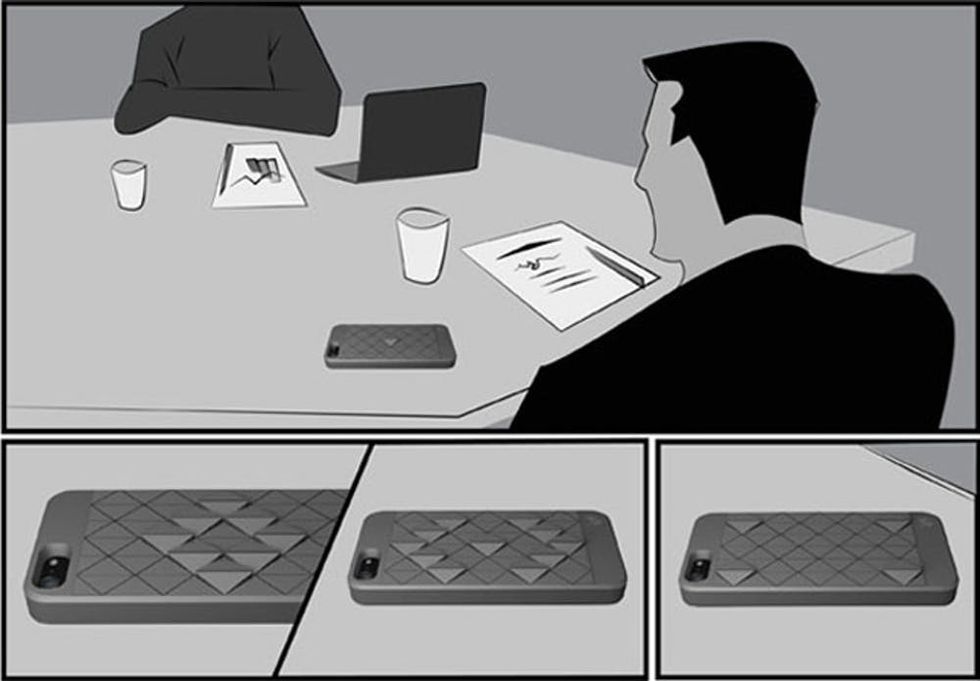 Not only can you see the movement of the case on a flat surface, but you can also feel it change shapes even if the phone is in your pocket.

Like any good case, the Vitro is designed to come in a whole range of colors – we particularly love the pink and purple option. For other applications, it has the potential to move to music, can be used to simulate movements in games, and might even be a new way to take a selfie. The case is powered by the battery within it, which also serves as a way to recharge your phone. Definitely a prettier option than the Mophie.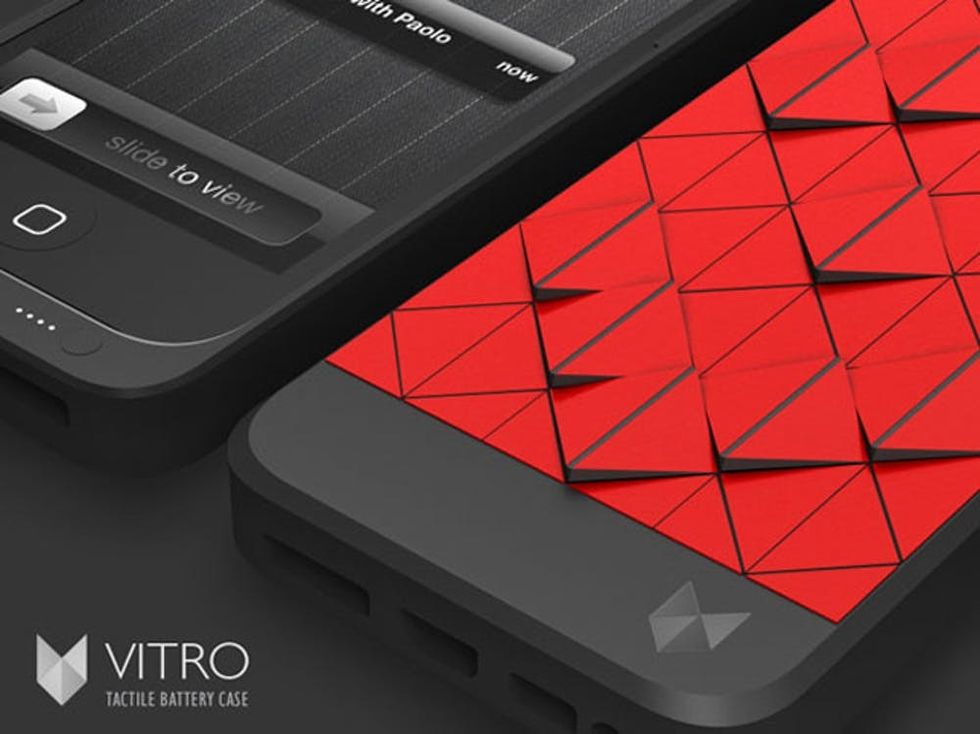 The question is, is it less rude to have a case that gently moves on the table in a meeting or at dinner? Or has it became socially acceptable to deal with a little buzz now and then?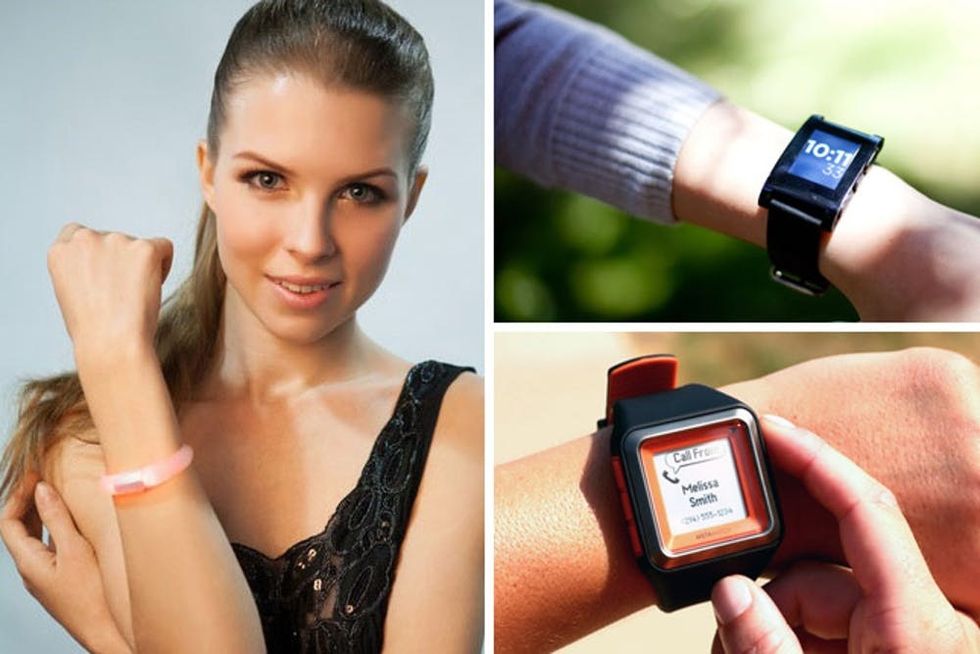 We're always on the hunt for gadgets that improve our digital lives and this is a space we're particularly interested in watching as it seems like a problem quite a few innovators are aiming to solve. New gadgets such as the Pebble, MetaWatch, and EMBRACE+ are similar pieces of wearable tech that let you get notifications on your wrist through a watch face or light-up bracelet.
The nice thing about the Vitro is that it doesn't feel like an extra piece of tech you now have to wear. It attaches to your phone, and simply makes the act of notification a little less loud or obnoxious.
What phone etiquette do you think is okay when you're in a social or professional situation? Any moves that would make you think twice about the person you're interacting with? Tell us your thoughts in the comments below.