20 Unique Wedding Seating Chart Displays
Mar 28, 2016

Wedding dreams are made of flowers, flowing white dresses and a landscape ideal for photographs. The logistics, though, are what make the wedding go round. Those tiny details, like wedding signage and seating charts, will not only add a bit of order but can also add pizzazz to your big day. If you are looking for some functional yet stunning seating display ideas, the 20 choices below will inspire you and *might* make that seating chart task a little bit less stressful. Scroll on and get ready to take your reception entrance to a whole other level.
---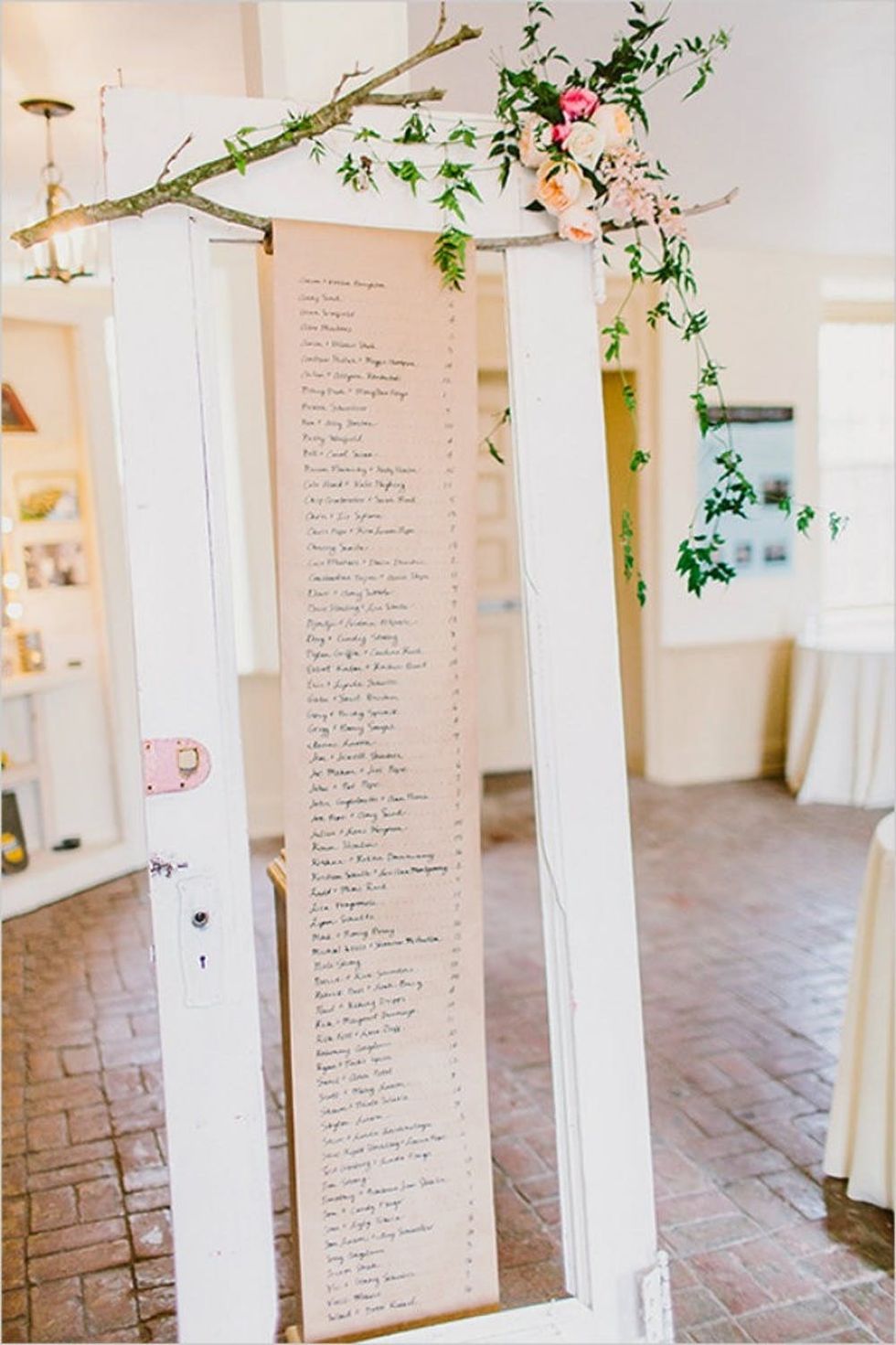 1. Nature's Scroll: A door, a branch and an antique scroll join to make this drop dead gorgeous display. This vintage creation is eclectic and has the perfect bohemian vibe to it. Guests definitely won't miss this focal piece. (Photo via Wedding Chicks / Redfield Photography)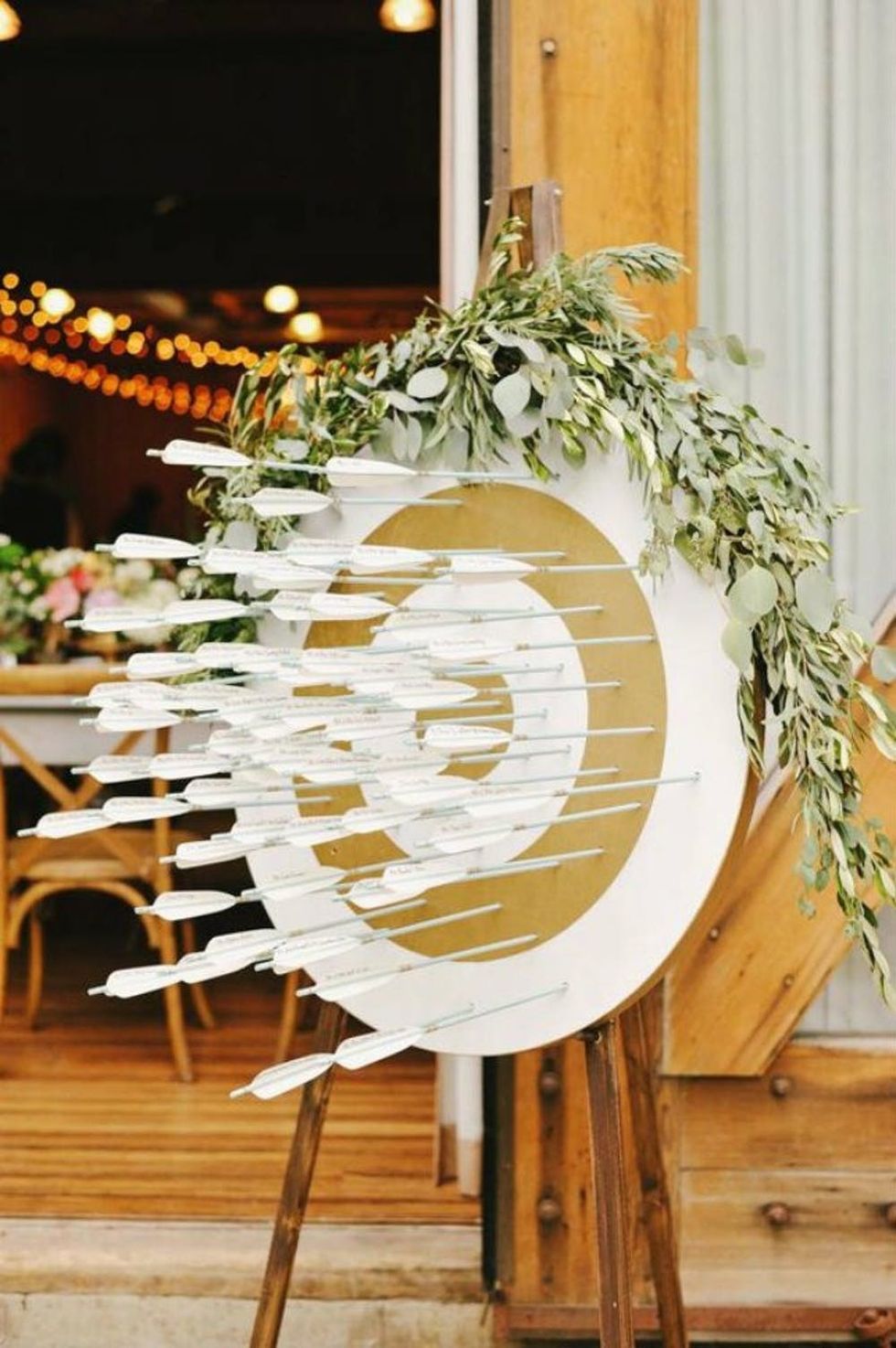 2. An Arrow Marks the Spot: Make sure your wedding decor hits the bull's-eye with this cupid's arrow seating chart. It would be beautiful at a Valentine's Day wedding or any boho-themed nuptials. (Photo via Mod Wedding / Rebekah Westover Photography)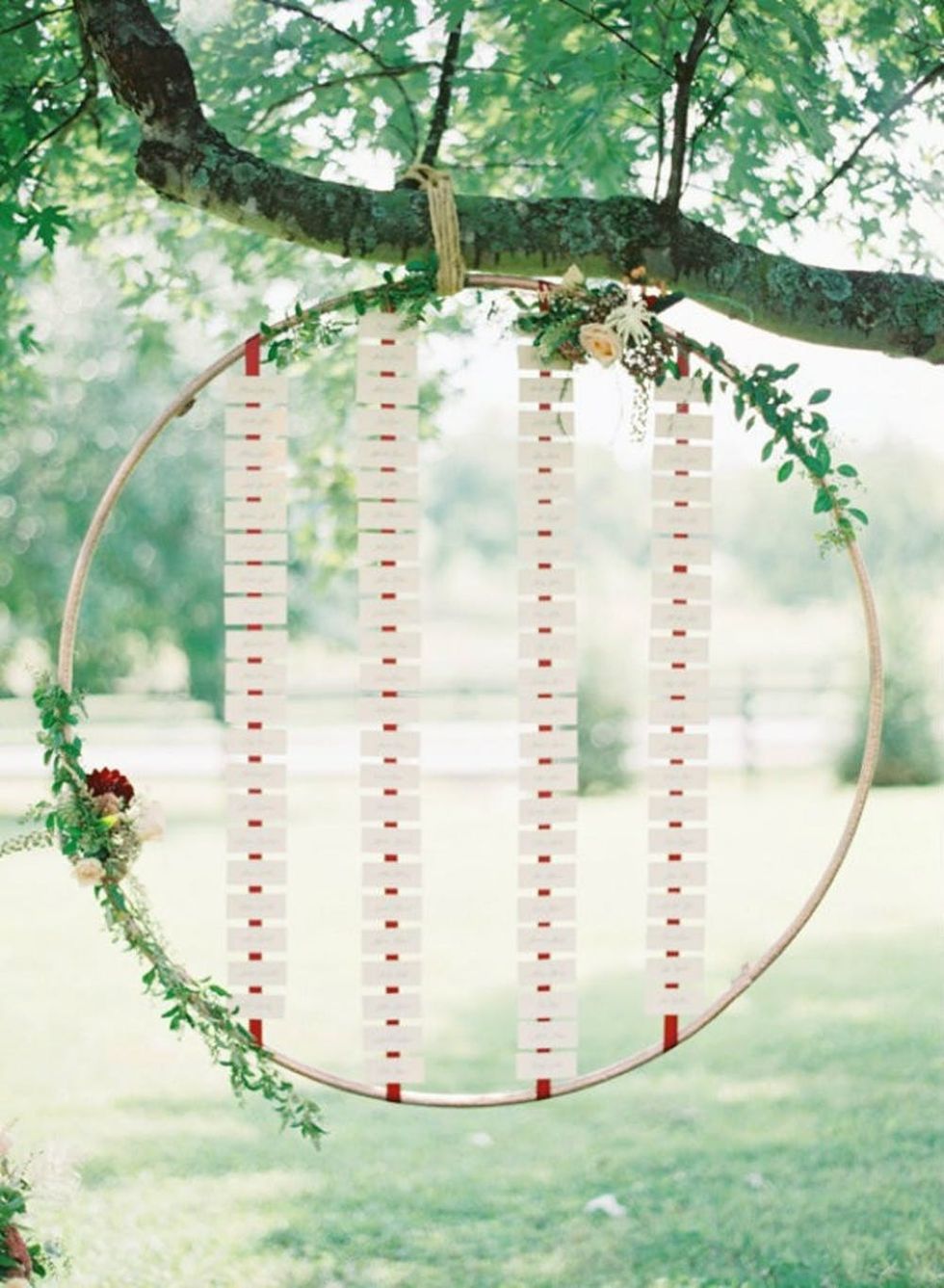 3. Love Goes Full Circle: Repurpose an embroidery hoop for a super creative and super easy seating chart! If you're having an outdoor wedding, this hanging setup would work well in any park or wooded area. Feel free to play around with ribbon and escort card color. (Photo via 100 Layer Cake / Elisa Bricker)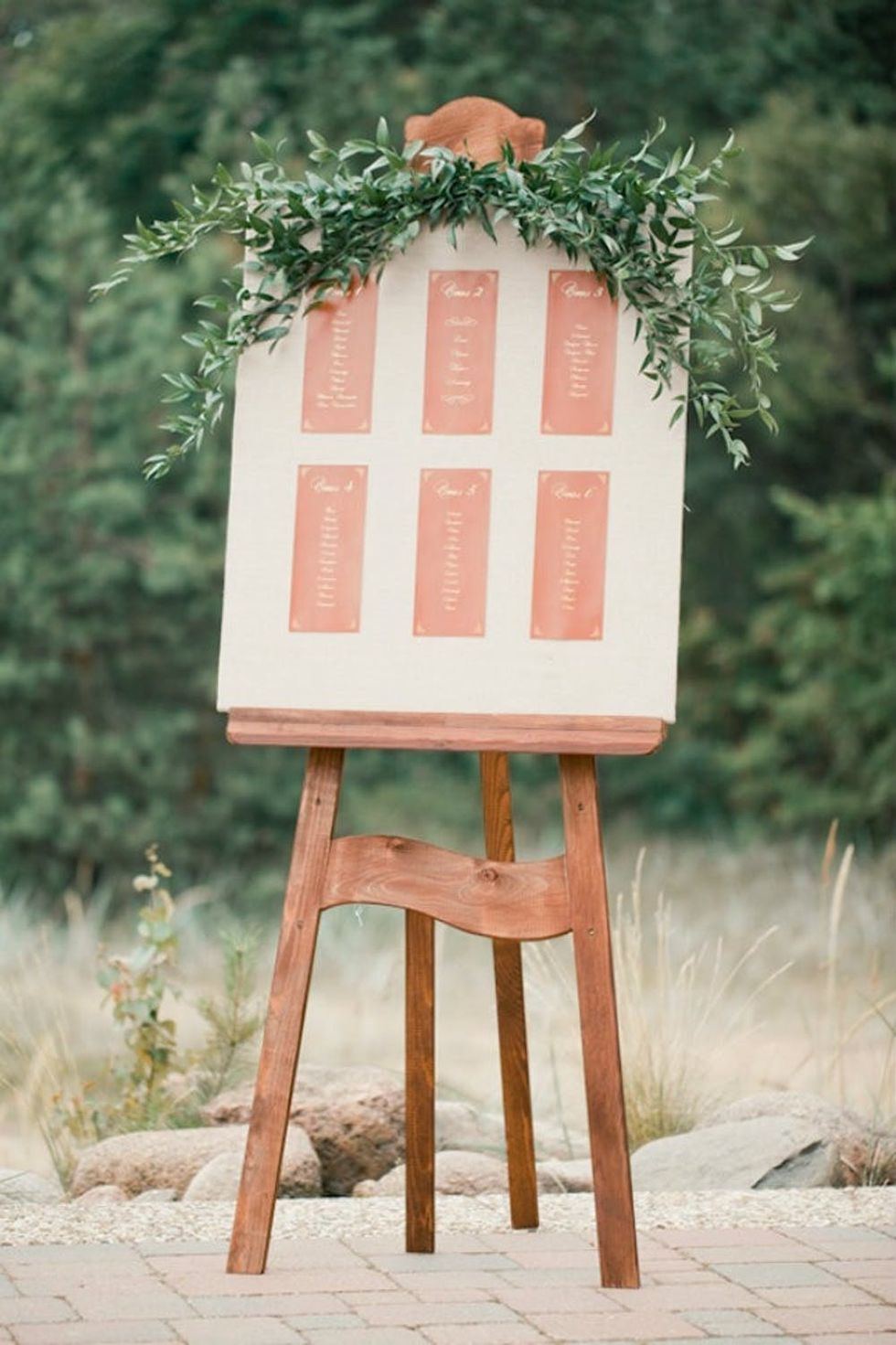 4. Earthen Inspo: Rich in color, the adobe clay and leafy green hues on this seating display are just vibrant enough to catch the eye. Create a simple board and use a sturdy easel to prop up this elegant chart outside the entrance of your reception space. (Photo via Magnolia Rouge / Anastasiya Belik Photography)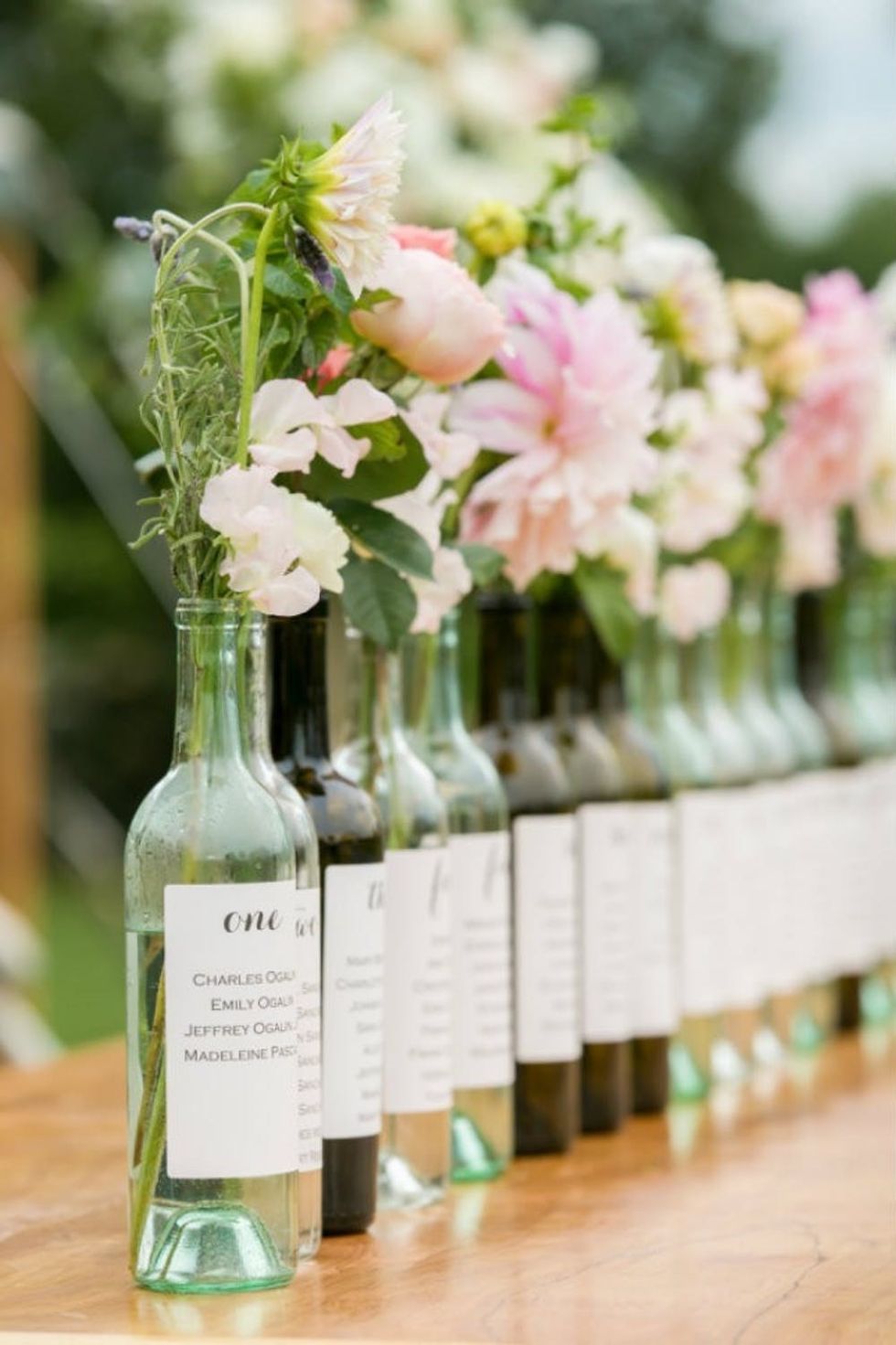 5. Bottled With Love: Whether your wedding is inspired by The Secret Garden or you're just a glutton for flowers, these escort cards are a sweet addition. Mismatch the bottles and place them on a rustic or elegant table so they really pop and grab the attention of your guests. Bonus: When guests carry these to their tables, you'll have the perfect decorations! (Photo via Style Me Pretty / Melani Lust Photography)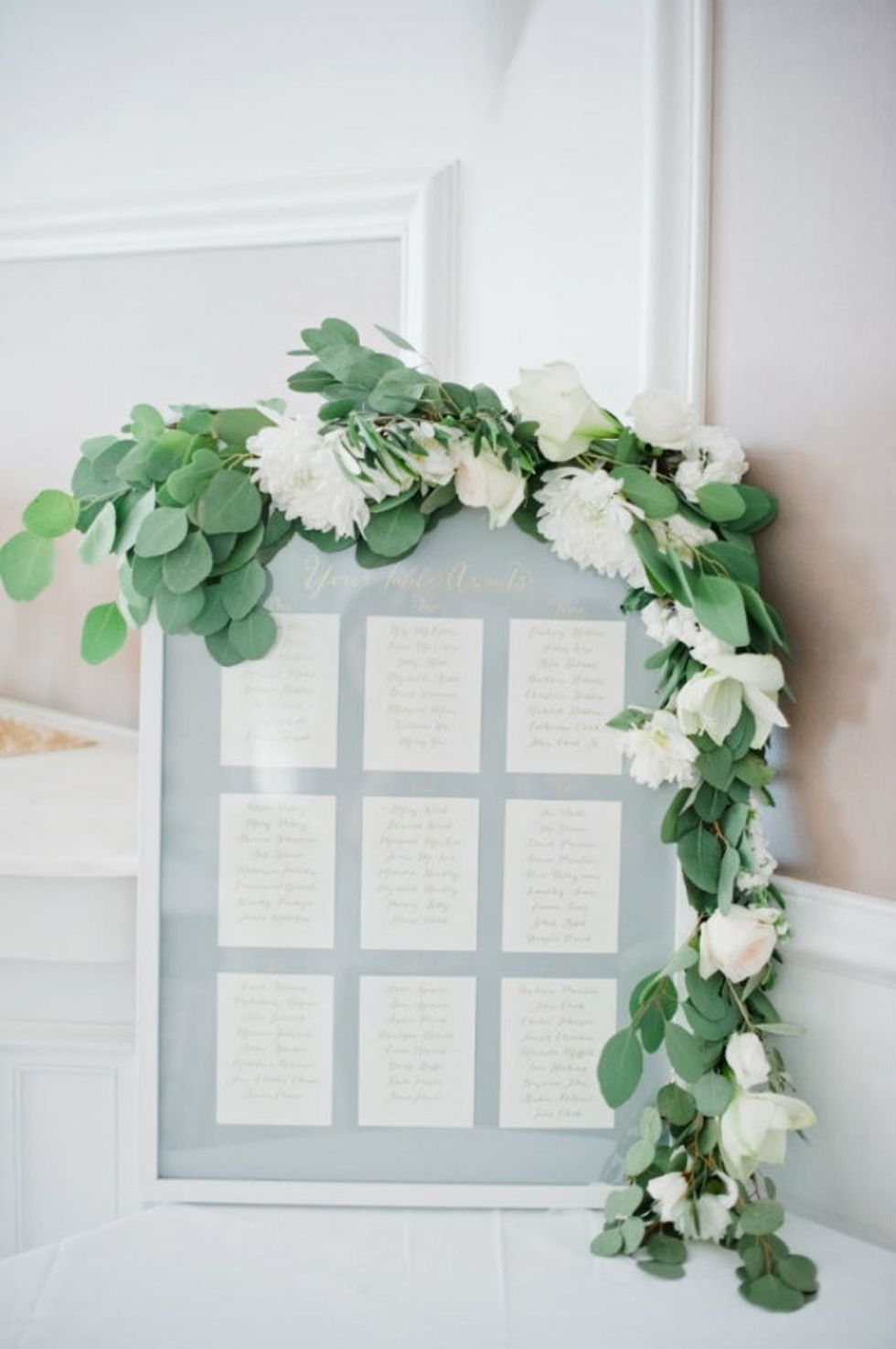 6. Through the Glass: With a few additions of flowers and calligraphy, a simple windowpane becomes a stunning display piece. Just make sure the pane is properly secured so you don't have a catastrophe on the day of the wedding. (Photo via Style Me Pretty / Dominique Bader Photography)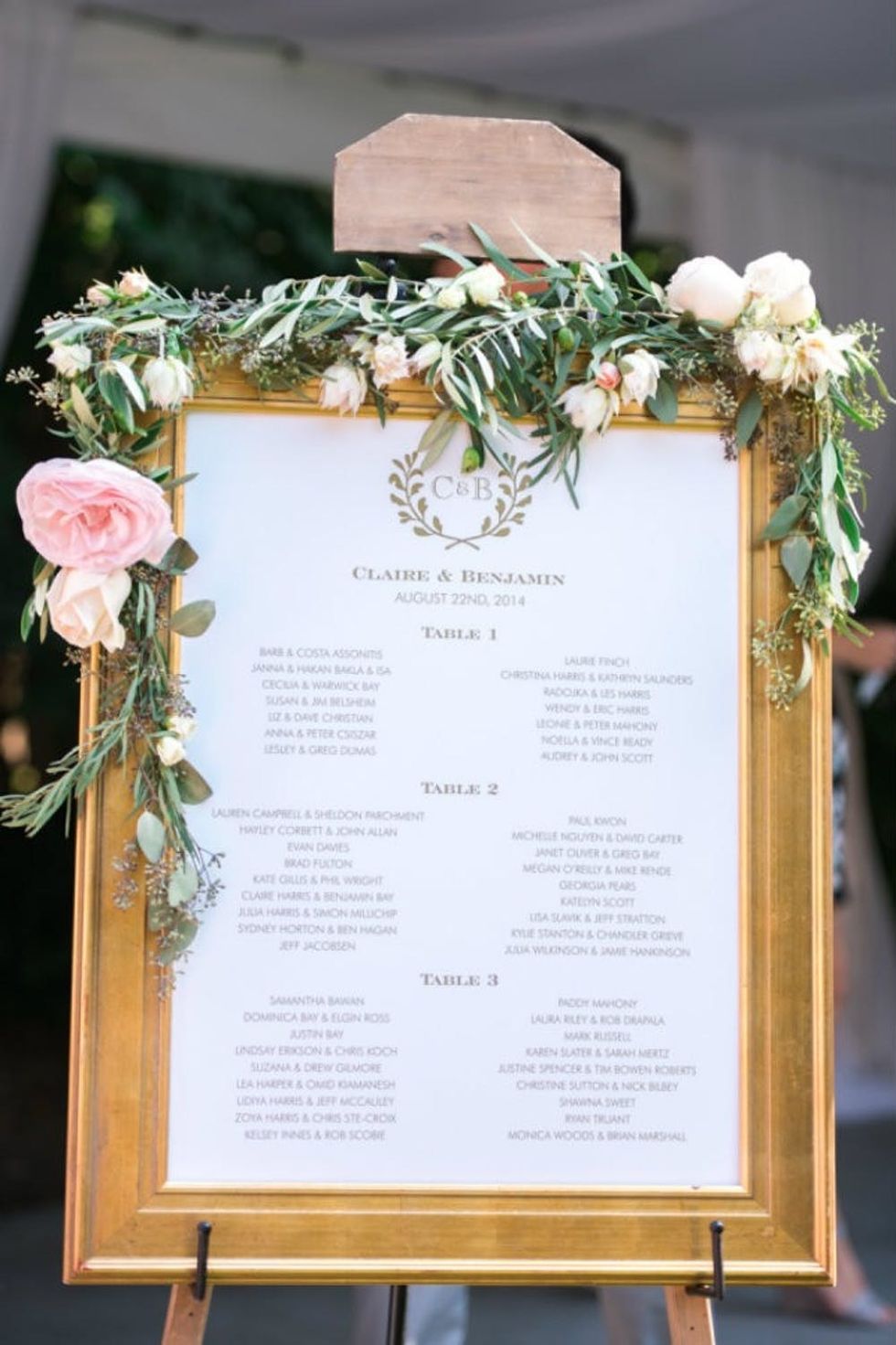 7. Framed in Gold: Metallics truly are the new black, and antique frames like this turn up at flea markets frequently. So take some of your best girls and get to rummaging! With some spray paint or lacquer, those frames will be good as new. (Photo via Style Me Pretty / Blush Wedding Photography)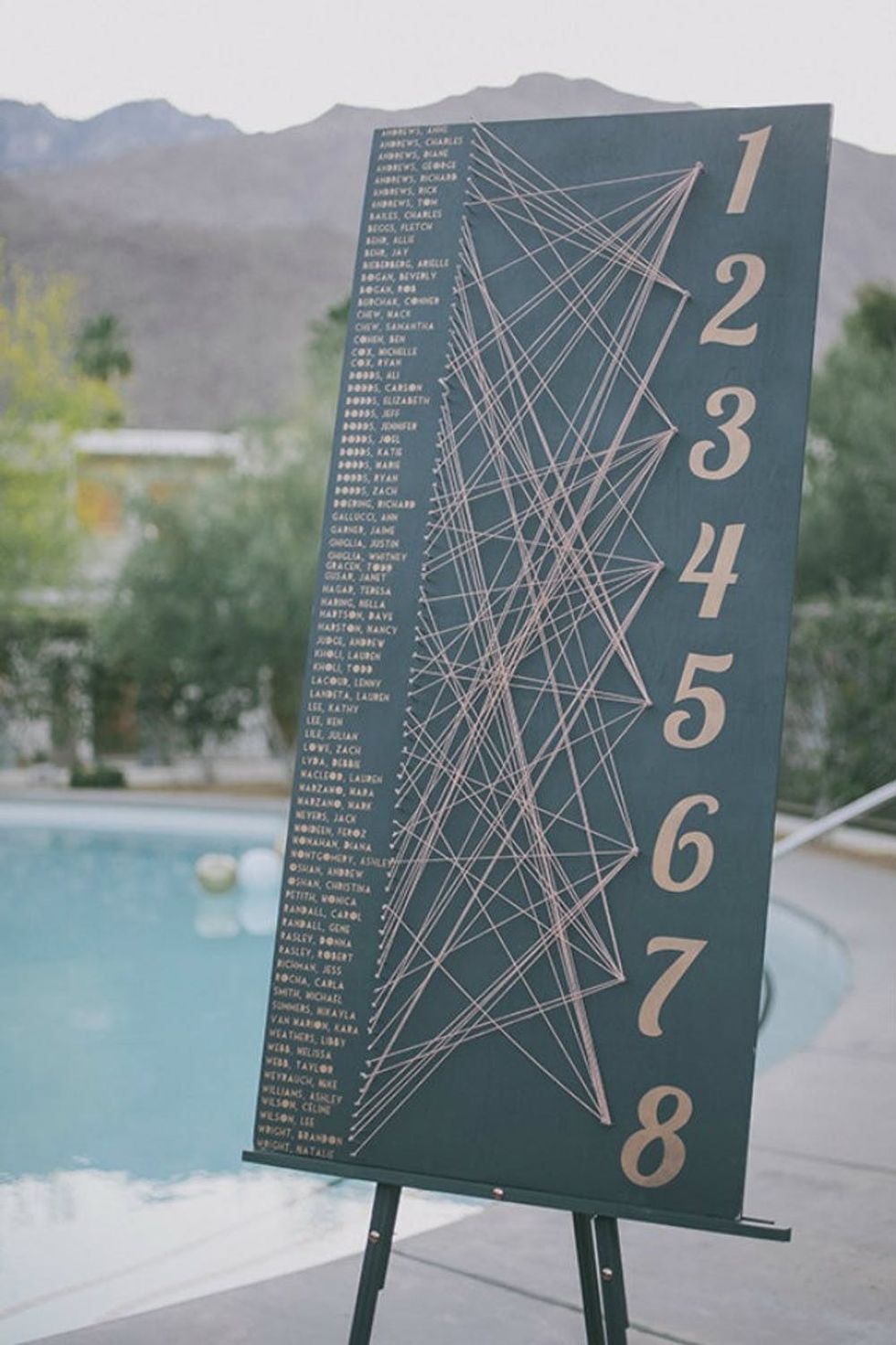 8. Modern + Fresh: Give your guests a bit of a brain workout with this string art seating display. Continue that creativity with your guest book by setting up an iPad stand nearby for guests to sign and leave their well wishes! Guests can take photos, draw pictures for you and leave you some advice for the future before making their way to their seats. (Photo via 100 Layer Cake / Edyta Photography)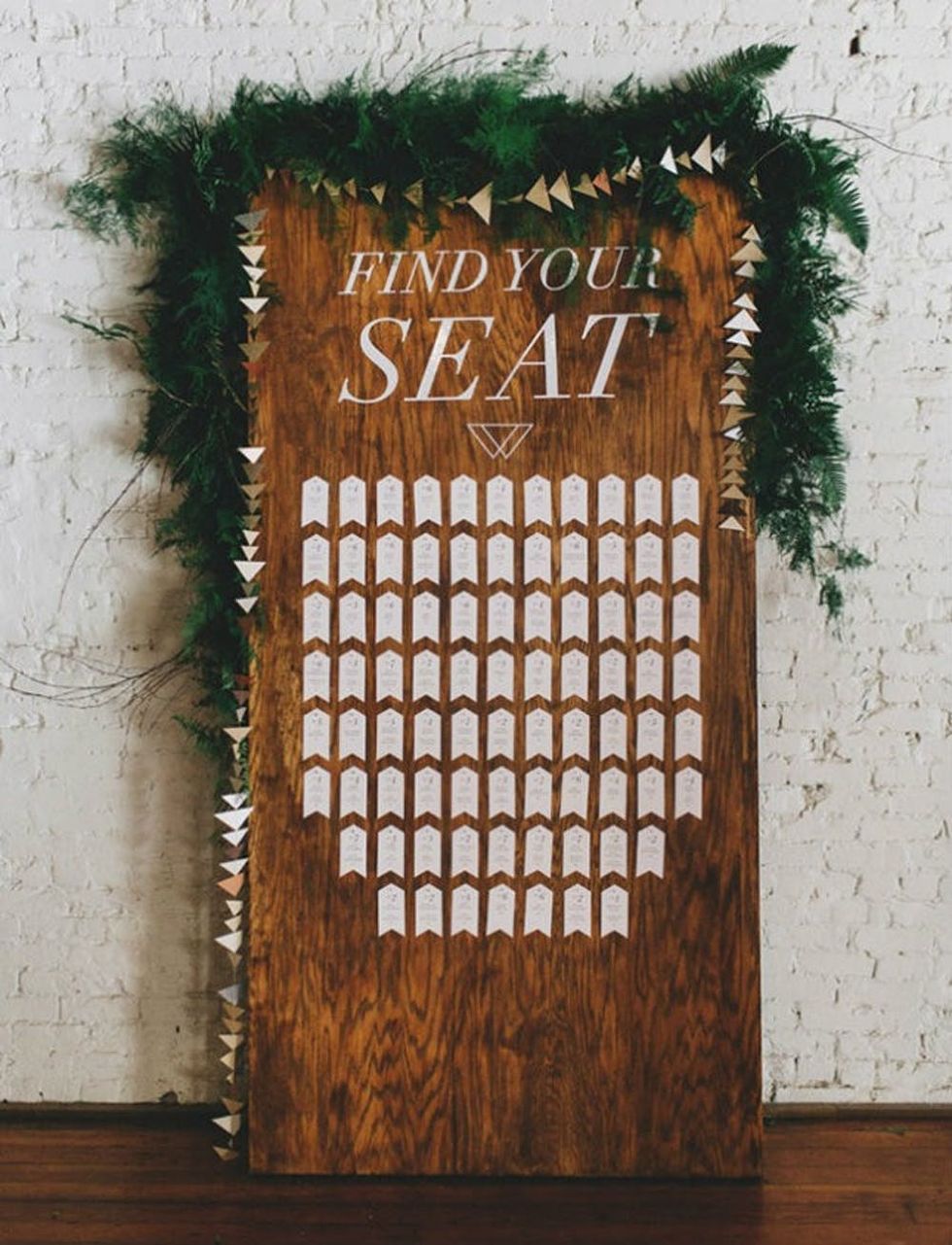 9. Woodland Creation: This whimsical wedding seating chart is the perfect combination of masculine and feminine touches. With a dark wood background, garland and greens, guests will swoon as they make their way to their tables. (Photo via Green Wedding Shoes / Hughe Forte)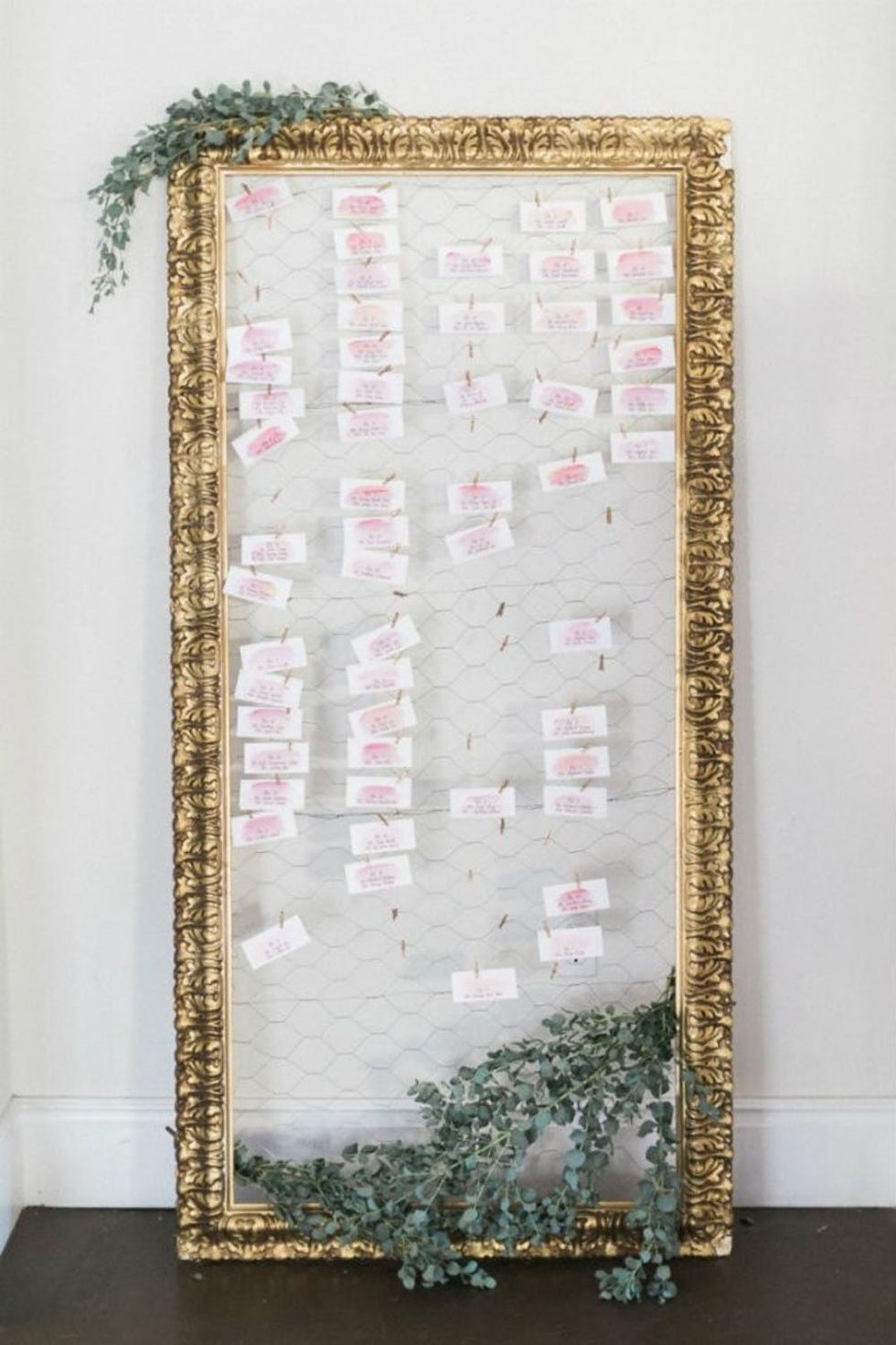 10. An Upcycle Worth Framing: With a simple swipe of a paintbrush on cardstock, you can create a beautiful escort card display just like this one. Chicken wire is very inexpensive, and gold spray paint never met a frame it didn't like. (Photo via Mod Wedding / Jeremy Chou)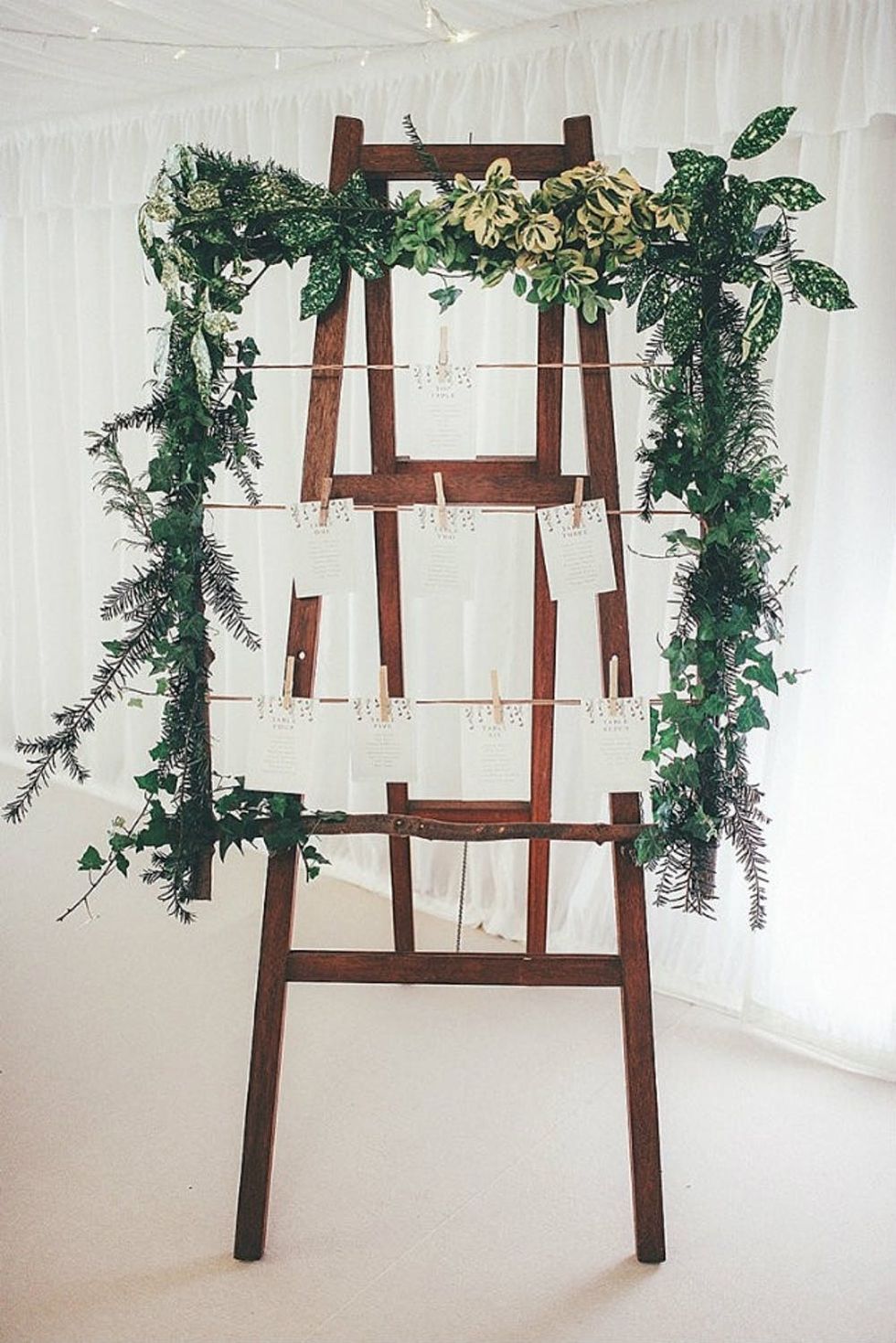 11. One Step Closer: Combine a deep wood tone with greens, and frame your seating display to create a real show-stopper. The ladder look is visually appealing and makes it easy for guests to read. (Photo via Whimsical Wonderland Weddings / Sheffield Wedding Photography)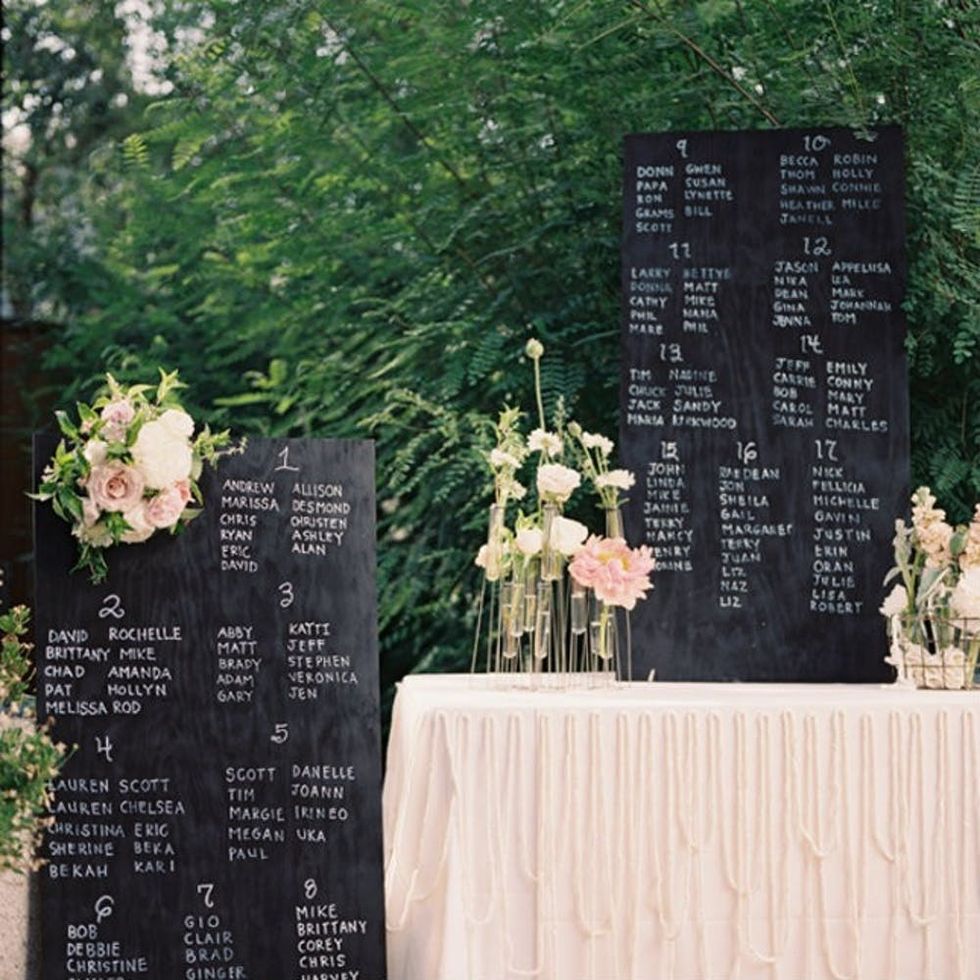 12. Chalk It up to Good Times: Chalkboards don't have to be a thing of the past. Use a real chalkboard or spray paint a framed mirror for your seating chart display. If you're looking for a smear-proof solution to chalk, try liquid chalk pens. (Photo via Snippet & Ink / Michael Radford Photography)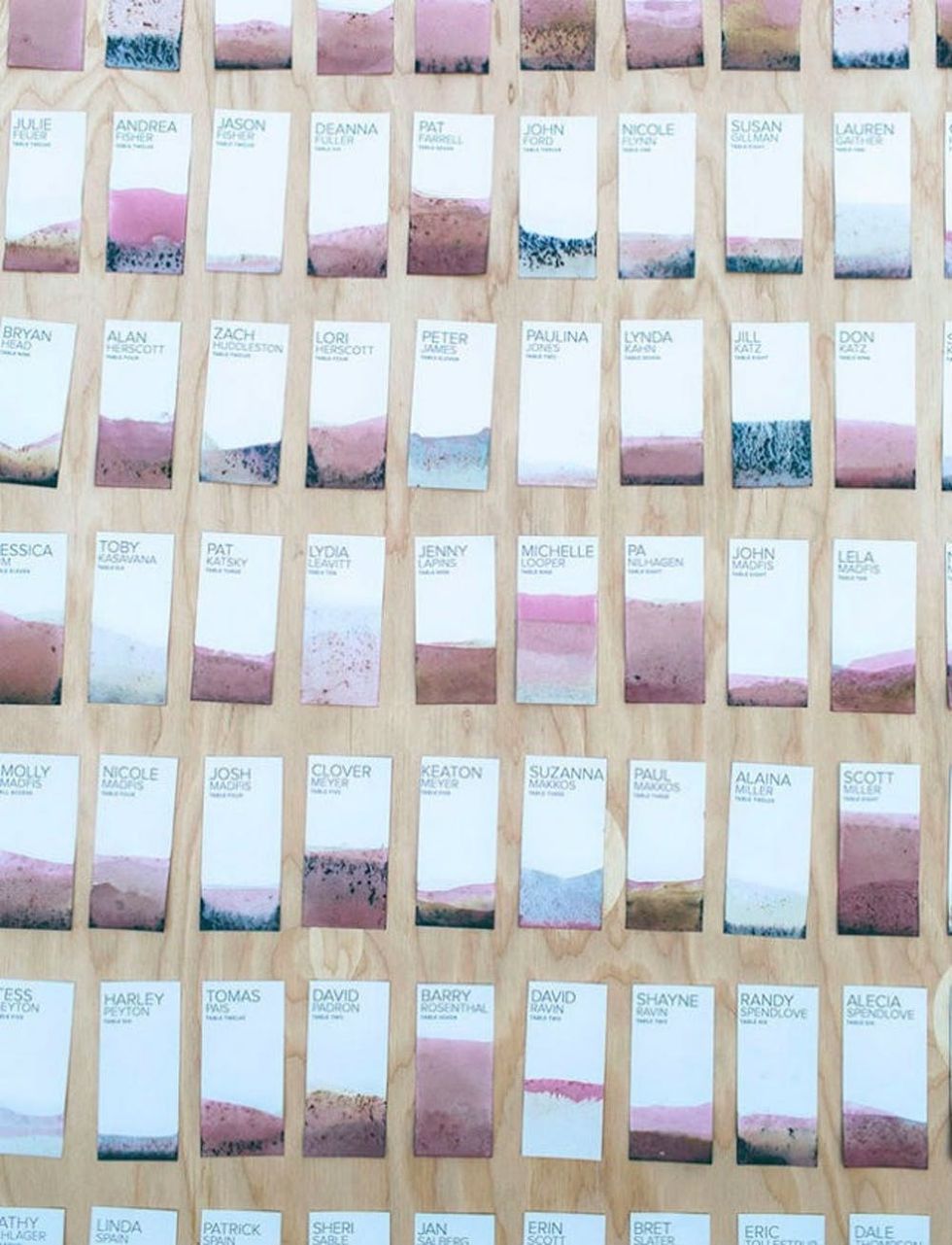 13. Dip-Dyed: Hello, gorgeous! Watercolor weddings are so captivating. Don't let that beautiful theme stop at your dip-dyed invitations and watercolor cakes though. For your escort cards, perform a simple DIY on cardstock in various colors for a unique vibe. (Photo via Green Wedding Shoes / Color Me Rad)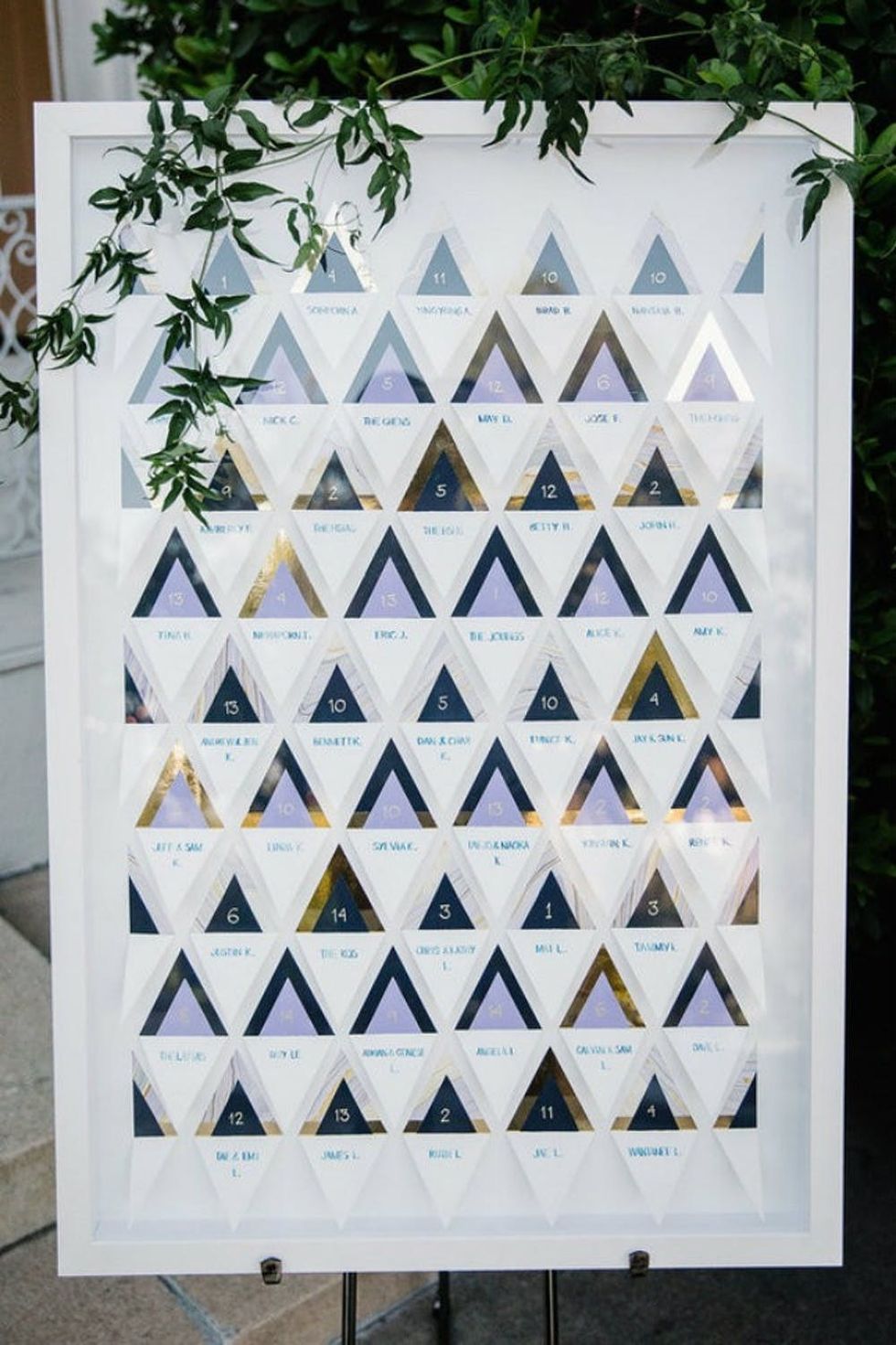 14. Shine Bright Like a Diamond: For that modern, chic wedding reception, this geometric seating display is truly eye catching. Mix and match your color theme throughout the board for more of a whimsical feel or establish a pattern for a more serious affair. (Photo via 100 Layer Cake / Gary Ashley)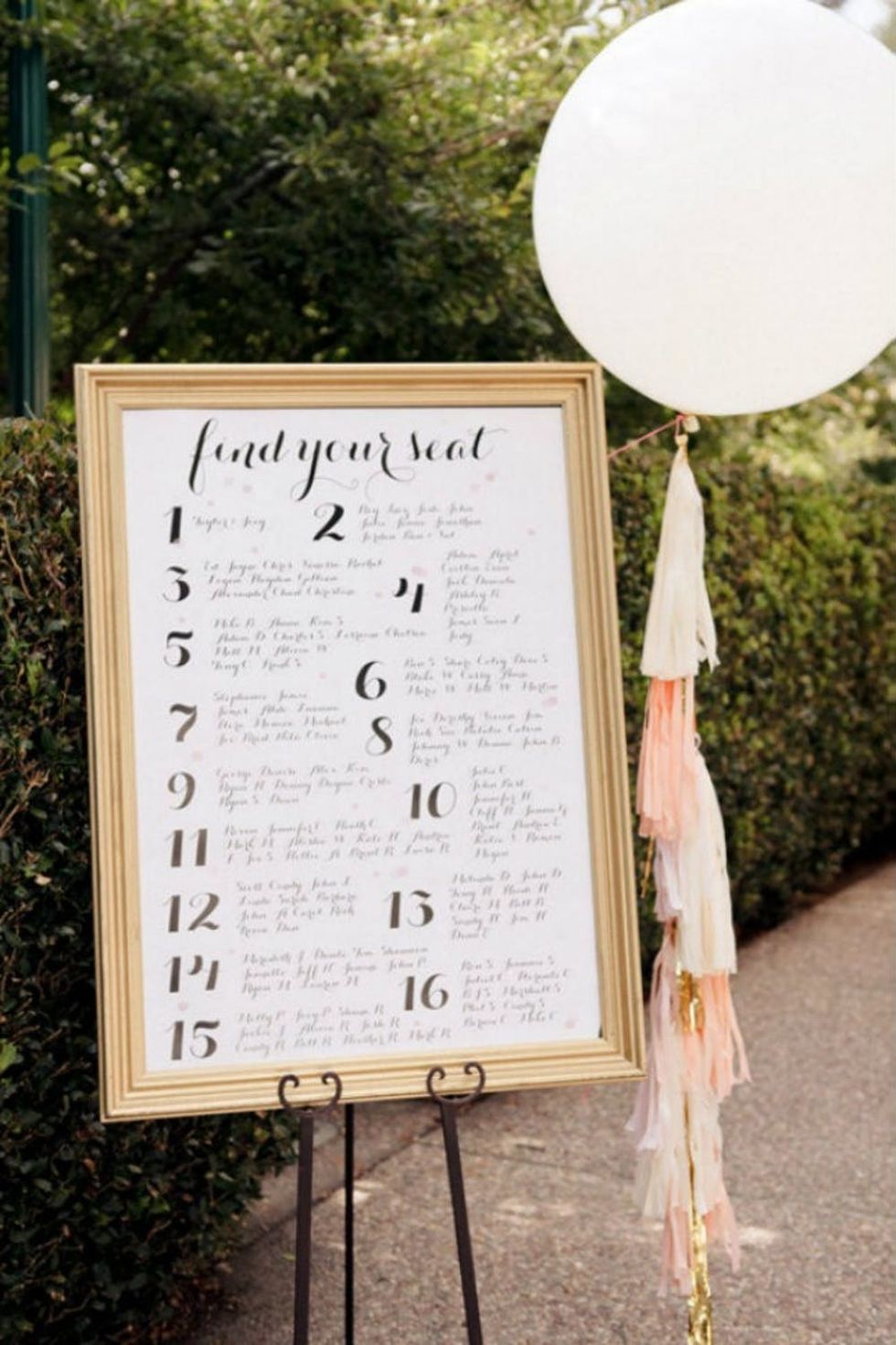 15. Lettering on Point: When in doubt, put your escort information in a frame. Organizing alphabetically by last name will help guests get through the list faster, but if you're having a more intimate celebration, you can get away with ordering by table number if you like the look of that better. (Photo via 100 Layer Cake / Edyta Photography)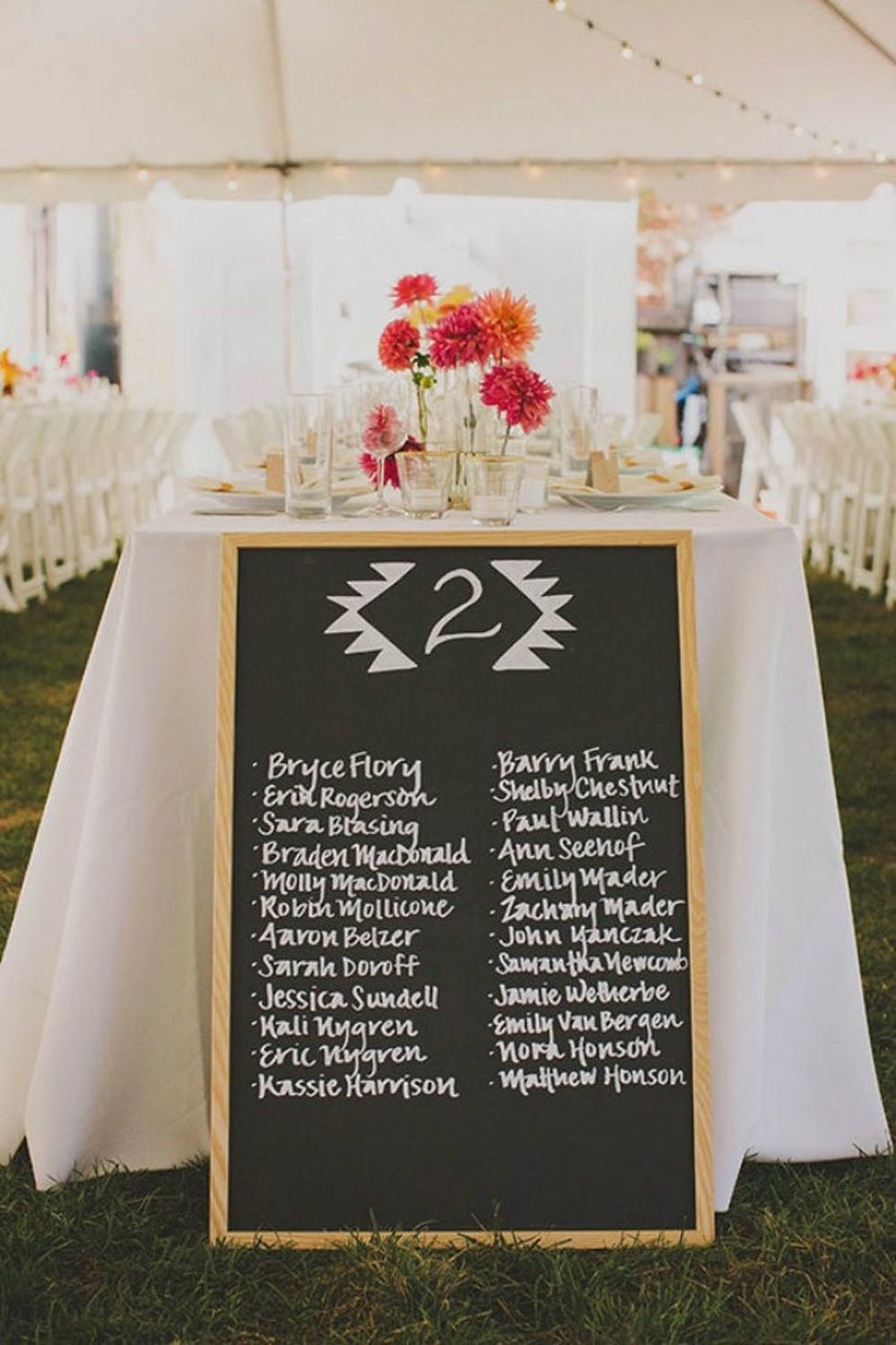 16. Escort on Hand: Sometimes in the hustle and bustle of the event, guests will blow right past your escort cards or seating chart as they walk into the reception space. If you're having a larger wedding, having a seating chart sign right at the table isn't a bad idea! (Photo via 100 Layer Cake / Les Loups)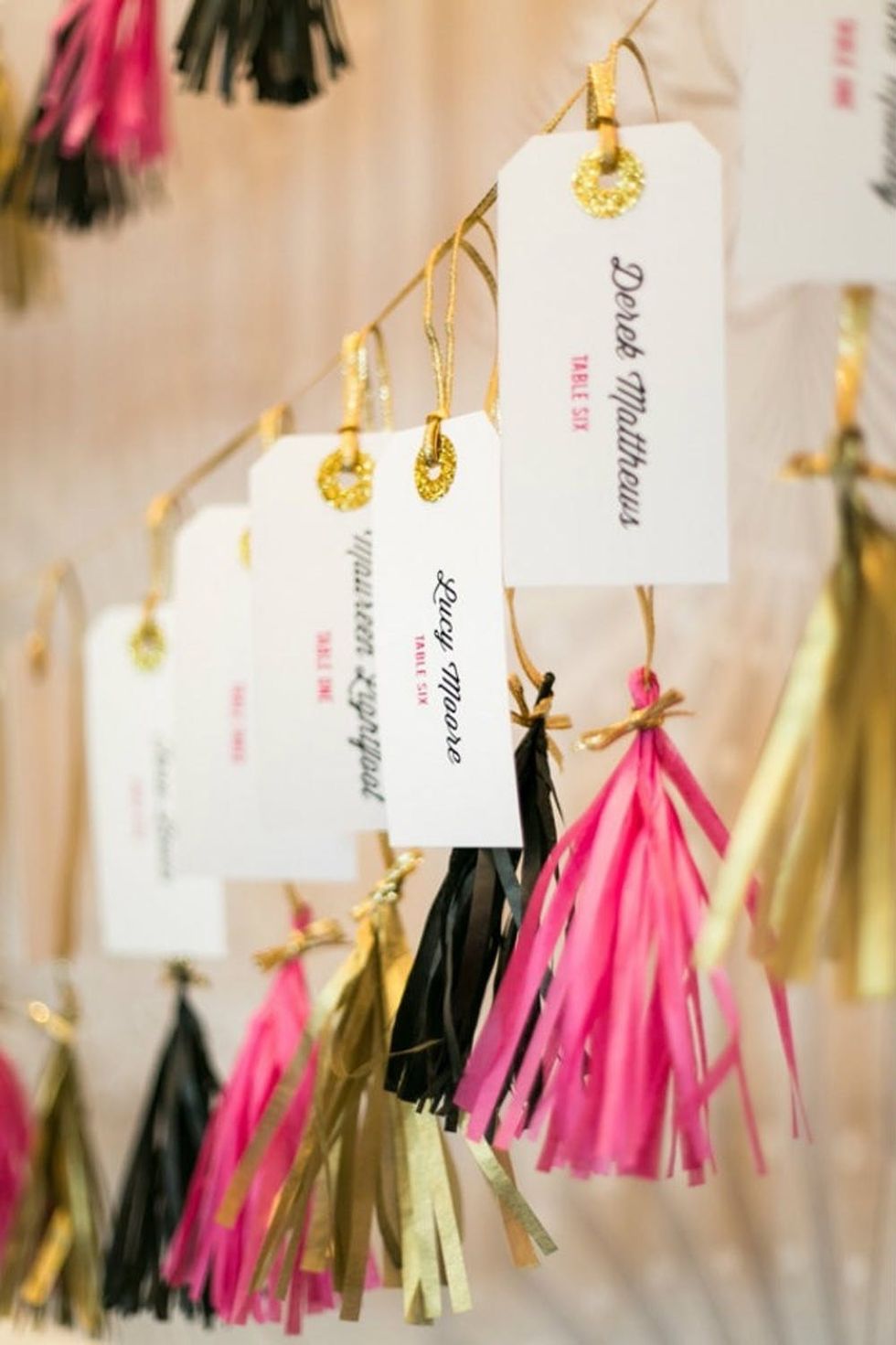 17. Tied up and Tasseled: Get your glam on with these tasseled escort cards. String them up on gold ribbon or leather strands for a creative seating chart display. (Photo via Ruffled Blog / Anneli Marinovich)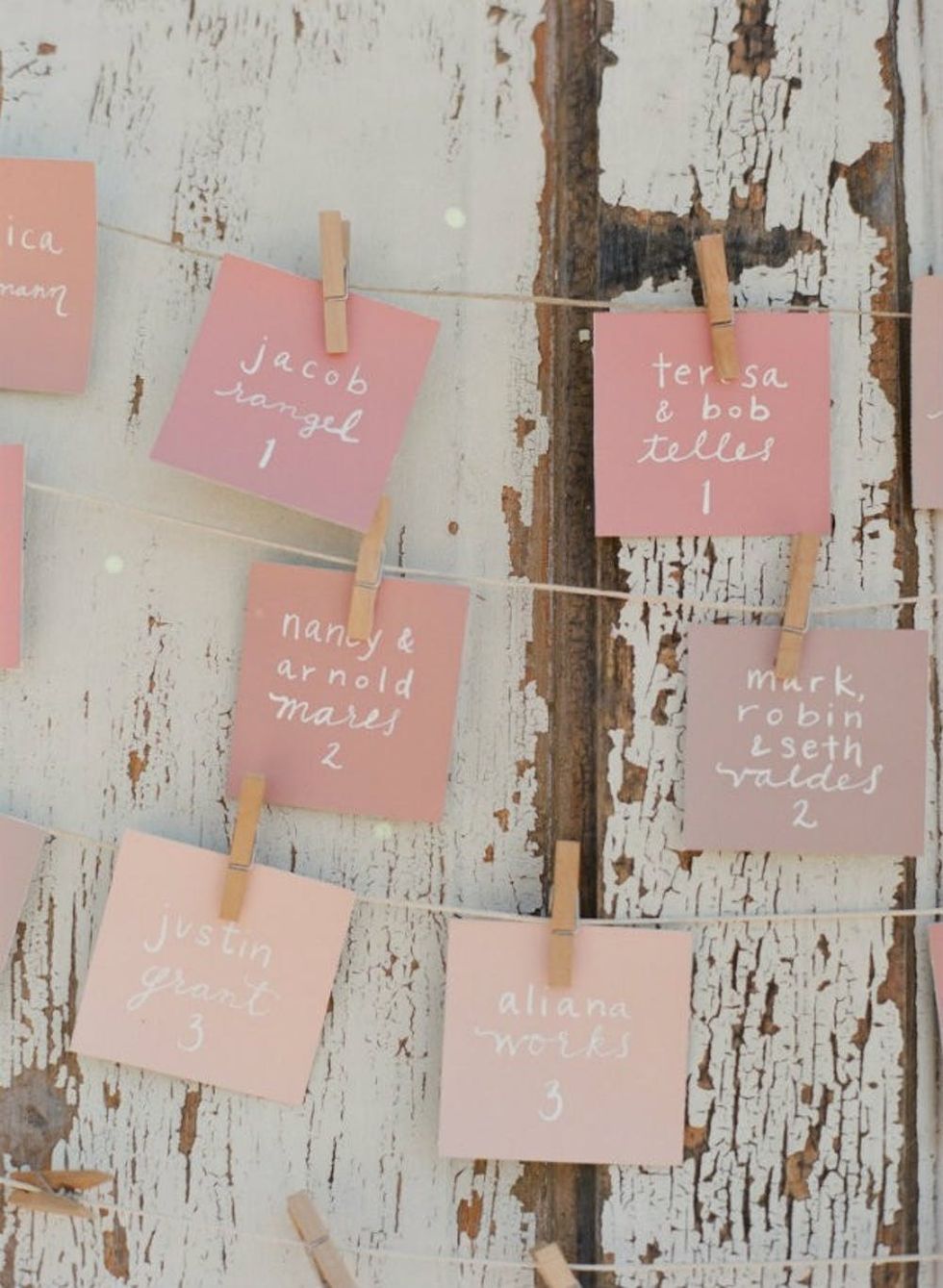 18. A Complementary Pairing: A spiced up pastel palette with some earthy tones and shimmery lettering is ideal for those dreamy wedding vibes. Varying the colors a bit breaks up the monotony, and gold or silver handwritten cards have that extra personal touch to make even a large wedding feel intimate. (Photo via April Flowers)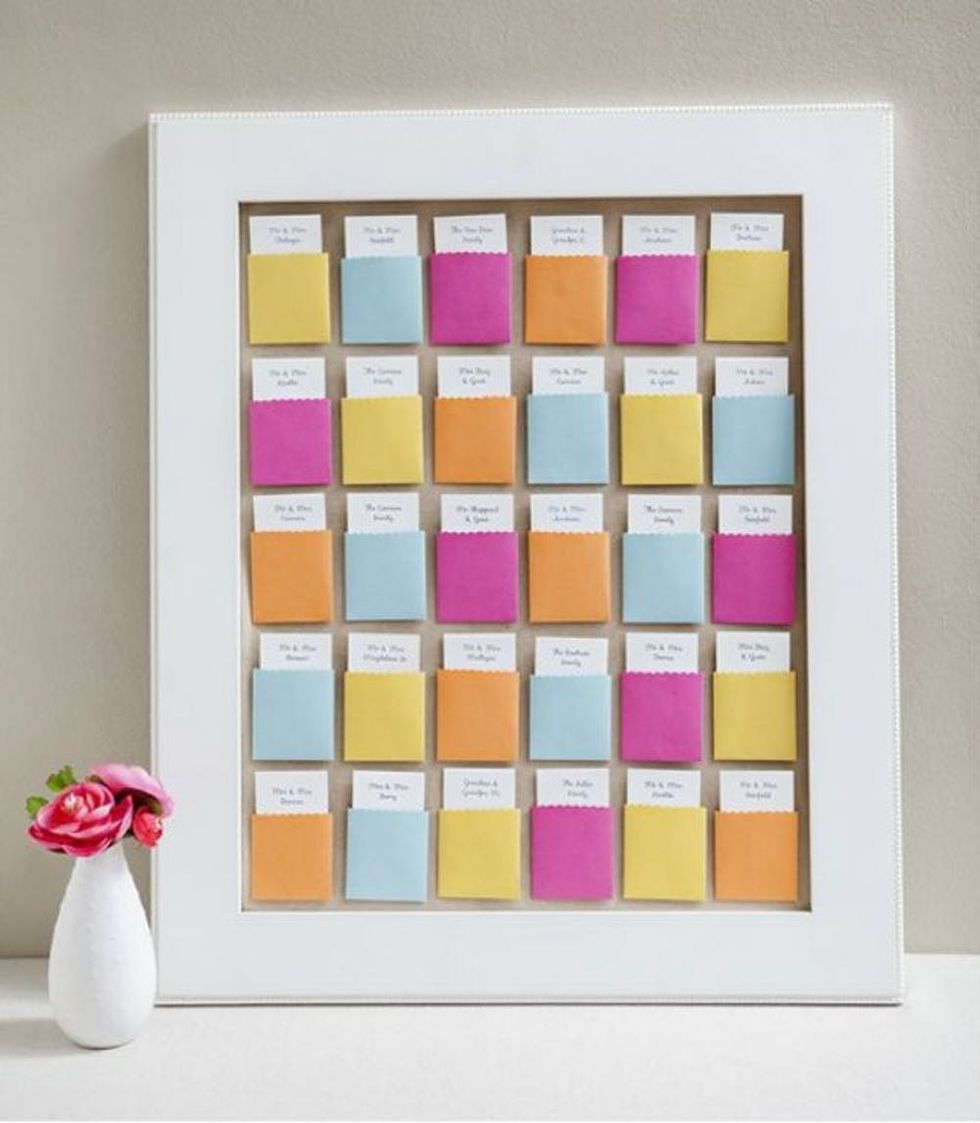 19. Pantone Inspiration: You've got the DIY fever, and the only cure is this cute pocket escort card project. This tutorial goes step by step to show you how to create a colorful palette for your escort cards. (Photo via Something Turquoise / Studio Eleven Photography)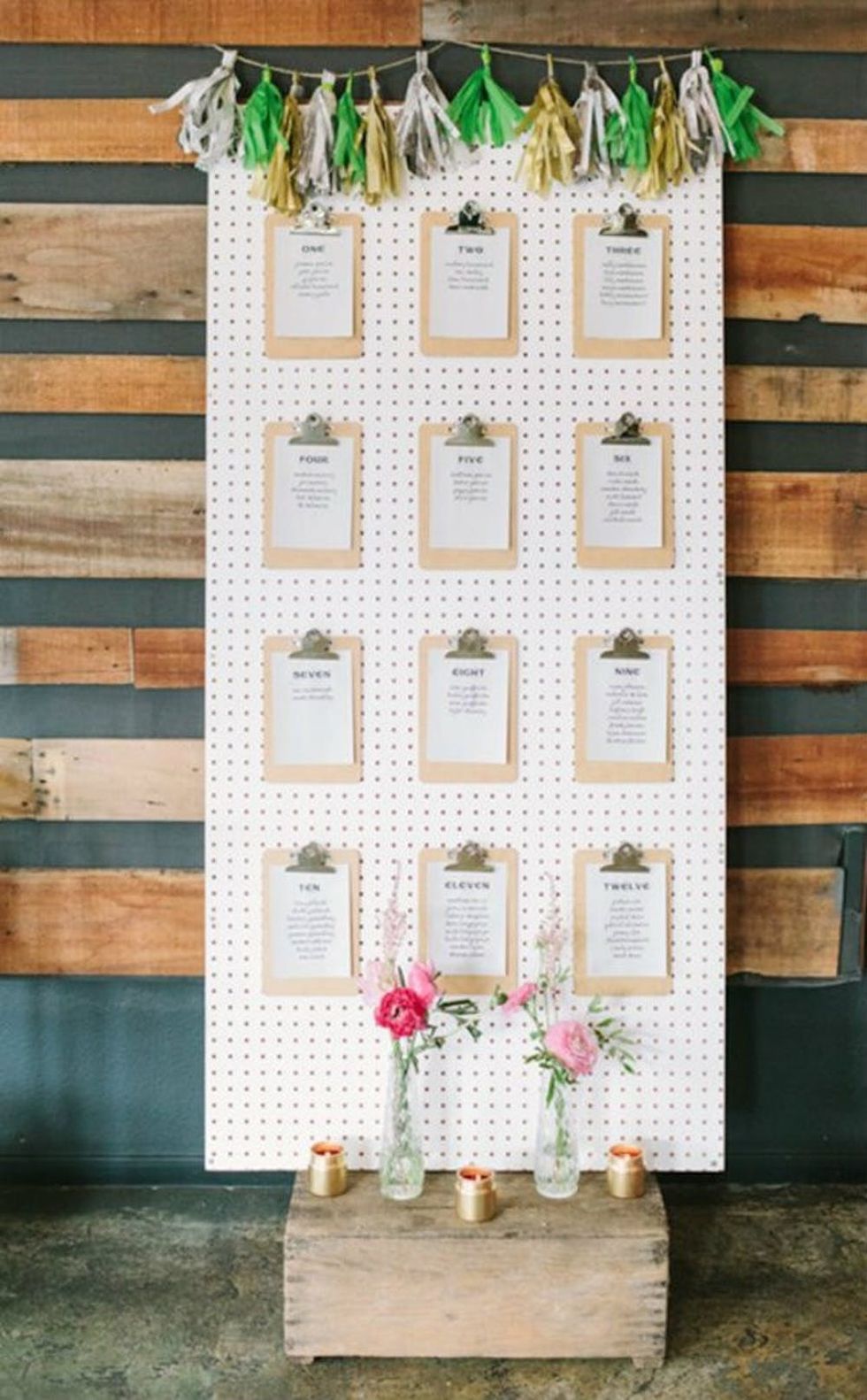 20. Check the Board: Office romances may be forbidden in some parts, but the office-inspired seating display for this wedding is adorable. After you purchase a pegboard and a few clipboards for your tables, get your calligraphy on and write out guests' names in beautiful script. (Photo via Green Wedding Shoes / Kirsten Julia Photography)
Your big day is just starting! Check out all things Brit + Co Weddings, and follow us on Pinterest for more beautiful + creative wedding inspo.
Sarah Landrum
Sarah Landrum is a freelance writer and the founder of
Punched Clocks
, a site for professionals seeking career happiness and success. For more from Sarah, subscribe to her newsletter and follow her on Twitter @SarahLandrum
Wedding Planning and Decor
More From Wedding Planning and Decor