22 Watercolor Cakes *Almost* Too Pretty to Eat
Nov 08, 2014
No matter if they're hanging on your walls or acting as your wedding day decor, watercolors are where it's at. And it was only a matter of time before we found that watercolor cakes were a thing. All that smooth fondant was just begging to act as a canvas for some true cake artists. It will be difficult to make that first slice (yup, they're that pretty), because what we've got here are 22 cakes that are truly a feast for the eyes and the tastebuds.
---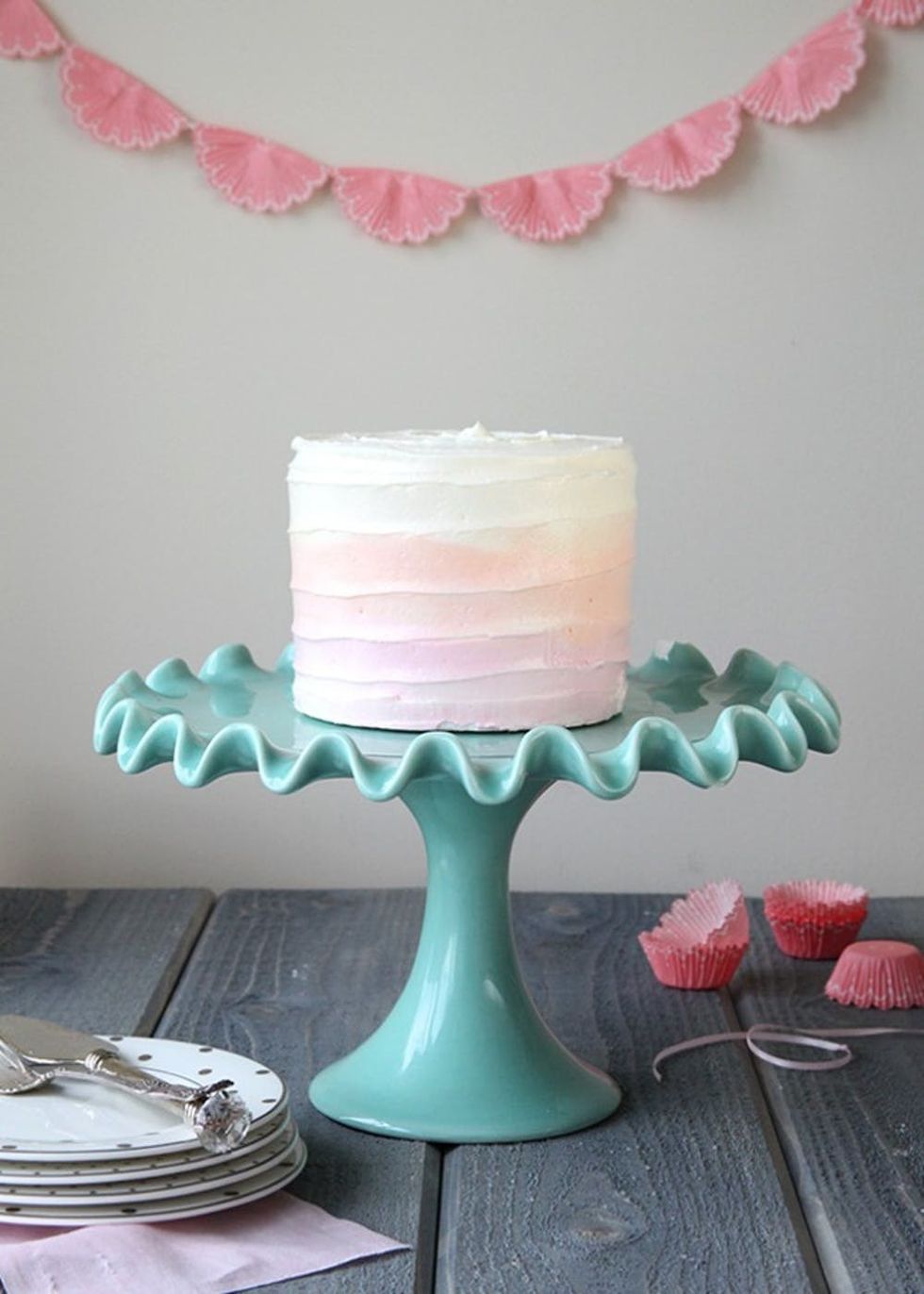 1. Sunrise Ombre Cake: We've all seen those ruffle ombre cakes, which, though beautiful, can tend to be a little too frilly for some. But using buttercream as a backdrop for a subtle sunrise painting is a style we can get on board with. (via Style Sweet CA)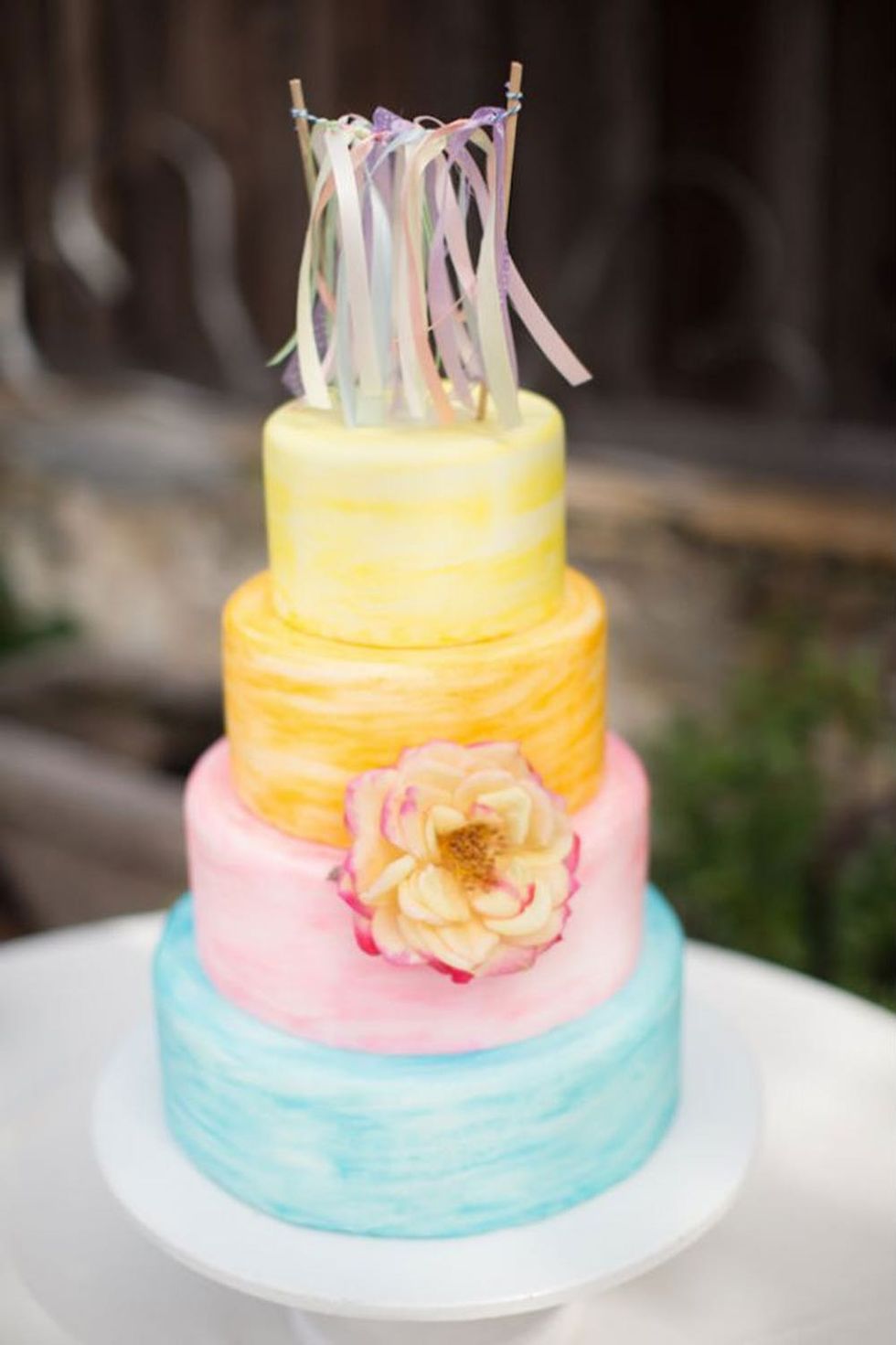 2. Rainbow Ribbon Cake: The over-the-top brightness of this cake sets our color-loving hearts a-thumping. The ribbons on top take the cake. (via Burnetts Boards)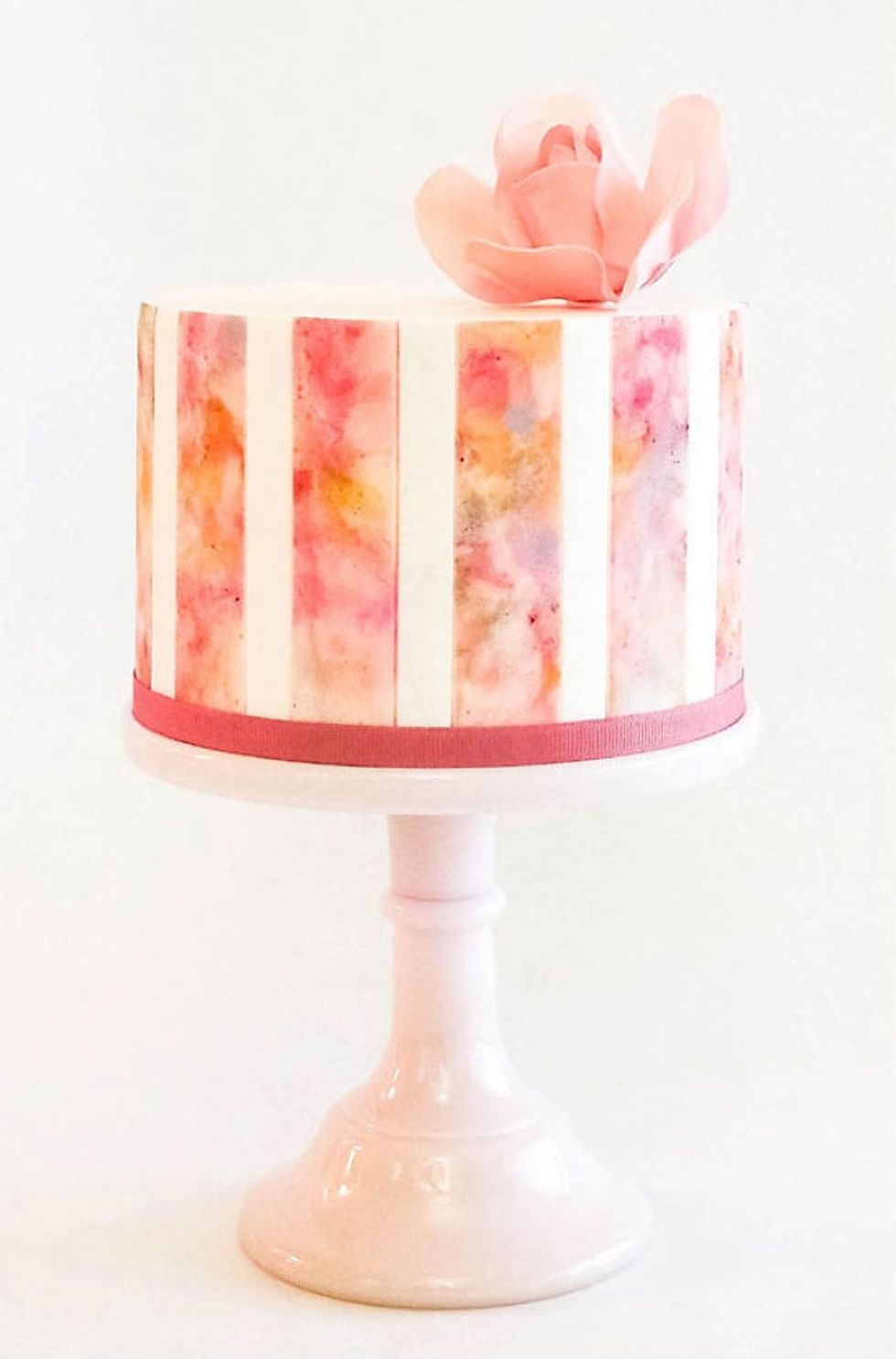 3. DIY Watercolor Cake: Vertical stripes look super difficult, but this blogger takes us through her process, so even cake-decorating amateurs can pull it off. (via The Cake Blog)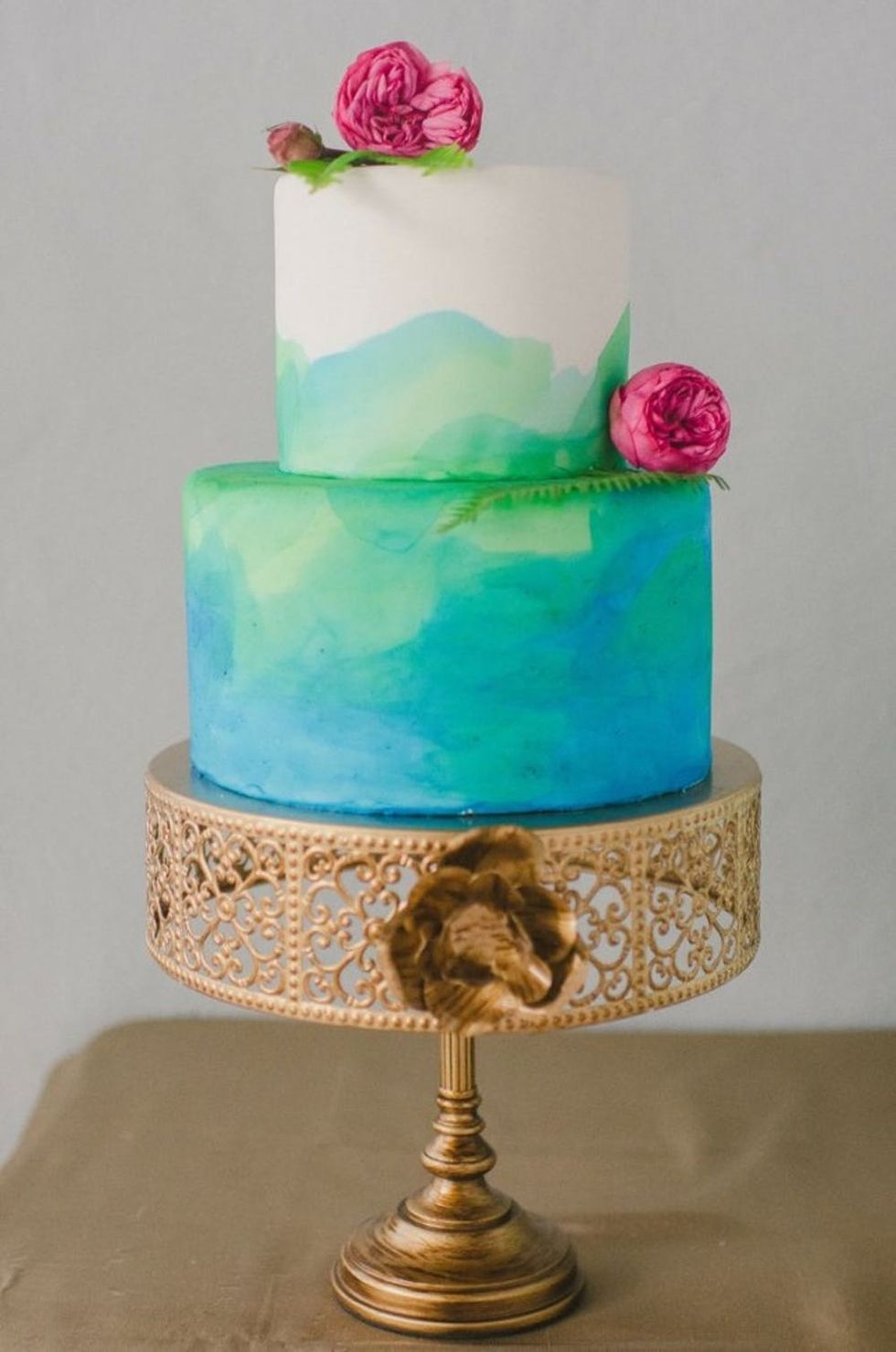 4. Ocean Blues Cake: Hopefully you feel as serene as the deep blue sea on your big day. If not, just take a look at this cake. Its blue depths will calm and inspire you. (via Style Me Pretty)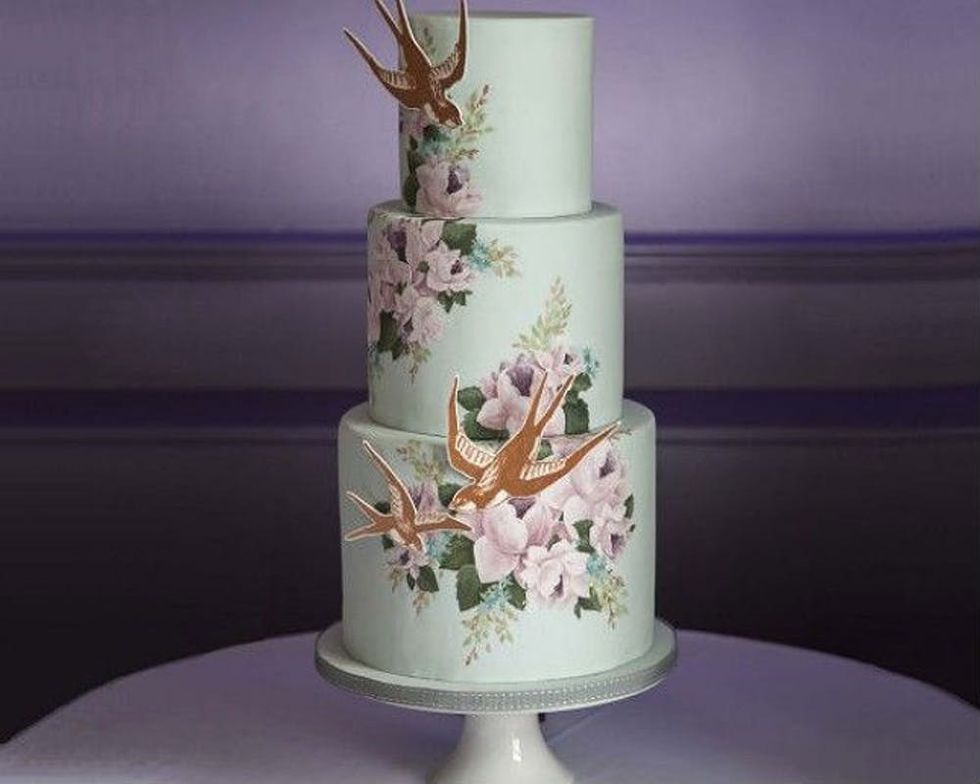 5. Swallows and Roses Cake: We never knew the wallpaper from our grandma's bathroom could look so chic. Painted on a cake with lovely swallow detailing, this classical floral design gets a major update. (via Emily Hankins)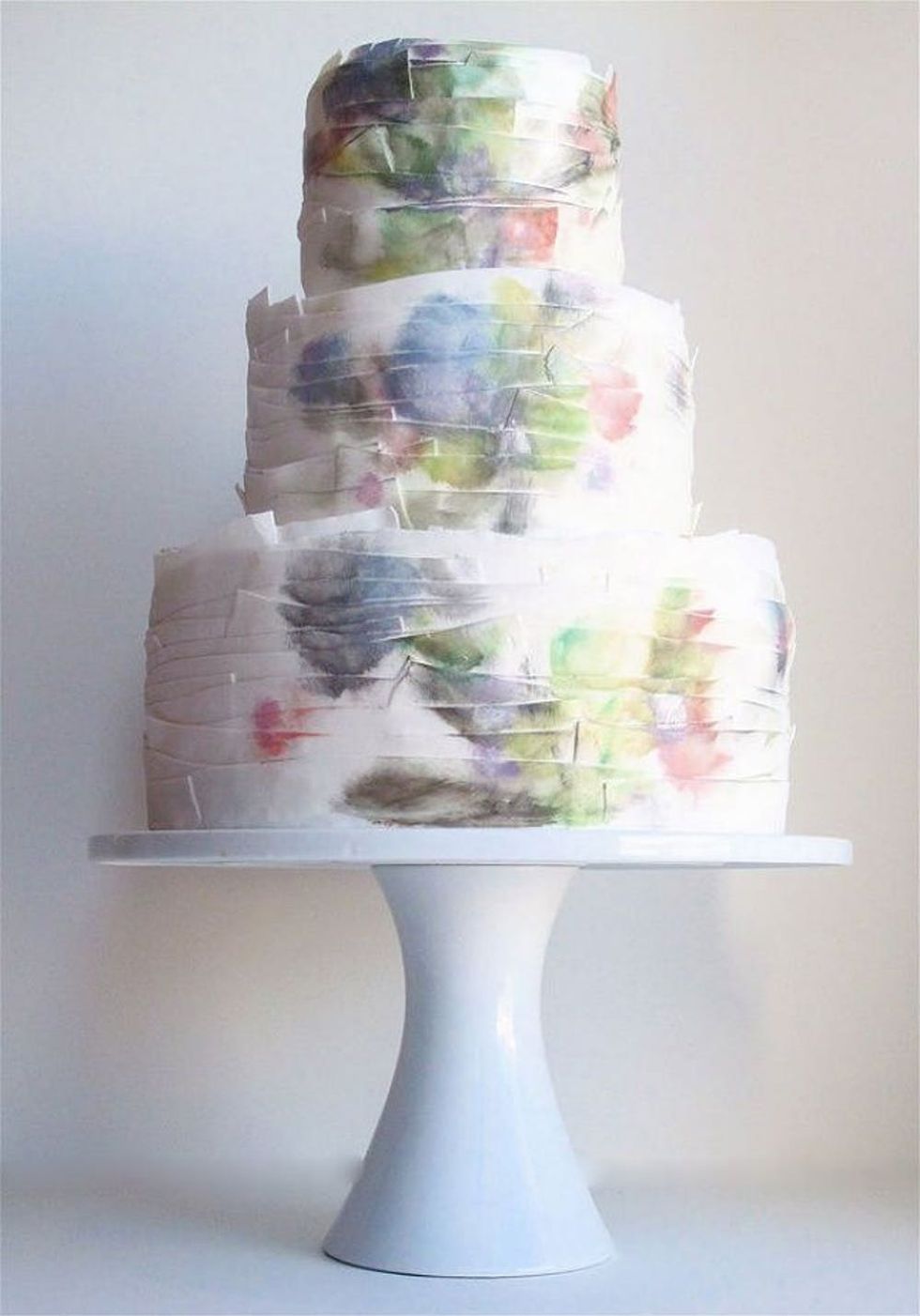 6. Painted Tissue Paper Cake: Laying out all those strips of fondant must take some killer patience. We're glad we just get to enjoy the end result. (via Swooned Magazine)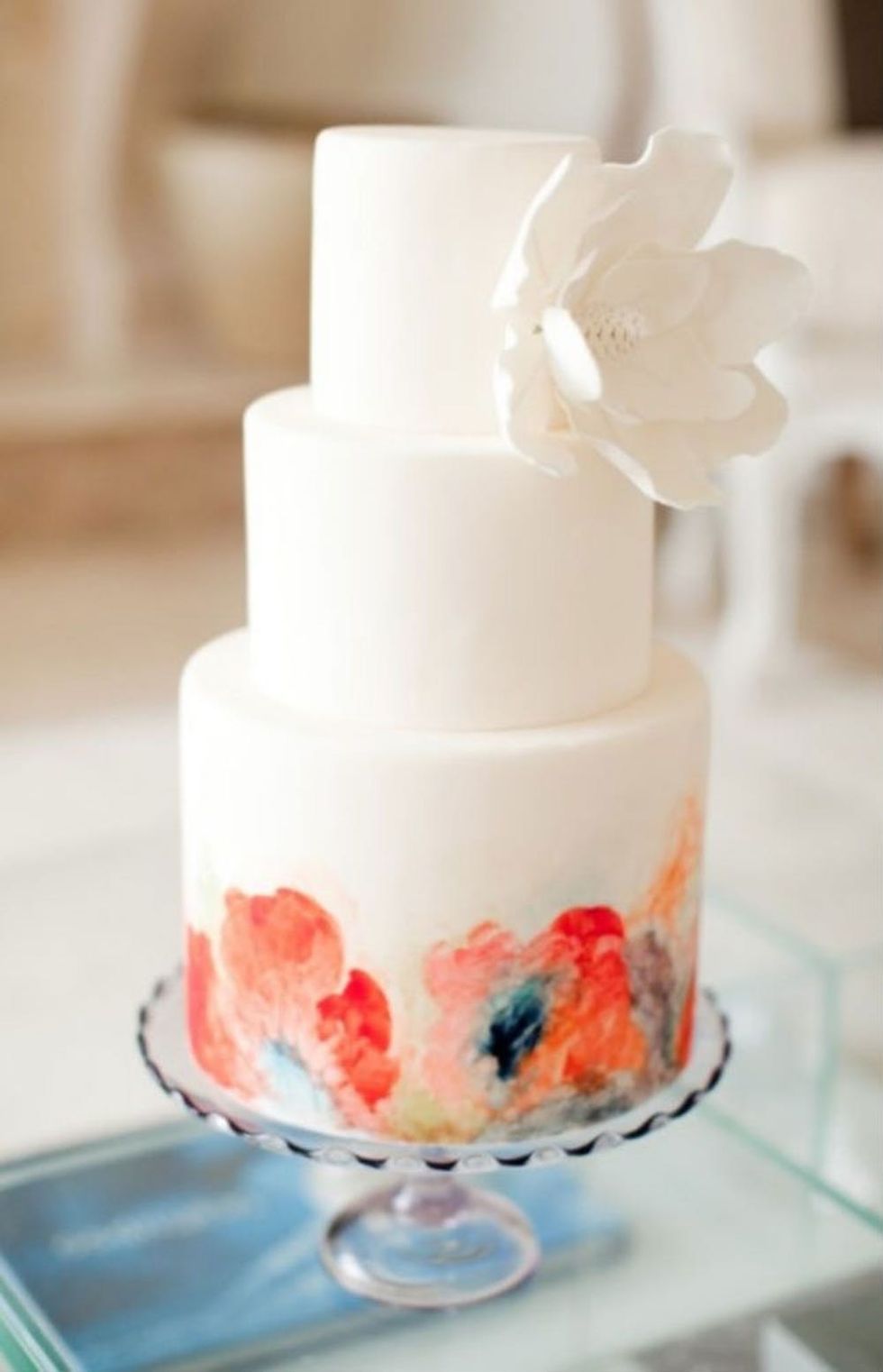 7. Flowered Wedding Cake: It's understated. It's elegant. It's pretty much everything you need in a cake. (via Cake Apothecary)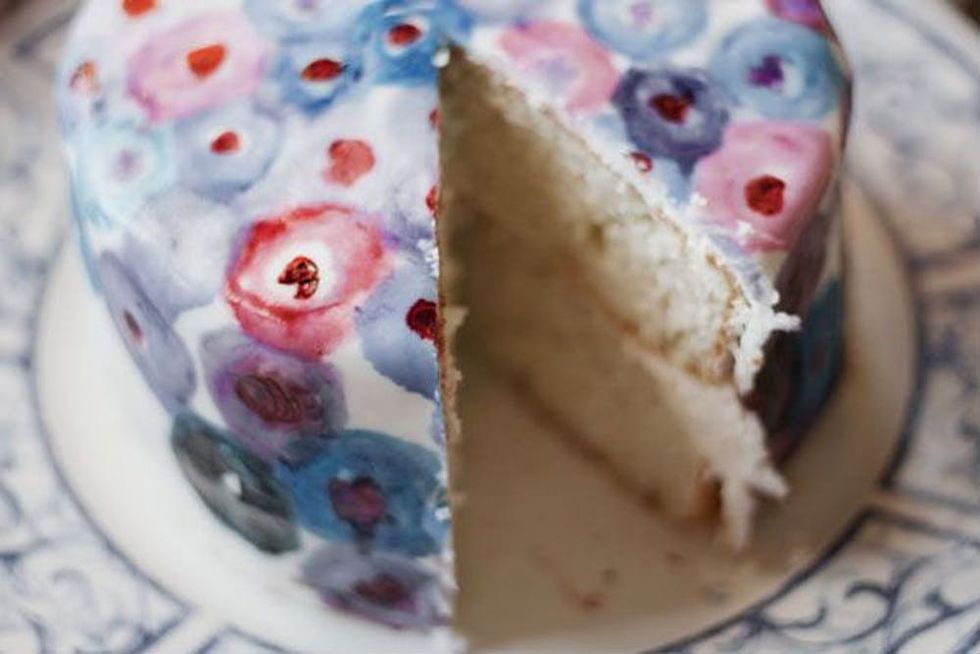 8. Textiles Cake: Imitation is the sincerest form of flattery, and that's what we have here — a cute poppy cake inspired by one of Leah Goren's designs. (via Leah Reena)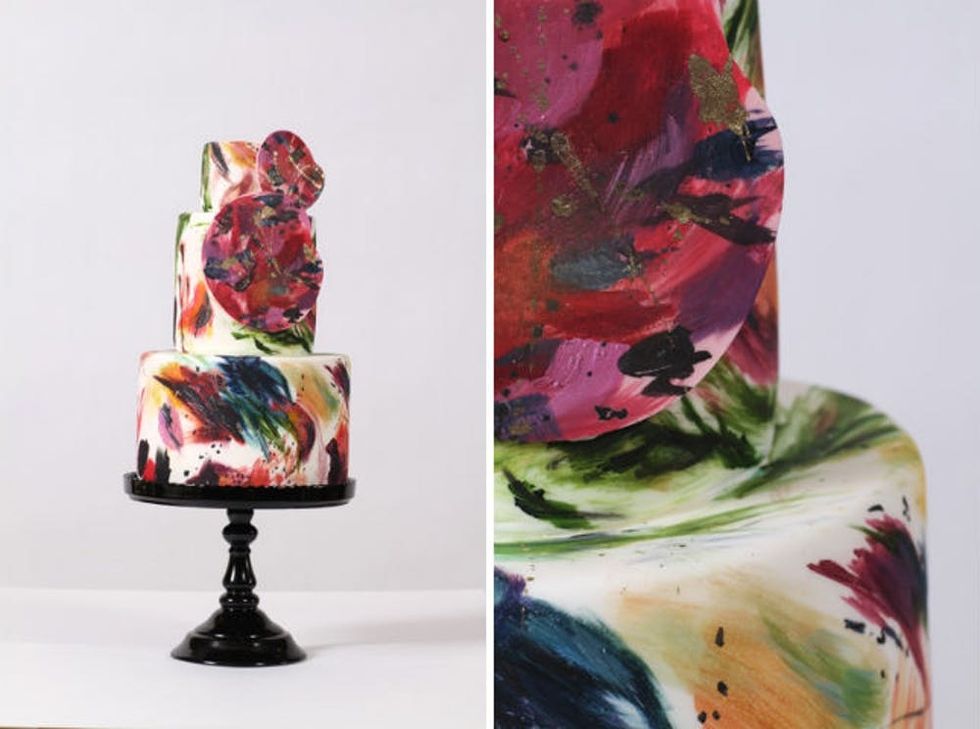 9. Kinetic Splash Cake: Clearly a true artist painted this baby. (via Nadia and Co)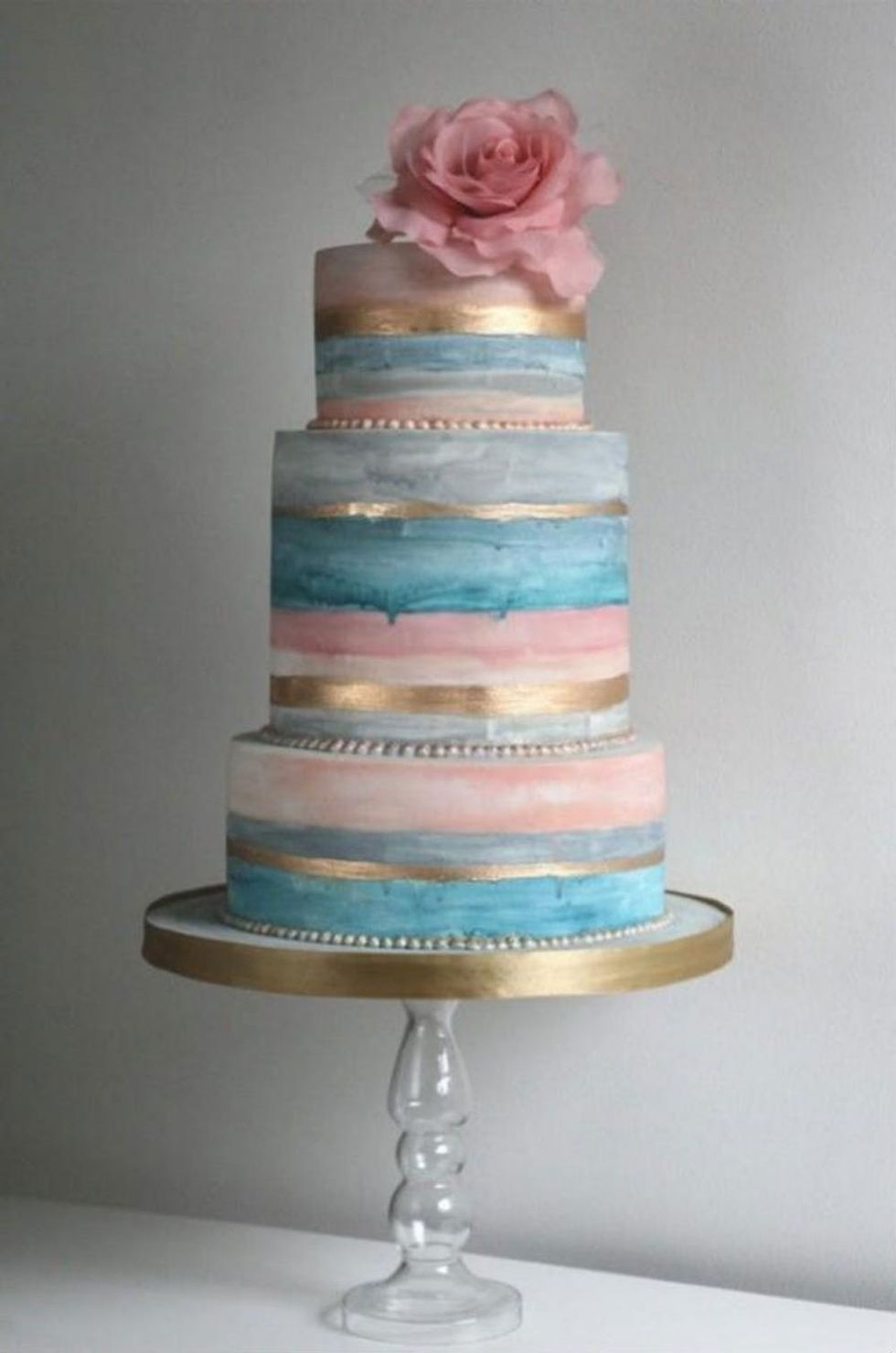 10. Gold Ribbon Cake: This pastel and gold creation would work just as well as a wedding cake or as a super chic gender reveal cake at your shower. (via Olofson Design)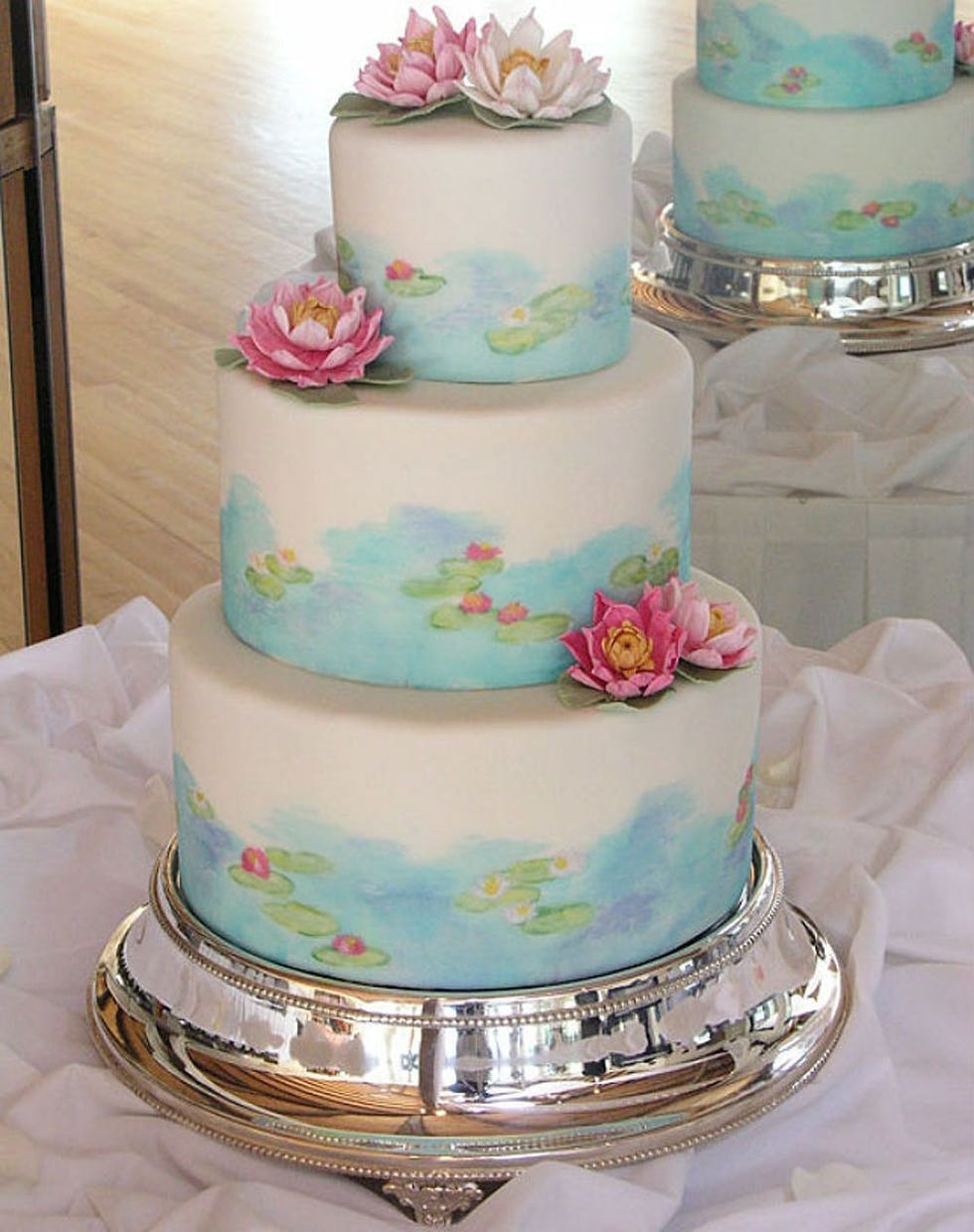 11. Waterlilies Cake: We're pretty sure Monet would approve of you eating this cake while checking our his water lilies at the Musee de l'Orangerie. The security guards, on the other hand, might not be as accepting… until you offer them a piece of cake. (via Colin Cowie Weddings)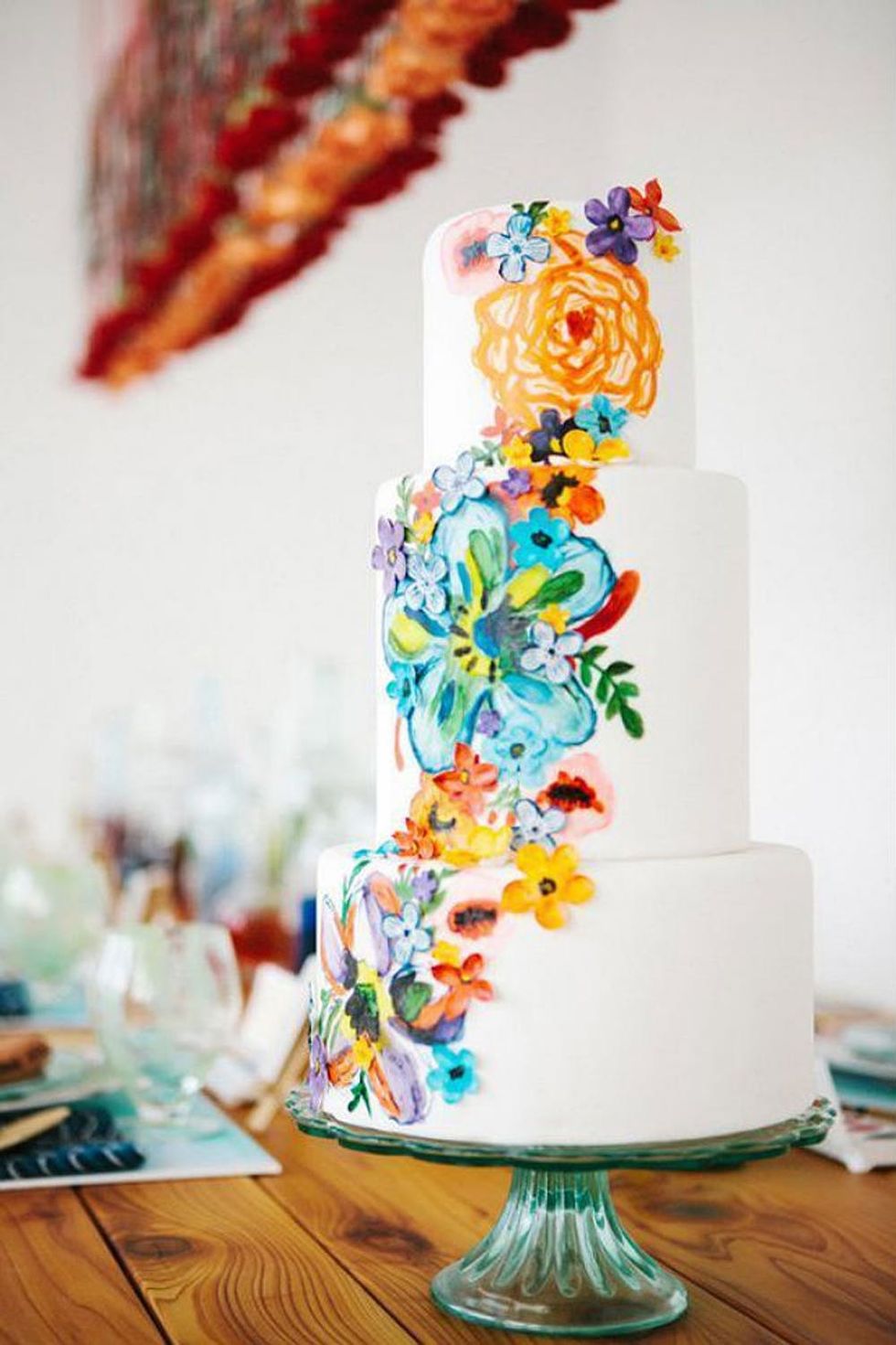 12. Flower Cascade Cake: We can't get over this cake — the combo of the painting and the sugar flowers gives it texture, which offsets the white fondant beautifully. (via Project Wedding)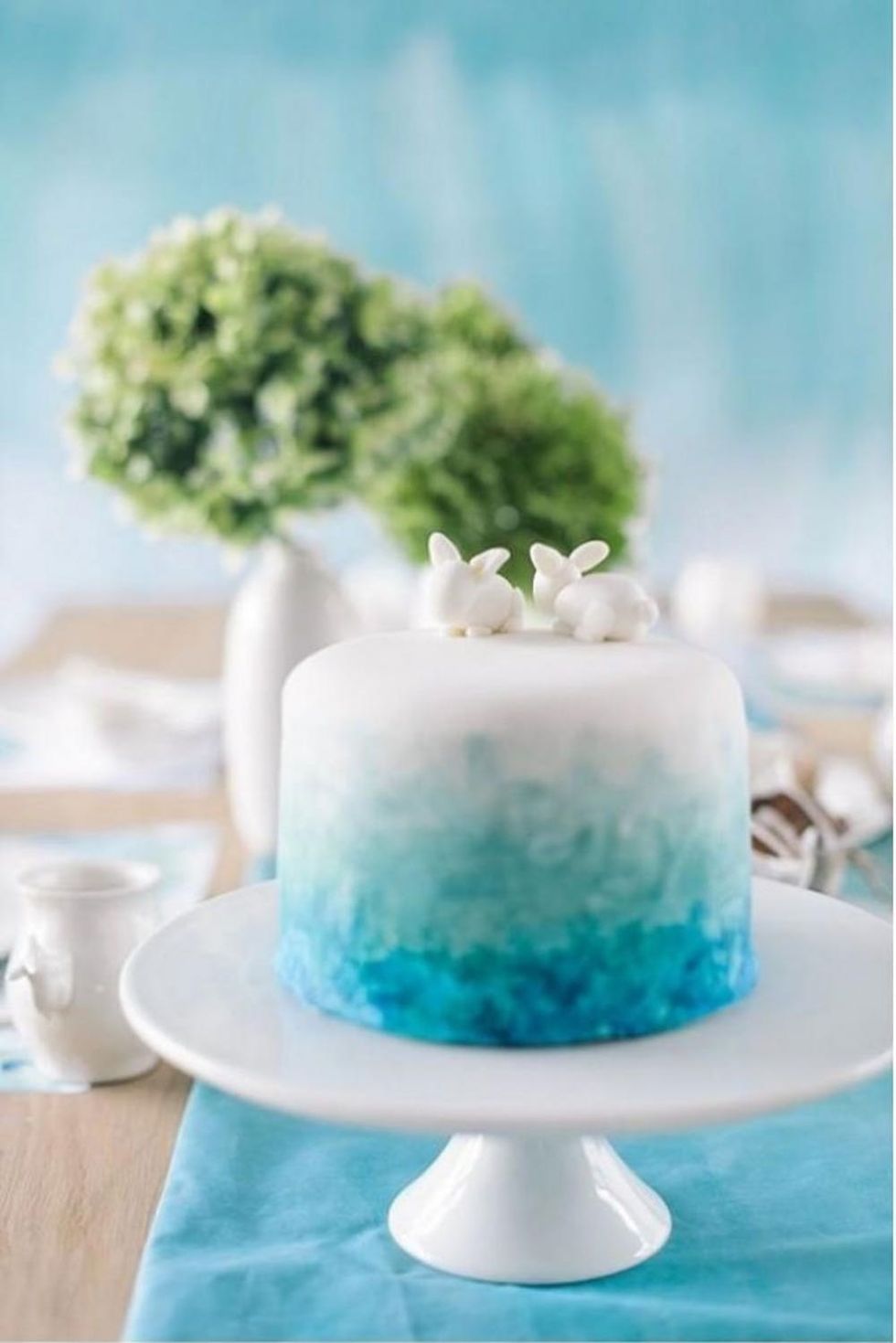 13. Easter Rabbit Cake: We never said watercolor was reserved for wedding cakes. This sweet gateau with a critter topper is perfect for any holiday or special occasion. Also: Ombre. (via The Pretty Blog)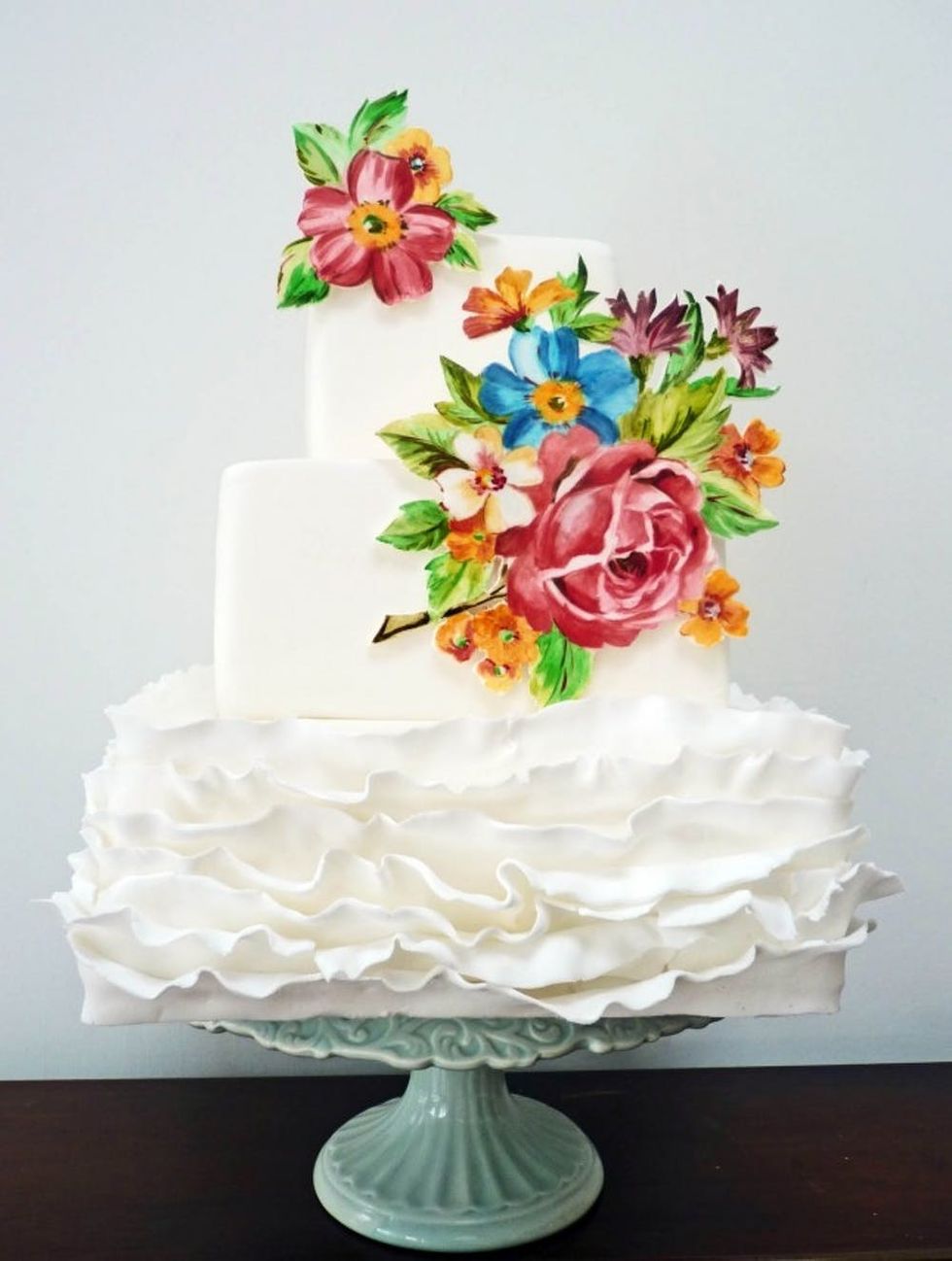 14. Ruffle Wedding Cake: We couldn't even believe this was a real cake until we saw the ruffled bottom tier. Talk about being too pretty to eat. (via Nevie-Pie Cakes)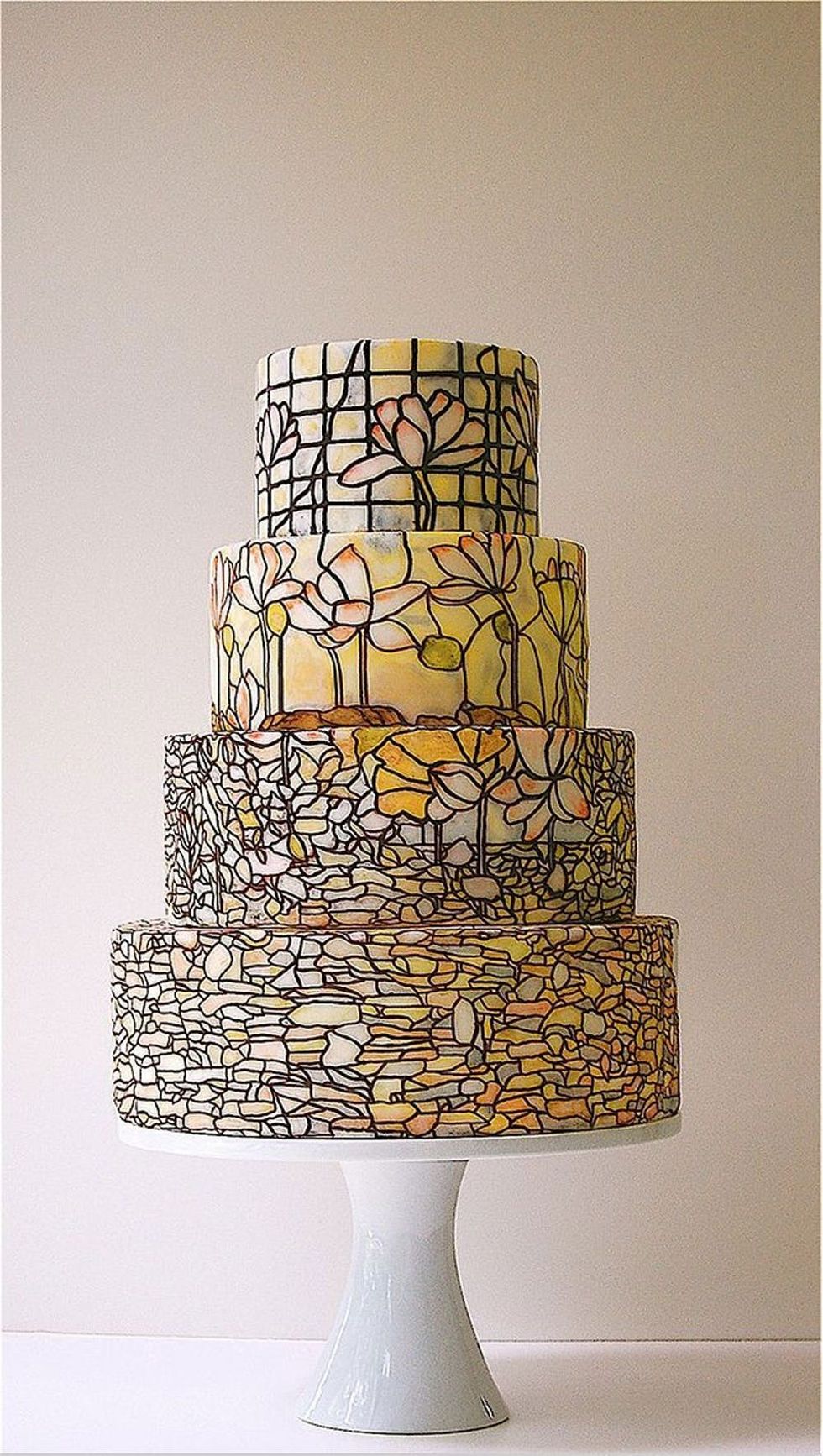 15. Stained Glass Cake: This cake would pair nicely with a traditional church wedding, tying in the stained glass look. (via Maggie Austin Cake)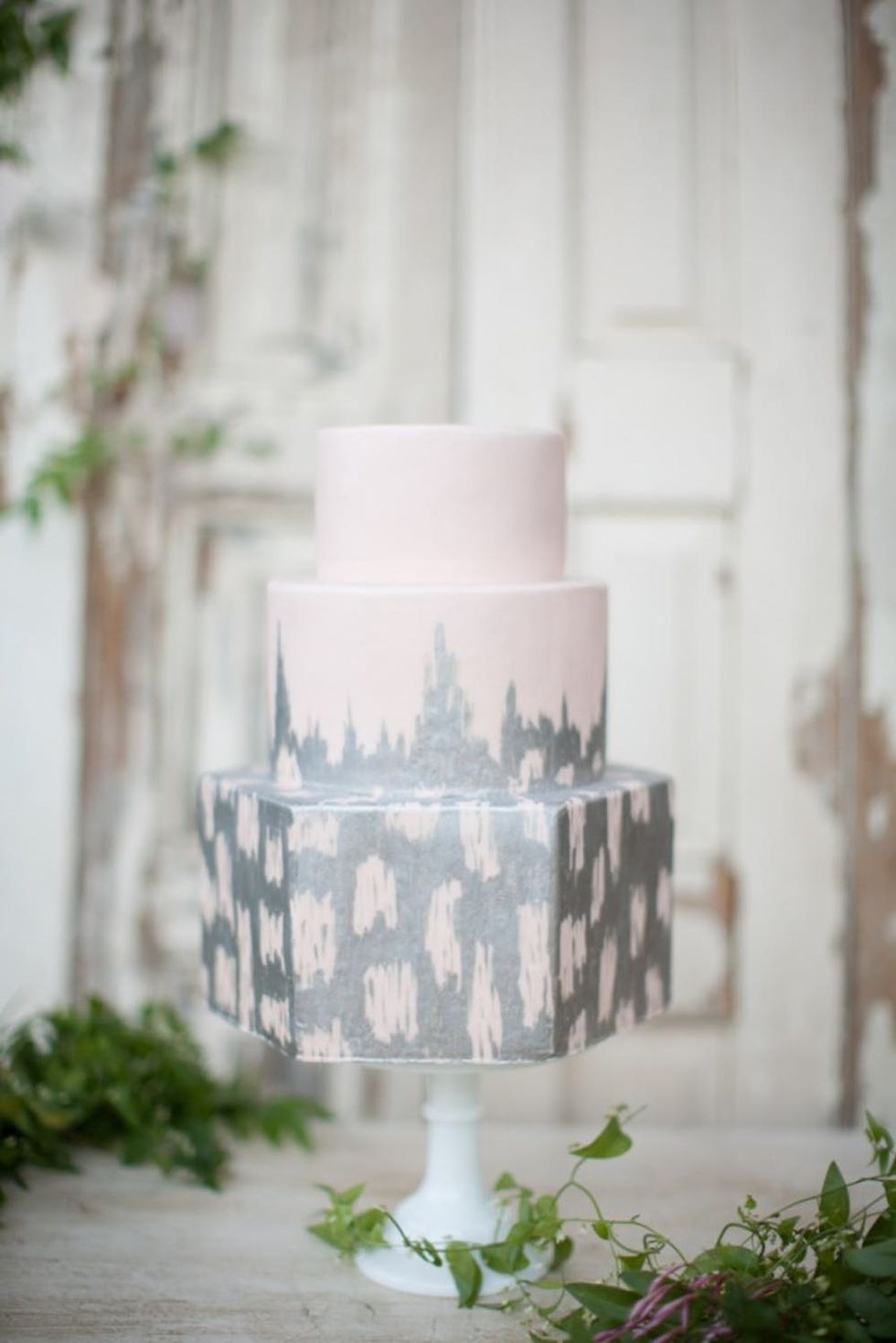 16. Pewter Cake: Pastels are classic when you're talking about watercolor. But this cake proves modern design and metallics work just as well. (via Sweet Marie Designs)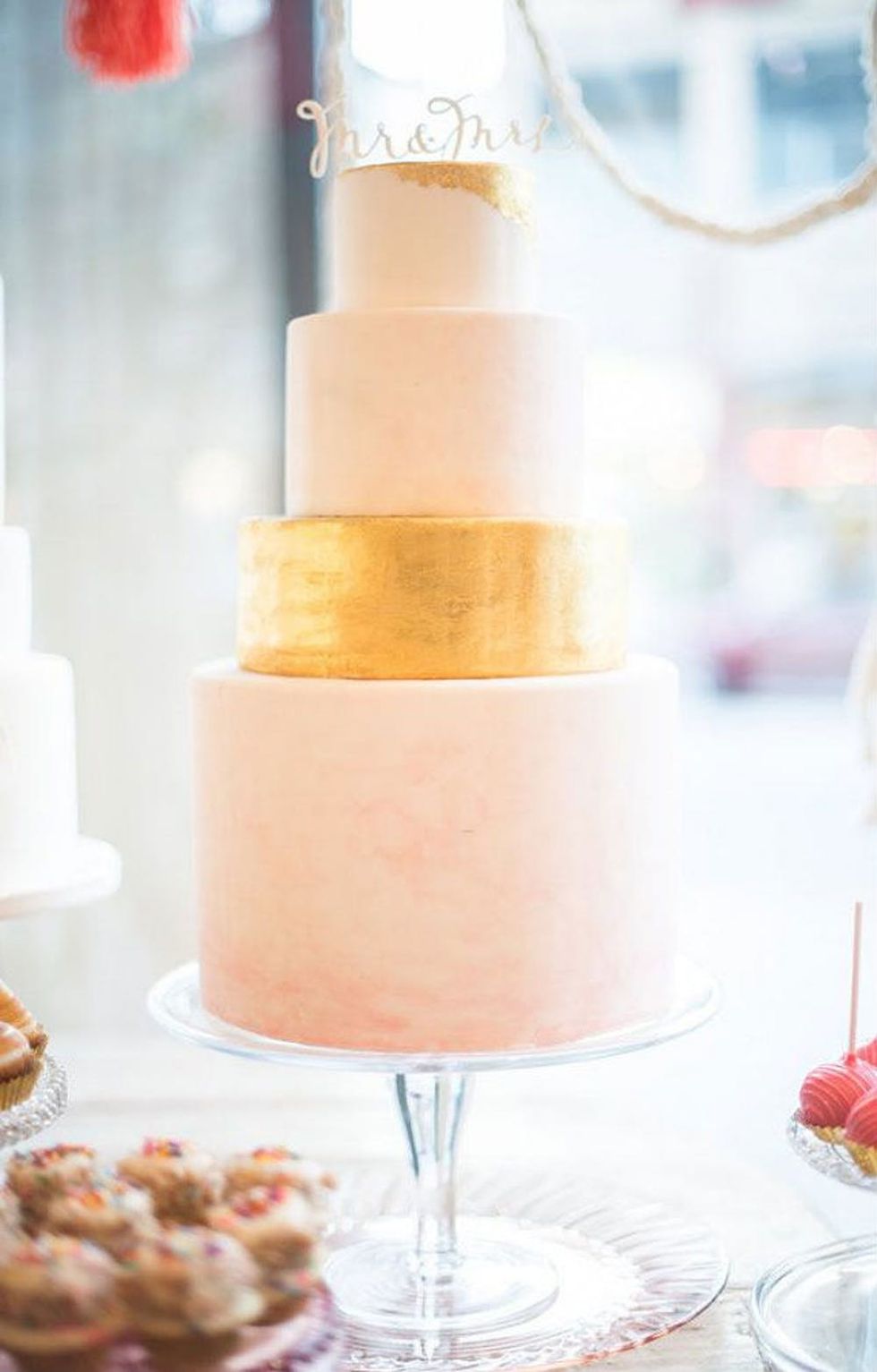 17. Painted Gold Wedding Cake: We thought we couldn't love the combo of pink and gold enough, then this lovely cake entered the picture.(via 100 Layer Cake)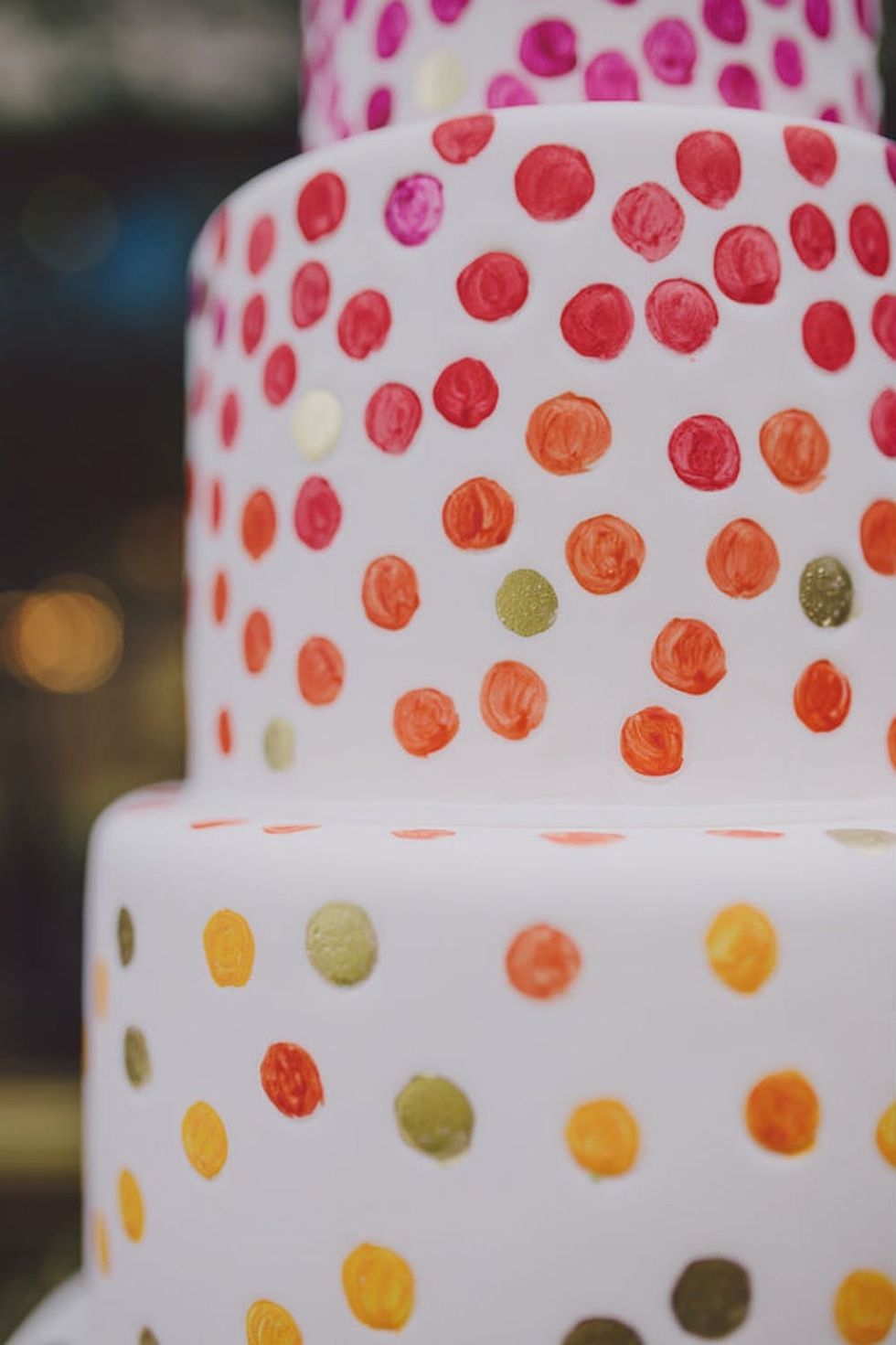 18. Polka Dot Cake: We've long averred our love affair with polka dots. They somehow always manage to look both vintage and fresh, even on a cake. (via Ruffled)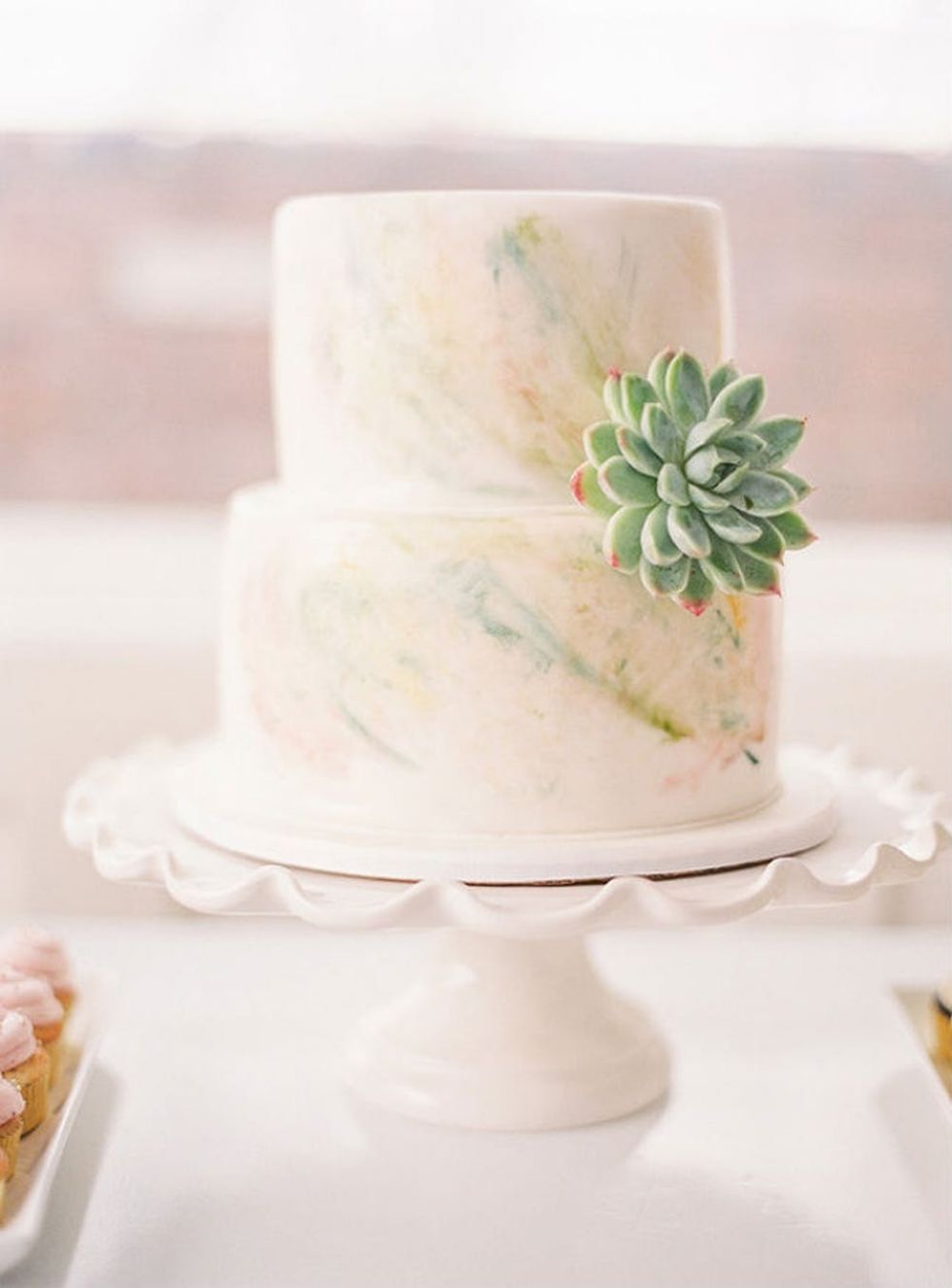 19. Succulent Cake: Succulents paired with a soft watercolored marbling is just what you need for your desert wedding. (via Braedon Photography)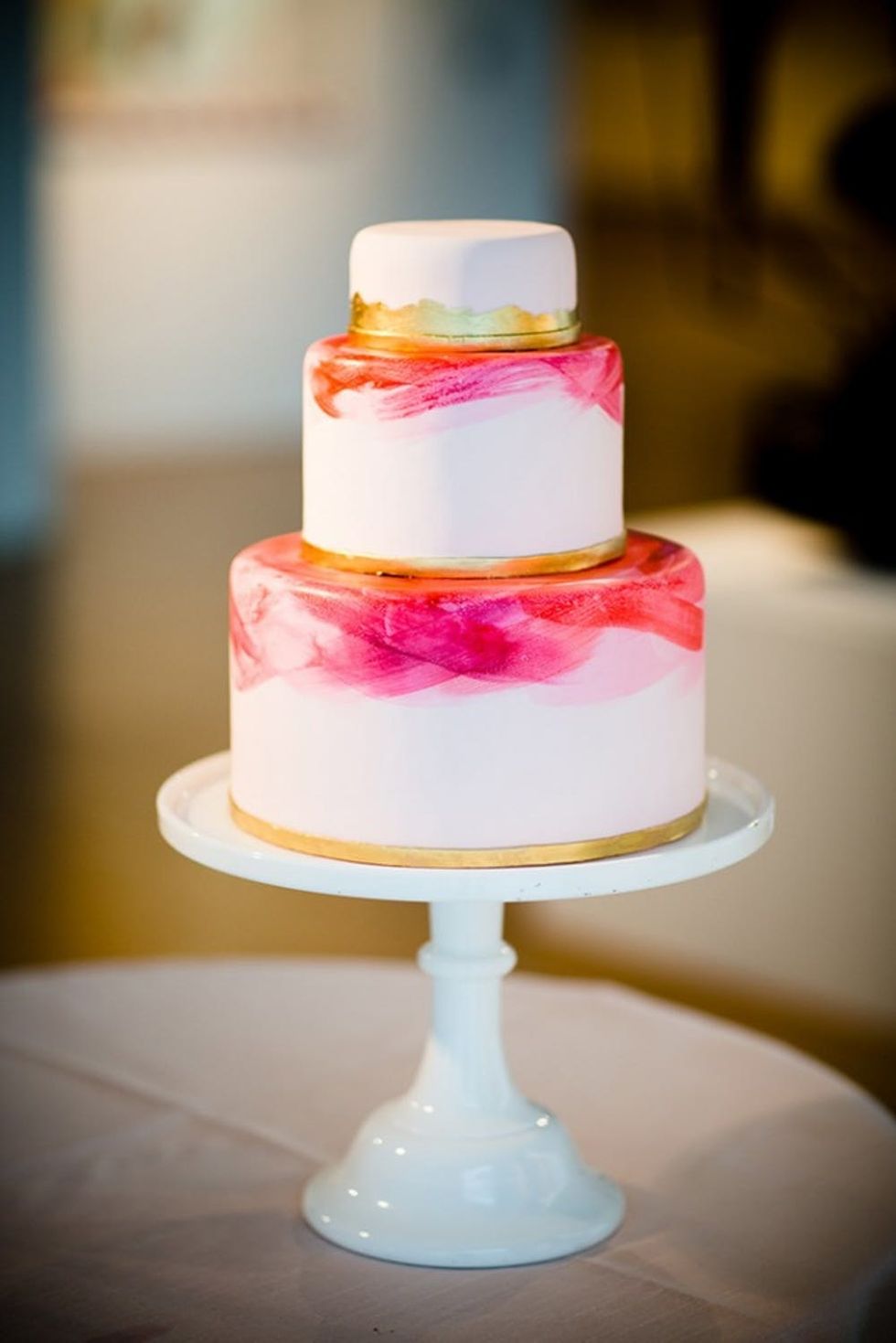 20. Museum Masterpiece Wedding Cake: What could be better for a wedding reception in a museum than a cake that channels the artwork? (via Glamour and Grace)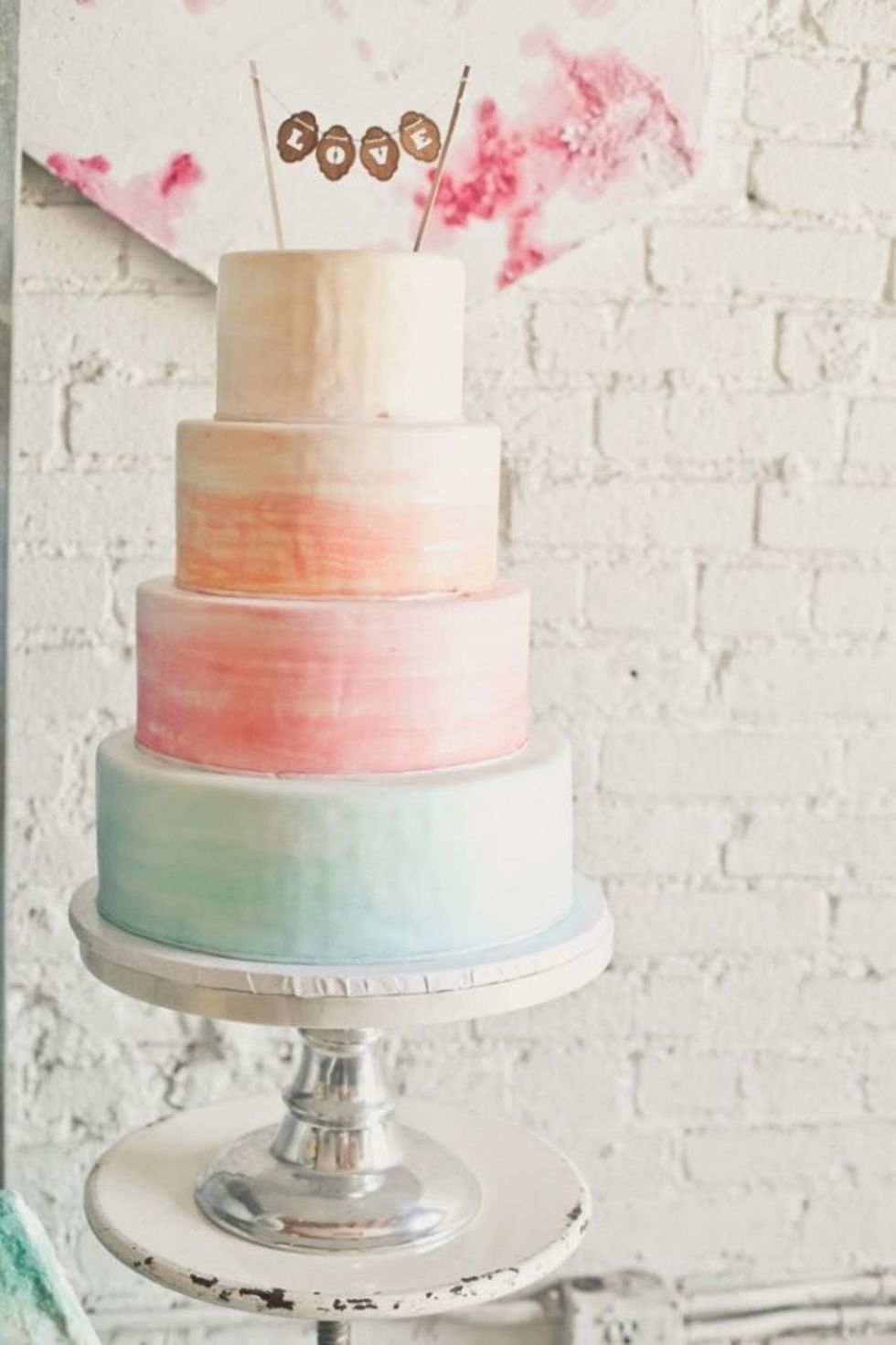 21. Tiered Love Cake: "Elegant" and "fun": Two words we def want used to describe our wedding. (via One Fab Trend)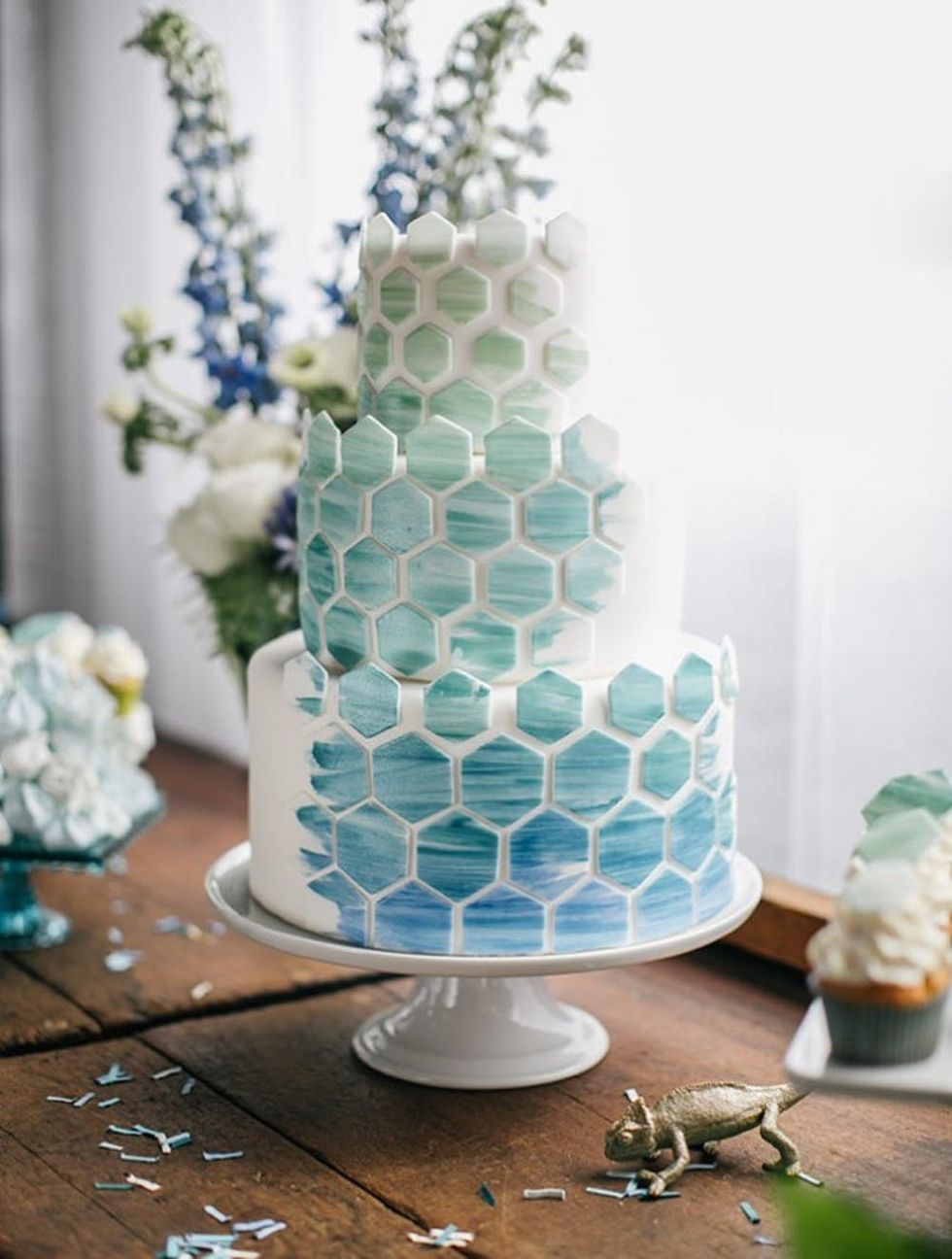 22. Gaudí Minimal Geometric Cake: The geometry, the little chameleon buddy — one bite and we're transported to Gaudí's Spain. (via Green Wedding Shoes)
Where have you found inspiration for the special cakes in your life? Share design ideas below!