De-Clutter Your Inbox: Boomerang Sends or Returns Your Email at a Later Date
Jul 06, 2012
Ever sent an important email that never got a reply? If your answer is "no," I'm not sure you're human.
In fact, this happens to me all of the time. I'll respond to an email thread or start a new conversation, only to be left in silence. If only I could be reminded to nag my recipient about responding after a few days… oh wait! Now I can!
---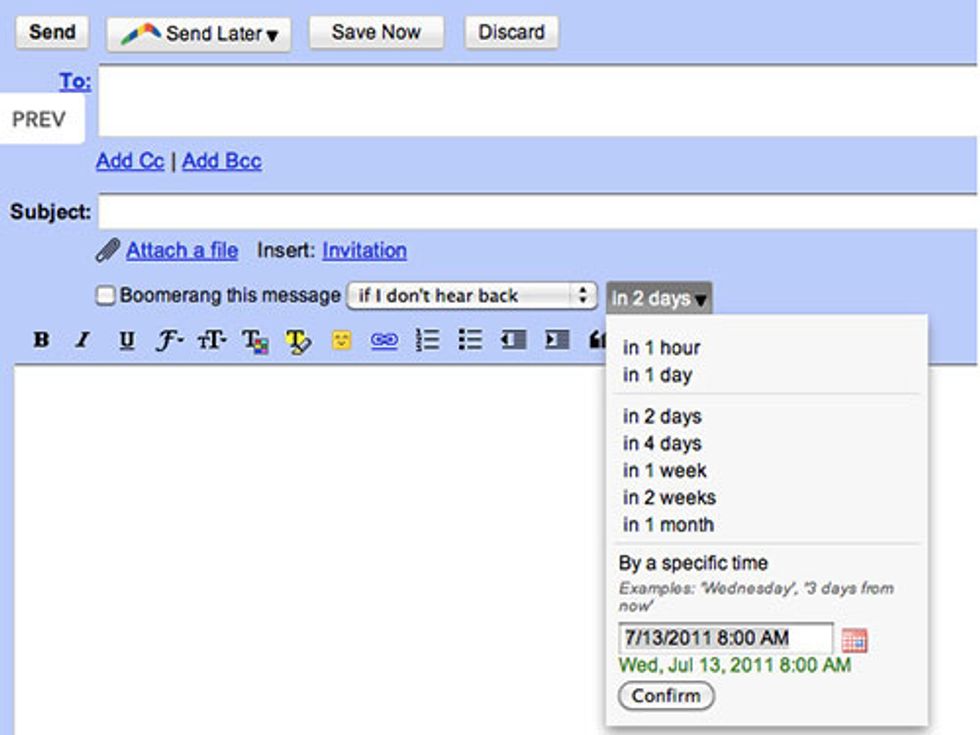 Boomerang is a new Gmail plugin for Firefox and Chrome browsers that will remind you when you have an unanswered email, will let you schedule an email to be sent later, or will let you schedule a date and time for an email message to reappear in your inbox.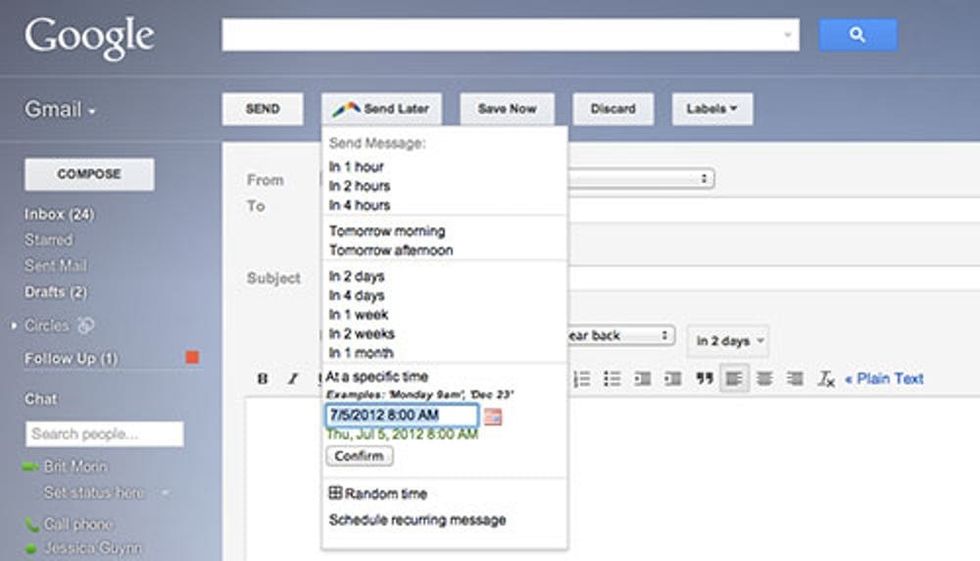 This has promising social and professional repercussions. My favorite? I'll never forget to send a birthday email again! Now I can schedule important messages in advance and know they'll go out right when they're supposed to. The future scheduling feature is also great for communicating with people overseas. With Boomerang, you can send an email when you know your foreign recipient will be awake.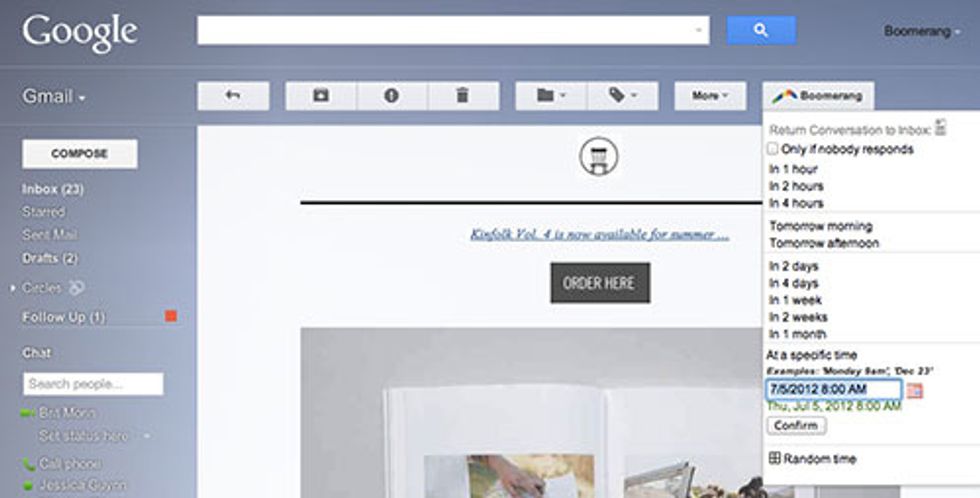 This app is also perfect for anyone with a cluttered inbox (which, let's face it, is all of us). From flight information to bills, a lot of emails come in that can't be deleted or archived because they contain important info; but, they really don't need to be sitting in your inbox until the due date comes around. For example, how cool would it be to schedule your flight itinerary emails to reappear in your inbox on the day of travel? With Boomerang, you can choose to temporarily hide an incoming message, only to have it reappear at the top of your inbox, unread, when your attention is needed.

If you want to follow-up on a sales lead, new job opportunity, or simply an unanswered note sent to a friend or colleague, just schedule a reminder. You can get reminded after a certain period of time whether or not anyone replies. This is a great way to turn "We should have lunch sometime" into "Let's meet at that new cafe at noon tomorrow."
Boomerang has a mobile app as well. It perfect for when you remember a new to-do while you're out and about. Just schedule it to be sent back to you in the future, whenever the task is meant to be done.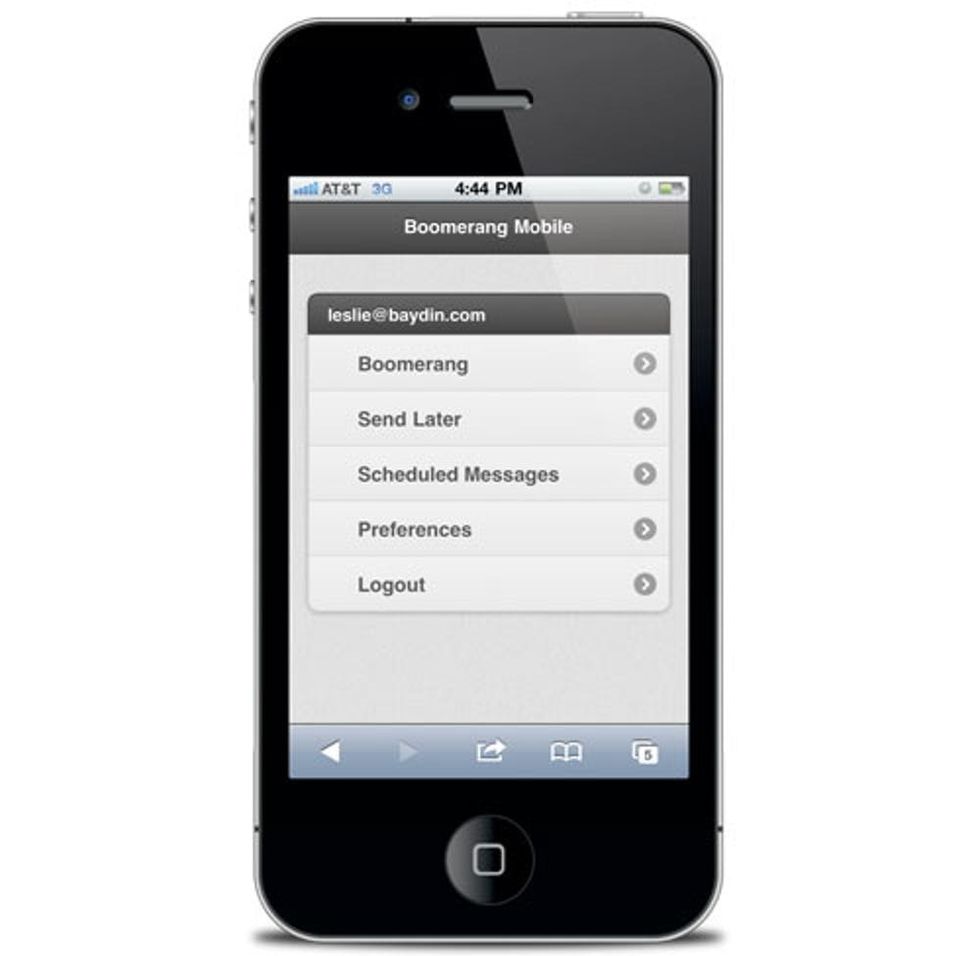 The app is currently available on Gmail and Outlook. The product is free to trial for 30-days, then costs $5/month for a personal plan or $15/month for a professional plan (which includes access to the aforementioned mobile app).
Love this concept? Boomerang's parent company, Baydin, is also privately testing a new social calendaring concept called Boomerang Calendar.
Which of Boomerang's many uses is going to save your email inbox? How's your Gmail productivity looking — any tips or tricks you're already using? Let us know in the comments below or tweet your thoughts to us!
Tech