5 Things to Know When Designing Your Engagement Ring
Apr 23, 2017
Back in the day, when it came to engagement rings, women didn't necessarily have much say. As was custom, you were simply expected to wait for the ring — and be happy that you got it, no matter what it looked like. Girl, those days are gone. And thank goodness. While it's 100 percent acceptable to want to be surprised by your future life partner, you may want to have a say in the design of your ring — and that's cool too. After all, this is likely the only accessory (besides your wedding band) you'll own that you're meant to wear FOR THE REST OF YOUR LIFE. So why not make sure you get it right — together? We spoke to Vanessa Stofenmacher, jewelry designer and owner of VOW, a design-your-own ring company (that even offers a home try-on option!), for her top five tips to know when creating your custom ring.
---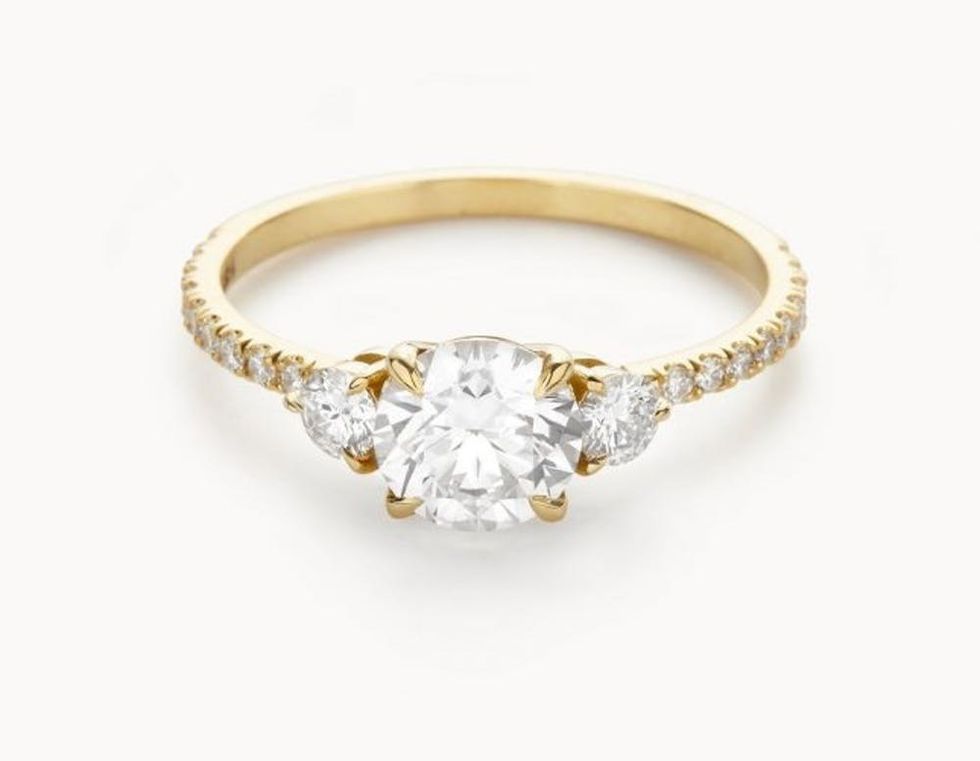 1. Understand your style. Your ring makes a statement about personal style, so understanding your preferences is key. Is your style modern or traditional, simple, or extravagant? Do your research and provide as many reference photos as possible. (Photo via VOW)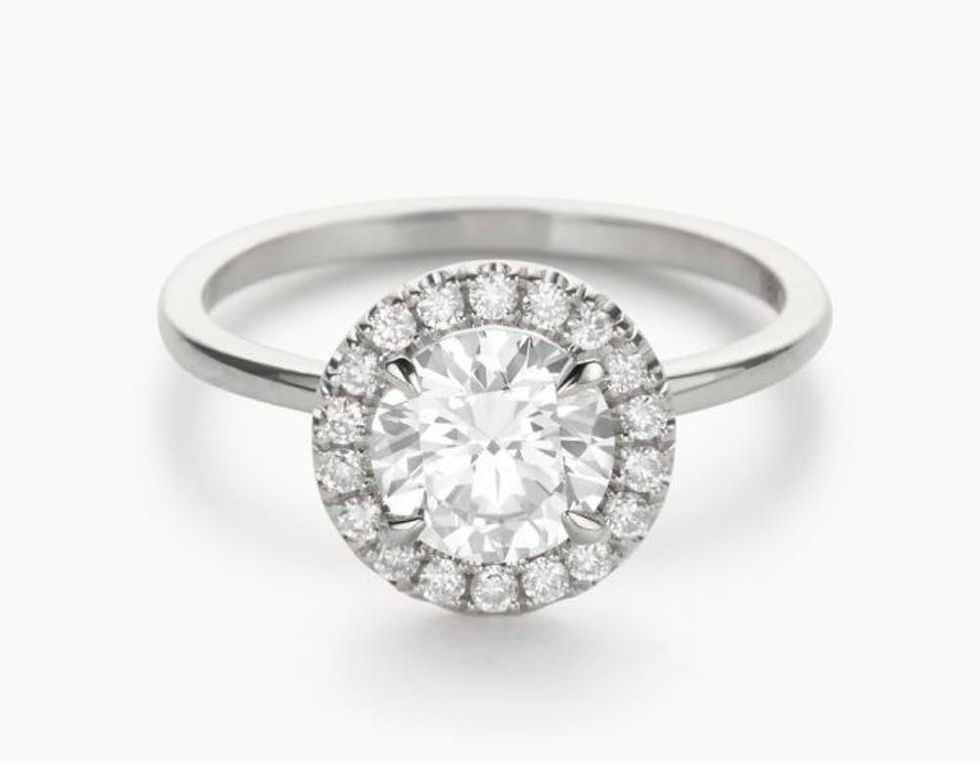 2. Don't get obsessed with the diamond specs. Dealers and traditional jewelers can over-complicate diamonds and make the process feel overwhelming. Should you choose VS or SI quality? G color or H color? "We believe a diamond is like a glass of wine. Each is unique and personal so choose a diamond that feels right for you," advises Stofenmacher, who owns the Vrai & Oro jewelry line.
3. Know your diamond shape. Unlike diamond specs, the shape of your central diamond will be the main focus of your ring. The round brilliant diamond is the most popular, because it's cut to reflect the maximum amount of light. An emerald-cut, on the other hand, has far fewer facets and doesn't sparkle as much but has an understated brilliance of its own. (Photo via VOW)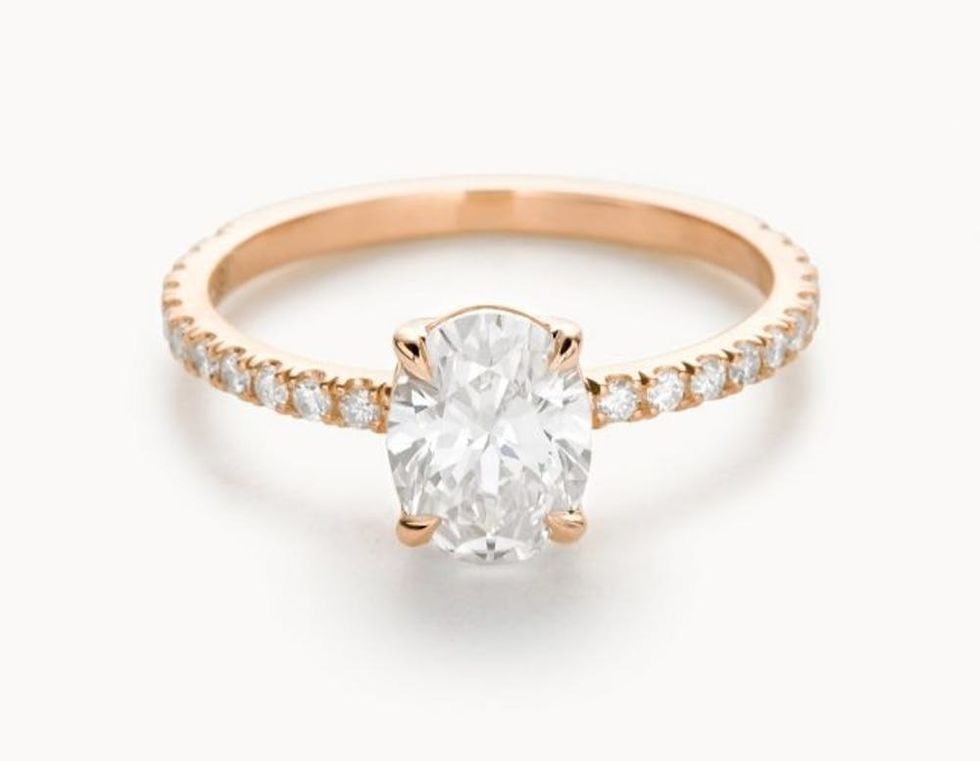 4.Work with a jeweler or designer you trust. Too often women have a mental image of their dream ring but the execution doesn't seem to translate. "Working with a designer or jeweler who already relates to your style is the best way to avoid this pitfall," says Stofenmacher. So do your research to find a pro who is in the business of making jewelry that fits your style.
5. Be practical and avoid trends. It's easy to get carried away in the design process, especially with thousands of styles to choose from. But remember that, unlike your wedding dress, you will be wearing this ring on your finger for the rest of your life. So make sure you design your ring to be versatile enough to live with you and all that you do. Do you have a job that requires a lot of activity? Perhaps a band or flatter stone might be more appealing. If you don't feel comfortable with a huge rock, opt for cluster styles instead. (Photo via VOW)
Wedding Style
Still haven't taken up that new creative skills you swore you'd learn this year? Or ready to take your design skills to the next level? Let's say so long to the weirdest year ever by checking those big learn-something-new goals off our perpetual to-do lists.
We've teamed up with Clorox to give you the gift of unlimited creativity now through the end of the year. Once you sign up, you can take as many of our 120+ classes as you want for FREE for one whole month!
Here's how it works:

Head to brit.co/learn and sign up for the "All Access Pass."
Use the code "CLOROXCARES" at checkout to redeem your free month of classes.
You will be automagically signed up for Clorox's email list once you redeem your free all access pass. (It's the #1 Choice for Disinfection!)
Your pass lasts one month from when you checkout. This means you have unlimited access to all the classes during that month.
This offer is valid now through December 27, 2020.
Browse our catalog to find the right class for you, tell a friend and take the class together over Zoom, or organize a 'cocktails + crafts' night with a friend in your bubble so you can learn something new together.
What are you waiting for? Time to start learning all the things!

Thanks to Clorox for making this happen! When it counts, trust Clorox.
Lifestyle