Grab Your Girls Because We Know You Wanna Fanta
Oct 26, 2016
Raise your hand if you agree that Halloween should be a month-long event. I mean, there are so many great costumes — how can you only pick one… and then wait a whole calendar year for the next one? Thankfully, Halloween 2016 is on a Monday, so that means Friday, Saturday, Sunday and Monday are all valid days to dress in costume :) Grab your girls and dress as these hot latin mamas for your Saturday night Halloween party. You don't need to worry about your costumes arriving on time because all of these pieces are on Amazon Prime. Two-day shipping FTW! (PS: I could argue that I am in a relationship with Amazon Prime purely because I spend so much time with it.)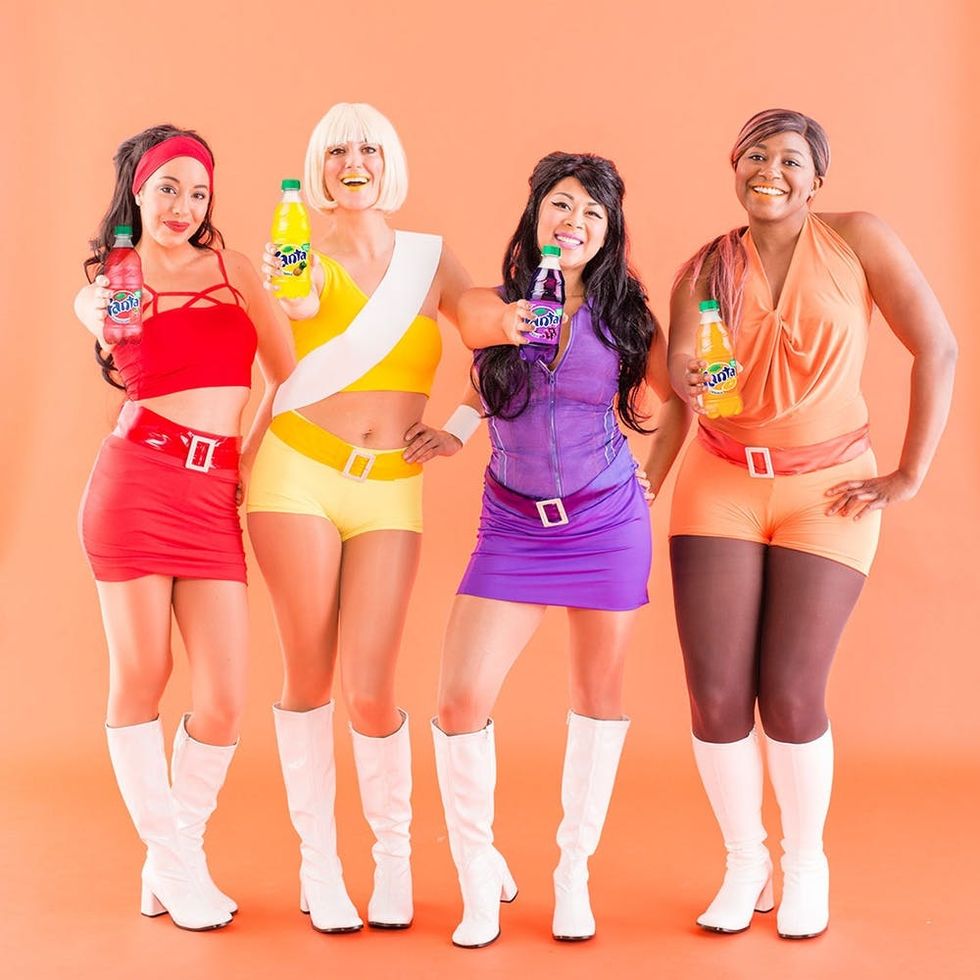 ---
The key to these costumes is bright solid colors and white go-go boots. We ordered ours from Amazon, but if you are not that committed (we understand), then just slide tall white socks over your heels.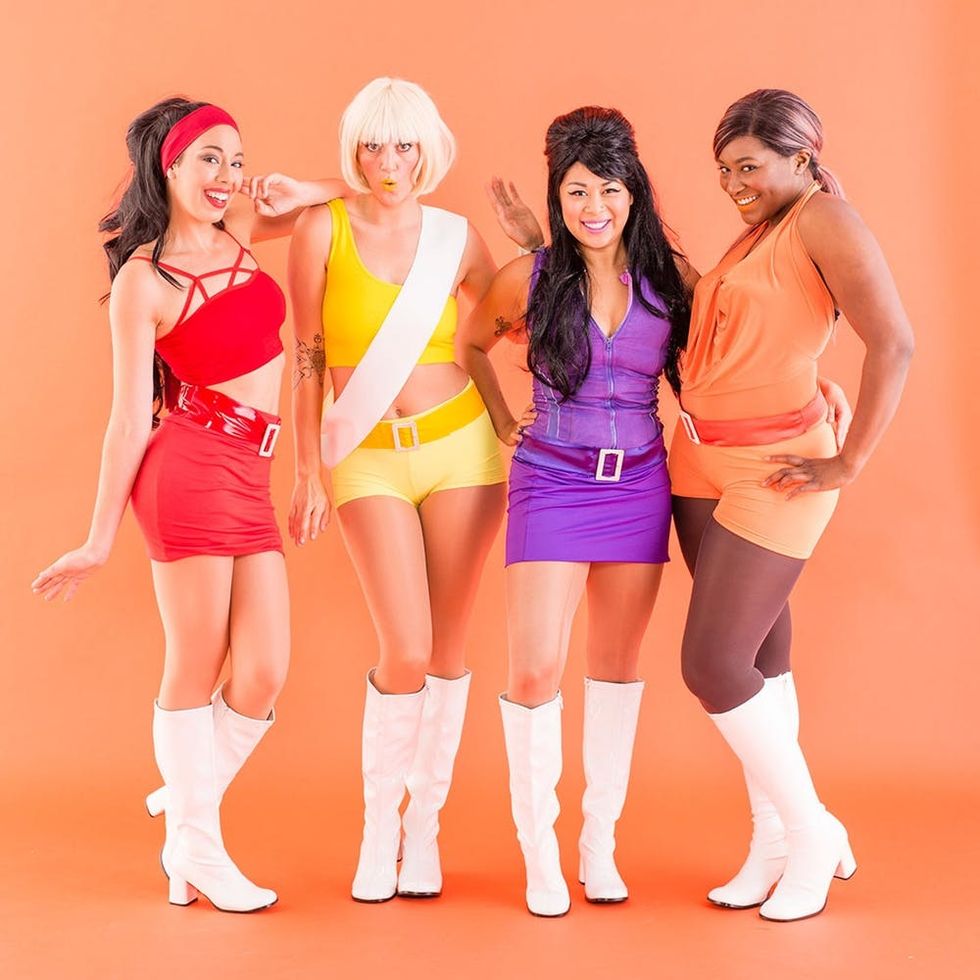 Time to go shopping! Here are all the Amazon goodies we bought to make Fanta girl costumes — red crop top, red body con skirt, off the shoulder yellow crop top, yellow bootie shorts, purple wetsuit top that I spray painted a deeper shade of purple, purple body con skirt, orange halter and orange bootie shorts.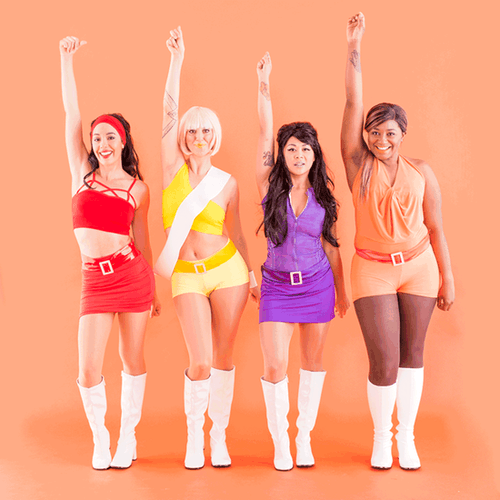 Head to your local fabric store to pick up vinyl in red, yellow, purple, orange and white to make belts, sashes and wrist guards. We put these pieces together using a hot glue gun — no need to break out the sewing machine.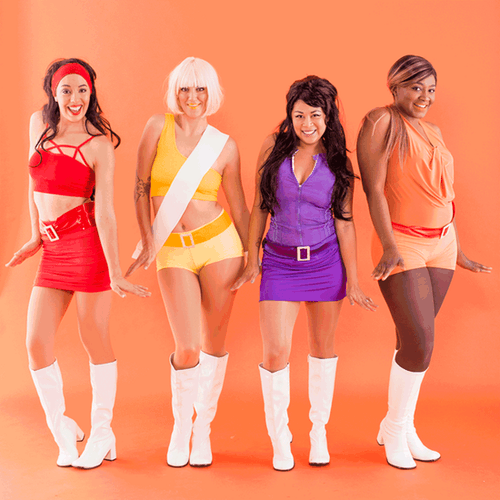 The key to hair and makeup is a lip that matches the color of your outfit (you really want it to pop!) and a fun wig!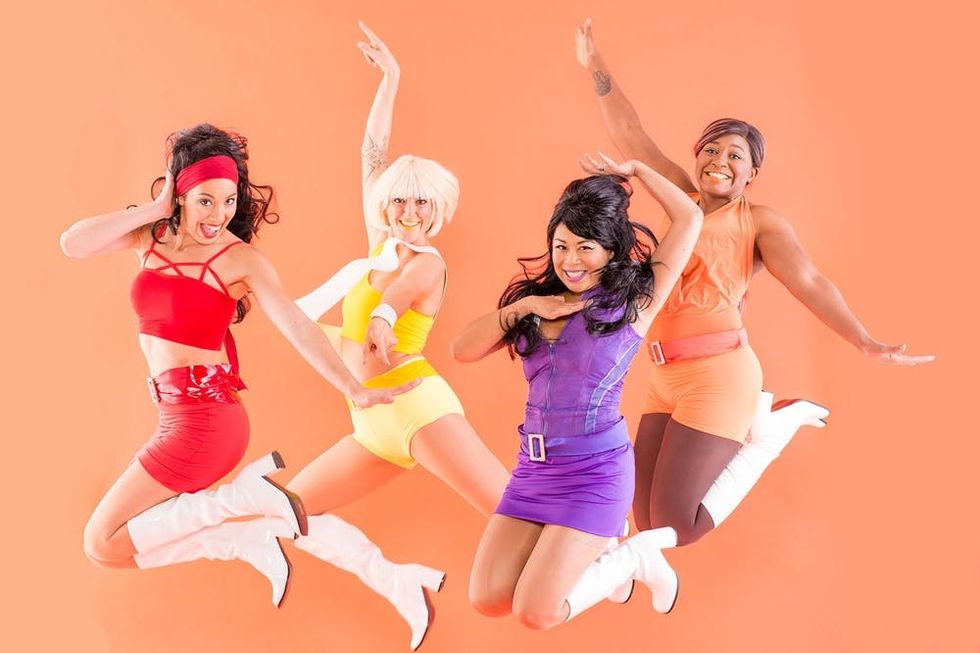 "You look hot in all that plaster — drink some Fanta, faster, faster!"
Show us your project by tagging us on Instagram + using the hashtag #iamcreative!
DIY Production and Styling: Kelly Bryden
Models: Kelly Bryden, Misty Spinney, Michelle Nguyen, Nastasha Thomas
Photography: Brittany Griffin and Kurt Andre
Brit + Co may at times use affiliate links to promote products sold by others, but always offers genuine editorial recommendations.
Kelly Bryden
Kelly Bryden, an east coast native, is stoked to be a part of the Brit + Co team. Design, DIY, and fashion are her passions. If she isn't crafting you can catch her on the dance floor or wrapped up in aerial silks.