Don't Panic, but There's a 2018 Global Wine Shortage
Jun 07, 2018
It's hard to imagine cutting back on sipping chilled glasses of Prosecco during patio season, but threatened wine shortages and price hikes caused by climate change could spell major disappointment for wine lovers this season. According to a recent analysis by the International Organisation of Vine and Wine, global wine production is at a 50-year low with high-export countries like Spain, France, and Italy all producing significantly less wine due to crazy weather caused by climate change. Since Americans have been the top global wine consumer since 2011, there's no denying that folks at home are starting to panic about increased prices and lack of supply of their favorite vino (you have to check out these hilarious tweets about #WineShortage2018). We chatted with Cristina Mariani-May, president and CEO of Banfi Vintners, the US importer of Castello Banfi, to learn more about the impending wine shortage, the importance of sustainability for wineries, and why we don't need to freak out just yet.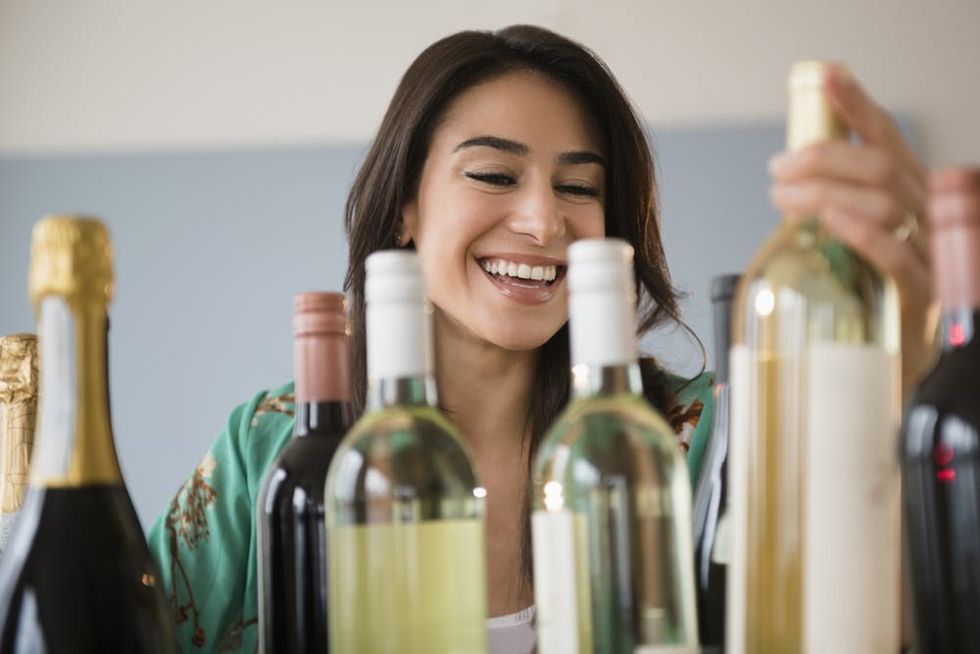 ---
Brit + Co: According to an analysis by the International Organisation of Vine and Wine, wine production in the European Union dropped 14.6 percent from 2016 to 2017, with high-export countries like Spain, France, and Italy all producing significantly less wine this past season. Most experts agree that this is largely due to adverse weather conditions in the main wine-producing countries in Europe. In your own words, can you explain this phenomenon?
Cristina Mariani-May: There is a saying in the wine business, "There is no roof on our factory," because winemaking success is directly tied to weather conditions. We had a few challenging vintages recently — particularly in 2014, 2016, and 2017 — that led to historically low quantities. Each of those years was challenging for different reasons. However, the years in between were very good to outstanding, in terms of both quantity and quality. There is no question that our planet is getting warmer, and that is absolutely having an effect on the vineyards — in some ways, it's a positive; in other ways, it's a negative. Regardless, we are making adjustments in the ways that we grow and maintain the vines to cope with the changing climate.
B+C: Because wine production is slowing in high-export European countries, many experts predict prices will rise. Do you believe higher wine prices are going to be an imminent problem (i.e., by this summer), or should consumers expect to see prices rise slowly?
CMM: I do not expect to see significant price increases passed on to the consumer this year. Strong, well-established brands such as Banfi are built to withstand challenging vintages — we plan for good years and bad years. Now, if challenging vintages continue as a trend, we may see price increases eventually. In general, wine prices have been remarkably stable for a while, mainly because there has been more quality wine available in the world than ever before, due, in part, to a string of productive vintages early in the current decade.
B+C: Which types of wines should we expect to be affected the most in terms of price hikes and availability?
CMM: The wines that will be most affected are at opposite ends of the spectrum: the high-volume bulk wines and the extremely low-production rare and expensive wines. The productive vintages of the early 2010s led to a surplus, particularly for bulk wine. As a result, we experienced a trend in private-label production (wines made for big-box retailers and restaurant chains). The recent drop in production will lead to higher prices for bulk wine. But will that be passed on to the consumer? Maybe not. Rather, we may see fewer private label offerings and other brands that were introduced during the oversupply of juice. Low-production rare wines may see a price increase — if, in fact, they are produced. Some single-vineyard wines skip vintages when the quality is not up to standard.
B+C: There's been noticeable social media outrage over the news that wine prices may go up due to the poor crops from less than ideal weather in Spain, France, and Italy. If you could speak directly to these people, what would you say? Do you believe their outrage is justified?
CMM: Paying more for something is a legitimate concern, but I'd suggest that we wait and see just how this reduction in volume is going to affect the wines that we regularly enjoy. Again, the wineries and brands that we know and trust have been around a long time because they plan for challenging years. If it turns out that low production becomes a trend that results in price increases, I'd ask consumers to consider and understand that wine is unlike most other beverages, in that it relies heavily on Mother Nature. Should there be less wine to go around, the logic of supply and demand will determine its cost.
B+C: Castello Banfi is the first winery in the world to receive the ISO award for making a difference in sustainability and reducing your carbon footprint in wine making. How important do you think sustainability and environmentalism are going to be for the wine industry moving forward?
CMM: It's an absolute necessity for survival. Our product comes from the earth, so we know that our success goes hand-in-hand with respect for the environment — it's our very foundation, and we have to always be in harmony with the land around us, from the vineyard to the finished product: wine!
B+C: What are some of the ways that wineries can reduce their carbon footprint?
CMM: At Castello Banfi we are constantly looking at every single step of the process, from grape to glass. Speaking of glass, we reduced the weight of our bottles by nearly 40 percent over the past 10 years — that single change has had an environmental impact equal to taking 3,600 cars off the road. So that's one way a winery can reduce its footprint.
To reduce the greenhouse effect, Castello Banfi has one of the highest ratios of forest to cultivated land among European wine estates. We plant local species particularly adapted to the environment, constantly cultivate our forests and scrub to clear fire lanes, and maintain small water basins to fight forest fires and provide drinking water for wildlife. Over the past 25 years, Castello Banfi has planted enough cypress trees to shade the 50-mile route between Siena and Florence!
In the vineyards, we're on a mission to reorganize our wine production in order to use fewer agrochemical products, in order to better safeguard the environment and the health of consumers and workers alike. This approach to vineyard management is directed at real environmental sustainability values that impact every step of the production chain, so in order to accomplish this, we've taken many factors into consideration, such as choice of plot, vines, form of cultivation, fertilization, and more. There are myriad other ways a winery can reduce its carbon footprint — what it takes is paying attention to what you're doing, researching, learning from others, and applying what you learn.
Are you concerned about the global wine shortage? Tweet us by mentioning @BritandCo.
(Photo via Getty)
Ashley Macey
Ashley Macey is a lifestyle freelance writer who loves all things fitness, wellness, and creativity. When she's not exploring her home in the Pacific Northwest with her dog Max, you'll probably find her curled up with a good book and some hot tea. Follow her daily jaunts on Twitter.
Food News